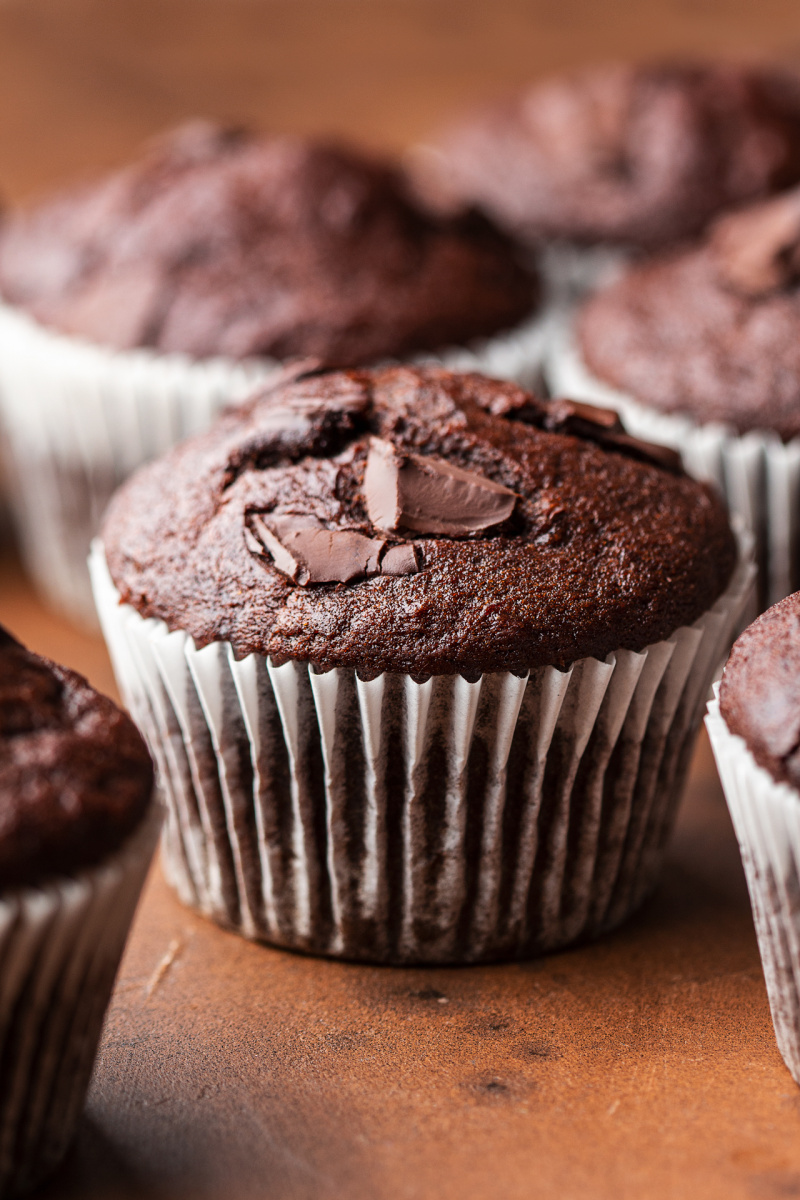 Hope you have good things planned this weekend? We have just got to London where I will be staying for the next few weeks as I have some stuff I need to take care of. We've packed the car with random bits and pieces that you so take for granted at home as I'll be living out of a suitcase and a few boxes for a while. I also won't have access to a fully equipped and well-stocked kitchen so I won't be able to do any recipe development for a while either, but don't worry I shot several extra recipes before we left and I hope to be back in Bristol by the time they run out…
First off, I have a simple yet delicious recipe for vegan chocolate banana bread muffins cos it has been that kind of week. Plus, it was my birthday on Thursday, which I was too busy to celebrate much, although I did get spoilt rotten by my lovely husband and we managed to sneak out for some top-notch vegan pizza amidst all the packing chaos. I ended up having a really nice day.
These vegan chocolate banana bread muffins are delicious and super easy to make too. All you need is a big mixing bowl and a spatula or a wooden spoon and an appetite for chocolate, of course. They are intensely chocolately, moist, fluffy and delightfully punctuated with molten chocolate chunks. They will certainly put a big smile on a serious chocoholics face so if you know someone like that why not make these muffins and share them with the chocolate lover in your life.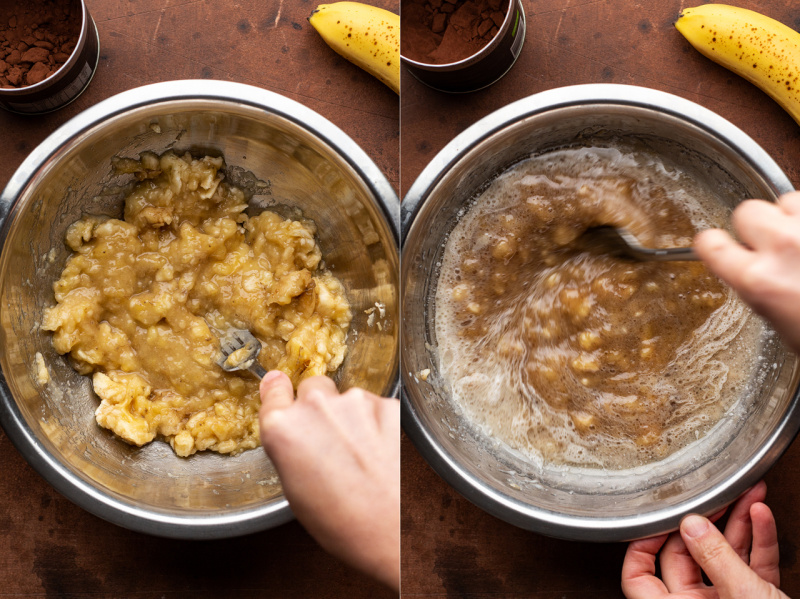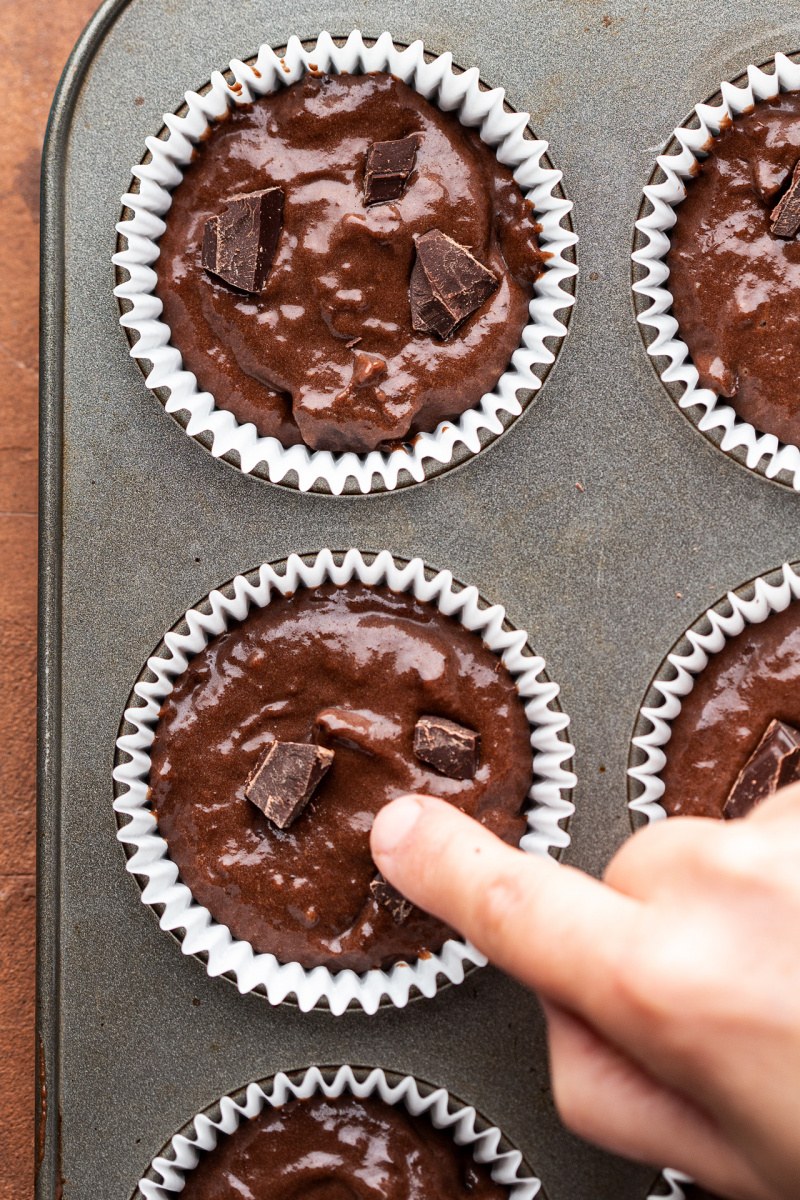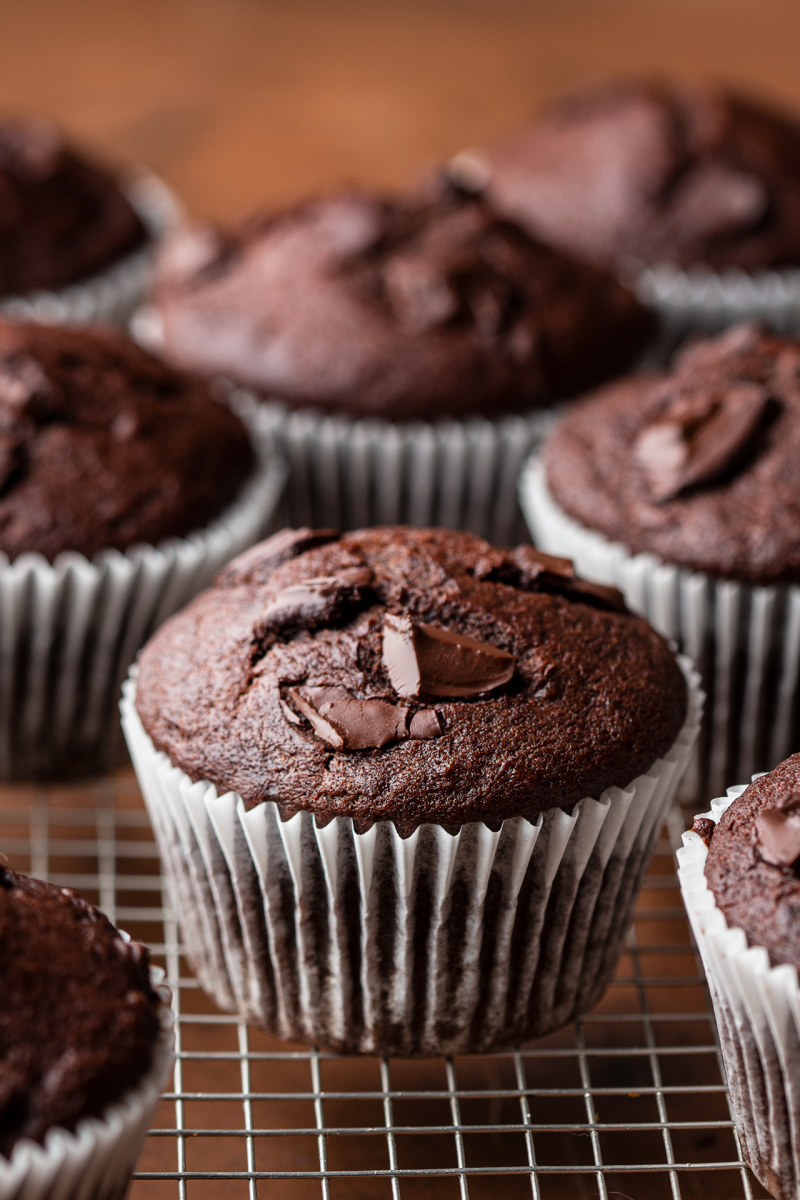 WET INGREDIENTS
360 g / 1½ cups mashed up, very ripe bananas
50 g / ¼ cup mild coconut oil or nut butter like hazelnut (for oil-free version)
150 ml / ½ cup + 2 tbsp lukewarm soy (or other plant) milk*
200 g / 1 cup sugar (I used demerara but coconut sugar works also)
DRY INGREDIENTS
50 g / ½ cup unsweetened cocoa powder
1¼ tsp baking powder
¾ tsp baking soda
180 g / 1½ cups all purpose wheat flour or GF flour mix (I use this one)
½ tsp fine sea salt
OPTIONAL EXTRAS
100 g / 3½ oz vegan 70% dark chocolate, diced small (optional)
chopped hazelnuts, for decoration
METHOD
Heat up the oven to 180° C / 355° F and grab a standard 12 muffin hole tray.
Combine mashed up bananas with oil, plant milk and sugar in a large bowl. Mix very well.
Place a sieve over the bowl with dry ingredients and sift through cocoa powder, baking agents, flour and salt. Fold the dry ingredients into the wet ones slowly and gently. Making small circles in the middle of the batter, progressively incorporate more and more of the dry ingredients – this way, you won't have a lumpy batter.
Stir in chopped chocolate or chocolate chips, if using. You may want to save some for the decoration.
Distribute the batter evenly between 12 muffin holes. It should be fairly pourable. Decorate with a few extra pieces of chocolate if you wish.
Bake for about 22-23 minutes, or until a toothpick comes out fairly clean (the muffins should be moist). Remove the muffins from the oven and allow them to cool down completely before consuming.
NOTES
*If you enjoy and can have coffee, sub 60 ml / ¼ cup of the plant milk with strong (cooled off) coffee – it deepens chocolate flavour.