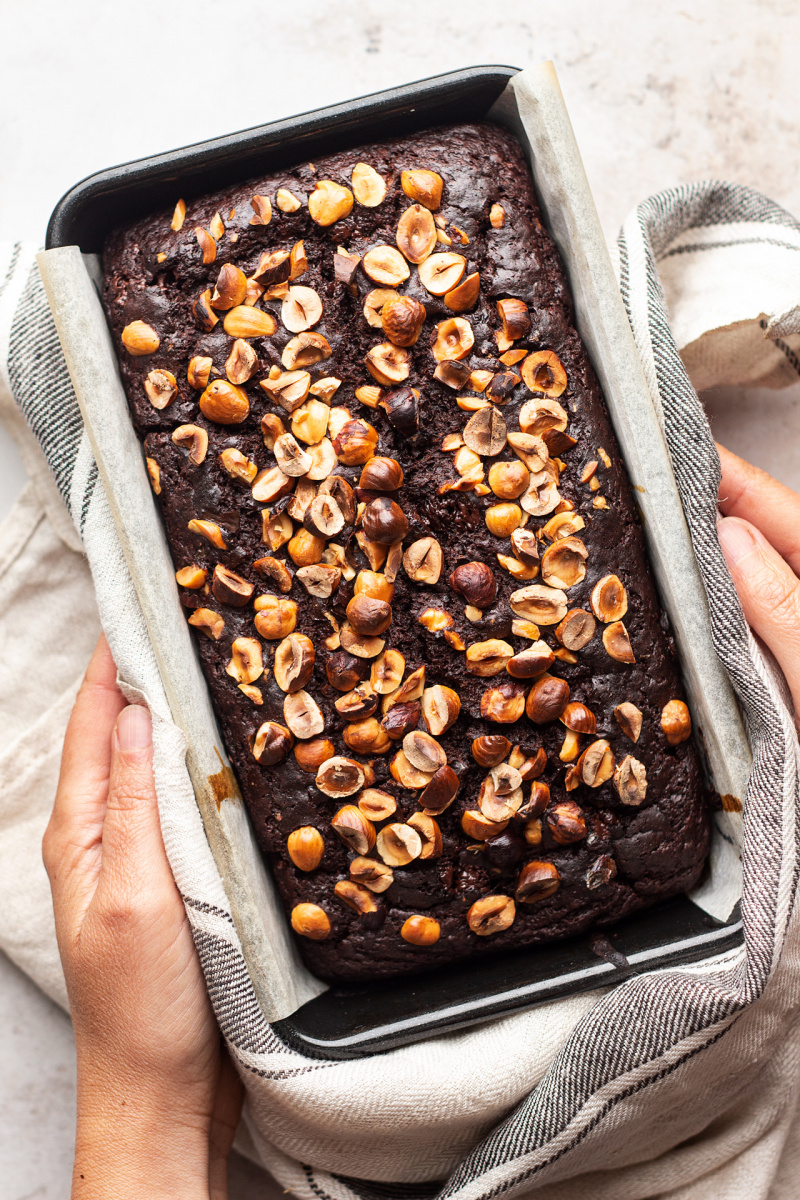 I realise I might have missed the banana bread train, which was THE thing to bake at the height of the quarantine but I have been itching to make a double chocolate version of my very popular eggless banana bread for a while now and as we are spending this entire weekend working, I figured that a slice of banana bread and a cup of coffee will keep our spirits high.
The weather has turned cloudy and cold and we have received a confirmation that our sofa is coming on Monday so we really need to get cracking with our living room DIY. Last weekend was far too sunny to stay indoors so predictably we have not moved it along at all, but now that an actual deadline is upon is there are no excuses. Currently we are getting to grips with a beast of a mitre saw, which we purchased to make all the custom cabinets in the house ourselves – let's see how we get on – I hope not to have to put the saw on Ebay anytime soon…
This recipe for double chocolate banana bread is really easy to make, it requires a single mixing bowl and a bunch of staple ingredients. It's moist, sweet but not too sweet with delicious pools of melted dark chocolate hidden here and there. It can easily be made gluten-free and refined sugar-free too if you so wish, but it certainly does not have to. I hope you'll make it and enjoy it as much as we do.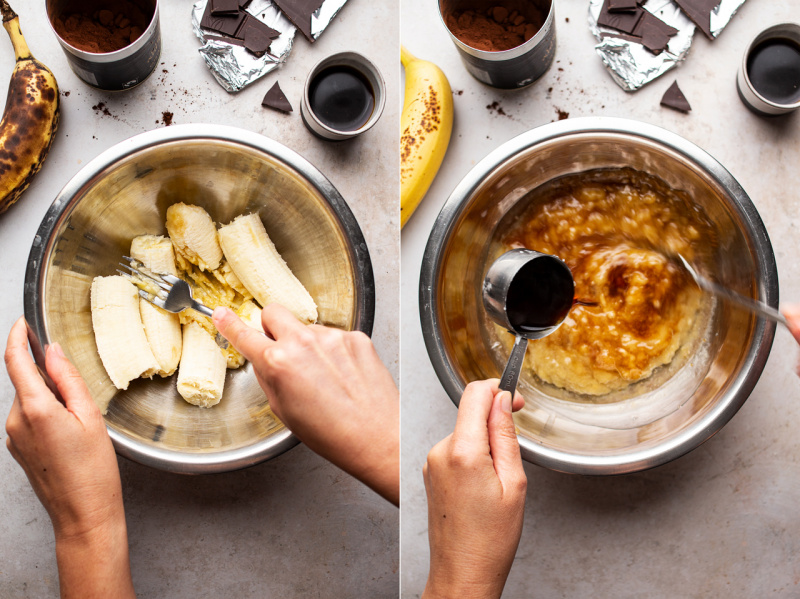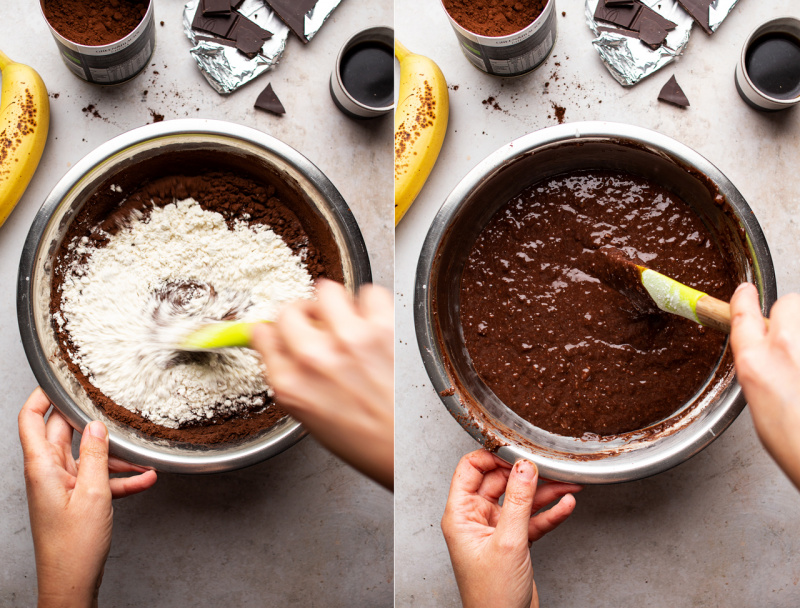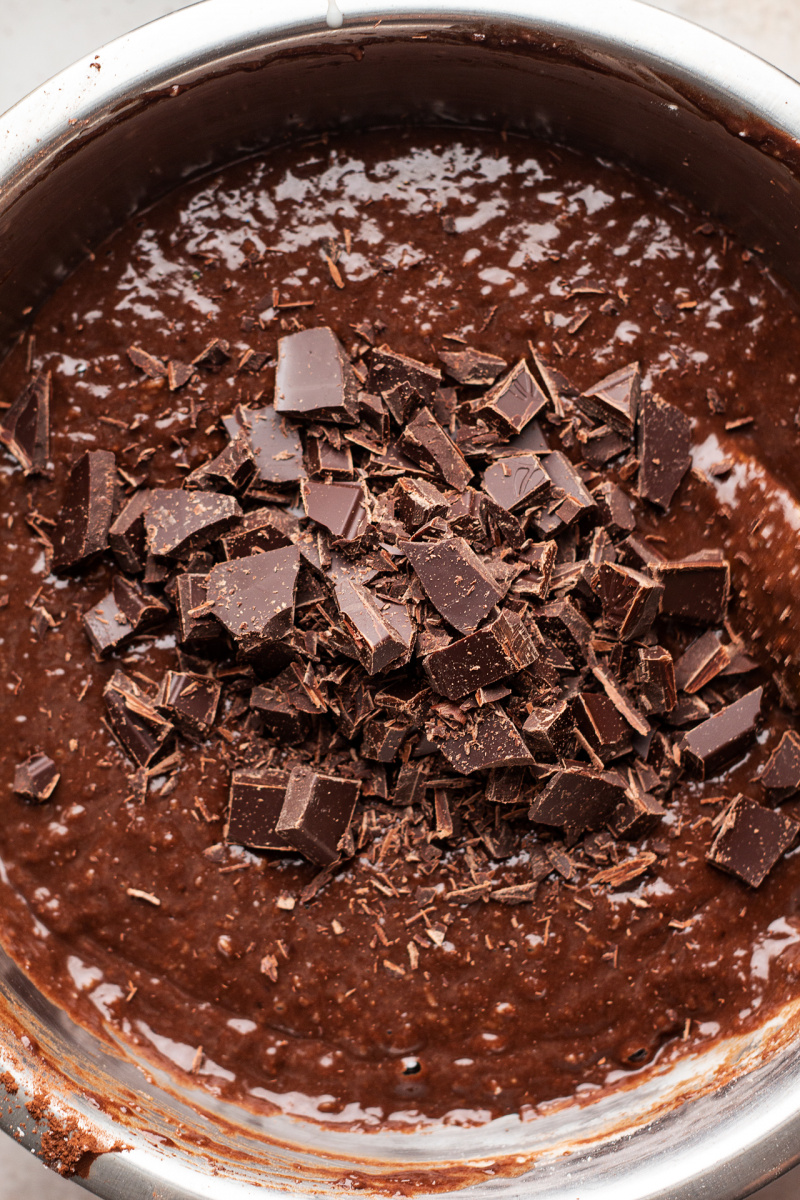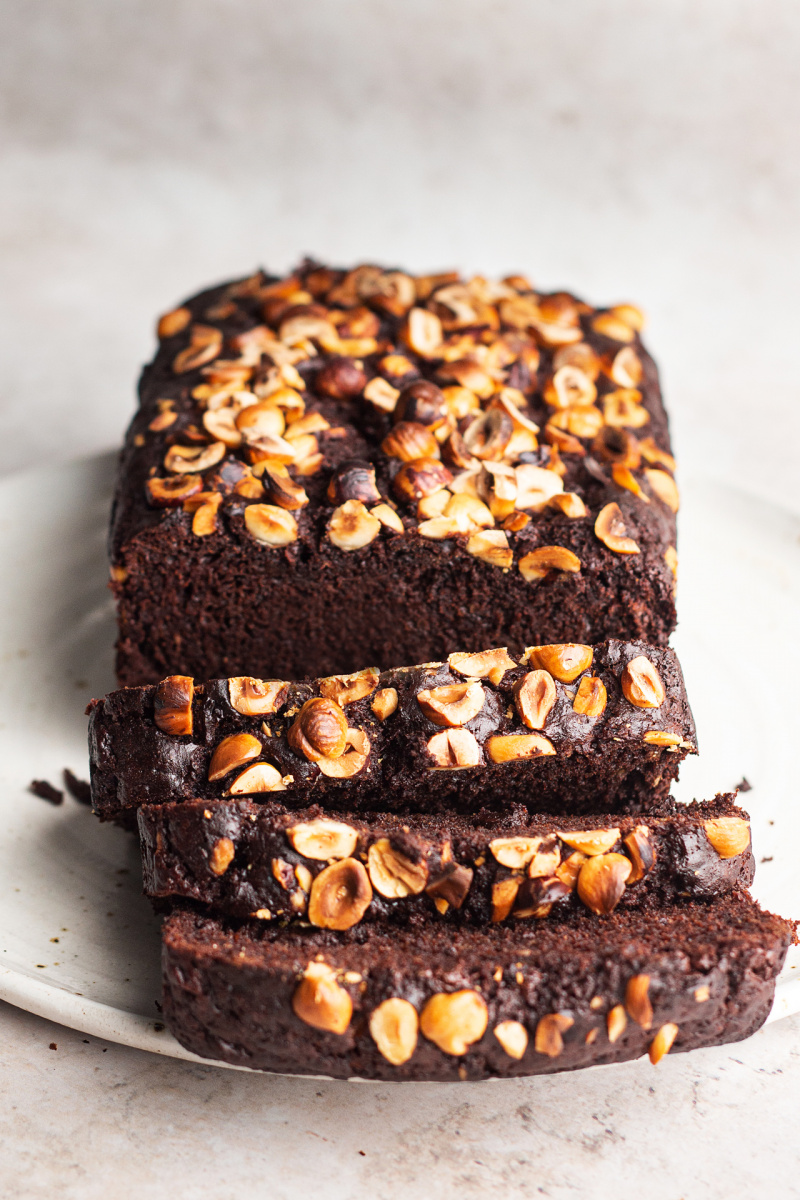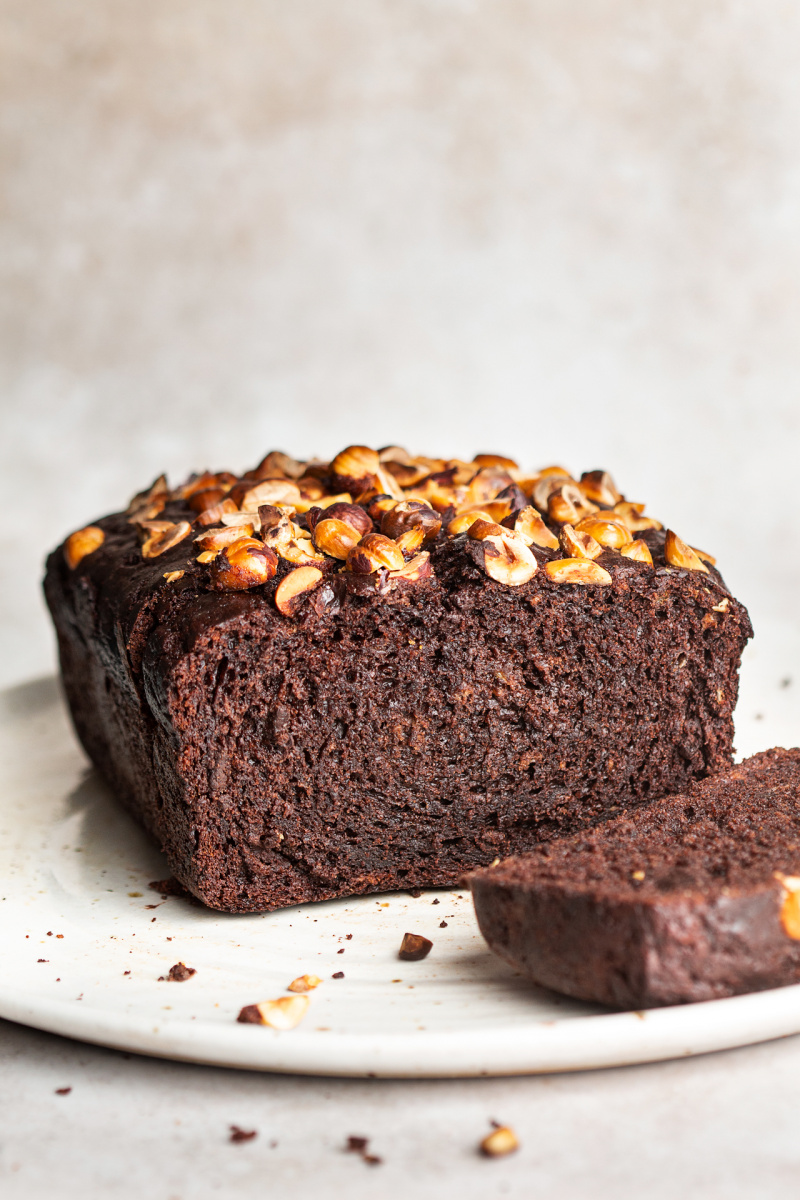 WET INGREDIENTS
360 g / 1½ cups mashed up, very ripe bananas
60 ml / ¼ cup mild tasting oil (I used 50 g mild coconut oil) or nut butter like hazelnut (for oil-free version)
95 ml / 1/3 cup + 1 tbsp soy milk (lukewarm if using coconut oil)
60 ml / ¼ cup cooled coffee (or more soy milk)
175 g / ¾ cup + 2 tbsp coconut sugar, caster or demerara sugar*
DRY INGREDIENTS
50 g / ½ cup unsweetened cocoa powder
1¼ tsp baking powder
¾ tsp baking soda
180 g / 1½ cups all purpose wheat flour or GF flour mix (I use this one)
½ tsp sea salt (I use Maldon salt flakes crushed between my fingers)
OPTIONAL EXTRAS
100 g / 3.5 oz vegan 70% dark chocolate, diced small (optional)
chopped hazelnuts, for decoration
METHOD
Heat up the oven to 180° C / 355° F and line a 900 g / 2 lb bread tin** with baking paper. Move the oven rack a notch down from the middle position.
Combine mashed up bananas with oil, soy milk, coffee and sugar in a large bowl. Mix very well.
Place a sieve over the bowl with dry ingredients and sift through cocoa powder, baking agents, flour and salt. Fold the dry ingredients into the wet ones slowly and gently making small circles in the middle of the batter, progressively incorporate more and more of the dry ingredients – this way, you won't have a lumpy batter.
Stir in chopped chocolate or chocolate chips, if using.
Transfer the cake batter into the prepared baking tin. It should be fairly pourable. Decorate with chopped hazelnuts. I preroasted mine in a 180° C / 355° F oven for 10 minutes first, but I don't recommend doing that (or for as long as I did) as that's the reason they got slightly burnt once on the cake.
Bake for about 45-50 minutes, or until a toothpick comes out fairly clean (this cake should be moist). Remove from the oven and allow it to cool down completely before removing it from the tin and slicing. Use a serrated knife to slice if you have one – I find that it produces neater looking slices.
NOTES
*Adjust to taste, I found 175 g (¾ cup + 2 tbsp) to be perfect but it still has a pronounced savoury note of dark chocolate so it may not be sweet enough for some people.
**I used a 2 lb / 900 g cake tin of the following dimensions: 18.5cm x 8cm x 6cm, which holds 8 cups / 2000 ml liquid (to the brim), but the batter should fill no more than 2/3 – 3/4 of the 2lb cake tin or else the cake may not raise.