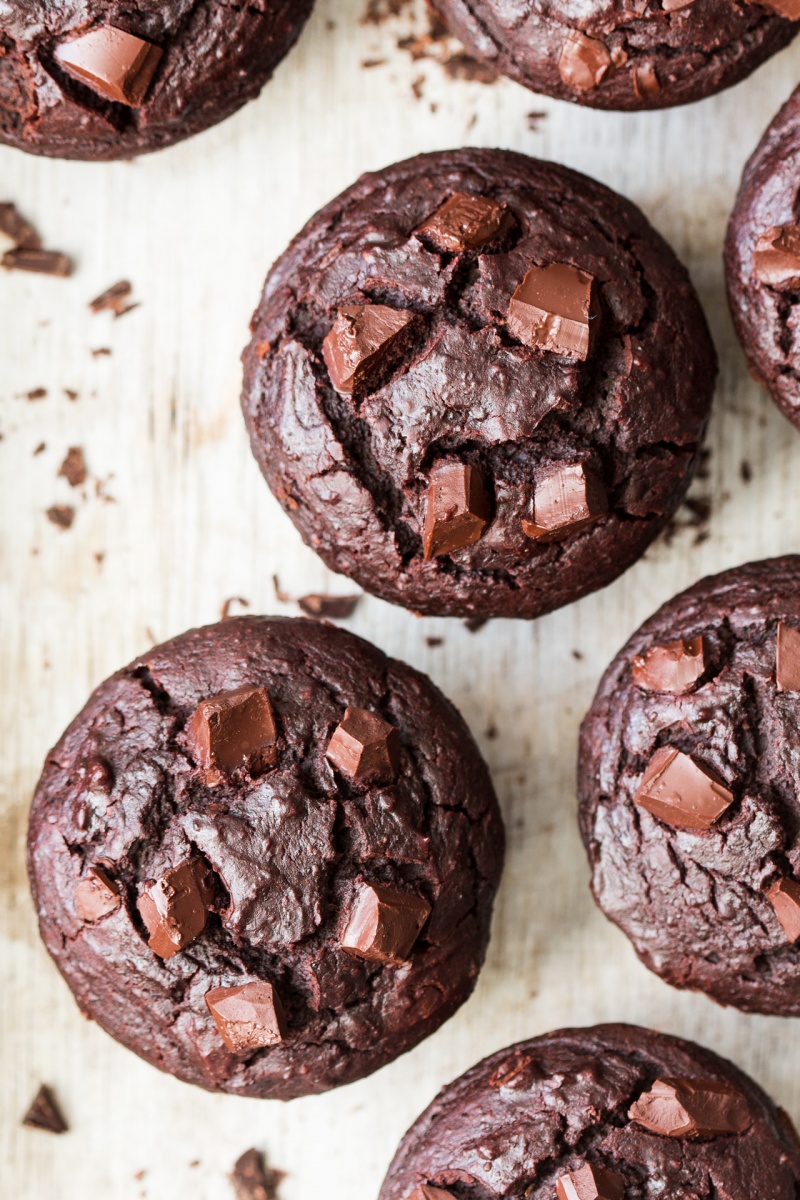 As it's Friday today, my dearest readers, it's time for a little bit of indulgence and I happen to have a recipe that's perfect for the job! I made a tray of double (or actually triple) chocolate chilli muffins that are both vegan and gluten-free, although you can always use wheat flour if gluten doesn't bother you in the slightest!
These deep purple beauties owe their moist crumb to a magic ingredient that perfectly matches the earthiness of dark chocolate – yes, you guessed it, it's beetroot! 😉
If you are not a beetroot fan, its taste doesn't come through in these muffins, I promise, but it does keep these muffins nice and moist, effortlessly eliminating any need for eggs.
I adorned my muffins with coarsely chopped dark chocolate but if you want to make them a bit less 'whoa' (i.e. sinful), you are welcome to skip that last ingredient altogether. Anyway, hope you'll try them and be sure not to keep them in the oven a minute longer than they need as you want to keep them deliciously moist.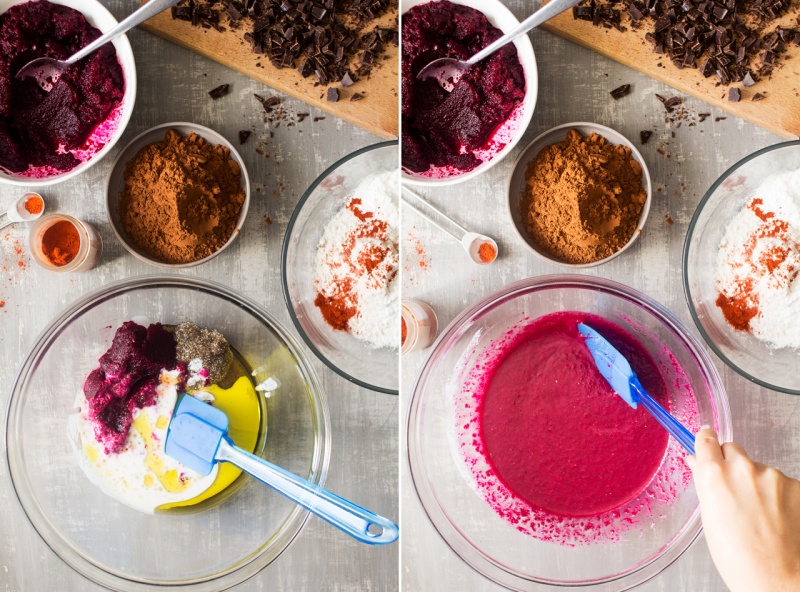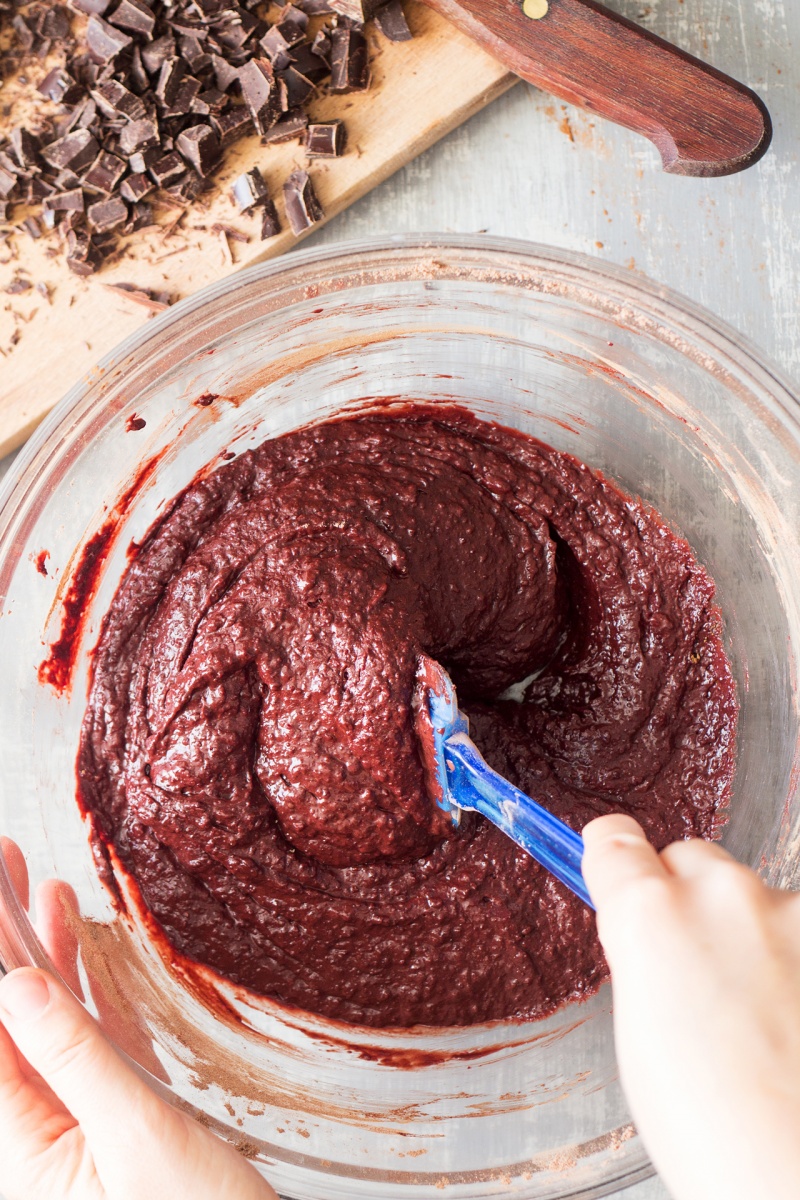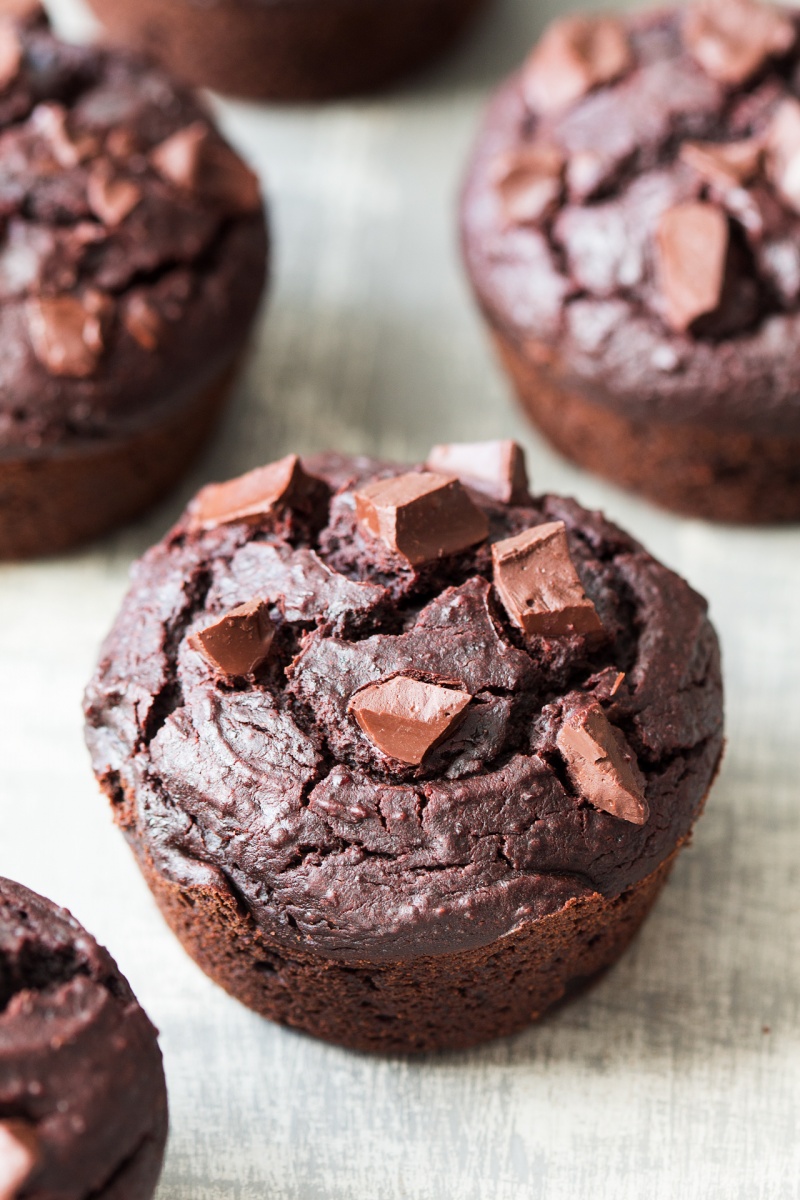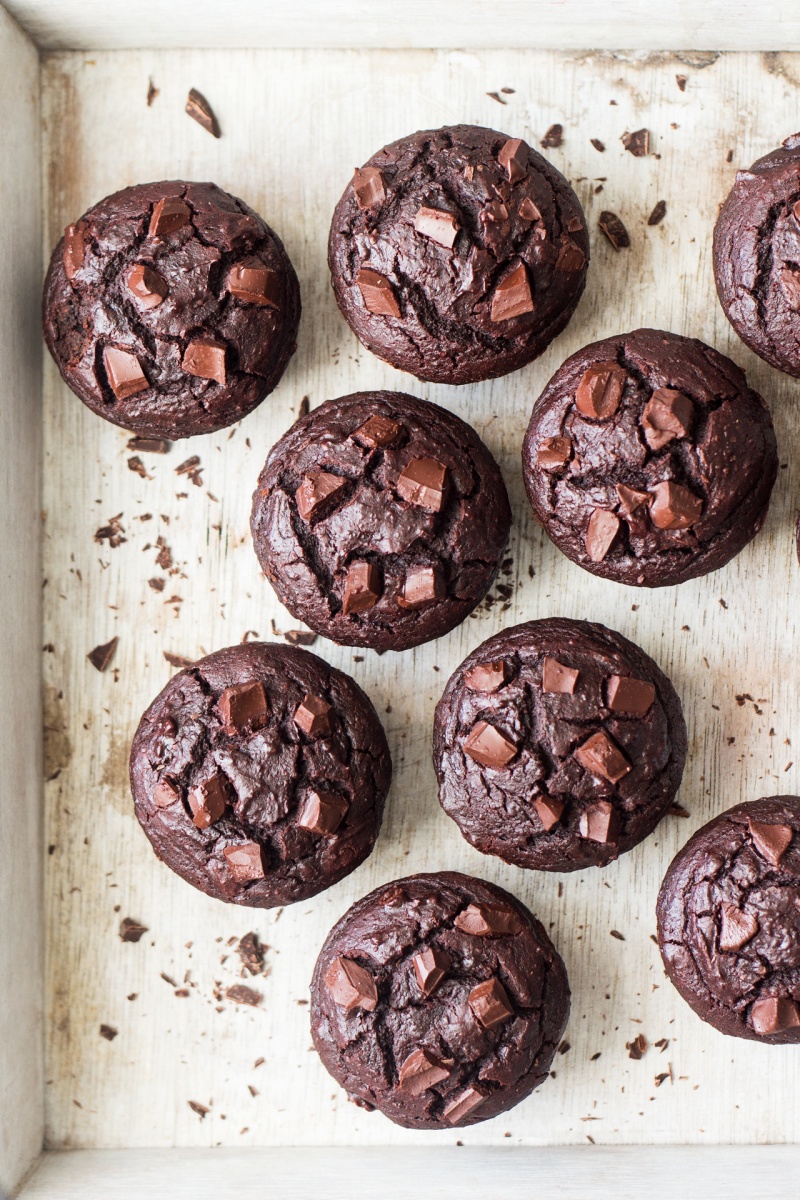 WET INGREDIENTS
180 ml / ¾ cup beetroot puree** (approx. 300 g / 0.65 lb beetroot)
270 ml / 1 cup + 2 tbsp almond milk (or other thin plant milk)
90 ml / ¼ cup + 2 tbsp olive oil (or melted coconut oil)
180 g / 1 scant cup sugar (I used demerara sugar)
60 ml / ¼ cup espresso or strong coffee
DRY INGREDIENTS
METHOD
If using ground chia (or flax) seeds, mix them with 2 tablespoons of water and set aside for the 'chia egg' (or 'flax egg') to become gelatinous. Make an espresso or a cup of strong coffee. If using a block of chocolate rather than chocolate chips, dice it into small squares.
Place all of the dry ingredients (except for chocolate chips or chopped chocolate) in a medium mixing bowl. Mix really well with a hand whisk.
Place beetroot puree, almond milk, olive oil, sugar, cooled coffee and chia egg in a large mixing bowl.
Place a sieve over the large bowl and sift ¼ of the mixed dried ingredients into the wet ones. Mix them in after sifting and continue until you've used up all the dry ingredients (sifting helps getting rid of any lumps in the cacao, for example).
Heat up the oven to 175° C / 350° F and grease a standard 12 hole muffin tin with a small amount of oil or line with muffin liners.
Mix all the ingredients well together. As this is a gluten-free batter, you don't need to worry about over mixing, but if you've used wheat flour instead, mix gently and be careful not to over mix. Stir ¾ of your chocolate chips or chunks into the batter, leaving the remaining ¼ for decorating.
Divide the batter between 12 muffins and stud with leftover chocolate chips / chunks.
Bake in a pre-heated oven (on a shelf that's one notch lower than the middle one) for about 25 minutes, do not overbake as it will dry these beauties out. Let muffins cool down before removing from the muffin tin.
*Reduced aquafaba simply means simmered, without a lid on, until excess water evaporates and the aquafaba becomes thicker. Once it cools it will resemble an egg white (please cool it down completely before using it in this recipe). Even if you use aquafaba from a can / tin, you can still reduce it as described above as it tends to be quite watery straight from a can / tin.
**To make beetroot puree, wash the beetroots and wrap a large piece of aluminium foil around them. Trickle a little bit of water to the bottom of the foil parcel and bake in a 200° C / 390° F oven for about an hour (until you can pierce the beetroot with a knife easily). You can also boil the beetroots in a pot of water instead (which also takes about 1 hour). Let them cool down, peel the skin and blitz to a puree in a blender, food processor or with a hand blender. You may need to add a tablespoon of water to help the food processor. I like to prepare a lot of beetroot puree at once, portion it into small jars and freeze until I am ready to make another batch of muffins.
If you don't care about making these muffins gluten-free, skip buckwheat and rice flours, cornflour / cornstarch and chia / flax egg and use 180 g regular white wheat flour instead. Be super careful not to overmix the batter as the muffins will come out tough.
This recipe is adapted from my earlier recipe for chocolate cupcakes.