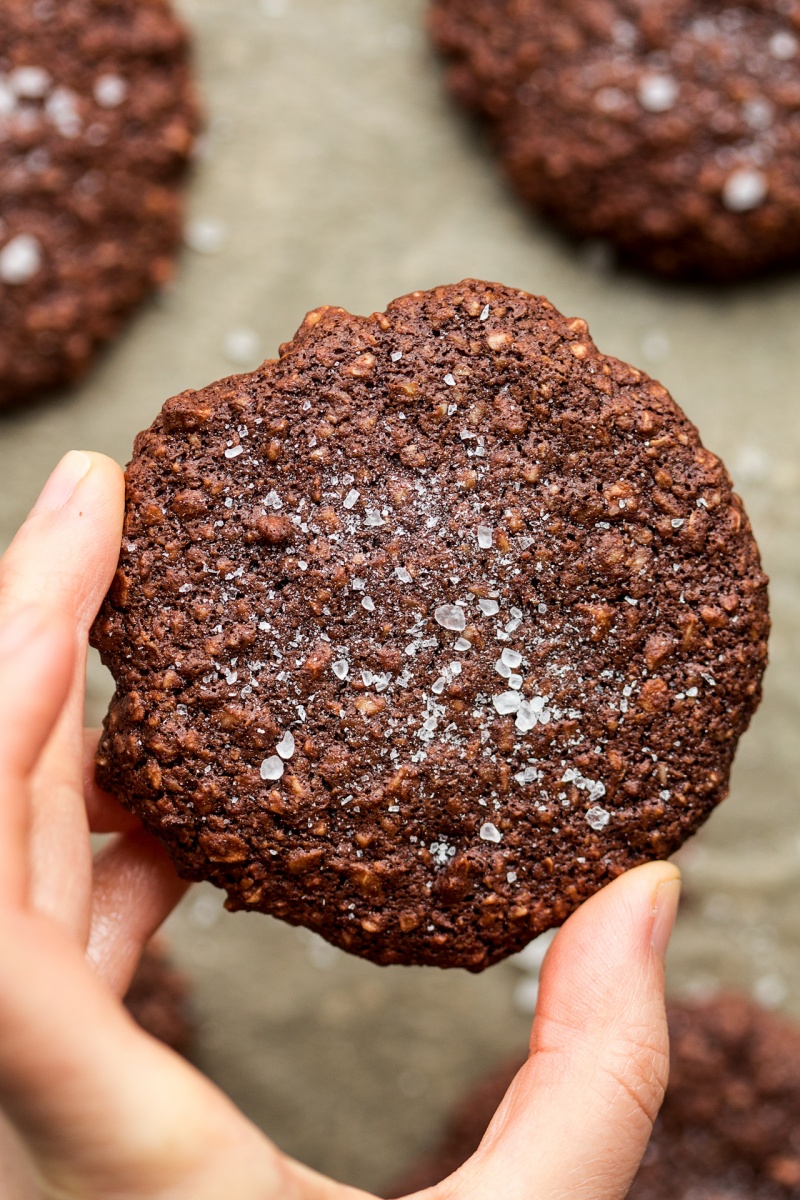 These vegan chocolate cookies came to me last night! I just finished a photoshoot, tidied up and started to relax after a day's worth of work when an idea for these cookies sparked up in the superior temporal gyrus of my brain (sorry, I have been listening to a lot of podcasts about neurology lately) and I had to give them a go. It sort of worked, apart from two minor tweaks. Then I started trying out other variations and I obviously had to try every single cookie as it came out of the oven, didn't I? It's that beautiful chocolate and hazelnut aroma that fills your house when you bake these that makes you have three cookies just before bed!! 😉 Argh…
These cookies are a cross between my vegan brookies (have you tried these yet?) and an almond brittle I made for my ginger cheesecake pots. They have crispy edges and are slightly chewy on the inside, super easy to put together (5 ingredients, can you believe that?) and take about 25 minutes to make in total (baking time included). I gave mine a good sprinkling of salt (which is totally optional, BTW – in fact, below are some other suggestions on jazzing them up a little) as I looooove the dark chocolate and salt combo! There is this one chocolate with a hint of salt here, in the UK, that I am totally addicted to and I cannot stop buying it, no matter how much I try to distract myself when I'm passing by.
I had planned to release a different recipe today, but I fell in love with these cookies so much that I had to share them with you immediately. In my usual fashion, I could not decide which version to share as, even though I am a hazelnut and chocolate kind of girl, I knew that the quinoa ones had something going for them too (they are crispy all over BTW – not chewy). I asked you to weigh in on my dilemma on Instagram and Facebook and even though the hazelnuts won, below are both versions for you. The quinoa one is handy if you cannot have nuts or cannot be bothered with a food processor. See, I am chronically indecisive…!!!
And as an aside, what is wrong with me? The minute I decide that I should probably stop making desserts, as I'm training for a 10 km race and I would like to lose a few pounds before summer, my head is suddenly awash with cookie and cake ideas – I have two recipes finalised, ready to shoot next week!! And my neighbour is on a diet too so I cannot even con him into taking some off my hands. Seriously! Do you guys have any savoury (but not deep-fried) food that you would like me to attempt to veganise? I cannot promise anything, but I will certainly give it a red hot go. Let me know in the comments, maybe that will motivate me to stop dreaming of all things chocolate 😛 .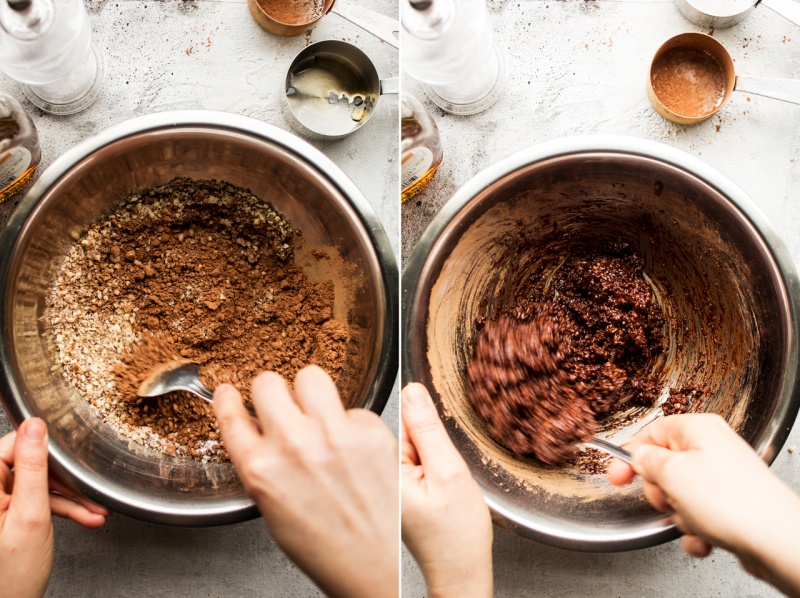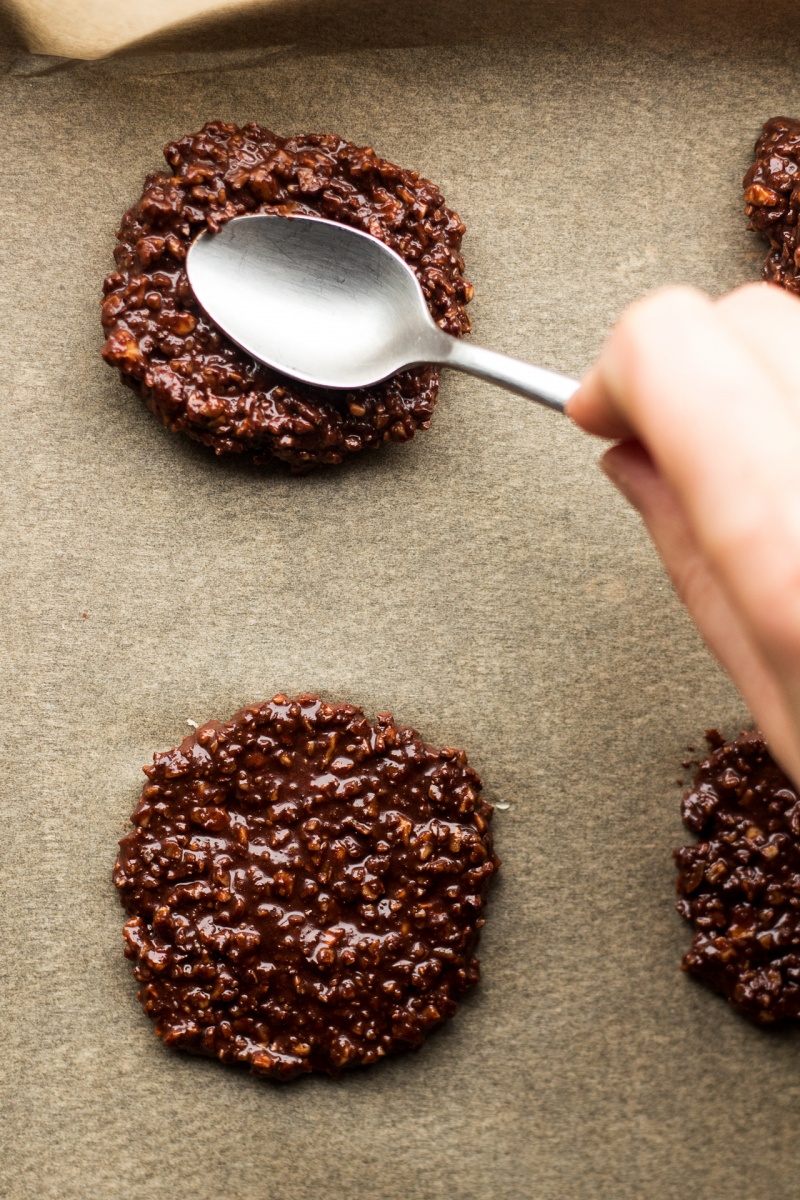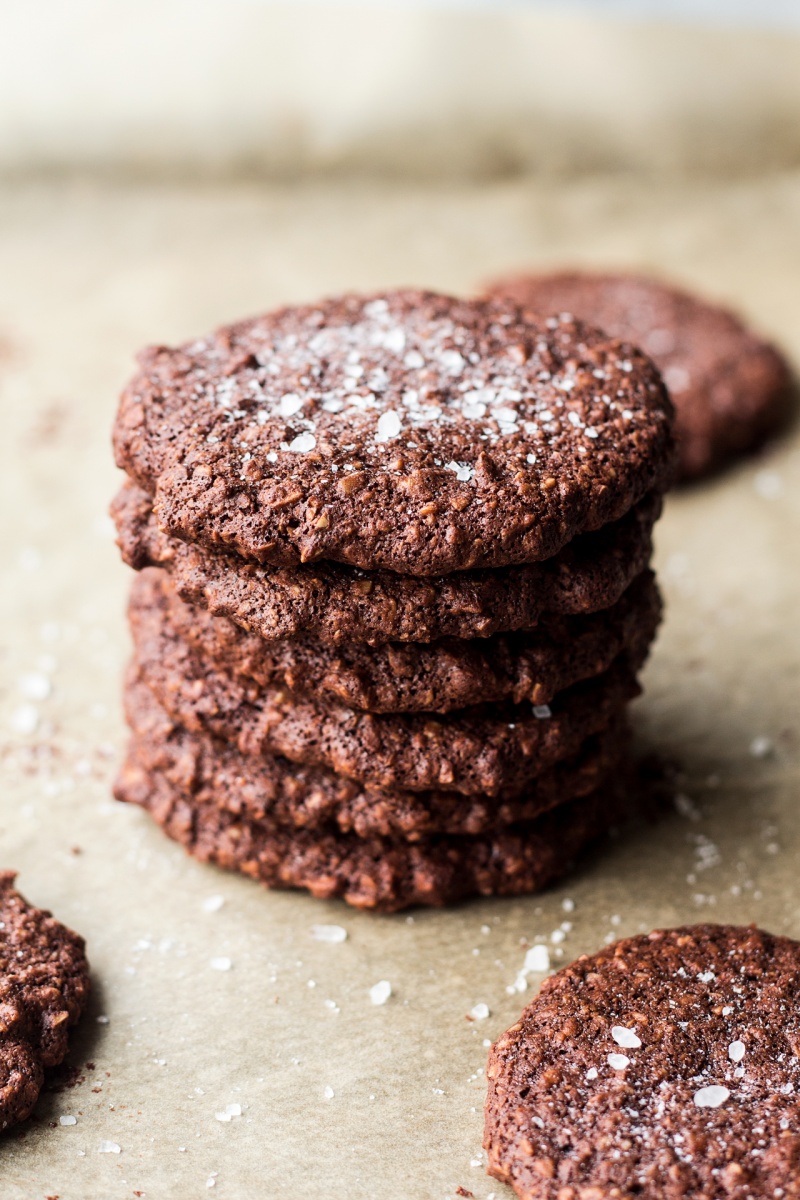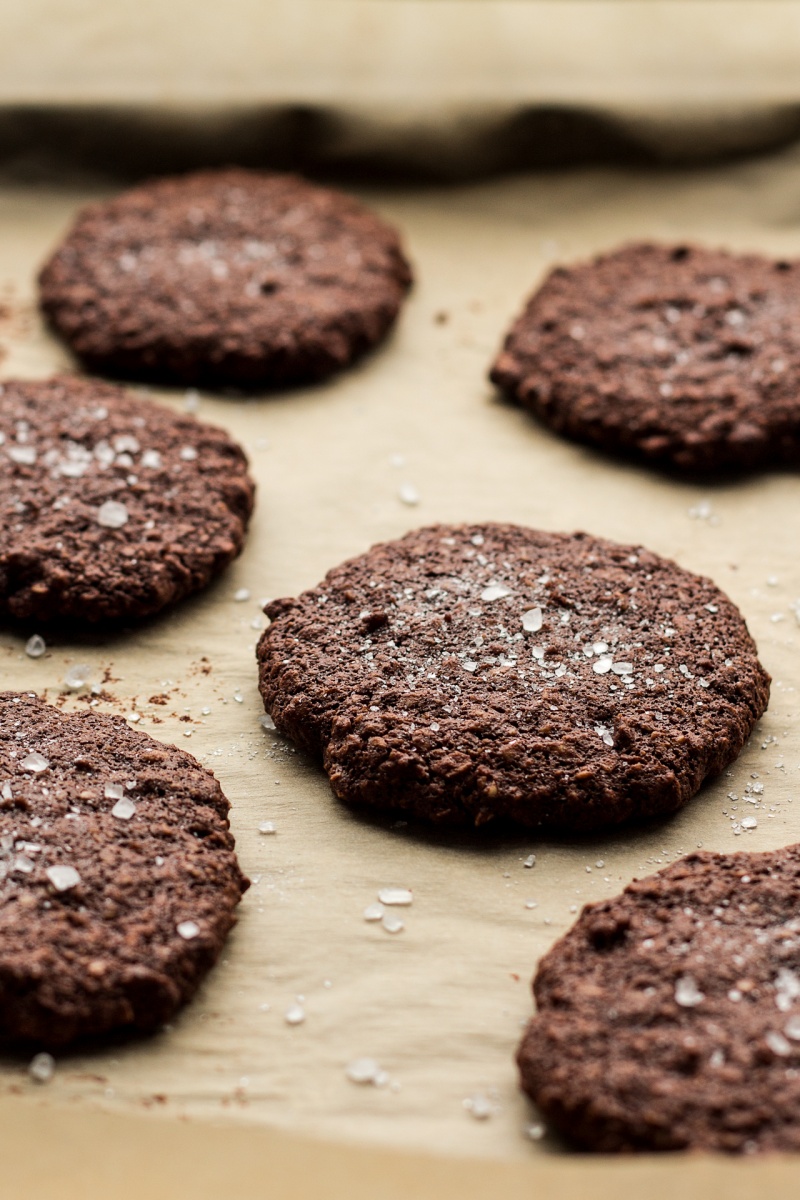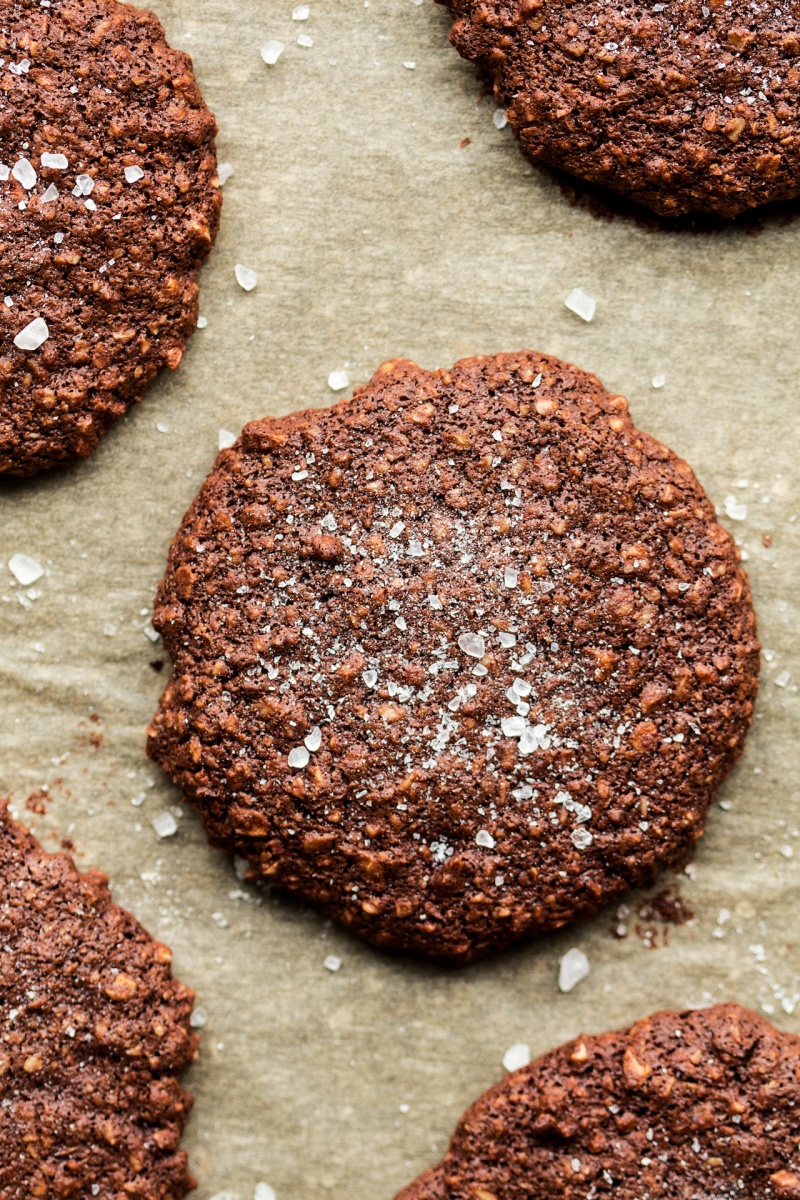 120 g / 1 cup raw hazelnuts* OR 180 g / 1 cup raw quinoa
½ tsp baking powder
a generous pinch of salt
25 g / ¼ cup raw cacao powder
approx. 80 ml / 1/3 cup maple syrup**
OPTIONAL EXTRAS
coarse sea salt
zest of one orange
¼ tsp powdered ginger, adjust to taste
1/8 tsp cayenne pepper powder, adjust to taste
METHOD
If making the hazelnut version, grind the hazelnuts up in a food processor until you get a coarse but fairly uniform grind. Be careful not to over process.
If making the quinoa version, toast the raw quinoa in a dry pan until golden, making sure you stir it the entire time as it's easy to burn. Allow it to cool down completely.
Preheat the oven to 170° C / 340° F. Line a baking tray with a piece of baking paper.
Place the first 4 ingredients in a bowl. If you would like, add some ground ginger or cayenne pepper or orange zest to flavour them a little. I opted for a grind of salt after baking.
Add maple syrup until you get a sticky mixture. I found that an 80 ml / 1/3 cup of maple syrup is sufficient, but you may need a touch (a teaspoon or two) more for the dough to hold together. Make sure you mix well before adding any more maple syrup as initially it may look like it's not enough, but it is! Trust me.
Spoon the mixture onto the prepared baking tray and flatten each cookie with the back of the spoon to ensure they are flat and low.
Bake for about 10-12 minutes (12 minutes makes them a bit crispier). Remove the tray from the oven and allow the cookies to cool down completely before removing them from the tray with a metal spatula – they will crisp up as they cool.
Sprinkle with a generous amount of salt if you like.
They keep in an air-tight container for a few days.
NOTES
*Hazelnut meal is too fine so I recommend using coarsely ground nuts. You can use other types of nuts or seeds if you wish.
** I have tried date syrup and it works well too but I didn't feel that it fit my flavour profile as well as maple syrup does. I suspect that other liquid sweeteners will also work, but I have not tried them myself.