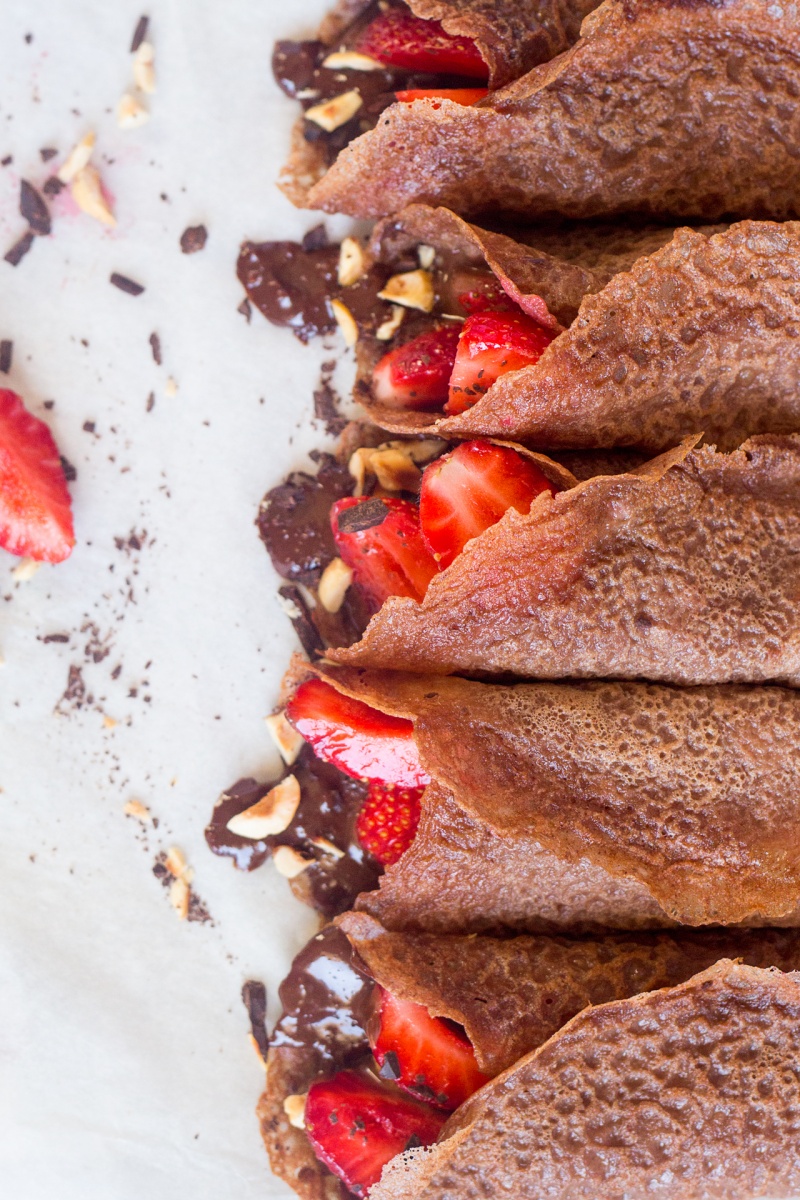 For some reason, I've been craving crêpes big time lately. They are not the kind of food I often eat, approximately once a year is enough, but they do remind me of being a child so I get this nostalgic craving from time to time.
You may remember my recent post about the wonders of aquafaba, which is my go to egg replacer. Well, I used it in these crêpes too and, once again, it passed the test with flying colours.
These crêpes turned out beautifully thin and soft with crispy edges. They are easy to make and super versatile so if you are lucky enough not to have a sweet tooth (I'm sooo jealous), you are welcome to skip cacao and fill them with a savoury filling instead.
You may notice that I decided against putting any sugar in the pancake batter. That's because I wanted these little babies to have a nice balance of flavours and sweet filling and ripe strawberries were delicious against unsweetened dough. Feel free to override me if you like your sweetness volume turned up high 🙂 .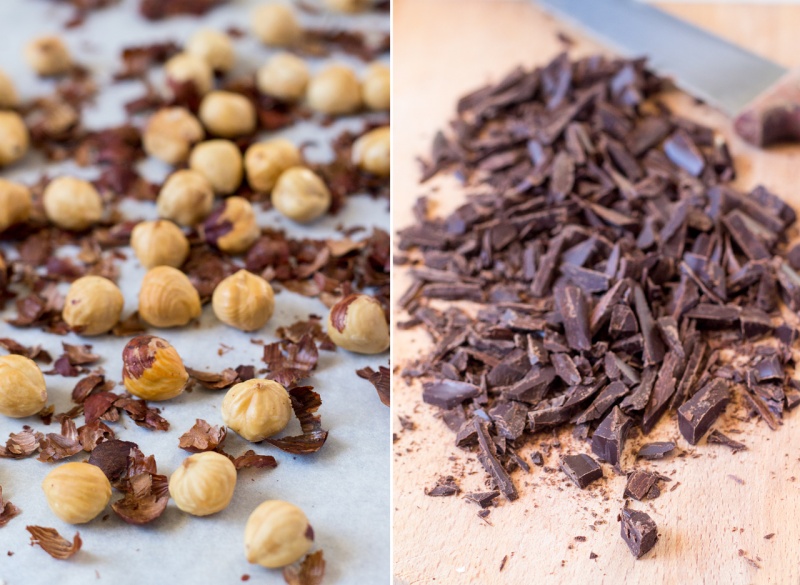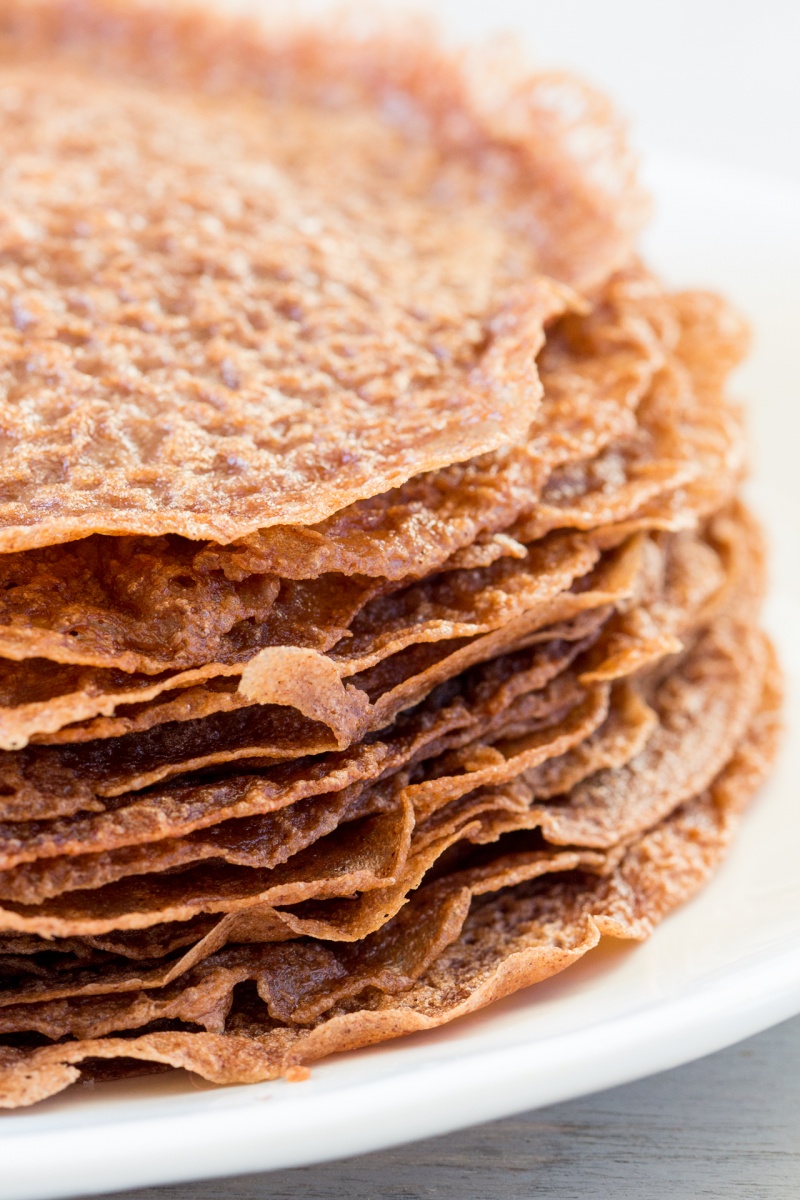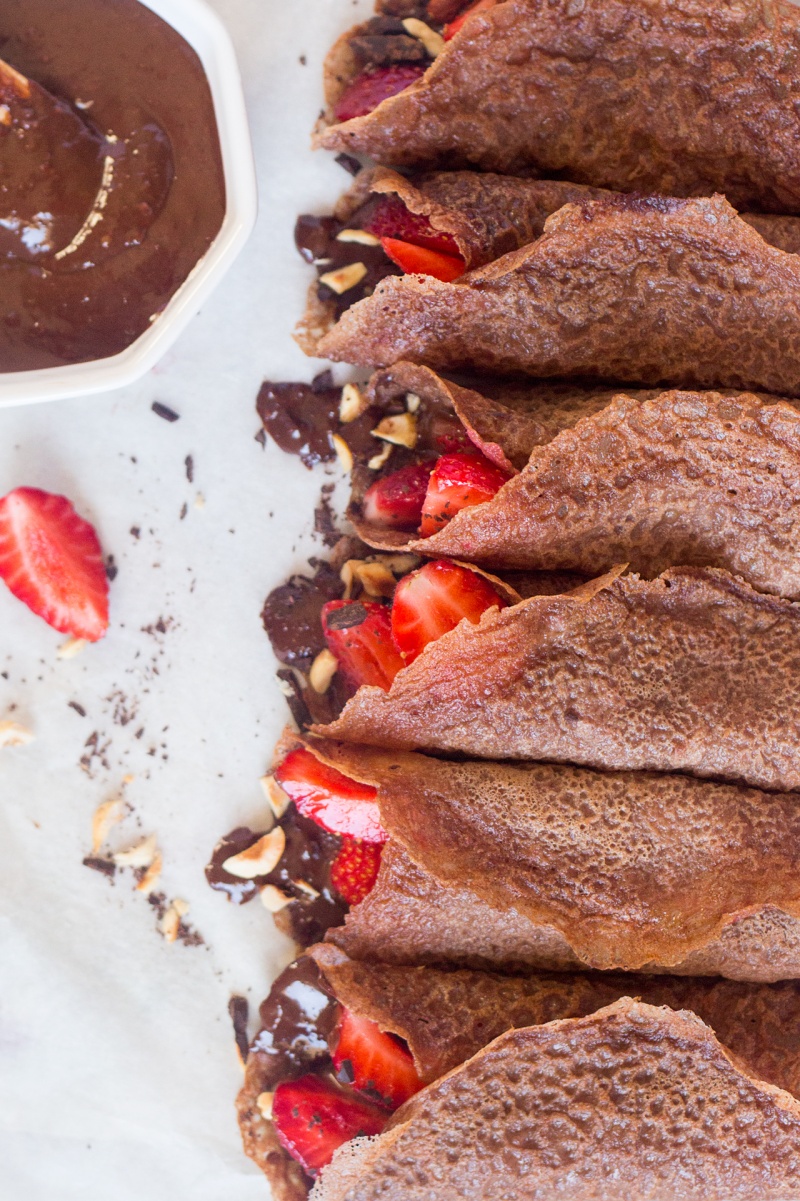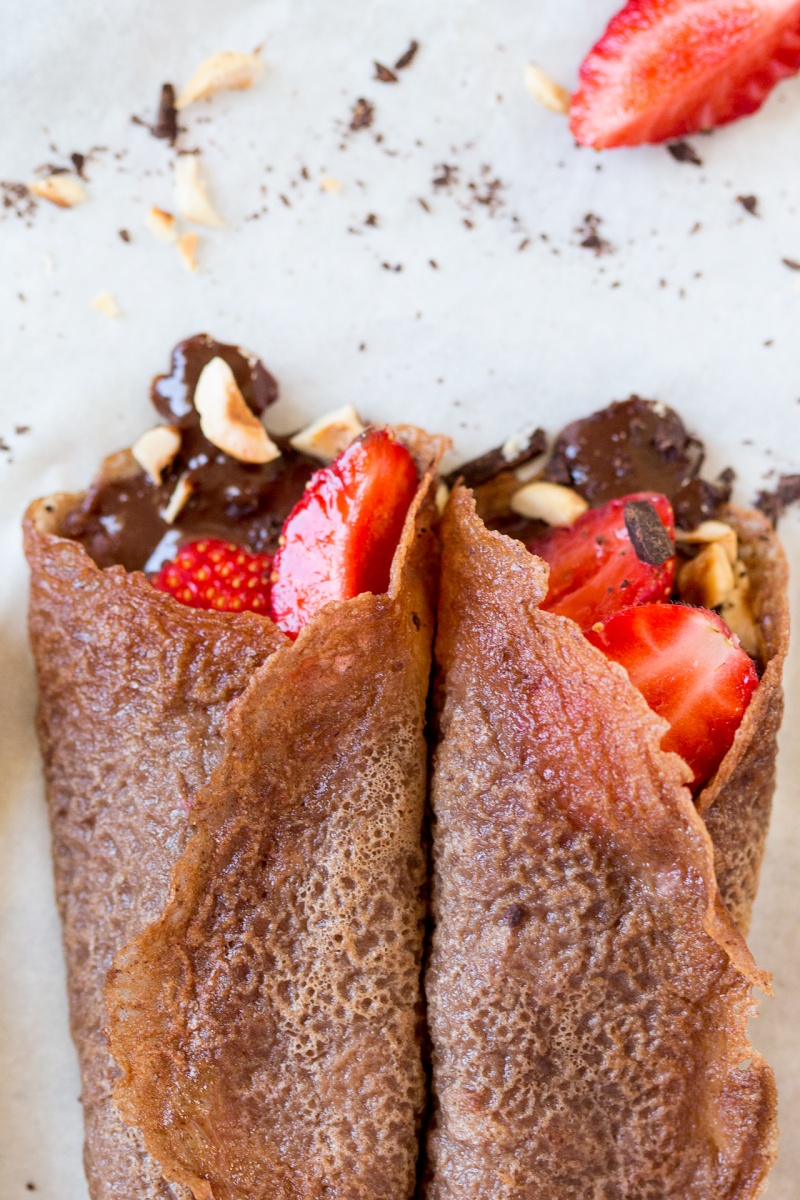 BATTER
150 g / 1 and ½ cups of all purpose white flour
2 tbsp raw cacao powder
about 360 ml / 1 and ½ cups plant milk (I used hazelnut milk)
¼ cup / 60 ml reduced aquafaba, from a tin of chickpeas or homemade
2 tsp melted coconut oil, plus more for frying
FILLING
80 g hazelnuts, roasted
80 g dark chocolate, chopped
a fat pinch of salt
¼ cup coconut cream
approx. ¼ cup hazelnut milk
1-2 tbsp maple syrup, adjust to taste
1 tbsp hazelnut-flavoured liqueur (optional)
fresh strawberries, de-stemmed
METHOD
If you only have unroasted hazelnuts, you can roast them in 180° C / 350° F for 6-8 minutes and once they cool off, rub them between your hands to loosen up their skins.
Grind hazelnuts in a coffee grinder or a food processor.
Warm up the coconut cream for the filling. Once it is fairly hot (not boiling hot), take it off the heat and dump chopped chocolate into it and leave to stand for 5 minutes. After 5 minutes, stir the chocolate into the it. Mix in hazelnut milk to thin. Now add in ground nuts, salt and sweeten with maple syrup. You can also add a touch of hazelnut liquor if you have some to hand.
Sift flour and cacao into a large bowl. Make a well in the centre and very gradually start adding in milk (¼ cup at a time) whisking the whole time. Whisk well after each addition to ensure that there are no lumps in the batter. Initially the batter will look like a thick hummus, but it will start looking like a crêpe batter with every milk addition.
In a separate bowl, whisk aquafaba with a hand whisk until frothy and light and add it into the crêpe batter.
Heat up a small non-stick pan on a medium heat. Brush the pan with a tiny bit of oil to make sure that the pancakes do not stick. Take the pan into your hand (off the stove) and pour a thin layer of batter into the pan and swivel it well to form a thin, round crêpe. Put the pan back on the stove and cook until the crepe no longer sticks to the pan and can be flipped to the other side. Once flipped, cook the crepe on the other side for another minute or so.
Put cooked crêpes in a stack so that they do not dry out and become brittle.
Once ready to serve, fill each pancake with hazelnut filling and loads of fresh strawberries.