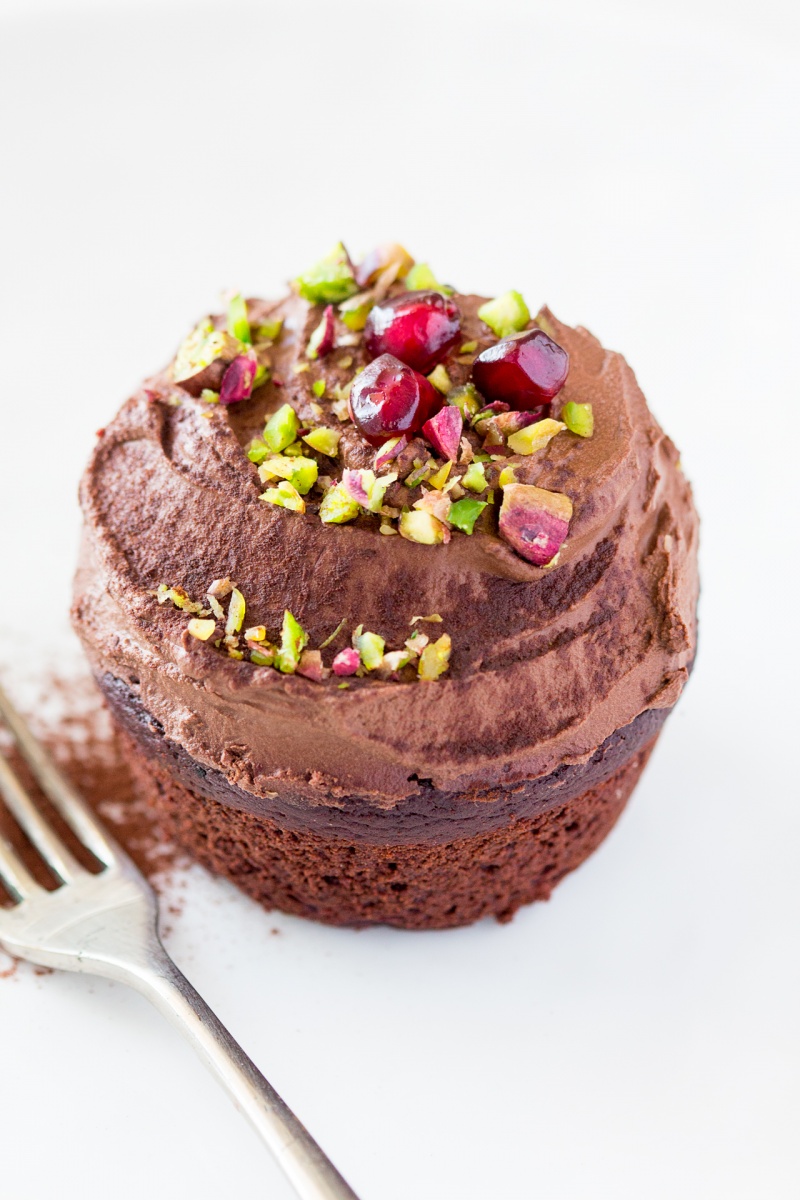 Let's get one thing out of the way first. These vegan chocolate cupcakes aren't healthy. I mean, come on, they are cakes and cakes, by definition, aren't healthy. They may be loaded with antioxidant-rich dark chocolate and instead of eggs they use healthy beetroot purée but saying they are healthy would simply be lying!
Two things they definitely are though are chocolatey and indulgent so if chocolatey indulgence is what you are after you've come to the right place. If you are on a diet or trying to be good, avert your gaze – it's for your own good!
These cupcakes were a real labour of love. I took my banana cupcakes recipe as my starting point thinking that it won't be a big job turning them into chocolate cupcakes.
After all, all I needed to do is replace bananas with beetroot purée, add some chocolate to the mix and maybe up the sugar (to compensate for cacao's bitterness), right? Boy, I'm glad I didn't realise how wrong I was at the time or else I would not be here now sharing this recipe with you.
Getting the proportions right took me so many goes that I've lost count and the trouble was that while none of my attempts have proved inedible (which is a shame as I couldn't possibly bring myself to bin them, which can only mean one thing – a larger jeans size 😉 ), but the texture or flavour wasn't quite on the money until now. I am pretty happy with these and so were all my neighbours who have helped me test them, even though none of them are vegan.
These beauties are intensely chocolatey, moist and just the right amount of sweet. And those of you who go 'bleugh' as soon as they hear 'beetroot', do not rule them out just yet as they DO NOT TASTE LIKE BEETROOT at all, promise. All that the mighty beetroot does is gives them much desired moist crumb without the need for any eggs.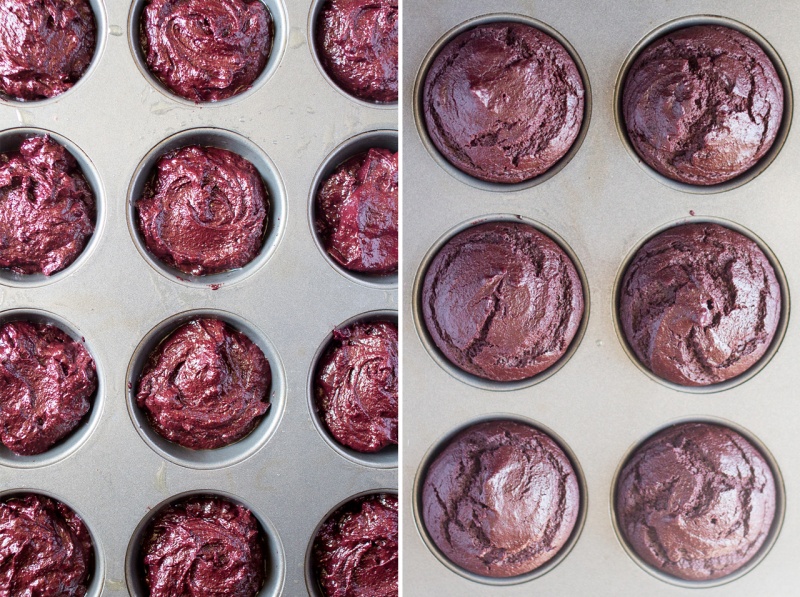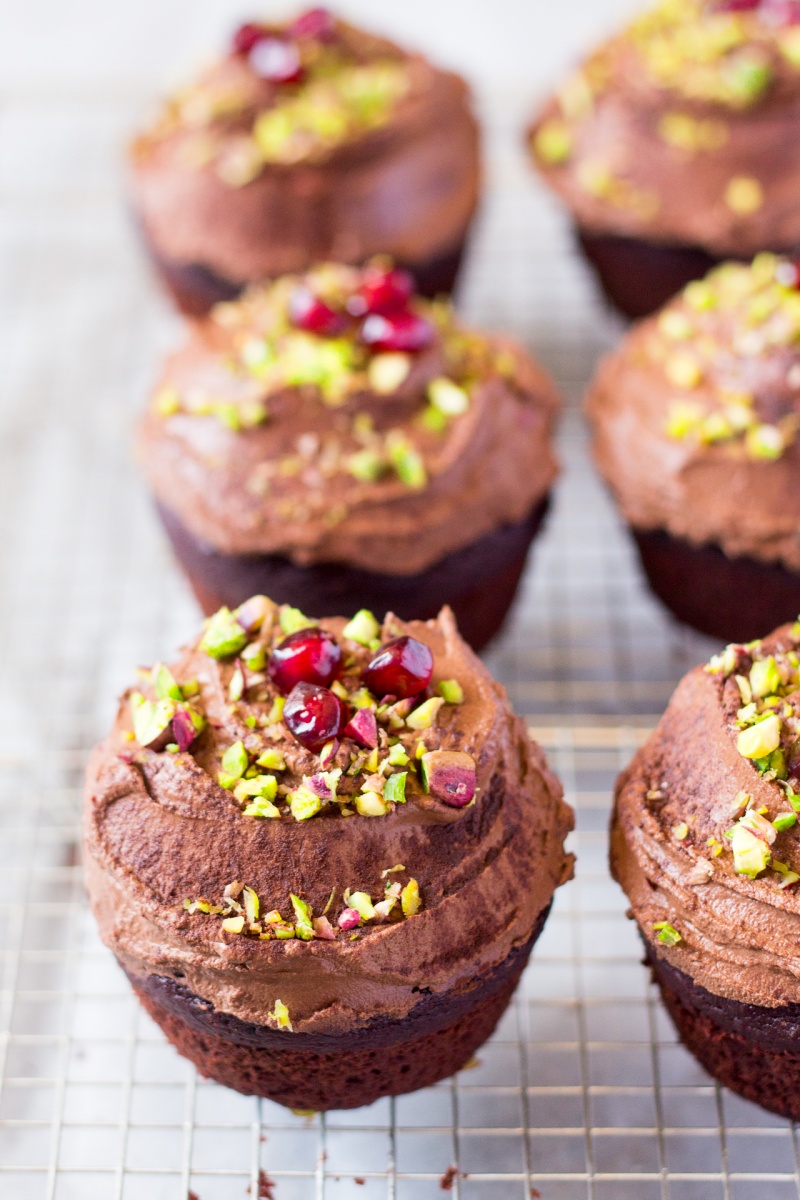 CHOCOLATE CUPCAKES
180 g / 1 ½ cup* white all-purpose flour
100 g / 1 cup cacao (I used raw)
1 tsp baking powder
½ tsp baking soda
¼ tsp salt
90 ml / ¼ + 1/8 cup olive oil
70 ml / ¼ cup + 2 tsp of espresso or strong, black coffee
1 cup / 240 ml almond milk
¾ cup beetroot purée**
180 g caster sugar
WHIPPED CHOCOLATE GANACHE
150 g dark (70%) chocolate
125 ml / ½ cup almond milk
chopped pistachios, for decorating (optional)
pomegranate seeds, for decorating (optional)
2 tsp cacao powder, for decorating (optional)
METHOD
CUPCAKES
Heat up the oven to 175° C / 347° F.
Sift flour, cacao, salt, baking powder and baking soda into a bowl. Mix well and set aside.
In another large bowl, cream sugar, olive oil and beetroot purée together using an electric mixer.
Add espresso and almond milk to the creamed sugar. Mix well.
Line a large muffin tray with paper liners or grease it well with a little olive oil.
Pour dry ingredients into wet ingredients very gradually. Stir the two together very slowly and be careful not to overmix. Stir only until there are no more flour pockets in the batter.
Distribute the mixture evenly between 12 cupcakes. Bake on the lower middle shelf of the oven for about 20 minutes – until a skewer comes out fairly clean (not too clean as this is a moist cake). Cool after baking.
Apply whipped chocolate ganache frosting to the cooled cupcakes, using a butter knife or the back of a teaspoon. Dust each cupcake with a touch of cacao, decorate with pomegranate seeds and chopped pistachios.
WHIPPED CHOCOLATE GANACHE
To make the ganache, chop the chocolate up into small pieces and place in a large bowl.
Warm almond milk in a small pot until it reaches an almost boiling point. Pour hot almond milk over the chopped chocolate and let it sit for 5-10 minutes, DO NOT STIR straight away. Now stir the chocolate gently until it's combined with almond milk into a smooth and glossy chocolate ganache. Let it completely cool down.
Once ganache has cooled down completely start beating it with an electric whisk just like you would beat coconut cream. After a few minutes, it will turn into a gorgeous butter cream. Be careful not to overwhip as it will turn the chocolate grainy. If that happens, melt the ganache over a double boiler gently, cool down completely and start beating again.
NOTES
*I use metric measurements for baking as they are much more precise. If you must use cups for measuring dry things like flour, please be very careful as
incorrect measuring
can add as much as 30 g to a cup of flour, for example, and effectively ruin your cake.
**You can easily make your own beetroot purée. Wash 5 medium beetroots then boil them in a pot full of water, covered, for about 75-90 mins (until soft). Peel them, cut into smaller pieces and then puree with a stick blender or in a food processor. Cool down before using in the recipe.