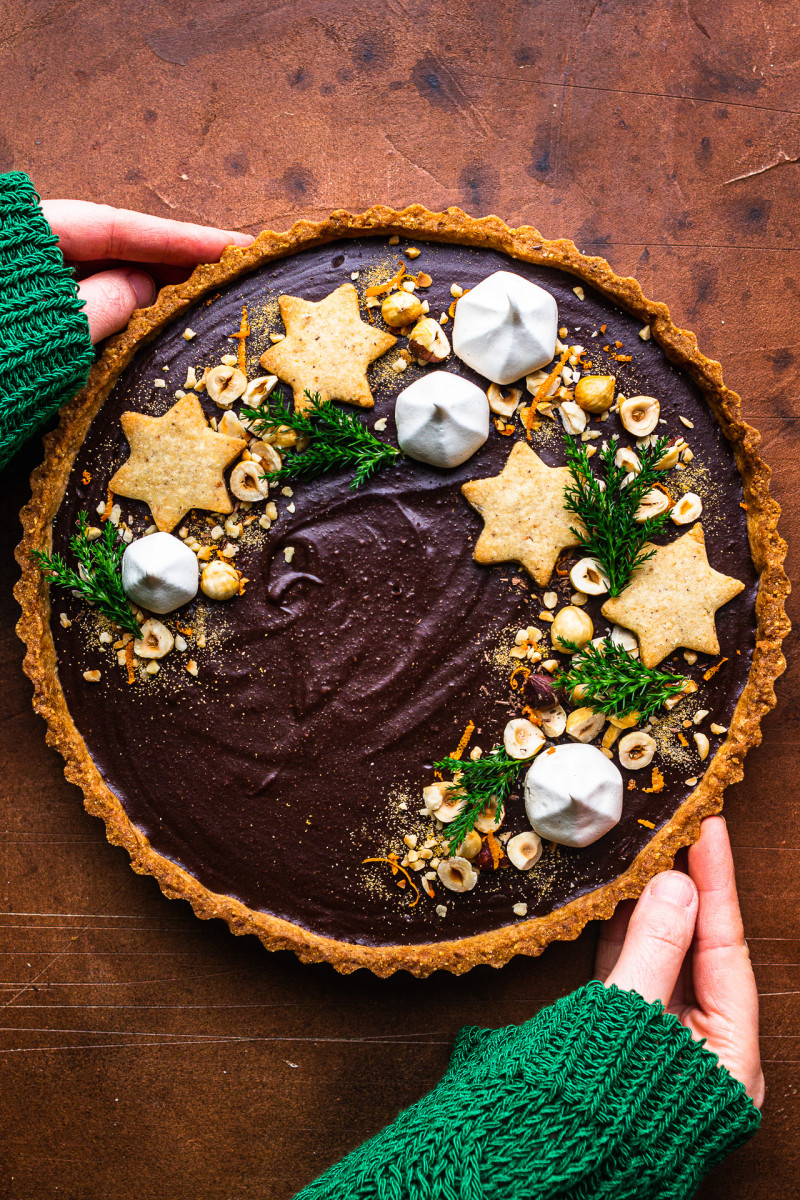 So this is Christmas…and what have I done?…Hang on, not yet. I will save that song for next week 😉 but certainly there is an air of Christmas all around, most of the houses on my street have decorated Christams trees in their windows, it's suitably cold and my fridge is full to the point of bursting – so much so that I'm having to store some of my perishable food in an insulated cardboard box outside….According to some – I am not naming names – that's eccentric, I would argue that it's just pragmatic and a good way to solve a real problem.
In the spirit of Christmas, I have two more festive dessert recipes for you before I sign off for the rest of this year. First up, is this delicious yet deceptively easy to make vegan chocolate hazelnut tart. I adore the combination of chocolate and hazelnuts, always have and always will so this was a non-brainer. I've taken lots of step by step photos for you to make sure that you are clear on what needs doing.
If you have never made an elegant tart like this before, don't worry, this recipe is perfect for you. The shortbread pastry comes together in a food processor, in seconds, and the filling simply requires some gentle stirring and that is it. Really! It is really that simple.
Because it's Christmas, I've decided to fortify this tart with a healthy glug of hazelnut liqueur – I rarely drink any alcohol but I do love a touch of booze in a dessert now and again – but that's certainly optional. If you are making it for someone who cannot have any, simply use some plant milk instead. Below, I will talk you through all of the key ingredients and show you – how to go about making this simple yet impressive looking dessert. I hope you'll give it a go and if you do, that you will love it as much as us and all of my neighbours who tried it.
MORE ABOUT THE INGREDIENTS
HAZELNUTS: You want to use blanched (and roasted) hazelnuts for the crust, they are quite common in the UK at least. If you can only get skinned hazelnuts, spread them on a baking tray and roast in a 175° C / 350° F for 8-10 minutes – until most skins have split and the nuts are fragrant. Place them inside a kitchen towel and rub between your hands to loosen up the skins. Allow them to cool before grinding.
FLOUR: I used all purpose (plain) flour to make my pastry. If you want to make it gluten-free, use a good gluten-free flour mix that contains a mixture of flours and starches (that's important) and add a touch of xanthan gum to bind the pastry together. When making gluten-free crust, I find that instead of rolling it out, it works better to crumble it inside the tart case and shape it with your hands.
XANTHAN GUM: This ingredient is only needed if making a gluten-free version of the pastry. Xanthan gum is a binder that's a staple in gluten-free cooking and it helps to keep the pastry together. Another alternative would be to use psyllium husk powder (and possibly some extra water). I have not tested in this crust, but based on my experience with this ingredient in other recipes, I recommend using 1-2 tbsp.
CARDAMOM: I like to add a bit of cardamom to this crust, but you don't have to if you are not a fan or have never had it.
SUGAR: I used a superfine sugar (known as caster sugar in the UK) to sweeten the crust just a little. You can use less or more if you like. And if you do not have caster sugar, icing sugar (known as confectioner's sugar in the US) would be another good option. Use the same amount by weight.
VEGAN BUTTER: Vegan butter block (I like using Naturli and Violife, but of which are available in most UK supermarkets) replace traditionally used butter. You could also use coconut oil. I recommend using a refined coconut oil like this one as it does not contribute any coconut flavour.
DARK CHOCOLATE: I used 70% cocoa vegan dark chocolate for this tart. The brand I tend to use is Green & Blacks but any dark chocolate works (I also tried Dr Oetker 72% cocoa solids) as long as the percentage of cocoa is the same.
VEGAN CREAM: I vegan single cream by Oatly to make the ganache as it's easily accessible in the UK, but I've made this ganache with full fat coconut milk in the past and it works just as well, it does however add a hint of coconut flavour, which not everyone may be keen on given that this isn't a coconut themed dessert.
MAPLE SYRUP: I used maple syrup to sweeten the ganache but any liquid sweetener with a neutral flavour should work just as well – I would steer clear from date syrup as it has quite a strong flavour. Alternatively, create a simple sugar syrup by dissolving sugar in a small amount of liquid and use that instead.
HAZELNUT LIQUEUR: A touch of hazelnut liqueur (like Frangelico) is nice and makes this tart more festive, but if you cannot have alcohol simply use plant milk instead. I used Oatly Barista in the place of alcohol in my tests.
HAZELNUT BUTTER: Hazelnut butter gives the ganache Nutella-like flavour. I make my own by grinding roasted hazelnuts in a food processor, but shop-bought one works just as well. Make sure to stir it well before using in the recipe.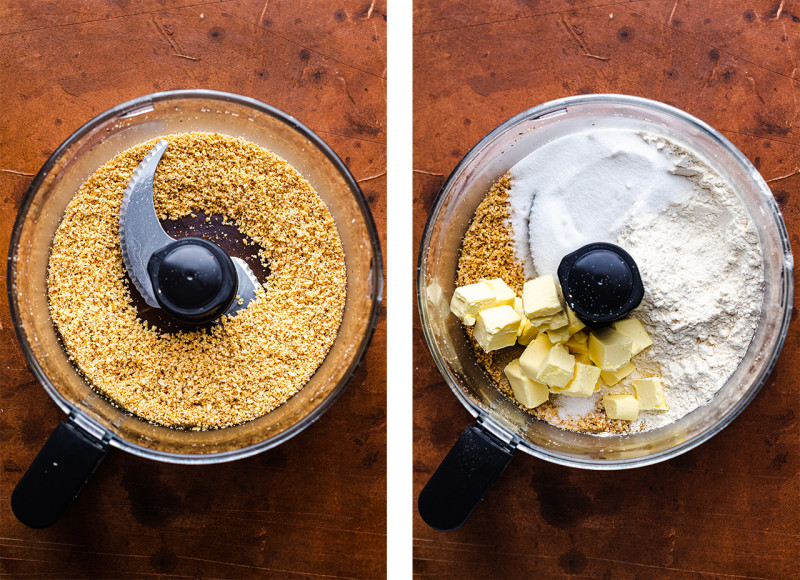 To make the shortbread crust, grind hazelnuts into fine meal in a food processor. Next, add in the rest of the dry ingredients and cubed vegan butter.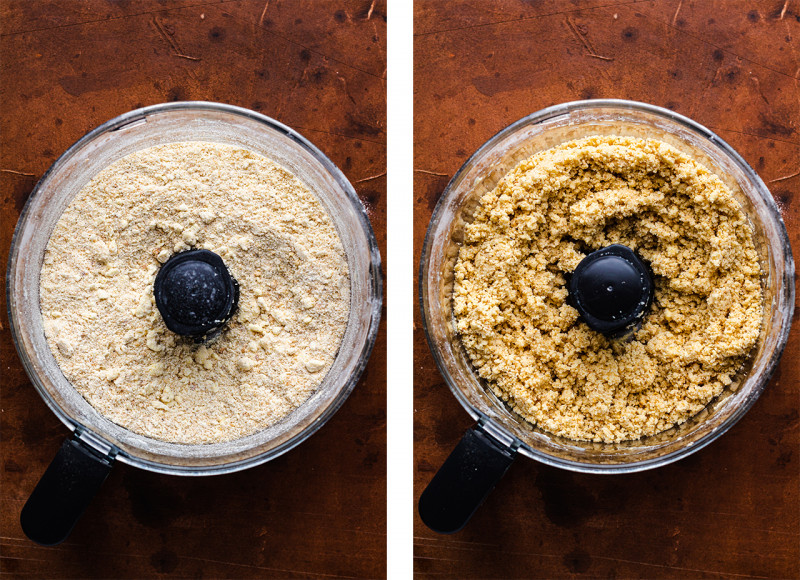 Pulse everything a few times, until the mixture resembes sand (pic on the left). Switch food processor back on and slowly trickle in fridge cold water while food processor is running. Add enough for the dough to stick together when clumped in your hand, but not any more than that. I added 45 ml (3 tbsp). The photo on the right shows what the mixture looks like after all of the water has been added – don't rely on the looks though – squeeze a bit in your hand to be sure.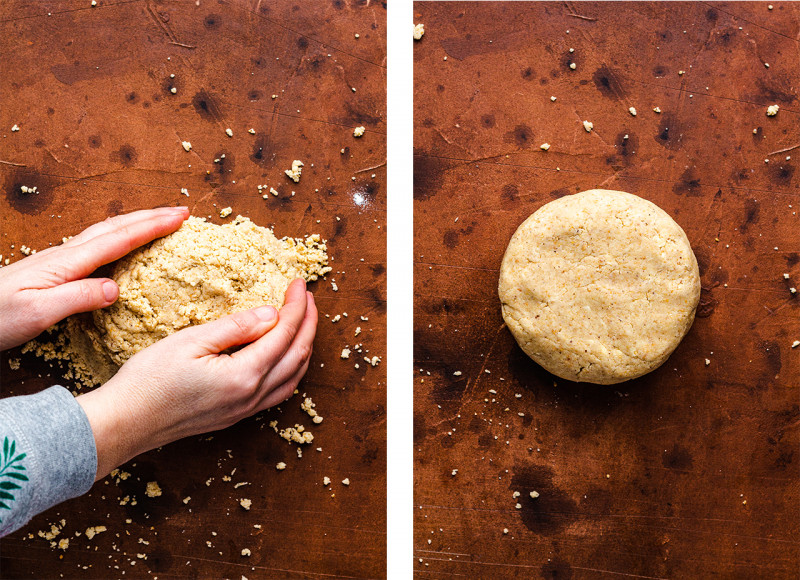 Empty the food processor onto your working surface and using your hands gently bring the dough together, do not knead it, simply press it all into a lump and then form into a disc. Refridgerate for at least 1 hour.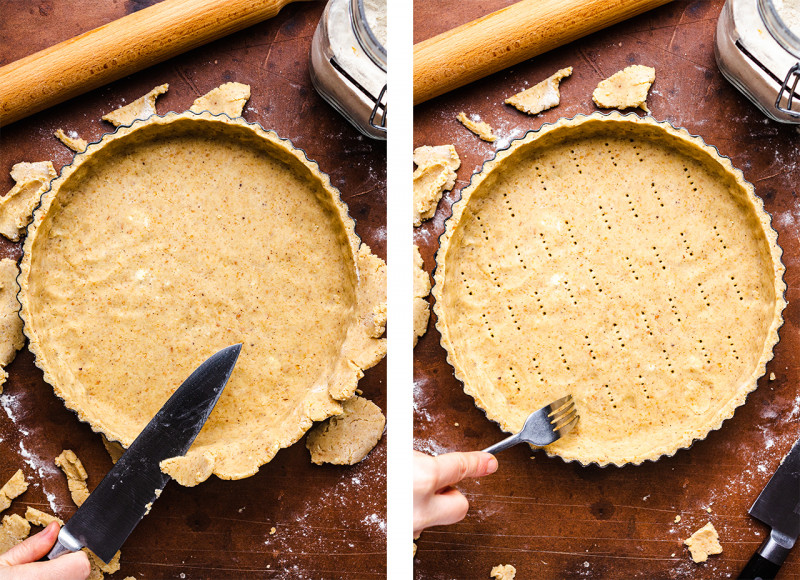 Roll out rested pastry on a lightly floured surface. Wrap it gently around the rolling pin and transfer over the tart, unravel and line the tart with it, cut off excess and use it to patch up any holes (and make cookies from the rest). Bake and cool.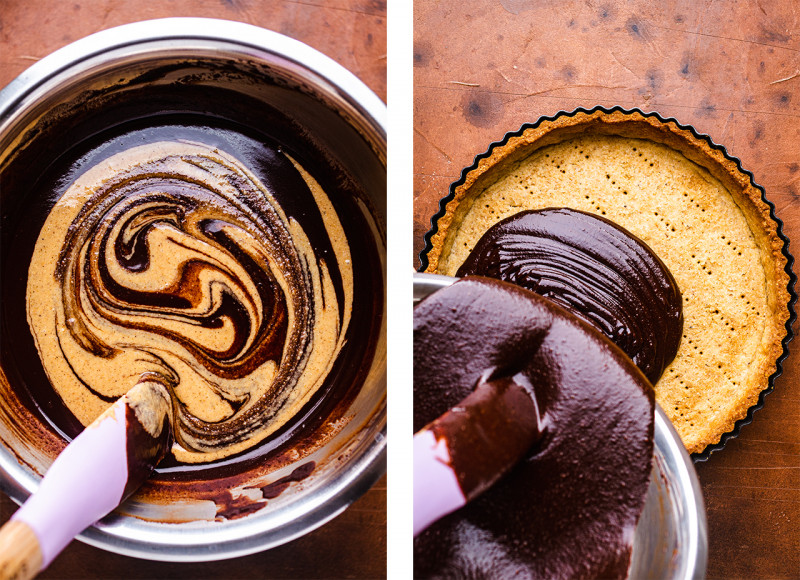 Melt chocolate and vegan cream together over a pot of simmering water. Once melted, stir gently until you get a homogenous mixture, next add in maple syrup, liqueuer and finally hazelnut butter. Stir gently to incorporate then fill the tart case with it, refridgerate until set.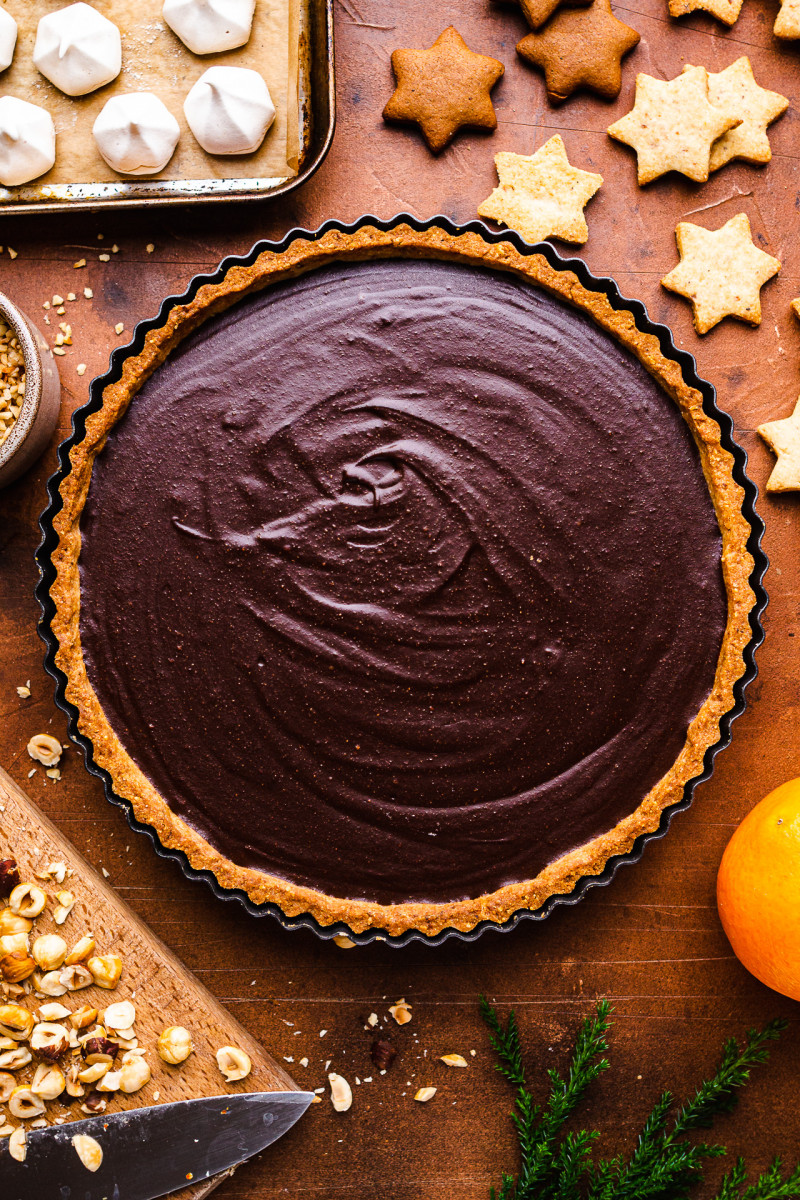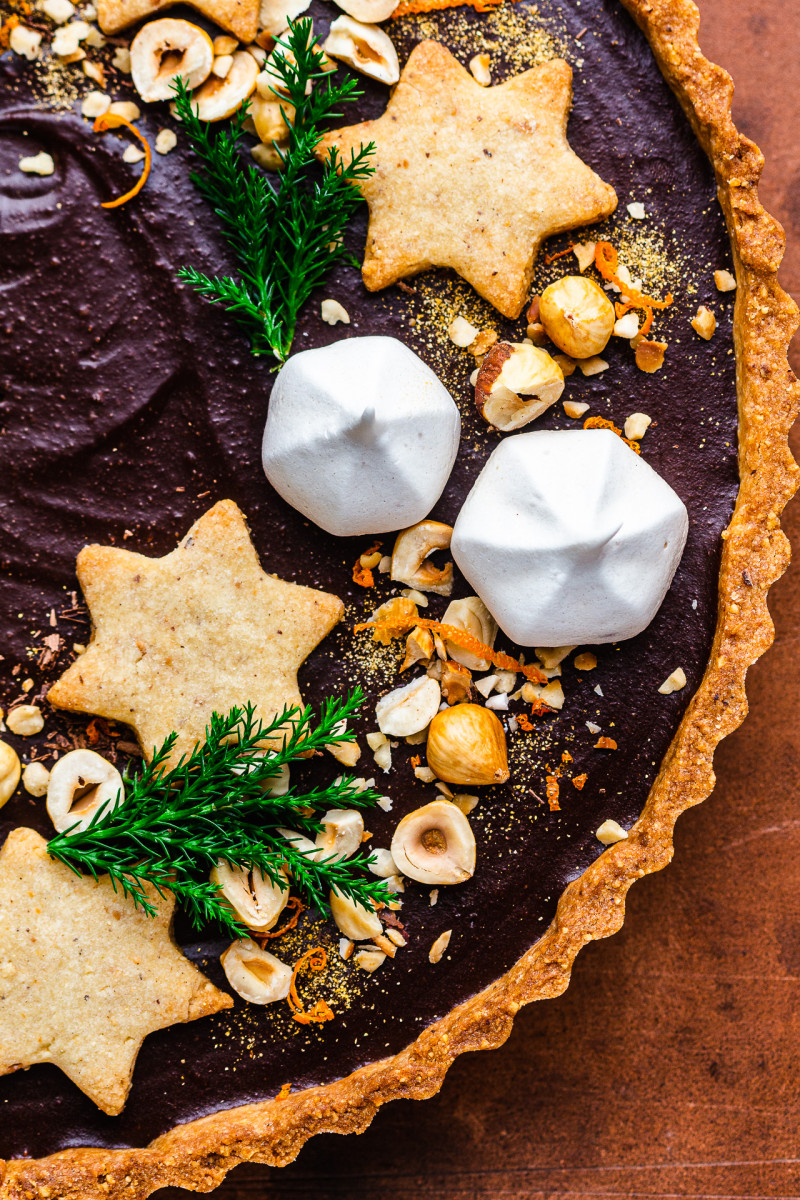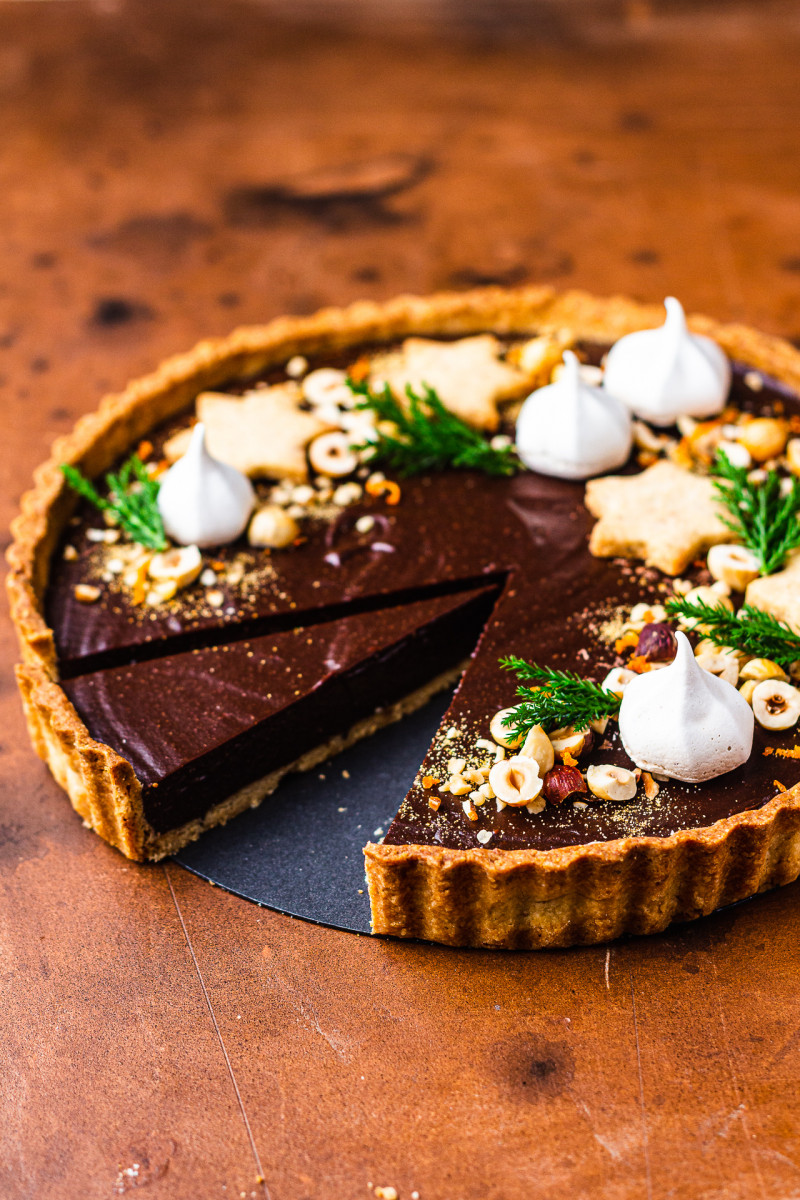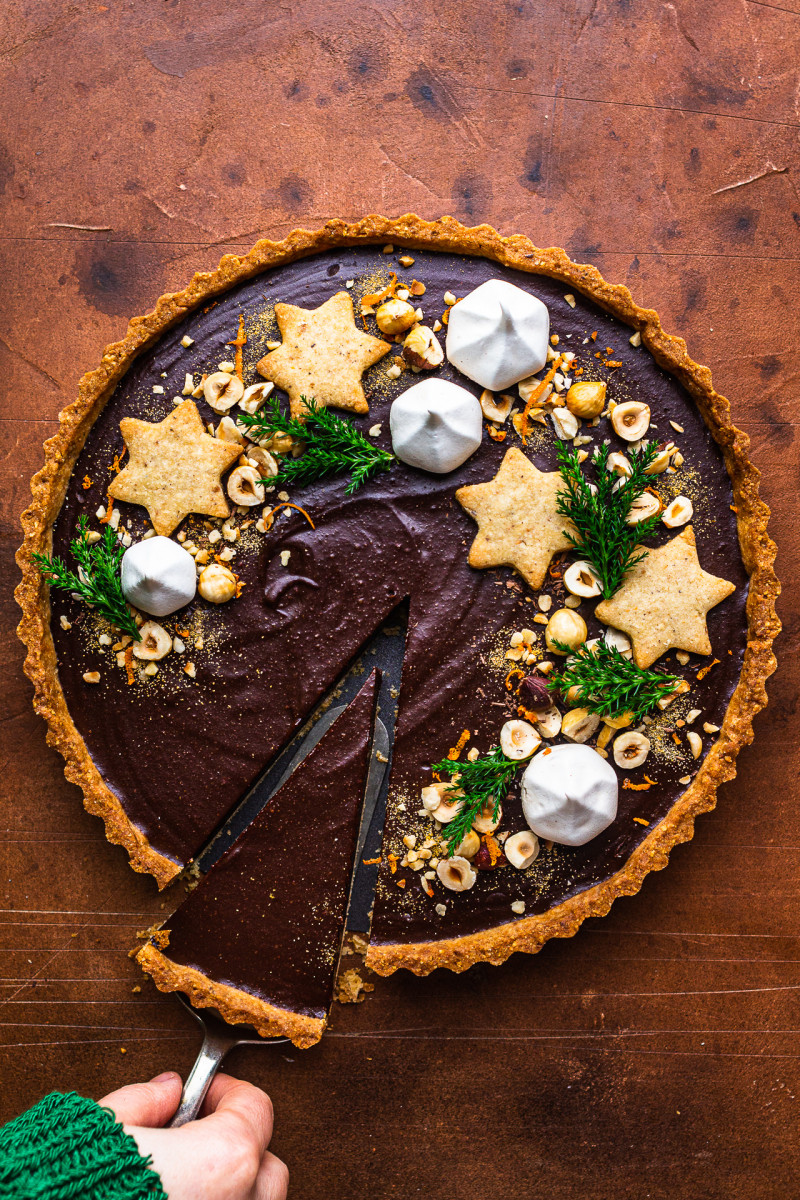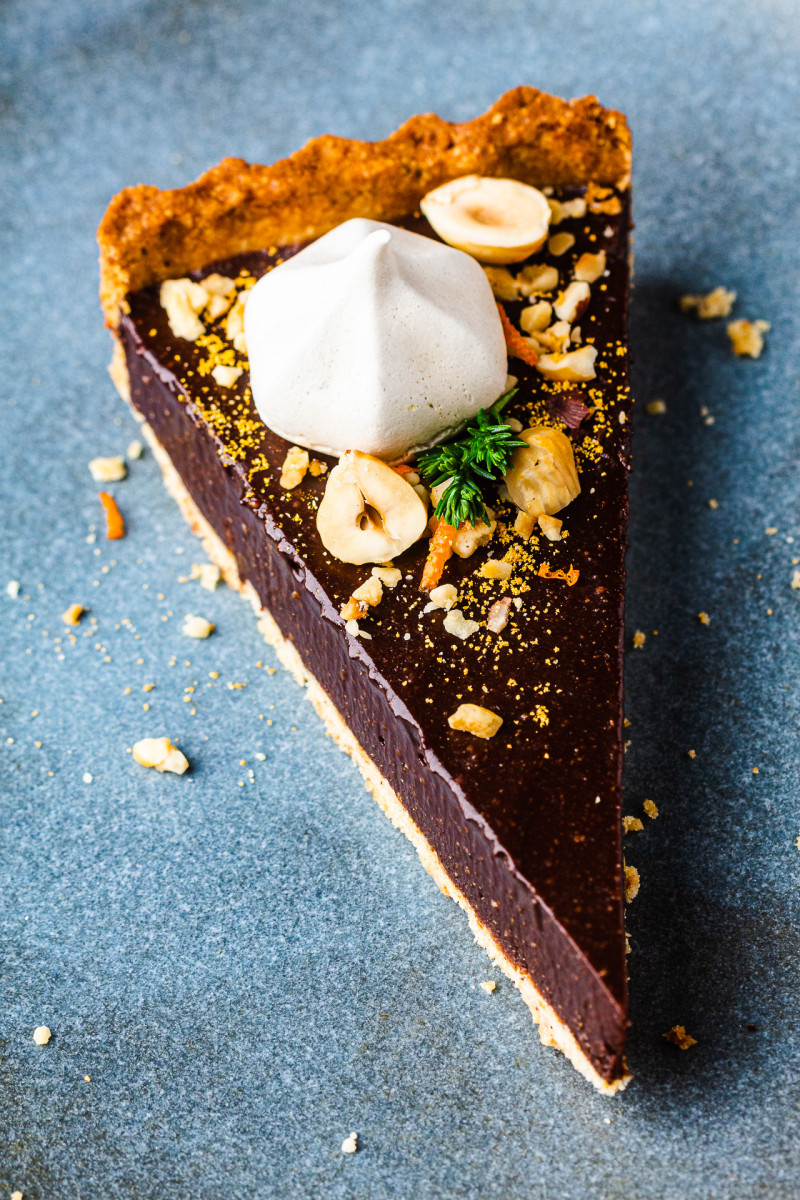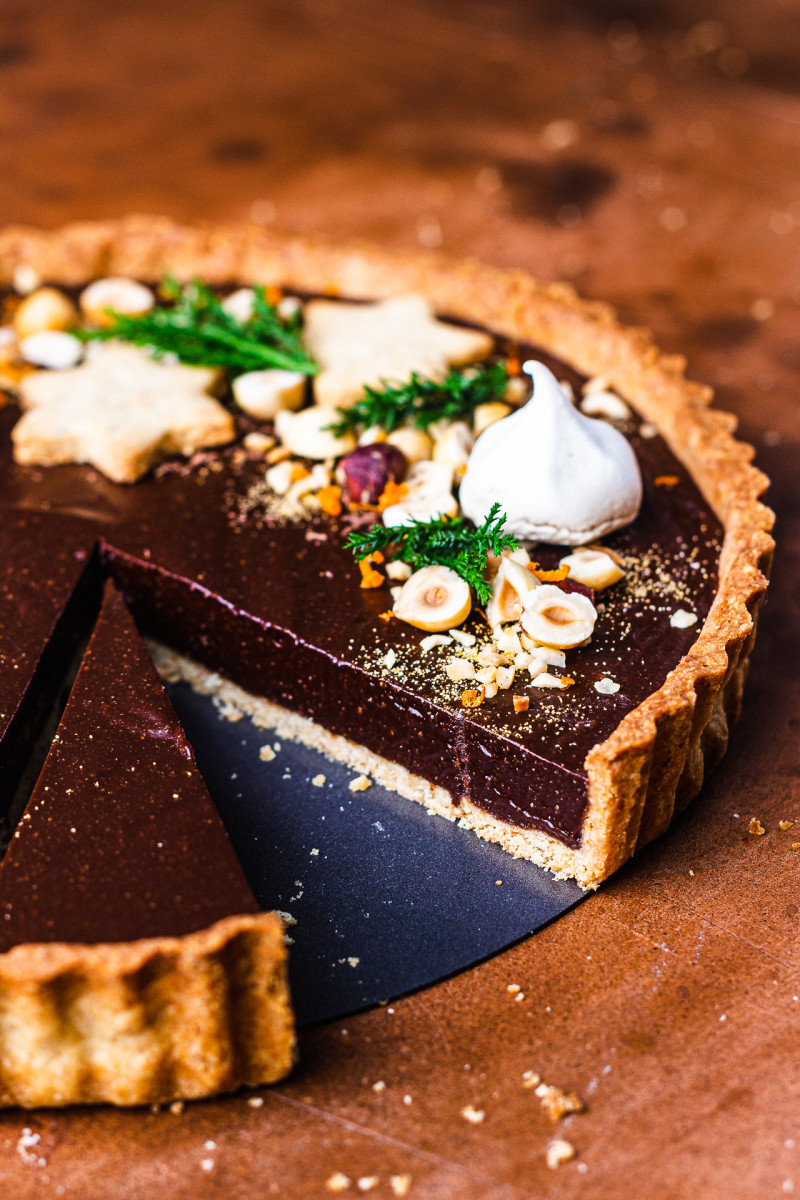 SHORTBREAD BASE
100 g / ¾ cup blanched & toasted hazelnuts*
185 g / 1½ cup all purpose flour or GF flour mix*
1½ tsp xanthan gum (only if using GF flour)
½ tsp salt
¾ tsp ground cardamom (optional)
50 g / ¼ cup caster (superfine) sugar
120 g / 4.25 oz (heaped ½ cup) vegan butter or odourless coconut oil
fridge cold water
GANACHE FILLING
300 g / 10.5 oz 70% dark vegan chocolate
120 ml / ½ cup vegan single cream (I used Oatly)
120 ml / ½ cup maple syrup
60 ml / ¼ cup hazelnut liqueur (like Frangelico) or plant milk
180 g / ¾ cup smooth hazelnut butter*
¼ tsp salt
METHOD
SHORTBREAD BASE
Place hazelnuts in a food processor and process until ground into a meal.
To the hazelnuts, add flour, xanthan gum (only if using GF flour mix), salt, cardamom, sugar and cubed cold vegan butter. Pulse until the fat has been cut into the dry ingredients and the mixture resembles sand (see photos above).
While the food processing is running, gradually add cold water. I found that 45 ml / 3 tbsp of water was enough – to check stop the food processor and grab a bit of dough in your hand, if it clumps together you've added enough. If it's too dry, process the mixture again add more in 1 tsp increments – you want to add as little water as possible. The exact amount of water depends on how accurate you are with your measuring and how absorbent your flour is.
Empty food processor on a clean surface and using your hands bring the pastry together gently, do not knead. Form it into a flat disc, wrap in a piece of clingfilm and refrigarate for at least 1 hour.
I use a non-stick pastry case with a removeable buttom, if yours isn't like that, you may want to grease it or/and line it with baking paper.
Place chilled pastry on a lightly floured surface, gently whack it with a rolling pin a few times and then roll out into a 3-4 mm thin circle that is large enough to cover the base of the tart tin and the sides.
Roll the rolled out pastry around a rolling pin, place the rolling pin over the tart case and gently unroll the pastry on the top of the tin. Ground hazelnuts make this pastry a little more fragile, but don't worry – patch up any breakagaes with the off-cuts. I had enough leftover pastry to make 20 small star-shaped biscuits (baked them for 12 minutes at 175° C / 350° F).
Mould the pastry into the tart case (making sure it fits really snugly everywhere) and trim the excess with a sharp knife. Pierce the bottom of the pastry with a fork.
Place the lined tart case back in the fridge while you heat up the oven to to 175° C / 350° F.
Once the oven is ready, line the inside of the pastry case with a large piece of crumpled baking paper and then arrange baking beads (or dry beans) on top of the pastry. Blind bake for 15 minutes.
After 15 minutes, take the beads and the baking paper off and return to the tart to the oven for another 5-7 minutes. If the edges are browning too quickly, protect them with a piece of foil (like in the photos for this recipe). Cool completely before filling.
GANACHE FILLING
Place the broken up chocolate pieces and vegan cream in a glass or metal bowl over a bain marie (water bath). Place the pot on the on the low heat (the water underneath should barely simmer and not boil) until the chocolate has been melted. Make sure the water does not touch the bowl with chocolate.
Once the chocolate looks melted, gently whisk it into the cream with a wire whisk, then add maple syrup, hazelnut liqueur (or plant milk) and hazelnut butter. If using hazelnut liqueur, which tends to be sweet, you may wish to reduce the amount of maple syrup a little (to 80 ml /1/3 cup) and replace it with more plant milk.
Allow the mixture to cool down, but it should be still pourable, then fill the tart case.
Transfer the tart into the fridge. Allow to set for 4-8 hours then decorate if wish. I used biscuits from pastry offcuts, mini vegan meringues, hazelnuts and orange zest.
Cut with a sharp knife warmed up by dipping it in hot water. Keep in an air-tight container in the fridge or freezer.
NOTES
*HAZELNUTS: you can of course use shop-bought hazelnut meal in the crust. You could also use almond meal, replace hazelnut butter with almond butter and hazelnut liqueur with Amaretto (almond liqueur) for an almond version of this dessert.
*For the GLUTEN-FREE version, use a good GF flour mix (I like this one) and 1½ teaspoon of xanthan gum. When using GF flour, it usually works better to place the dough inside the tin case and mould it its shape with your fingers.
*HAZELNUT BUTTER: I make my own by grinding roasted hazelnuts in a food processor, but shop-bought one works just as well. Make sure to stir it well before using.