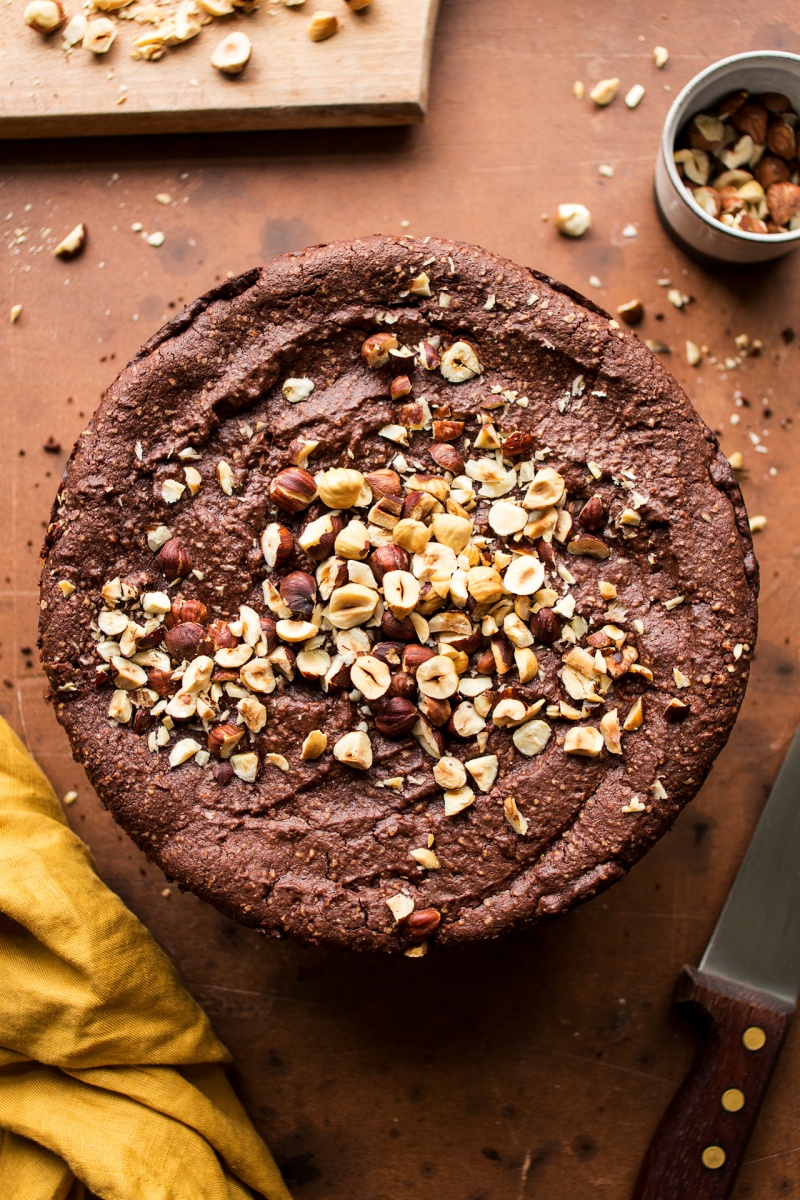 Happy Friday, guys! I just got off the plane and I'm now heading home to hug my cat, although she will be offended, no doubt. Cats, eh? You gotta love them and their unshakeable confidence. I've had a lovely time back home in Poland, recharged my batteries and soaked up some late September sun too, which was an unexpected but welcome surprise.
Today's recipe is a rich chocolate and hazelnut torte that I'm hoping you'll enjoy. I love the combination of chocolate and hazelnuts and since I feel like colder weather is conducive to slightly more indulgent desserts, you can expect more, similar recipes on the blog this autumn. Stay tuned!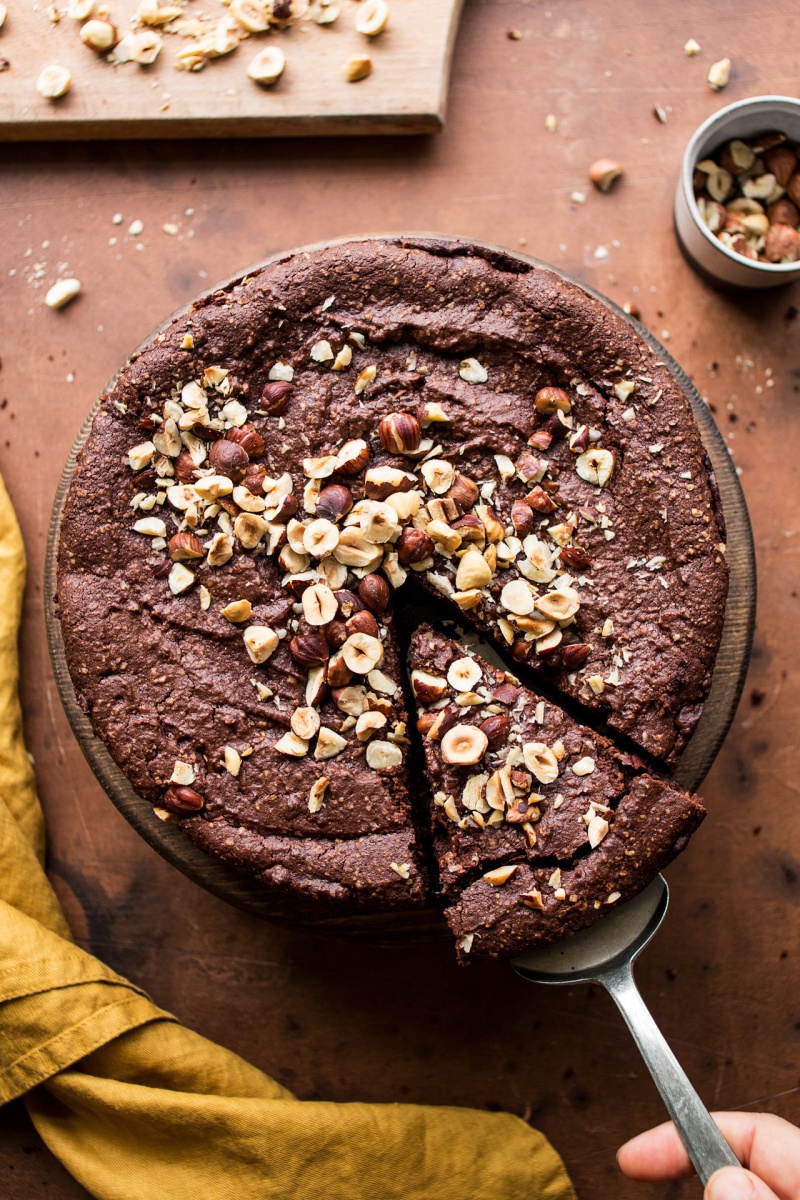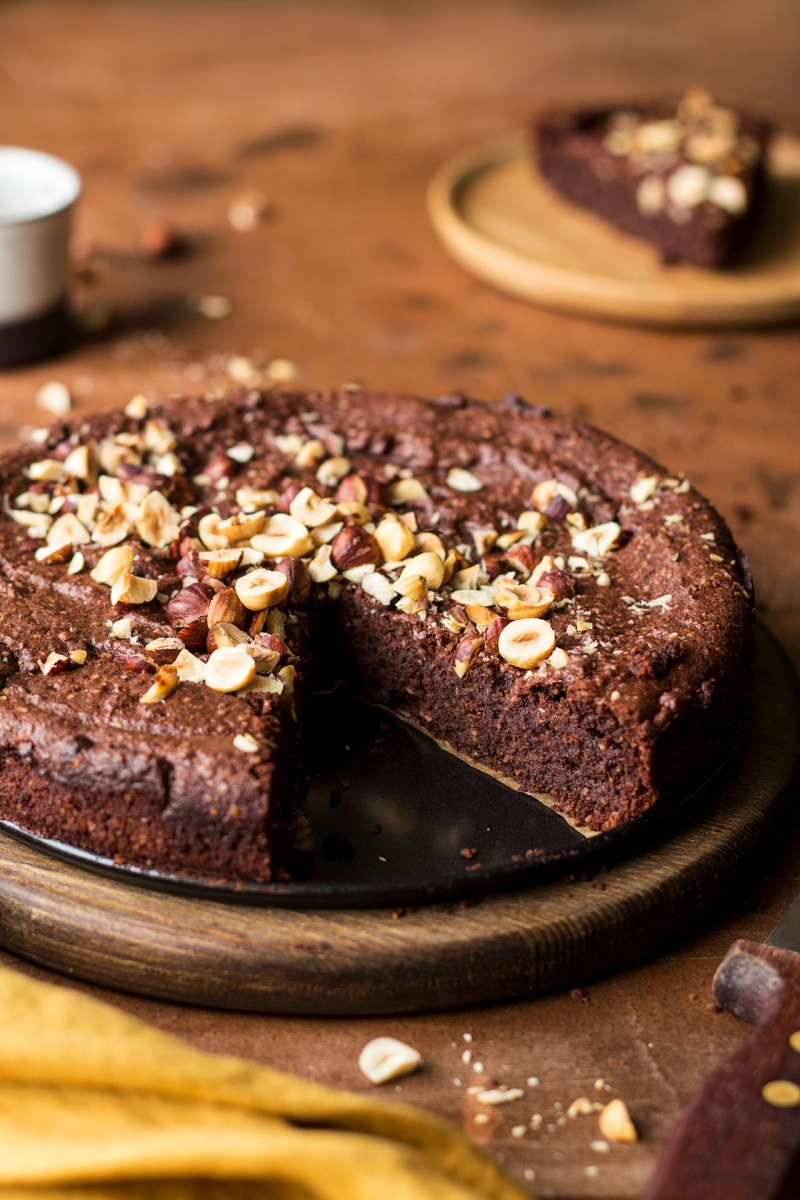 200 g / 7 oz vegan dark chocolate (I used 70% cacao)
200 g / 7 oz silken tofu (I used Clearspring)
1 tsp vanilla essence
120 ml / ½ cup aquafaba (I used aquafaba straight from a tin / can)
1 tsp lemon juice or red / white wine vinegar
135 g / 2/3 cup caster sugar*
100 g / 1 cup hazelnut meal / finely ground hazelnuts
45 g / 1/3 cup GF cake flour mix (I used this one)**
1 tsp baking powder
½ tsp salt
75 g / ½ cup hazelnuts, roughly chopped
METHOD
Chop or break up the chocolate into smaller pieces with your hands.
Place the chocolate in a glass bowl over a water bath (bain-marie). Make sure the glass bowl doesn't touch the water. Simmer on a very low heat until the chocolate has melted. Take the bowl off the pot and allow the chocolate to cool down.
Blend the silken tofu and vanilla essence until smooth in a food processor.
Preheat the oven to 180° C / 355° F. Grease a round tin (I used a 20 cm / 8 " round tin) with a little bit of olive oil or line the bottom of the tin with a circle of baking paper.
In a clean metal or glass bowl, whip the aquafaba (it should be at room temperature or else the chocolate might seize) and lemon juice until you get stiff peaks. It is very important that the bowl has no grease residue as this will prevent the aquafaba from reaching stiff peaks.
Once the aquafaba is at the stiff peaks stage (turn the bowl upside down, if the aquafaba does not slide down at all, it means that it has reached stiff peaks), start adding sugar very gradually, whipping well after each addition.
Next, slowly and gently fold melted chocolate until you achieve an even looking batter.
Fold the silken tofu into the cake mixture.
Finally (gradually and gently so that you don't knock too much air out of the whipped aquafaba) fold the hazelnut meal, GF flour, baking powder and salt into the cake mixture with a spatula.
Spoon the batter into a brownie tin. Decorate with chopped hazelnuts.
Bake for 30 mins. Remove from the oven and let the torte cool down COMPLETELY before cutting.
NOTES
 *I haven't tested this recipe with any other sugar and unless you are in the mood for experimentation, I would advise against using anything else, as different sugars tend to affect aquafaba in various ways. Caster (fine) sugar gives the most consistent results.
**If you don't need these to be gluten-free, use 50% white all purpose flour and 50% cornflour / cornstarch.