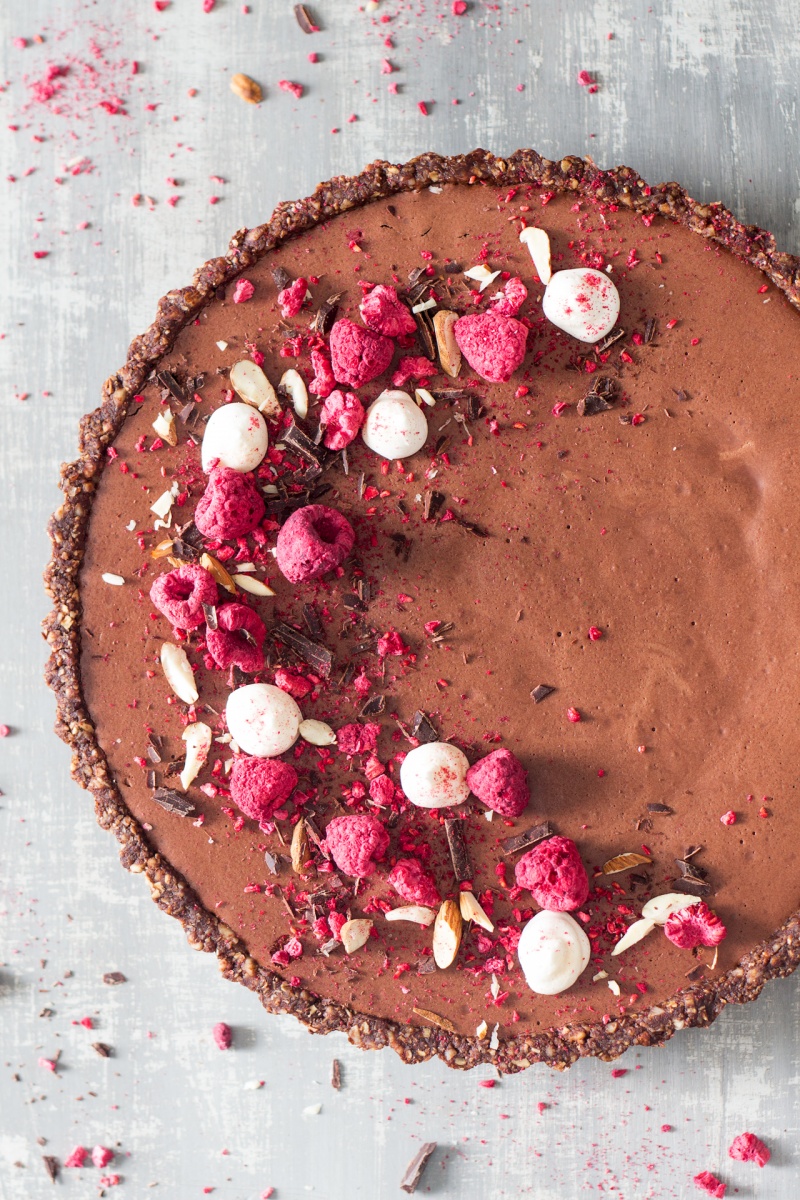 As I might have already mentioned in passing, I am not a Valentine's Day kind of girl. It feels a tad forced to celebrate love on demand, on a randomly prescribed day when love is such an individual and deeply personal thing. I think an anniversary is much more of an occasion to celebrate. You've 'survived' another loooong year together despite your (charming) quirks and his annoying character traits 😉 ! Yay!
The most I am willing to do on Valentines is to cook a nice meal together or at the very least make a scrumptious dessert (not that I need any encouragement, mind you!) Enter this indulgent vegan chocolate mousse tart with a layer of raspberry and a good pinch of chilli to awaken the senses.
This baby is sweet, yet not overly so. It's airy and light. It's also super easy to make, so no excuses please!
The base is raw so if you used to mould things out of Plasticine as a child (or still do 😉 ) you've got all the skills covered. The filling consists of shop-bought jam (if you can spread jam on your toast, you'll nail that part) and finally the mousse layer requires a little bit more skill, but it's not a rocket science, just follow the instructions. Once you're done, chill it in the fridge and decorate away! Once you bring this baby out, every respected chocoholic will be yours for the taking 😉 …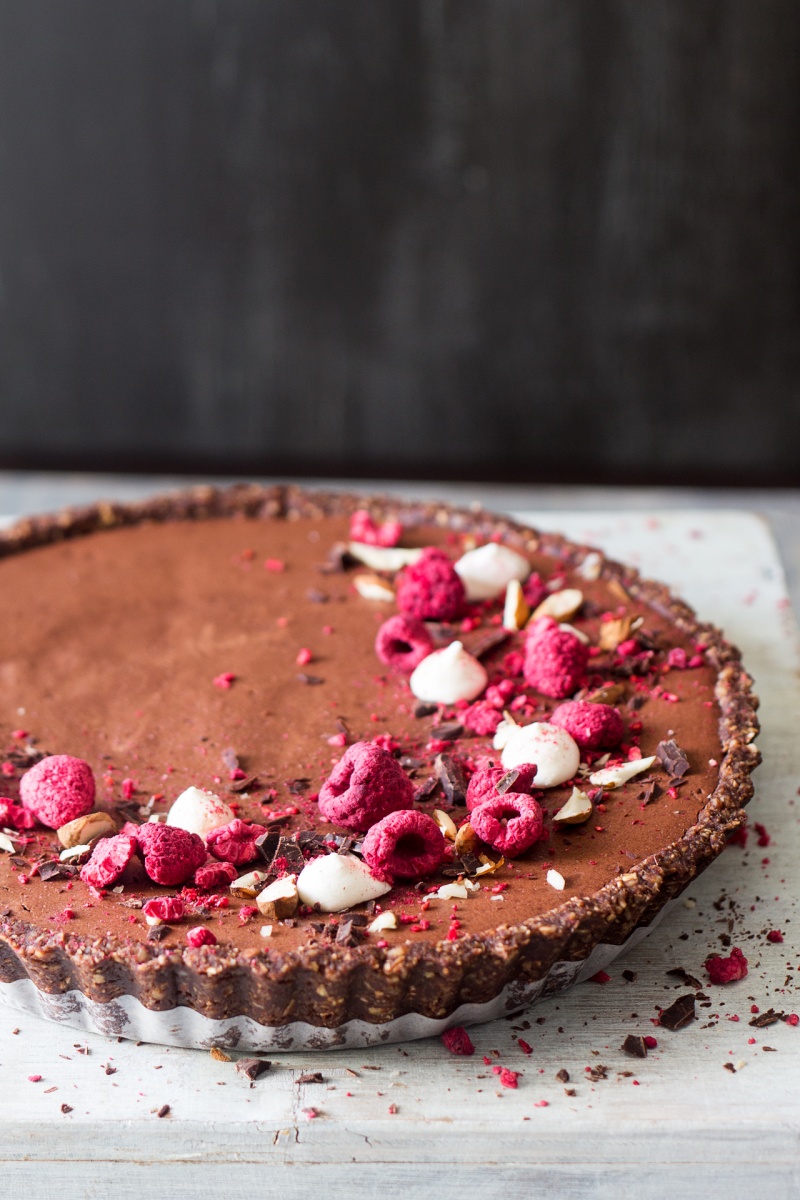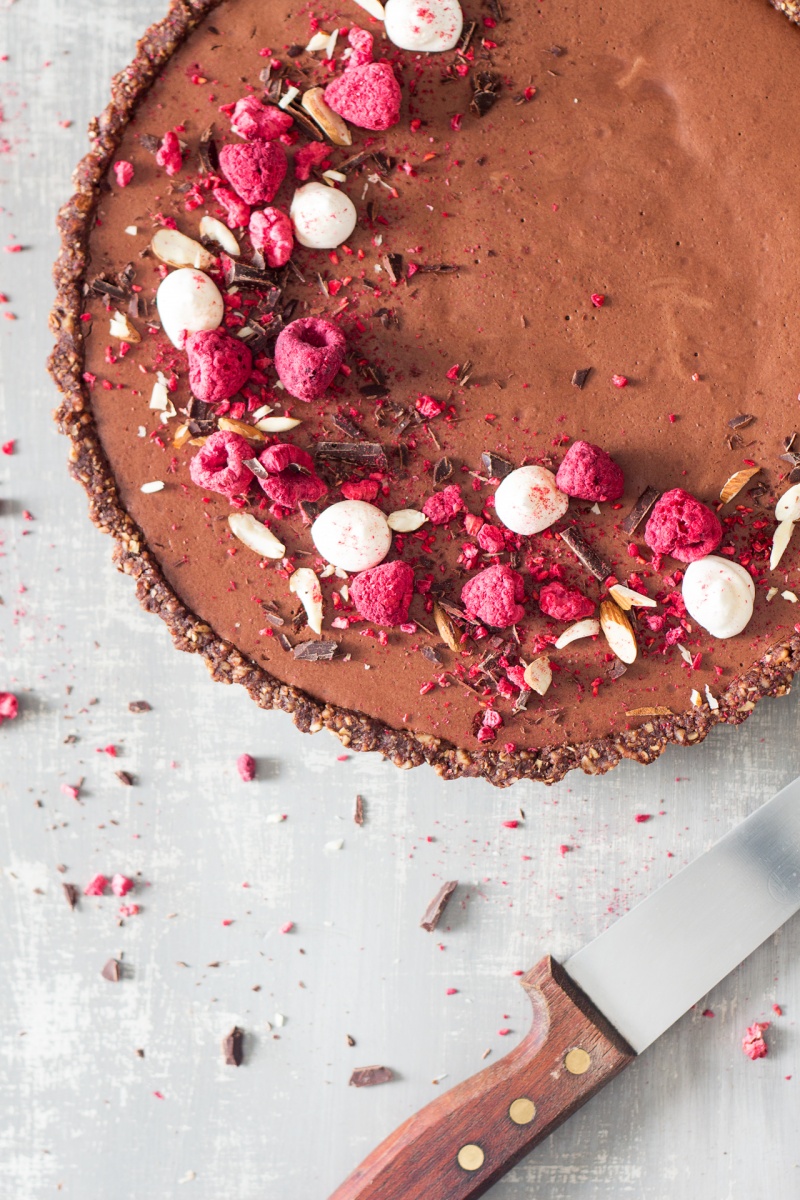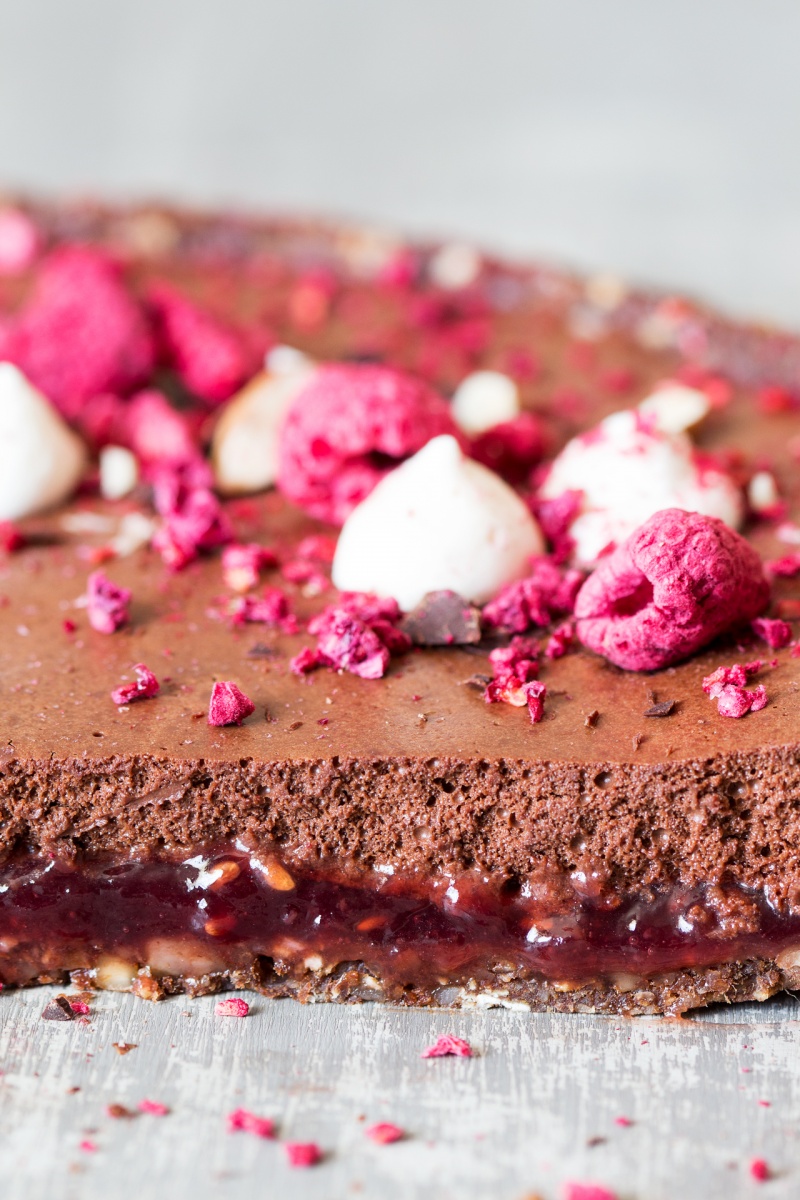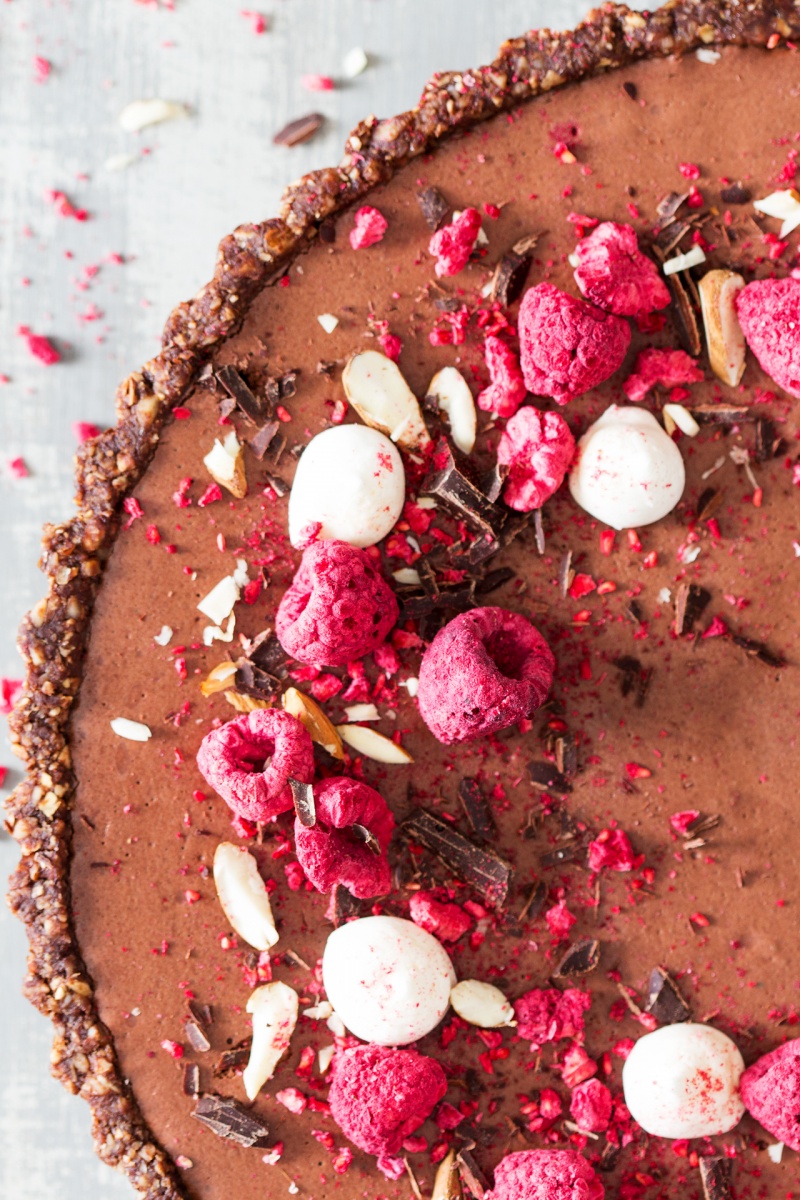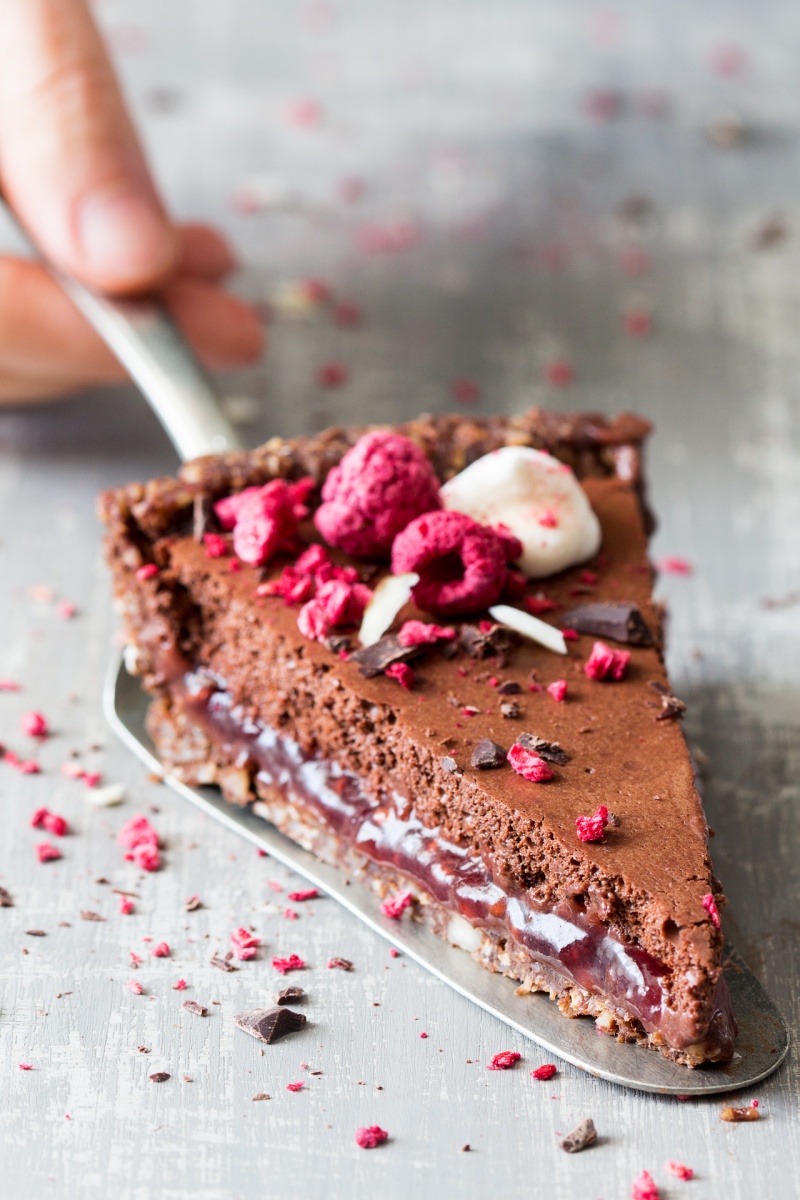 BASE
150 g / 1 cup dried dates, halved and pitted
140 g / 1 cup almonds
90 g / 1 cup rolled oats (GF certified if required)
3 tbsp cacao powder
¼ tsp fine sea salt
1 tbsp coconut oil, melted
FILLING
125 g / 4.5 oz dark (70 % cacao) chocolate
90 ml / ¼ cup + 2 tbsp aquafaba / chickpea brine homemade or from a tin
90 ml / ¼ cup + 2 tbsp coconut cream (separated from full-fat coconut milk)
¼ tsp hot chilli powder, adjust to taste (optional)
240 ml / 1 cup good quality raspberry jam
DECORATION (optional)
chocolate shavings
almond flakes
mini meringue kisses (recipe here)
freeze-dried raspberries
METHOD
BASE
Place pitted dates in a small bowl and cover with boiling water. Leave them for 10 minutes to soften.
Place almonds and oats in a food processor and grind them both into flour. If you don't have a powerful food processor, you may want to grind them separately. Transfer ground almonds and oats to a large bowl. Add cacao and salt and mix well.
Squeeze excess moisture out of the dates and place them into the food processor. Process until you get a smooth, sticky mixture. Add them to the dry ingredients and knead by hand until you get a uniform dough.
Finally, add melted coconut oil.
Line a tart tin with a piece of baking paper and line the tin with the dough you've just made. Make sure you press it really well so that it's compacted and holds together well. Pop into the freezer for 10 mins.
MOUSSE LAYER
Chop your chocolate very finely (unless you are using chocolate chips) and place into a glass bowl together with coconut cream. Place over a water bath (on the lowest heat) and allow the chocolate and coconut cream to melt gently into each other. Do not stir until most of the chocolate has melted, then turn the hob off and allow the rest of the chocolate to melt under the residual heat. Gently mix the two together and add chilli powder at this stage (if using). Chocolate is a temperamental beast to work with, if it happens to seize (gets thick, oily and grainy), see NOTES below. Take the bowl with chocolate off the pot with hot water to allow the chocolate mixture to cool down.
Place room temperature aquafaba in a clean (that's very important as any grease residue will prevent aquafaba from foaming) glass or metal bowl. Whip it until you achieve stiff peaks – you should be able to invert the bowl and the whipped aquafaba should not budge an inch, if it does it means that it hasn't been whipped enough.
Make sure chocolate is lower than body temperature before mixing into aquafaba. Gently fold whipped aquafaba into the chocolate ganache – 2 tablespoons of aquafaba at a time.
ASSEMBLY
Take the base out of the freezer and spread the jam on the bottom. Next pour the chocolate layer on top. Let the tin sit at room temperature for around 30 minutes and then pop it into the fridge overnight or for several hours (at least) to set.
Decorate and cut into slices. Store in the fridge and consume within 1-2 days.
NOTES
Melting the chocolate and coconut cream together should stop the chocolate from seizing (as per
this article
) but if the chocolate does seize, bring it back by adding small amounts (a teaspoon at the time) of hot water and mixing the two vigorously. If you need to add more than 4 tsp of water to bring your chocolate back, use this batch to make truffles, or dilute further and use as a chocolate sauce and start a new batch for this tart. Adding too much water to the chocolate will impact the texture of the mousse negatively.
The exact dimension of my tart tin are top: 25 cm / 10 inches , bottom 22 cm / 8.5 inches and side 3.5 cm / 1.4 inches
This recipe is based on a few earlier recipes of mine – chilli chocolate and raspberry cups, this aquafaba mousse and my raw brownies.