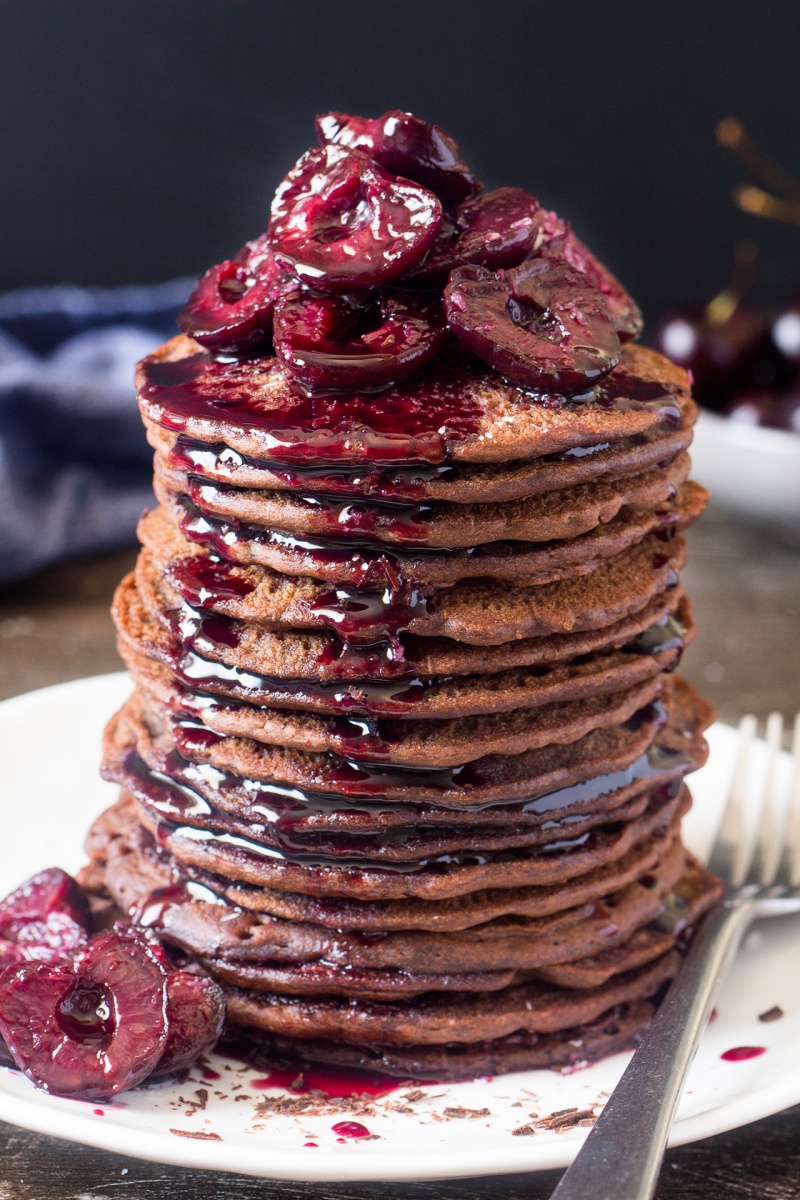 Do you remember the Black Forest Gateau inspired mousse I did a while ago?
Since then, I've been racking my brains as to how I can incorporate the flavours of chocolate and cherries into a FAIRLY healthy breakfast before the season for my favourite fruit comes to an end 🙁 . I did it, guys! Allow me to introduce chocolate buckwheat pancakes with stewed cherries and a beautiful cherry syrup. They are 'da bomb'.
As a precaution, I made two and a half batches of these for the photo shoot and I found myself snacking on the extra ones so much that I kind of had to skip dinner that day. I know, I'm bad, but in my defence, they are not that unhealthy. If you use fresh cherries, go easy on the maple syrup and use a minimal amount of oil for frying, they are practically a health food 😉 .
Not something I would have every day, of course, but pretty suitable for a lazy weekend breakfast. They are so easy to make, delicious and as an added bonus are naturally gluten-free and refined sugar free too. Get flipping!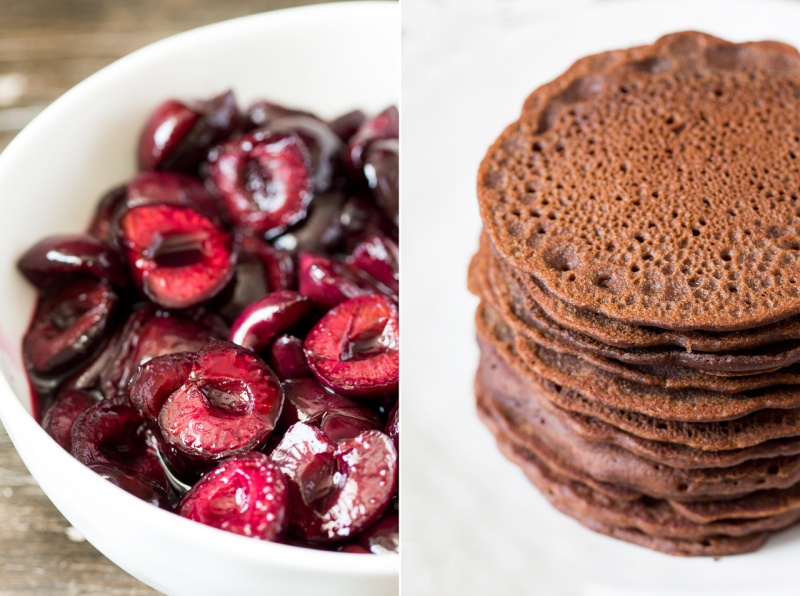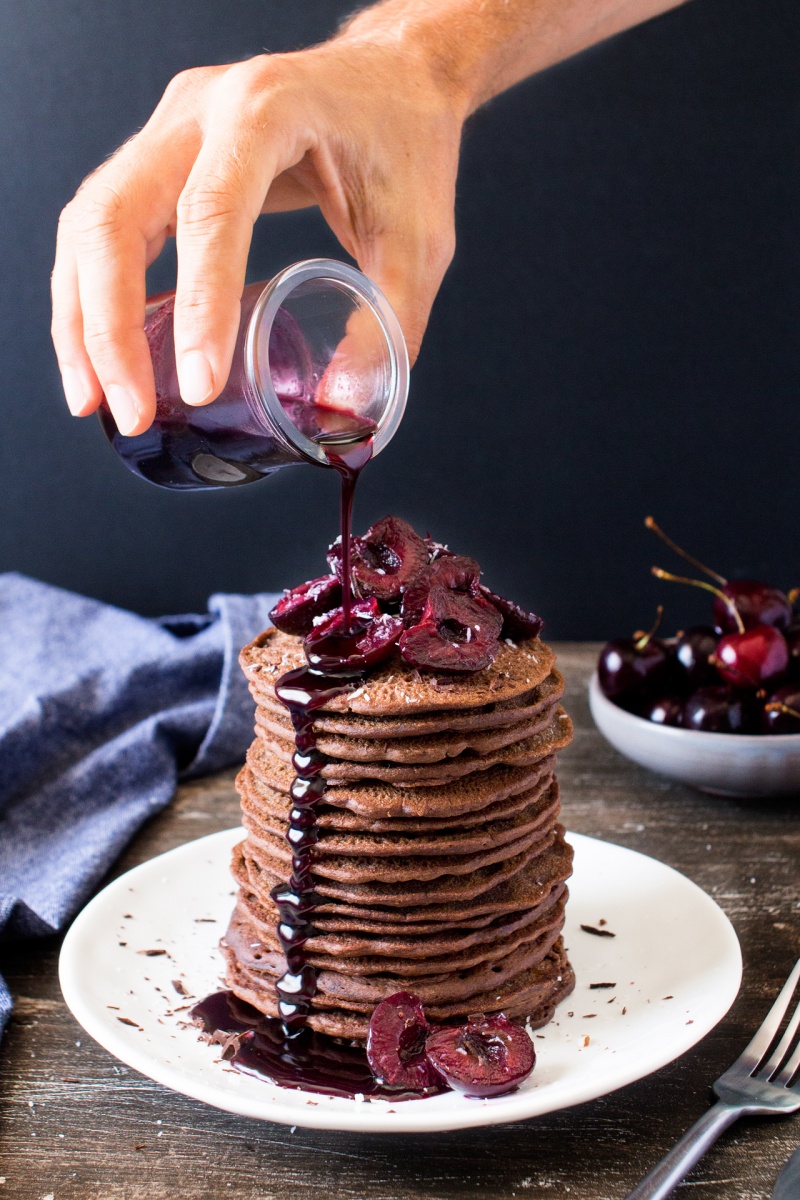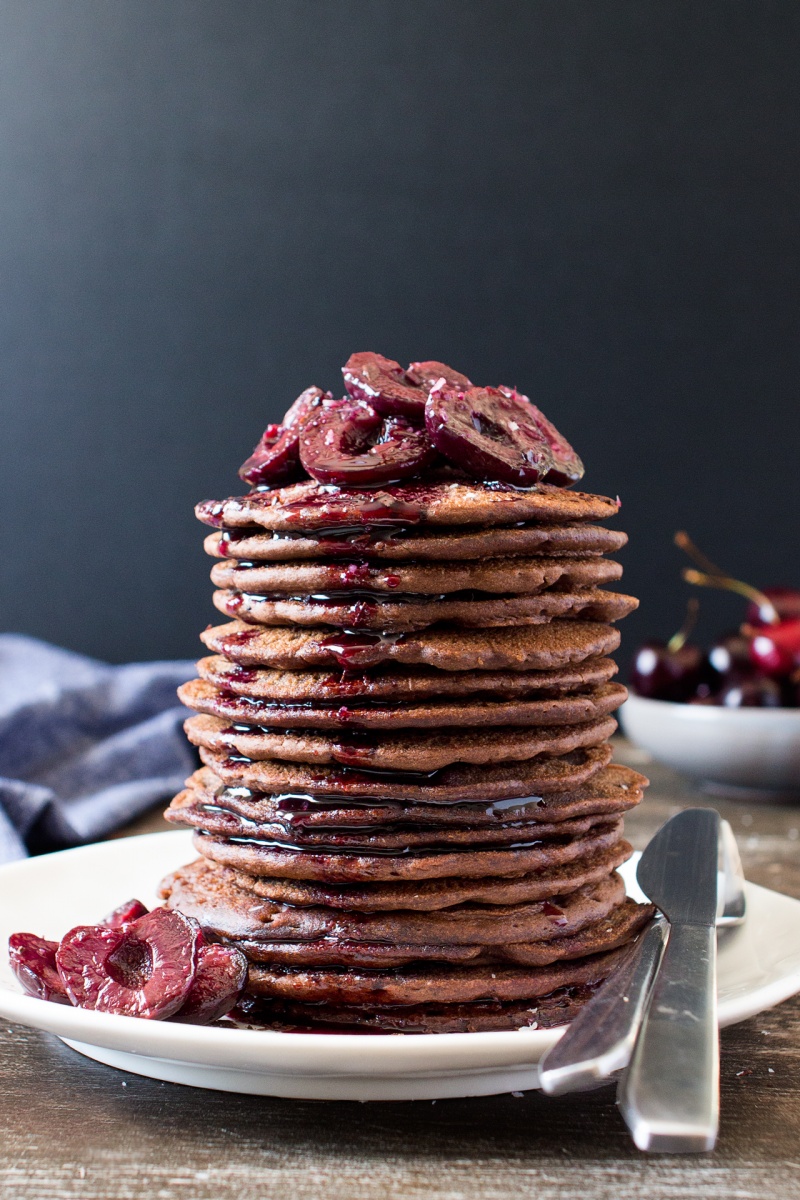 STEWED CHERRIES (optional as fresh cherries will work too!)
BUCKWHEAT PANCAKES
METHOD
STEWED CHERRIES (optional)
Put cherries in a small pot with a splash of water and some maple syrup. Stew the cherries on a very low heat, stirring them from time to time until they soften and release their beautiful juice.
Once the cherries soften, remove them from the pot and set aside. Return the leftover cherry juice to the stove and reduce it on a very low heat so that it becomes a bit more like a syrup.
BUCKWHEAT PANCAKES
In a mixing bowl, combine buckwheat flour, baking soda, baking powder and cacao powder.
In another bowl, combine all wet ingredients: ¾ cup plant milk, maple syrup and lemon juice. Whisk everything together until combined.
Pour wet ingredients into dry ingredients, stirring until you get a homogeneous mixture.
In another bowl whisk aquafaba with a hand whisk until it's all frothy and has lots of small air bubbles – no need to use an electric whisk here, just give your arm a bit of a workout 😉 .
Fold whipped aquafaba into the pancake mixture. Check the consistency of the batter, if it's too thick, add another splash of plant milk.
Heat up a frying pan on medium heat (that's important! I used setting 3 out of 6). Brush the pan with a bit of oil using a brush or an oil spray.
Ladle 2 tablespoons of the pancake mix per pancake. Keep cooking each pancake until lots of little bubbles form on its surface. Let the bubbles burst before flipping the pancake to the other side (if you flip them before the bubbles burst the pancakes will be raw in the middle).
Once the bubbles burst, flip each pancake gently. Fry them for a minute or two on the other side. Arrange cooked pancakes in a stack to keep warm. You can cover the stack with a piece of aluminium foil or keep it in a warm oven while making the rest.
Serve with stewed cherries and cherry syrup on top.
NOTES
* You can make your own flour by milling raw (that's very important! You don't want toasted buckwheat as the taste is very different) buckwheat groats in your coffee grinder. They are quite soft before they get toasted so even a not so powerful coffee grinder will make you heaps of buckwheat flour in seconds…
** You DO NOT NEED to reduce aquafaba for this application. Use it straight from a tin of chickpeas or after cooking your chickpeas at home.