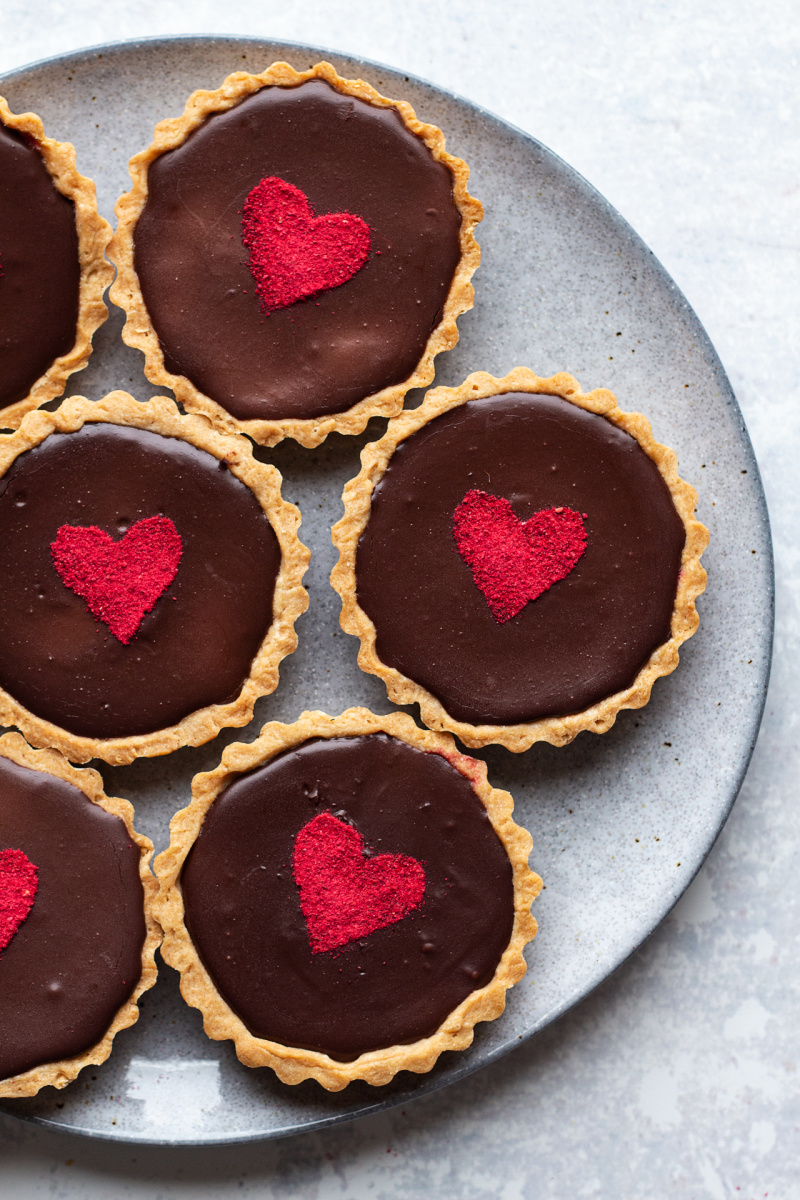 I find that love for people, animals and nature offers some hope and refuge in this robotic, hate-filled modern world so, while I never used to be a big fan of the Valentine's day, whatever gets people to focus on what they have in common instead of what divides them gets my vote. Also, because I am a massive chocolate fiend, Valentine's day provides a good excuse to post something decadent like these chocolate and raspberry tarts, whose flavours simply belong together.
These cute mini-tarts are a sure way to impress your other half and they do not require much skill. The only element that requires some experience and finesse is making the pastry shells, but if that's too much pressure, make play-dough like non-bake tart cases instead. They could not be easier to make.
The remaining two layers are dead simple. To make the raspberry layer mash some frozen (or fresh) raspberries with a fork and combine with agar agar or ground chia seeds to give them a bit more body. Ganache is simply dark chocolate melted into some almond milk and sweetened with a little bit of maple syrup to create a lovely contrast with the naturally tart raspberries. That's all there is to it, it's dead simple yet delicious and looks impressive. What's not to love? Enjoy!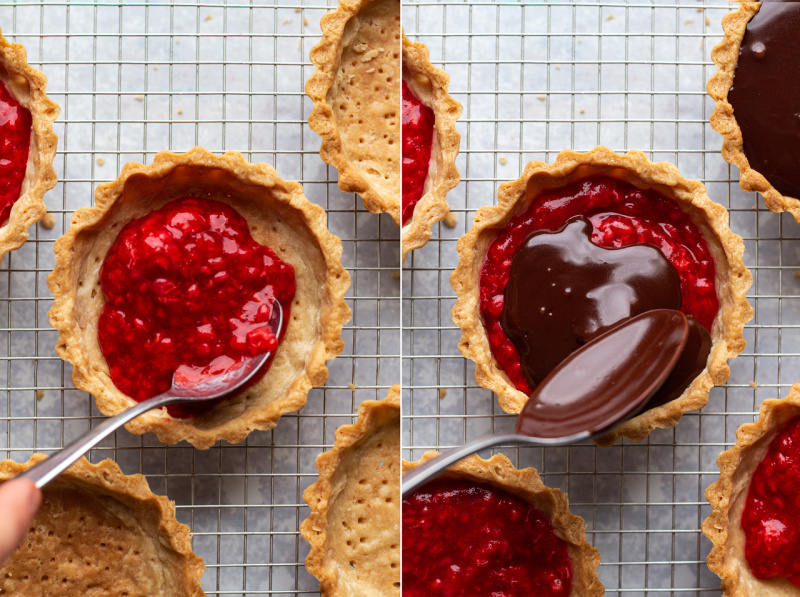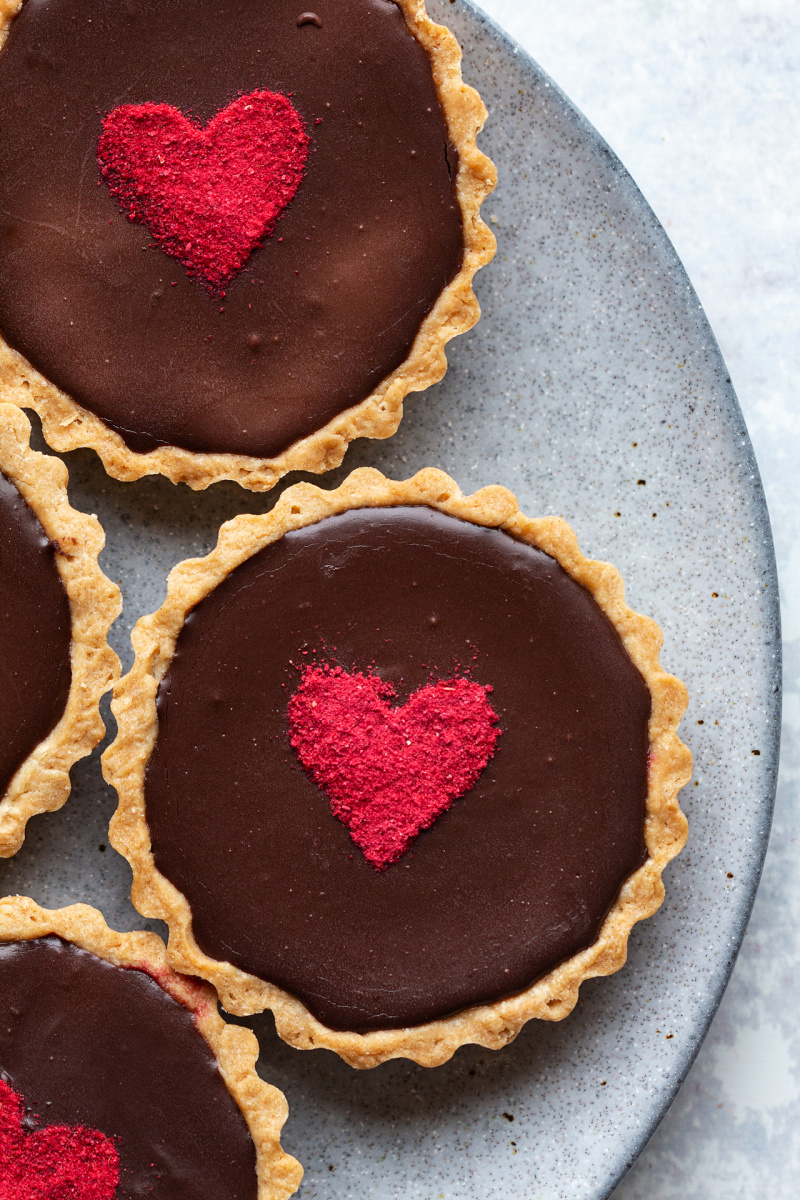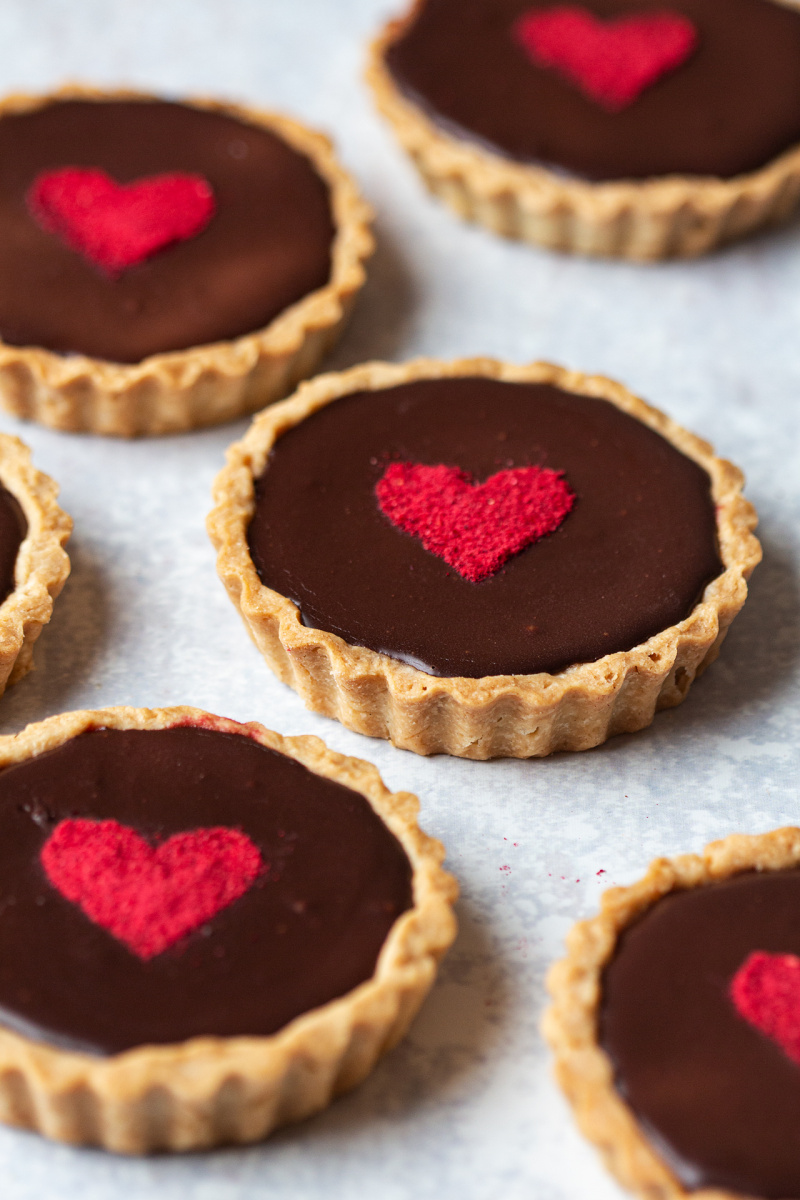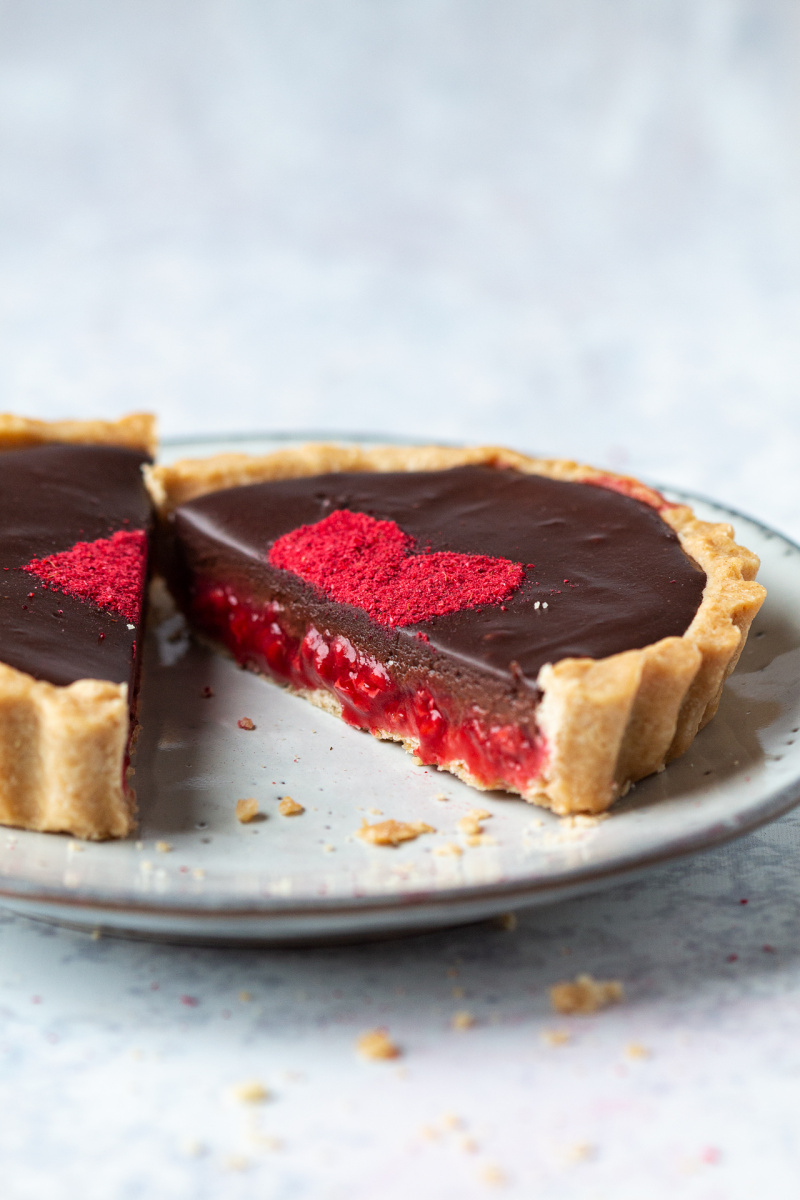 PASTRY
RASPBERRY FILLING
VEGAN GANACHE
METHOD
PASTRY
Put flour, icing sugar and xanthan gum (if making GF pastry) into a large bowl. If using maple syrup instead of icing sugar, add it to the water at the very end.
Add the salt and chopped coconut oil and cut it into the flour with two knifes until no large lumps remain – to check, shake the bowl lightly, they will come to the surface. See my earlier post for photos of this process.
Once the mixture is uniform and there are no large lumps left, rub the small bits of oil into the flour with your fingers until there are no lumps left. Yes, I know, it does take some time!
Finally add in some ice cold water and mix it into the flour mixture with two cutlery knives. Add water very gradually as it's key not to add more than necessary for the dough to come together. I found that about 35 ml / 2 tbsp + 1 tsp of water is needed in total. To check if more water is needed, grab a handful of mixed dough with your hands, if it is very dry, add a little more water, mix it in and check again.
Once the dough is the right consistency, form it into a flattened ball quickly – handle the dough as little as possible, wrap it in a vegan food wrap or cling film and chill for 30-60 minutes.
Remove the dough from the fridge and cut it into 4 portions. Roll each portion out on a lightly floured surface until it's about 2-3 mm in thickness.
Place the rolled-out dough over a tart case and gently line the inside of it with the pastry. Tuck the pastry in well, ensuring that it fits snugly into all the nooks and crannies. Trim the excess pastry with a sharp knife or by rolling a rolling pin along the baking case edge. Patch any holes up with the cut off excess. If making gluten-free pastry (which tends to be more crumbly), you may be better off placing the crumbled pastry in the tart case and simply moulding the pastry with your hands to the shape of the tart tin – you do not need to worry about overworking the pastry as it contains no gluten.
Continue in the same manner with the remaining three pieces of pastry.
Pierce the bottom of the pastry with a fork in a few places and chill the pastry-lined tart case in the fridge for about another 30 minutes while you preheat the oven to 180° C / 355° F.
Line the pastry cases with square pieces of crumpled baking paper and fill with baking beads or rice for a blind bake.
Blind bake the pastry for 15 minutes. Remove the paper and beads and bake for another 10-15 minutes, until golden.
RASPBERRY FILLING
If using agar agar, activate it in 2 tbsp of water as per the instructions on the packet and then mix into the mashed raspberries.
If using chia or flax seeds, simply stir them into the mashed raspberries. Place in the fridge to thicken.
VEGAN GANACHE
Place broken up chocolate – whack an unopened chocolate packet against your workbench a few times – and almond milk in a clean bowl over a pot of gently simmering water.
Allow both to heat up together gently until the chocolate looks mostly melted. Switch the heat off and allow the steam from the water underneath to continue to melt the chocolate. Gently mix the two together until uniform. Add maple syrup and mix again.
ASSEMBLY
After the pastry has cooled off, spoon raspberry filling (about 4 tsp per tart) into each pastry shell. If using chia/flax jam option, you may want to brush a bit of melted chocolate at the bottom of each tart and allow it to set before spooning the jam in – this will create a moisture proof barrier and prevent the pastry from getting soggy.
Follow up with the still liquid, but cool, chocolate ganache and place in the fridge to set.
Decorate as you wish. I sprinkled freeze-dried raspberry powder over a paper heart-shaped stencil.
NOTES
I used 9 cm / 3.5″ diameter and 2 cm / 0.75″ tall mini tart pans,
like these
.