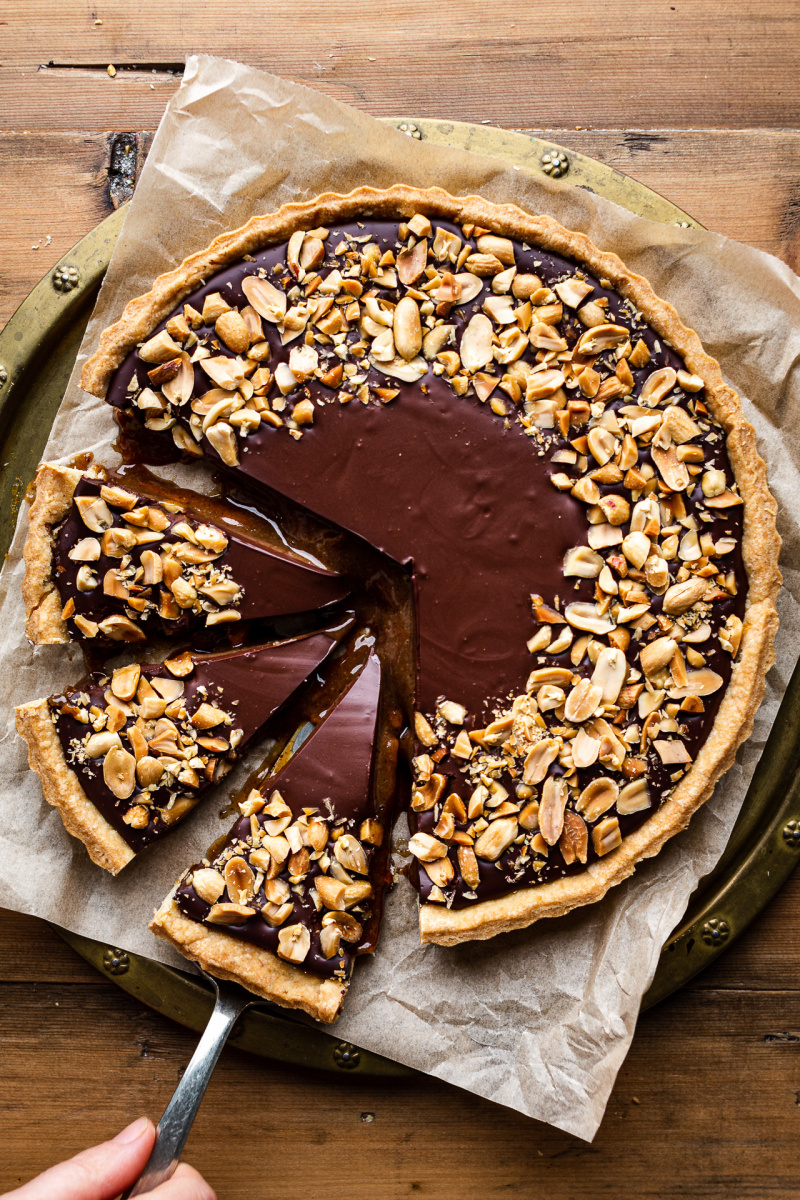 As preparations for the season's festivities are slowly creeping onto our agendas, I've made a delicious festivity worthy dessert today, which would not be out of place on any Thanksgiving or Christmas table. This delicious and pleasant to look at tart combines flaky vegan pastry with sticky, salted peanut-flavoured caramel sauce, a layer of decadent chocolate ganache and crunchy roasted peanuts. It's not hard to make and it's guaranteed to put a smile on your face, especially if, like us, you are a devoted peanut butter lover.
Both Duncan and myself didn't get to try peanut butter until really late in life and it's funny as while we love it these days, we both remember being really underwhelmed at first. I grew up in communist Poland, so peanut butter – being an American staple – was not something you could buy at all, full stop. Duncan's childhood could not be more different but it sounds like suburban Melbourne was also slow to embrace this great plant-based invention.
Speaking of inventing peanut butter, a white Canadian bloke (Marcellus Gilmore Edson) is credited with it, but it turns out that a paste made out of peanut has been a popular condiment in African communities for centuries and the person who made it mainstream was a peanut obsessed African American agricultural chemist George Washington Carver. Sources are split on this but given how these things tended to go in the past, I know what my money is on!
Duncan has had his first foray into peanut butter in the US when hiking with his American friend Travis. He was telling me about this recently as he remembers being so underwhelmed by it back then and now his breakfast of choice is a banana and peanut butter cinnamon bagel. Hilarious! I love it too, especially when combined with raspberry jam or chocolate, hence you'll find so many peanut butter themed desserts on this site (peanut butter mousse, PB banana bread and peanut butter brittle being my favs). I hope you'll like it too and if you are allergic to peanuts, swap them out for almonds (and almond butter) or sesame seeds (and tahini). Enjoy! x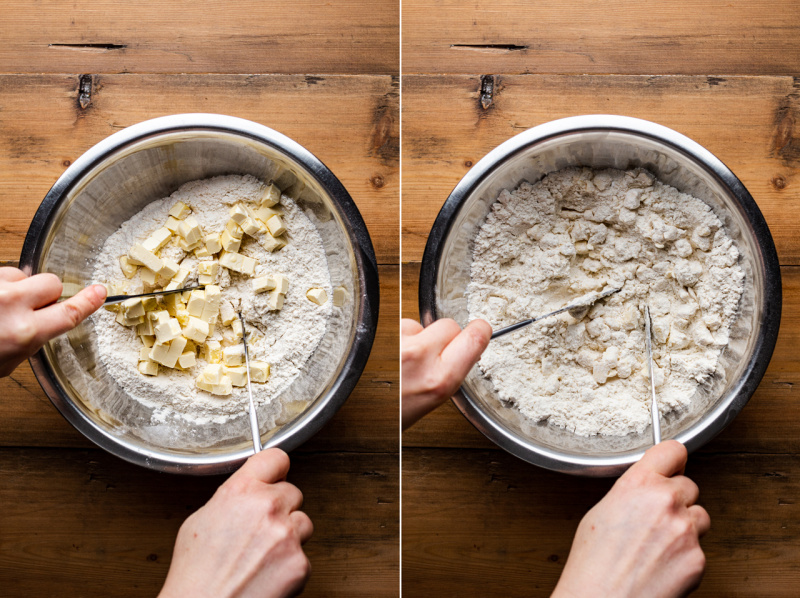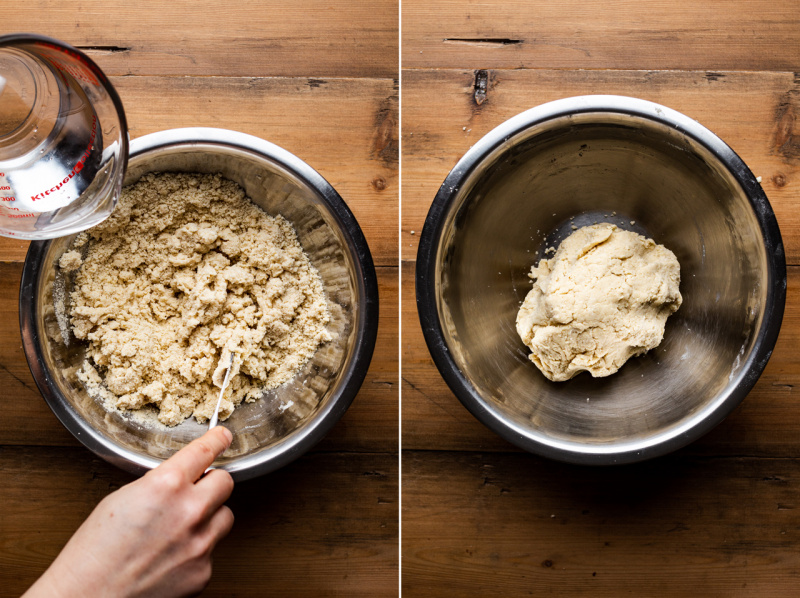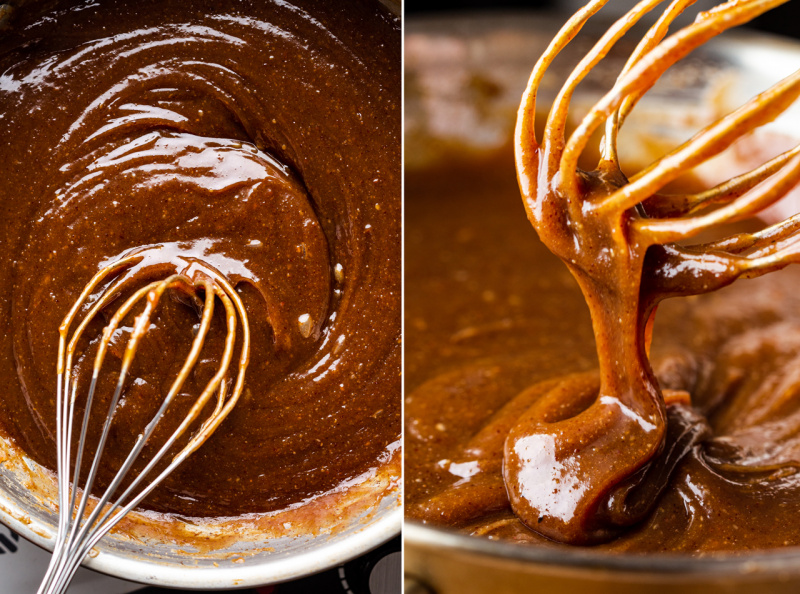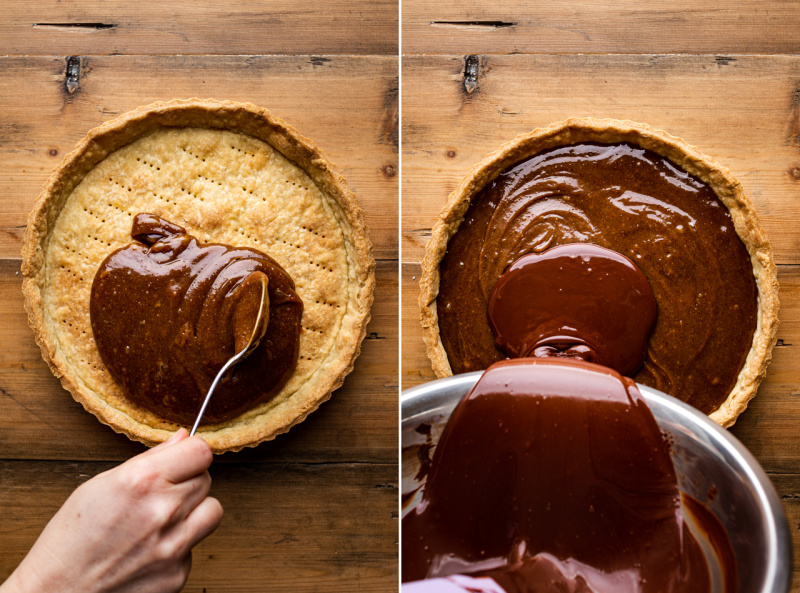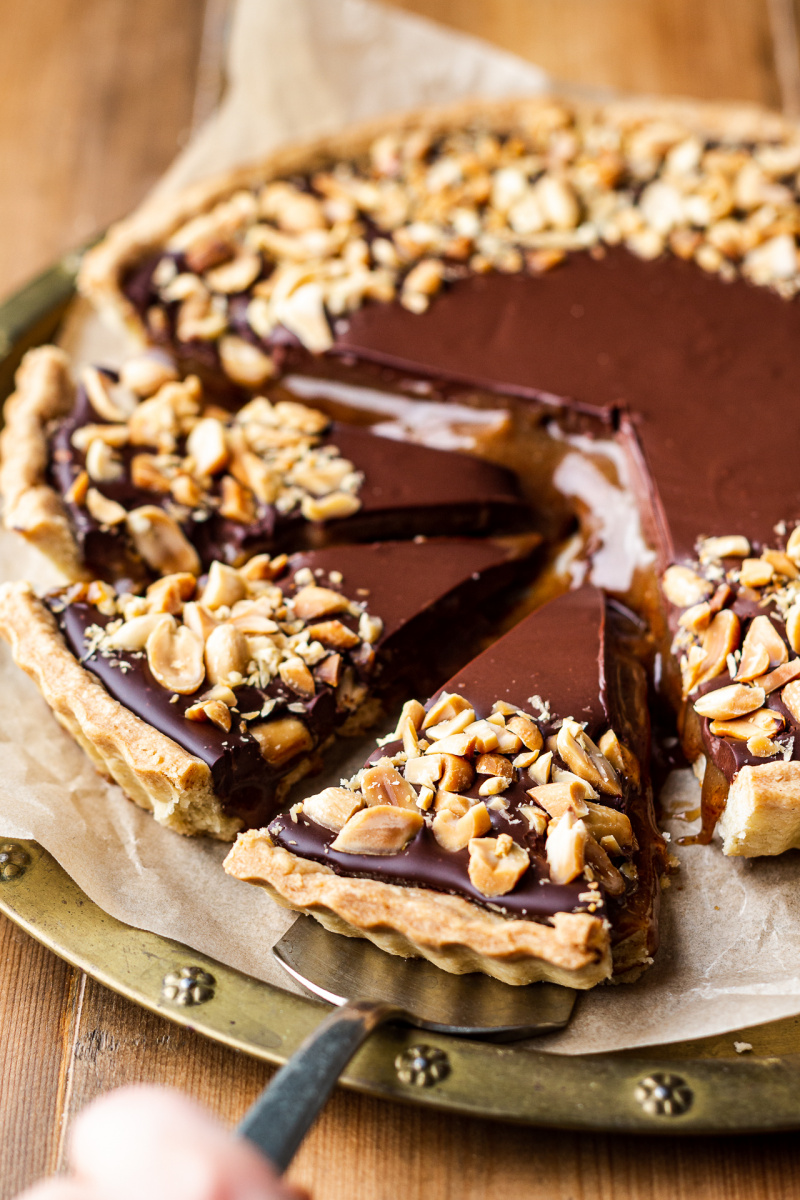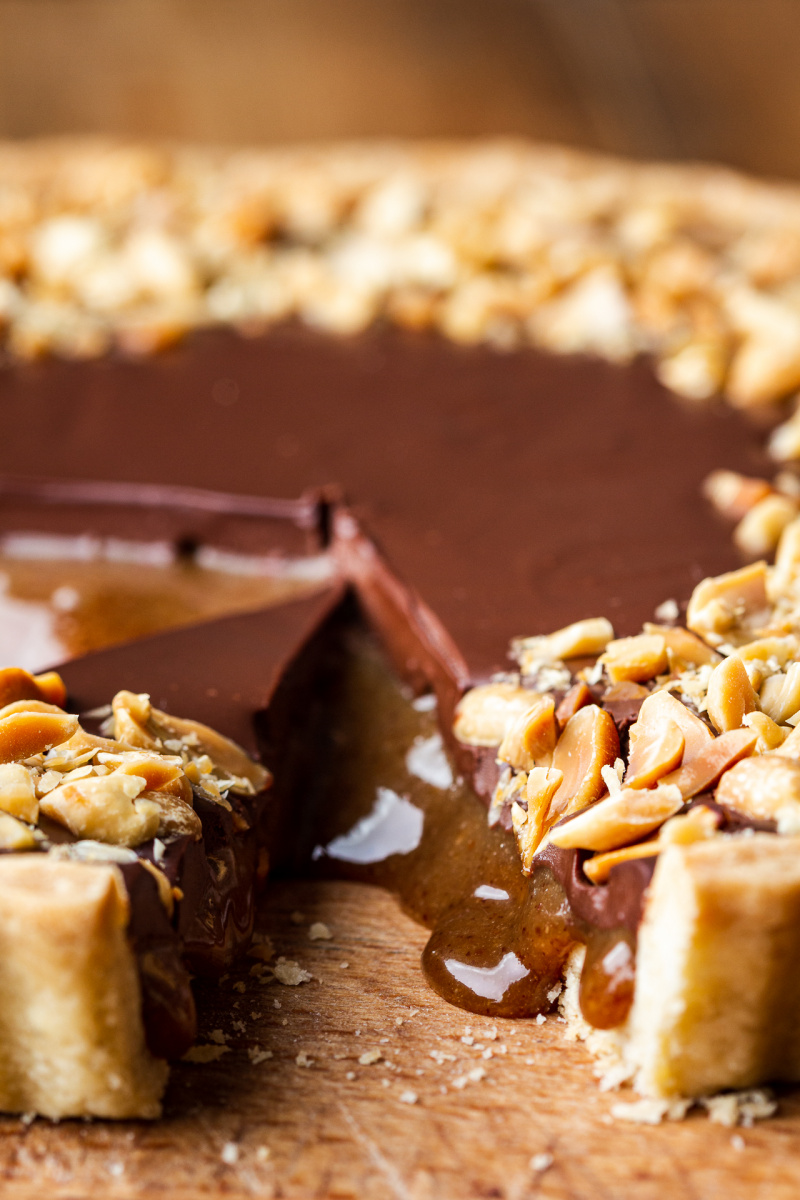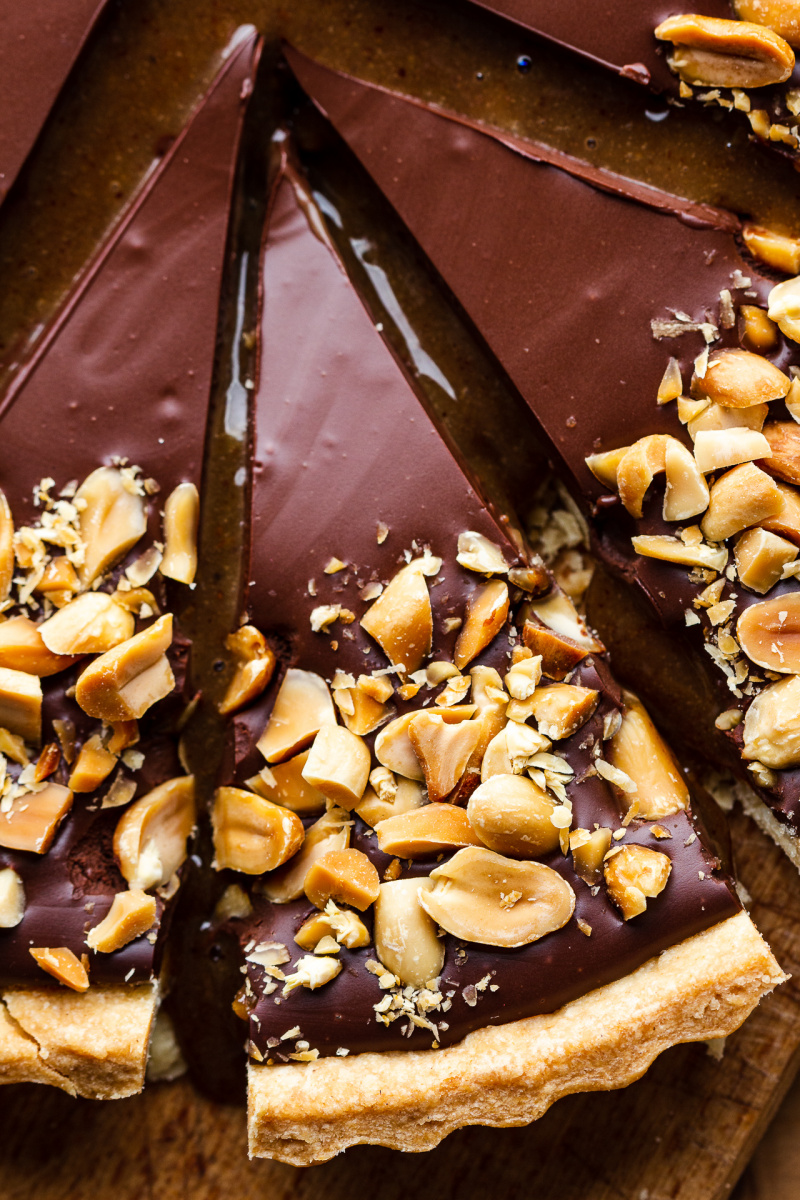 PASTRY
PEANUT CARAMEL
180 ml / ¾ cup maple syrup or other liquid sweetener
180 g / ¾ cup peanut butter*
80 ml / 1/3 cup vegan single cream* (I used Oatly)
½ tsp salt, adjust to taste
75 g / ½ cup roasted peanuts, chopped
CHOCOLATE GANACHE
170 g / 6 oz 70% dark vegan chocolate
180 ml / ¾ cup vegan single cream* (I used Oatly)
METHOD
PASTRY
Combine the flour, icing sugar, salt and xanthan gum (if making GF pastry) in a large bowl. If using maple syrup, wait until step 4.
Chop vegan butter (or coconut oil) into small pieces and add it to the dry ingredients. Using two knives or a pastry cutter incorporate vegan butter into the flour. You can also use a food processor if you wish.
Once no large lumps remain, use your fingers to rub vegan butter into the flour until it looks like breadcrumbs and there are no large lumps left. To check for lumps, shake the bowl and they will come to the surface.
If you are using maple syrup, mix it in with 1 tbsp of water and add it at this stage. If using icing sugar, add cold water – be careful, do it gradually – how much water you'll need depends on how absorbent your flour is. I added about 3.5 tbsp / 50 ml. Mix the water into the flour with a knife and then check with your hand that no more water is needed – the dough should clump together easily but should not feel wet. If it's too dry, add a tiny amount (one tsp at a time) more water, mix and check again.
Combine all the ingredients into a dough gently, but do not knead or the pastry will be tough. Wrap it up in a piece of cling film and chill in the fridge for 30 minutes.
Remove the dough from the fridge and roll it out between two sheets of baking paper until you get a circle large enough to cover your entire tart case, about 2-3 mm in thickness. Place the rolled-out dough over a tart case and gently line the inside of it with the pastry. Tuck the pastry in well, ensuring that it fits snugly into all the nooks and crannies. Trim the excess pastry with a sharp knife and patch any holes with the cut-off excess. If making gluten-free pastry (which tends to be more crumbly), you may be better off placing the crumbled pastry in the tart case and simply moulding the pastry with your hands to the shape of the tart tin.
Pierce the bottom of the pastry with a fork in a few places and chill the pastry-lined tart case in the fridge for about another 60 minutes.
45 min into pastry chilling time, preheat the oven to 175° C / 350° F. Line the pastry case with a large piece of crumpled baking paper and fill with baking beads or rice for a blind bake.
Blind bake the pastry for 15 minutes. Remove the paper and beads and bake for another 15 minutes – until cooked and pale golden. Allow the pastry to cool down before filling.
PEANUT CARAMEL
Place maple syrup in a small pot on a low heat, measure out your peanut butter and cream and have it ready.
Bring maple syrup to a gentle simmer. Allow it to darken in colour a little (1-2 minutes) and when after it starts to bubble vigorously all over, whisk in peanut butter, followed by vegan cream. Whisk until completely dissolved and smooth.
Allow the mixture to bubble gently (on a low heat) for a couple of minutes (whisking regularly) until the caramel thickens.
Once the mixture is no longer hot, add salt to taste.
CHOCOLATE GANACHE
Place broken up chocolate and vegan cream in a clean glass or metal bowl over a bain marie (water bath). Warm them both up on the lowest setting (the water underneath should barely simmer and not boil) until the chocolate has melted. Make sure the water does not touch the bowl the chocolate is in as chocolate is sensitive to overheating.
Once the chocolate has melted, whisk the chocolate and cream together.
ASSEMBLY
Fill cooled pastry case with cooled peanut caramel.
Top with chocolate ganache and decorate with chopped peanuts.
Place in the fridge to allow the filling to set.
NOTES
*PEANUT BUTTER: if you have an allergy, you can use any other nut or seed butter instead, like almond butter.
*VEGAN SINGLE CREAM: if you have trouble getting this ingredient, replace it with full fat coconut milk as it has a similar fat content and it will work well too.
For a simpler pastry, you could follow this recipe instead.