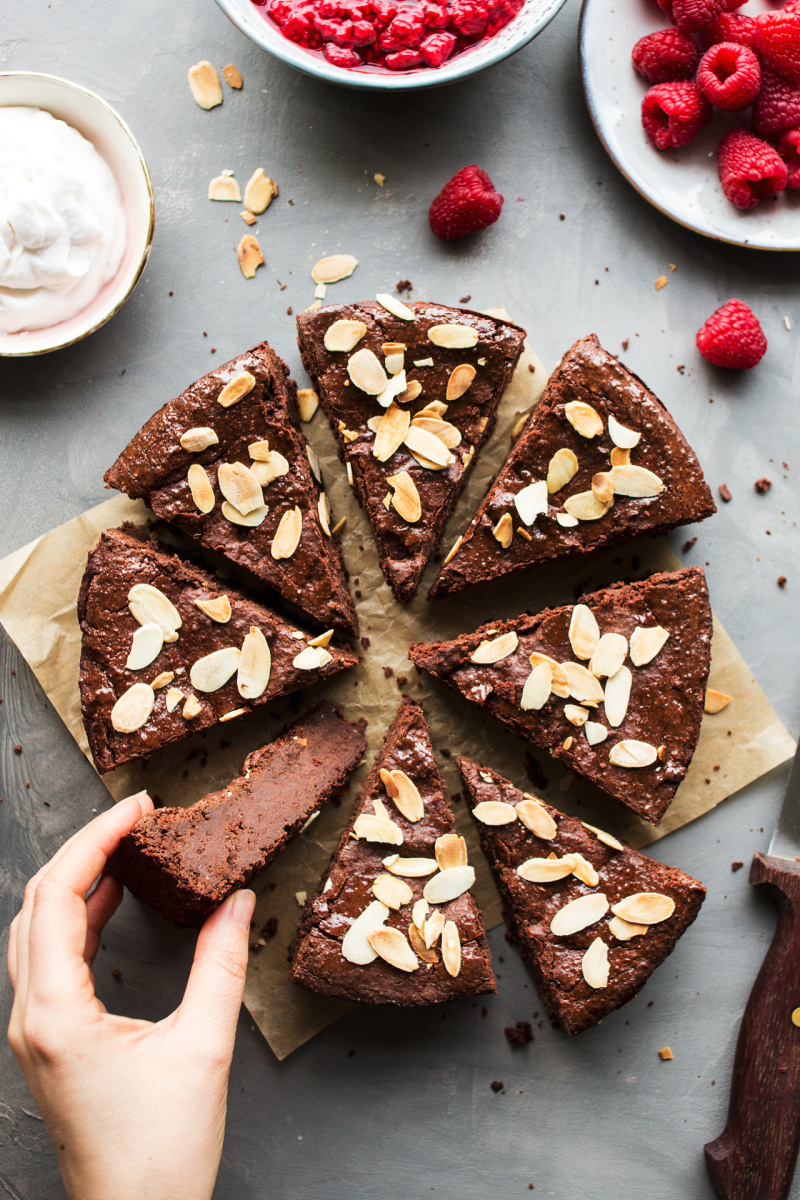 Regardless of where you stand on the upcoming Valentines day, it's always nice to bake someone a cake or get someone to bake you a cake, isn't it? This fudgy and very indulgent vegan chocolate torte with amaretto is perfect for the occasion, especially that it is so easy to make that even complete kitchen newbies can manage it. All that is required of you is to blend the ingredients in a food processor, add melted chocolate, pour the mixture into a baking tin and then wait.
Waiting is by far the most challenging bit about this recipe 😛 . First you need to wait till the cake is baked (doh!) and then you need to wait some more, until it is stone cold, before you are able to cut it neatly. In fact, allowing it to set in the fridge is your best bet. Yes, I know that's hard…
If you are not an amaretto fan and are a bit exasperated at the sight of another amaretto dessert (I used it in this tart and these cookies too), don't worry. You can simply swap it out for almond milk or strong coffee to intensify the chocolate flavour that little bit more.
I love amaretto and I am hell bent on using it all up before we move house in 8 weeks. We are in the process of agreeing on the completion date with our sellers and it looks like we can start moving towards the end of March, which is just awesome. We are insanely excited and I've already fallen down the Pinterest rabbit hole of looking at furniture, kitchen designs and colour schemes. Not that we will be in a position to afford anything other than a bed and a cooker (as the sellers are taking the old one with them) to begin with, but one can dream, eh?
I might even enrol in an interior decoration course at a local cultural centre in a bid to give my ideas a bit of a structure, as I find that I am being pulled in opposite directions. On one hand, I like simple, light and airy Scandinavian-inspired aesthetics, but on the other I feel that some rooms of our-to-be Victorian home would benefit from some dark colours, saturated velvets and dark wood. Sometimes, it is harder when you get to work with a completely clean slate, don't you think? I'm not complaining though, I know that we are very lucky and I cannot wait to roll my sleeves up.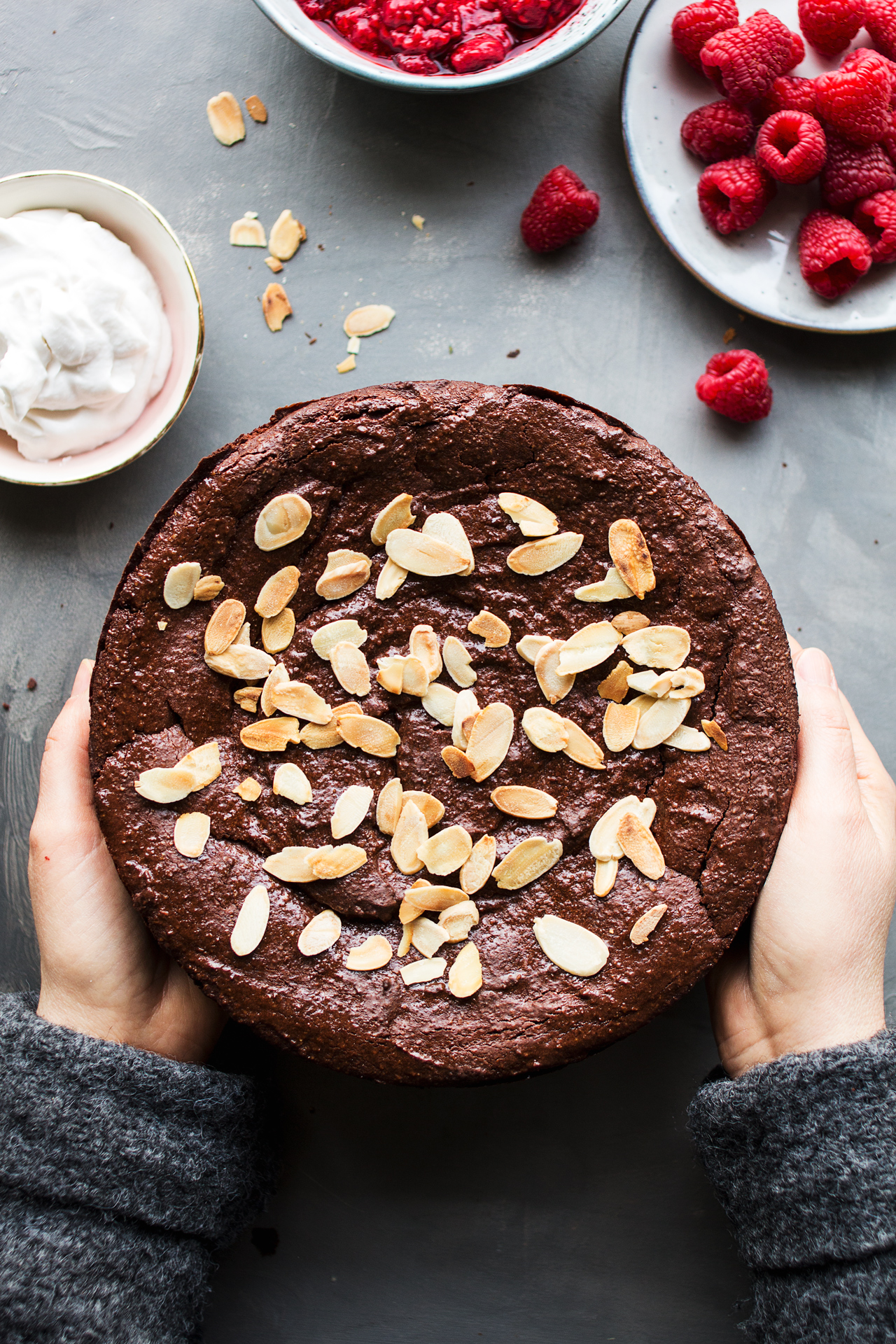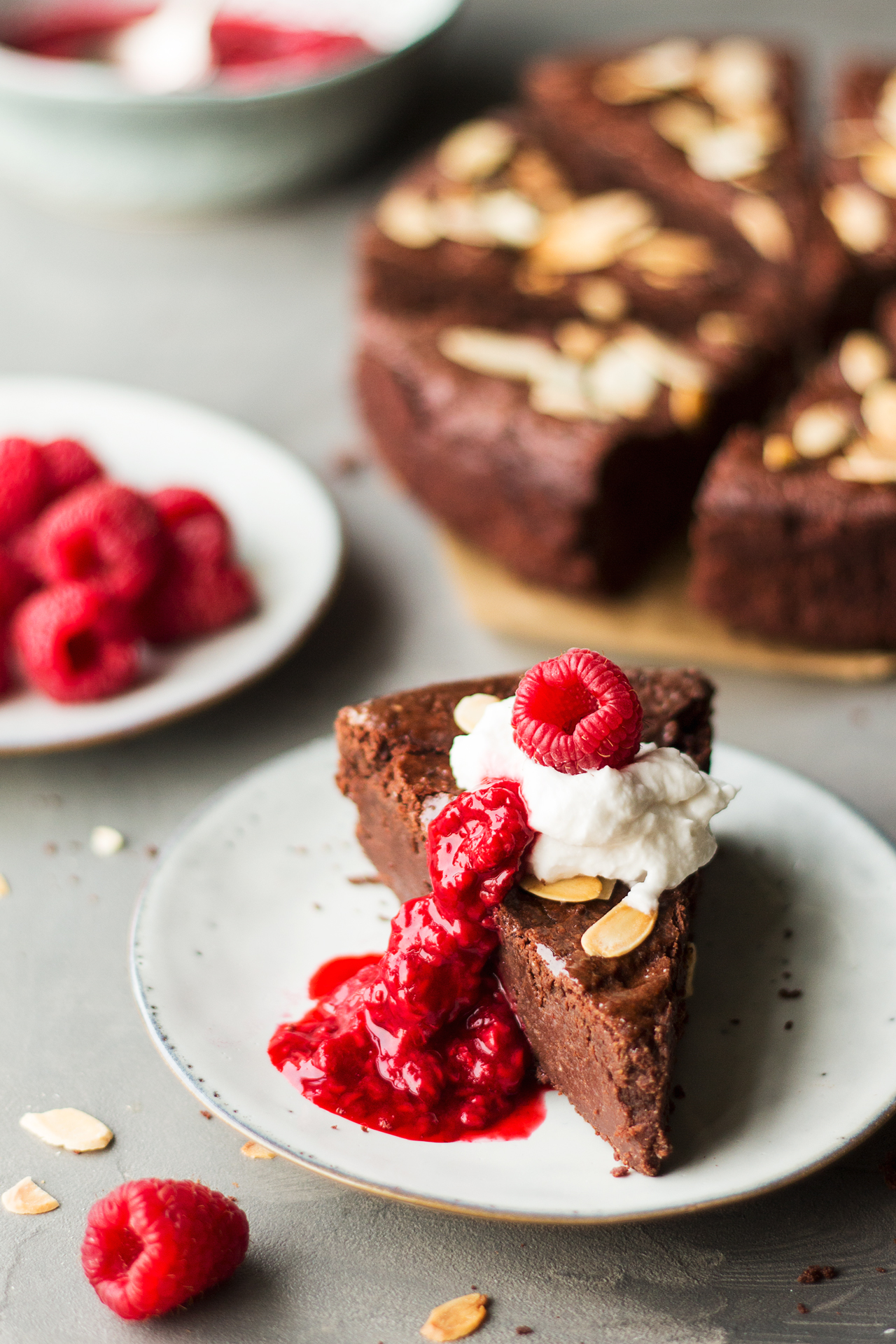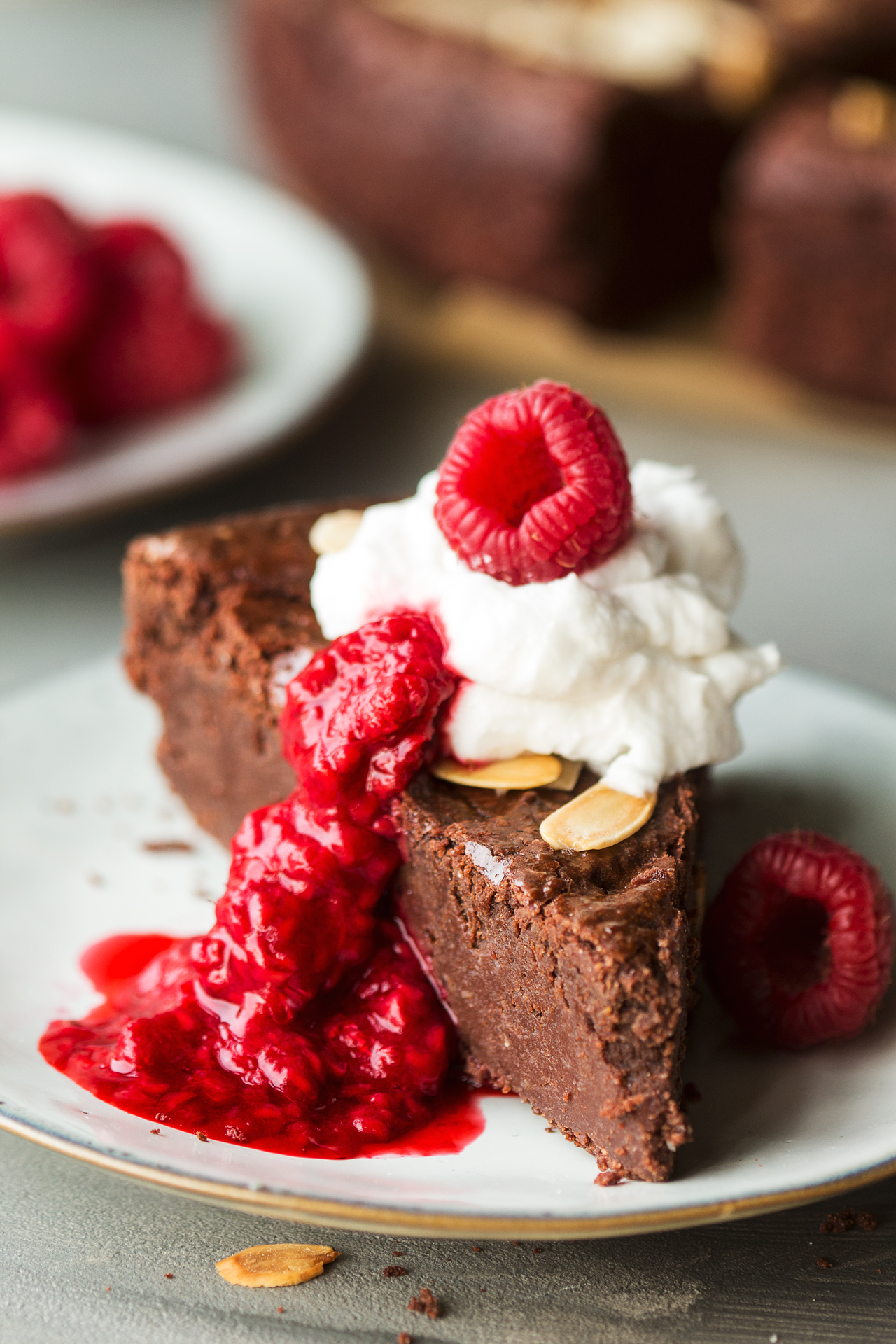 200 g / 7 oz vegan dark chocolate (I used 70% cacao)
300 g / 10.5 oz silken tofu (I used Clearspring)
100 ml / 1/3 cup + 4 tsp amaretto liqueur* (I used Disaronno)
¼ tsp salt
60 g / ¼ cup smooth almond butter
25 g / ¼ cup cacao powder
200 g / 1 cup sugar (use coconut sugar for refined sugar-free version)
150 g / 1½ cups almond meal
1 tbsp tapioca starch (or cornstarch)
2 tbsp toasted almond flakes, to decorate (optional)
METHOD
Preheat the oven to 180° C / 355° F. Grease a round tin (I used a 20 cm / 8″ round tin) with a little bit of olive oil or line the bottom of the tin with a circle of baking paper.
Place broken up chocolate in a glass bowl over a water bath (bain-marie). Make sure the glass bowl doesn't touch the water. Simmer on a very low heat until the chocolate has melted. Take the bowl off the pot and allow the chocolate to cool down a little.
Blend silken tofu, amaretto, salt, almond butter, cacao and sugar in a food processor, until smooth.
Add in melted and slightly cooled off chocolate and blend again.
And finally blend in almond meal and tapioca until you get a smooth and thick batter.
Working quickly (the chocolate thickens the batter as it cools), spoon the batter into the prepared tin and even out the top.
Bake for 40 mins. Remove from the oven and let the torte cool down COMPLETELY before chilling it in the fridge for 4-8 hours (an overnight fridge stay is recommended).
NOTES