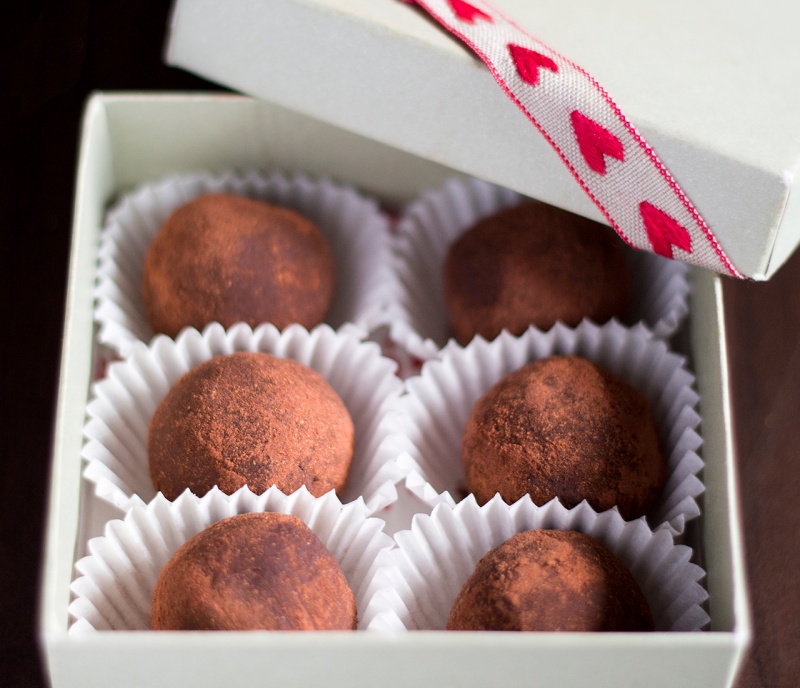 Like many good things in life, truffles were invented by a complete accident. One of the apprentices of a famous French chef was trying to make a pastry cream, but his brain malfunctioned (or so it seemed at the time) and he poured hot cream into the wrong bowl; the one filled with broken up chocolate. As the mixture cooled off and hardened, he realised that he was able to work it with his hands to form soft, chocolate balls. Once he rolled them in cocoa powder they reminded him of the prized fungi known as truffles which is how he named his new invention.
High quality truffles are still rolled by hand so they usually come with a high price tag.
While it may seem like making truffles is the domain of a master chocolatier, it is really quite a simple task (if a little bit messy).
In this recipe, I've replaced butter and cream with coconut milk and a small amount of coconut oil (they don't taste coconutty at all,  promise!), making them less unhealthy (one vegan chocolate truffle is only 50kCal) but not compromising on the taste. The recipe below allows you to make two different kinds of truffles.
If you stick to the base recipe only, you'll get intensely chocolaty truffles that will win your heart (or your partners!). If you add winter-spiced additions to your base mix, you'll end up with warming winter truffles, begging you to enjoy them all by yourself. Apart from going fantastically well with your espresso or evening brandy, they also make a delicious present for the chocoholics in your life; ideal for this coming Valentine's Day.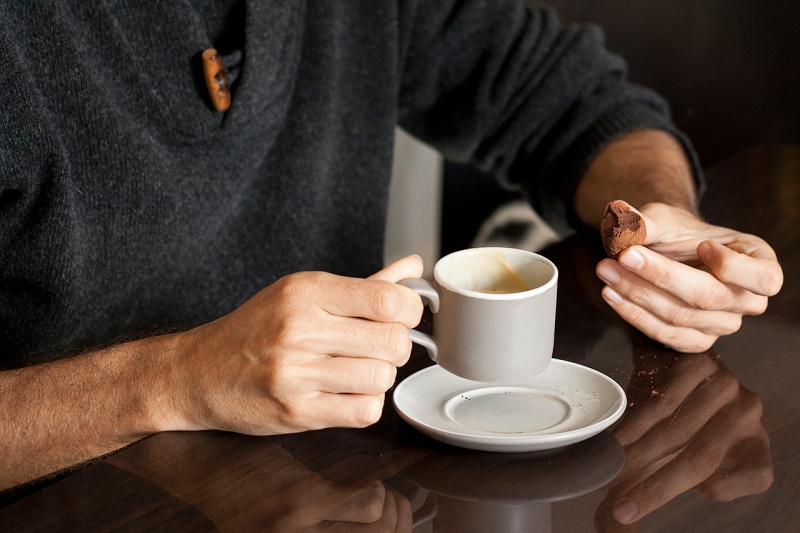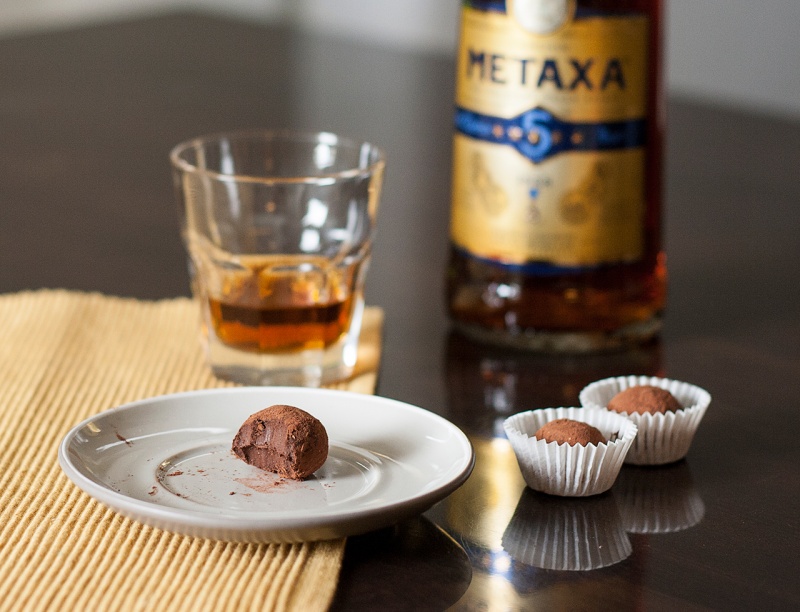 BASE RECIPE
125 g of dark chocolate (70% cocoa solids)
½ cup of coconut milk*
1 tsp coconut oil (refined is recommended)
2 tbsp / 30 ml maple syrup**
2 tbsp cocoa (for rolling)
2 tsp ground cinnamon (for rolling)
WINTER-SPICED FLAVOUR ADDITIONS
vanilla bean, seeds
¼ tsp grated nutmeg
½ tsp ground cinnamon
3 pinches ground hot chili powder
2 tbsp / 30 ml fresh orange juice
METHOD
Take an unopened 100 g bar of chocolate and hit it against your work bench a few times so that the inside breaks up into small pieces. Take the remaining 25 g you will need for this recipe and chop it finely with a knife. Place the entire 125 g of chocolate pieces in a large bowl. If you are making winter-spiced version, add in grated nutmeg, cinnamon and hot chili powder.
Gently heat up coconut milk on the stove – don't let it boil. Add in coconut oil, maple syrup, vanilla seeds and orange juice (the last two only if you are going for the winter-spiced version).
Pour hot coconut milk mixture over broken up chocolate and spices. Whisk it until combined into a silky smooth chocolate cream. It may take a bit of stirring, don't be put off. If you have a ceramic hob and are using a heat-proof glass bowl, you may want to place it on the turned-off hob ring, which you used to warm up the coconut milk. Residual heat will speed chocolate melting.
When the mixture cools down, leave it in the fridge for a few hours (or overnight) until it has hardened. Cover the bowl with cling film or else it will dry up.
Scoop out a teaspoon of the thickened mixture at a time and roll into balls.
Mix 2 tsp of cinnamon with 2 tbsp of cocoa on a plate/tray and roll the truffle balls in this mixture until evenly coated. Store in an airtight container in the fridge.
NOTES
*What is needed here is coconut milk that comes in a tin, not the watered down coconut milk that you can now buy in a carton. The milk I used has 60% coconut and 40% water.
**If you don't have maple syrup, you can dissolve sugar in the orange juice instead.