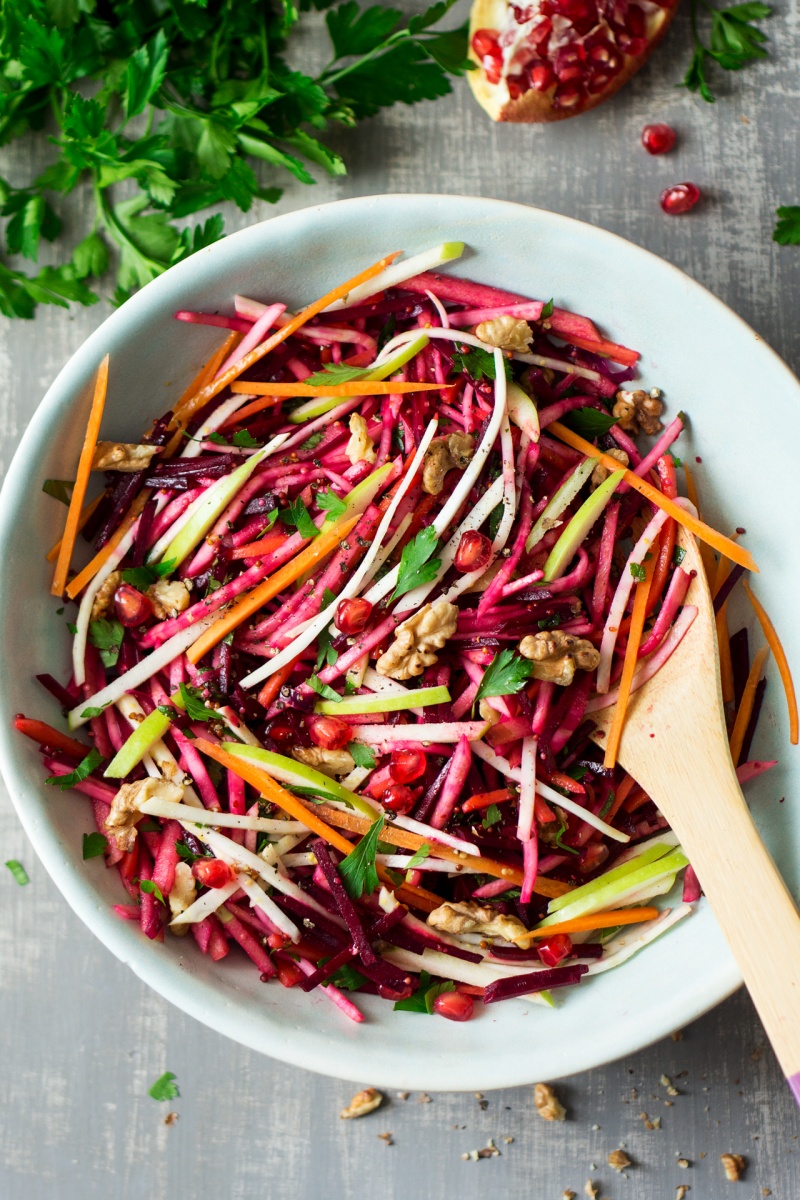 By now you are probably in the firm grasp of fully-fledged Xmas madness – running around like a headless vegan, buying last minute presents and doing last minute prep.
I wondered what recipe would be suitable for today given that there is not much time left ahead of the main event and I concluded that a simple and eye-catching vegan Christmas salad would be a fitting tribute to your festive table.
After the splendour of the Beet Wellington I posted on Tuesday, I owe you something light, refreshing and less hearty to balance all the indulgence you are about to (or maybe have already) throw yourself into head first! 🙂 .
I certainly owe myself that as having sampled a few too many cookies and slices of said Wellington, I managed to put on weight ahead of Christmas…Most vegan dishes may be healthier than their omnivorous counterparts, but they still aren't in the 'ya can stuff your face like there is no tomorrow and you'll stay slim regardless' category of food 😉
This simple salad is very seasonal. It gets its pleasant crunch from a host of root vegetables: celeriac, carrots and beetroots punctuated by some slices of sour apple. It's not strictly speaking especially 'Christmassy' as I would happily eat it anytime between October and March, but it has nice festive-looking colours which I thought make a nice change from the usual beiges and browns of puff pastry roulades and seitan roasts that typically adorn our Xmas tables. Happy Xmas!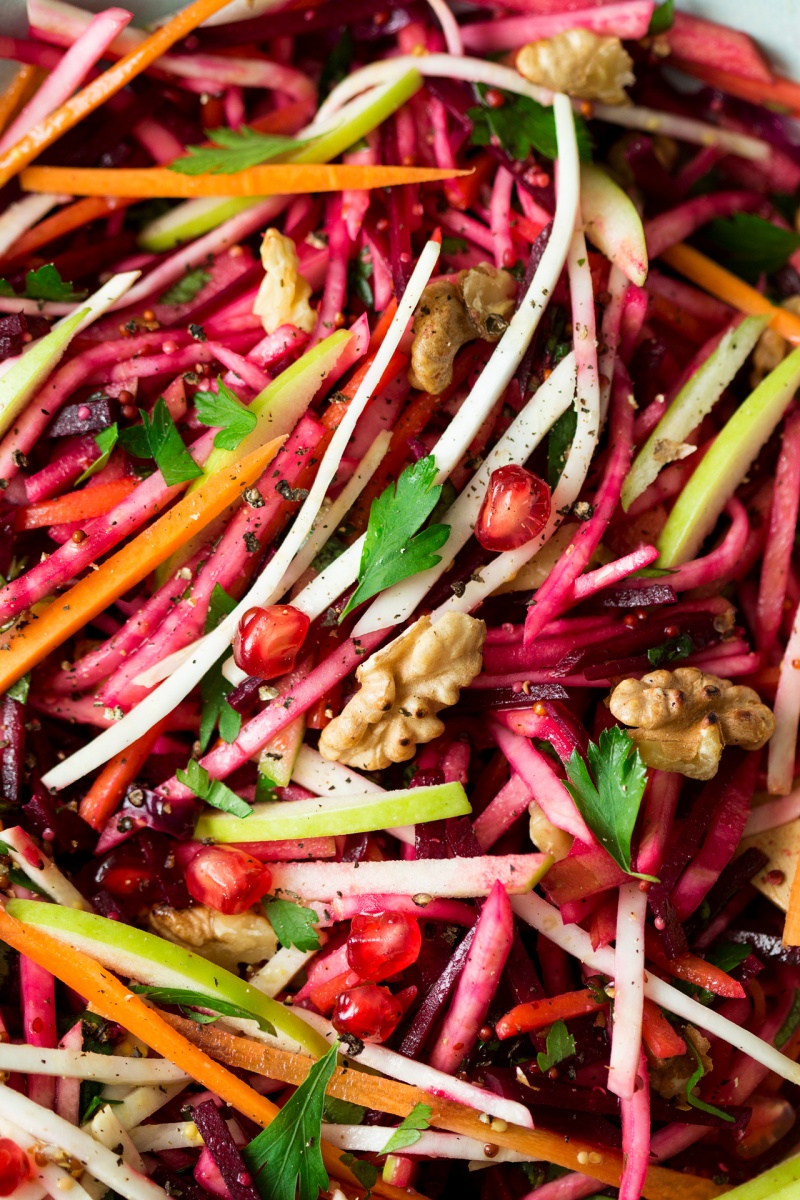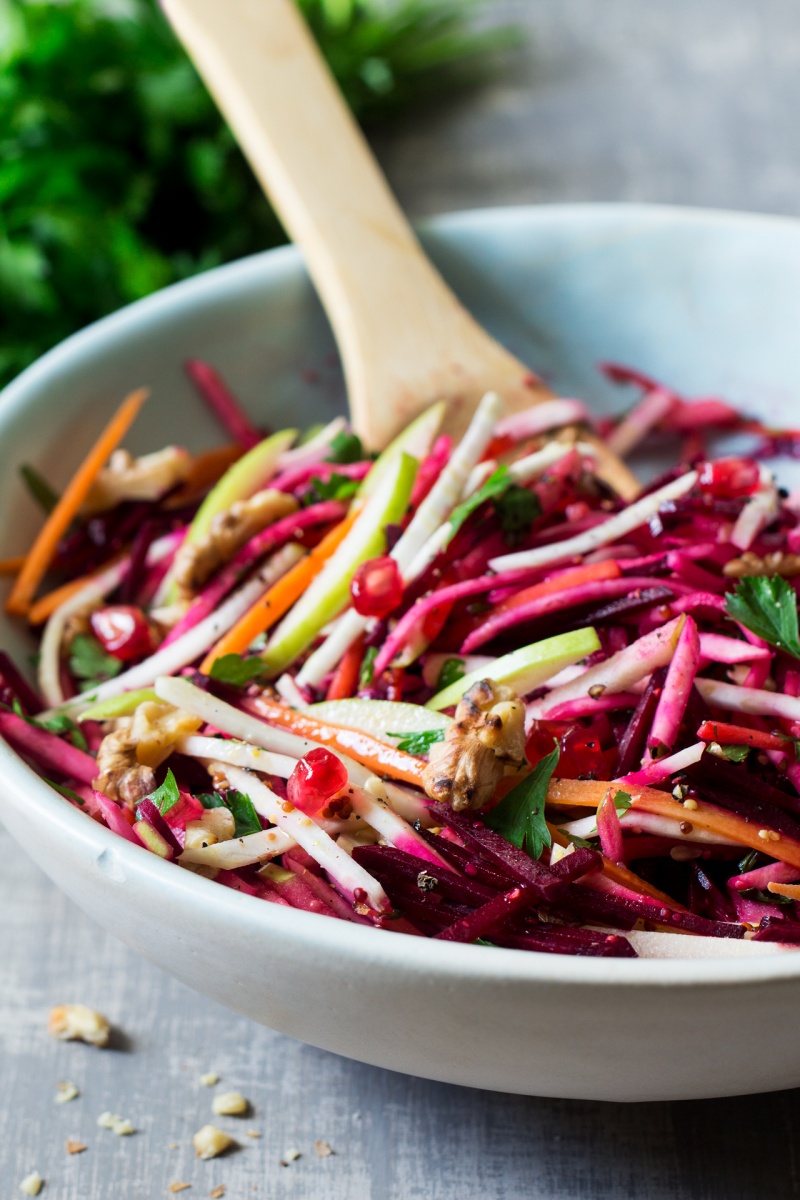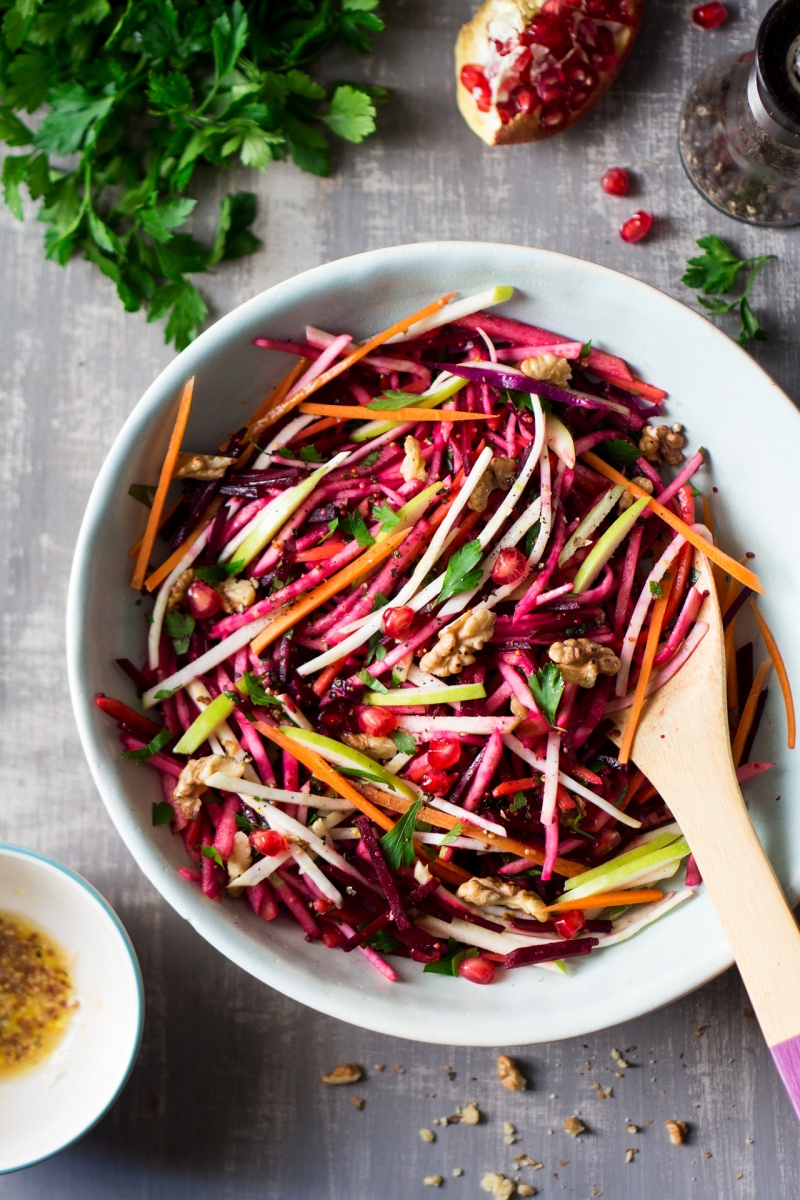 SALAD
½ celeriac root
2 medium beetroots
1 green apple
2 carrots
chopped parsley, large handful
chopped walnuts, large handful
pomegranate seeds, large handful
DRESSING
2 tbsp extra virgin olive oil
2 tbsp lemon juice
2 tsp maple syrup
1 small garlic clove, grated finely
2 tsp wholegrain mustard
salt and pepper, to taste
METHOD
Put a small frying pan on a medium heat and dry roast walnuts until lightly browned and fragrant. Make sure you move them around the pan frequently as they burn easily. Chop roughly once cool.
Whisk all dressing ingredients together in a small bowl. Season with salt and pepper to taste.
Wash your apple well. Peel carrots, beetroots and celeriac root.
Slice all your vegetables thinly (if you have the necessary equipment for this, now it's the time to use it!) with a sharp knife and then cut them into thin matchsticks. Slice celeriac and apple first and sprinkle them both with a bit of lemon juice to prevent discoloration. Set aside. Next tackle the carrots and finally the beetroots.
Place all the veggies in a large mixing bowl apart from a few strands of celeriac, which you may want to save until the end so that they don't get all pink from the beetroot (that's a purely an aesthetic consideration so feel free to override me). Mix all the vegetables together with chopped parsley and the dressing you made earlier.
Transfer to a serving bowl, add celeriac you saved earlier. Sprinkle the salad with extra parsley, toasted walnuts and pomegranate seeds.