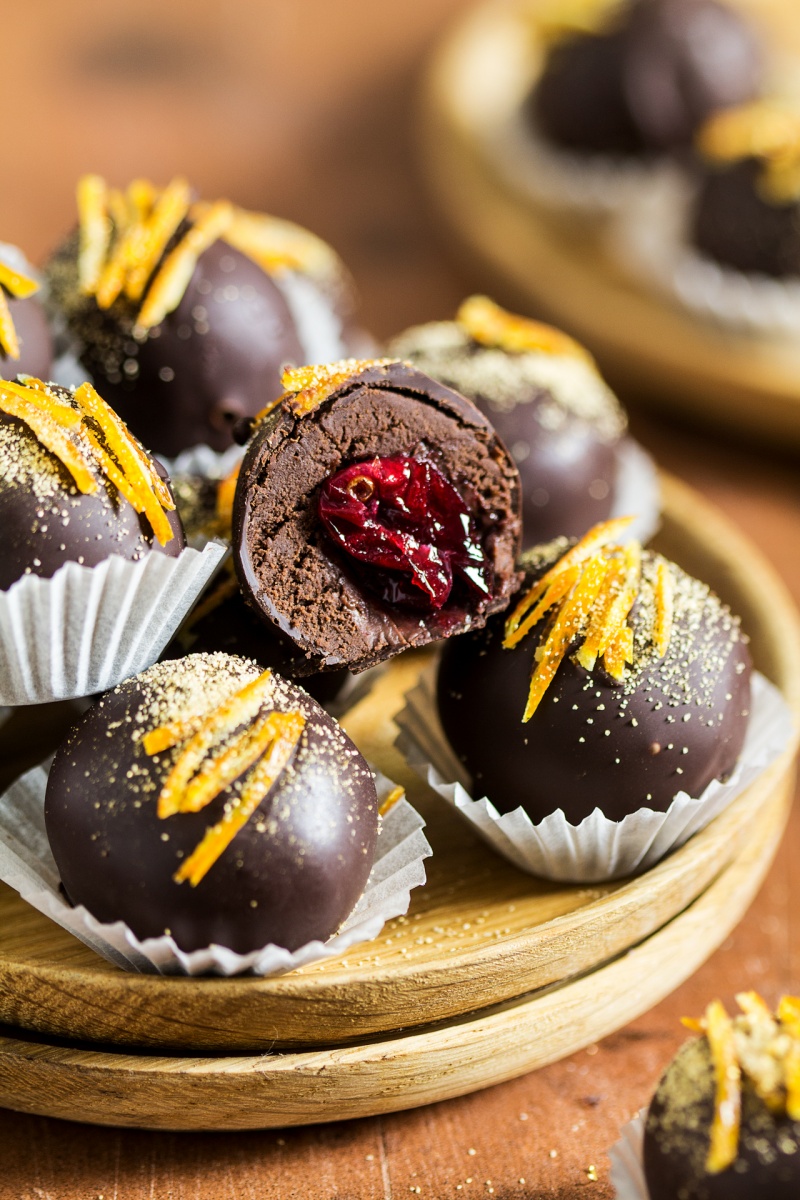 And here we go again, another Xmas has caught up with us again. Only two (if, like my family, you start celebrations on Christmas Eve) or three days to go! Do you have everything wrapped up yet? We are almost there apart from one final present and cooking vegan dishes that we are bringing with us to Duncan's cousin's Xmas dinner. Oh, and instead of a Xmas tree we have stacks of boxes in our living room this year, but that's something we are reconciled with and Tina, as you can imagine, loves playing amongst them.
Today's recipe was supposed to be a family-sized chocolate tart, but I kept on messing up. The first pastry, done without blind baking but with a trick of baking the pastry from frozen (which a friend of mine told me about), did not work as it bulged up massively in the middle and it ended up in the bin (sadly). The first complete tart was way too sweet, the filling was too runny and the pastry was tough as by that time my kitchen scales had not arrived yet and I never bake anything without weighing the dry ingredients precisely.
The second tart was a different flavour combo as I changed my mind. The pastry was good if a touch too crumbly, but the chocolate layer did not set as I stupidly used a chocolate that was only 60% cacao (while treating it as 70%) and the flavour was a little off the mark too.
By that point I felt pretty deflated and defeated and could not face making yet another tart, especially that the posting time was nearing and I did not want to give you a recipe that I was not that happy with myself. I was clearly in a tart funk and I was not going to risk it.
I went for something much simpler and just as Xmassy instead – a batch of chocolate truffles flavoured with gingerbread spices and rolled around a roasted fresh cranberry, which I am a tad obsessed about ever since I discovered that this way of preparing cranberries rocks my boat.
These truffles are simple (if a bit messy) to make and if, like me, you left a present or two till way too late, these puppies could save you! Who does not like a beautifully wrapped up box of hand made truffles? I hope you (or your giftee) will enjoy these and have a lovely Christmas, guys! x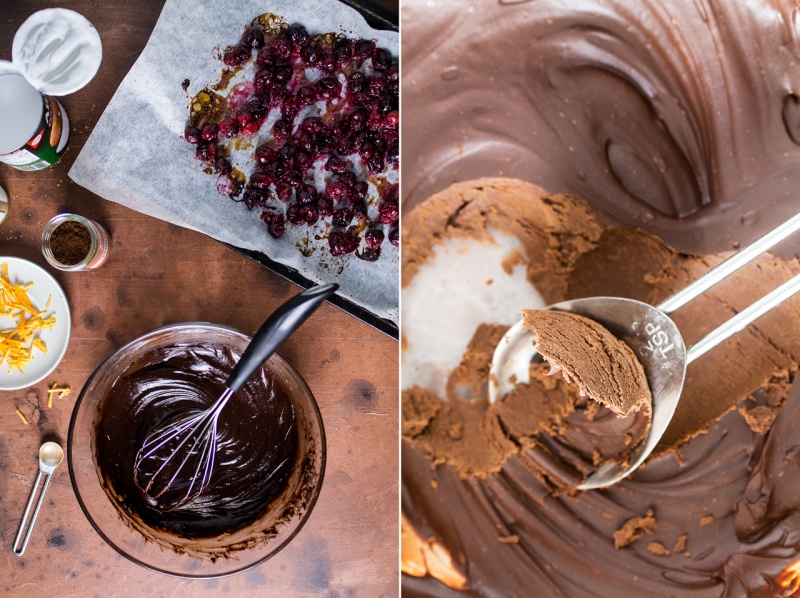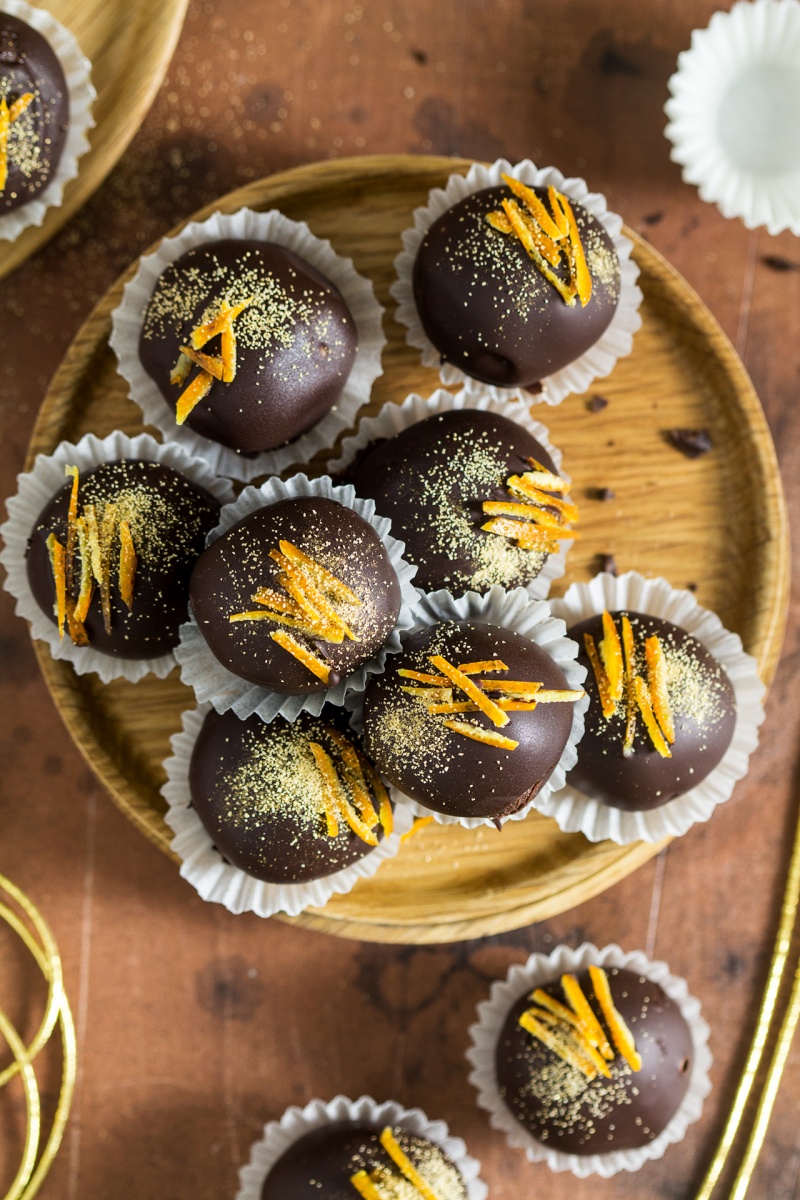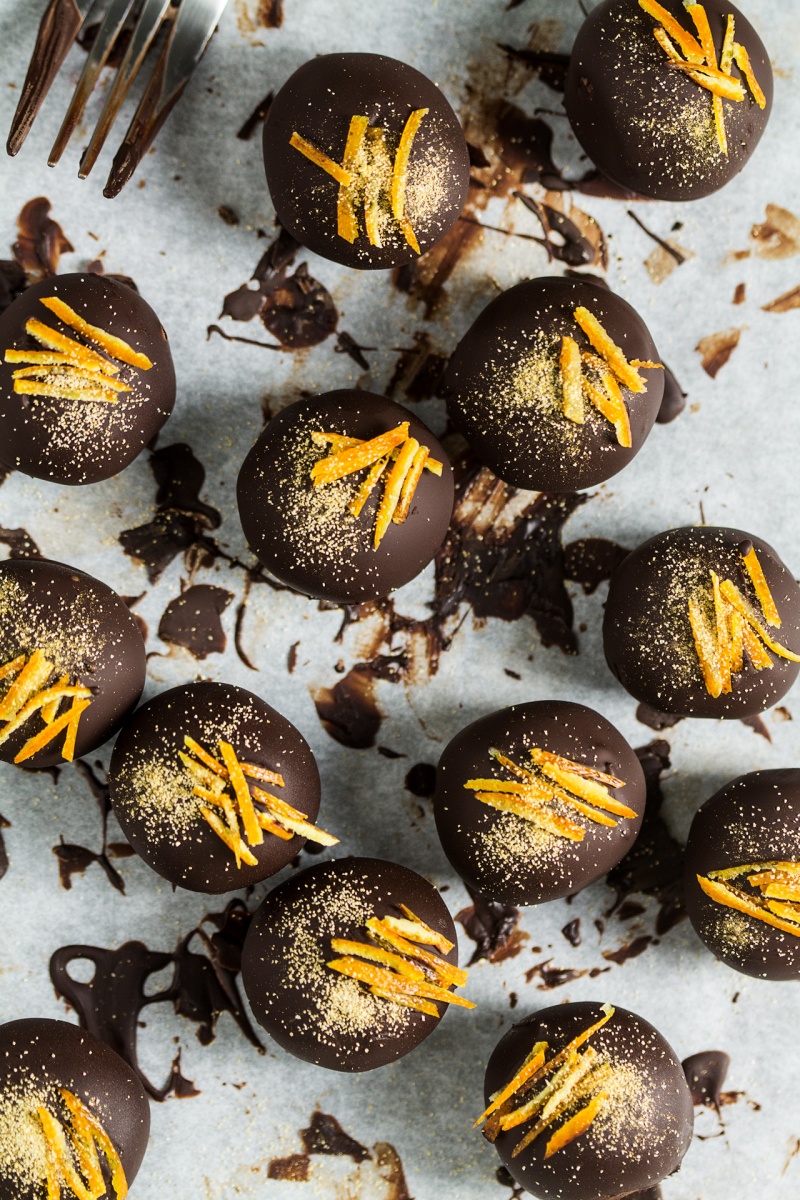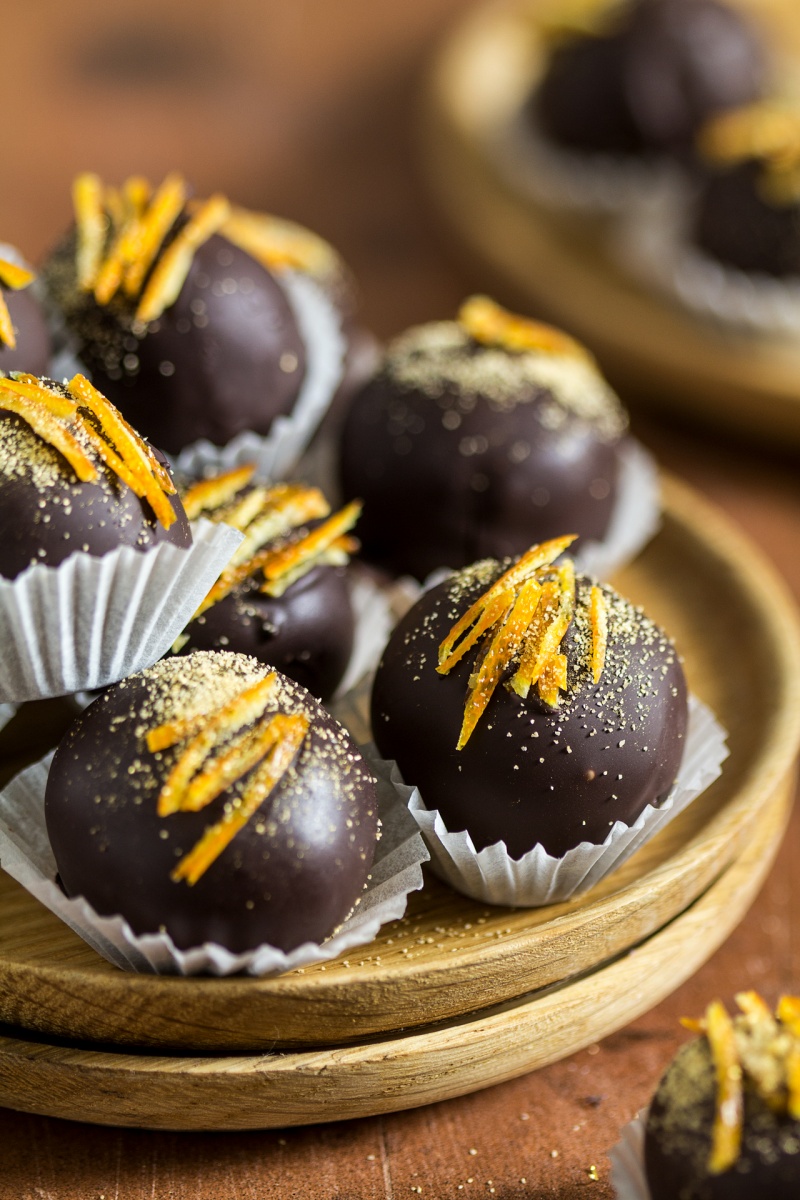 450 g / 16 oz vegan dark chocolate (70% cacao solids), divided
150 ml / ½ cup + 2 tbsp full fat coconut milk (sold in cans)*
½ tsp ground cinnamon
½ tsp ground ginger
¼ tsp ground nutmeg
1/8 tsp ground cloves
ground chilli powder, adjust to taste
pinch of fine sea salt
1 tsp vanilla extract
30 ml / 2 tbsp maple syrup
26 orange roasted cranberries (see here for recipe) or dried cranberries
thinly chopped candied orange peel (optional), to decorate
edible gold dust (optional), to decorate
METHOD
Place 250 g / 9 oz of broken-up chocolate (I tend to whack an unopened packet against my workbench to break it up) and coconut milk in a glass or metal bowl over a water bath and melt on the lowest setting (chocolate does not tolerate overheating very well).
Once the chocolate has almost completely melted, remove the bowl from the heat and let the remaining chocolate melt fully in the residual heat. Gently whisk the mixture with a wire whisk.
Add spices, salt, vanilla extract and maple syrup.
Let the mixture come to room temperature and place in the fridge overnight for it to harden. If you are in a rush, place it in the freezer instead for an hour or so, until solid.
Before taking the mixture out of the fridge, prepare the orange maple cranberries, if using. You could skip this or dried cranberries instead.
Scoop portions of the mixture. Use kitchen scales to measure out equal sized portions of the mixture first (my truffles weigh 16 g each) or just eyeball the portions if you don't have kitchen scales.
Flatten each portion in the palm of your hand, place a roasted cranberry in the middle and then close the truffle mixture around it. Quickly roll between the palms of your hands (that's one area where permanently cold hands help a lot). Work in small batches as the mixture will get messier to work with the longer it sits around. Place rolled truffles in the freezer to firm up.
Melt remaining chocolate gently over a water bath.
Allow the melted chocolate to cool down a bit. Remove the rolled truffles from the freezer in small batches and coat them in the melted chocolate using two forks. Place on a cookie rack, sprinkle with candied orange threads and, once the chocolate coating hardens, with gold dust if using.
Store in an airtight container, in the fridge. These truffles should keep for 5-7 days.
NOTES
*What is needed here is coconut milk that comes in a tin, not the watered down coconut milk that you can now buy in a carton. The milk I used has 60% coconut and 40% water.