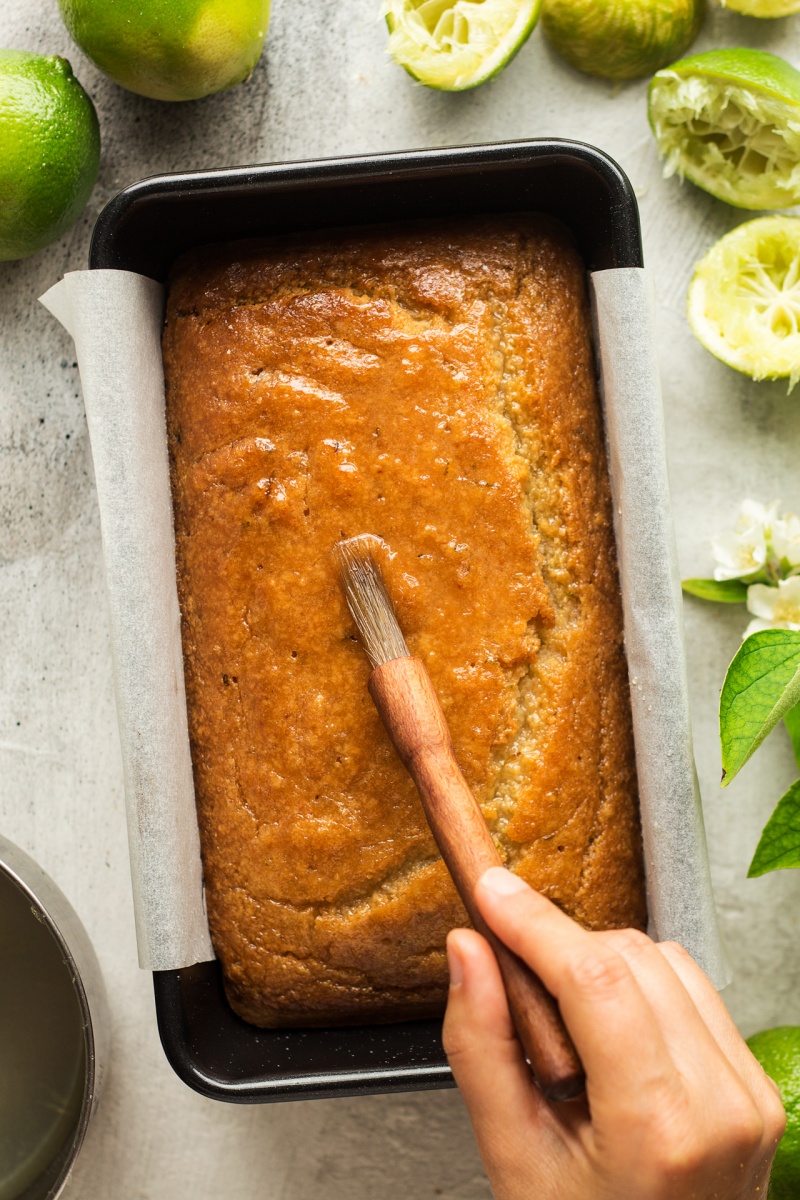 If my carefully stylised photos have fooled you into thinking that all my cakes always come out on point, think again. This coconut and lime drizzle cake was a true labour of love. Apart from some small alterations (I mainly just reduced the amount of coconut oil needed), I based it on my lemon drizzle cake that many of you loved, so I only needed to do one test bake, which went swimmingly and I was ready to shoot. Or so I thought…
On the day of shooting, I had lots on my mind (we are getting married on Monday and even though it's a very low key wedding, there are still bits and pieces you need to take care of and many of them come as a complete surprise, as I've never been the one to know any of the wedding conventions or trends…) I made the cake and was getting my camera ready, but when I took it out of the oven, my heart sank in unison with the cake itself.
Slowly the panic crept in. What have I done wrong? I don't understand, I made that cake so many times before and so many people have made it and it definitely works. Well, it took me a while to retrace my steps but what I did was this. I was distracted and didn't measure the baking powder properly, I was using half a teaspoon measuring spoons and I could not quite remember if I put one or two of them in, so I added another for a good measure and it was heaped too! Rookie error. And then I forgot about baking soda and added it at the very end and clearly didn't mix the batter well enough, which would explain the tiny little pockets of bitterness that ran through an otherwise edible but not quite enjoyable cake. Ugh! I was gutted. What to do, what to do? I had no limes left and if I went out to get limes, I would have no light left to photograph in…
I sent a message to my friend Sydney who lives nearby, hoping that she might be out food shopping. She was on her way to a doctor's appointment and was passing by a greengrocer, so she kindly brought me more limes. I was so grateful and I was sure I could still do my photos in time. I made another cake, this time with care and it turned out beautifully. I started photographing, but after a few takes grey clouds moved in, with an occasional sun ray peaking through. The light was horrible and wasn't doing my cake justice. I persevered, trying everything I could think of, but the results just weren't good enough.
As I wasn't sure if the said cake would look appetising the next morning, I had no choice but to bake one more cake… I asked Duncan to get more limes (I hate limes so much right now) and some coconut on his way back home and I made yet another cake, ready to style it and photograph it the next day. And cos it was a bit of a frustrating day and I had so much cake lying around, I somehow ate nearly half of the first sunken cake while fretting and getting stressed. At the end of that day I felt a bit rotten and forced myself to go for a run despite a throbbing headache and waaaaay too much sugar in my bloodstream. So in a nutshell, this is what running a food blog for a living looks like some days…
So this recipe definitely works a treat. Trust me, I tested it more times than I intended. Hope you'll enjoy it and while I might break out in a rash if I see yet another lime being zested or squeezed, I am sure I will return to making it after a period of much needed detox from cake making or eating 😛 .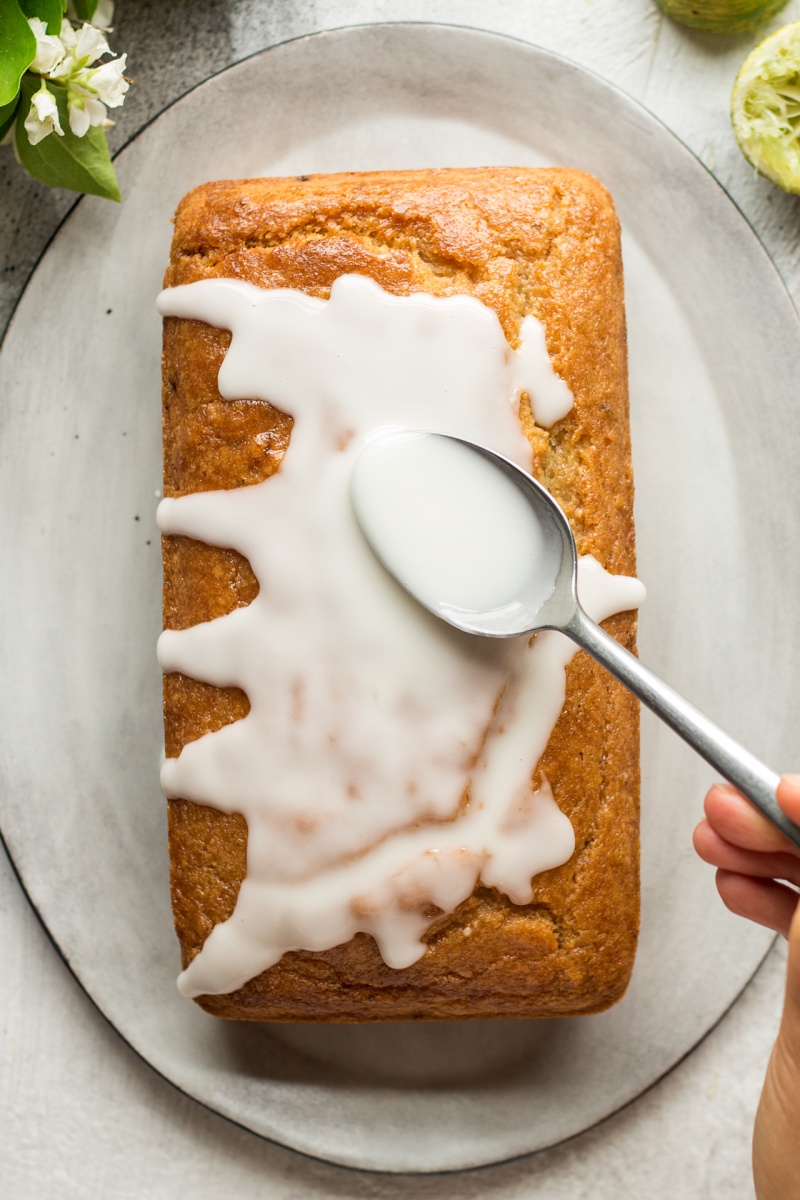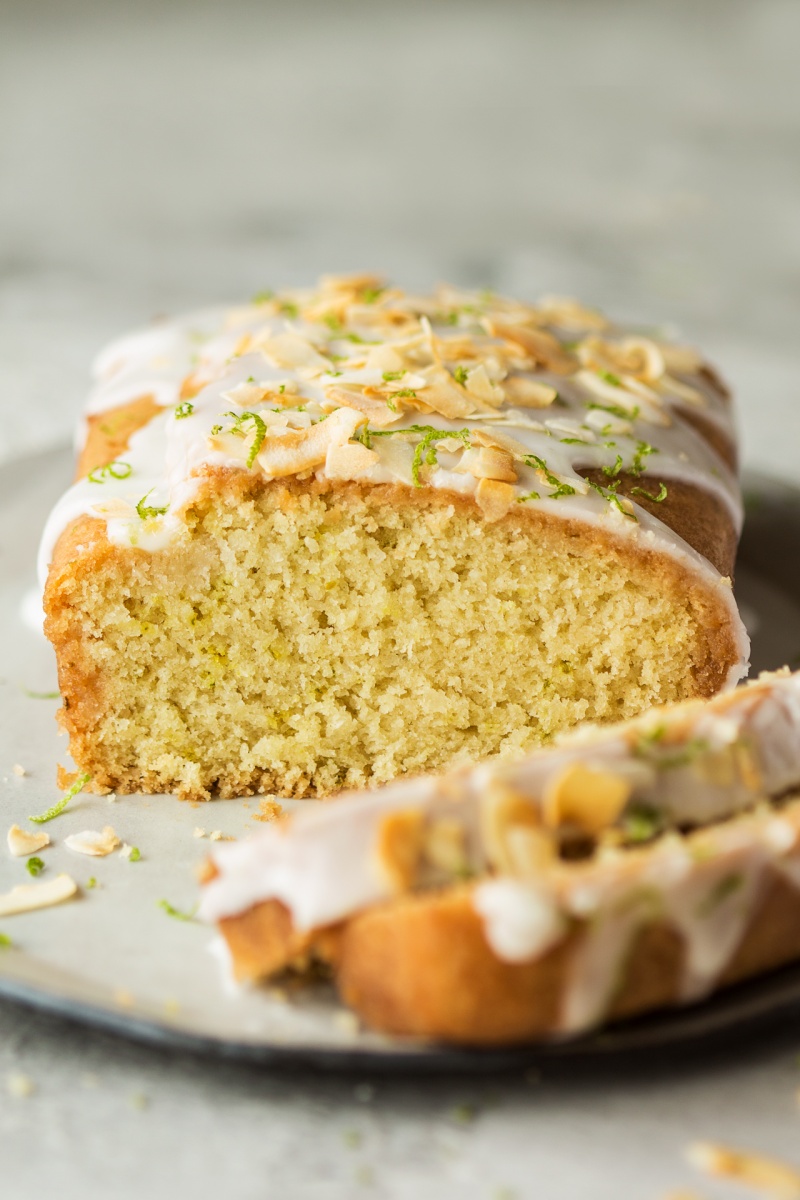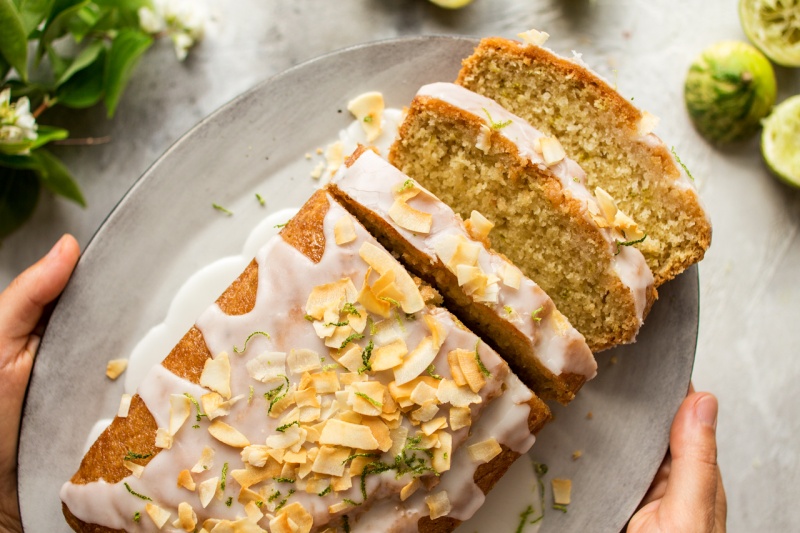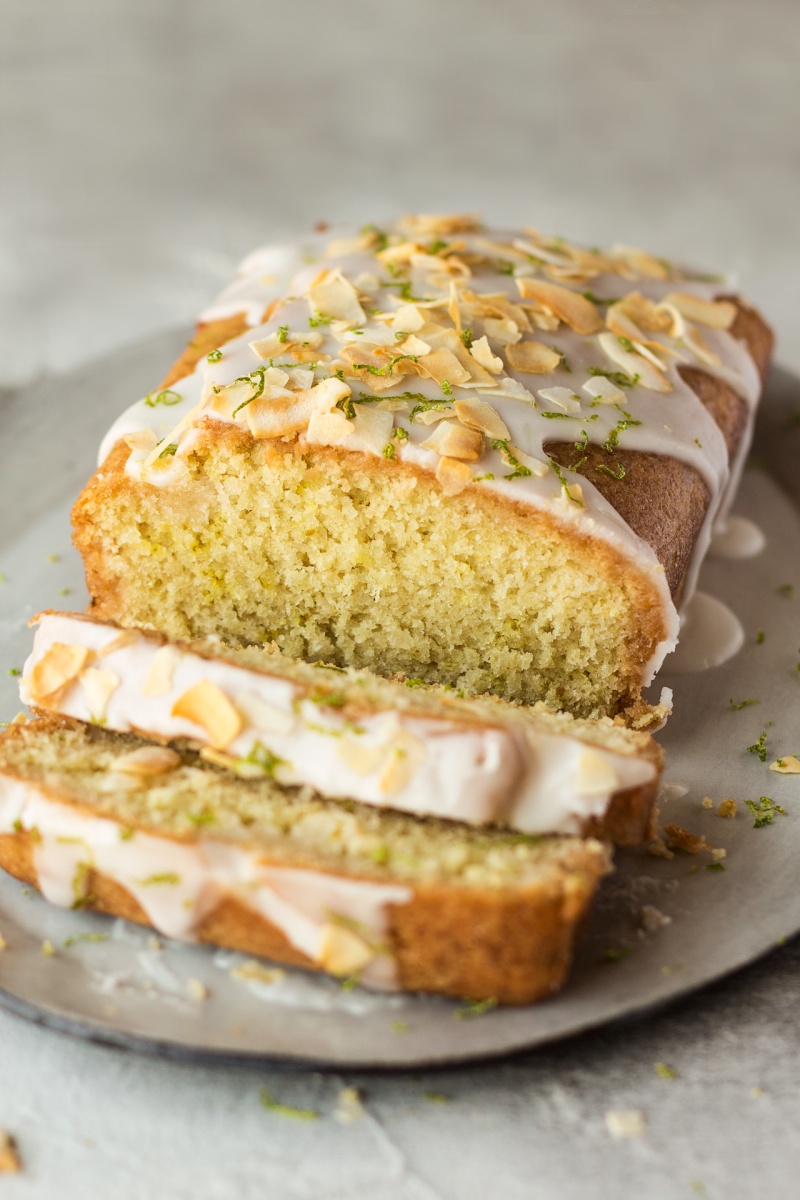 WET INGREDIENTS
240 ml / 1 cup thin plant milk (I used almond), room temperature
80 g / 1/3 cup mild coconut oil (measured unmelted)
125 g / 2/3 cup caster sugar OR 160 ml / 2/3 cup maple syrup*
30 ml / 2 tbsp lime juice (approx. ½ lime)
DRY INGREDIENTS
zest of 4 limes
80 g / 1 cup desiccated coconut, ground up finely in a coffee grinder or food processor
210 g / 1¾ cups GF cake flour mix (I used this one) or all purpose white flour, sifted
1 tsp baking powder
¾ tsp baking soda
LIME SYRUP
70 g / 1/3 cup caster sugar (fine sugar) or maple syrup, adjust to taste
juice of 2 limes (about 90 ml / 6 tbsp juice)
ICING (optional)
50-100 g / ½-1 cup icing sugar*
juice of ½-1 lime
toasted coconut flakes, to decorate (optional)
lime zest, to decorate (optional)
METHOD
LIME DRIZZLE CAKE
Measure out the plant milk and bring it to room temperature ahead of baking or warm it up to room temperature (do not allow it to get warm as it will melt the sugar in the batter) if you are in a rush.
Heat up the oven to 180° C (or 160° C fan forced) / 355° F (320° F fan forced). Line a 1 kg / 2 lb tin with a wide strip of baking paper to be able to remove your cake easily.
Whisk the softened (not melted ideally, although melted works too, but the cake will be a little less fluffy) coconut oil and sugar together with an electric whisk.
Add in the lime zest, lime juice and room temperature plant milk and mix well with a spatula.
Next, add in the desiccated coconut. I ground it up a little in my coffee grinder first, but that's optional.
In a small bowl, mix the flour with the baking powder and baking soda.
Finally, place a sieve over the bowl with the wet ingredients and sift through the flour mix until there are no more lumps left.
Transfer the batter to the prepared baking tin.
Bake for about 45 minutes, until a toothpick comes out clean and the top is nicely browned.
Once baked, remove the cake from the tin. Pierce the top with a toothpick in several places to allow the syrup to infuse the cake better. Brush the surface of the hot cake (that's important as otherwise the syrup will stay on the surface) with syrup several times allowing the syrup to soak into the cake between each go.
Once cool, drizzle with icing starting from the middle so that it drips down to the sides creating pretty drizzle marks. Finally, sprinkle with toasted coconut flakes and lime zest.
LIME SYRUP
Place the sugar or maple syrup and lime juice in a small pot over a low heat.
Bring the contents of the pot to a gentle simmer and cook until the sugar dissolves completely and the syrup thickens a touch. Set aside.
ICING
Whisk the icing sugar and lime juice in a medium size bowl until fully combined. Add the lime juice gradually to avoid lumps in your icing and to be able to control the consistency of the icing better.
NOTES
*If using maple syrup instead of sugar, reduce the amount of plant milk to 180 ml / ¾ cup
I used a 2 lb / 900 g cake tin of the following dimensions: 18.5cm x 8cm x 6cm (like this). It holds 8 cups / 2000 ml liquid (to the brim), but the batter should fill no more than 2/3 – 3/4 of the 2lb cake tin or else the cake may not raise.