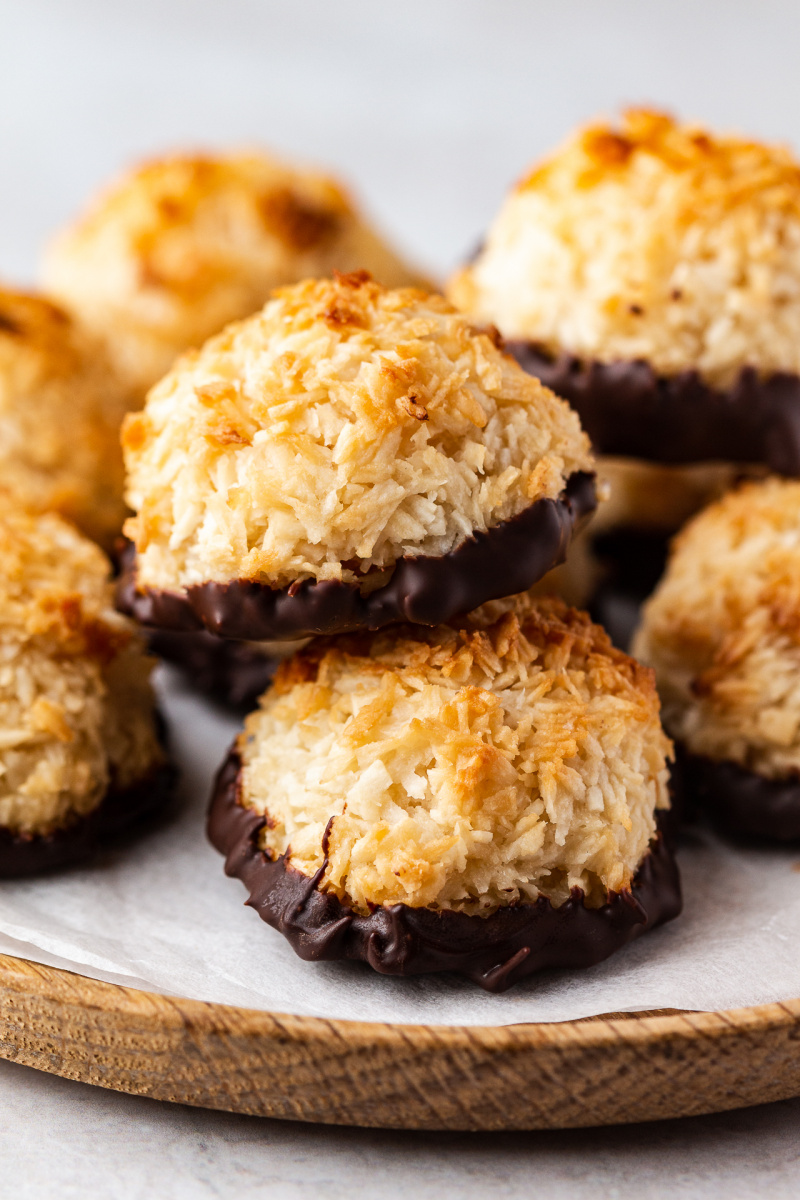 Hello! I'm baaack! Apologies for a bit of a radio silence but I've had a massively busy week and recipe development has had to take a bit of a back seat. I returned from London late last night where I've spent the past week decluttering, giving things away, packing and cleaning in advance of completion on my bachelorette flat, which is set for tomorrow.
It's been an exhausting process, but it's done now and as of tomorrow I will no longer be the owner of it. I feel a mixture of relief and sadness as this was my first ever property and I still remember how chuffed I was when I first got the keys to it 10 years ago. It was my very first place that I could call 'home' and I enjoyed living there, but then we went away to Greece and now we live in Bristol and it's therefore become a bit of liability and I figured that selling it is probably the best move.
Chores aside, I have really enjoyed myself in London. I managed to spend a lot of quality time with a few good old friends of mine who still live there. It was so nice to picnic in sunny Regent's Park, reminisce into the wee hours of the morning, sleep on my friends' spare beds (I had no bed by this point) and to befriend my friends' kids and cats. I had a lovely time!
Recipewise, I have something super simple yet delicious for you today. It's a tray of sweet coconut macaroon cookies (not to be confused with French macarons) dipped in bitter sweet chocolate. They are crunchy and toasted on the outside and soft on the inside. They are quick to make, only use a few cupboard staples and they really hit the spot when you are after something sweet. I hope you'll enjoy them as much as we have!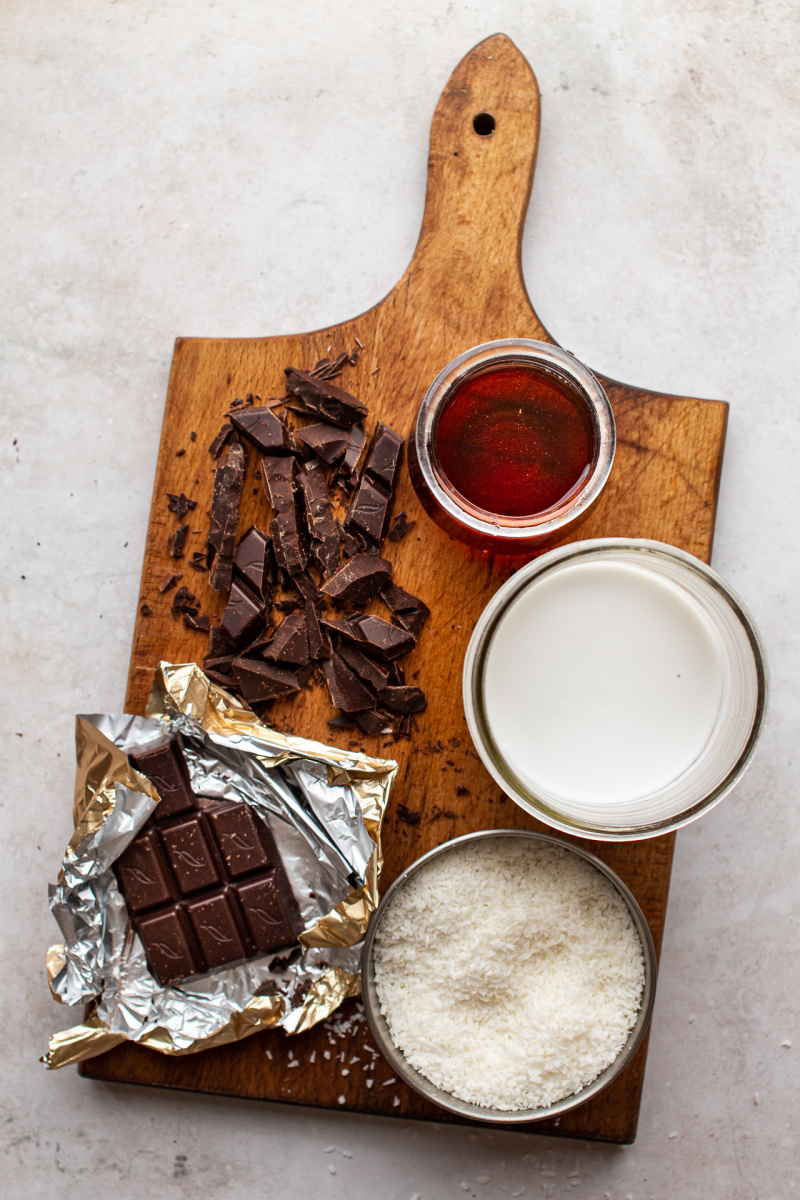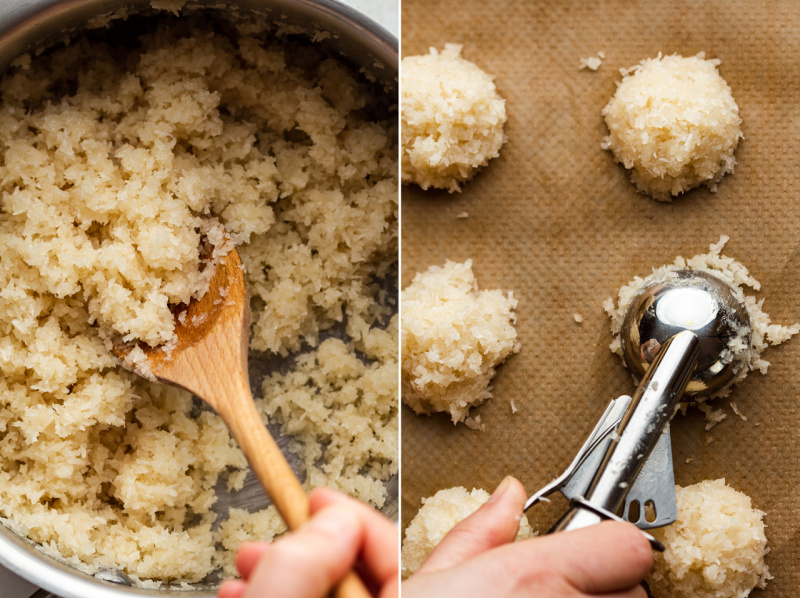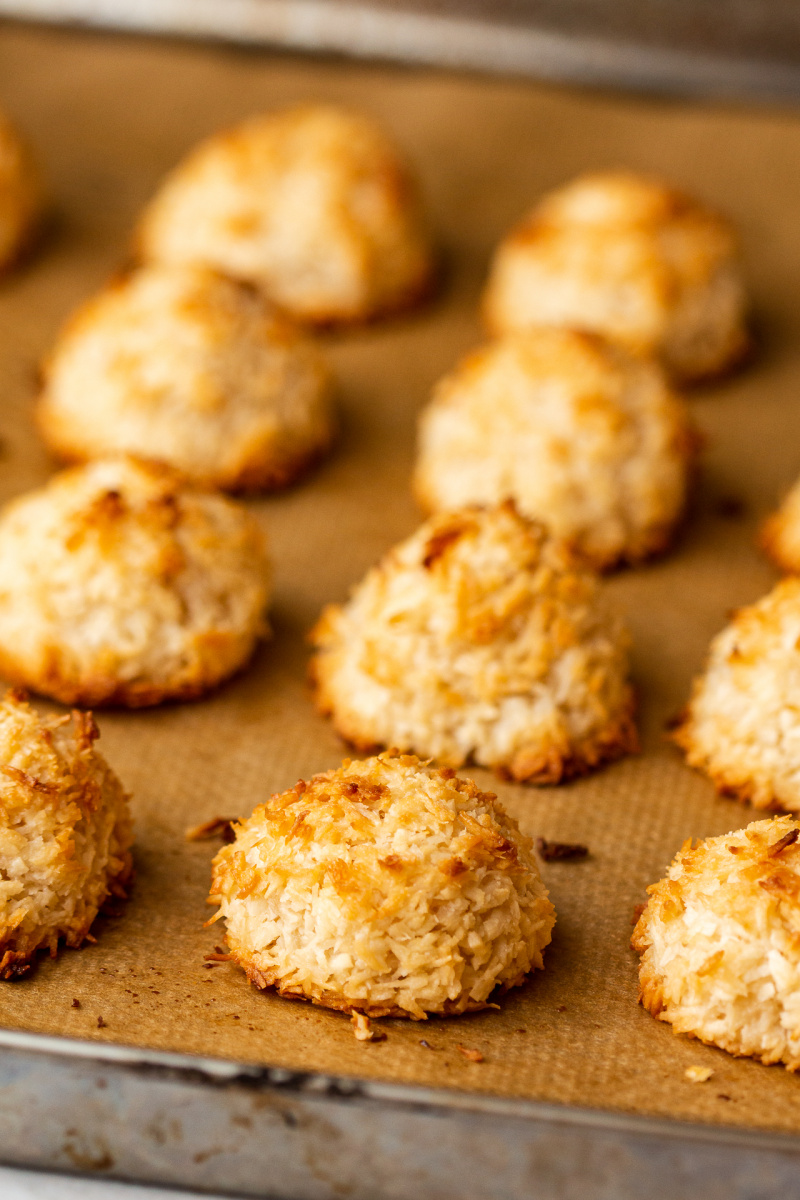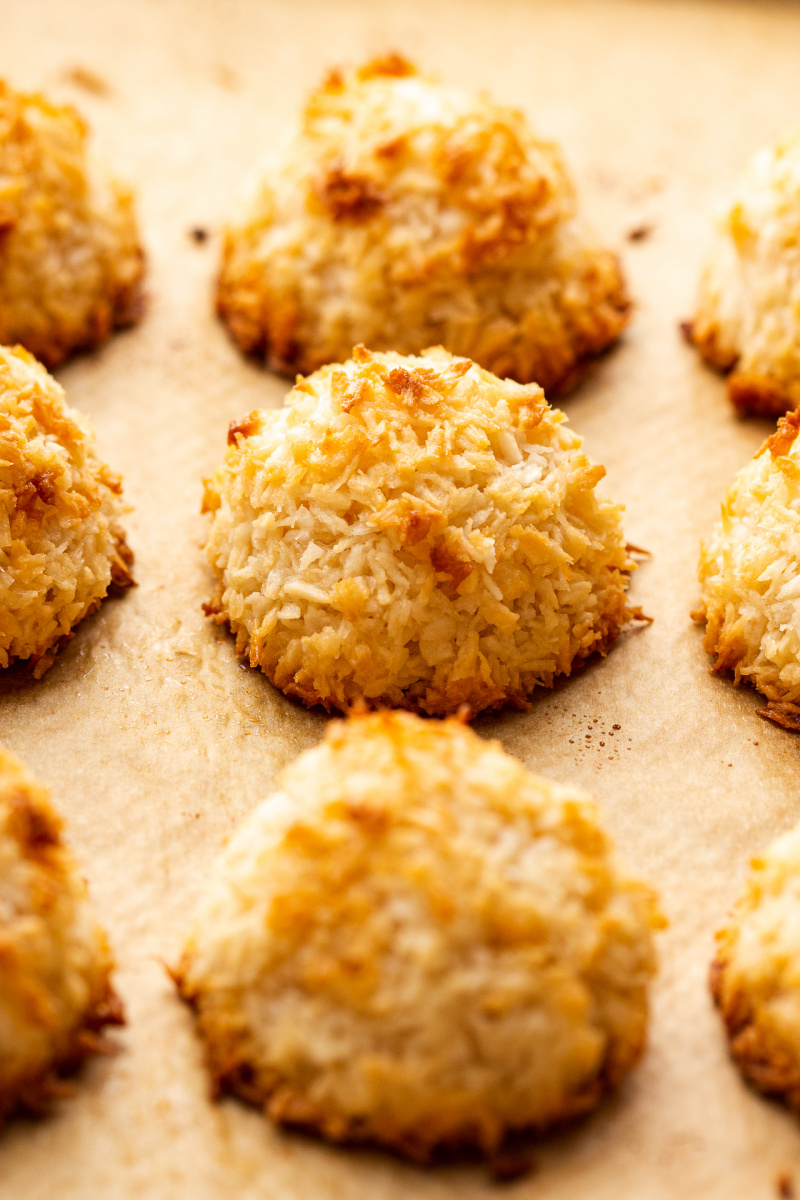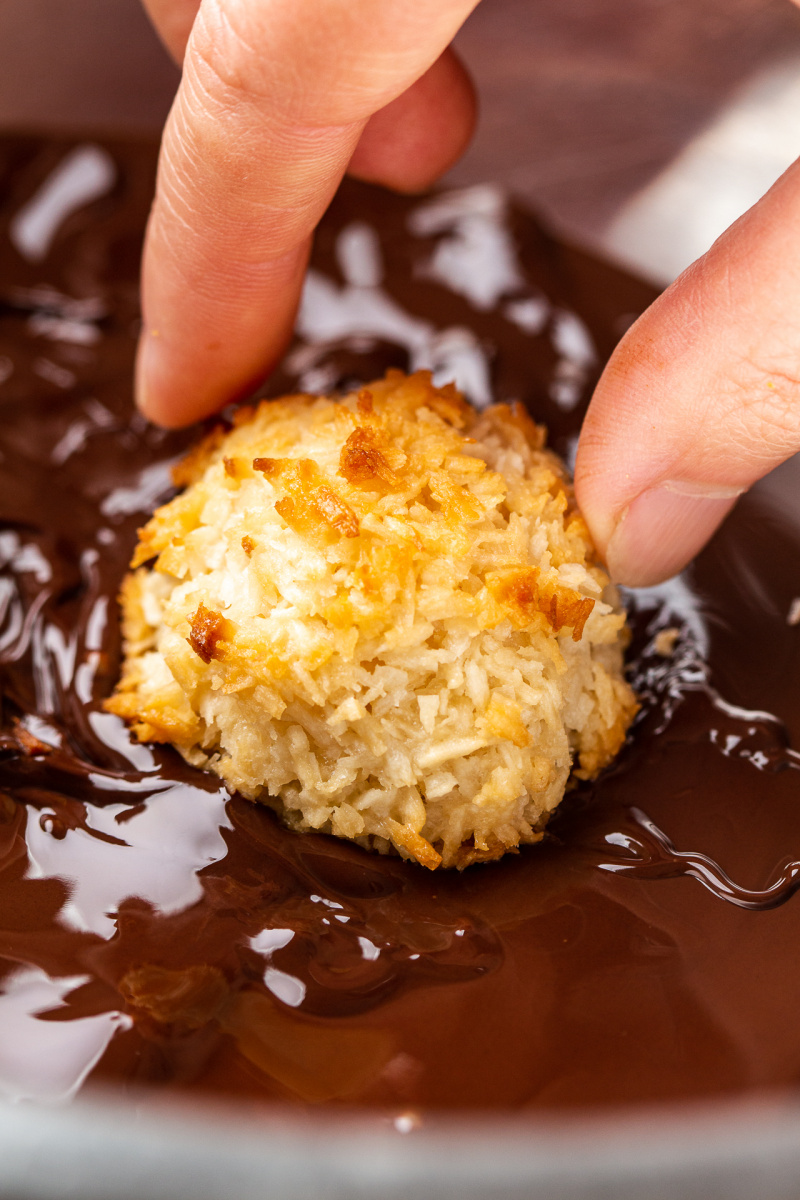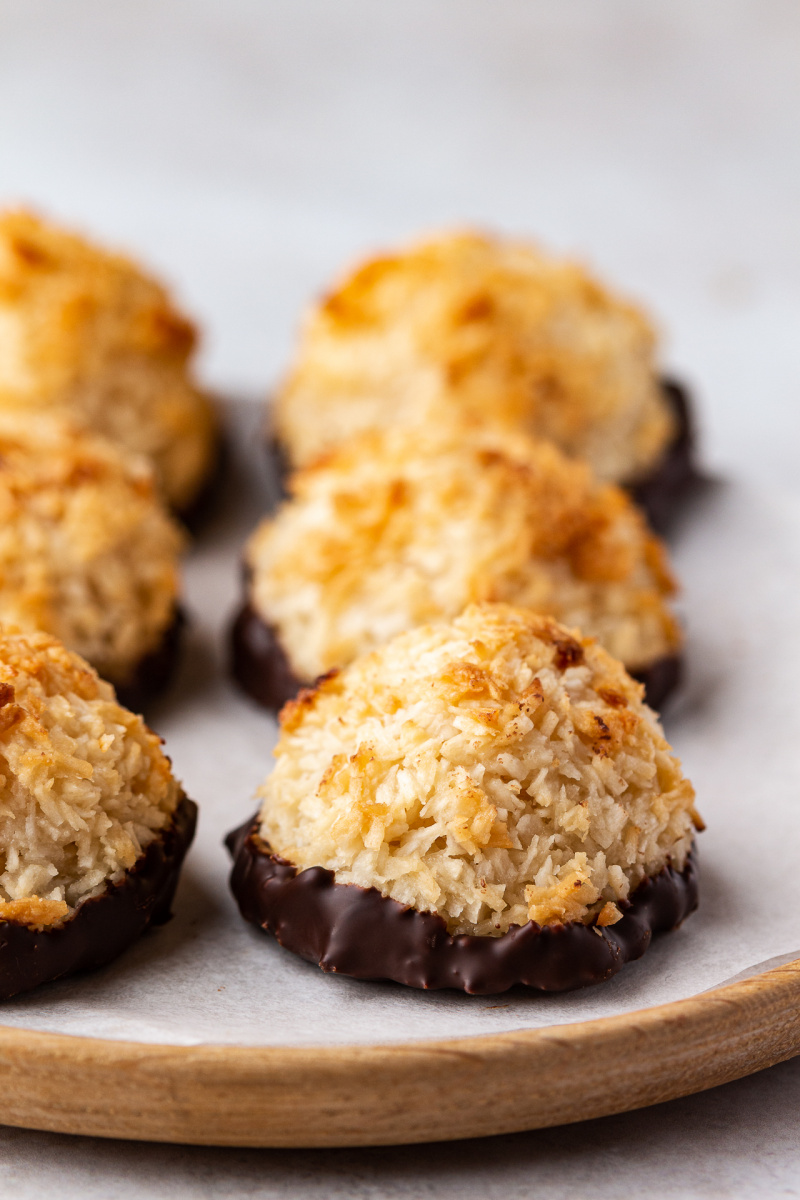 95 ml / 1/3 cup + 1 tbsp maple syrup
120 ml / ½ cup full fat coconut milk* (at room temperature)
1/8 tsp fine salt
120 g / 1½ cups desiccated coconut
35 g / ¼ cup rice or almond flour*
100 g / 3½ oz vegan dark chocolate (optional)
METHOD
Heat up maple syrup in a small pot, on a low heat.
Allow it to simmer gently. When it starts to bubble vigorously, whisk in coconut milk.
Allow the mixture to come to a simmer and to bubble gently for 2-3 more minutes stirring frequently so that it doesn't boil over. Take off the heat.
Stir in salt and desiccated coconut until you get a homogenous mixture. Allow the mixture to cool down then stir in rice flour to improve binding.
Measure out 1 tbsp portions of the mixture (I used a 20 ml ice cream scoop to measure the mixture out). Squeeze portions of the mixture between your fingers and shape them into compact mounds using your hands (yes, your hands will get a bit messy but that's the best way to shape these, trust me). Ensure the mixture is well compressed so that the cookies hold their shape well after baking.
Bake in a 160° C / 320° F for about 20-24 minutes (start checking after 20 minutes), until the cookies are lightly toasted and golden. Remove from the oven, gently compress them down a little whilst still warm and allow them to cool down completely to harden.
While the cookies are baking, melt chocolate very slowly in a mixing bowl over a water bath. Allow it to cool down before using.
Dip hardened cookies in the cool chocolate briefly, arrange them upside down on plate to allow the chocolate to set completely – putting them in the fridge will speed this up.
Store in an airtight container, in the fridge. These cookies will keep for 6 days, but their exteriors are most crunchy on the day they've been baked.
NOTES
*I recommend coconut milk that consists simply of coconut extract and water and does not contain any stabilisers or gums as these may cause separation of ingredients.
*RICE FLOUR: Following publication, I retested this recipe twice as some readers expressed difficulty in making the macaroons stick together. I have had no issues (I am not sure why – it may be due to the fact that my coconut is more finely shredded than what other people have been using), but to remedy the problem I amended the recipe to include some rice flour in place of ¼ cup of desiccated coconut.