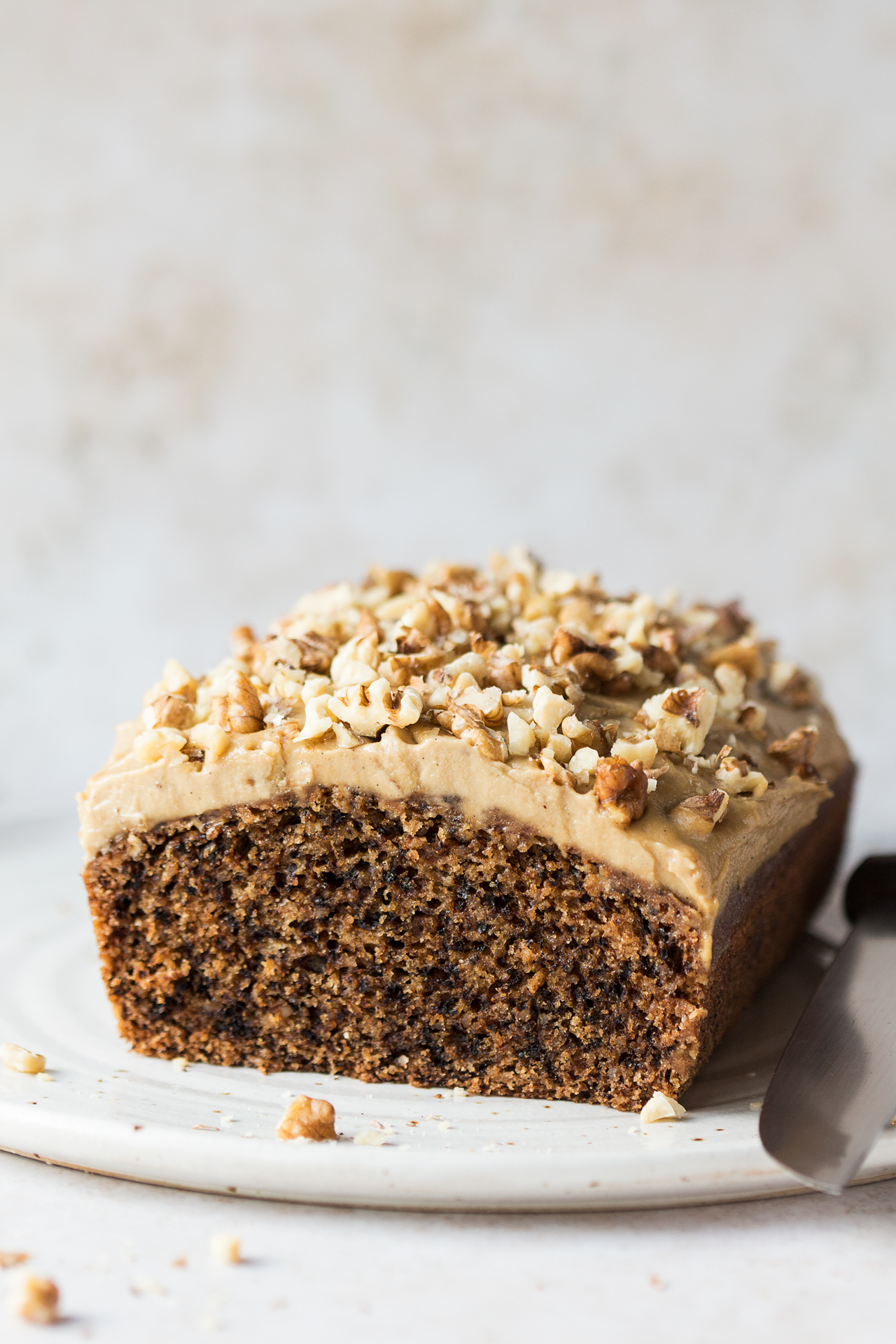 It's almost the weekend again, yay! I am looking forward to this one immensely given that the last one did not feel like a weekend at all. We put the final coat of paint on the guest bedroom's walls last night and the room looks fantastic this morning. Once our guests leave, we will paint the skirting boards and the radiator (like the walls, it's been also painted lilac!! by the previous owners) and then on to the fun stuff – picking a light, furniture, soft furnishings, maybe a couple of plants that will endure my gardening anti-talent 😉 .
After we are done with this room, we will take a bit of a breather and then move onto finishing the study. At the moment, only half of the wallpaper has been stripped off and the other half of that toxic stuff is still waiting for us. Meh, it's easily one of the least enjoyable jobs, but it is easy to do, so we might as well do that and pay for jobs we are not able to take care ourselves – like our roof needs some TLC apparently! Oh well, that's the trade-off for the Victorian charm.
It was Duncan's birthday earlier this month, but as it coincided with us moving house, I did not manage to bake him a cake – not that he is ever deprived of cakes in this house, mind you! So I've decided to put it right and made one of his favourites – vegan coffee and walnut cake.
It's a small cake rather than a full-blown birthday layer cake as I am really busy today again getting the house ready for our guests, washing, cleaning and pottering. But he does not mind as we've been pigging out a bit lately and I also heard from my brother that my mom is sending us truckloads of vegan mazurek (traditional Polish Easter cake, which is essentially a shortbread base deep-filled with a variety of fillings) so there will be lots of sweet stuff to get through. What a chore 😛 !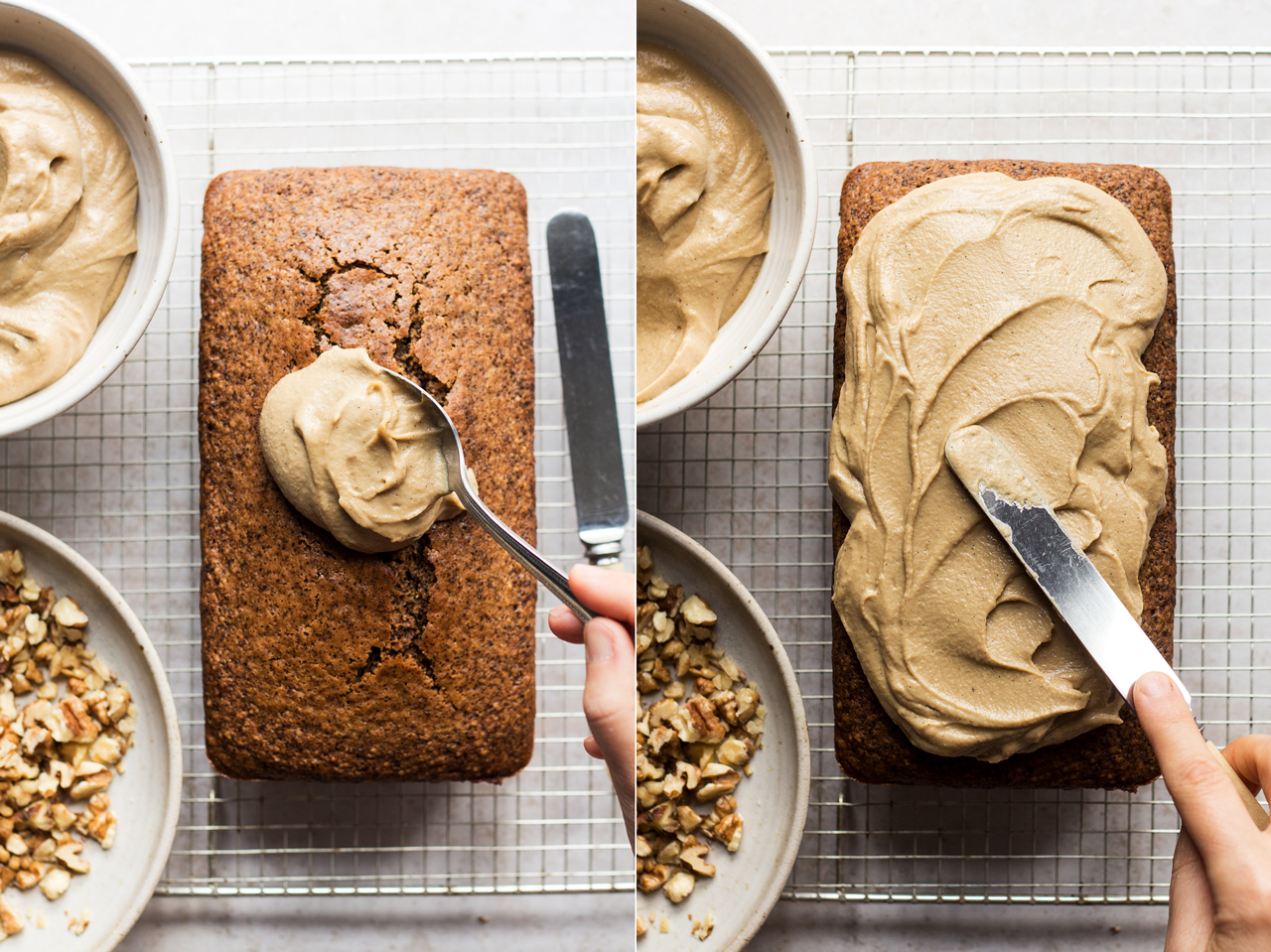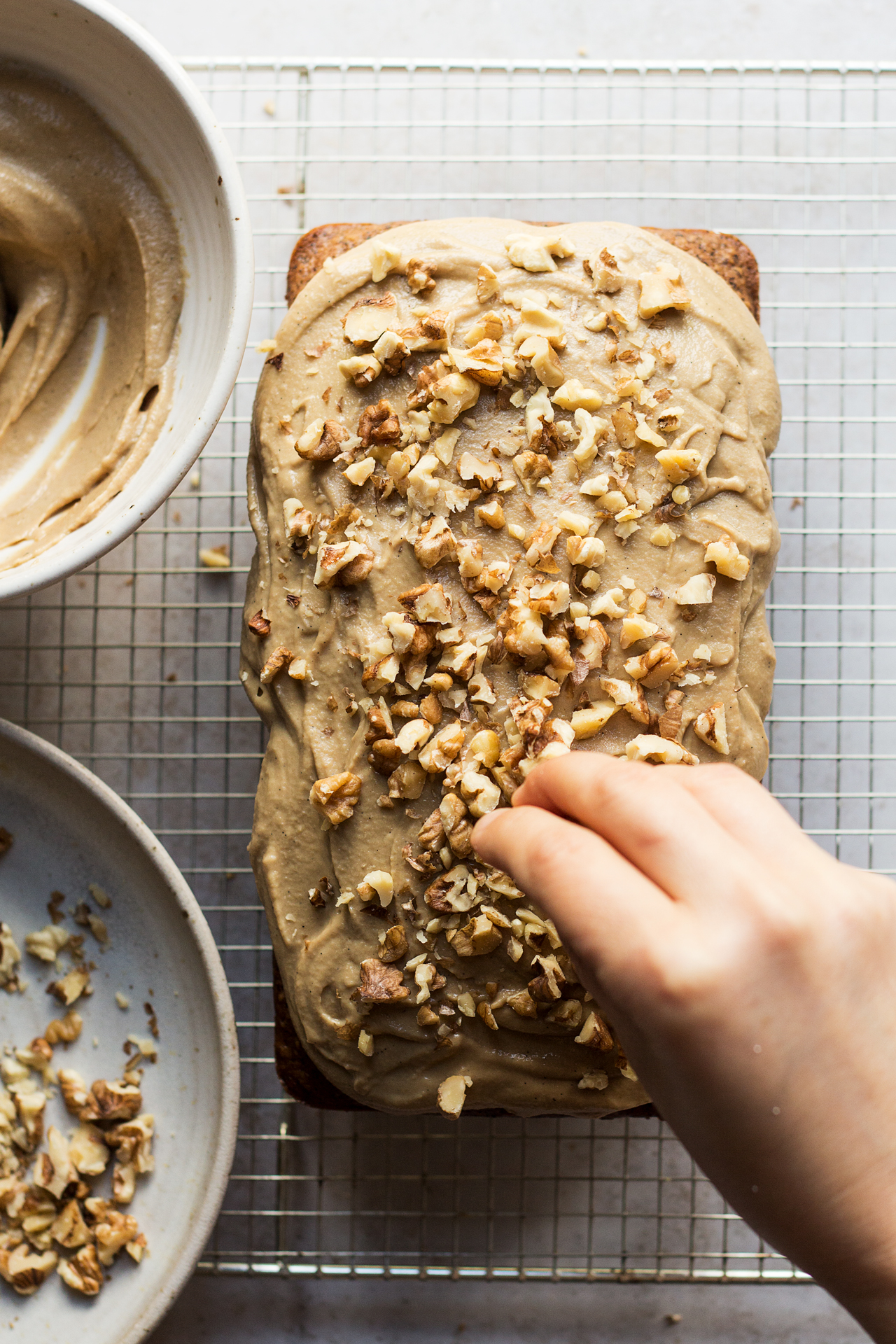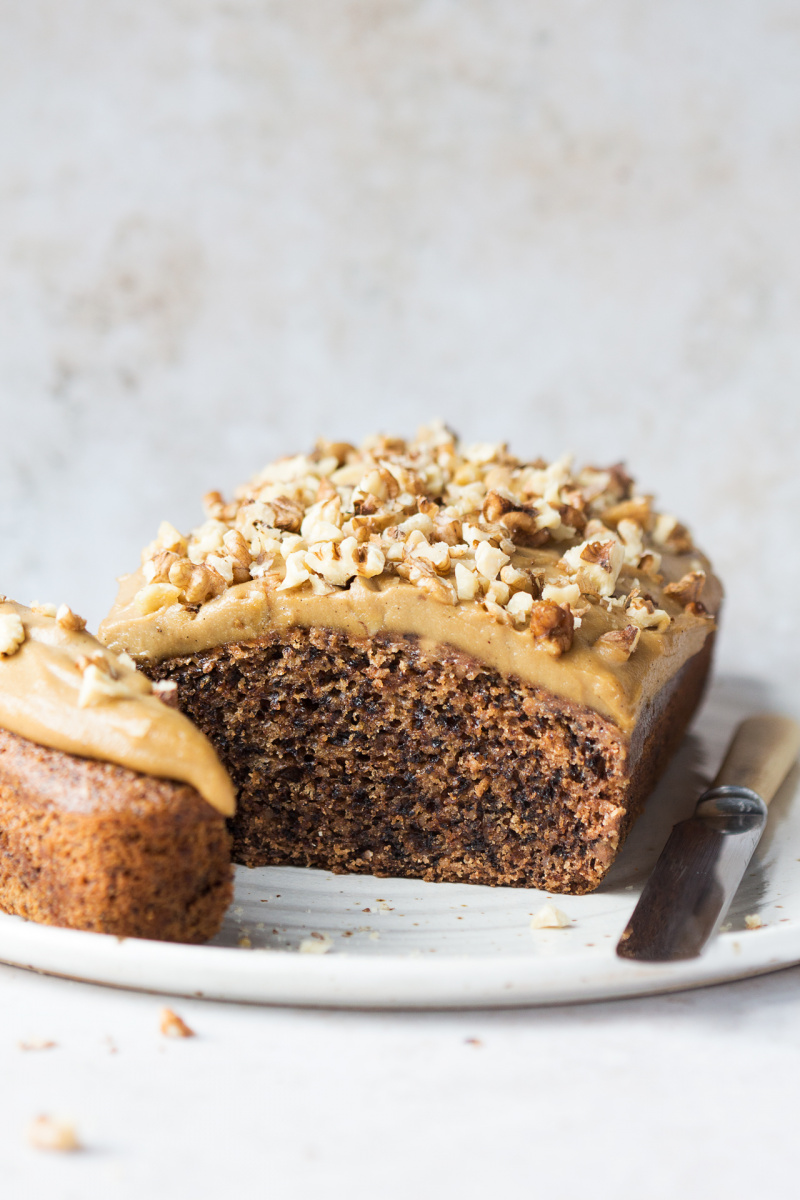 COFFEE FROSTING (I recommend making it a day ahead)
60 ml / ¼ cup maple syrup or other liquid sweetener
1 tsp vanilla extract (optional)
60 ml / ¼ cup very strong coffee*
195 g / 1½ cups raw cashews, soaked in boiling water for 20 min
WALNUT CAKE
Dry ingredients
180 g / 1½ cups all purpose white flour or all purpose GF flour mix
100 g / 1 cup finely ground walnuts
½ heaped tsp baking soda
1 tsp baking powder
150 g / ¾ cup caster sugar
chopped walnuts, to decorate (optional)
Wet ingredients
195 ml / ¾ cup + 1 tbsp plant milk (I used almond milk)
60 ml / ¼ cup very strong coffee*
60 ml / ¼ cup melted refined coconut oil (or other mild tasting oil)
METHOD
COFFEE FROSTING (I recommend making it a day ahead)
Put maple syrup, vanilla extract and coffee at the bottom of a blender. Add approximately one quarter of the drained cashews (discard the water) and blend until super smooth.
Proceed to blend the cashews until super smooth, quarter by quarter. If your blender is getting stuck, try breaking an air pocket that tends to form under the mixture of the surface with a spatula while the blender is operating (but please be extra careful not to go anywhere near the blades). If that does not help add a touch of plant milk, but no more than 1-2 tbsp of thin milk. This should help your blender churn the thick mixture.
Refrigerate for a few hours, ideally overnight, for the mixture to thicken and for the flavours to develop.
CAKE
Set the oven to 180° C / 355° F (160° C / 320° F fan forced). Grease a 900 g / 2 lb cake tin (please see notes) with a little bit of oil.
Sift the flour into a large bowl, add the remaining dry ingredients (ground walnuts, baking soda and baking powder) and fine caster sugar. Mix everything well.
Add all the wet ingredients (if using coconut oil, warm up plant milk a little as refrigerated milk will make coconut oil solidify) and fold them gently into the dry ingredients until no flour pockets remain.
Fill the tin with the batter – it should be thick but still very pourable – and place in the preheated oven for approx. 40-45 minutes, until a toothpick comes out clean.
Let the cake cool down completely before removing it from the tin, icing it, decorating with chopped walnuts and cutting into slices.
NOTES
*I made ½ cup / 120 ml of very strong coffee (3 tbsp, I used Chemex) and divided it between the icing and the cake. You could also use instant coffee and hot water.
PLEASE NOTE that a 2lb cake tin is very different from a 2lb bread tin. A 2lb cake tin (which should be used here) holds about 5 cups / 1250 ml (by contrast the bread one holds 8 cups / 2000 ml). The batter should fill no more than 2/3 – 3/4 of the 2lb cake tin or else the cake may not raise.