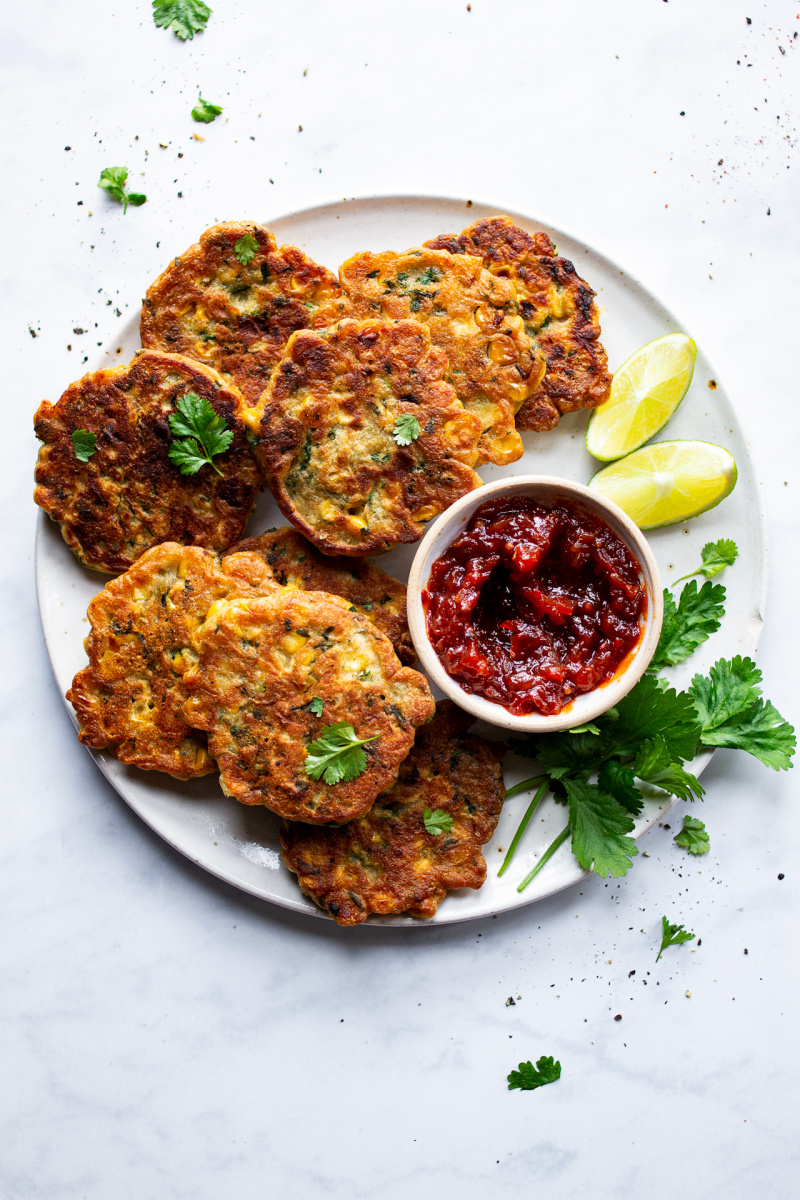 With all this late summer bounty that is calling to me from the greengrocer's shelves: sweetcorn, cherries, blackberries, fennel, beetroot, courgettes and plums to name just a few, I refuse to believe that the summer is over. It is just the beginning of August, so it shouldn't be but the weather, full of torrential rains, hail (yup, it hailed for a few minutes yesterday – Tina was perplexed and not amused) and big grey clouds for days on end would suggest otherwise.
As a warmth loving individual with perpetually cold extremities, I am truly in denial and I am still holding out hope for some heat this year (not counting our imminent holiday to the motherland of summer – Greece, which we are super stoked to have up our sleeve in case things get rough). It's also a tad annoying that the weather has taken a turn for the worse as we finally got our act together and bought a small barbecue hoping to use it on warm August evenings…
While the weather isn't conducive to firing off our new BBQ any time soon, which is a shame as it's hard to beat grilled corn, I've decided to put its sweet kernels to another use. I incorporated them into a delicious batter and turned them into pancakes or fritters, the choice is yours!
The only difference is the amount of oil used. A small amount of oil on a non-stick pan will give you a stack of savoury pancakes while shallow-frying the batter, will turn it into crispy fritters instead. They both make a delicious snack, starter or a fantastic savoury breakfast that is naturally gluten-free. I like to have mine with a dollop of thick vegan coconut yoghurt and a teaspoon of sour chutney to cut through the sweetness.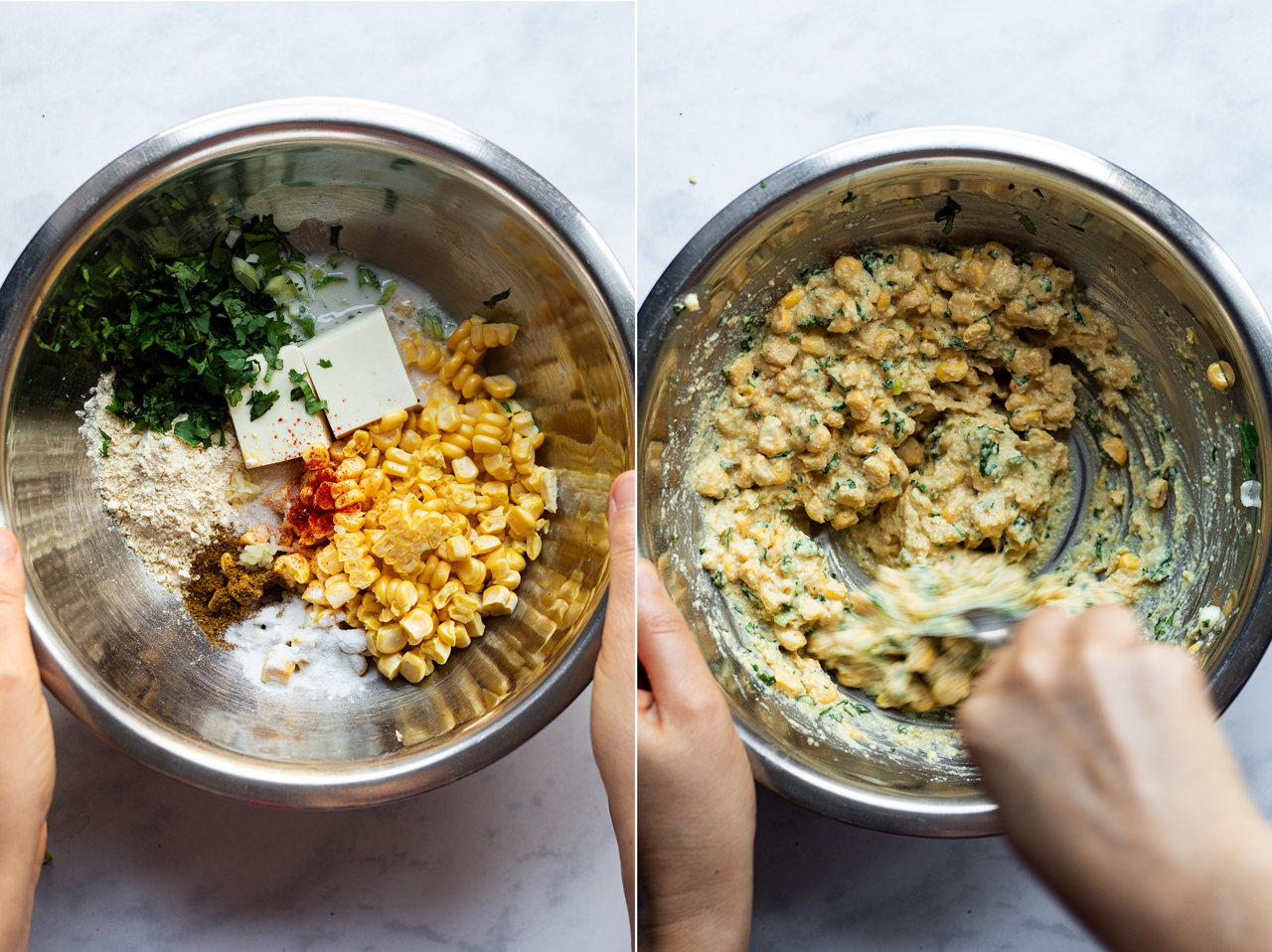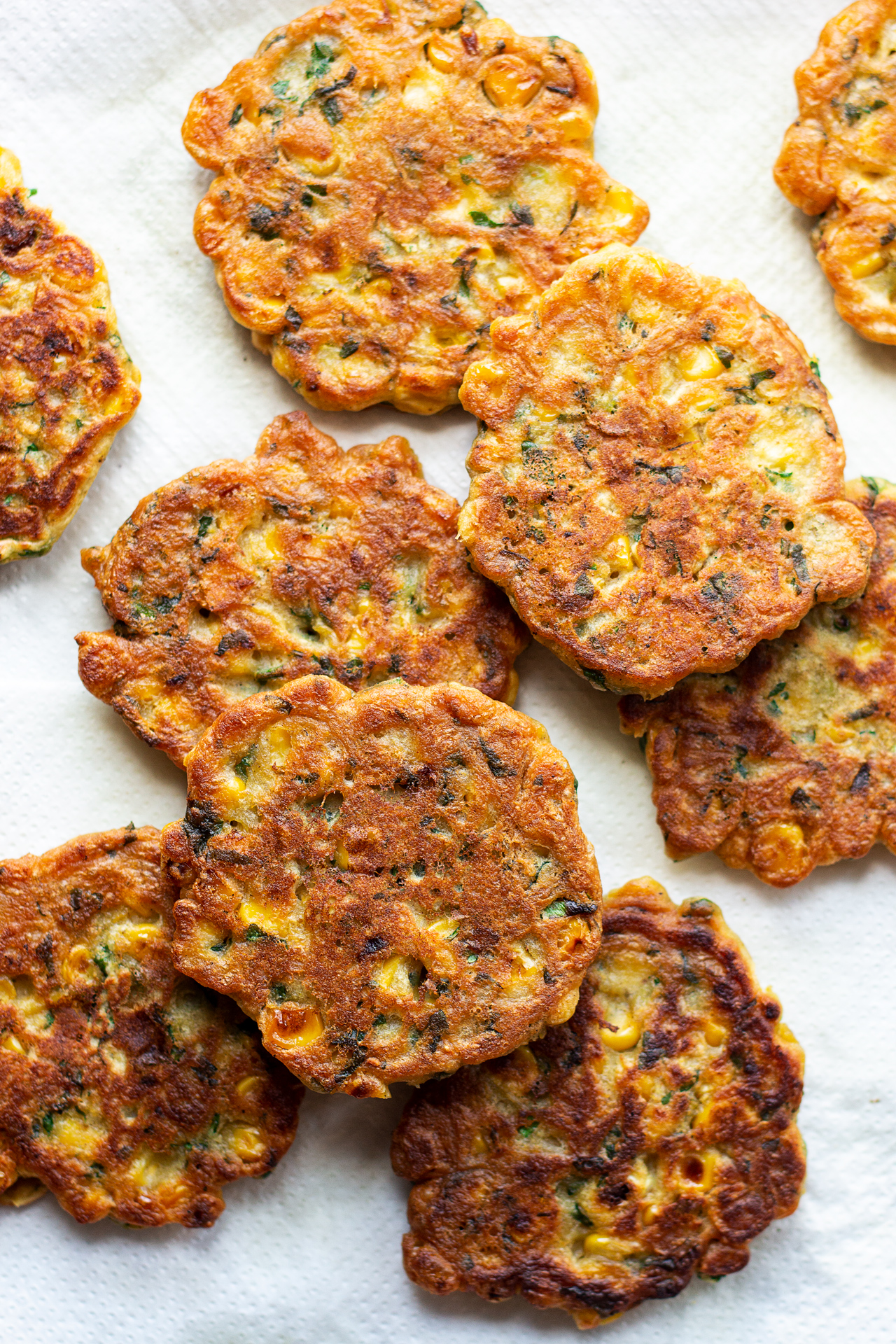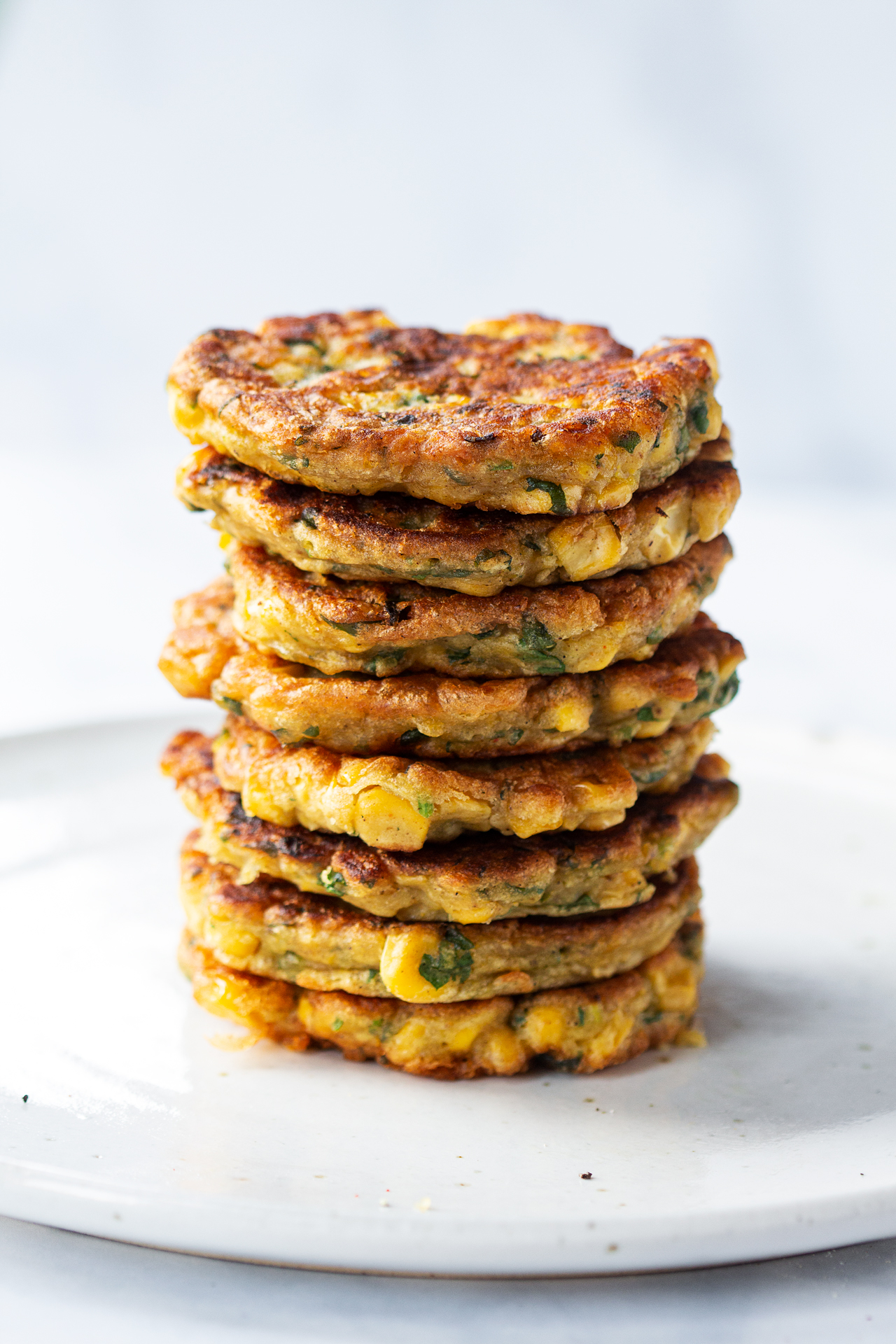 300 g / 2 cups shaved sweetcorn kernels (approx. 2 ears of corn)
200 g / 7 oz silken firm tofu (I use Clearspring)
1 tsp salt
1 tsp garam masala
a good pinch of chilli (optional)
1¼ tsp baking powder
½ tsp baking soda
2 tbsp lime juice
a small bunch of fresh coriander, finely chopped
1 spring onion / scallion, finely chopped
1 large garlic clove, finely grated
110 g / 1 heaped cup chickpea flour
60 ml / ¼ cup unsweetened plant milk (I used almond), or water
vegetable oil, for frying
METHOD
Place all the ingredients, except for oil, in a large mixing bowl.
Mix until smooth and lump free.
The batter should have a thick but spoonable consistency. Let the batter sit for about 5 minutes for the baking powder and soda to activate.
Heat up a medium non-stick frying pan on the stove, but be careful not to get the pan too hot as the pancakes will burn before cooking in the middle.
Heat up a little oil in the frying pan – the more oil you use, the crispier these will become. More oil will turn these into fritters, a small amount of oil will make them into pancakes.
Place 1 tbsp of batter per pancake / fritter onto the hot oil. Flatten the pancakes / fritters with the back of a spoon and fry for about 2-3 minutes on one side and 2 minutes on the other side.
Serve with a dollop of sour chutney (I used shop-bought tomato and chilli chutney) and thick vegan coconut yoghurt.
NOTES