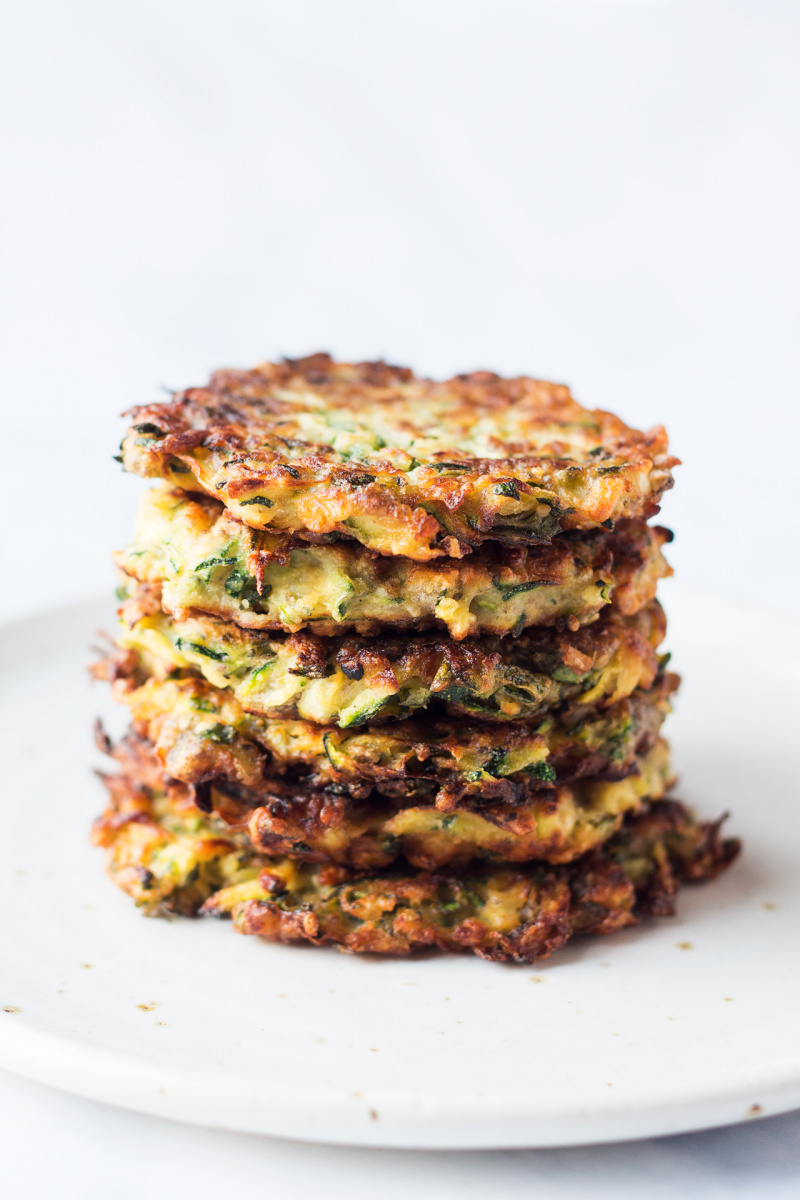 I realise that I'm a bit of a late starter in life so perhaps it should come as no surprise that I have only just discovered the Serial podcast, but how did I not know about that before? I have been hooked on it all week this week. I am on series 3. It's fascinating, enraging, shocking and terrifying. Simply mind-boggling. And I love Sarah Koening's voice.
Other than that I've been doing a prolific amount of cooking and eating (in the name of my craft, of course) and made it to two morning yoga classes, which is a bit of a personal achievement as I've been telling myself I will do that ever since we moved house and I've only just managed to carry it out. I plan to go twice a week as much as possible as I realise that my body certainly needs more than the 15 minute YouTube session I do (almost) daily. My tightly wound up hammies and hips are trying to tell me that I should be taking stretching a bit more seriously.
I love how yoga makes my body feel, but I'll be honest, I am a bit put off by teachers who assume that the only reason you do not keep your legs straight is that you are not trying hard enough!! They lose interest in you as soon as they realise that your body isn't fashionably flexible and you are probably one of their less satisfying students to teach as you make progress slowly and may never be capable of the advanced poses that are frequently used to market yoga all over the world.
When they insist that I CAN keep my legs straight as I feel my hamstrings almost tear and my lower back twinge, I am instantly being reminded of my PE classes at school, which truly put me off running (or any exercise for that matter) until my late 20s. When plagued by stress-induced depression, I decided to take up running in my late 20s and I realised, to my great astonishment, that I don't actually suck at it at all. I mean, sure I am not the fastest, but I'm not the slowest either. I am committed (I've been running on and off ever since) and my mind benefits from a runner's high immensely – I beam as soon as I've come out of the shower. Duncan always remarks on how I am the embodiment of running being good for mental health, the boost to my mood is very apparent. Luckily there are a lot of yoga teachers and studios around Bristol, so I will keep on trying until I find someone who doesn't patronise me and whose teaching style proves to me that yoga is indeed this inclusive thing it claims to be. I had a teacher like this once – waving at you Tasso!! – and I miss him sorely.
Recipe-wise, I have a Greek-inspired recipe for you today as I am hanging for our upcoming annual holiday to Greece, but it's not happening until late September. We are doing another mini road trip round the other half of Crete this year. We've planned our stay, booked all the accommodation and a rental car and I've just sorted out a cat sitter for Tina, so we are all set. We cannot wait to go away from it all. This dish is a permanent fixture on most Greek taverna menus. It is delicious. Mine is fragrant with fresh mint (you can also use dill), flavoured with spring onions, garlic and some chopped capers, which you can totally skip if you want to simplify things. I like to use them.
The fritters are easy to make and the only snag is that you need to eat them straight after they have been made, as they are not the kind of thing that can be made in advance. καλή όρεξη (enjoy / bon appetite) as they say in Greece! x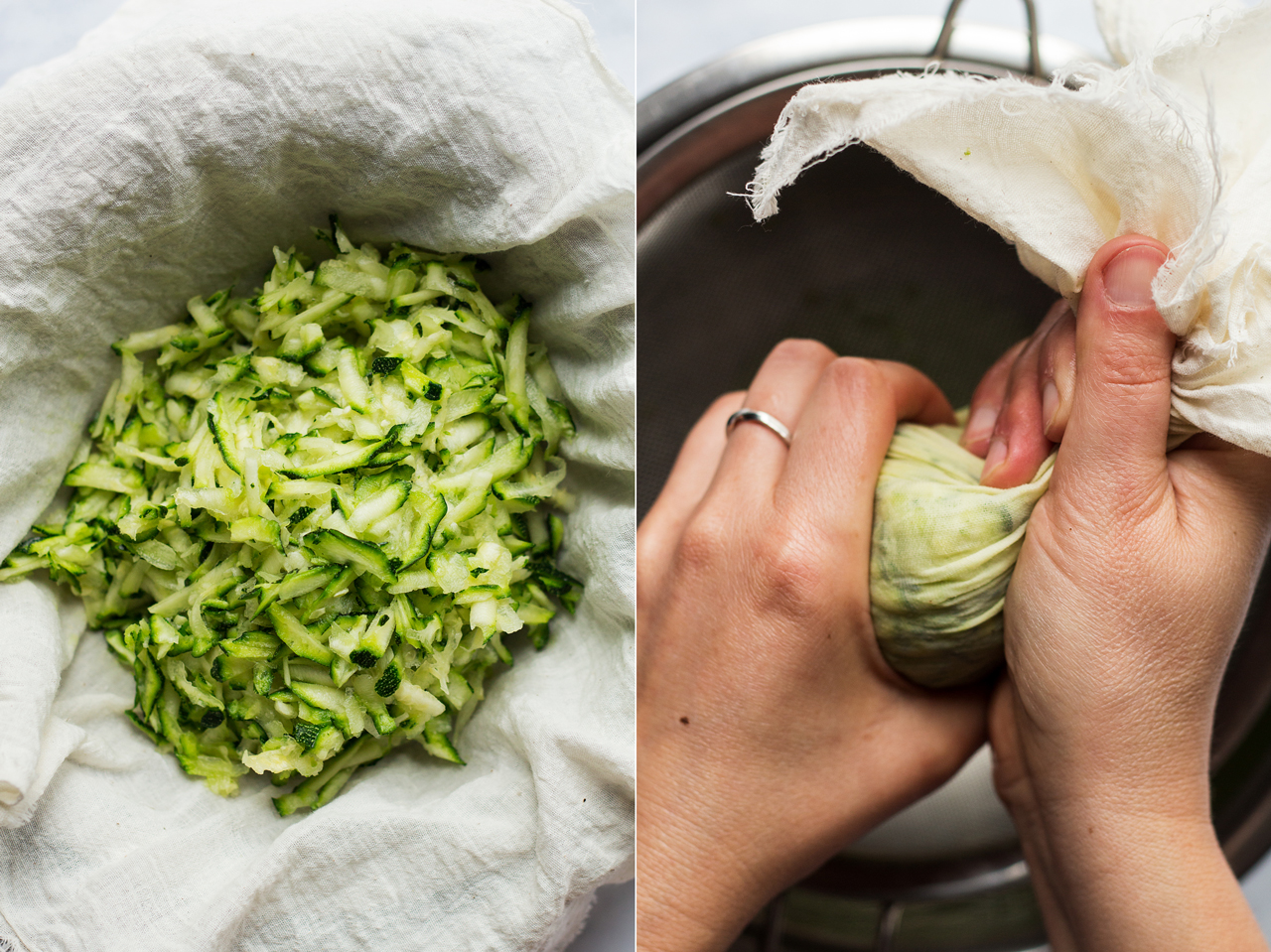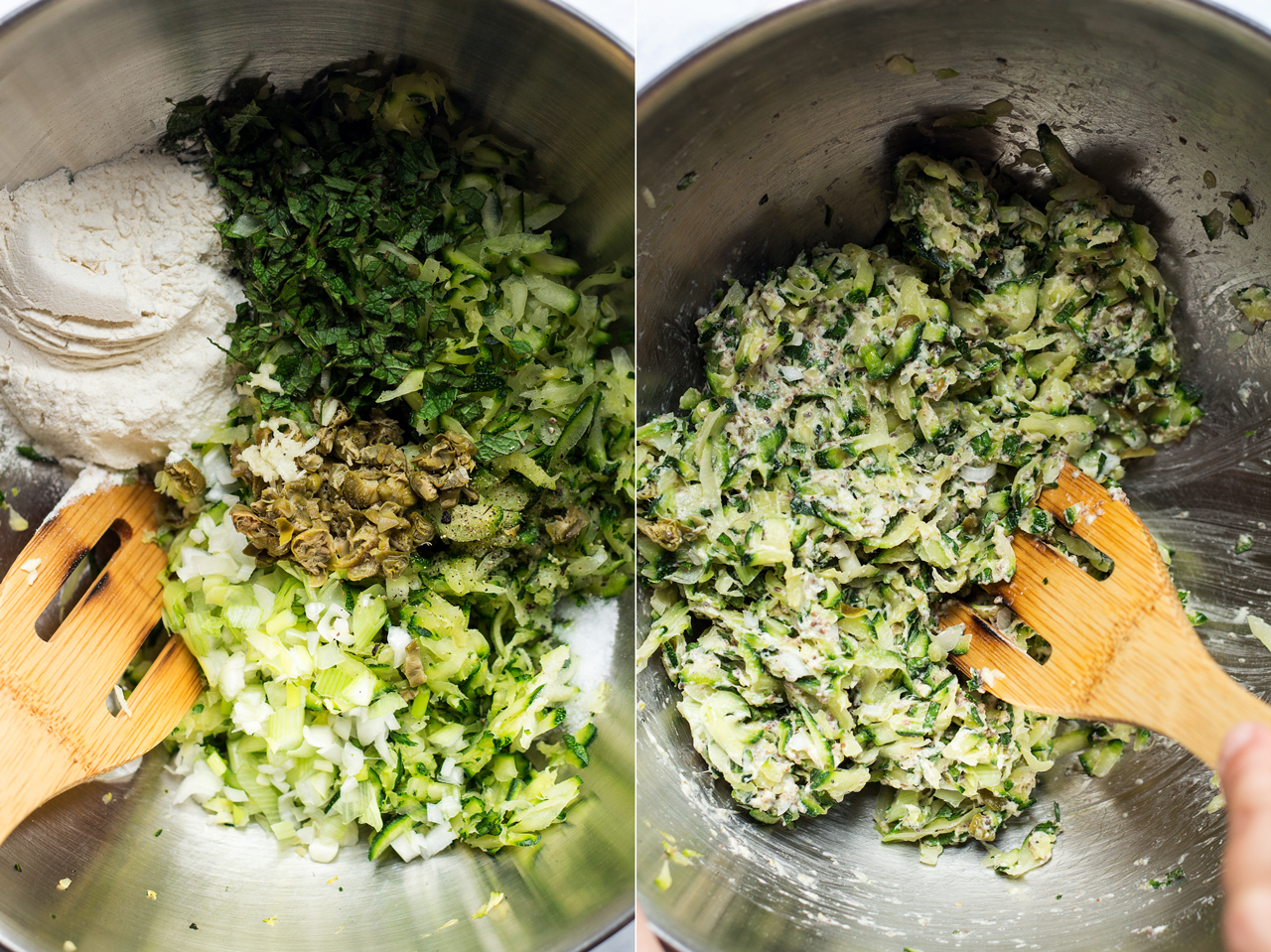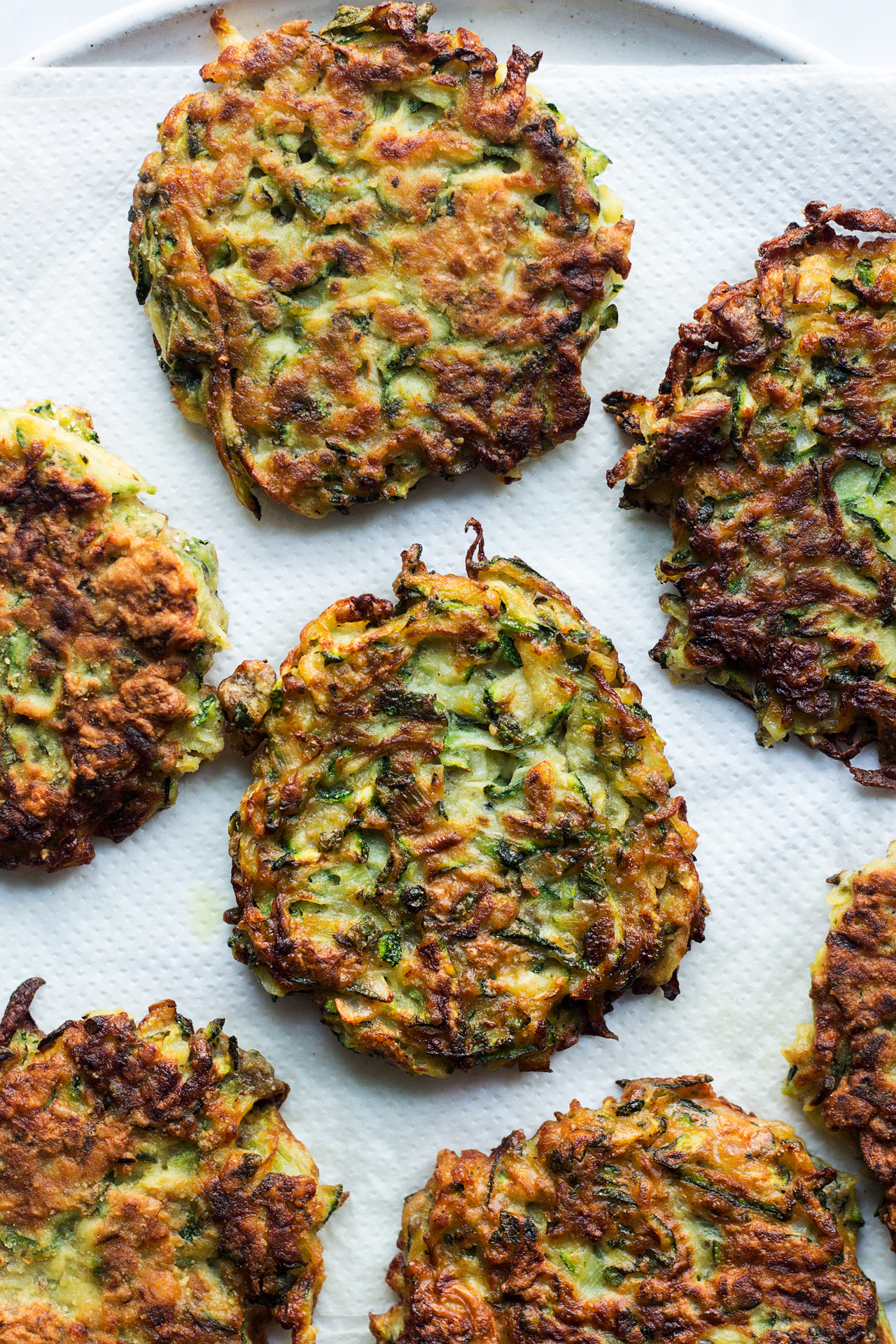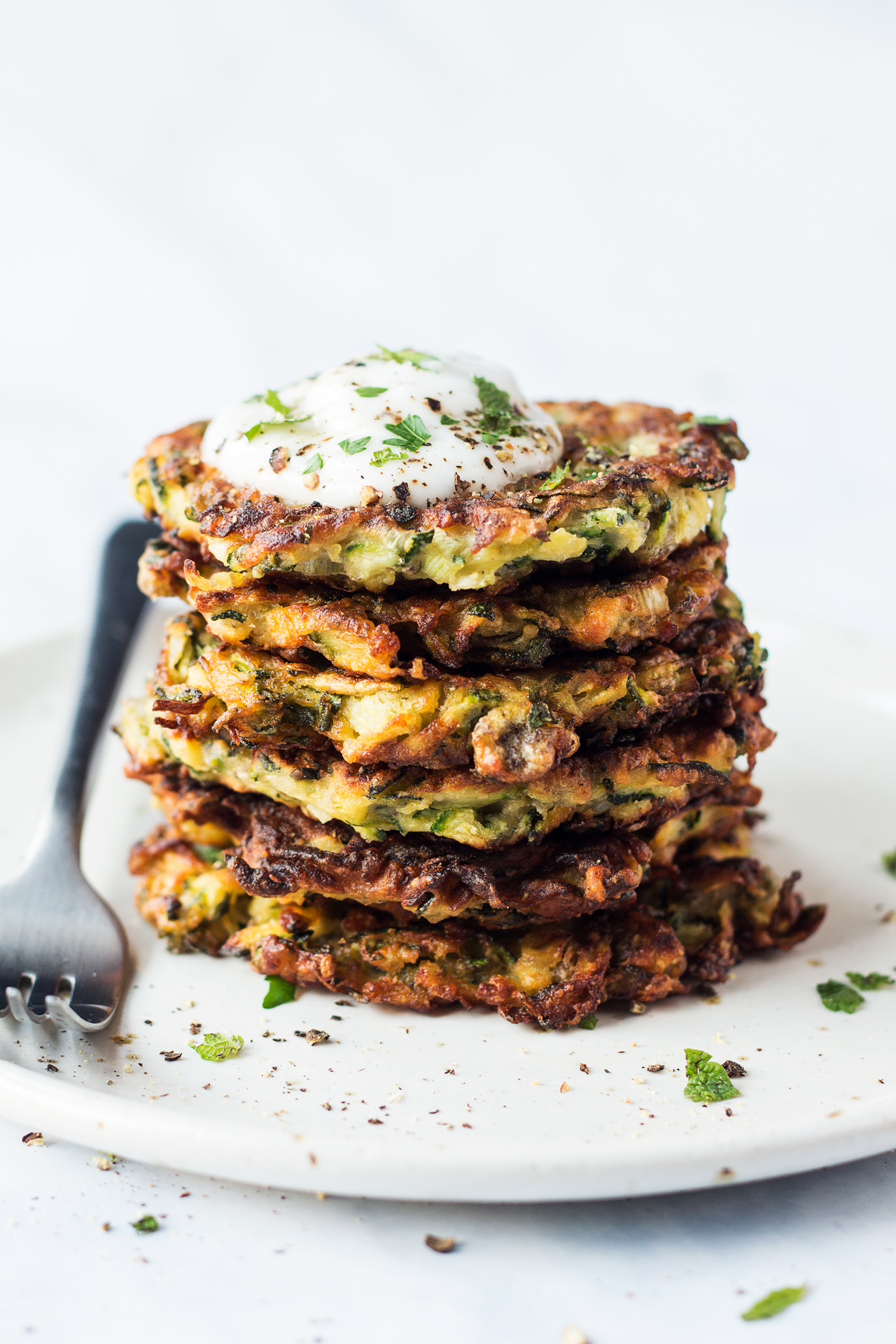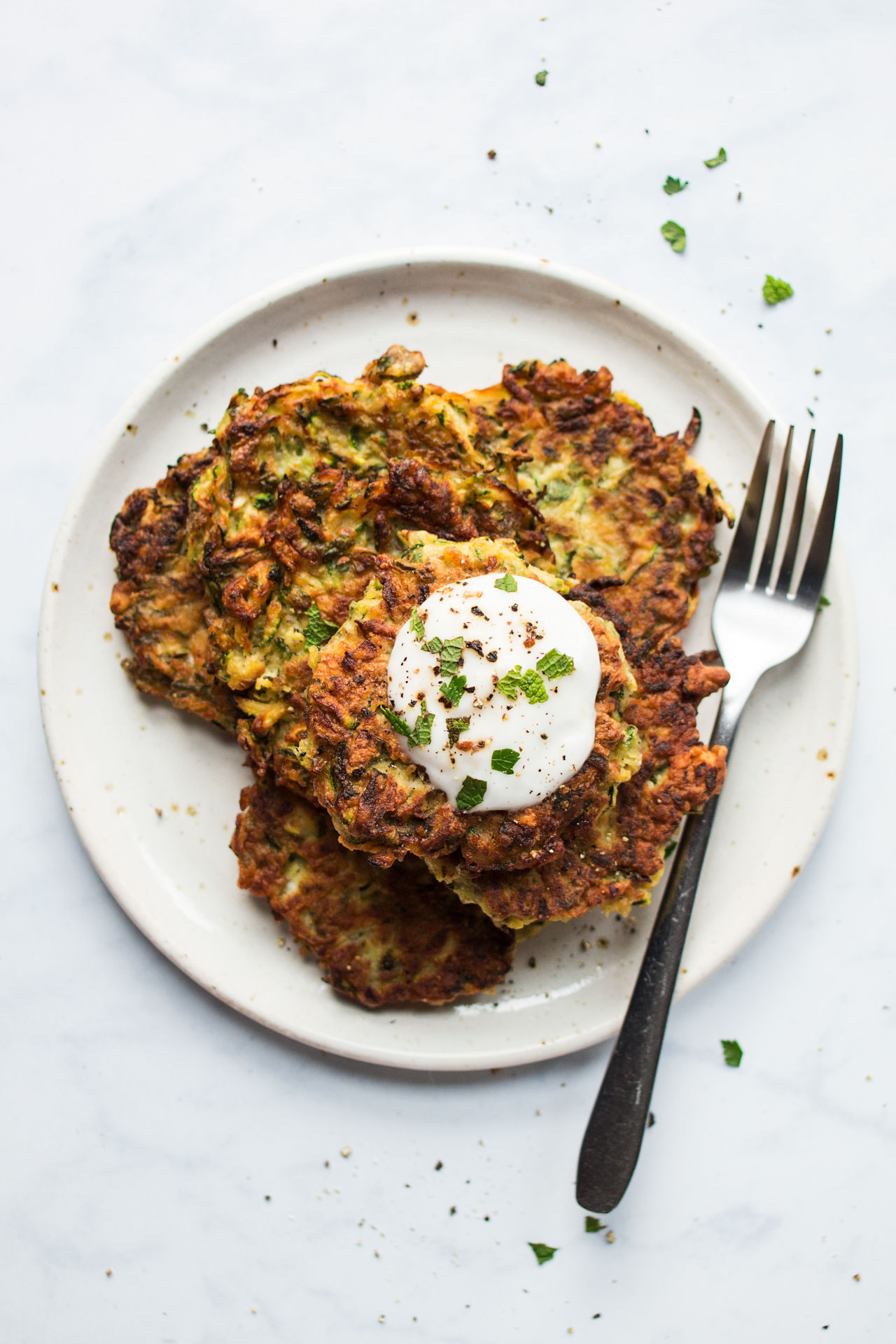 900 g / 32 oz zucchini / courgettes (4 medium)
3 tbsp ground up chia seeds
2 tbsp lemon juice
3 spring onions / scallions, chopped finely
40 large mint leaves, finely chopped
3 garlic cloves, finely grated
1½ tsp salt (more salt if not using capers)
generous amount of black pepper
2 heaped tbsp capers, drained and chopped finely (optional)
65 g / ¾ cup chickpea flour
approx. 60 ml / ¼ cup oil, for frying
thick vegan yoghurt, to serve
METHOD
Grate zucchini coarsely.
Place grated zucchini inside a clean muslin cloth or a clean kitchen towel and wring out as much liquid as you can. You may need to do it in smaller batches.
Put squeezed-out zucchini and all the remaining ingredients up to (but without) the chickpea flour in a large mixing bowl. Mix it really well and let it sit for 5 minutes while heating up the oil.
Heat up approximately 60 ml / ¼ cup oil in a small pan.
Stir chickpea flour through the mixture to create a batter. By now the zucchini should have released a little more moisture from the salt, which will bond with the chia seeds and the chickpea flour will give it body.
Place 2 tbsp of batter on the heated oil per fritter. Allow it to fry on a low-medium heat, undisturbed for about 4 minutes.
Flip the fritter to the other side and allow it to fry on the other side for 3 minutes.
Place the fritter on a kitchen towel-lined tray to get rid of excess oil. Keep the ready fritters in the warm oven while frying the rest. Consume immediately.
NOTES