Vegan couscous salad with roasted parsnips
Vegan couscous salad with roasted parsnips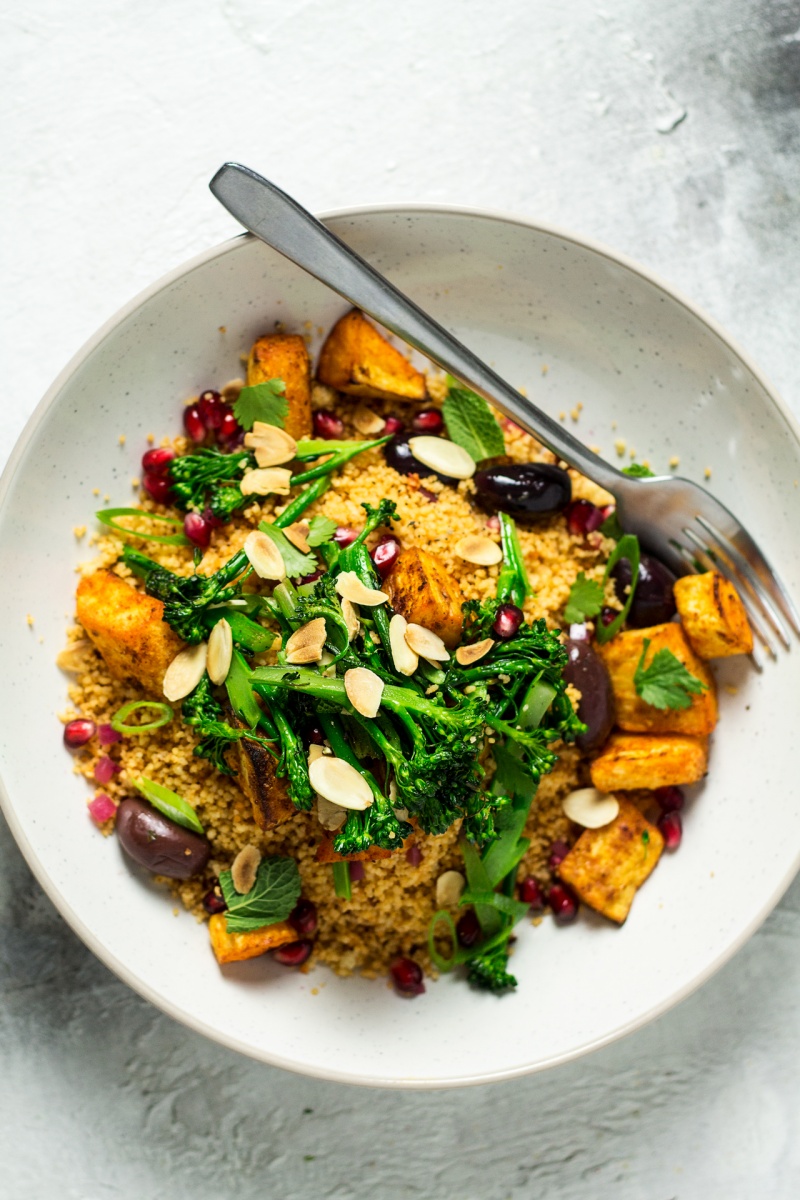 Have you guys started on your New Year's resolutions yet? Is one of them to eat healthier? I thought so…If my intuition is correct, you've come to the right place as I am all about healthy food (always, well… most of time) this January. I really need to reset my taste buds as I lost my ongoing fight with my pesky sweet tooth this festive period 🙂 . Anyone else? Yes, I thought so too! It's so hard when that stuff is all around you, isn't it?
Okay, so I'm kicking things off with this super simple (yet delicious and very filling) Moroccan-inspired couscous salad with roasted parsnips. Are you a fan of parsnips? They are grown in the UK and are currently in season until spring so I am filling my boots.
Here, they are associated mainly with a roast dinner. So much so that when I was shopping for this recipe, a guy in the queue in front of my asked me if I am starting the new year with yet another roast. I was a bit stunned to be honest, as my shopping trolley was simply packed with an array of winter vegetables: parsnips, beetroots, sweet potatoes, kale and I found it strange that all these amazing ingredients made him only think of a meat side show. No, I replied. Parsnips are going to be my main event! He looked aghast! Serves him right for spying on my trolley, ha ha.
This dish is a perfect one to make in a large quantity, in advance. It travels really well and can be eaten both warm or at room temperature so it makes a great work or school lunch too! I made myself a big box of each key component today and I am planning to scoff a portion of this salad each day after my run. Bring on January!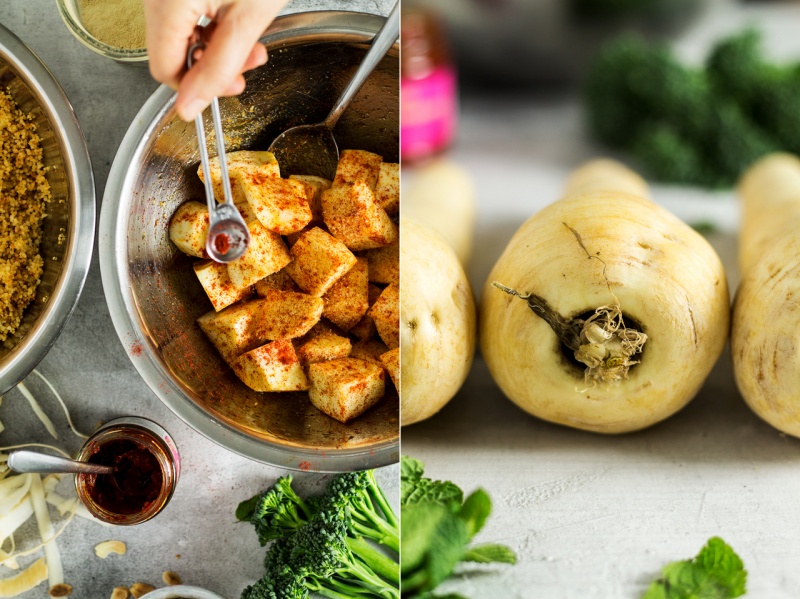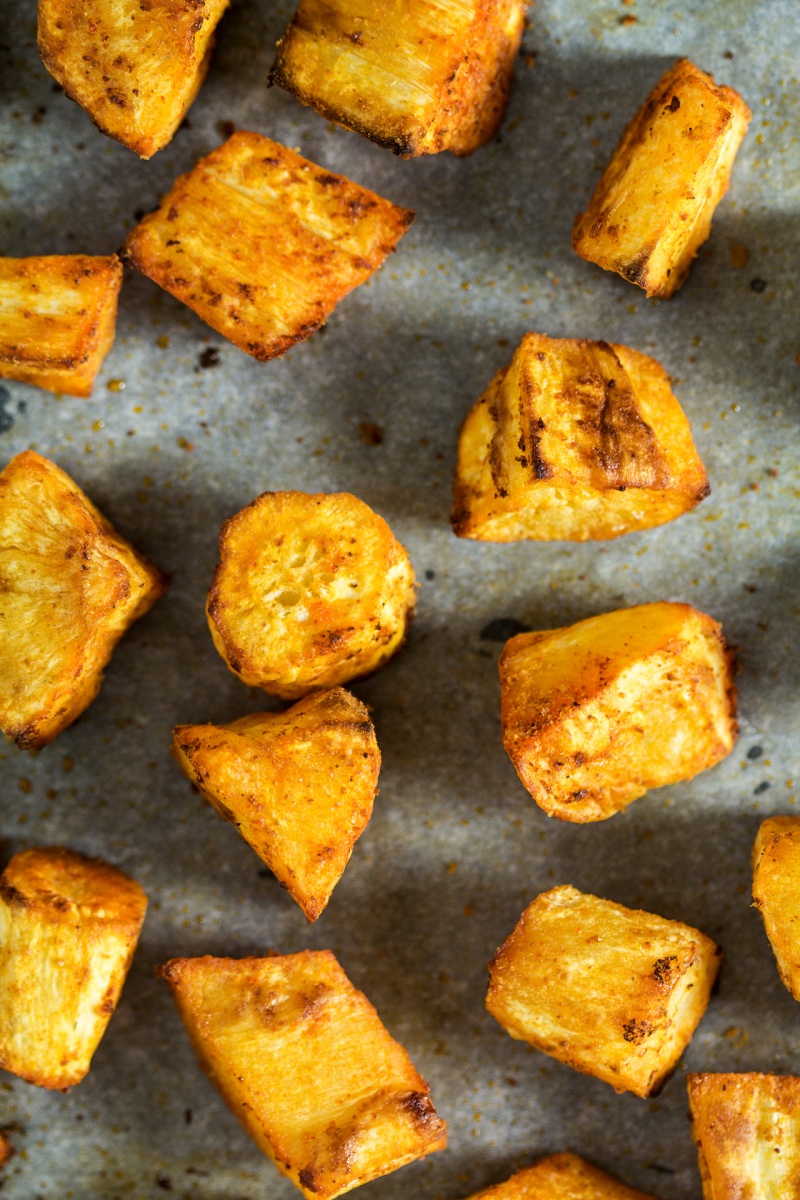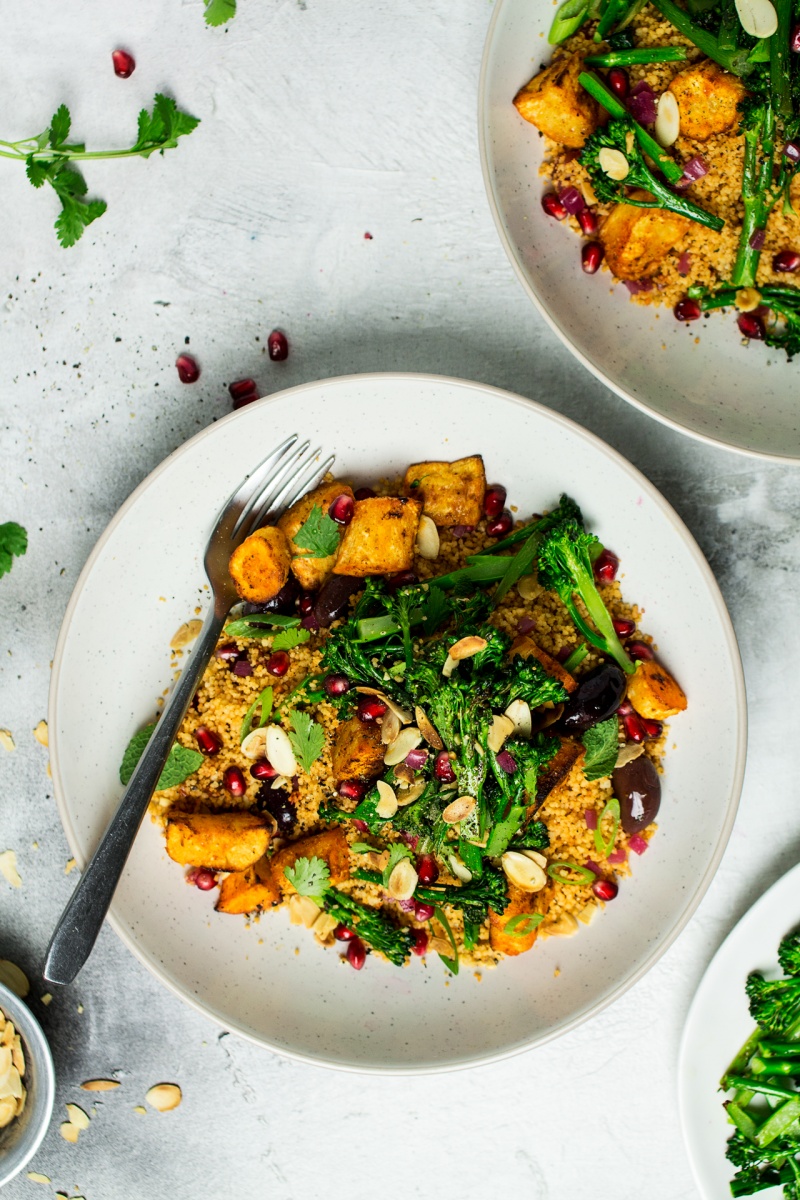 200 g / 1 cup couscous (I used wholewheat) or quinoa (for GF version)
2 tbsp almond flakes or chopped almonds
2 medium parsnips (about 500 g / 1 lb)
30 ml / 2 tbsp oil (I used olive oil)
1 tsp smoked paprika, adjust to taste
1 tbsp nutritional yeast (optional)
2-3 tsp harissa paste, adjust to taste
1 tbsp lemon juice
salt and black pepper, to taste
250 g / 0.5 lb broccoli* (I used tenderstem)
a handful of quick-pickled onion strands or 1 spring onion / scallion, finely sliced
2 tbsp pomegranate seeds (or dried cranberries) (optional)
10 large olives (I used black Kalamata), sliced
fresh coriander or mint, for decoration (optional)
METHOD
Put a kettle on and place the couscous in a medium size bowl. Get a tightly fitting lid or a large plate ready. Set aside.
Heat up a small pan on a medium-high heat. Throw slices of almonds on it and toast until golden and fragrant, agitating them (or stirring) frequently as they can burn easily. Do not wash up the pan as it will be perfect for pan-frying broccoli a bit later.
Once the water comes to the boil, pour one and a quarter cup (300 ml) of boiling water over the couscous. Immediately cover with a tight fitting lid and set aside for 5-10 minutes. If using quinoa instead of couscous, rinse it really well. Place in a small pot and cover with one and a half cups of water. Cover with a lid and bring to the boil. Once the water boils, decrease the flame to low and allow the quinoa to cook gently until all of the water has been absorbed – to check, tilt the pot slightly (do not lift the lid) to see if water pools at the sides. Once all the water has been absorbed, let it sit (covered) for another 5-10 minutes for the quinoa to finish off cooking in its own steam.
Preheat your oven to 200° C / 390° F and line a baking tray with a piece of baking paper.
Peel the parsnips and cut into similar size pieces. Coat in 1 tbsp olive oil and sprinkle with salt (about ¼ tsp), smoked paprika (about 1 tsp) and nutritional yeast, if using. Place on a paper-lined baking tray, making sure individual pieces do not touch each other. Place in a pre-heated oven and bake for about 25 minutes (until soft inside and browned on the outside), flipping the pieces to the other side halfway through.
Fluff the couscous or quinoa up with a fork. Stir the harissa paste and lemon juice through it. Season with salt and pepper to taste.
Cut the broccoli up into small pieces. Heat up the same frying pan you used to toast the almonds. Add a tablespoon of oil and allow it to heat up. Once hot, chuck the broccoli pieces onto the pan. Stir-fry them quickly (for about 5 minutes) until lightly charred and cooked through but still crunchy.
Stir chopped onion, pomegranate seeds and olives through the couscous. Top with roasted parsnips and stir-fried broccoli. Decorate with toasted almonds, fresh herbs and freshly ground pepper.
NOTES
*If you are using a broccoli head as opposed to tenderstem broccoli, you could also roast broccoli florets in a hot oven at the same time as the parsnips. They need the same oven temperature but they will be done sooner (in about 15 minutes) so make sure you remove them from the tray after that time. Coat them in a little olive oil prior to roasting.
DON'T MISS A SINGLE RECIPE
Join our mailing list and we we will let you know when we publish a new recipe. You'll receive our DELIGHTFUL DESSERTS E-BOOK as a thank you for supporting us.