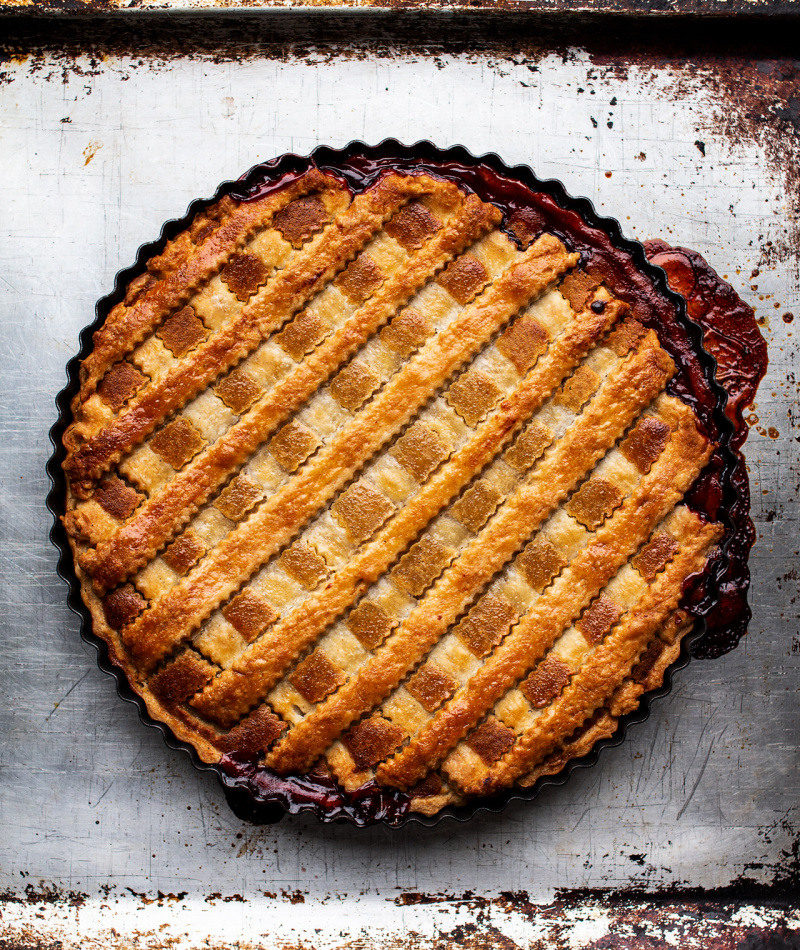 I dedicate this recipe to my mum. Every time we meet she insists on gifting me things and I was able to make this dish thanks to her legendary sour cherry jam that I have had in my cupboard for a while. Everybody in my family adores my mum's cherry jam. It contains obscene amounts of juicy sour cherries and strikes just the right balance between sweet and tangy. These days I don't eat that much bread and jam and I was really worried that it will go to waste, so I was very happy to be able to put it to such a delicious use, especially that fresh sour cherries are not easy to find in the UK. I only wish I was able to bake this tart for my mum too.
My mum is one of the kindest and most giving people I know. Sometimes that's a problem as she is so used to giving that she often does that at her own expense. We've been talking on the phone a lot lately and I encourage her to put herself first sometimes, to fight for her needs, wants and dreams and not always let someone else's take priority. Encouraged by my own success with daily meditation practice, she decided to give it a go too and the change in her has been noticeable – she is much more relaxed, cheerful and positive than ever and seems to be enjoying the experience too. We often joke that we are both becoming a bit woowoo in our old age… I used to be a meditation sceptic but having experienced the benefits of it first hand, I am a convert now. I don't get out of bed before I do an obligatory 10-20 minutes of it every morning and I can really feel the difference on the rare days when I skip it.
So going back to the recipe, I'm incredibly excited to share this one with you. It my vegan take on an Italian classic, poetically called 'crostata di ricotta e visciole' or vegan crostata with ricotta and sour cherries for the English speakers amongst you. Crostata is a mandatory dessert on any self-respecting trattoria's menu and this two-tone version is especially popular in Rome.
We were meant to go on holiday to Italy this spring but as it fell through, we will have to comfort ourselves with a slice (or two) of this delicious tart in my sunny (and still unkempt although Duncan is tackling this weedfest as I write this) garden with our cat splayed out on the cold ground nearby – something she used to do a lot in Greece when the temperatures soared. I hope I can encourage you to do the same! Enjoy!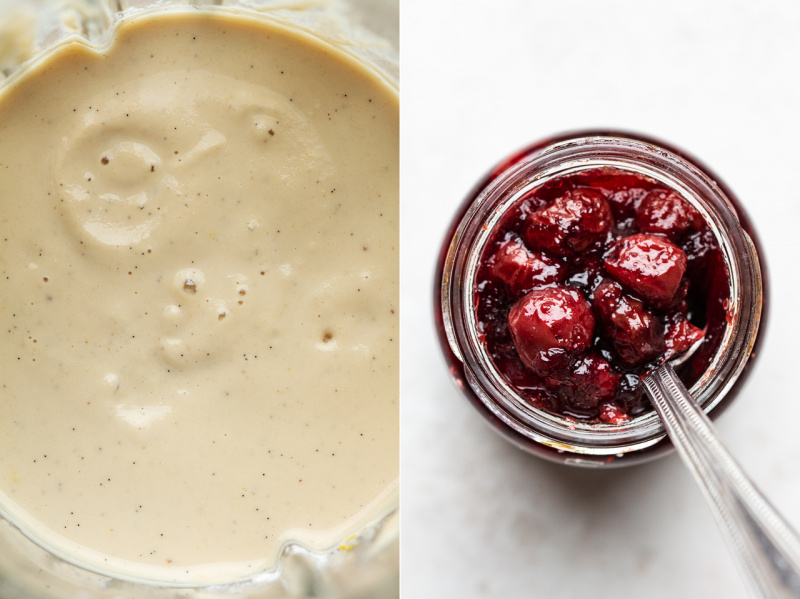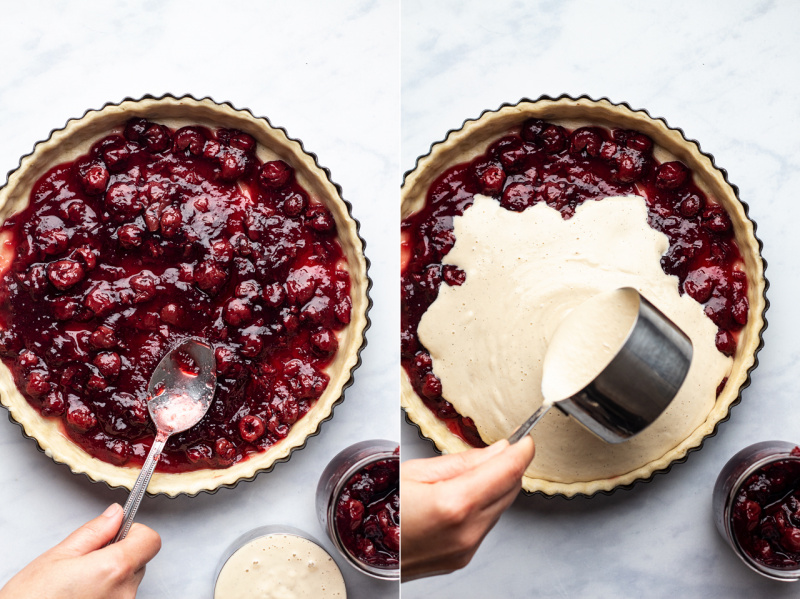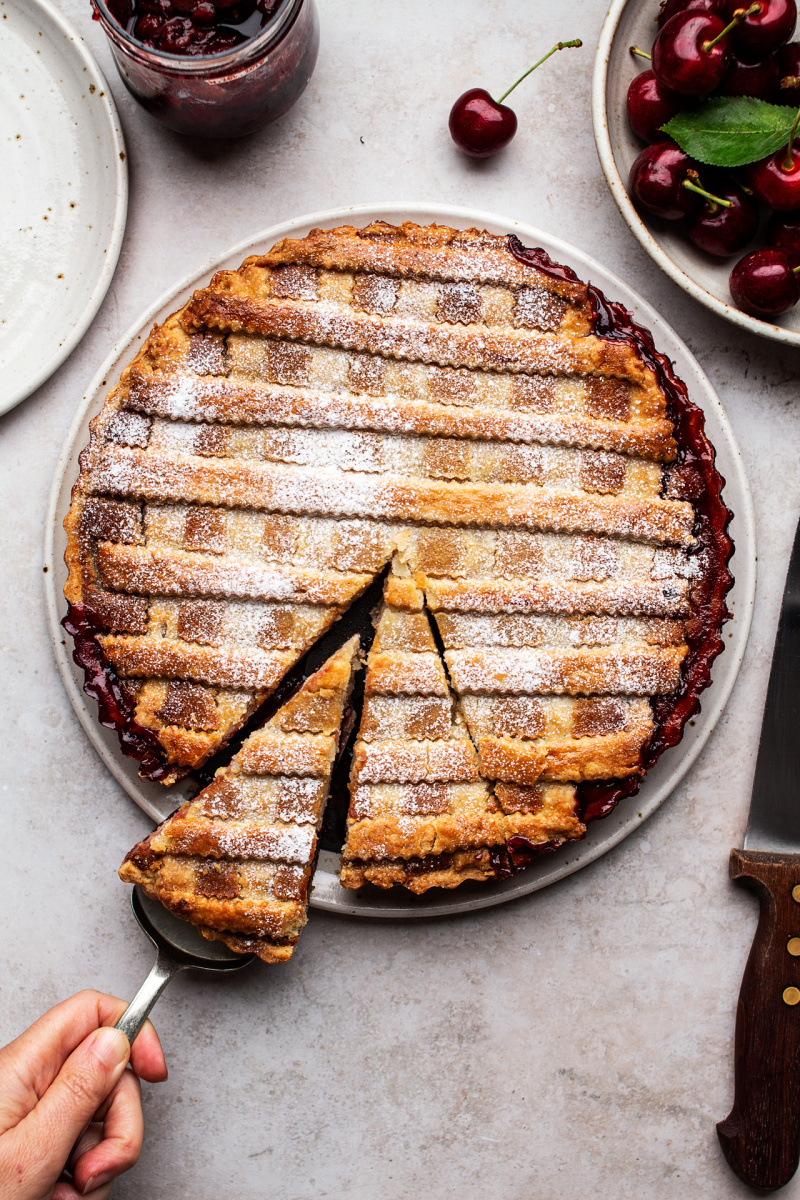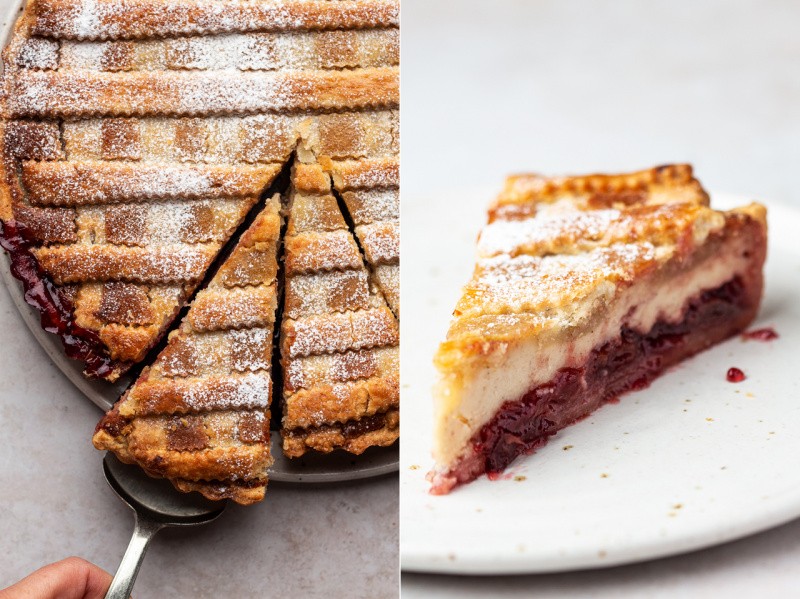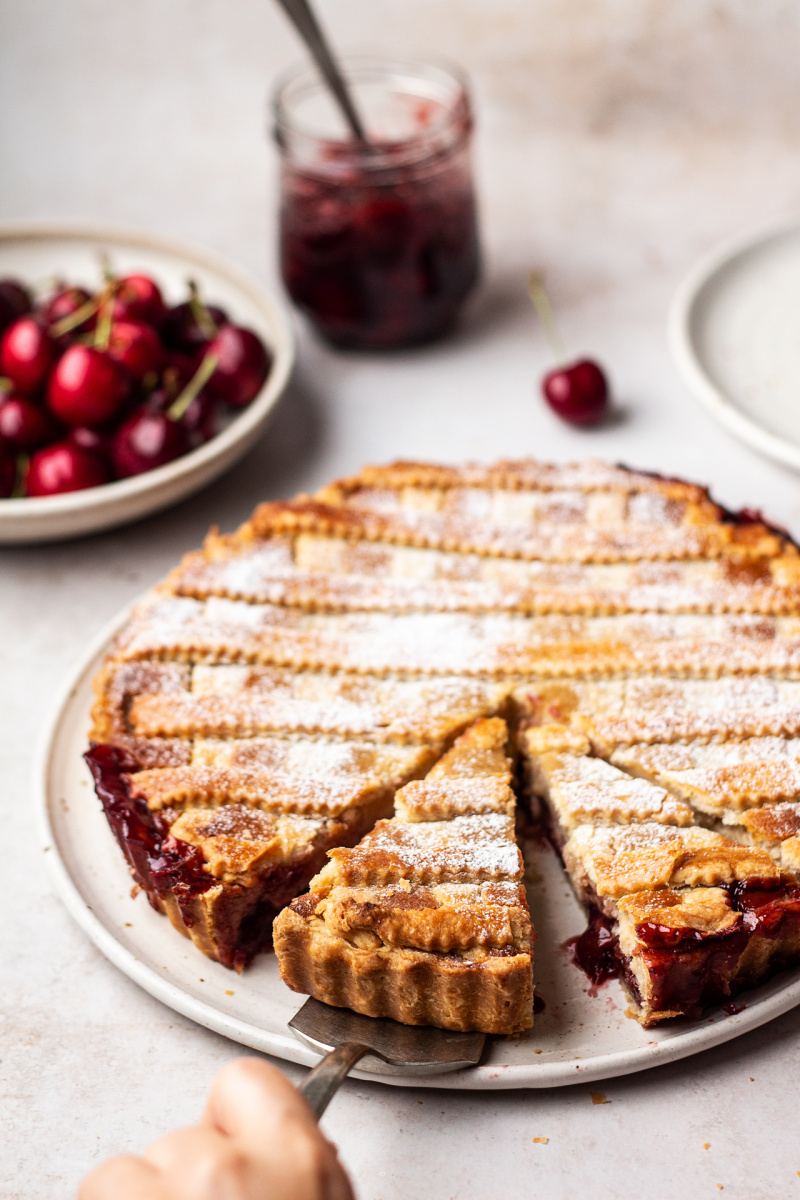 PASTRY
315 g / 2½ cups all purpose flour OR GF all purpose flour mix (I used Dove's Farm)
25 g / 3 tbsp icing sugar, fine sugar or maple syrup
½ tsp sea salt
¾ tsp xantham gum (for GF version only)
150 g / ¾ cup mild coconut oil, cold and chopped up small
'vegan eggwash': 2 tsp plant milk, 2 tsp maple syrup, 1 tsp oil – mixed well
CUSTARD FILLING
CHERRY FILLING
420 g / 1½ cups sour cherry jam / preserve*
METHOD
PASTRY
Mix the flour, sugar, salt and xantham gum (if using a gluten-free flour mix instead of an all purpose wheat flour) in a large bowl or a food processor. If using maple syrup instead of sugar, mix it in with water and add it at the end, be mindful of the fact that as maple syrup is a liquid ingredient, you are likely to need less water, so start off with 60 ml / ¼ cup and add more if needed.
Add chopped coconut oil and cut it into the flour using a pastry cutter (or two knives) or pulse in a food processor until you obtain a sandy texture that clumps together when you grab a handful, with no large lumps of fat left. To check for large lumps, shake the bowl – it will bring large bits of oil to the surface.
While you can do this step in the food processor, I strongly suggest you transfer the mixture to a large bowl at this point and do this manually as then you have a greater amount of control. Slowly and very gradually trickle in some ice cold water, incorporating it into the flour using a fork. Keep going until the dough is moist enough that it can be brought together by hand – clump a bit of mixture with your hand, if it sticks together (without being wet!) you've added enough water. I ended up using just short of 105 ml / 7 tbsp of water, but please go through the process as I described above instead of just adding the amount I added as different flour brands have different absorbency levels.
Empty your bowl (or a food processor bowl) onto a work surface and bring all the dough together using your hands, but do not knead if you are working with gluten flour (overworking the dough will make the pastry tough). Form the dough into a flattened disc, wrap it up in cling film and refrigerate for at least 45 minutes. Meanwhile, make the ricotta filling (see below).
After the dough has had a chance to rest, cut 1/3 of it and set it aside. Gently and slowly roll 2/3 of the dough out on a lightly floured surface. You may want to do it between two sheets of baking paper as it stops the dough sticking to the bench. When it comes to gluten-free dough, you may find it easier (I did) to simply mould it to the inside of the tart tins with your fingers.
Roll the dough into a large circle 2 cm / 1″ bigger than the tart case (I used a 25 cm / 10″ diameter tart case). Roll the dough sheet over the rolling pin, place the rolling pin over the case and unroll it gently. Line the case making sure the dough fits into the case snugly, do not trim the excess just yet as it helps to have it when attaching the lattice top.
About 30 minutes before you are ready to bake your vegan crostata, place a pizza stone (ideally, if you have one) or a well conducting metal tray in the oven and heat the oven up to 180° C / 355° F (160° C / 320° F fan forced). Placing the crostata on a hot pizza stone / well heated metal tray prevents the bottom from being soggy.
Spread the jam evenly on the bottom of the tart case. Followed by the 'ricotta' mixture'.
Roll the remaining portion of the dough into another large circle and using a sharp knife or a dough cutter, cut it into long strips. Criss-cross the strips over the pie attaching them into the overhanging crust, trim the excess crust with a knife.
Brush the pastry generously with vegan 'eggwash'.
Place crostata in the preheated oven and bake for about 45-50 minutes, until the crust is golden brown and the cheesecake is set. Allow it to cool for at least 30 minutes before cutting although I find that it cuts much neater when cooled completely.
Optionally, you may want to dust the cooled tart with a little icing sugar.
CUSTARD FILLING
Place all the filling ingredients in a blender and blend until silky smooth.
NOTES
*If you have sour cherries, you can make your own cherry filling by simmering pitted cherries with sugar / maple syrup until thickened (you may also need to add a bit of
cornflour / cornstarch
or other thicker to make sure the filling isn't too thin). The amount of sugar used depends on your personal preference. My mum's jam has 150 g / ¾ cup of sugar per 500 g of sour cherries. For this filling, you will need approximately 750 g / 26½ oz of sour cherries and 225 g / heaped 1 cup sugar. If using sweet cherries, you will need much less.