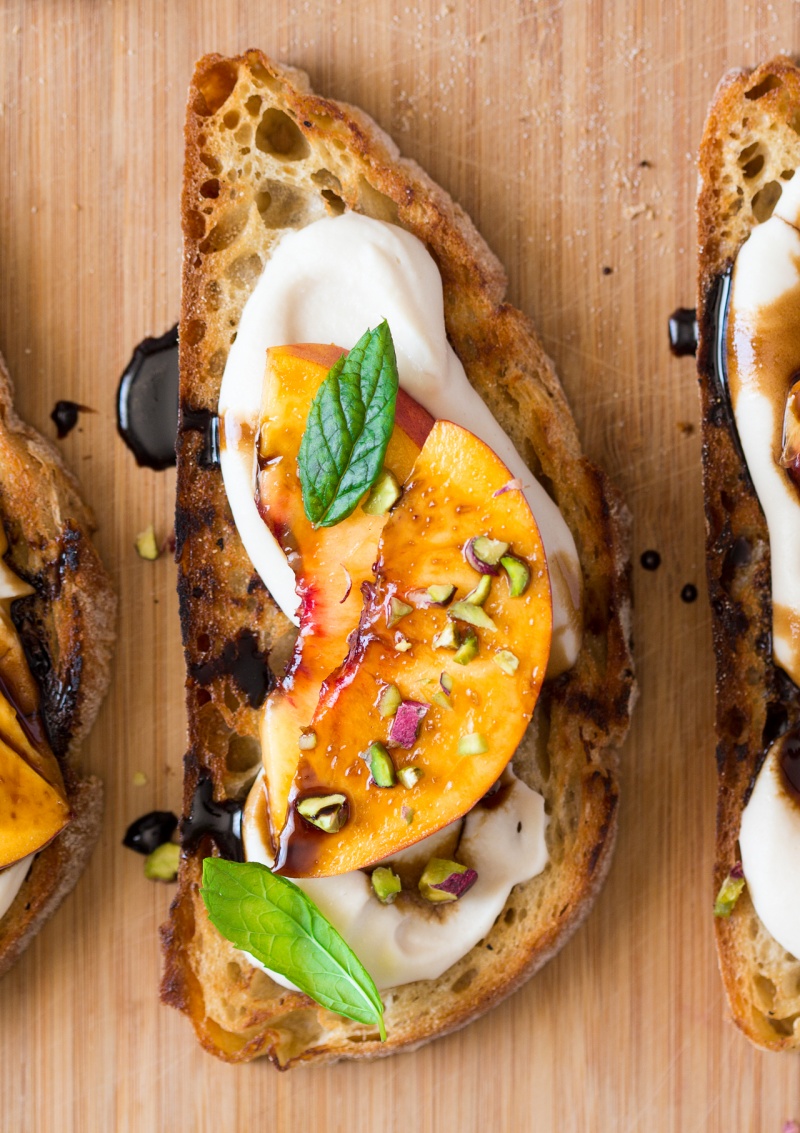 The last few days have been so hot and windless that it feels like we will never ever feel cold again. As I am not great in extreme heat, I do my best to avoid any serious cooking until some decent breeze picks up (should be next week I'm being told). That's why I went for a pretty simple recipe today – a plate of vegan crostini with smoky white bean spread, nectarine and balsamic glaze. Okay, I did cook the beans myself, but you could use tinned ones if you are not as particular I am 😉 . With a bit of help from your blender, plump white beans get transformed into a deliciously smooth, smoky and slightly nutty spread. It was inspired by my all time favourite, hummus, but as I've taken the liberty to use walnut butter (which compliments nectarines so nicely) rather than tahini, I thought that calling it a hummus would not be quite right. This velvety spread goes so well with crispy sourdough, slices of juicy nectarines or peaches and a drizzle of balsamic glaze. This pretty summer dish makes a brilliant appetiser or an impressive (yet fuss-free) lunch, especially when paired up with a glass of chilled white wine and a bit of sea breeze! 🙂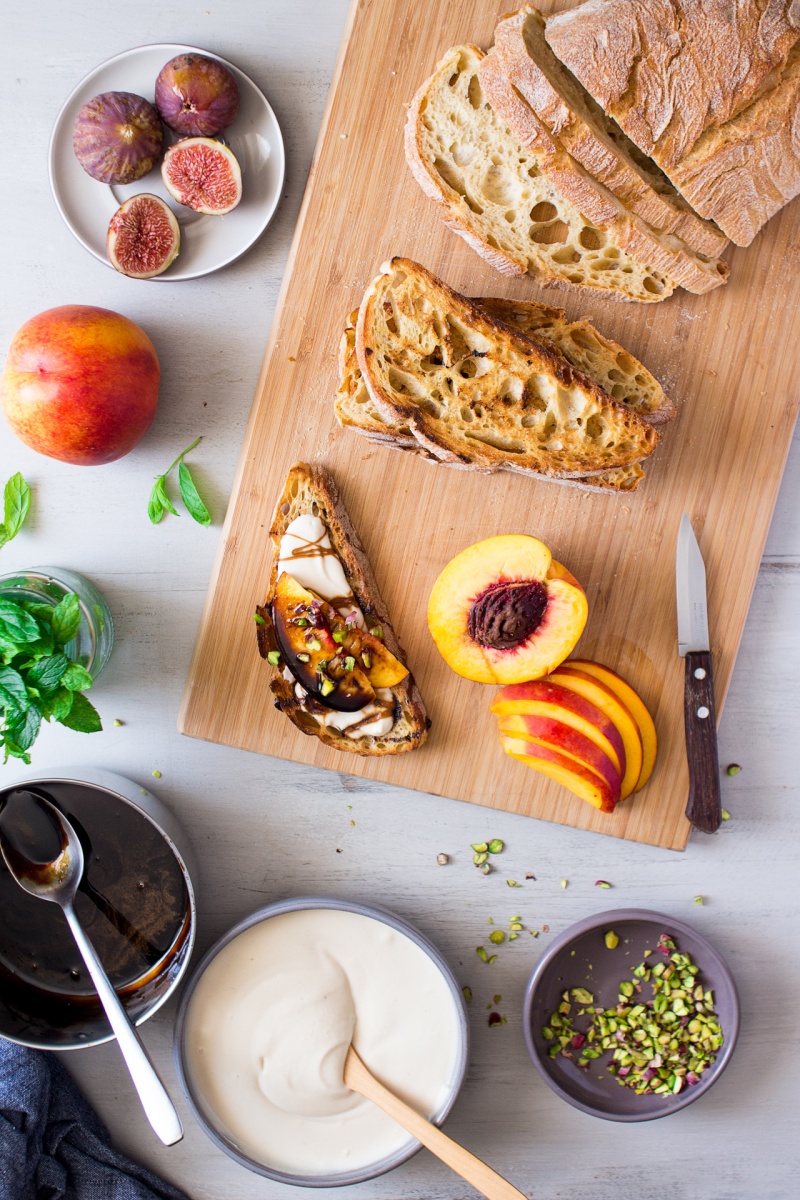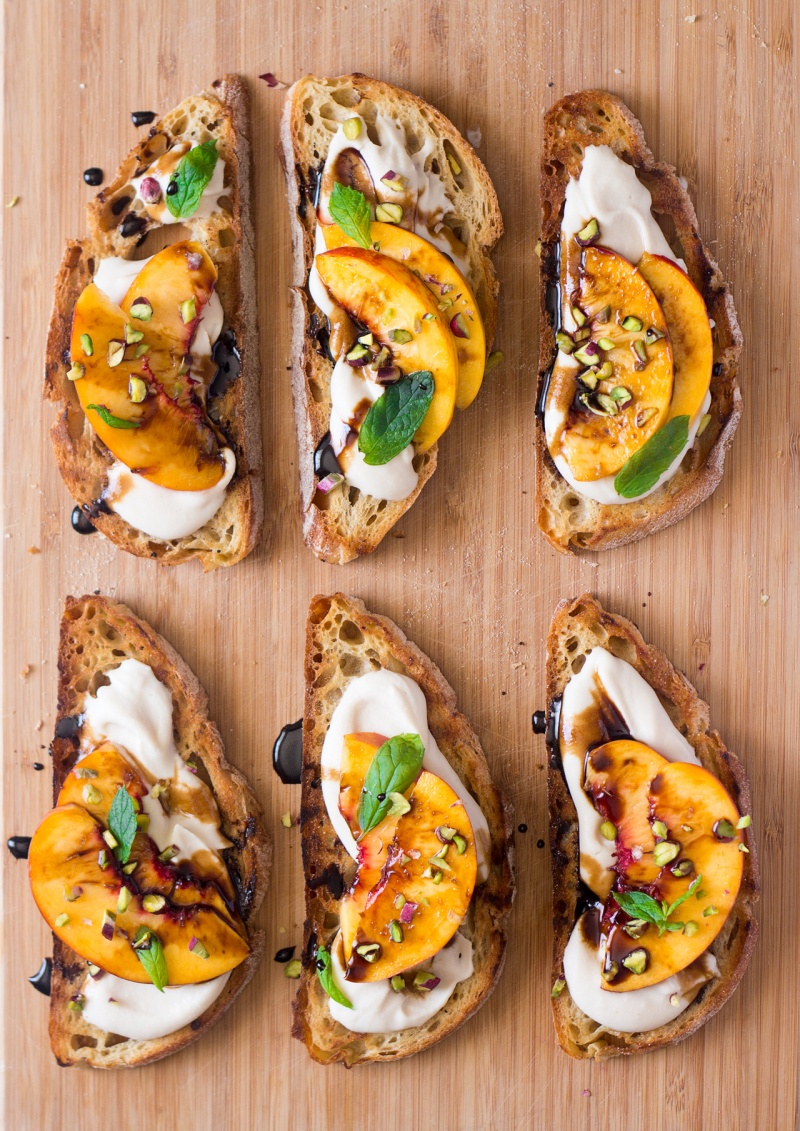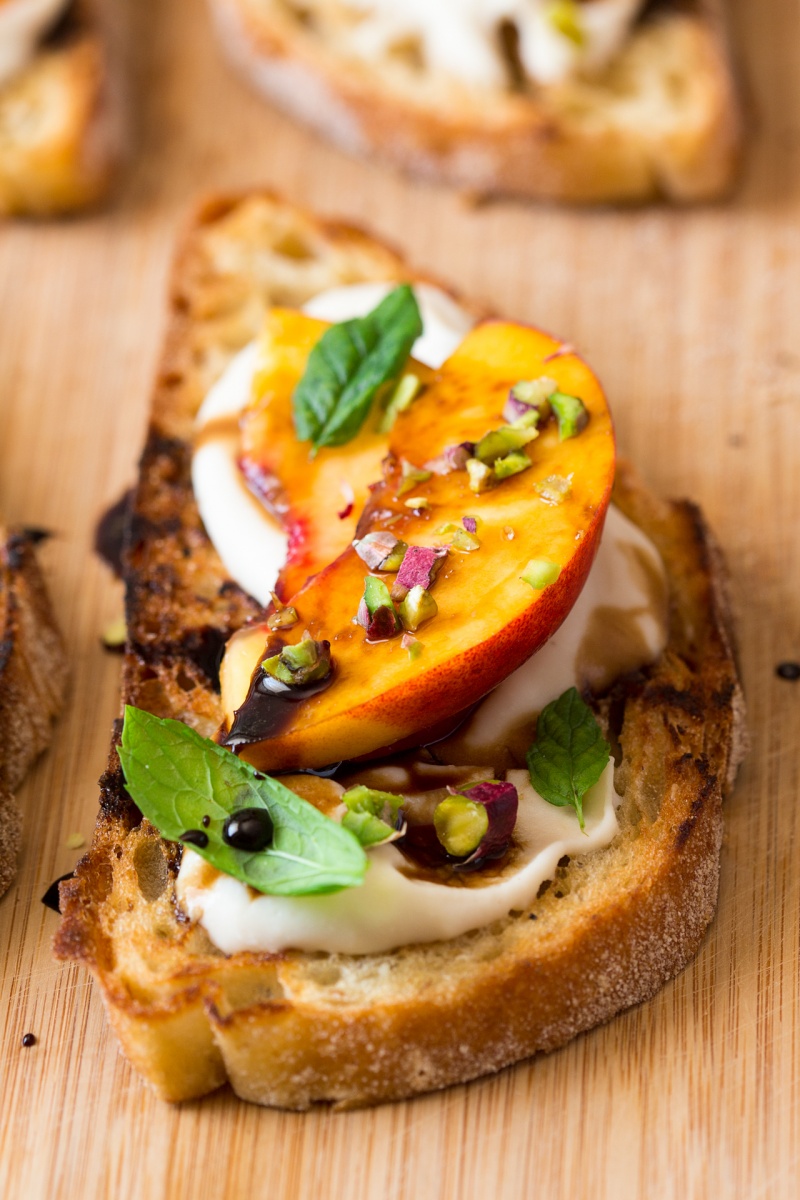 SMOKY WHITE BEAN SPREAD
1½ cup / 250 g large white beans (3 cups cooked), soaked overnight
1 tsp baking soda*, optional (see NOTES)
3 tbsp lemon juice
¾ tsp salt
1 small garlic clove, finely grated
1/3 cup natural walnut butter** (or tahini)
¾ tsp liquid smoke*** (I used hickory BBQ flavour)
about ½ – ¾ cup / 120 – 180 ml of fridge cold aquafaba or water
BALSAMIC GLAZE
¼ cup / 4 tbsp balsamic reduction
1/8 cup / 2 tbsp maple syrup
OTHER INGREDIENTS
1-2 ripe nectarines, sliced thinly
8-16 pieces of toasted sourdough (or other) bread
a handful of crushed pistachios, to decorate
fresh mint leaves, to decorate
METHOD
Rinse your white beans after soaking and put them into a large pot with plenty of fresh water and baking soda (if using). Bring them to the boil and simmer until tender (about 60-75 mins).
Once cooked, fish the beans out of the pot with a slotted spoon and rinse them under a stream of cold water to help loosen the skin. Let the cooking water cool down completely (it's best to refrigerate it for a few hours prior to using). If you used baking soda, simply drain cooking water away and use fridge cold water to blend the spread.
I recommend peeling the beans to obtain a smoother spread. If you used baking soda peeling them should be really easy.
Put cooled, peeled beans into a blender or a food processor. In my experience an upright blender will give you a smoother and creamier spread. Put peeled beans, walnut butter, garlic, lemon juice, salt and liquid smoke (if using) into a blender. Put the lid on and start trickling cold liquid in slowly while mixture is blending. Once the mixture starts churning, make small circles with the tip of your spatula (in the direction of turning blades) on the surface of the revolving mixture (do not dip the spatula deeper than literally a few millilitres or else you will damage the blades). This will help to burst an air pocket under the surface and helps the motor to turn. If using a food processor, put peeled beans and all the remaining ingredients in apart from aquafaba or water. Process until you get a coarse crumb and then start pouring in the cold liquids while the food processor is running. Adjust the liquid content to achieve the right consistency. Be careful not to add too much liquid so that the spread doesn't drip off your toast.
To make balsamic glaze, put balsamic vinegar and maple syrup in a very small pot. Bring them both to a gentle boil and then decrease the heat and simmer until the mixture resembles a thin syrup. Take it off the heat and set aside to cool down – it will get thicker and more syrupy once it cools down. If it becomes apparent that you have reduced it too much, add a small splash of water to loosen the consistency a little.
Spread smoky white bean hummus on toasted bread, put nectarine slices on top and drizzle with balsamic syrup. Decorate with chopped pistachios and mint leaves.
NOTES
*I added baking soda to the cooking water so that it's easier to peel the beans. The downside of this is that you may not want to use the bean cooking water (aquafaba) with baking soda added. If that's the case either use cold water, baking soda free aquafaba from another batch of beans or skip the baking soda altogether.
**I made my own
walnut butter
by whizzing 2 cups of walnuts in my food processor (about 10 mins) until they released their natural oils and turned into butter.
***Liquid smoke gives this hummus a beautiful smoky taste. The downside is that it may turn the hummus lilac colour (the brand I used, Tone's, did), which simply doesn't look as pretty as the white version (photographed). If you want to avoid that side-effect, you could use smoked salt instead of regular salt but the smoky flavour will not come through as strongly as with liquid smoke.