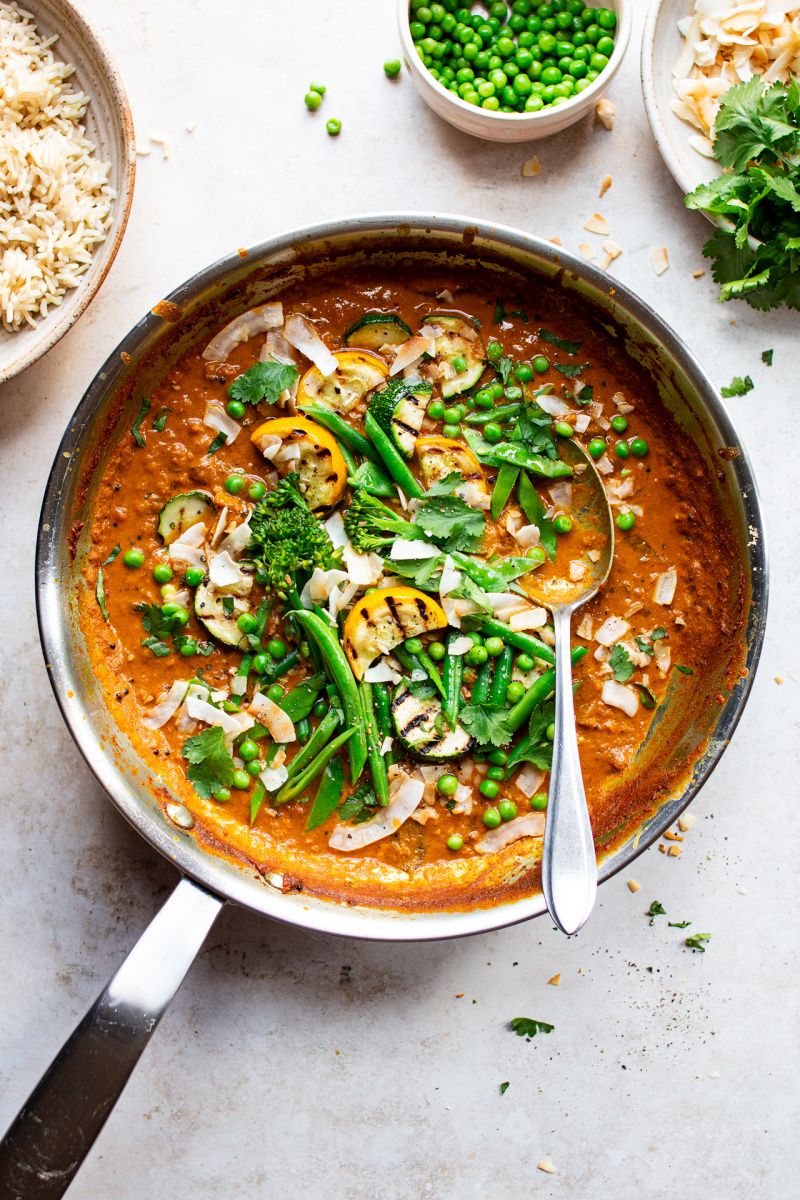 Happy Wednesday, guys! By the time you'll get to read this, I will be up in the air, on my way to Heraklion (Greece), counting down the hours until hitting the beach! As I still have a million things to do before I go – cleaning the house (we have a friend staying over to look after our little furry terror), packing, finalising my photo edits, I will be brief.
Today's dish is an aromatic vegan curry that features the very last of the summer produce as I am clearly not yet ready to accept that the summer is well and truly over 😉 . Having said that, if you have moved on to pumpkins already, use oven-baked pumpkin and lentils or chickpeas instead. I haven't seen many pumpkins in local stores, so I haven't started on pumpkin season yet, but once I do I will do so with conviction, promise!
This vegan curry is easy to make and while the ingredient list may seem daunting at first glance, it's the dry spices that bulk the list up, so please don't panic and check your cupboards first. If you like cooking, I bet that you'll have most of what's needed already. And if not, stopping by your corner store on the way from work should get you sorted. I hope you'll enjoy this aromatic dish (let the sauce sit overnight for the flavour to develop) and I shall report back on Saturday, from the land of sun-ripened tomatoes, firm eggplants, juicy peaches and sticky figs! xxx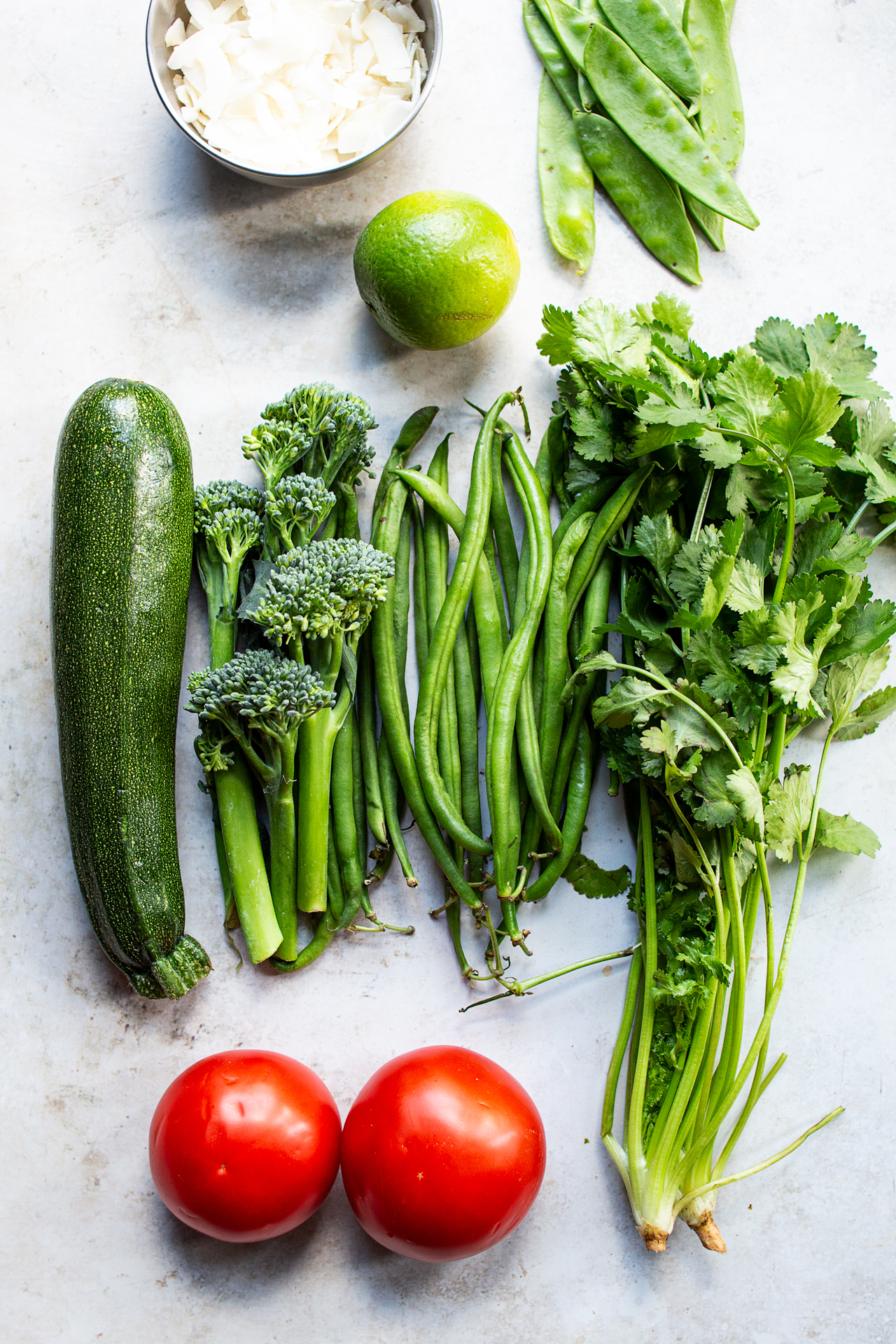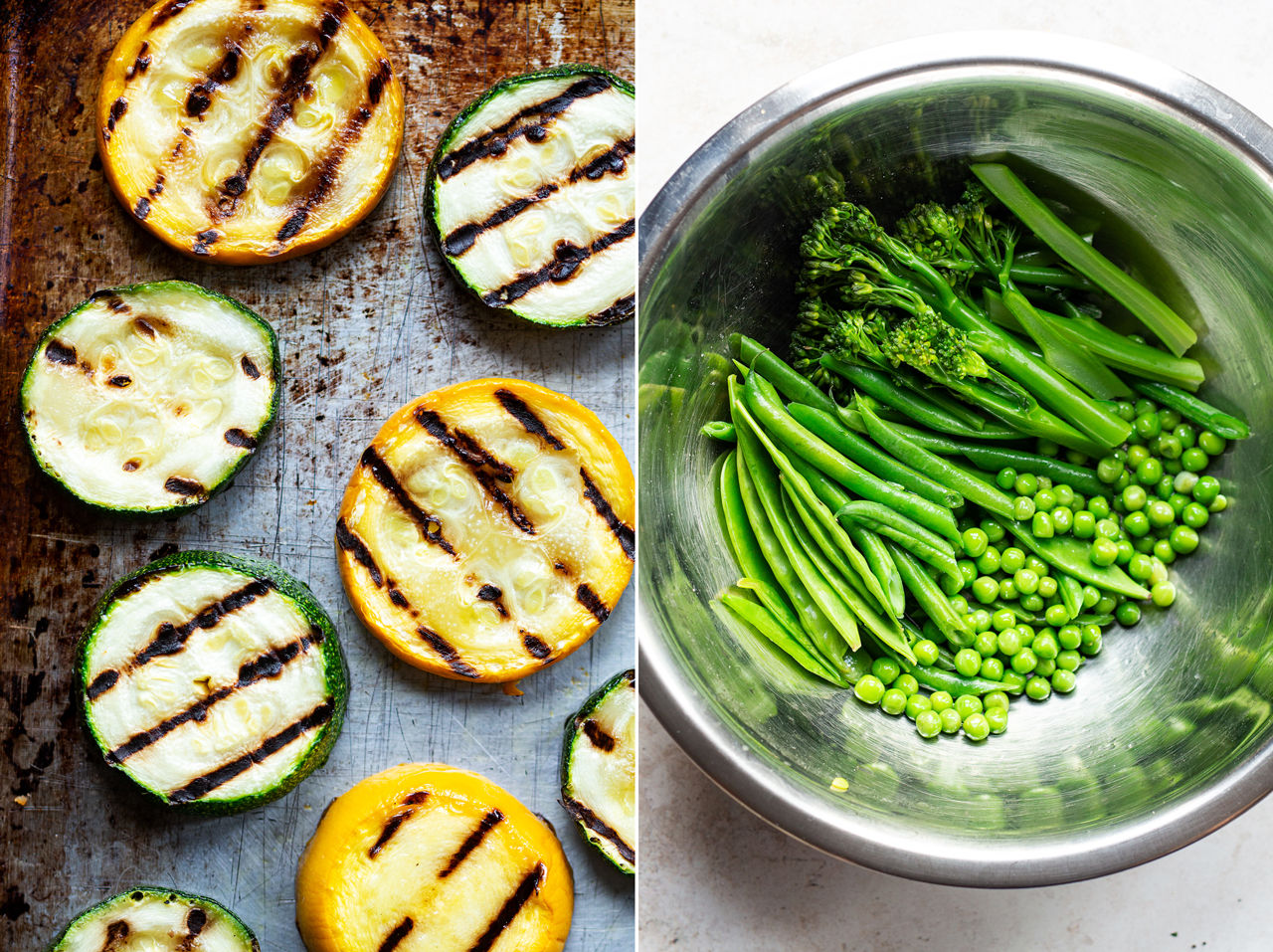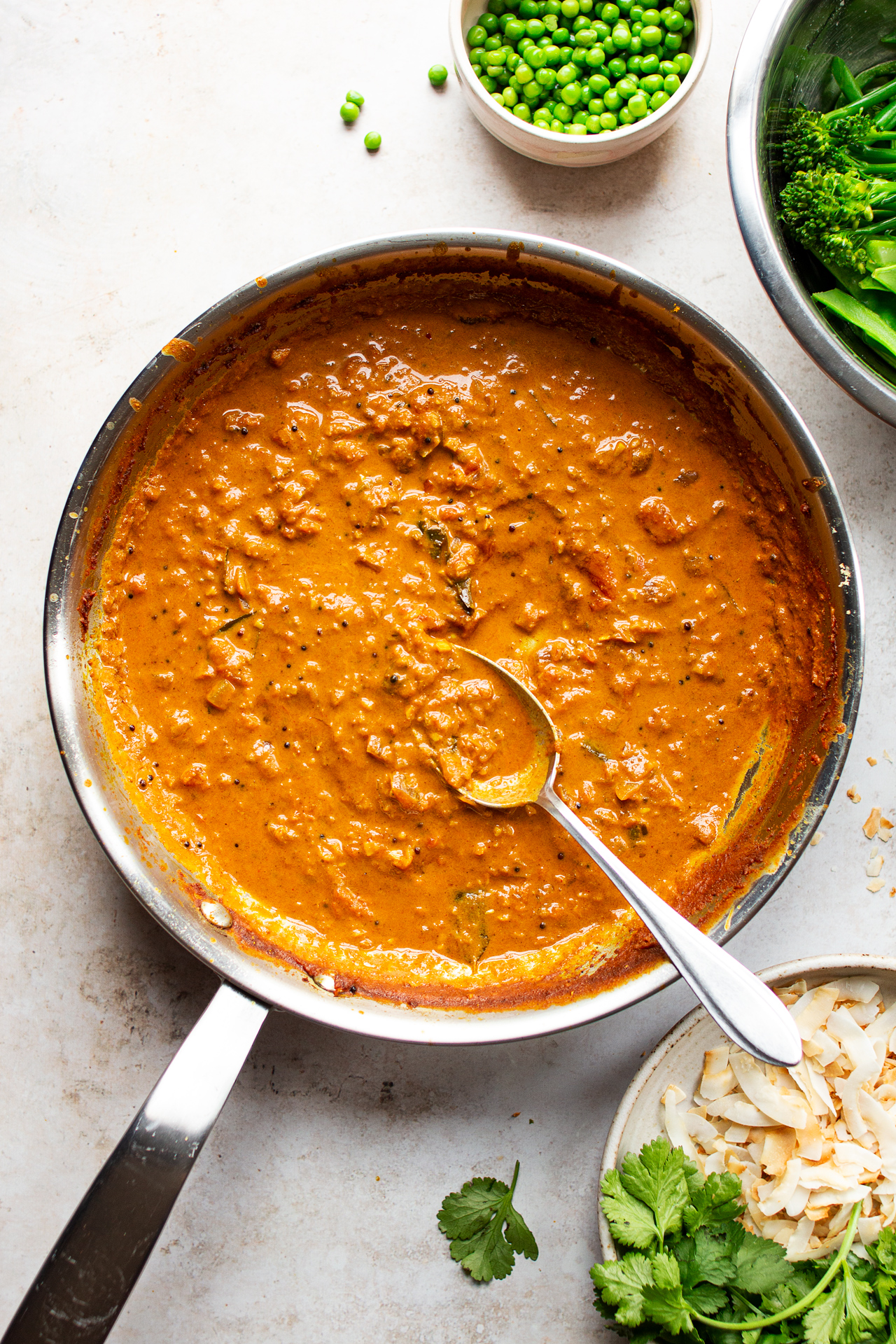 ¼ cup toasted or untoasted coconut flakes
2 tbsp / 30 ml vegetable oil
1 tsp black mustard seeds
½ tsp fennel seeds
8 dry (or fresh ones if you can find them) curry leaves
1 small onion, diced finely
3 garlic cloves, diced finely
3 tsp finely grated ginger (thumb-size piece)
1½ tsp ground coriander
1 tsp ground cumin
½ tsp ground turmeric
1 tsp garam masala
½ tsp Kashmiri (adds bright red colour) or regular chilli powder, adjust to your tolerance
¼ tsp ground black (or white pepper)
¼ tsp ground cardamom
400 g / 14 oz tomatoes (3 medium), peeled and chopped
1 tsp sugar, adjust to taste
100 g / 3.5 oz broccoli
100 g / 3.5 oz green beans
2 courgettes / zucchinis, sliced thick
75 g / ½ cup petit pois or green peas (I used frozen petit pois)
120 ml / ½ cup full fat coconut milk
½ tsp salt, adjust to taste
lime juice, adjust to taste
fresh coriander, to serve
METHOD
If using untoasted coconut flakes, toast them on a hot pan until golden and fragrant – make sure you stir them often as they can burn quickly.
Heat up the oil in a heavy-bottomed pot and add mustard seeds, fry them off gently until they start to crackle.
Add fennel seeds and curry leaves, allow them to fry gently for 1-2 minutes.
Add the diced onion and fry it on a low heat until almost translucent (for about 5-7 minutes), stirring from time to time.
Next add in diced garlic and ginger. Keep on frying gently for a few more minutes until fragrant, stirring the whole time as they both burn easily.
Add all of the dry spices to the onion / garlic / ginger mix and stir them around for a few seconds, making sure they don't burn – if the pan gets too dry, add a splash of water.
Add in the chopped tomatoes, a generous splash of water (about 240 ml / 1 cup) and ½ tsp salt to the pan.
Cover the pot and allow the sauce to come to a gentle simmer. Simmer on a low heat until the tomatoes fall apart and the sauce becomes more uniform, without large tomato chunks in it.
Meanwhile, steam tenderstem broccoli (7-8 minutes) and trimmed green beans (5-7 minutes) until tender but still crisp. Plunge them in a bowl of ice-cold water immediately afterwards to retain their colour.
Boil green peas for 2 minutes. Brush courgettes with a bit of oil on both sides and char them on a hot griddle pan, alternatively you could also steam them.
Once the sauce is uniform, add the coconut milk and bring it to a gentle simmer.
Taste the sauce and adjust the seasoning with more salt (if needed), sugar (if needed) and a dash of lime juice (if needed).
Serve on top of rice garnished with fresh coriander and toasted coconut flakes.
NOTES
If you can, allow the curry flavours to develop overnight as it always tastes better the day after it has been made. If you are making this dish a day in advance, I recommend not cooking the veggies until just before serving.