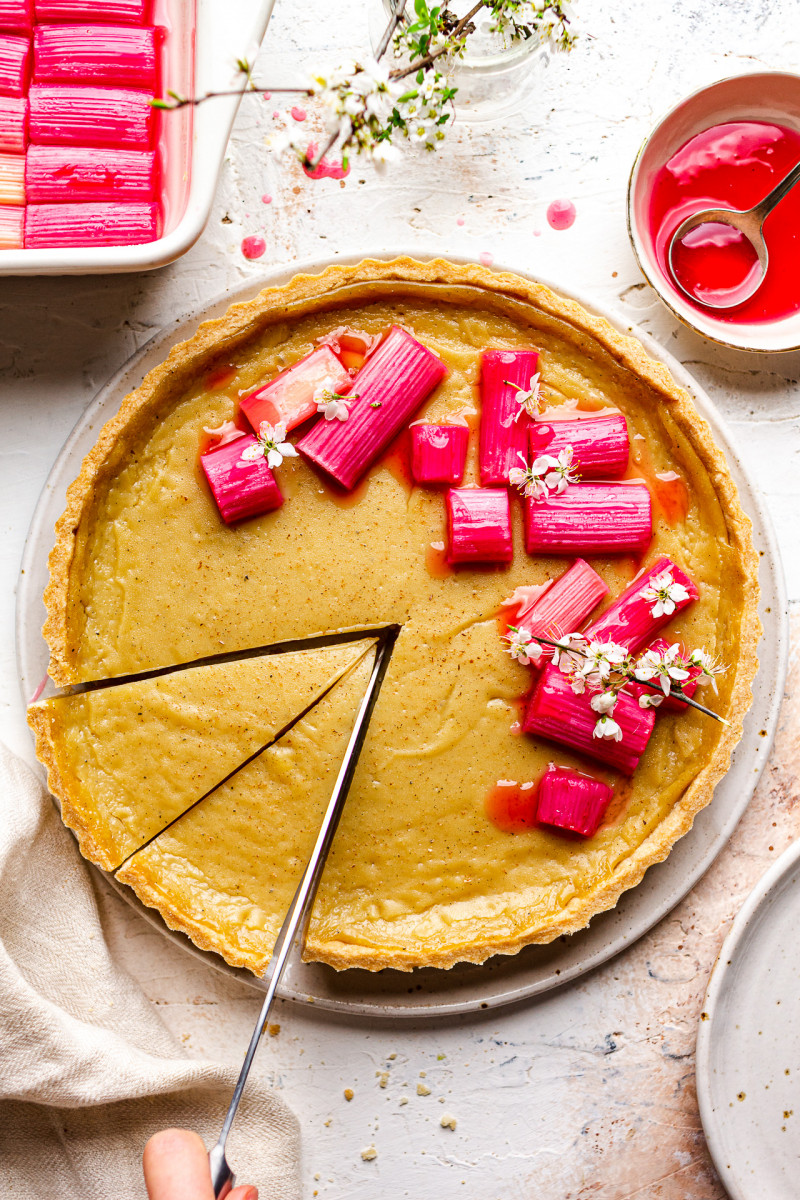 Easter is coming so I figured a Spring inspired dessert would probably be timely. I've pondered making an impressive chocolate tart (like this) or a lemon flavoured tart perhaps, but I figured what is missing from my blog is a large vegan custard tart so that's what I settled on, I hope the recipe will come in handy.
This adult size vegan custard tart is based on these individual vegan custard tarts I made a while ago so if a large tart feels like too much but you are down with the general theme, you may want to check them out instead.
I teamed a dairy-free and eggless version of this classic dessert with my favourite fruit of the season – forced rhubarb, which I roasted in the oven. It's amazing pink colour is simply irresistible and its tangy flavour offsets the sweetness of this tart so nicely. I do realise that pink rhubarb isn't available everywhere so you can simply serve this tart naked with just a sprinkling of nutmeg or cinnamon or team it up with any tangy fruit or fruit compote of choice. Raspberries were my second go-to in case I could not find rhubarb locally.
MORE ABOUT THE INGREDIENTS
Although it may seem counterintuitive – as this traditional dessert relies heavily on eggs – my vegan version does not require many or any niche vegan ingredients. It's all very simple and available in a larger supermarket.
AP FLOUR: the pastry is made with all purpose (also known as plain) white flour. If you would like to make these gluten-free, use a well balanced gluten-free flour mix and some xanthan gum to help the pastry stay together.
VEGAN BUTTER: vegan butter, also known as vegan block, makes the best pastry. I typically use the Danish brand Naturli and the Greek one called Violife, which are available in most UK supermarkets. Naturli is unsalted so if you were to use vegan butter than contains salt you may want to add less salt to the pastry. If vegan butter is out of your reach, use coconut oil instead. My recommendation is use refined version like this so that the final product does not taste of coconut and when you take the pastry out of the fridge it will be rock hard – allow it to acclimatise before attempting to roll out.
OAT MILK: I used Oatly barista, a rich oat milk, to make the custard filling. Any rich (thick, not watered down) plan milk will give you a rich plant-based custard. I also tested this recipe with high percentage (8%) soy milk and it came out equally delicious. Any rich (i.e. not watered down) plant milk with neutral taste will work well. After oat and soy milk, cashew or almond would be my recommendation.
CASTER SUGAR: A small amount of sugar is used to sweeten the pastry and quite a lot more to sweeten the custard. I used caster sugar, which is superfine white sugar in both instances. If that's unavailable, use icing / confectioner's sugar in the pastry and any sugar you like in the custard, just make sure it dissolves fully before adding cornstarch.
CORNFLOUR / CORNSTARCH: cornflour (known as cornstarch in the US) is what is used to thicken the custard in the place of eggs. Cornstarch is typically used in a traditional egg-enriched custard too, but here we are using a bit more to compensate for the fact that there are no eggs in this recipe.
VANILLA: custard and vanilla are an inseparable duo, use the best vanilla you can afford and be generous, vanilla is what gives this custard its moreish flavour.
CARDAMOM: I like to flavour my custard with a small amount of cardamom, but that's totally optional. Only use if you and your guests like cardamom and don't go overboard as it's a potent spice. I used a third of a teaspoon of freshly ground spice – it has much better flavour than ground cardamom from a store. If you decide to use cardamom, you may want to skip the dusting of nutmeg or cinnamon, unless you like that combination of spices.
SALT: a good pinch of salt offers a nice counterpoint to the sweetness of any dessert. I used regular table salt and a pinch of kala namak, commonly known as eggy salt as it tastes like eggs due to its high sulphur content.
TURMERIC: the tiniest pinch of ground turmeric is nice to add for that warm, reminiscent of egg custard, colour, but it's totally optional.
NUTMEG/CINNAMON: custard is associated with different kind of spices depending on the culture. Here, in the UK, it is quite common to dust custard tarts with nutmeg, in Portugal a sprinkling of cinnamon is frequently used. Pick whatever spice you like or skip completely if neither appeals. If you do decide to use nutmeg, get a whole nutmeg and grate it yourself, it is way more aromatic than ground nutmeg from a store.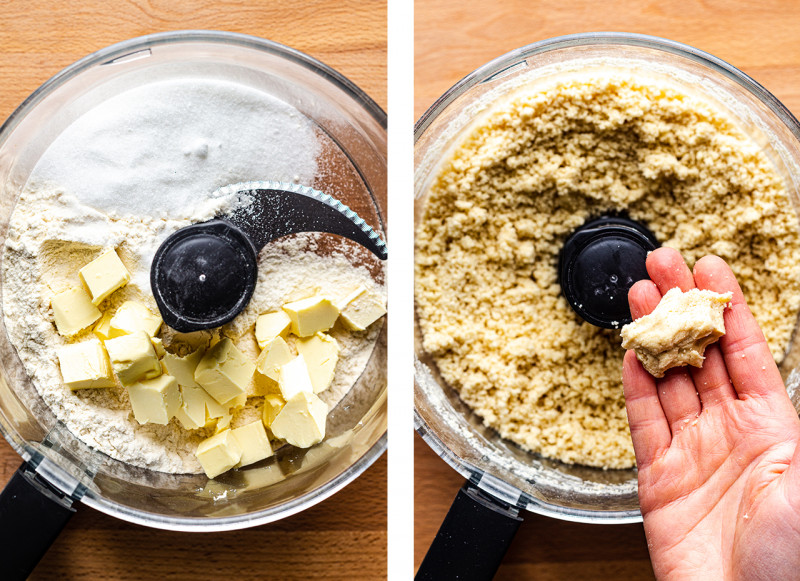 I find that the best way to make cut fat into flour – which is the basis of making shortcrust type of pastry – is to use a food processor. Place all of you dry ingredients and cubed fat (vegan butter in this case) in a food processor and pulse until the mixture resembles breadcrumbs – tiny pieces of butter coated in flour. Next, start in adding cold water very gradually, initially by tablespoon then by teaspoon increments – you want to add as little as possible. You only want to add as much as is needed for the flour to clump together in your hand.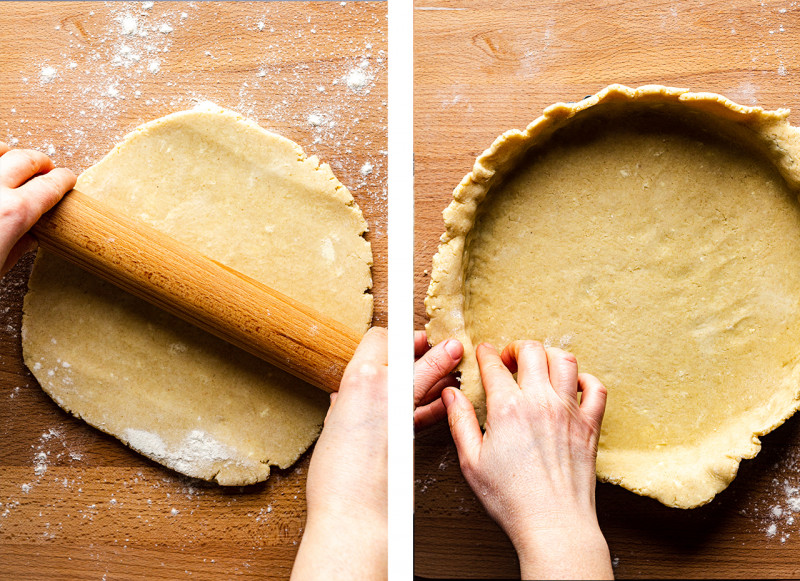 Empty the mixture onto the workbench and bring together with your hands gently, press into a disc, cover and rest for at least 30 minutes. Next roll it out so until the pastry is large enough to line the inside of you tart tin and is about 2-3 mm in thickness. Roll it around your rolling pin, place the rolling pin over the tart tin, unfurl the pastry and gently tuck it into the tin, making sure it is relaxed (not stretched) and reaches all the way to the edges.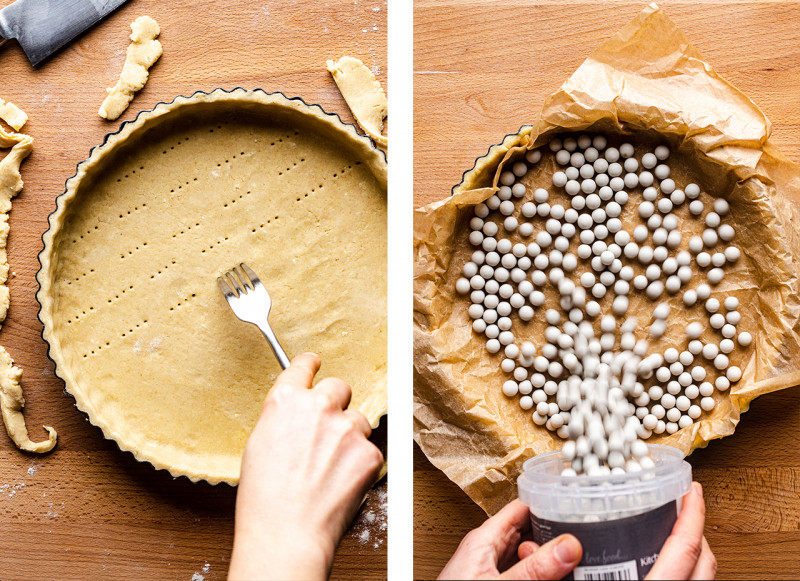 Trim the pastry with a sharp knife, prick the bottom with a fork and blind bake. Line the pastry with a piece of crumpled baking paper and fill with baking beads (or raw beans or rice).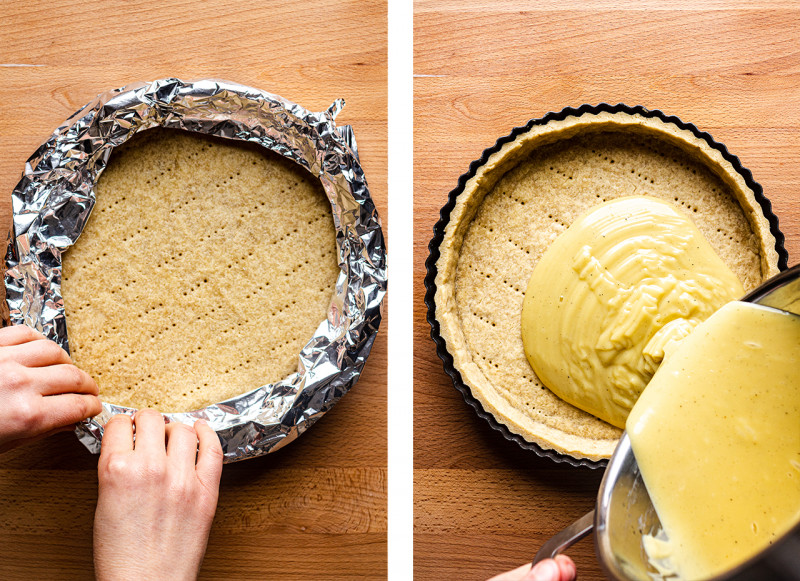 Once you remove the beads, bake it for a few more minutes until the bottom no longer looks raw – you may need to protect the edges with a strip of baking foil to ensure they are not browning too fast. Fill with custard once ready and bake until set.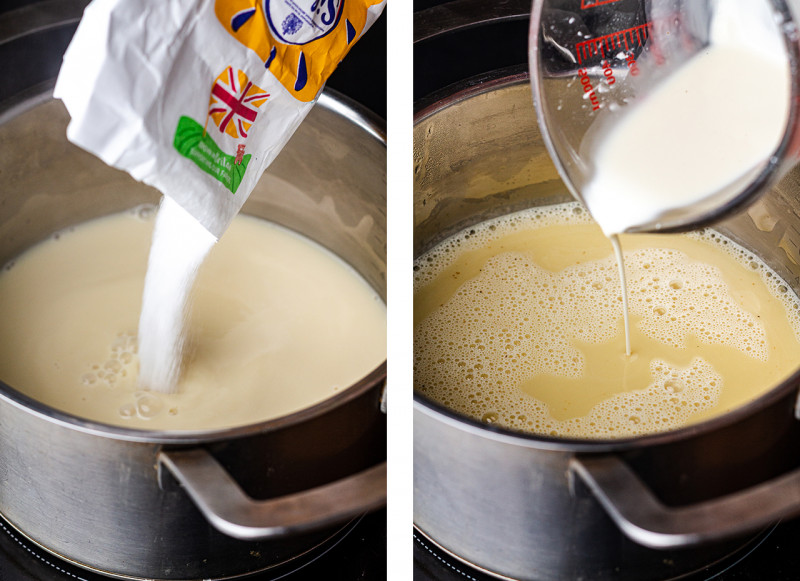 While the pastry is baking, prepare the custard on the stove. Heat up plant milk with sugar, thicken with cornstarch slurry, season with vanilla, salt, cardamom (if using) and a pinch of turmeric for colour if liked.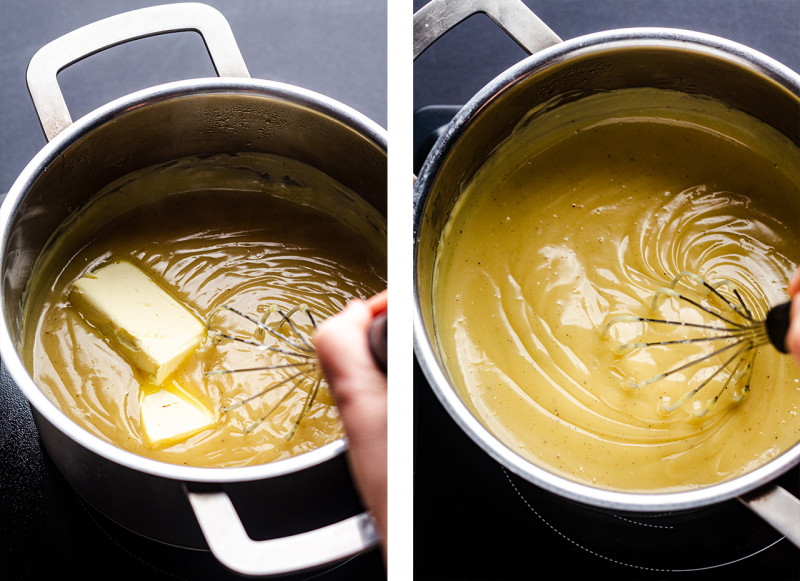 Once the custard has thickened, add vegan butter and allow it to melt in the residual heat. You should end up with silky smooth, thick yet pourable custard. Allow it to cool a little before filling the blind baked pastry cake and bake again until set.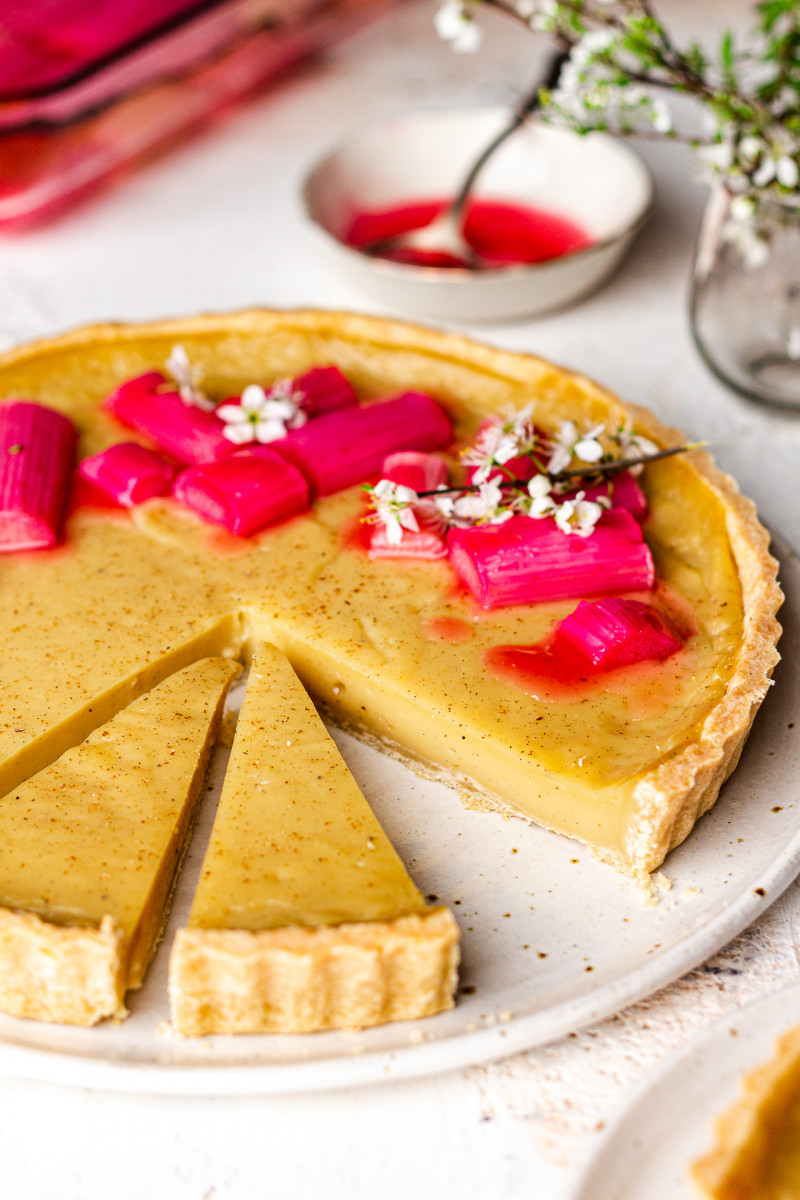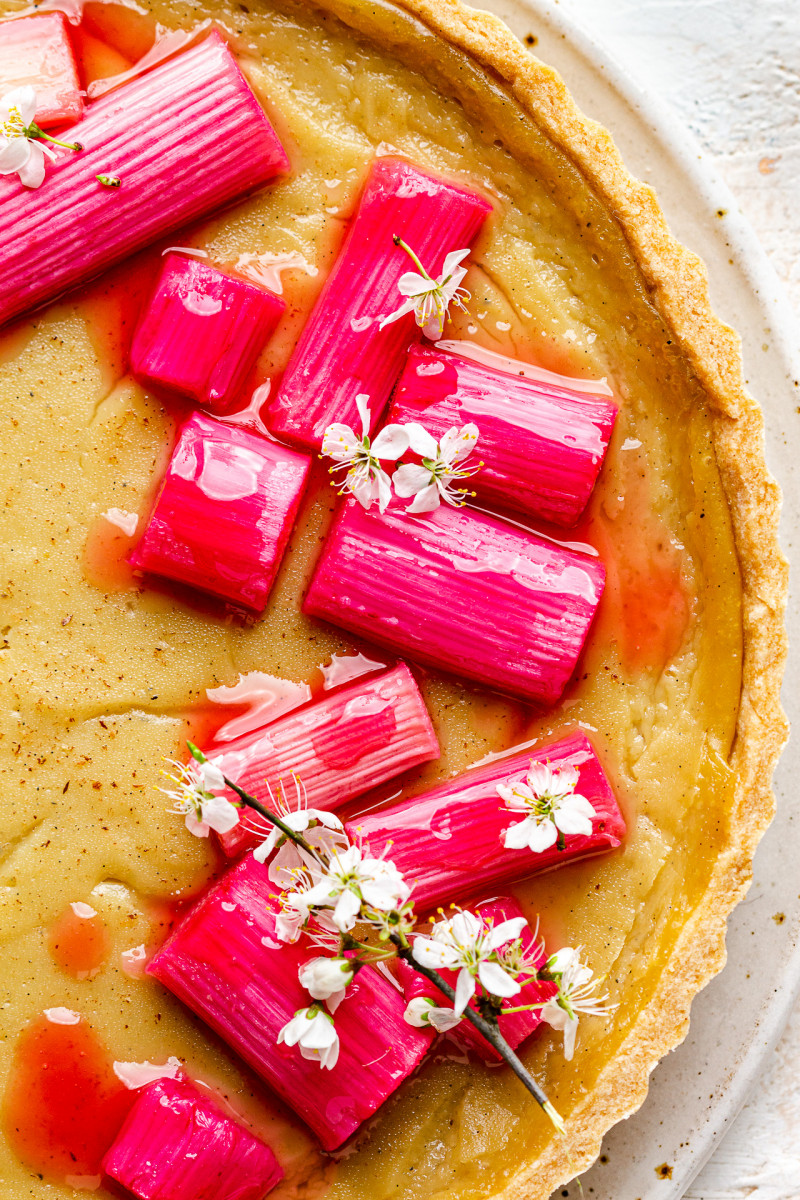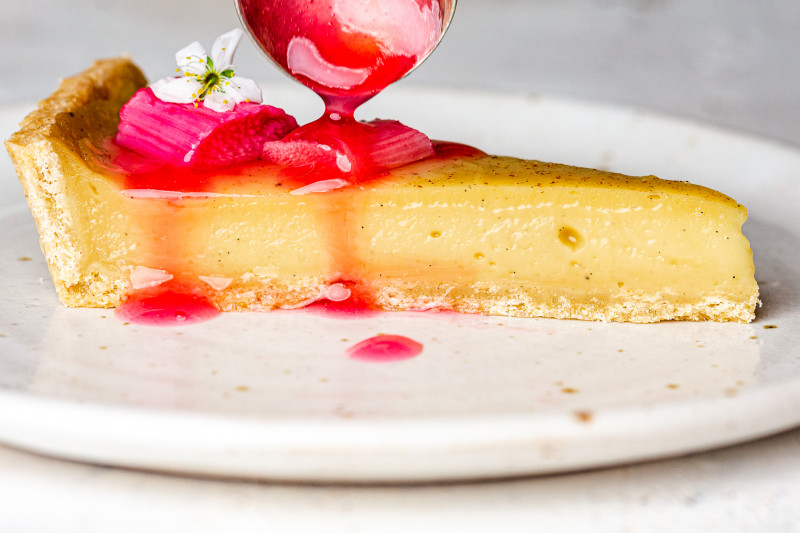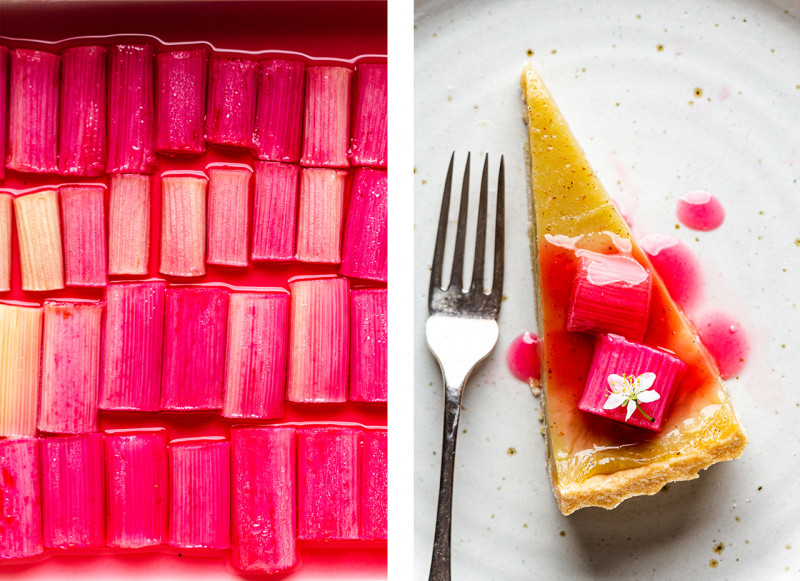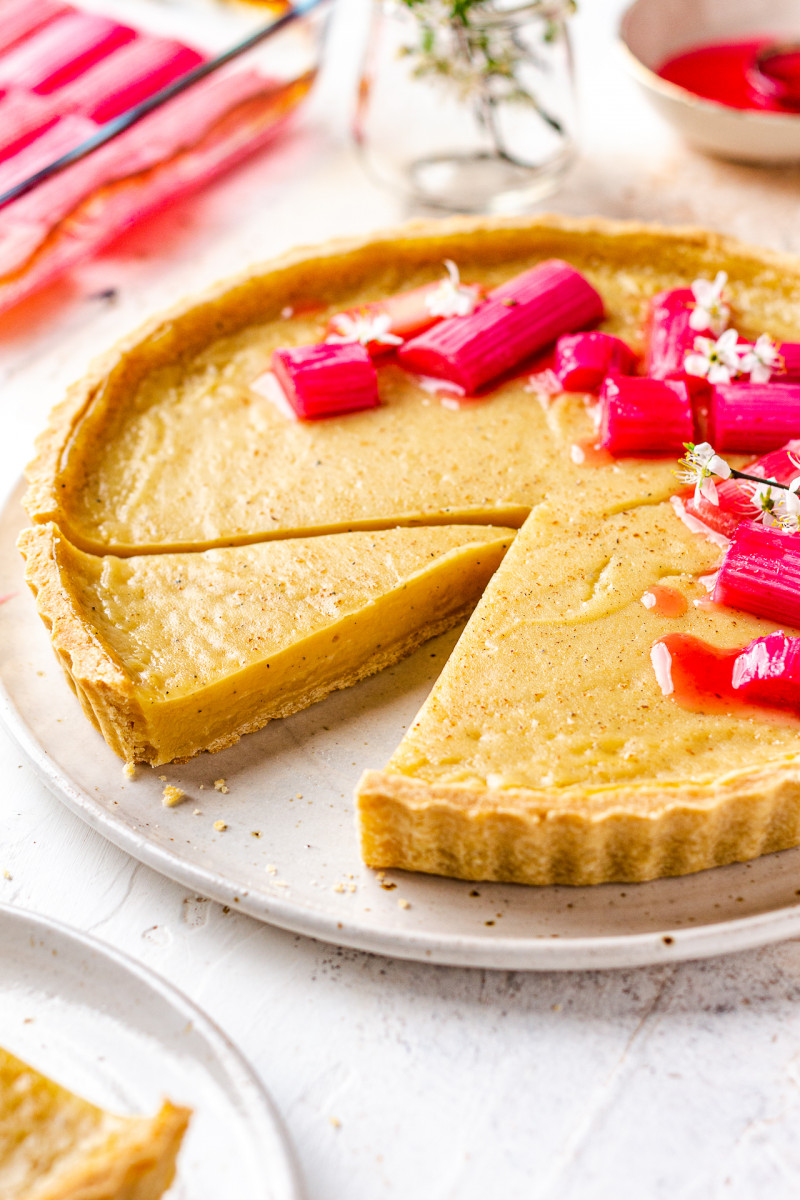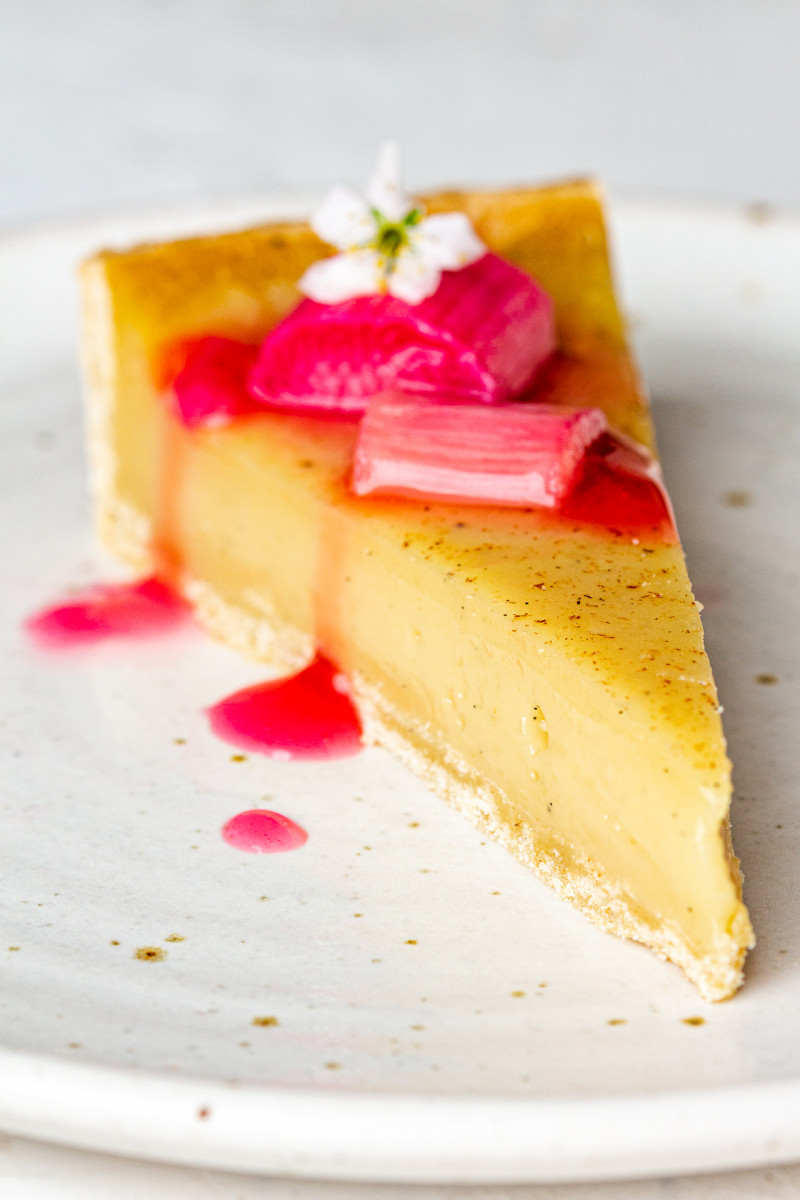 PASTRY
210 g / 1¾ cups all purpose flour or GF plain flour mix
25 g / 2 tbsp caster (superfine) sugar
½ tsp fine salt
1½ tsp xanthan gum (only if using GF flour)
100 g / 3.5 oz vegan butter* (about ½ cup), cubed
approx. 3 tbsp-4 tbsp ice cold water
CUSTARD FILLING
55 g / scant ½ cup cornflour / cornstarch
750 ml / 3 cups + 2 tbsp creamy plant milk*
125 g / ½ cup + 2 tbsp sugar
15 ml / 1 tbsp vanilla extract
1/3 tsp ground cardamom*, optional
2 pinches of kala namak (eggy salt) or regular salt
70 g / 2.5 oz (about 1/3 cup) vegan butter
a sprinkle of nutmeg or cinnamon, optional
TOPPING (optional)
400 g pink rhubarb
35 g / 3 tbsp caster (superfine) sugar
METHOD
PASTRY
Place all pastry ingredients in a food processor – alternatively, you can make the pastry by hand – see photos here.
Pulse the machine until all the butter has been cut small and coated in the flour – the mixture should resemble fine breadcrumbs.
Gradually trickle in ice cold water while pulsing the mixture. Add water in small, 1 tsp increments towards the end and stop as soon as the mixture starts to look like breadcrumbs and clumps together in your hand when squeezed – you want to add as little water as possible.
Empty the food processor on the workbench. Gently press the dough together with your hands and form it into a disc, but do not knead (or else your pastry will be tough).
Wrap the pastry in cling film and chill in the fridge for 30-60 minutes. Preheat the oven to 180° C / 355° F 30 minutes before you are ready to take the pastry out.
Remove the dough from the fridge, whack the disc with a rolling pin a few times and then roll it out on a lightly floured surface until the pastry is large enough to line the inside of a tart dish and is about 2-3 mm in thickness.
Roll the pastry sheet round your rolling pin and gently place on top of your baking tin (non-stick, loose bottom tin I what I use, otherwise you may want to grease and line your tin). Unfurl the pastry and line the inside of the tin with it making sure it reaches all the way to the edges.
Cut the excess with a sharp knife and use the excess to patch up any holes or thinner areas. Pierce the bottom of the pastry with a fork all over.
Line the pastry with a piece of crumpled baking paper and fill with baking beads (rice or dry beans).
Bake for 15 minutes with the baking beads, then remove the paper and the beads and bake for further 5-10 minutes just until the bottoms no longer look raw – you may need to protect the edges with strips of foil if they are browning too fast.
CUSTARD FILLING
Place cornstarch in a medium bowl, slowly trickle in 120 ml / ½ cup of oat milk while whisking. Whisk until cornstarch has fully dissolved and no lumps remain.
Measure out sugar and vegan butter.
Place the remaining oat milk in a medium size pot on low heat.
Allow to the milk to nearly come to a simmer before whisking in sugar. Cook on low heat whilst whisking until the sugar has dissolved.
Trickle in cornstarch slurry you created in step 1 while whisking in the whole time, simmer for a few seconds until the mixture has visibly thickened.
Now whisk in salt, vanilla, cardamom (if using) and the tiniest pinch of turmeric if you wish (for colour only). Take off the heat.
Add vegan butter to the hot custard and whisk it in to incorporate it. Your vegan custard should be smooth and glossy at this point.
TOPPING (optional)
Trim your rhubarb, cut into more or less uniform – 3 cm / 1.25 " – pieces and arrange on the bottom of a baking tray.
Add 15 ml / 1 tbsp of water and sprinkle evenly with sugar.
Bake in a 190° C / 375° F oven for about 15-20 minutes, until tender but not falling apart. Cool completely before decorating the tart.
ASSEMBLY
Fill pre-baked pastry case with the custard mixture, smooth with a spatula. Sprinkle with nutmeg (or cinnamon) if using.
Bake in a 150° C / 300° F oven for approximately 35 minutes until the edges look set but the middle is still wobbly.
Allow to cool down completely, then refrigerate for at least 2 hours before cutting for neat looking slices.
Top with cool roasted rhubarb or other tangy fruit or fruit compote if using.
NOTES
*VEGAN BUTTER: use vegan butter that comes in a block (not the spreadable kind). In the UK the most popular brands are Naturli, Violife and Flora. Alternatively you could use coconut oil for both the pastry and filling, but it's a little harder to work with – it will make your pastry tough straight out of the fridge so rest it at room temperature before attempting to roll out. I also recommend using steamed coconut oil – like
this
– so that there is no coconut taste.
*PLANT MILK: any rich plant milk will work, I've tried rich oat milk (Oatly Barista) and soy milk (8% soy) and they both work well, but I prefer the flavour of oat milk.
NUTRITIONAL INFO
*per 1 out of 16 servings