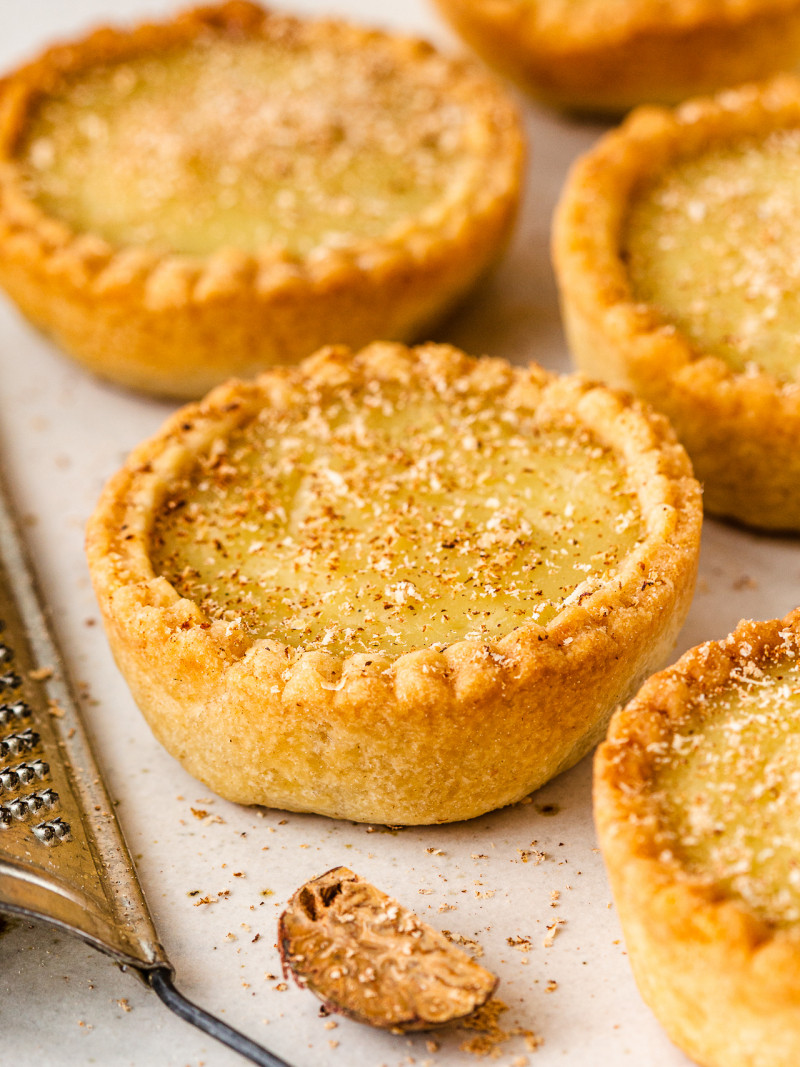 It's firmly autumn here now. There is a distinct chill in the air, the leaves are turning yellow, orange and red and rustle underfoot. And to my poor cat's terror, there is an odd firework explosion here and there in anticipation of Guy Fawkes' Day on 5th November.
It's the season to be cosy, isn't it? In the evenings I gravitate to my blanket, my sofa and my cat gravitates to me and we huddle cosily together while Duncan thrashes himself in his kayak in a freezing cold Welsh river (local Wye river, where he used to go, has been destroyed by the waste water that 'free-range' egg farms spew into it with impunity). At least this was us last week. While I admire him immensely I am also really happy not to be anywhere near a cold river at this time of the year. It's funny how our temperature gauges are so at odds with each other 😉 .
Baking is one of my favourite autumn past times and so this week I came up with a new dessert that I hope you will enjoy. I've made custard tarts (the Portuguese pastel de nata) on this blog before but I have not yet made their British equivalents so I've decided to tackle them this week. British custard tarts are encased in shortcrust pasty and instead of cinnamon, which features in the Portuguese custard tarts, they get a generous dusting of nutmeg.
As all things custard, these tarts are traditionally made with eggs, but don't worry my vegan version features none (obvs.) and it's just as delicious. If you are not a stranger to pastry making, they are pretty easy to make and feature only a bunch of straight forward, easily accessible ingredients. They have been received with enthusiasm by my two taste testers, Duncan and my friend Shelley, so I hope they will hit the spot for you too.
MORE ABOUT THE INGREDIENTS
Although it may seem counterintuitive – as these traditional pastries rely heavily on eggs – my vegan version does not require many or any niche vegan ingredients. It's all very simple and available in a larger supermarket.
AP FLOUR: the pastry is made with all purpose (also known as plain) white flour. If you would like to make these gluten-free, use a well balanced gluten-free flour mix and a small amount of xanthan gum to help the pastry stay together.
ICING SUGAR: icing sugar, known as confectioner's sugar in the US, is what I used to sweeten the pastry as it dissolves easily. In its absence, you can use 3 tbsp of caster (or superfine) sugar instead.
VEGAN BUTTER: vegan butter, also known as vegan block, makes the best pastry. I really like the Danish brand Naturli, which is available in many UK supermarkets. Naturli is unsalted so if you were to use vegan butter than contains salt you may want to add less or no salt to the pastry. If vegan butter is out of your reach, use coconut oil instead. My recommendation is use refined version like this so that the final product does not taste of coconut. I also added a small amount of vegan butter to the custard at the end to make up for the fat that egg yolks add to the traditional version.
OAT MILK: I used Oatly barista, a rich oat milk, to make the custard filling. Any rich (thick, not watered down) plan milk will give you a rich plant-based custard. My favourites are oat, soy and cashew milk.
CASTER SUGAR: sugar is used to sweeten the custard and any sugar can be used but I chose to use caster sugar as it dissolves quickly.
CORNFLOUR / CORNSTARCH: cornflour (known as cornstarch in the US) is what is used to thicken the plant milk in the place of eggs.
VANILLA: custard and vanilla are an inseparable duo, use the best vanilla you can afford and be generous, vanilla is what gives this custard its moreish flavour.
SALT: a good pinch of salt offers a nice counterpoint to the sweetness of any dessert. I used regular table salt and a pinch of kala namak, commonly known as eggy salt as it tastes like eggs due to its high sulphur content.
TURMERIC: the tiniest pinch of ground turmeric is nice to add for that warm reminiscent of custard colour, but it's totally optional if you don't have any on hand.
NUTMEG: these vegan custard tarts are topped off with a generous grating of nutmeg for that cosy feel. Get whole nutmeg in your local corner store and grate it into custard, bechamel, bolognese – freshly ground nutmeg is so much more aromatic than its ground counterpart.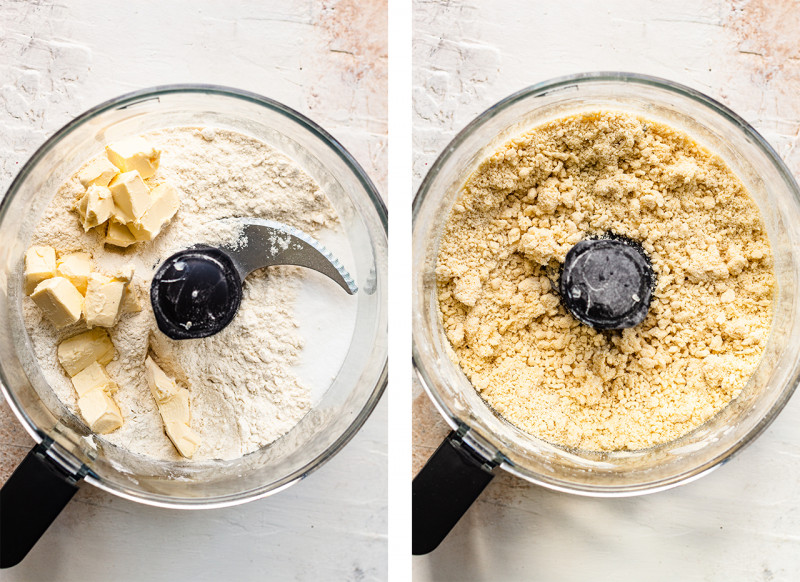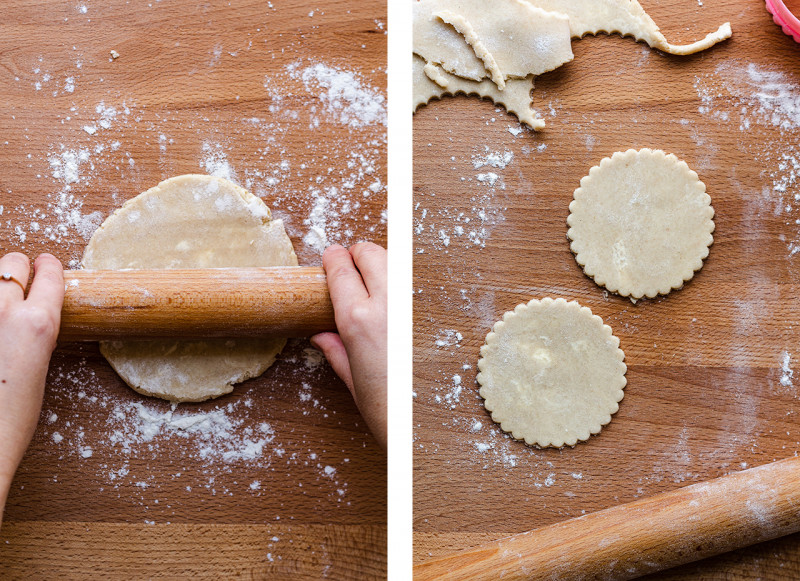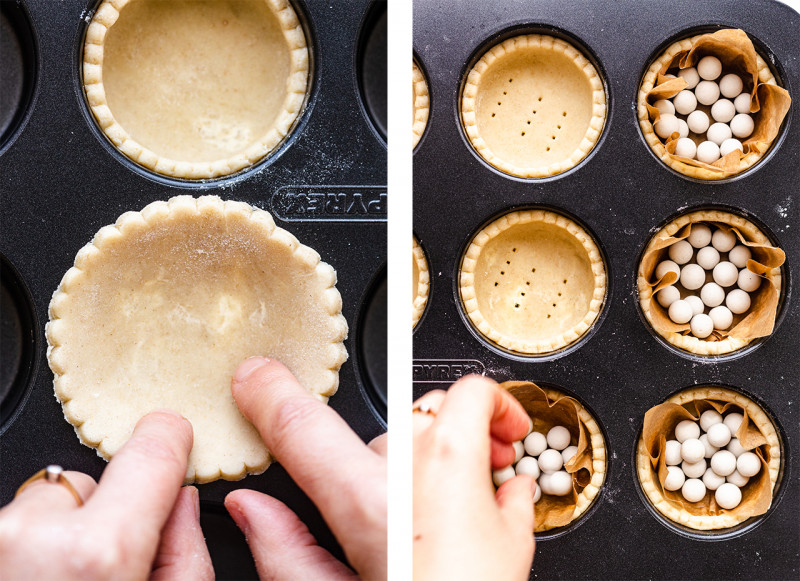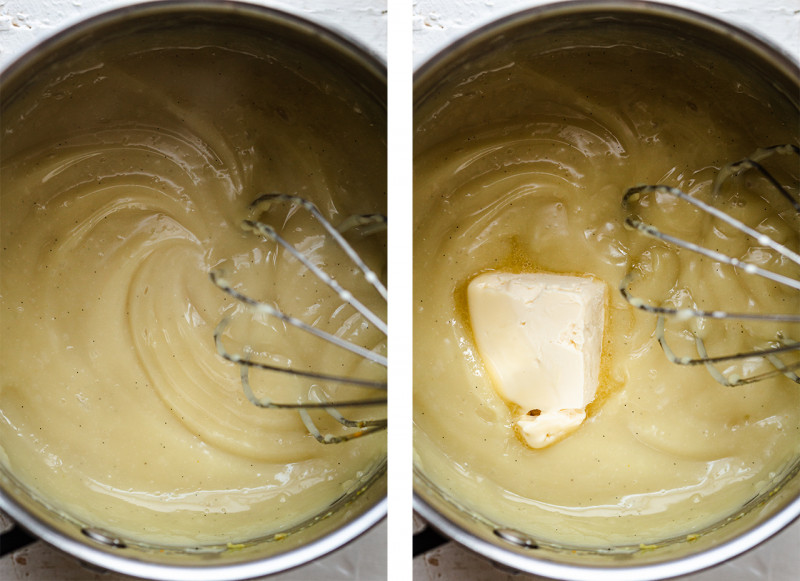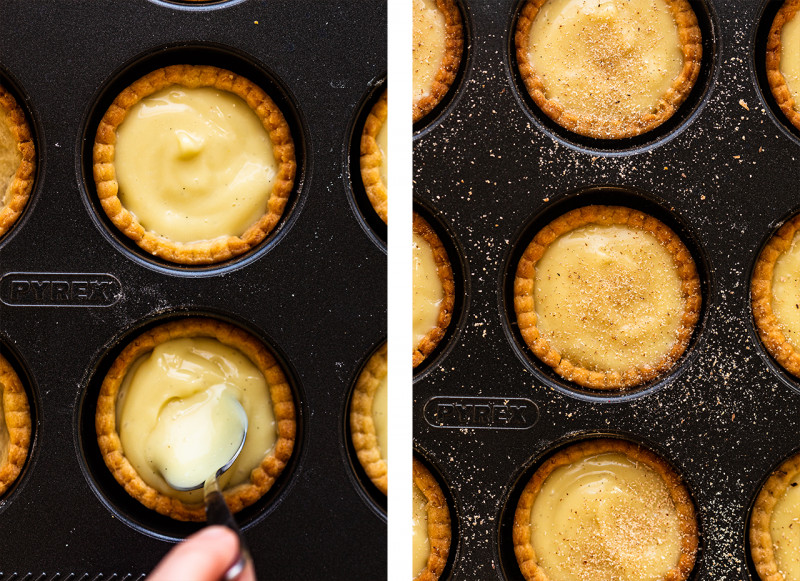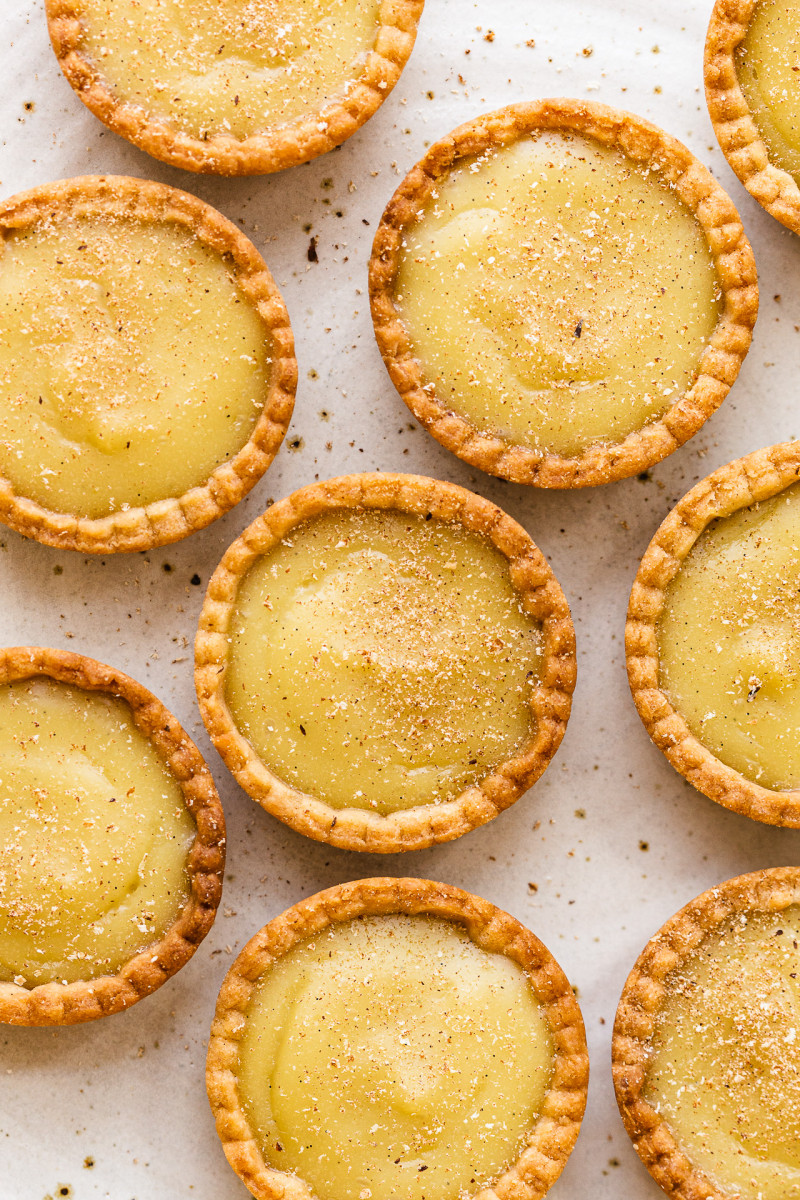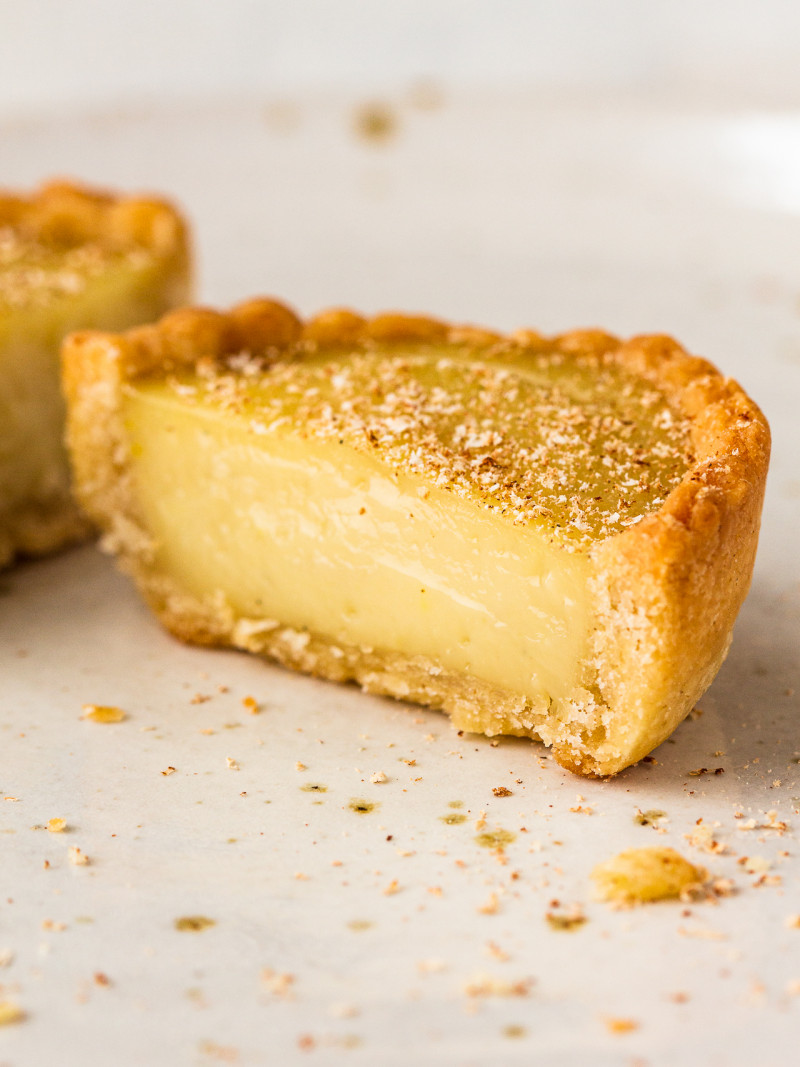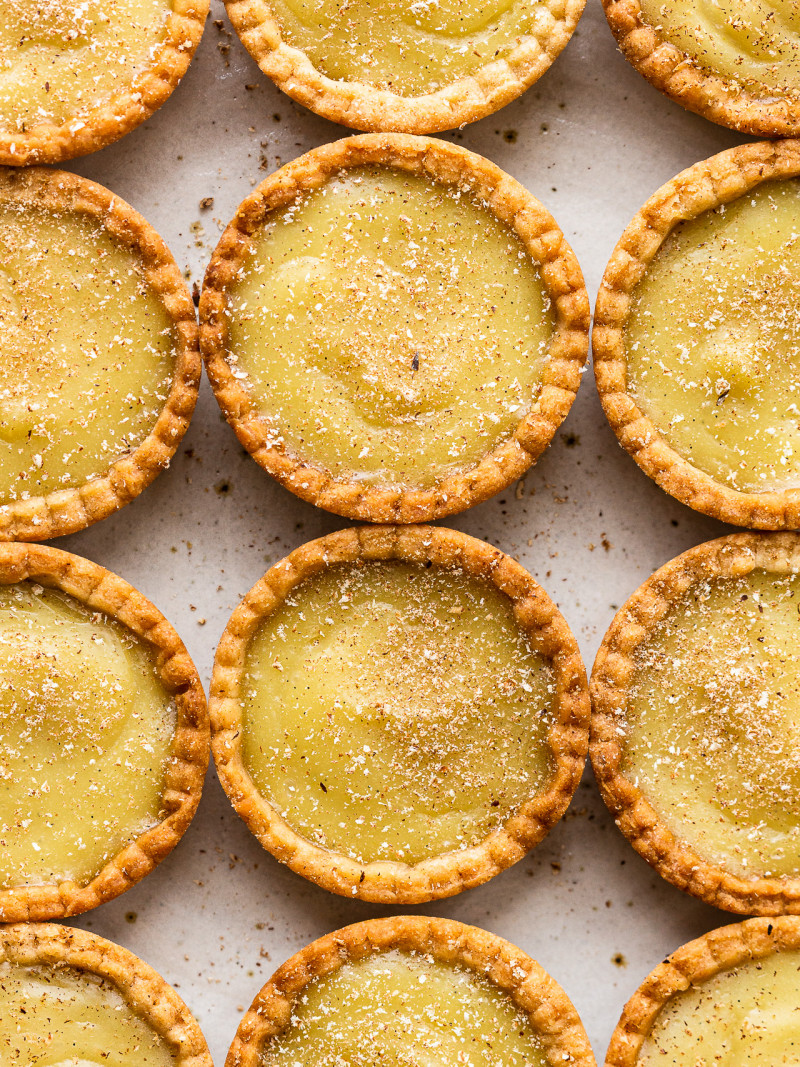 PASTRY
210 g / 1¾ cups white all purpose flour or GF plain flour mix
35 g / ¼ cup icing sugar
½ tsp fine sea salt
1½ tsp xanthan gum (only if using GF flour)
100 g / ½ cup solid vegan butter or refined coconut oil
45-60 ml / 3-4 tbsp ice cold water
CUSTARD FILLING
300 ml / 1¼ cups thick oat milk* (I used Oatly barista), divided
40 g / scant ¼ cup caster sugar
25 g / 3 scant tbsp cornflour / cornstarch
1½ tsp vanilla extract
3 pinches of fine salt*
25 g / 2 tbsp vegan butter (I used Naturli) or refined coconut oil
1 nutmeg
METHOD
PASTRY
Combine the flour, icing sugar, salt and xanthan gum (if making GF pastry) in the food processor bowl. Alternatively, you can make the pastry by hand – see photos here.
Chop vegan butter (or coconut oil) into small pieces and add it to the dry ingredients. Pulse the machine a few times to cut the fat into the flour.
Gradually trickle in 3-4 tablespoons of ice cold water while pulsing the mixture, stop when the mixture starts to resemble breadcrumbs and clumps together in your hand when squeezed – you want to add as little water as possible.
Transfer the pastry mixture out of the food processor. Gently press the dough together with your hands into a disc, but do not knead – handle as little as you can or else your pastry will be tough.
Wrap the pastry in a piece of cling film and chill in the fridge for 30 minutes. Start on the custard while you wait.
Remove the dough from the fridge, cut it in 4 portions and roll each portion out on a lightly floured surface until the pastry is about 2-3 mm in thickness.
Preheat the oven to 180° C / 355° F.
Using a large cookie cutter (mine was 9 cm / 3.5 inches) cut 3 circles out of each pasty portion.
Place each pastry circle on the top of a muffin tin hole and very gently and slowly coax each circle into the hole, use your fingers to line the bottom of the muffin hole. Carry on until you've lined all of the muffin holes.
Pierce the bottom of the pastry cases with a fork a couple of times, line each case with a small square of crumpled baking paper and fill with baking beads (rice or dry beans).
Bake for 10 minutes with the baking beads, then remove the paper and the beads and bake for further 5-10 minutes just until the bottoms no longer look raw. Then take the pastry out of the oven and reduce the oven temperature to 150° C / 300° F.
CUSTARD FILLING
Place cornstarch in a small bowl, slowly trickle in 60 ml / ¼ cup of oat milk while stirring. Stir well until cornstarch has fully dissolved and no lumps remain.
Measure out sugar and vegan butter.
Place the remaining 240 ml / 1 cup of oat milk in a medium size pot on low heat.
Allow to the milk to nearly come to a simmer before whisking in sugar.
Once sugar has dissolved, slowly trickle in cornstarch slurry you created in step 1 while whisking in the whole time, simmer for a few seconds for the cornstarch to activate and thicken the mixture.
Now whisk in salt (I added a small pinch of eggy salt: kala namak along side regular salt), vanilla and the tiniest pinch of turmeric if you wish (for colour only). Take off the heat.
Add a lump of vegan butter and whisk it in to incorporate it. Your vegan custard should be smooth and glossy at this point. If it's lumpy, you can press it through a fine sieve.
ASSEMBLY
Fill each pastry case with the custard (you'll need about a tablespoon per case), grate some fresh nutmeg on top.
Bake in a 150° C / 300° F oven for about 15 minutes until the custard is just barely set. Allow to cool down before eating – they are best on the day as the pastry tends to get soggy from the filling.
NOTES
*OAT MILK: any rich plant milk will work, but I've developed this recipe using oat milk so I know it works for sure.
*SALT: I used regular salt and a pinch of kala namak also known as eggy salt, which due to its high sulphur content tastes like eggs.