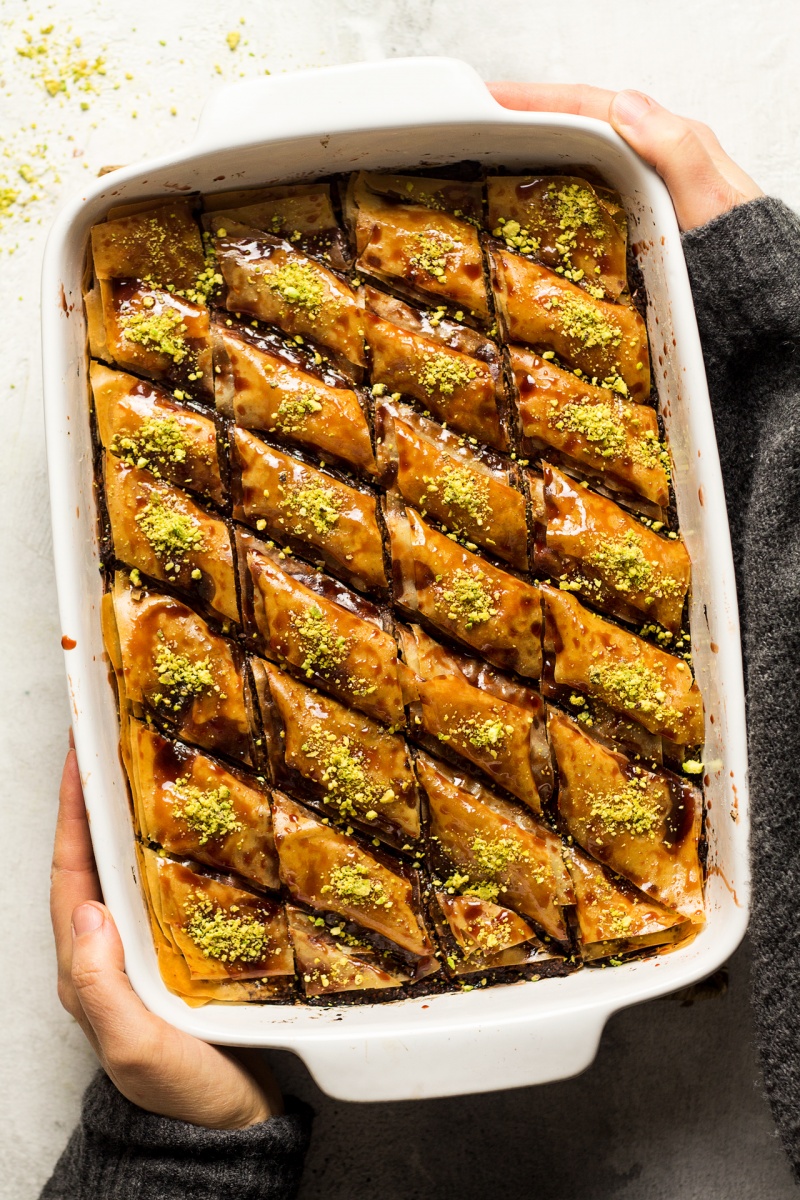 I created this recipe a while ago and now, as the weather has suddenly turned almost summery (at least, here, in Bristol it has), I realised that I really need to run with it or else the weather will get warmer and it will become less relevant. So with that in mind, I will let this puppy be in the limelight briefly while berries are still getting some much needed sun on their faces 😉 .
This is my second take on the famous Middle Eastern dessert (I know that many countries are keen on owning it, I am not going there, sorry!) – baklava. It's something I wasn't terribly keen on in my youth (I used to find it too sweet, can you believe that?!), but now I absolutely love it. This baklava is a touch less naughty than most as its filling is comprised solely of sweet dates and nuts. It has no added sugar of any kind, none at all, nada!
The sweet, reddish glaze is made of date syrup (also known as date honey or nectar), which I discovered quite recently. I recommend making it at home (recipe here) as it's dead easy, cheap and delicious. Apart from making a beautiful baklava syrup, it's also perfect on your morning porridge or pancakes. I also like adding it to Middle-Eastern inspired stews as it works so well against the background of tangy tomatoes and aromatic spices. If you don't want to spend too much time in the kitchen though, it's also available in large supermarkets and health food shops here in the UK.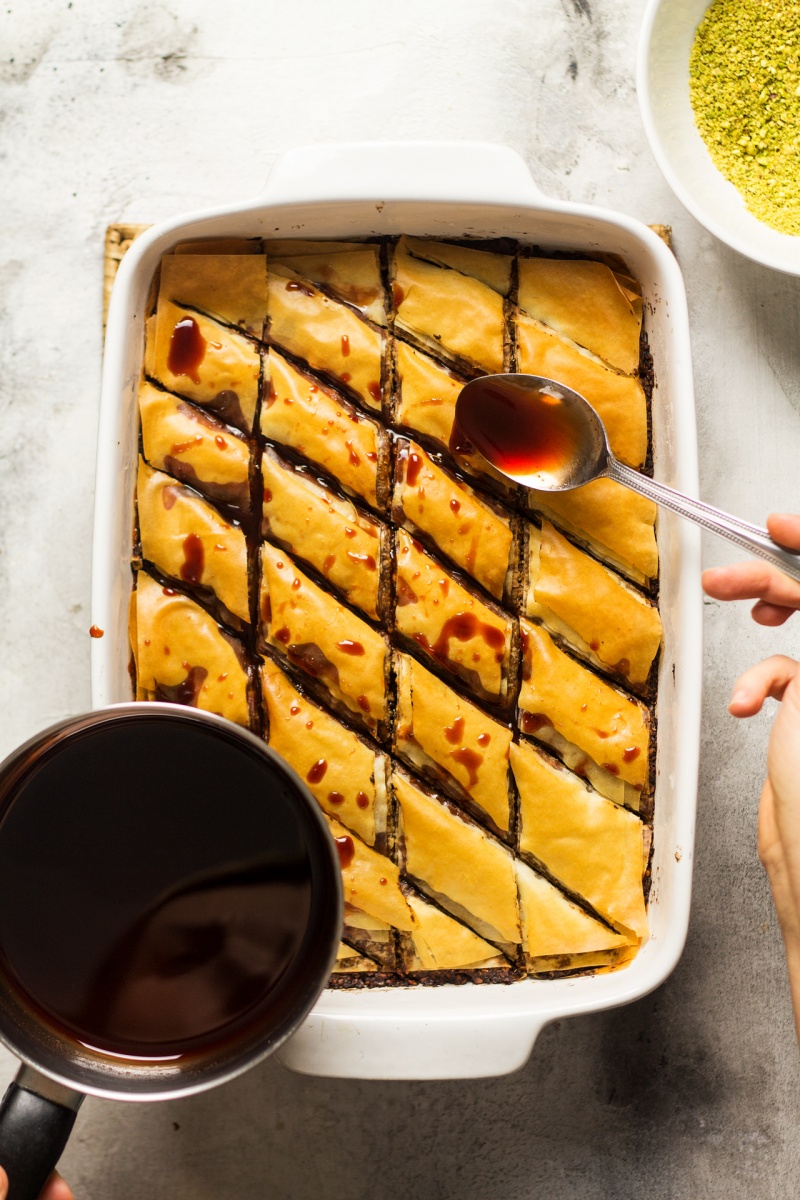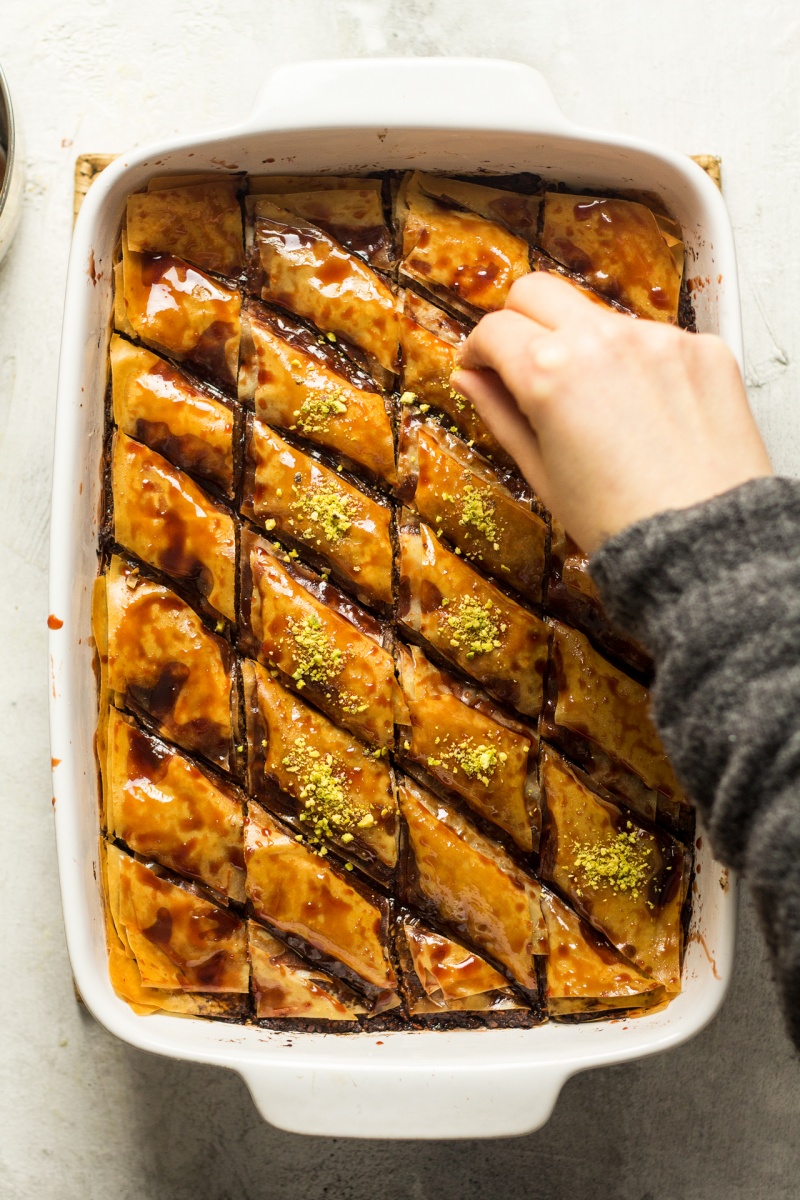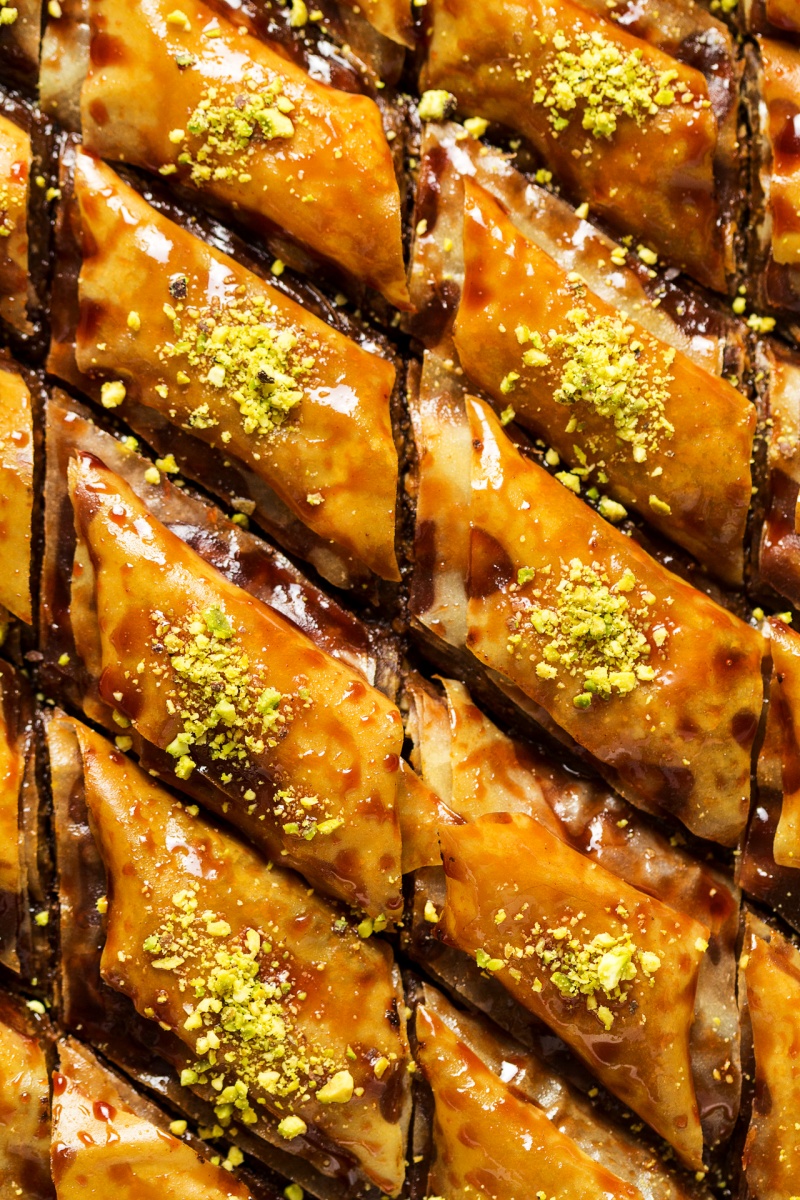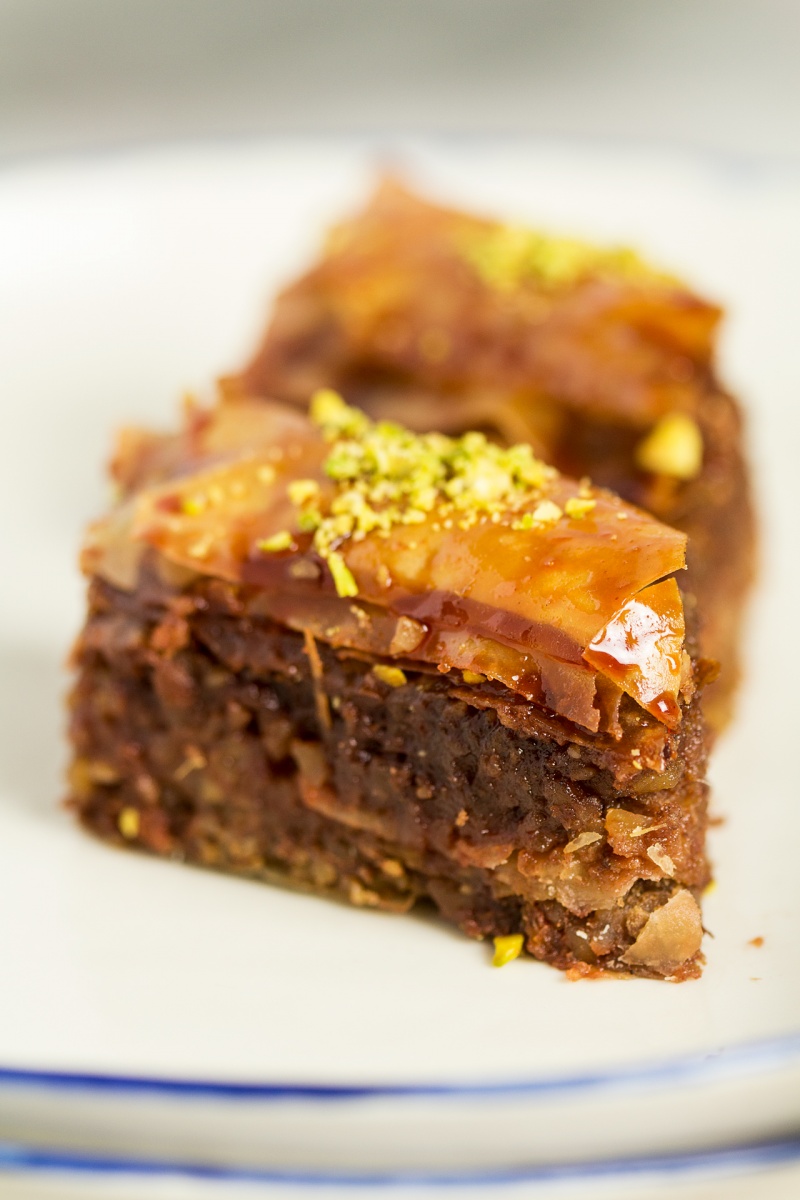 SYRUP
80 ml / 1/3 cup water
120 ml / ½ cup date syrup, shop-bought or homemade
2 tbsp lemon juice, adjust to taste
BAKLAVA
350 g / approx. 2 cups dates
1½ cups / approx. 185 g almonds
1½ cup / approx. 150 g walnuts
zest of 1 orange
1½ tsp ground cinnamon
¼ tsp fine sea salt
vegan filo pastry sheets (mine had 7 sheets, 48 cm / 19″ x 25 cm / 10″ each), thawed
3 tbsp mild tasting oil (I used mild olive oil)
2 tbsp shelled pistachios, very finely chopped
METHOD
SYRUP
Put date syrup, water and lemon juice (if using) into a small pot and gently bring to the boil.
Simmer on a very low heat until you get a thin syrup that coats the back of a spoon.
Set aside to cool down completely.
BAKLAVA
Soak your pitted dates in boiling water for about 20 minutes.
Place the soaked dates (discard soaking water), nuts, orange zest, cinnamon and salt in a food processor.
Process until you get a mixture of uniform texture that sticks together, but isn't overly wet (as this will make your baklava soggy). I added a few tablespoons (about 6 tbsp / 90 ml) of water to mine to make it a touch less dry, but it very much depends on how sticky your dates are so please proceed with caution.
Remove the filo pastry from the fridge and let it sit at room temperature for about 10 minutes – this makes it easier to handle.
Prepare a baking tin by brushing it with a small amount of oil. Wet two clean kitchen towels and wring them both out really well.
Pre-heat the oven to 180º C / 355º F.
Trim your filo pastry to the size of your baking dish and use larger trimmings as interior layers – the more layers the better. Remove the first sheet of pastry from the packaging (cover the rest with a damp kitchen towel to prevent them drying out) and trim it to size of your dish – this should be your template moving forward.
Place the first sheet at the bottom of the greased baking dish and brush it with a small amount of oil – don't load your brush with lots of oil as you don't want a greasy end result, a few gentle brush strokes will do.
Follow up with 3 more sheets, brushing each one with a little oil as you go.
Now, sprinkle half of your filling mixture on top evenly.
Follow up with another 3 more sheets – construct extra layers from some of your larger offcuts. I only had 7 sheets in my filo packet, but thanks to generous offcuts I created an extra 3 layers to go in the middle. Again, make sure to brush each layer with a little oil as you go along.
Sprinkle the remainder of the filling and cover with another 3-4 layers of lightly greased filo. Like I said earlier, the more layers the better.
Finally, lightly oil the top sheet and cut into small pieces with a sharp knife. You can go for squares, rectangles or diamonds, like I did.
Bake in a pre-heated oven for about 45 minutes, until the top is nicely browned.
As soon as the baklava is ready, brush it while still piping hot with the cold (that's important as otherwise it'll end up soggy) syrup. Sprinkle with finely chopped pistachios. If you made more than you are able to eat, just freeze the remainder.
NOTES
I made this baklava in two different dishes: metal baking tray and a ceramic one. While the ceramic one looked better in photos, I recommend using a metal one as it seemed to have conducted heat better and gave a slightly better end result.