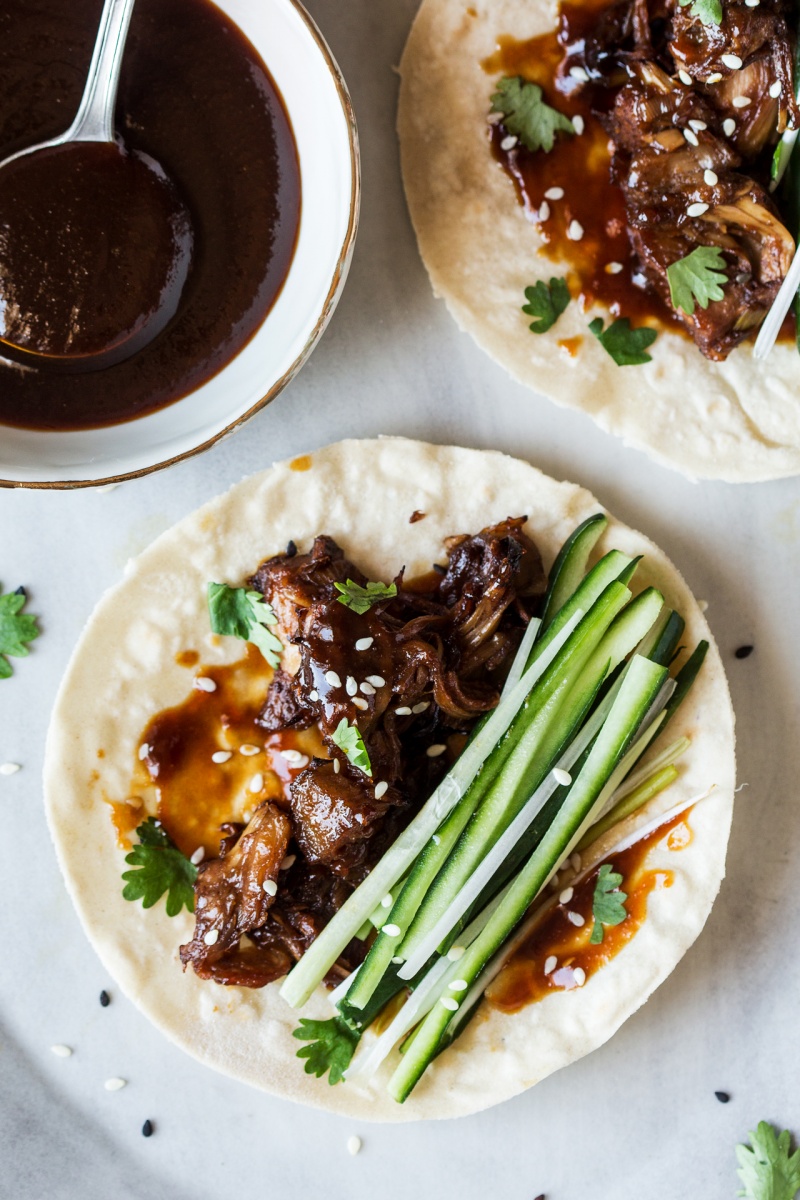 There are not many meat dishes I miss since going vegan, but duck pancakes is definitely one of them. It may sound a bit strange as it's not like I grew up on them (I first tried them in my early 20s) or even ate that them that often as an omnivore, but I fell in love with this dish ever since I first tried it.
I would have crispy duck pancakes once or twice a year, usually on a lazy winter Sunday when hours of wandering through Soho made our stomachs rumble and an impromptu dinner in Chinatown suddenly seemed like a genius idea. As this is one of these 'traditions' we won't be able to keep up, I was determined to find a way to be able to experience these textures and flavours as a vegan.
Once again, jackfruit has delivered! First its meaty flesh gets marinated in aromatics, spices and hoisin sauce and then it is baked in a hot oven to give it a bit of added crispiness around the edges. I recommend marinating it a day in advance as it is one of these dishes that develops more flavour with time.
As I wasn't able to get the pancakes here, I've had to make them myself, but I encourage you to buy them instead. As they need to be very thin and pliable, getting them right is a steep learning curve.
Other than the preparation of the jackfruit itself, this dish isn't very time consuming if you use shop-bought hoisin sauce as well as shop-bought crispy duck pancakes. It is therefore perfect for entertaining. Serve all of the components separately and let your guests assemble their pancakes themselves as they would in a Chinese restaurant.
Vegan or not, I bet they won't turn up their noses at a meatless version of this Chinese crowd pleaser!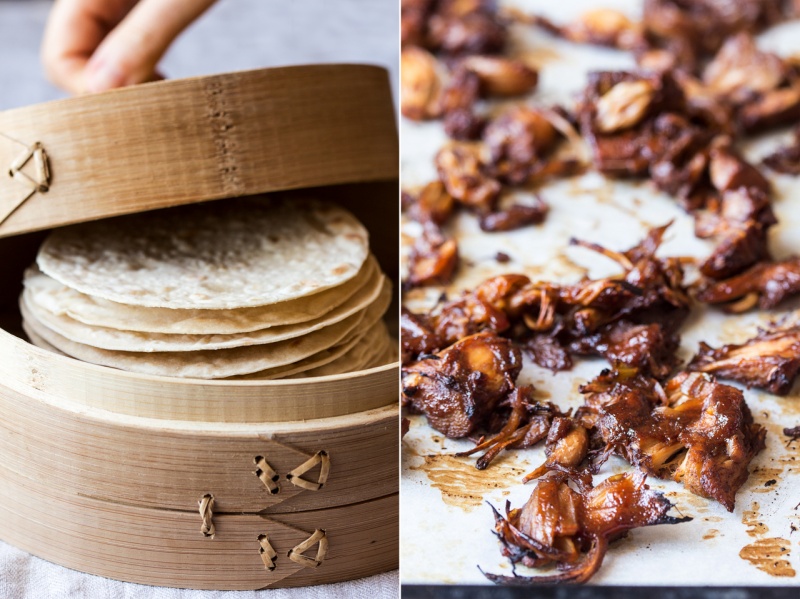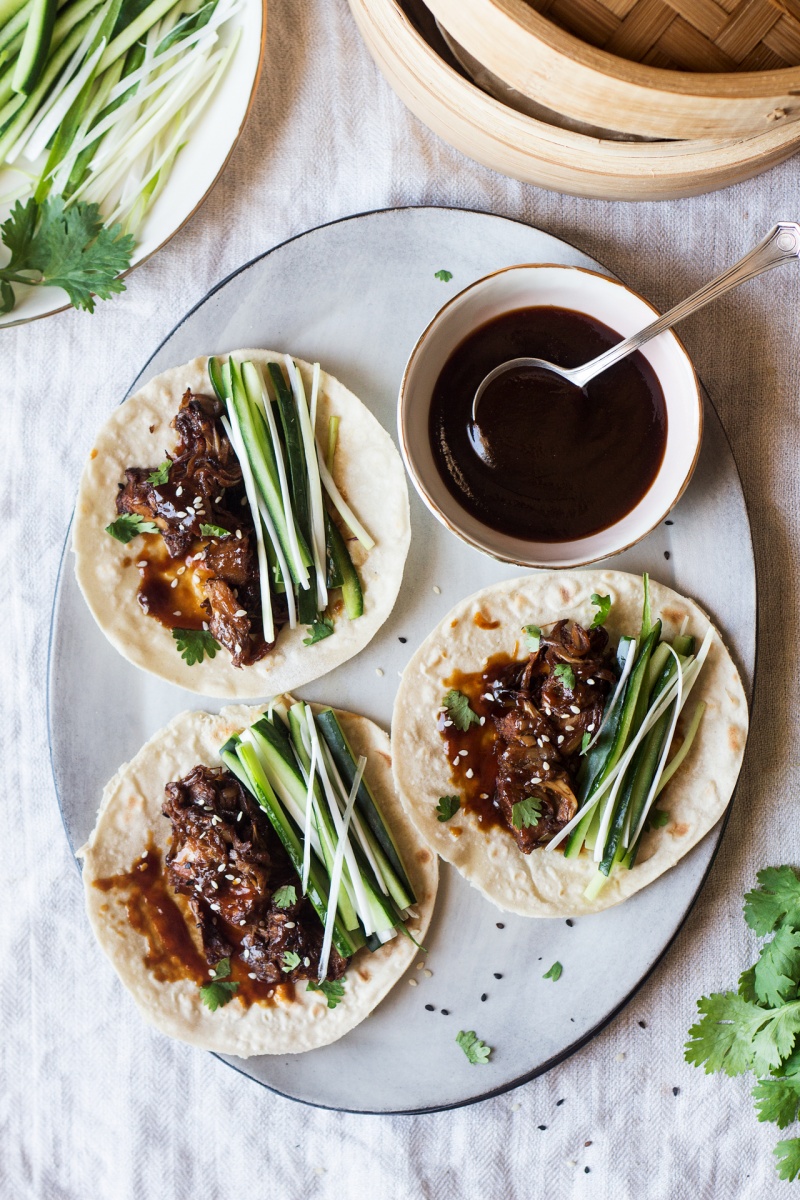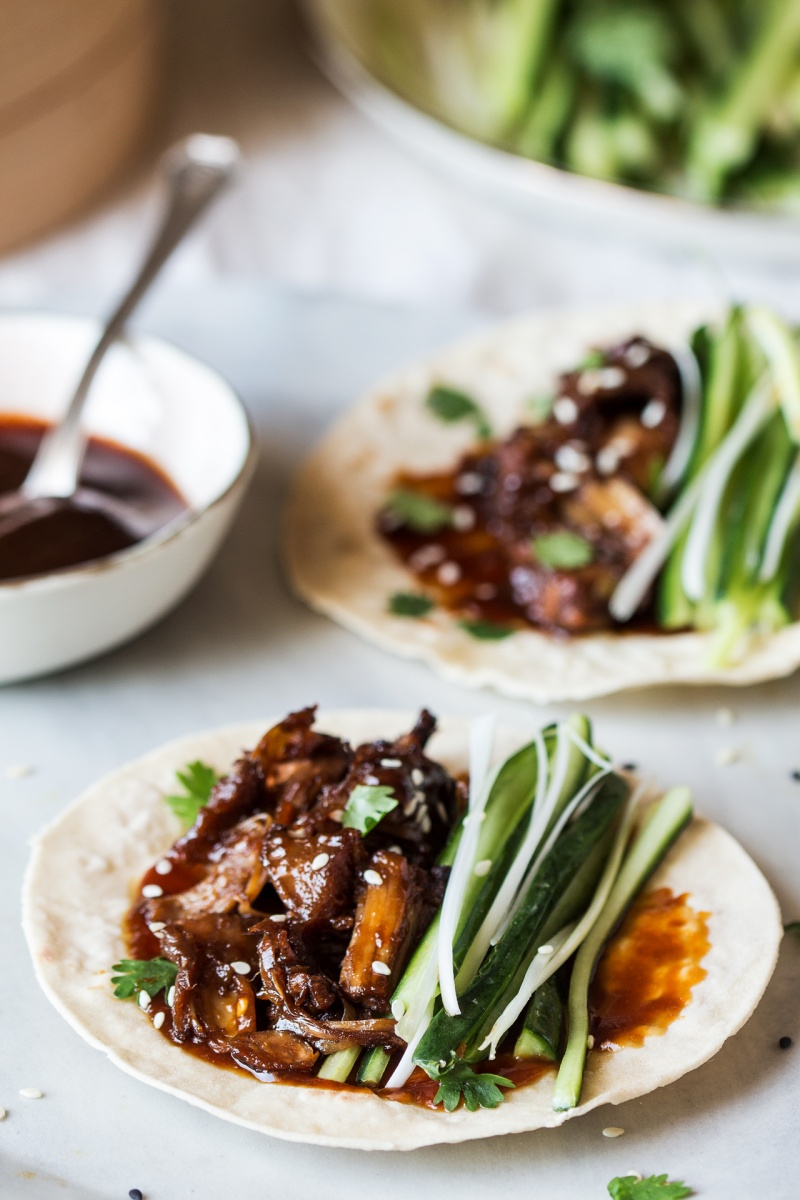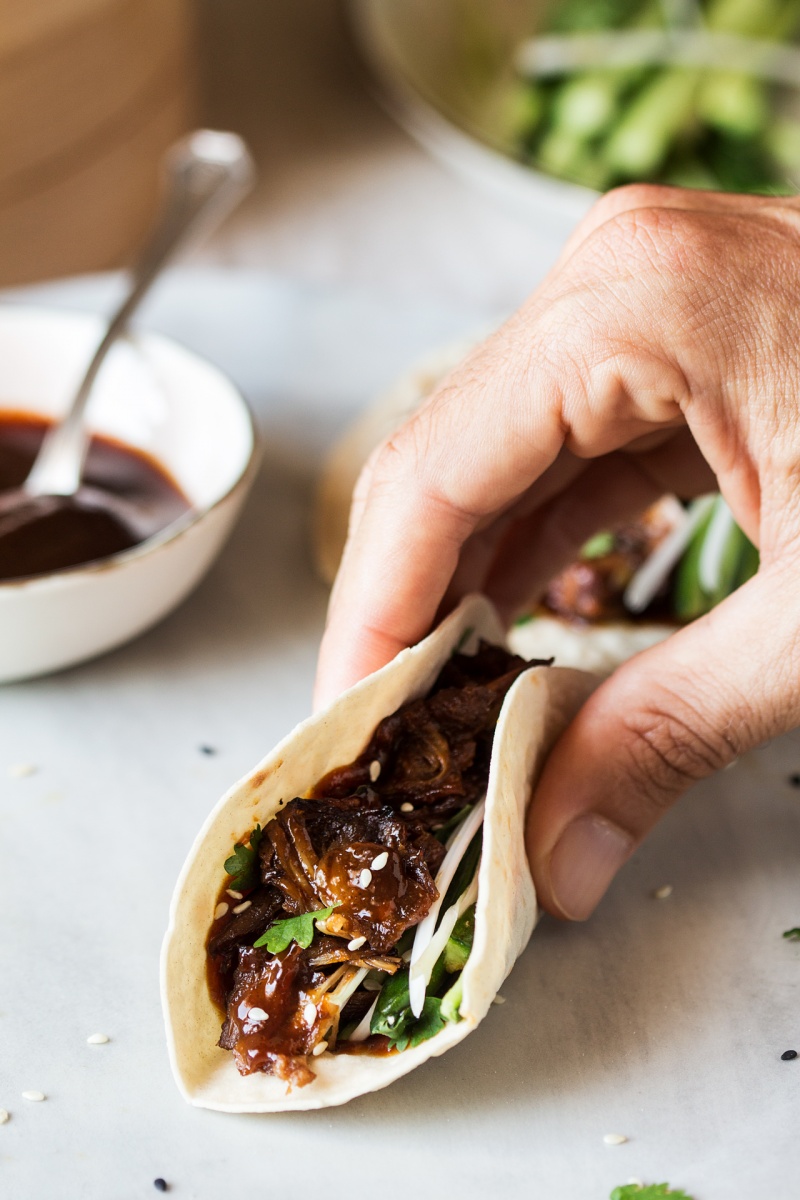 JACKFRUIT 'DUCK'
REMAINING INGREDIENTS
pancakes for crispy duck (or GF pancakes if needed)
hoisin sauce, to serve
1 cucumber, cored and cut into matchsticks
1 spring onion, cut into thin strips lengthwise
sesame seeds, to garnish (optional)
fresh coriander leaves, to garnish (optional)
METHOD
JACKFRUIT 'DUCK' (for best flavour, make a day ahead)
Drain both jackfruit tins. Cut the firm, pointy ends off each triangular piece of jackfruit (you can still use them if you wish, I don't). Set aside.
Heat up oil in a medium, heavy-bottomed, pan. Fry spring onions until softened. Add garlic and ginger and fry off gently until soft and fragrant.
Add five spice mix and fry it off gently, stirring the whole time, for a minute or so.
Now add in the prepared jackfruit along with soy sauce, 2 tbsp of hoisin sauce, toasted sesame oil and rice vinegar. Mix everything really well. Squash the jackfruit pieces with your mixing spoon so that the individual fibres separate more. Season with white pepper and a pinch of ground Szechuan peppercorns if you wish. Simmer the mixture gently for another 5-10 minutes and then allow it to cool down. Place in the fridge overnight to intensify the flavour.
Just before you are ready to assemble your pancakes, set the oven to 200° C / 390° F fan function. Spread the jackfruit pieces on a baking paper-lined baking tray and brush them lightly with an extra tablespoon of hoisin sauce. Bake for about 20-25 minutes, until a little caramelised and browned around the edges.
ASSEMBLY
Warm up your pancakes in a bamboo steamer.
Smear a bit of hoisin sauce on the inside of each pancake, followed by jackfruit 'duck', cucumber and spring onion matchsticks. Sprinkle with sesame seeds and fresh coriander leaves for decoration. Roll up and enjoy!