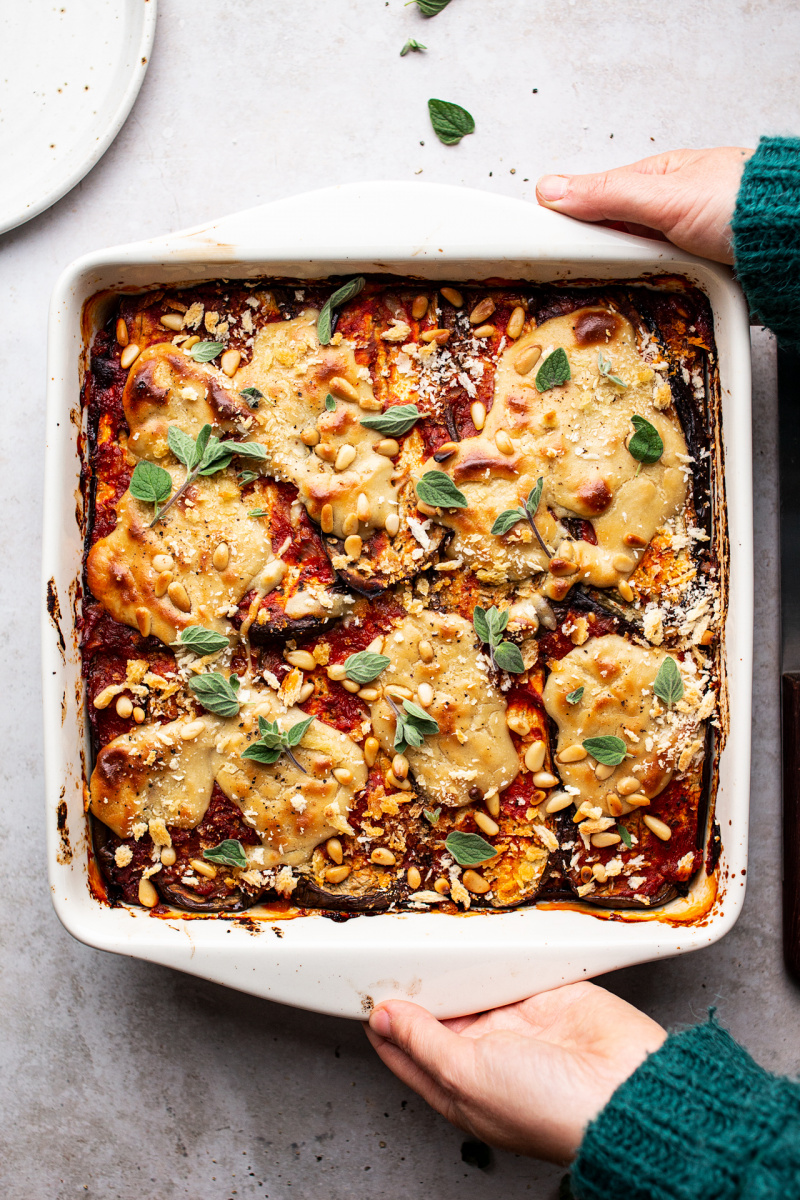 In anticipation of two hot days kindly bestowed on us by the British weather system, I cranked my oven up and made a delicious summery dish – vegan eggplant parmigiana as it's typically eaten at room temperature with a mountain of salad and it feeds a crowd.
As I am on my own when it comes to eggplants and tomato sauce-based dishes (they don't agree with Duncan much), this should sustain me over the next two days, during which I don't intend to move from my hammock other than to make myself my makeshift espresso freddo or use the toilet 😉 . This is what living in the UK does to you, the moment there is steady sunshine on the horizon, you clear your diary as this amount of vitamin D may not happen for a long while, so you gotta make the most of it.
This beautiful dish of layers of meaty aubergines baked in a sweet and herby tomato sauce and topped with cheese is an Italian classic and it's poetically known as 'parmigiana di melanzane'. My version is obviously vegan and definitely healthier than most and certainly healthier than the original, as instead of coating eggplant slices in flour or breadcrumbs and frying them, I bake them in the oven without a drop of oil and it really works a treat. It's a trick I used before in my very popular vegan moussaka that is loved by everyone and no one ever complains that it isn't indulgent enough.
The thing about eggplant is that it is incredibly thirsty and capable of soaking limitless amount of oil, so the resulting bake can easily turn greasy. Also, frying this many slices of eggplant does add a lot of work and standing over a pan compared to this fairly effortless meal. So instead of frying, I bake my aubergine slices in batches until softened, knowing that they will get cooked further in the tomato sauce later. Plus, I don't see the point of breading the aubergines if it's then layered with tomato sauce that is bound to stamp out any attempt at crispiness.
The second difference is an obvious one, the lack of cheese. I am not massively keen on commercially available vegan cheeses and I have not yet found one I buy again and again. Many of them are made out of a lot of nasty stuff and a lot of coconut oil, which turns them into an oily, insipid mess in high temperatures. If you found a brand you enjoy, feel free to use that to top this bake. I went for a simple cashew cheese sauce, which is made of a few natural ingredients and acts as a as creamy topping, which balances the dish nicely. I went for aesthetically pleasing puddles of this stuff, but you are welcome to double (or even triple for a thicker layer) the amount of ingredients and have it cover the entire dish for added creaminess and an extra bit of indulgence, if you wish. Enjoy!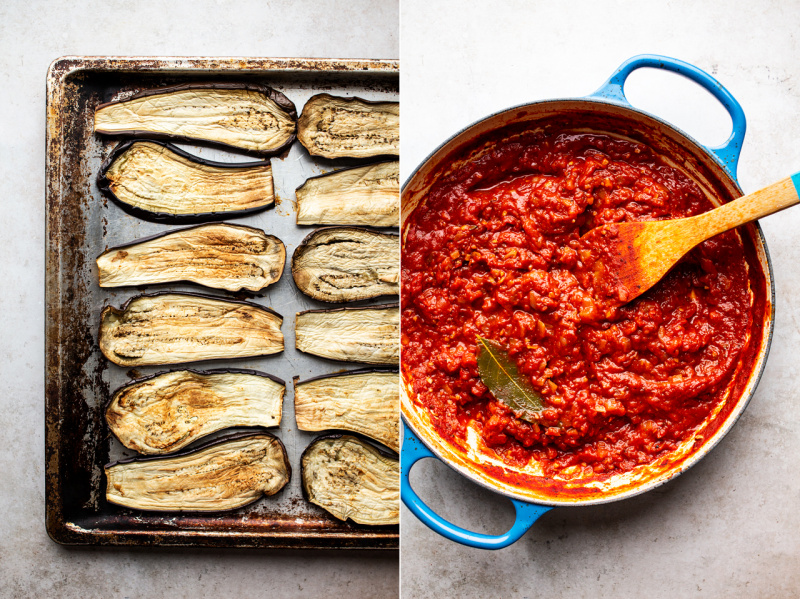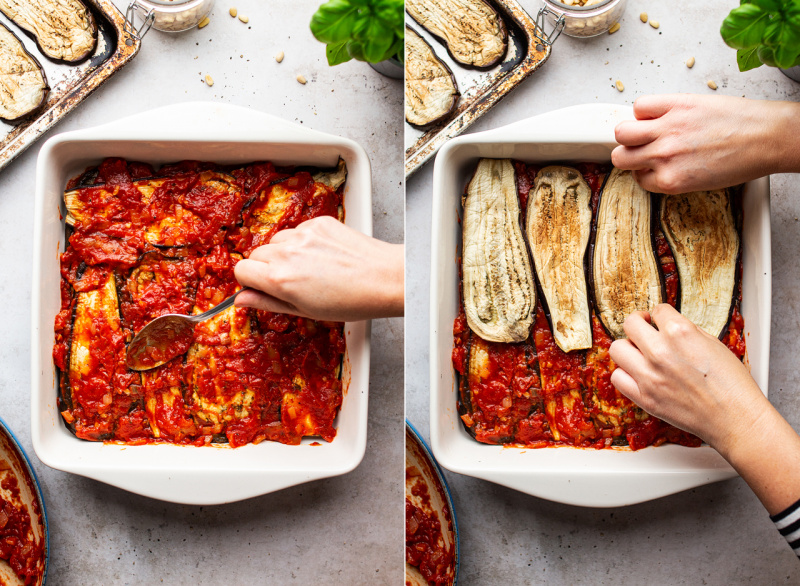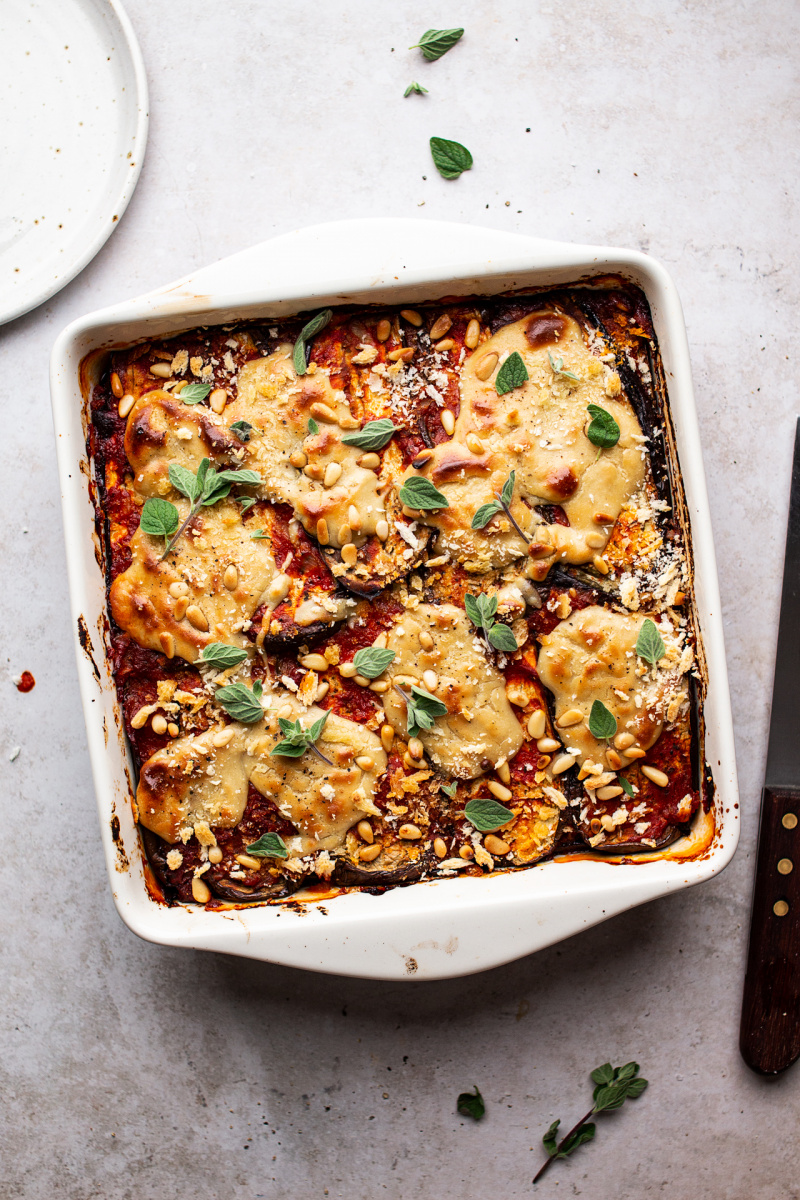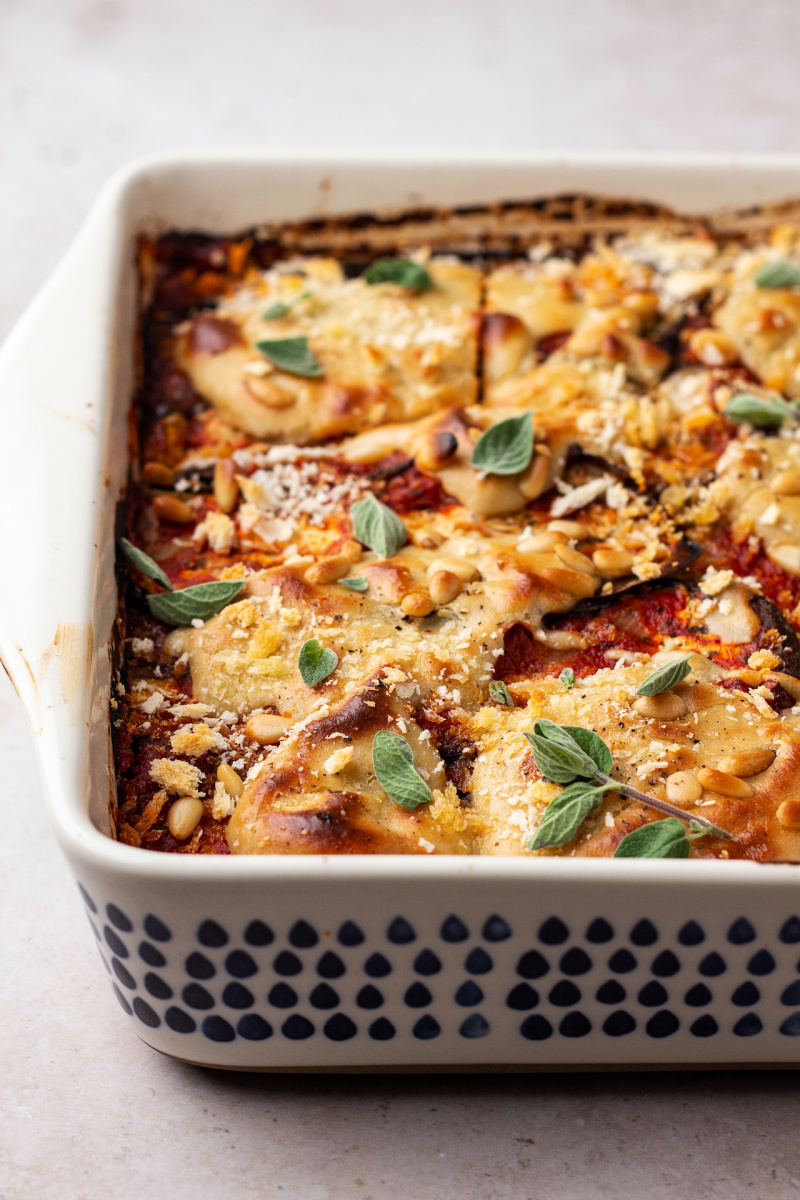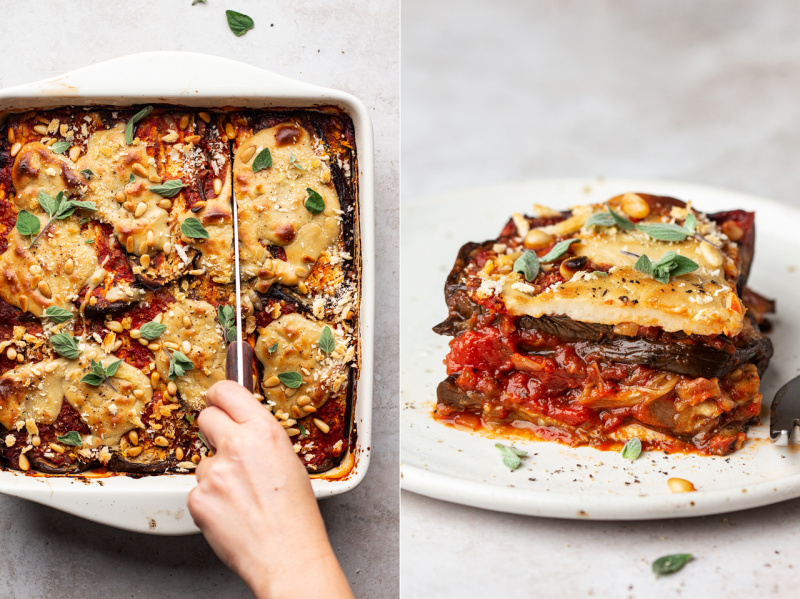 GENERAL INGREDIENTS
8 medium eggplants (approx. 2.5 kg / 5.5 lb)
2 tbsp pine nuts
2 tbsp coarse breadcrumbs (optional)
TOMATO SAUCE
2 tbsp olive oil, more to drizzle
1 very large onion, finely diced
6 large garlic cloves, finely diced
3 x 400 g / 14 oz tins quality plum tomatoes
120 ml / ½ cup red wine
1 fresh bay leaf or 2 dry leaves
2 large stalks of fresh basil
1½ tsp Italian herb mix
¼ tsp chilli flakes (optional)
1 tsp date nectar (I use homemade) or sugar
salt and black pepper, to taste
TOPPING (double the amount to cover the entire dish)
METHOD
EGGPLANT LAYER
Preheat the oven up to 200° C / 390° F and grab a metal (ideally an old-fashioned one rather than non-stick one as I found that the latter one browns them too much) baking tray.
Top the aubergines and cut them into 1.25 cm / 0.5″ slices lengthwise. You may want to discard skin-covered ends (they would work great in vegan meatballs). With regards to salting eggplants, please see NOTES.
Place the aubergine slices on the baking tray (no need to grease them) and into the hot oven for 20-25 minutes, flipping them gently once halfway through the baking time. Bake until they are soft and lightly browned. You'll need to do this in batches or you can bake several trays at once but you will need to bake them a bit longer as increased oven humidity will slow things down a bit.
TOMATO SAUCE
Heat up 2 tbsp of olive oil in a large frying pan.
Add the finely diced onion and fry until translucent and slightly browned, stirring from time to time.
Add in the garlic and fry for another minute or two, until softened and fragrant.
Add in the tomatoes, wine (if using), bay leaf, whole basil stalks, dried herbs and chilli (if using) and 360 ml / 1½ cups of water. Simmer, stirring every 10 minutes, until the tomatoes break down completely and the sauce thickens – about 40 minutes.
Season with salt, date nectar (or sugar) and black pepper. Set aside.
TOPPING
Place the drained cashews and 120 ml / ½ cup of water in an upright blender. Blend until super creamy and smooth.
Add garlic, miso paste, nutritional yeast, lemon juice, salt and pepper. Adjust seasoning to taste.
Finally, add in tapioca starch and blend once again.
ASSEMBLY
Preheat the oven to 200° C / 390° F (no fan) and grab a large baking dish (see NOTES for dimensions).
Spoon a little bit of tomato sauce at the bottom of the dish (remove basil stalks – they've done their job of flavouring the sauce and discard).
Follow with a layer of tightly arranged eggplant slices. Season the eggplants with salt, pepper and some extra dried Italian herbs if you wish.
Follow with another thin layer of tomato sauce and eggplant. Continue until you've used up all of the sauce and eggplant slices, but remember that the top of the dish also needs a smattering of tomato sauce unless you intend to cover the entire bake with cheesy sauce.
Finish off the last layer with dollops of cheesy sauce, drizzle with olive oil (I used 15 ml / 1 tbsp), scatter with pine nuts and breadcrumbs (if using).
Bake for 20 minutes then increase the oven temperature to 220° C / 425° F and bake for a further 5-10 minutes, until the top is nicely browned.
Allow the bake to set for an hour or so before cutting or else the slices will come out messy. Store the leftovers in the fridge for up to 5 days or portion and freeze. Enjoy warm or at room temperature. I like to have this with a big green salad and pan fried potatoes or grilled sourdough bread for a more filling meal.
NOTES
The baking dish I used is a square 25 cm / 9.5″ dish, 6.5 cm / 2.5″ tall.
SALTING EGGPLANTS: Some people advocate salting eggplants / aubergines to draw out the bitterness, but I've forgotten to do that a few times and I totally got away with it. Since then, I've read that the varieties of eggplants grown nowadays don't have any bitterness genes (black rather than white seeds indicate a bitter tasting eggplant apparently). If you do decide to salt yours, apply salt to the slices on both sides (for about an hour) and make sure you rinse the salt off really well and pat all the slices dry before baking.