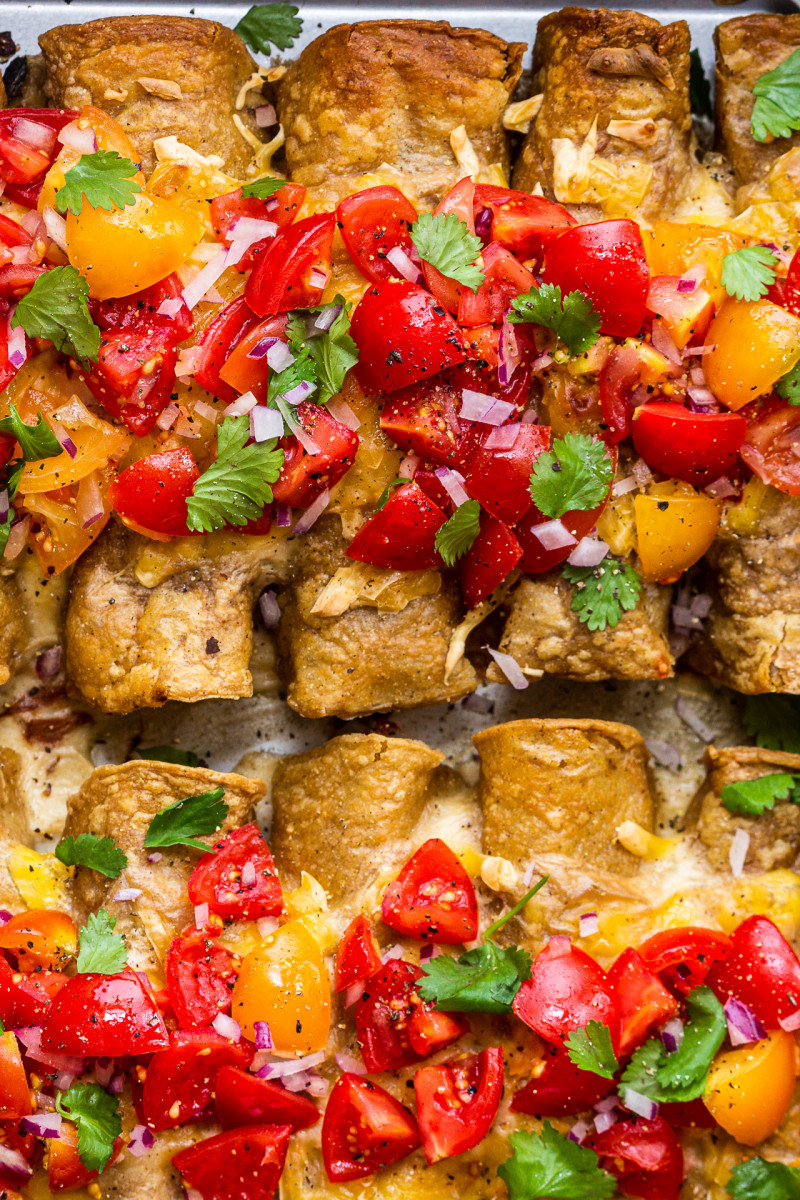 Well summer is truly here now, in fact we are bang in the middle of over a week long heatwave. I am loving this warm weather – it feels like a typical continental summer, but temperatures are forecasted to reach extremes next week, which I don't think anyone is excited about.
Monday and Tuesday are going to be brutally hot in the South of England with London poised to reach 37° C / 98.6 ° F on Tuesday. Bristol of going to be a couple degrees cooler but still unprecedented heat in this part of the world so that's rather worrying.
While I am definitely not putting an oven on at all early next week, today's recipe is a tray of beautifully summery vegan enchiladas that we have been quite fond of lately. They are filled with a smoky jackfruit and black bean filling, topped with some white sauce, shredded vegan cheese and a beautifully colourful cherry tomato salsa for a pop of freshness.
We've been having them with a simple avocado cream on a side, but some vegan cream fraiche or vegan sour cream (I make mine out of cashews) will work beautifully here too.
I like when tortillas get nice and crispy in the oven, which is why I didn't smother them with white sauce all over, only just in the middle. Another thing I did was what Mexican cooks recommend to make sure your enchiladas aren't soggy – I flash fried them in oil before filling and baking. If you aren't keen on this option, you could brush them with little oil and toast them lightly on a hot pan or warm them up in a low oven or a microwave at the very least.
Although this kind of dish, with complex flavours and textures, necessitates quite a few ingredients, the actual process of making these puppies is super simple. Below is a quick run down through some of the key ingredients and a few photos showing you how to assemble this winning summer dish. Hope you'll enjoy it!
MORE ABOUT THE INGREDIENTS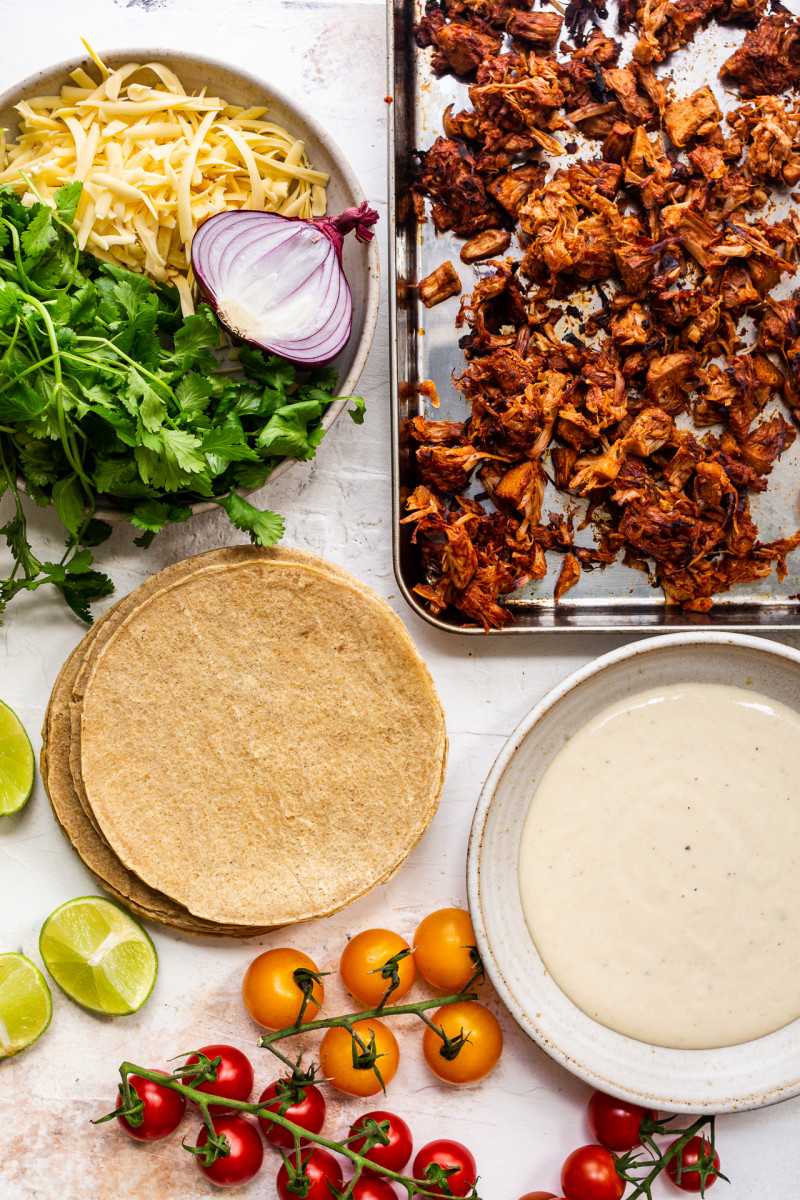 JACKFRUIT – green jackfruit, which has been used to replace meat in South East Asia for centuries, has become a vegan staple in the West now too. Most people can get the tinned version, which happens to be more convenient to use too as it does not require much prep. Make sure you purchase green (aka young) jackfruit, not fully ripe yellow jackfruit which is sweet and is used in desserts. You'll need two tins for this recipe.
CHIPOTLE SAUCE – I used some shop-bought chipotle sauce to season the jackfruit, chipotle version of Cholula sauce is what I like, but I've also tried using Frank's chipotle sauce and they both work well. Adjust the amount to your taste as some of these sauces are hotter than others.
LIQUID SMOKE – I used a small amount of liquid smoke to give the filling intensely smoky flavour, but if you haven't got it, you may want to increase the amount of smoked (sweet) paprika to your taste.
BLACK BEANS – I added some black beans to the filling for extra plant protein and to add another type of texture to the filling, feel free to skip them if you are not a fan.
CORN TORTILLAS – I used 15 cm / 6″ diameter corn tortillas that I bought online but you could make your own if you wish or use regular wheat flour tortillas if you don't care about the dish being gluten-free.
VEGAN CHEESE – I sprinkled some shop-bought vegan cheese on top, but that's totally optional. They are just as nice without it.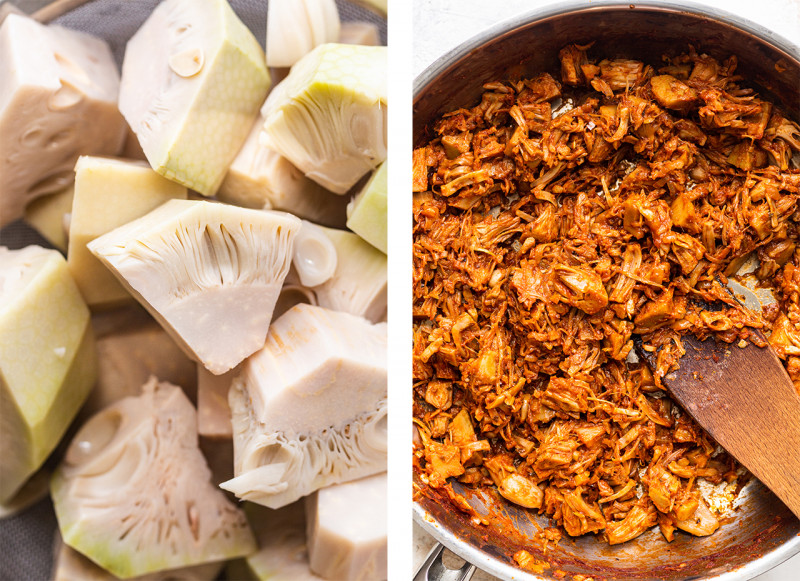 Prepare jackfruit by cutting spongey ends off (you can chop them finely add to the filling), you may also want to remove the seeds – some people do. Simmer prepared jackfruit in a spicy tomato sauce until soft and pliant.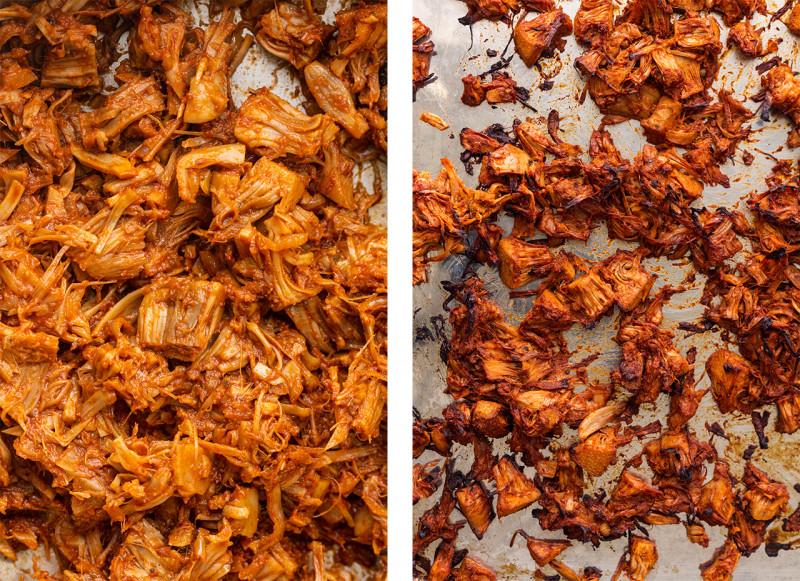 Once the sauce has reduced and jackfruit has softened, store it overnight for best flavour or transfer to a baking tray and bake in the oven to caramelise lightly and intensify the flavours. Baking is optional, but I personally like it better once it's been baked.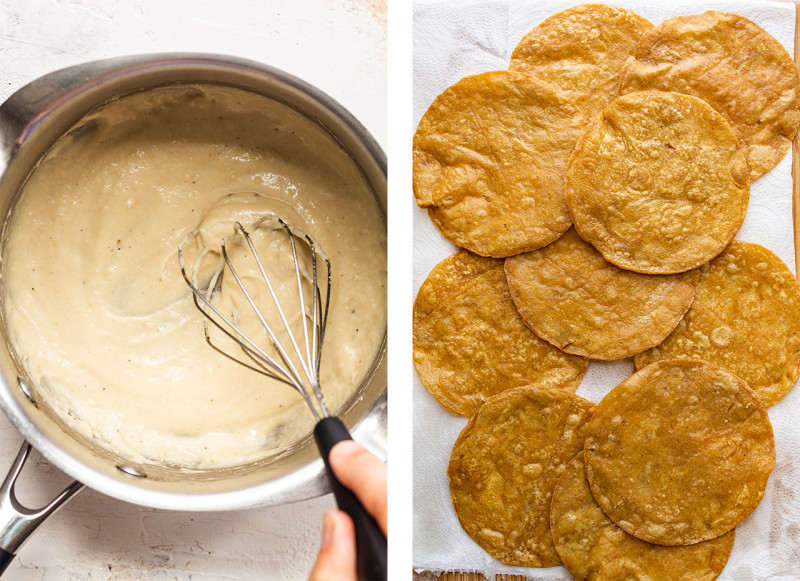 Prepare white sauce and flash fry your tortillas to ensure they don't get soggy during baking. Alternatively, brush each tortilla with a little oil and lightly toast it on a hot pan. If you would rather not use oil, warm them up in a low oven or a microwave instead.
Fill each tortilla with the jackfruit filling, roll it up and place in the baking tin (steam down) on a thin layer of the white sauce you made earlier.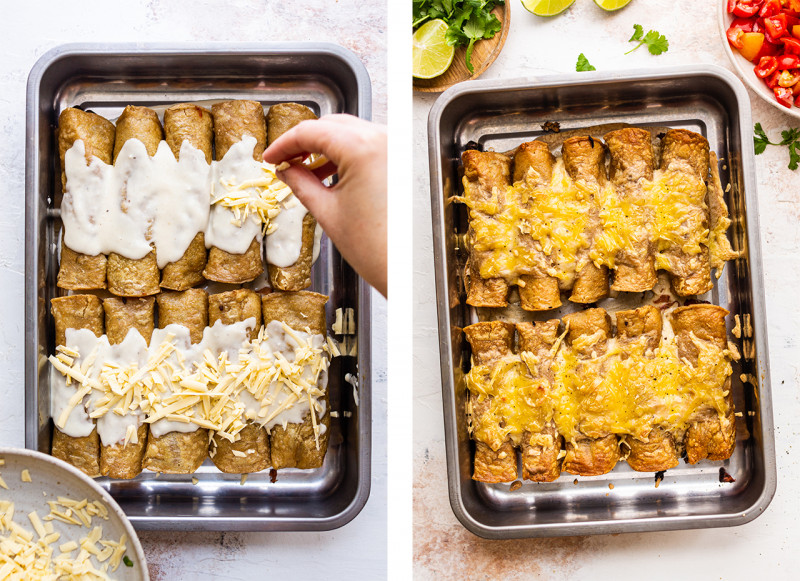 Once you've arranged all your filled tortillas, spoon the rest of the white sauce on top (keep it in the middle for crispy edges) and sprinkle with shredded vegan cheese if you like.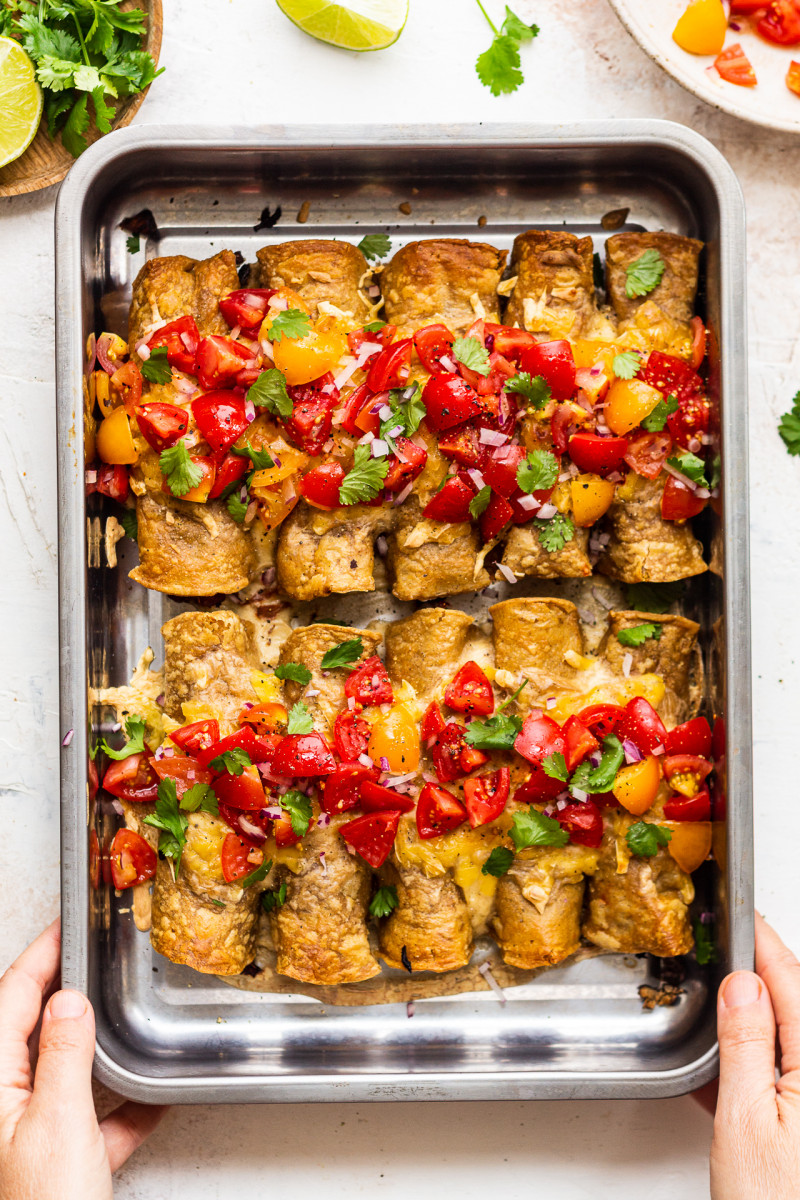 Once baked, serve with a fresh tomato salsa on top and with an optional side of avocado cream or vegan sour cream.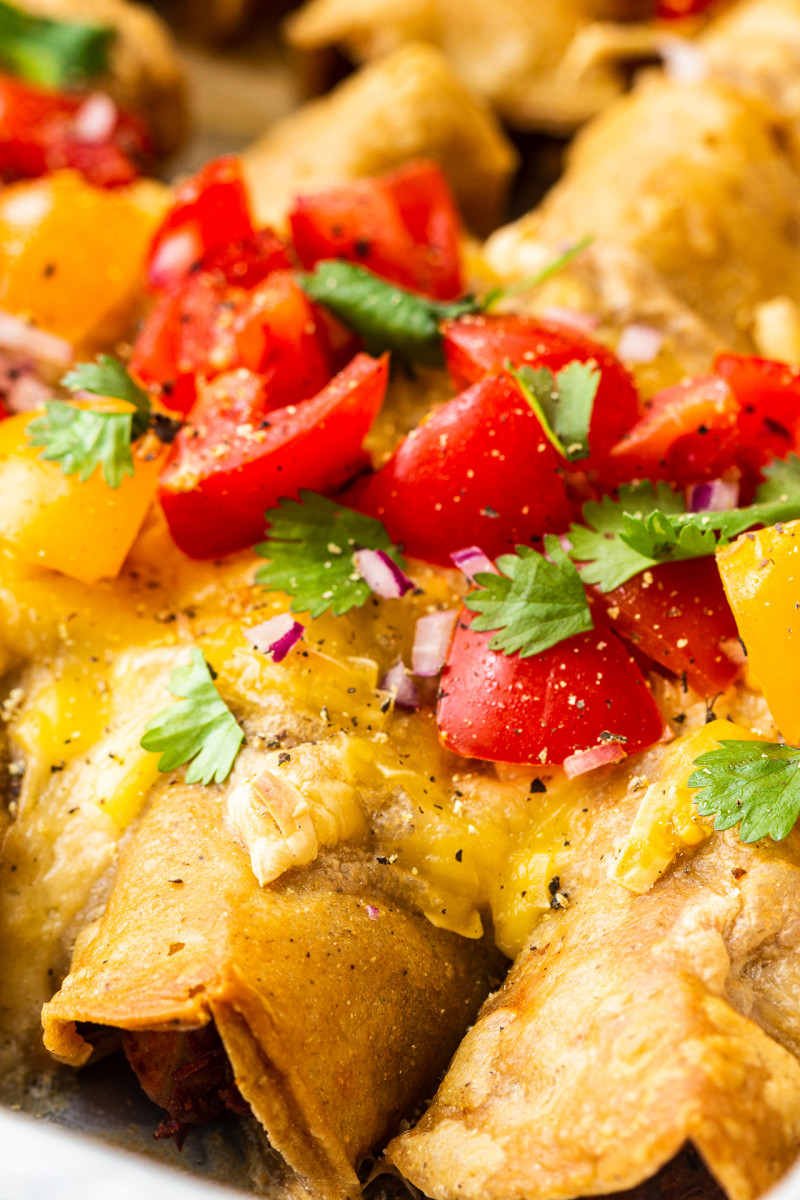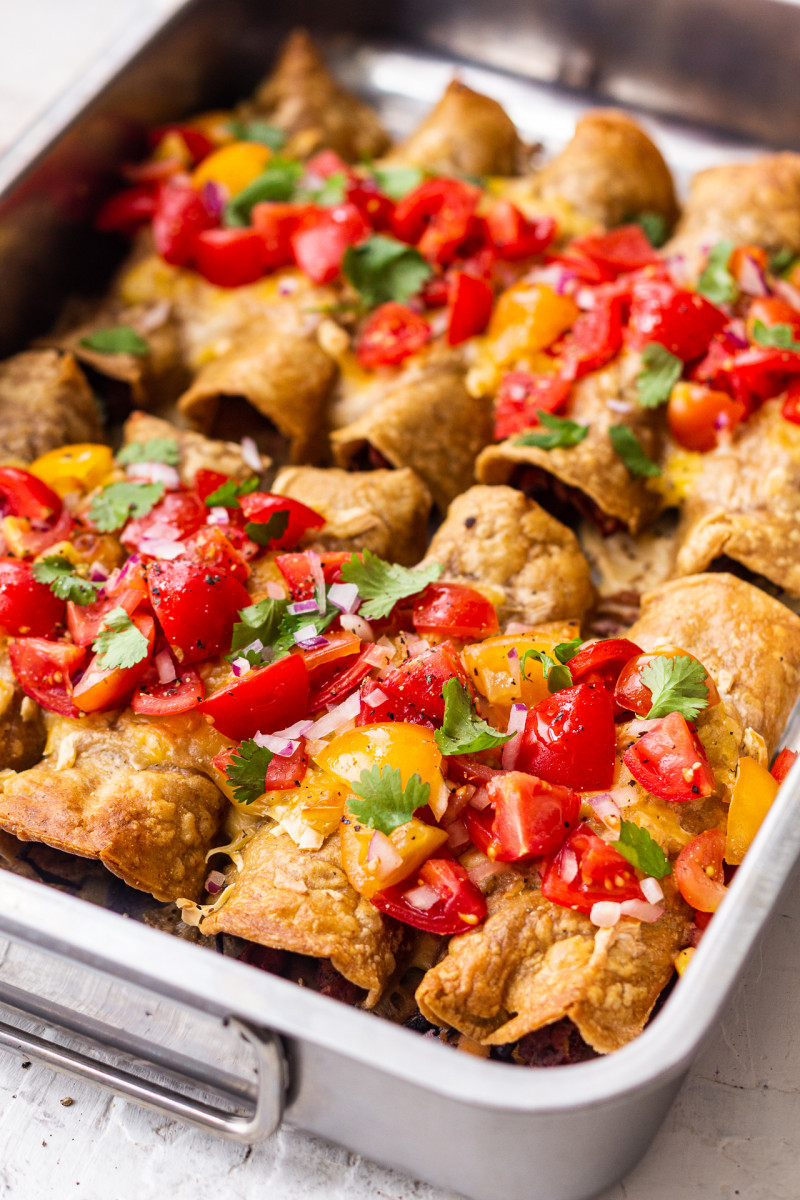 FILLING (for best flavour, make a day ahead)
2 x 565 g / 20 oz tins young (green) jackfruit in water
30 ml / 2 tbsp olive oil
1 onion, finely diced
6 cloves garlic, finely diced
1 tsp oregano
1 heaped tsp ground cumin
1 heaped tsp smoked paprika
¼ tsp cinnamon
2 pinches ground cloves, adjust to taste
200 g / ¾ cup tomato passata
30 ml / 2 tbsp chipotle sauce (like Cholula or Frank's)
30 ml / 2 tbsp soy sauce
15 / 1 tbsp maple syrup
½ tsp liquid smoke*, adjust to taste
salt & pepper, to taste
120 g / ¾ cup cooked black beans (optional)
WHITE SAUCE
20 ml / 1½ tbsp light olive oil
15 g / 1 tbsp flour, AP flour or chickpea flour (if GF)
¼ tsp garlic powder
¼ tsp onion powder
1 tbsp nutritional yeast
240 ml / 1 cup almond, soya or oat milk
salt & pepper, to taste
55 g / 2 oz vegan cheese, grated (optional)
TORTILLAS
SALSA
15 ripe plum tomatoes
¼ small red onion, very finely diced
2 tsp lime juice
½ tsp sugar
a handful of coriander, well chopped
salt & pepper, to taste
METHOD
FILLING (for best flavour, make a day ahead)
Drain the jackfruit. Cut the spongey, pointy ends off each piece of jackfruit – you can chop them up and use if you wish, but its texture is not as nice as the rest. Set aside.
Heat up olive oil in a large heavy-bottomed, pan. Add diced onion and garlic and fry gently (on low heat) until the onion is translucent and the garlic soft and fragrant.
Add dry herbs and spices: oregano, cumin, smoked paprika, coriander, cinnamon and cloves to the onion-garlic mixture. Fry them off on a very low heat, stirring the whole time, for a minute or so.
Add in jackfruit, tomato passata, hot sauce (adjust the amount to your heat tolerance), soy sauce, maple syrup, liquid smoke and a generous amount of seasoning. Stir everything together and add 400 ml / 1.5 cup of water.
Simmer the mixture gently for about 30 minutes, stirring from time to time, until jackfruit fibres have softened (give them a little squash with a fork to tease apart) and all of the excess moisture has cooked out.
Adjust the seasoning to taste and if making the mixture a day head, allow it to cool down before refrigerating overnight.
OPTIONAL: I like to caramelise my jackfruit filling in the oven after simmering. I spread it on a baking tray and bake in a to 200° C / 390° F (fan function) oven for about 20-25 minutes, until a little browned. I give everything a good stir half way through the baking time. You could do that in advance or just before filling the tortillas.
If using black beans, stir them through the jackfruit filling before filling the tortillas.
WHITE SAUCE
Slowly heat up olive oil in a medium stainless steal saucepan. Once the oil starts to shimmer, whisk in flour. Keep whisking until the mixture is super smooth. Allow the mixture to bubble gently for a few minutes so that there is no raw flour taste in your béchamel, but make sure it doesn't brown.
Slowly pour in plant milk while whisking the whole time. Initially the mixture may thicken really quickly and look a bit lumpy – don't worry, it will recover once all the milk has been whisked in.
Once the mixture looks homogenous and smooth, whisk in nutritional yeast, garlic and onion powders and season to taste.
FRYING TORTILLAS (OPTIONAL)
Heat up 60 ml / ¼ cup of frying oil (I used grapeseed) in a small (your tortilla size) pan and cover a surface, next to your pan, with a double layer of paper kitchen towels.
Once the oil starts to shimmer, using kitchen tongs place a single tortilla in the hot oil and flash fry it for 15 seconds on each side. Drain on the prepared kitchen towels. Continue until you've prepared all of the tortillas in this way.
SALSA
Chop tomatoes into small pieces – I cut them into eights and then cut the eights in half width wise. You could deseed them first to make the salsa less watery, but I didn't bother.
Place chopped tomatoes in a bowl with the onion and coriander. Season wit lime juice, sugar, salt and pepper. Set aside.
ASSEMBLY
If you don't want to fry your tortillas, brush them with little oil and toast lightly on a hot pan to prevent them from cracking or stack them, wrap in baking paper and warm them up in a low oven (or a microwave) at the very least.
Preheat the oven to 200° C / 390° F (without fan).
Spread half of the white sauce at the bottom of the baking dish.
Fill each tortilla the filling by placing the filling in the middle and rolling the tortilla around it. Arrange filled tortillas, in two rows (see photos), on the white sauce.
Spoon the rest of the white sauce on top of the filled tortillas – I like to spread it only in the middle so that the edges get nice and crispy – and sprinkle with shredded cheese, if using.
Bake for about 20-25 minutes, until tortillas look crispy and bechamel looks browned in places or (if you used it) cheese looks melted. I like to increase the temperature by 20° C / 40° F for the last 10-15 minutes if things aren't browning as much as I would like.
NOTES
*If you don't have liquid smoke, you could increase the amount of smoked paprika instead.