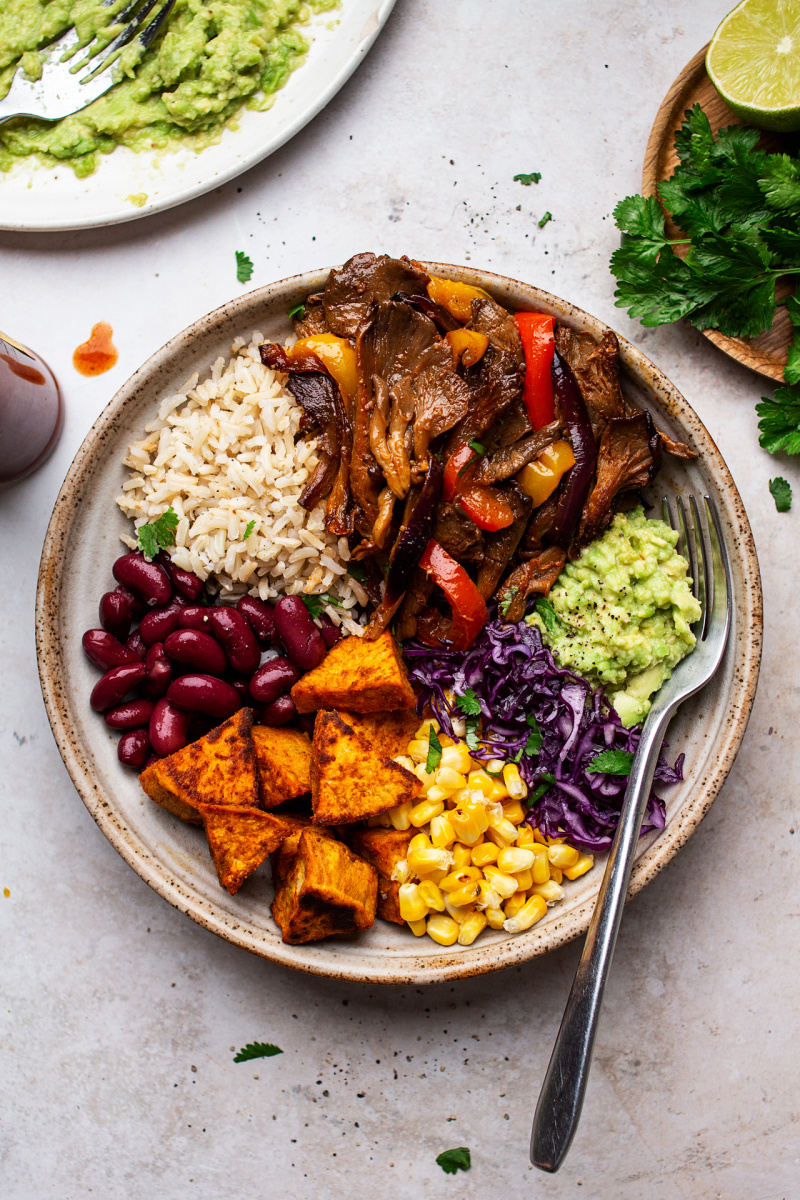 Hope you are having a good week, guys? I'm still ploughing on with my rental flat renovation and while some days feel like I'm winning – yesterday was a very good day, on others the progress is painfully slow. Like today when big chunks of my wall came off as I started pre-painting prep and set me back massively… Oh the joys of Victorian conversions! I am just over 2 weeks in and I am working towards going back home on 8th of November, by which point I will have been at it for almost a full month. I cannot wait to be home, I miss Duncan and 'Miss Four Paws' and my own bed!
In the meantime, here is a nutritious lunch bowl idea that I prepared for you while still at home. This is based on the easy vegan fajitas recipe I posted back in August. While I love having this aromatic fajita filling in soft corn tortillas, I am not always in a position (or in the mood) to make them so often I just make the filling on its own and then combine it with other elements for a deliciously satisfying, yet quick and fuss-free, lunch bowl.
This is of course very flexible, but I like to include some brown rice, spiced baked sweet potato, tangy avocado mash, creamy red kidney beans, charred sweetcorn and a super simple red cabbage slaw with plenty of coriander. This vegan fajita bowl is so easy to put together, so full of colour and texture that it will keep you satiated for hours. It is also fantastic for batch prep, in fact, I tend to double the amount of filling so that I can stop wondering 'what shall I make for lunch' for a few days. I hope you'll enjoy it too!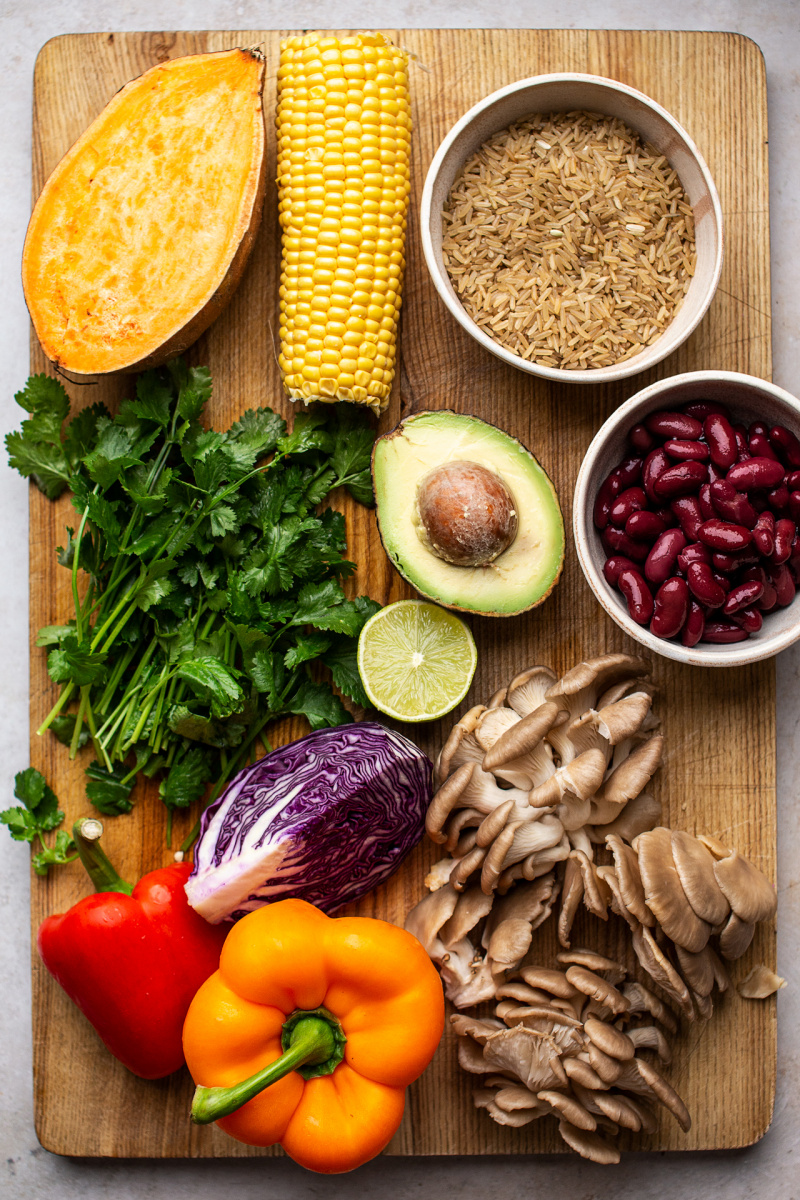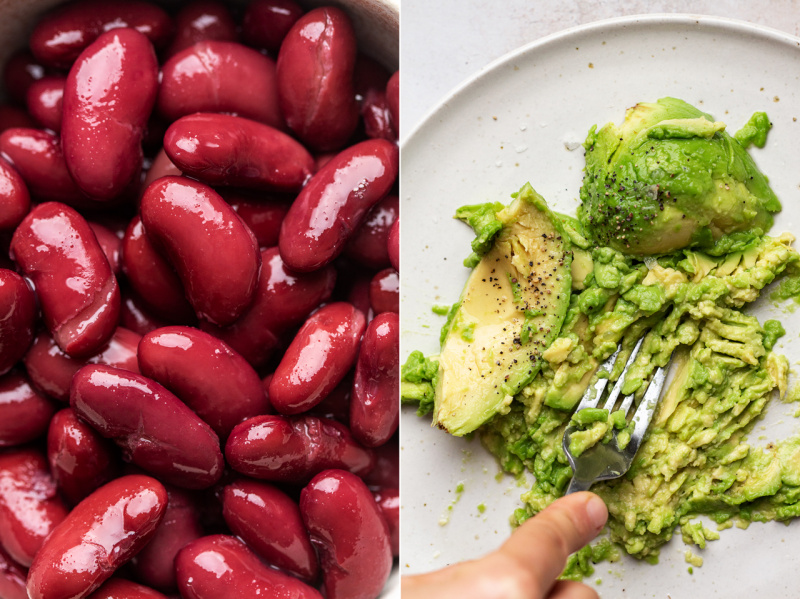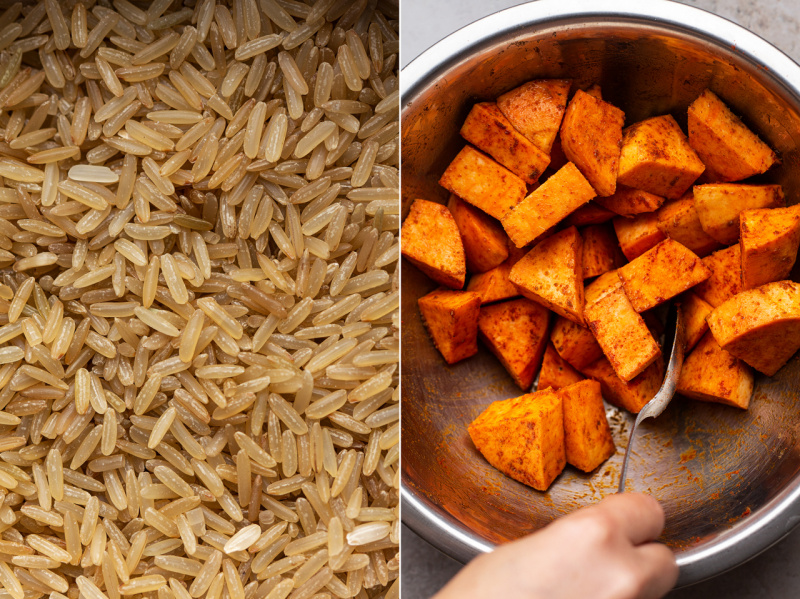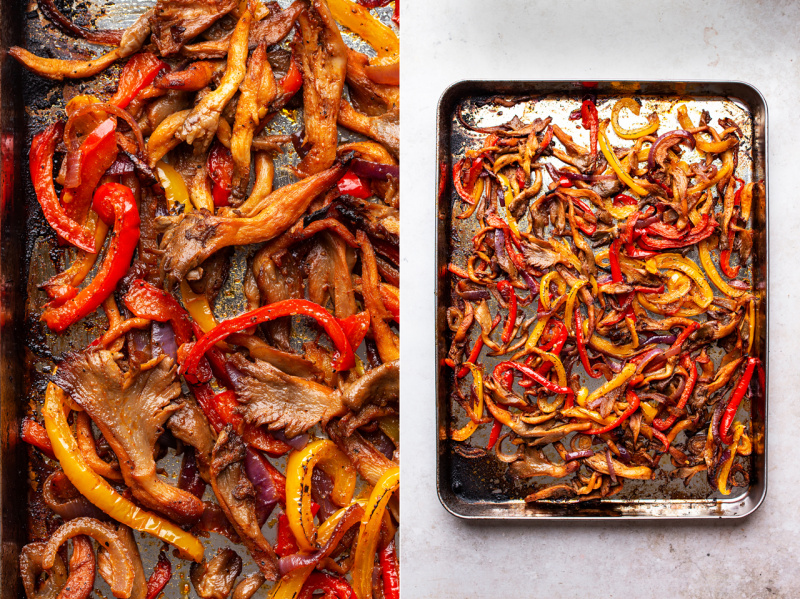 1 portion of easy vegan fajita filling (recipe here)
2 small sweet potatoes, cubed
olive oil
salt and pepper
1 tsp smoked paprika
1 tsp cumin
¼ tsp cayenne pepper
1-2 ears of corn or a tin of corn
1-2 ripe avocados
2 limes
small bunch of coriander, finely chopped
a wedge of red cabbage, finely shredded
a tin of red kidney beans, drained
1 cup brown rice or quinoa, cooked
METHOD
Prepare mushroom / vegan fajita filling as per this recipe.
Preheat the oven to 220° C / 425° F and coat cubed sweet potatoes in 15 ml / 1 tbsp of olive oil, season with salt, smoked paprika, cumin and cayenne pepper.
Spread on a large baking tray and bake for about 30 minutes, flipping the pieces to the other side half way through.
If using corn on the cob, brush the kernels with a small amount of oil and char them on a griddle pan, turning the cobs every few minutes.
Smash avocado with a fork, season with lime juice, salt and pepper.
Dress shredded cabbage with a small amount of olive oil, sprinkle with lime juice and stir coriander through it. Season with salt and pepper.
ASSEMBLY
Divide all of the ingredients between four bowls or assemble one bowl and store the rest of the ingredients in airtight containers, in the fridge, and assemble throughout the week as needed.
NOTES