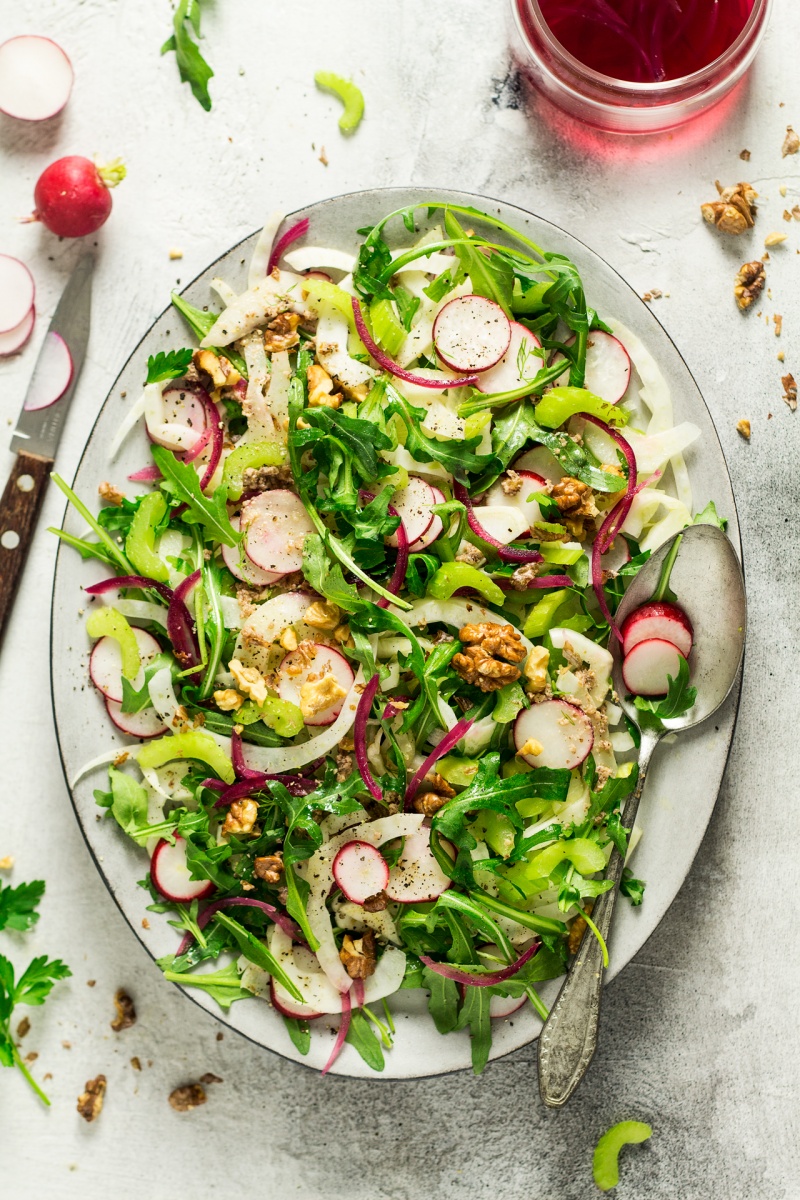 After the indulgence of Friday's lemon drizzle cake, it's time for a big green salad, guys! I'm one of those lucky souls that happens to like salad (imaginative salad, may I add – not the iceberg lettuce, anaemic tomato and cucumber kind, mind you). If my meal isn't accompanied by a decent portion of salad or greens, I have this nagging feeling that something is missing. I'll admit, I also have trouble understanding people who dislike vegetables.
I have my mum to thank for that as she, a bit of a salad queen in our house, has rammed it into my brother's and my head that eating veggies is a thing. Unless I finished my entire meal, even the dreaded mushy garlicky spinach, I wasn't getting as much as a sniff of a dessert, nothing at all, nada! As much as I tried to rebel, it simply wasn't going to fly…and not having a dessert was the greatest punishment of all, so I was not going to risk that happening. Little by little eating veggies has become a habit and now I find that I crave them.
Today's salad is made up of stuff that I had lying around in my kitchen. I was planning to go shopping for this recipe, but then I decided that I shall not be adding to the pile of vegetables, which was already threatening to die on me if I didn't put it to use. I am a bit of a food hoarder at heart (I get way more excited than is socially acceptable by beautiful fruit and veg) and my eyes are bigger than my stomach (true fact) and I hate waste – what a great combo of character traits, eh. It's a good job I don't have to put up with myself, like, all the time! So I often tend to buy way too much perishable food and then I almost kill myself trying to preserve it all and ram it into my creaking fridge.
This salad is a crunchy little number made up of fennel, celery ribs, radishes, rocket and pickled onion tossed in a toasted walnut dressing that steals the show. It's crunchy, fresh and perfect for this almost (if not for the overcast skies today) spring-like weather. Enjoy!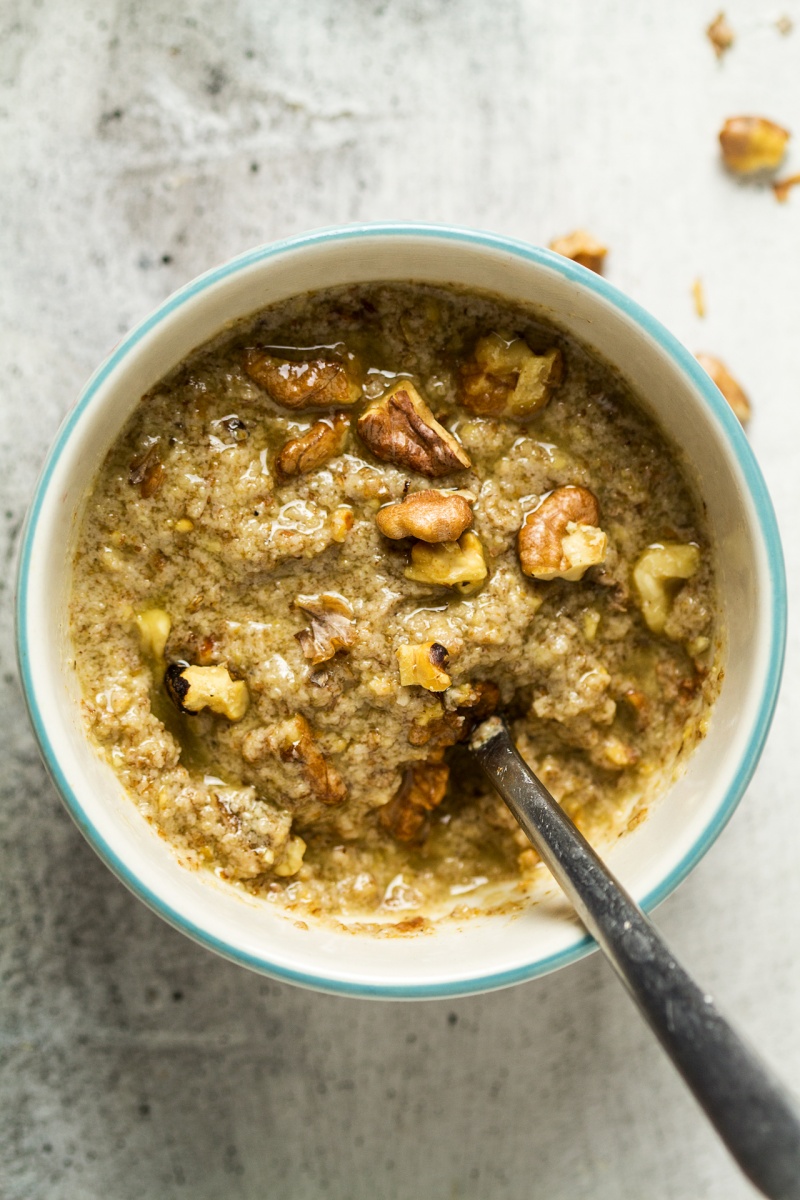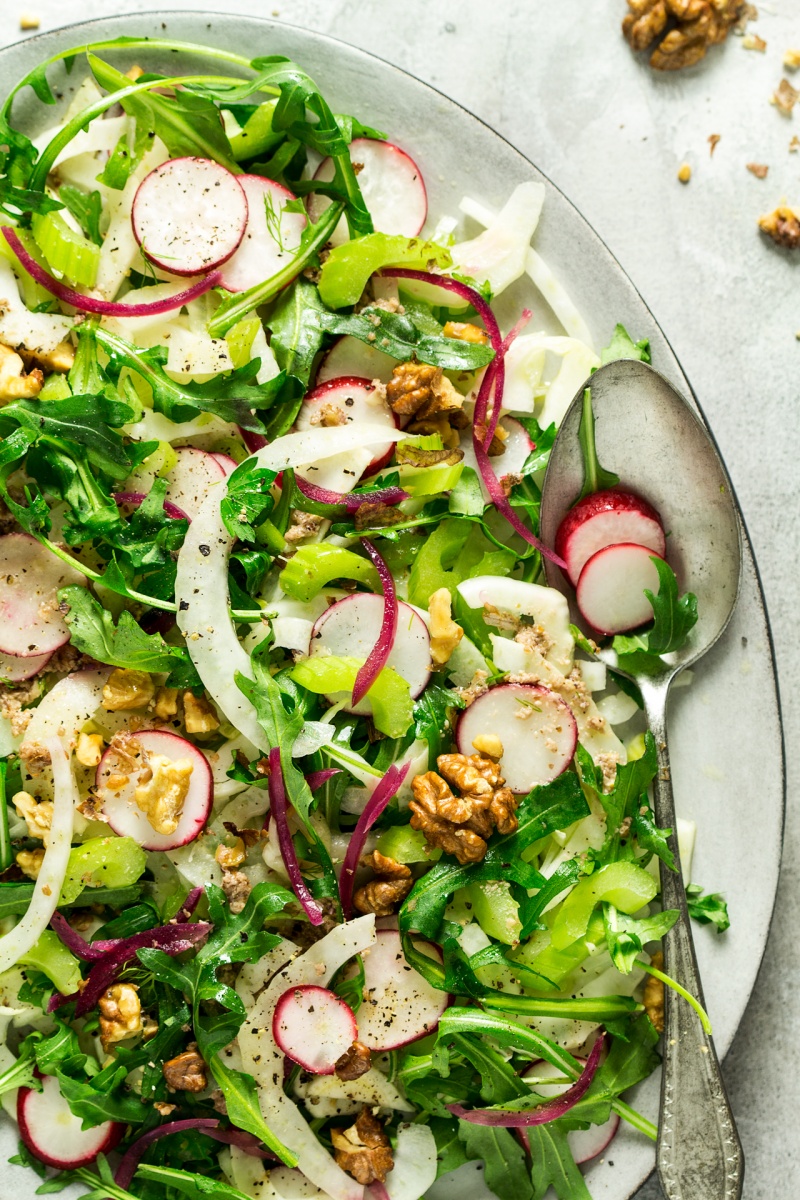 DRESSING
120 g / 1 cup walnuts
4 tbsp lemon juice or apple cider vinegar
1 garlic clove, fresh or roasted (for a mellower taste)
2 tbsp walnut oil or extra virgin olive oil (SEE METHOD for an oil-free alternative)
2 tsp wholegrain mustard, adjust to taste
1 tsp maple syrup, adjust to taste
salt, to taste
SALAD
1 medium fennel bulb
4 celery ribs
10 radishes
50 g / 2 oz baby rocket / arugula
¼ red onion, sliced finely, fresh or pickled*
fresh parsley
salt and pepper, to taste
METHOD
DRESSING
Toast the walnuts on a hot pan, stirring them frequently as they burn easily. Alternatively, you could toast them in the oven at 180° C / 355° F for about 8 minutes – keep on checking on them towards the end of the baking time as they can go from toasted to burnt extremely quickly. Allow them to cool down.
Place ¾ of the walnuts in a food processor (save the rest for sprinkling on top of the salad) and process until smooth with lemon juice and garlic. Slowly drizzle in the walnut oil while the food processor is running. Season with mustard, maple syrup and salt to taste. Add about 2-3 tsbp of water (or oil if you're not worried about oil intake) to thin.
If you would rather not have any oil, I recommend tripling the amount of walnuts (or using a shop bought roasted walnut butter) and turning them into a walnut butter in your food processor (it's super easy and you don't need a high-tech machine – see this base recipe) – that way the walnuts release their natural oils and get all creamy. Use a portion of the walnut butter for the dressing, season as per the instructions above and thin with a little water if needed.
SALAD
Slice the fennel bulb, celery sticks and radishes very thinly using a sharp knife or a mandolin.
Place all the veggies (including the rocket / arugula) in a mixing bowl and stir some of the walnut dressing through them (you will have some leftovers).
Pile the salad on a serving plate. Sprinkle with pickled onion strands, chopped parsley, crushed leftover walnuts and freshly ground black pepper.
NOTES
*You could use raw onion if you wish. I quick-pickled mine by bringing 60 ml / ¼ cup of apple cider vinegar, 60 ml / ¼ cup of water, 1 tbsp of sugar and ½ tsp of salt to the boil. Once the pickling liquid came to the boil, I poured it over my finely sliced onion and let it stand for an hour or so.
My dressing is adapted from this recipe.