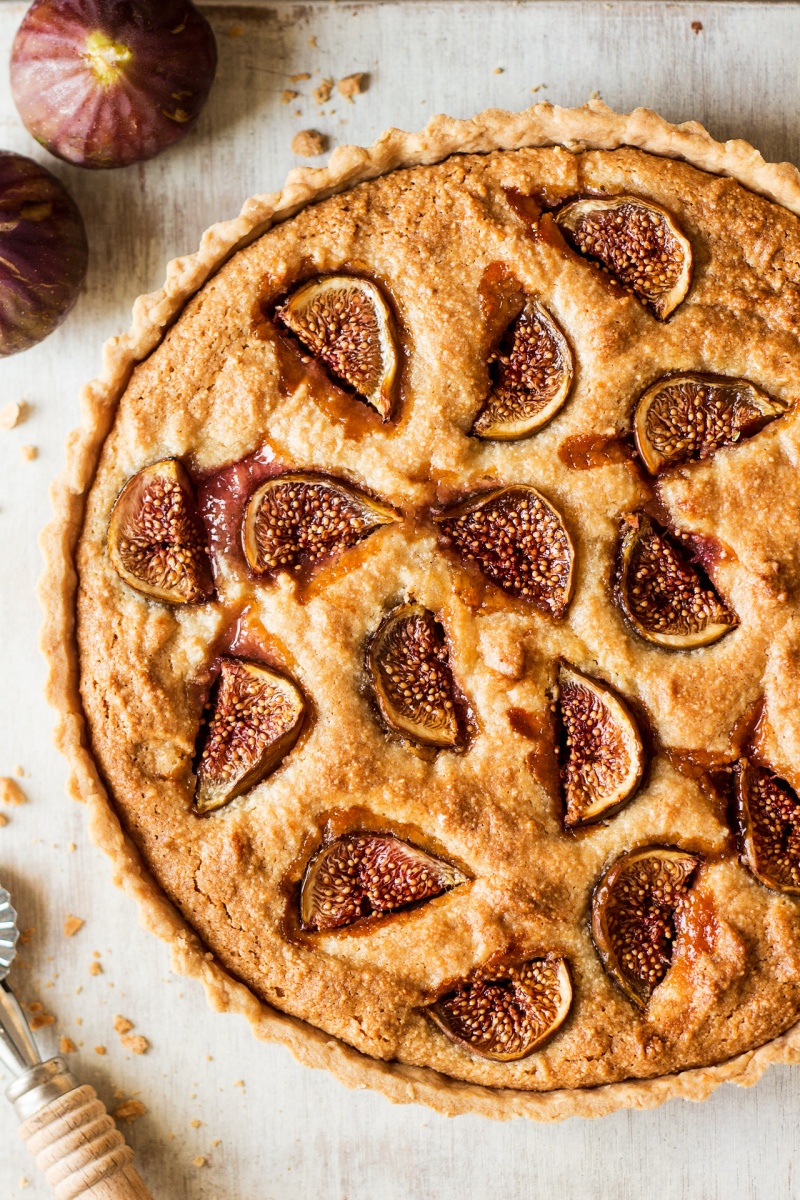 I'm terribly sorry for leading you astray AGAIN, but you have to try this vegan fig frangipane tart as it's delicious. Even better, make it and share it with someone who thinks that veganism is about deprivation and sacrifice and see how deprived they feel 😉 .
I'm pleased to say that the original, made with a prolific amount of butter and eggs, has nothing on this plant-based version. The crust is 'buttery' and deliciously crumbly. The filling is beautifully fragrant, oozing sweet, juicy figs, crispy on top, soft in the middle and totally indulgent.
At first glance, this recipe may look way too complex and strenuous to make. Please don't let that get in the way of your dessert hour and let me explain.
I've provided two versions for the pastry: regular and gluten-free, plus two versions for the filling. One is made with plain old caster sugar and one is made with maple syrup. The reason is that I don't want anyone to miss out on this French-inspired beauty and I know that some of you are keen to avoid refined sugar.
I have not tried any other configurations, but I am pretty sure any gluten-free flour mix will work for the pastry so you don't need to use buckwheat flour per se, although I am personally keen on the subtly nutty flavour it brings to the table, especially when combined with maple syrup.
This tart has been a roaring success in my house and amongst Duncan's yoga classmates too as he shared a few pieces with them as a post-yoga treat (cake-asana). They were very happy to oblige, apparently. I was doubly happy – happy to hear that it went down so well and happy that it didn't all end up in my belly 😉 , which is always a challenge when you blog about food for a living.
As you can probably tell, I really enjoy making desserts. I have this fantasy that one day I will open a little coffee shop, which will only serve vegan pastries and cakes but no one will never know they are vegan (unless they ask 😉 ) as I reckon there is still a lot of prejuice around vegan food.
I simply love it when the information people's tastebuds send to their brain clashes with their preconceived idea of what they think a vegan cake would taste like, for example. And then the questions start pouring out: 'so there are no eggs in that?' No, but I'm taking it as a compliment.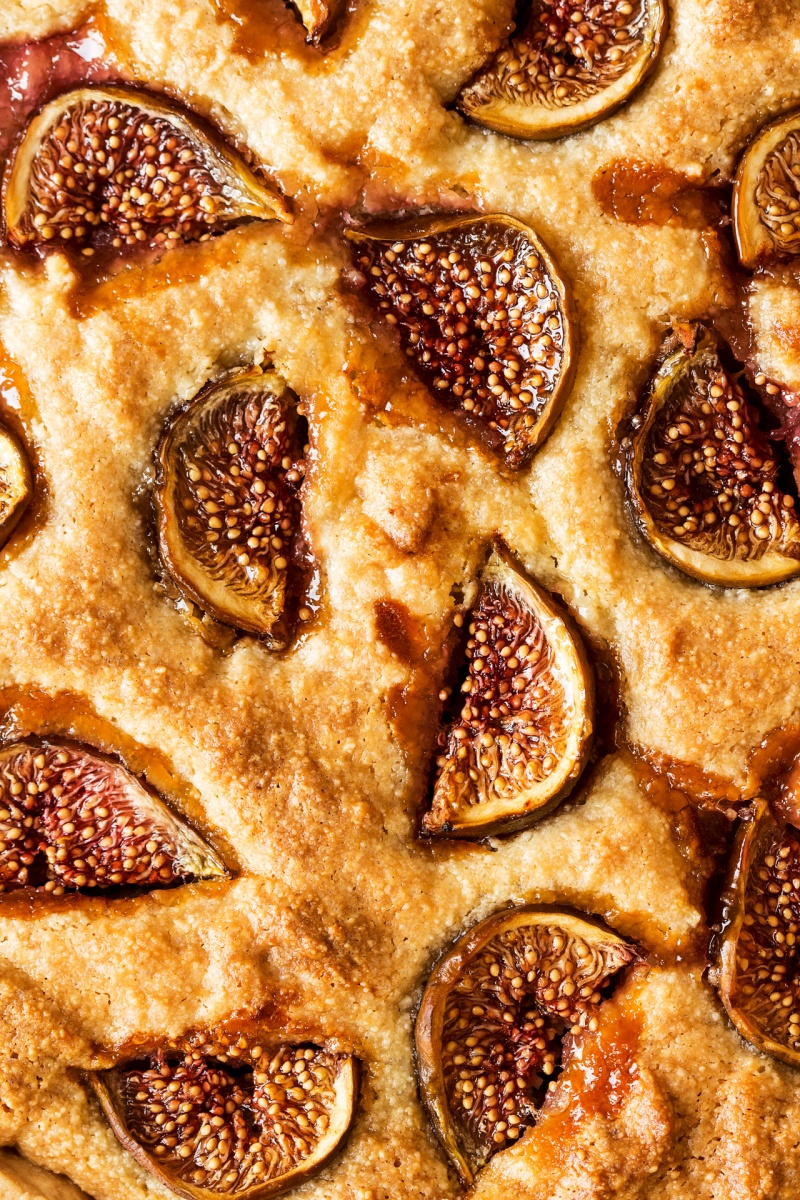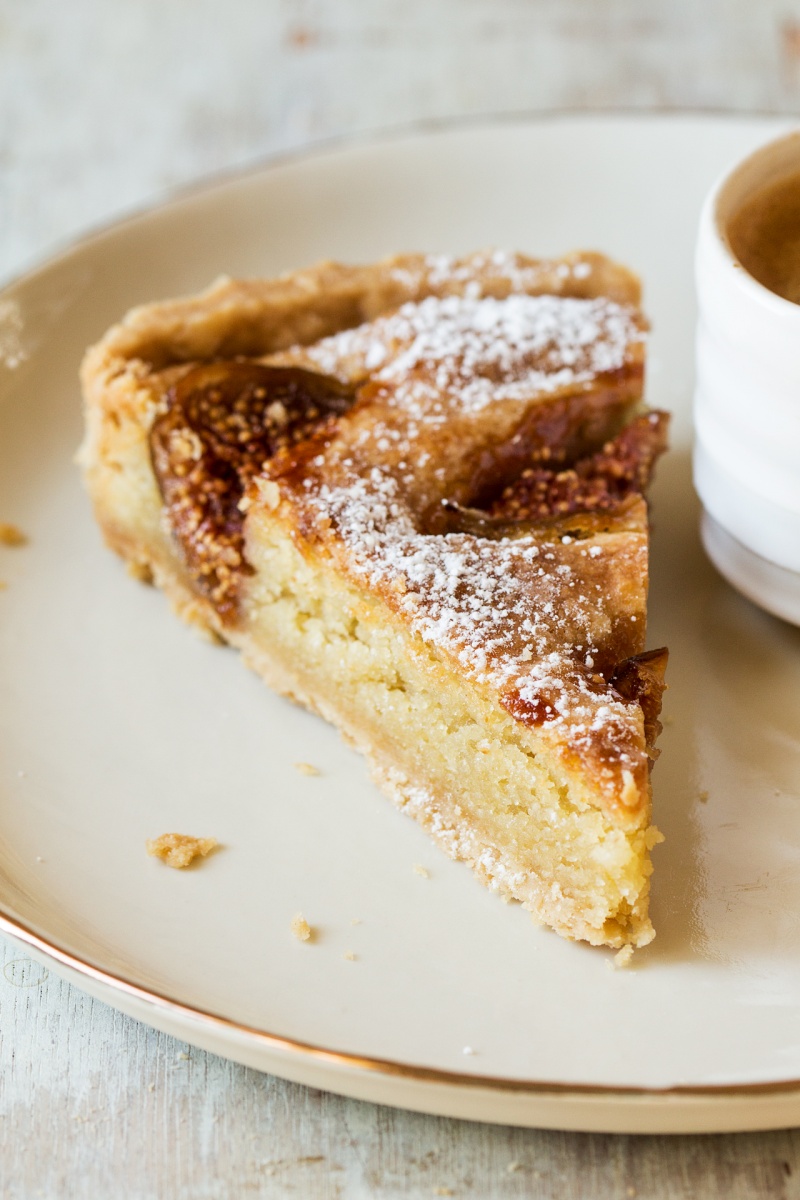 PASTRY
GLUTEN-FREE PASTRY
FRANGIPANE FILLING
80 ml / 1/3 cup mild olive oil
115 g / ½ cup + 1 tbsp caster sugar OR maple syrup
35 g / ¼ cup plain flour OR rice flour (for GF version)
90 ml / ¼ + 1/8 cup aquafaba homemade / from a tin**
240 g / 2½ cups almond meal OR finely ground almonds***
½ tsp almond essence
zest of 2 unwaxed lemons or oranges
4 figs, cut into quarters or slices
METHOD
PASTRY CASES
Combine flour, icing sugar, (plus cornstarch and xanthan gum if making GF pastry) in a large bowl. If using maple syrup instead of icing sugar, don't add it just yet. Add the softened coconut oil and rub it into the dry ingredients with your fingers until your flour looks like breadcrumbs and there are no lumps of coconut oil left.
If you are using maple syrup, add it now and the chances are that you will not need to add any water to bring the dough together. If using icing sugar, add cold water – be careful, do it gradually – how much water you'll need depends on how absorbent your flour is. I added about 4 tbsp / ¼ cup. Combine all the ingredients into a dough gently, but do not knead (that's important for the gluten version) or the pastry will be tough. Wrap it up in a piece of cling film and chill in the fridge for 30 minutes.
Remove the dough from the fridge and roll it out between two sheets of baking paper until you get a circle large enough to cover your entire tart case, about 2-3 mm in thickness. Place the rolled-out dough over a tart case and gently line the inside of it with the pastry. Tuck the pastry in well, ensuring that it fits snugly into all the nooks and crannies. Trim the excess pastry with a sharp knife and patch any holes with the cut-off excess. If making gluten-free pastry (which tends to be more crumbly), you may be better off placing the crumbled pastry in the tart case and simply moulding the pastry with your hands to the shape of the tart tin – you do not need to worry about overworking the pastry as it contains no gluten.
Pierce the bottom of the pastry with a fork in a few places and chill the pastry-lined tart case in the fridge for about another 60 minutes.
45 min into pastry chilling time, preheat the oven to 175° C / 350° F. Line the pastry case with a large piece of crumpled baking paper and fill with baking beads or rice for a blind bake.
Blind bake the pastry for 15 minutes. Remove the paper and beads and bake for another 10 minutes.
FILLING
While the pastry cases are baking, prepare the filling. Cream oil and sugar (or maple syrup) with an electric whisk. Next, whisk in the flour. Add aquafaba, one tablespoon at a time. Whisk well after each portion of aquafaba.
Finally, gently fold in the almond meal, zest and almond essence with a spatula. You should end up with a thick batter (it will be a bit less thick if you used maple syrup instead of sugar).
Fill the pastry case with almond frangipane and use a silicon spatula to spread the filling evenly. Place the fig quarters on top – don't worry about them sticking above the level of the filling – the filling will rise during baking a fair bit.
Bake the tart for about 50-60 minutes, until the filling is nicely browned. I found that the maple syrup filling tends to take a little longer in the oven (by 10 minutes or so). Remove from the oven and allow the tart to cool down before removing it from the tin and cutting it into slices. The top will crisp up nicely as the tart cools down.
NOTES
*You can use olive oil instead, but I found that refined coconut oil renders the pastry a bit more delicate. A good tip I've picked up from an amazing vegan chef,
Isa Chandra Moskowitz
, is to place olive oil in a plastic container and freeze for about an hour before making the pastry. It should look "opaque and congealed but still somewhat soft, like the consistency of slightly melted sorbet." Rub frozen oil into the flour mixture until the flour looks 'pebbly', then proceed as per the instructions above.
**For this particular application, aquafaba should be as close as possible to an egg white consistency so I recommend making it yourself, from dry chickpeas – here is how. If you would rather use aquafaba from a tin of chickpeas, pour it into a pot and reduce on the stove by about 2/3. Cool before using to achieve a thick, gelatinous aquafaba.
***To make almond meal, grind skinned almonds (or whole) in a food processor or a coffee grinder (the latter will give you a finer grind). Be careful not to overblend as almonds will start releasing their natural oils and start turning into butter. Sift the ground almonds through a fine sieve and grind whatever is left on the sieve again until fine. If you don't have a coffee grinder, a food processor will do a decent enough job, although the filling will be a little bit coarser. Instead of almonds, you could also use pistachios.