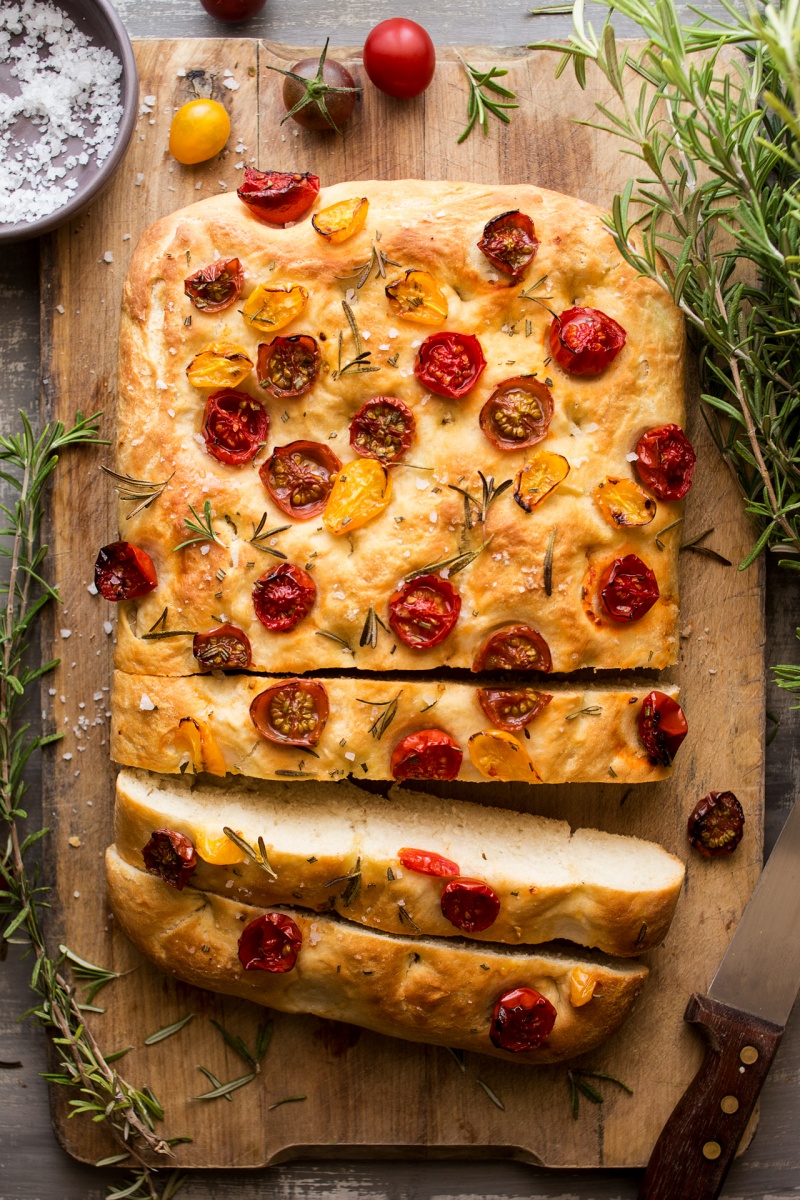 Sometimes you search for the right ingredients to create standout recipes, but for today's recipe the delicious ingredients found us. This focaccia is a celebration of multi-coloured cherry tomatoes and fragrant fresh rosemary.
It all started when we were at the local mini supermarket buying food for our ever hungry cat. We noticed a small box of wonderful looking mauve and yellow cherry tomatoes from the nearby organic farm. "We need to use these!" exclaimed Ania.
As this point I put my best foot forward and offered to make a focaccia with cherry tomatoes. Ania was happy to take a small break from cooking and let me carry the show. We messaged our neighbour Suzie to try and wangle a small amount of rosemary as she grows it in her garden. She gave us enough to start an Italian bakery.
When I was first taught how to make a simple rosemary focaccia, I was told that if I was ever trying to sell my house, this was the perfect thing to bake ahead of a potential buyer's visit. The smell of rosemary and freshly baked dough is very likely to facilitate the transaction 😉 .
I have no doubt you will love the look, smell and (most importantly) taste of this vegan focaccia with tomatoes and rosemary. Just try not to eat the whole thing in one go!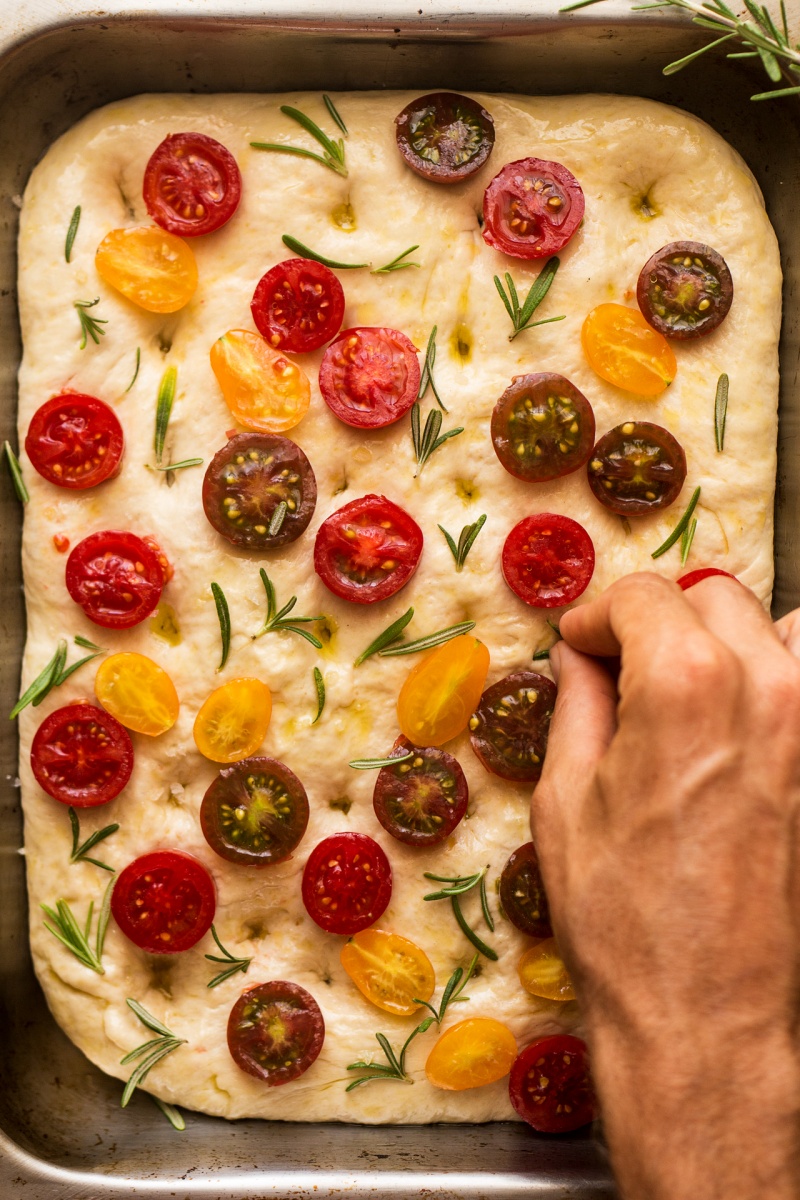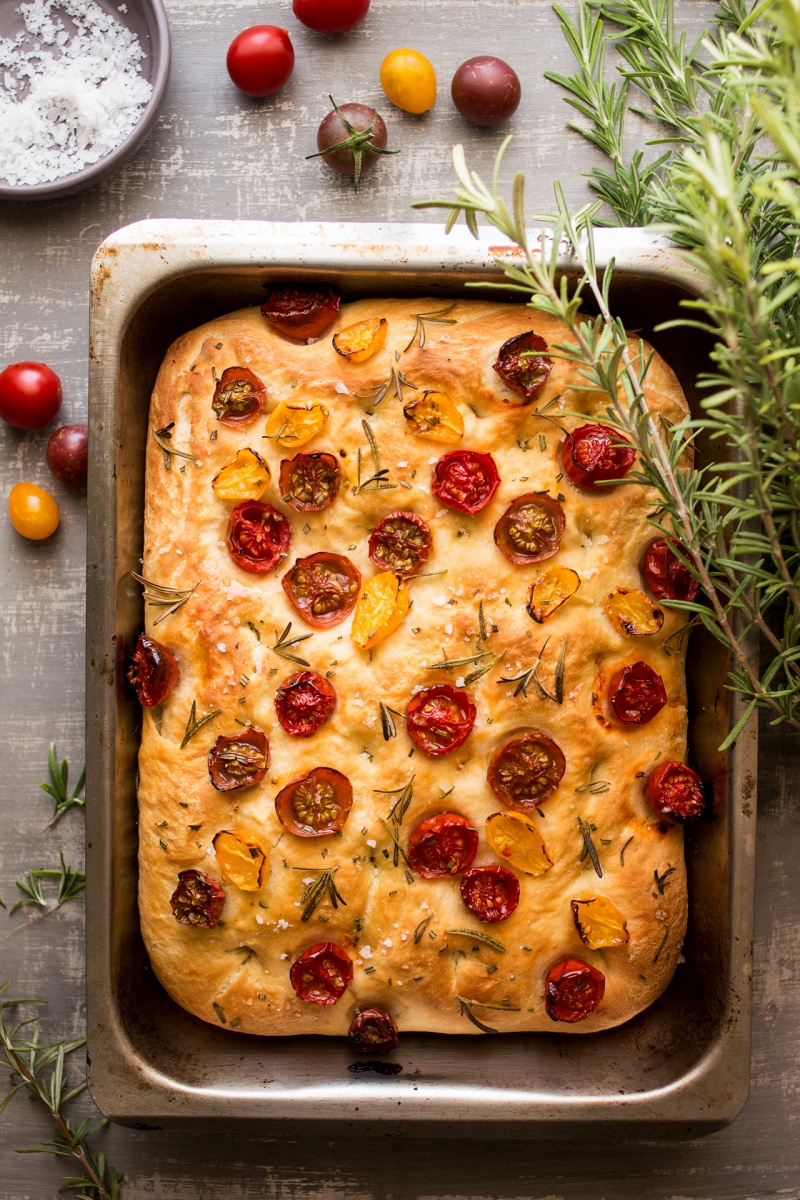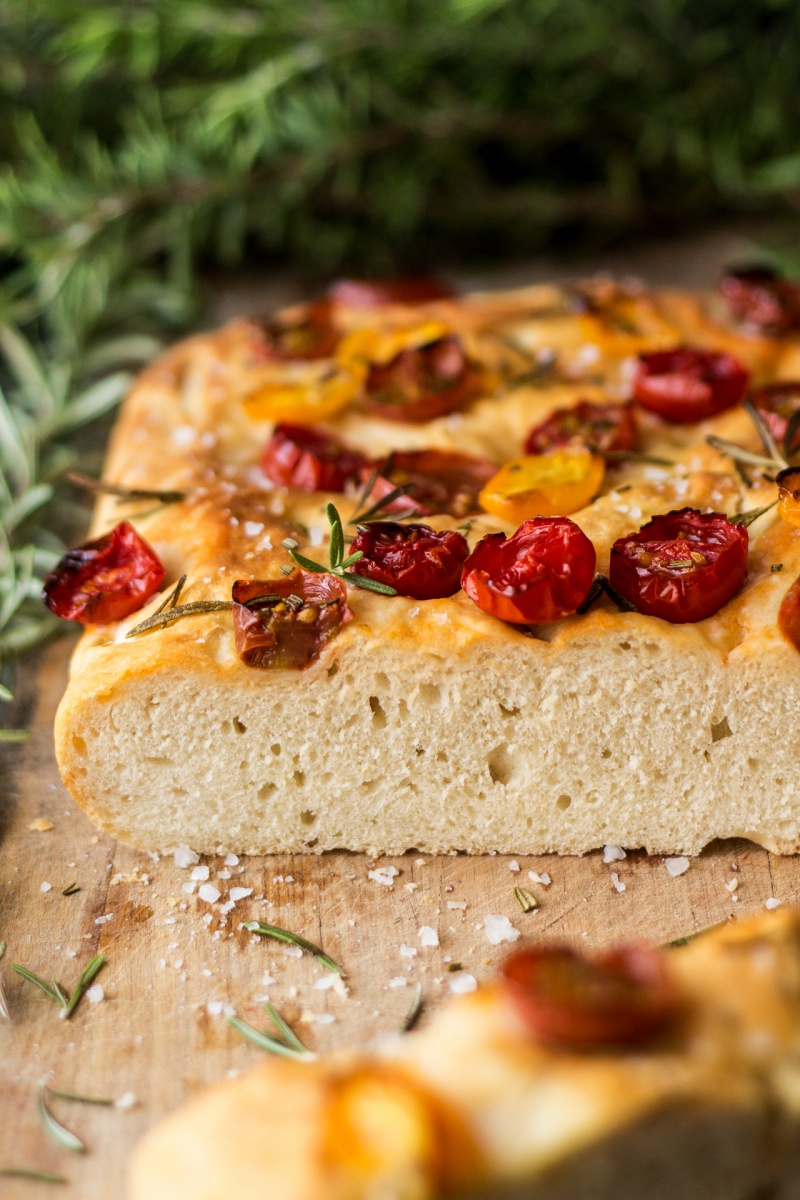 500 g / 4 cups bread flour
7 g sachet fast-action dried yeast
1½ tsp salt
320 ml / 1 1/3 cups of water
1 tbsp olive oil + extra to glaze
20 cherry tomatoes
2 rosemary sprigs
coarse sea salt, for sprinkling
METHOD
Mix the flour, yeast and salt in a large mixing bowl.
Pour in the water and olive oil. Stir everything together with a large wooden spoon.
When the mixture has mostly stuck together turn the mixture out on to a work surface or bread board.
Knead the mixture by holding one end of the dough in one hand and stretching it out with the other hand. Reform the dough, turn it 90 degrees and start again. Repeat this for 10 minutes (see photo below).

When the dough is shiny and smooth, put it in a large mixing bowl, coat it in a thin layer of olive oil and cover the bowl with a tea towel.
Leave this in a warm place (but not too warm – ie not next to an open fire!) for between one and two hours (until it has doubled in size).
Flatten and shape the focaccia in an oiled baking tin (we used a metal one) with your hands, making sure you stretch it into the corners.
Press deep holes (all the way to the bottom) into the focaccia as per the pictures above, and push the cherry tomato halves (cut side up) into the focaccia.
Coat with olive oil and sprinkle with rosemary and salt.
Cover with a tea towel and prove the focaccia in the tin for a further 30 minutes. Bake for 10 min at 250° C / 480° F, then turn the oven down to 200° C / 390° F and bake for a further 10-15 minutes until the top is golden brown.
NOTES
The baking tin I used has the following dimensions: 26 cm x 19 cm x 5 cm (10″ x 7.5″ x 2″)