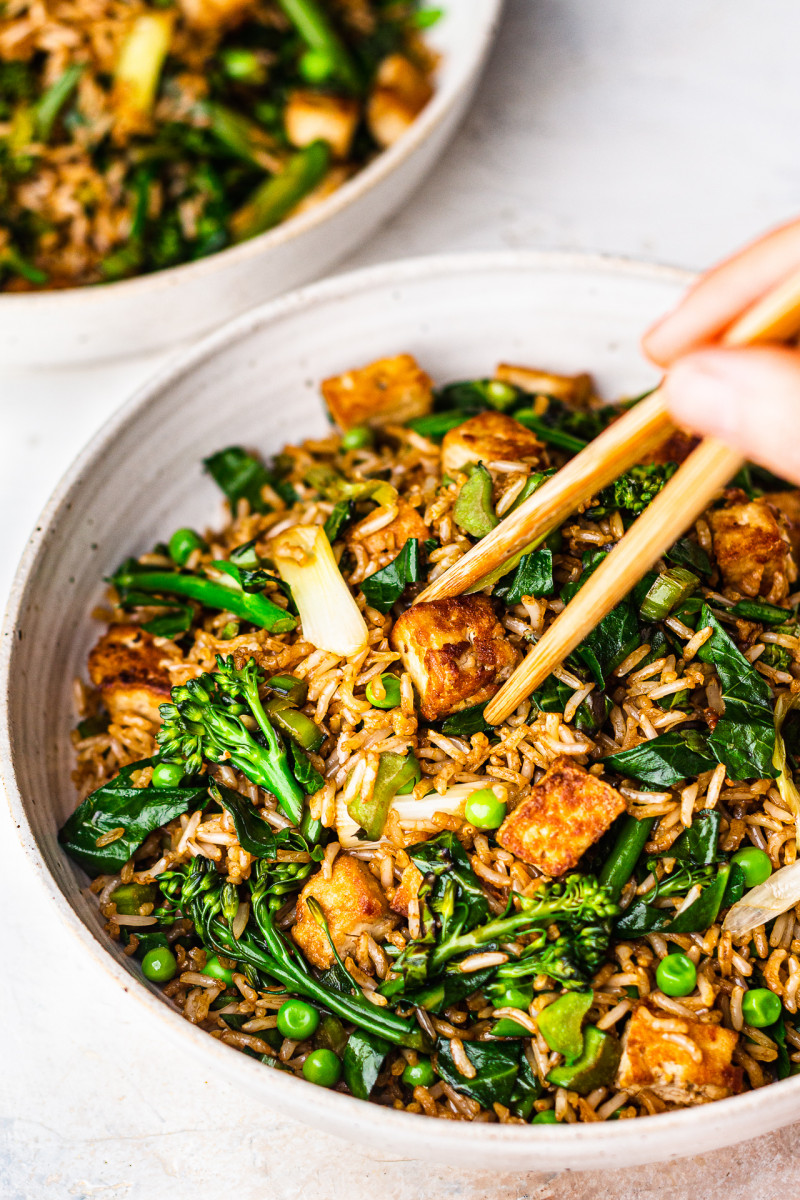 Spring is in the air and with that I have developed an appetite for more greens. While some days are beautifully sunny and mild, evenings remain chilly so a simple spring veggie packed vegan fried rice has been feeding us lately.
This vegan fried rice is really simple and easy to make. It's packed with 'so-good-for-you' green vegetables and based on brown rice, which I like to use due to the fact that it's more satiating – but any cold rice will do.
Fried rice is great for using up leftovers and I am notorious for cooking way more rice than we are able to eat – as I seem to live in perpetual fear of not having made enough for dinner…I also like to add a very simple, soy sauce seasoned tofu to make the dish more satisfying and filling.
Inspired by a classic Shanghai noodle dish flavoured with spring onions, I start off the process by infusing my stir-frying oil with spring onions. This is a totally optional step so if you too hungry to bother, simply skip it. If you like the idea though and can see yourself making a dish like this on the regular basis, you could prepare an entire jar of spring onion infused oil and keep it in the fridge for a few weeks.
MORE ABOUT THE INGREDIENTS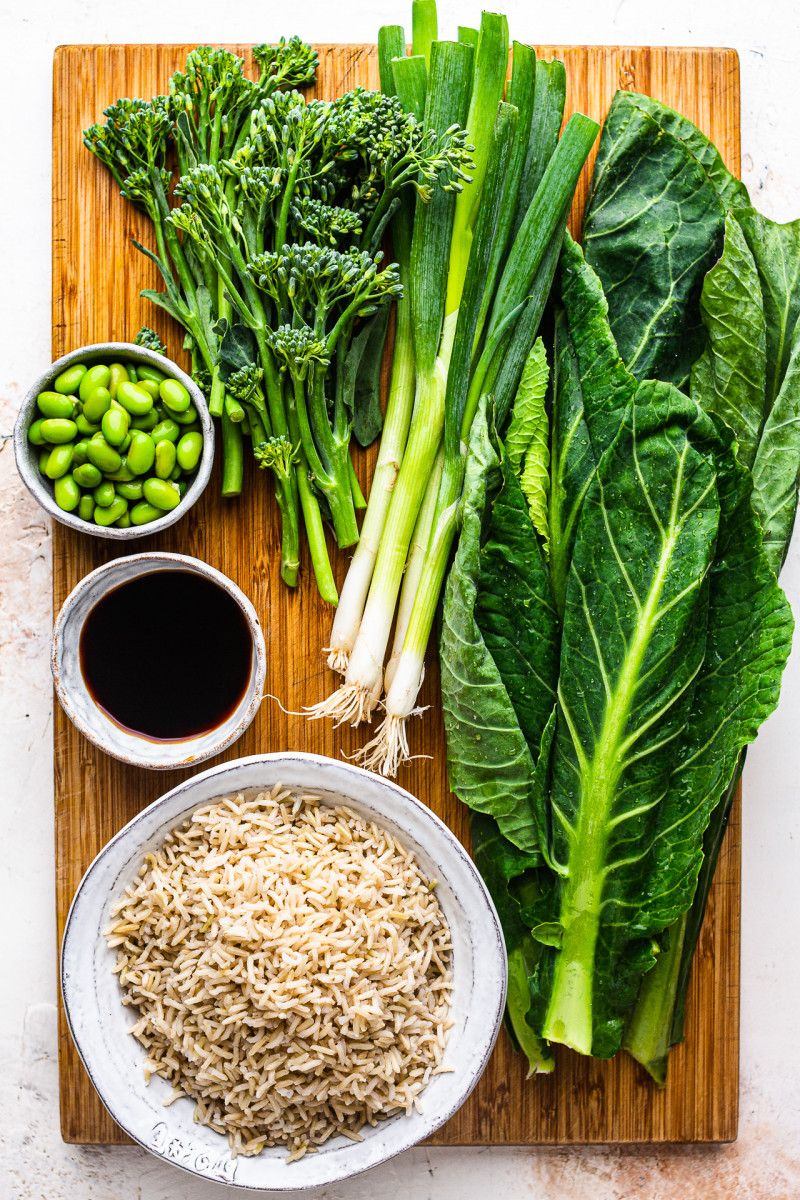 COOKED RICE: A day old rice is the key ingredient in fried rice. Typically long grain white rice – jasmine rice, for example – is used but I used brown rice as it keeps me satiated for longer and I like the fact that its grains do not clump together. The key is for the rice to be quite dry so make sure it's cold and all of its steam has evaporated before storing it in the fridge overnight.
SPRING ONIONS: Inspired by a classic Shanghai dish of spring onion noodles, I used a liberal amount of chopped spring onions (scallions) to flavour the oil with. It does add an extra step to the process so if you are in a rush, you can skip this and use only half of the spring onions instead.
SPRING GREENS: Spring greens (or collard greens) are a member of Brassica family of vegetables, related to kale and cabbage. They are rich in calcium and vitamin K. They are cheap and easily accessible at this time of the year so I figured that they will make a perfect Spring-inspired fried rice addition.
TENDERSTEM BROCCOLI: Tenderstem broccoli, which is a hybrid of Chinese kale (gai lan) and broccoli is sweeter than regular broccoli with smaller florets and edible stems. If they are not available where you are, use regular broccoli chopped small or use a different vegetable altogether – asparagus would be my other choice.
EDAMAME or GREEN PEAS: Edamame or green peas add another shade of green and a dose of plant protein to this dish. I use frozen edamame or green peas, which I remove from the freezer ahead of time and thaw at room temperature before stir-frying.
TOFU: For an extra protein boost, I used firm tofu, pressed and seasoned lightly with a small amount of soy sauce. You can either pan fry it (sprinkling tofu with cornstarch gives it a nicer texture) or bake in a 200° C / 390° F oven for 20-25 minutes, flipping the pieces once at a halfway point.
OIL: Use high smoke oil like rice bran, peanut or sunflower oil to stir-fry. If you want to use less oil, how about steaming your veggies and stir-frying the rice.
SOY SAUCE: Soy sauce is used here for flavour and colour. I used all purpose soy sauce for flavour (use light soy sauce in its place if you have it) and a touch of dark soy sauce for colour, which is totally optional.
CORNFLOUR / CORNSTARCH: A thin dusting of cornstarch gives pan-fried tofu nicer texture, but if you cannot have it is completely fine to omit.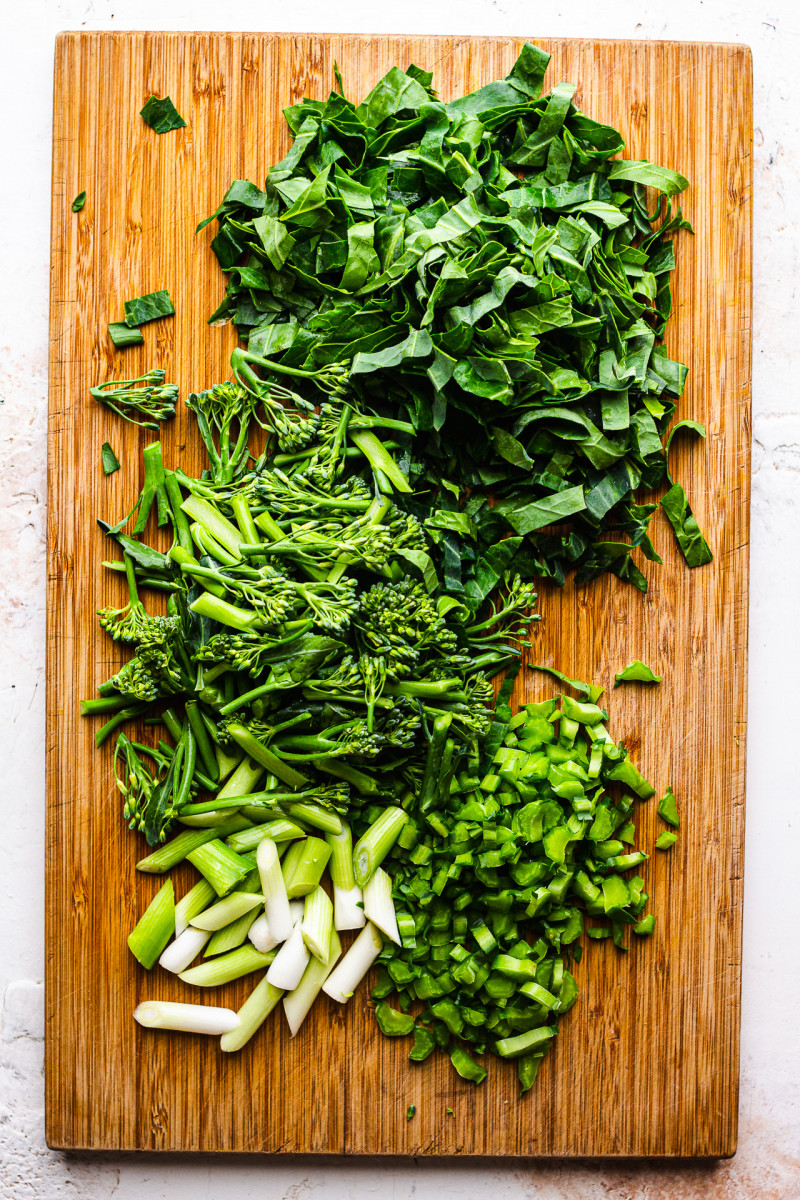 This dish was inspired by spring produce – spring greens and spring onions mainly – but I've also decided to add some tenderstem broccoli and green peas for an extra shade of green and additional nutrition. You can use edamame (in fact I was going to but they went bad on me on the photoshoot day) instead of green peas and asparagus instead of broccoli. As for spring greens, we are using both the stems and the leaves so nothing goes to waste. They are cheap and available everywhere at this time of the year and in terms of their nutritional profile they are as good for you as kale is, just not as trendy…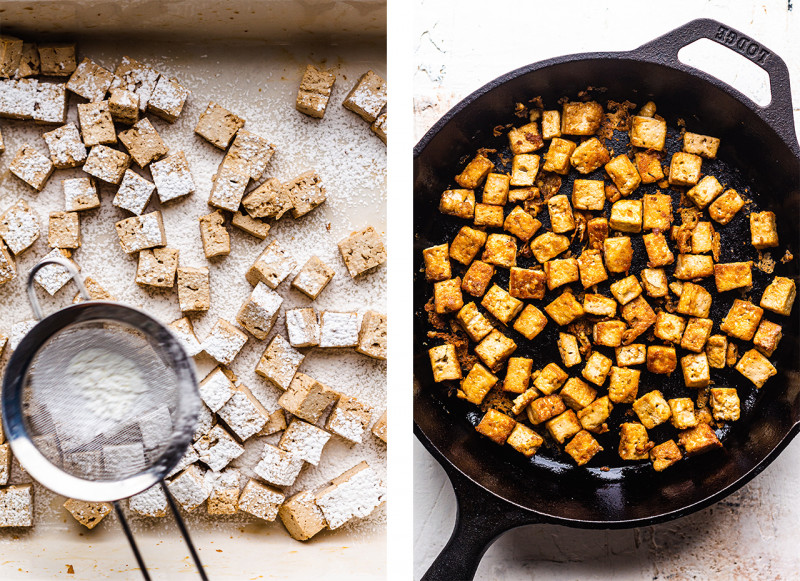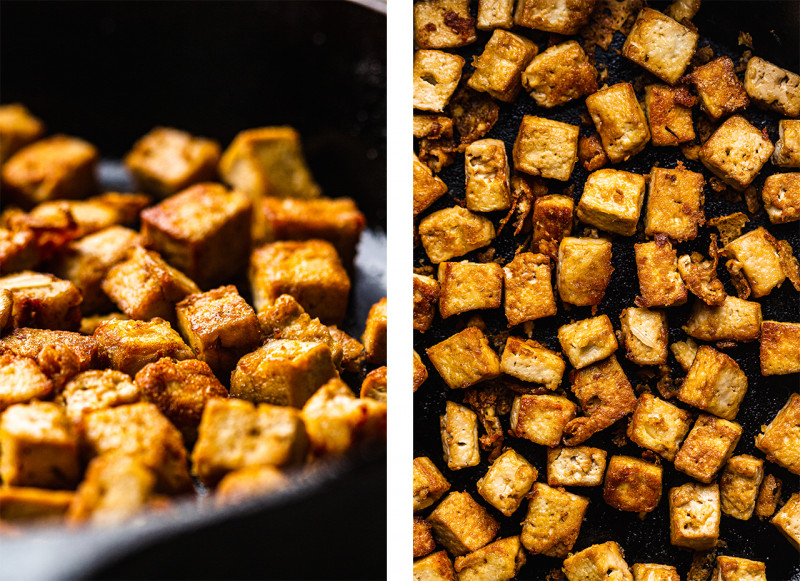 As I like this dish to be filling and nutritious, I quickly fry up some tofu seasoned with a splash of soy sauce. Not fancy, but it comes together quickly and helps to keep those pesky post-dinner cravings at bay.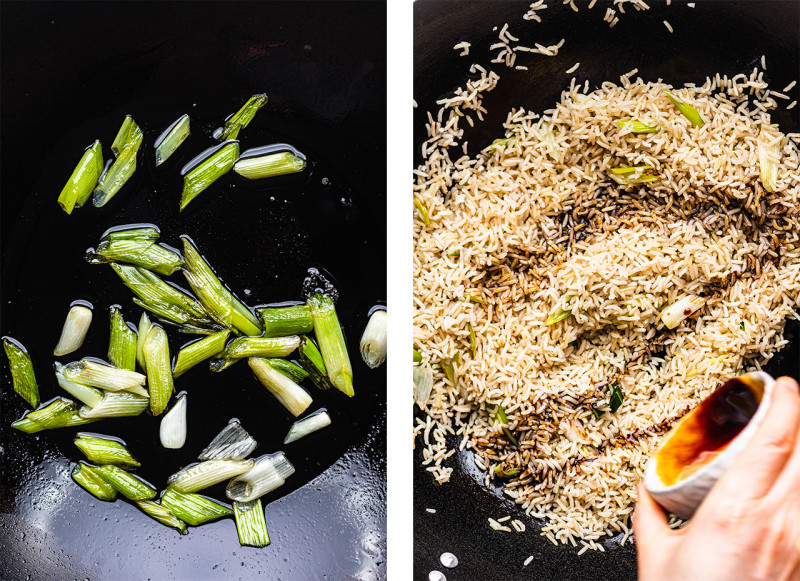 I fried my rice in an umami rich spring onion infused oil to add extra flavour to this dish, but that's totally optional if you are not in the mood or if it feels like too much effort. If you are the opposite, make a big batch of it and keep it in the fridge – it will brighten up the flavour of your salads, stir-fries, tofu-scrambles…anything savoury really.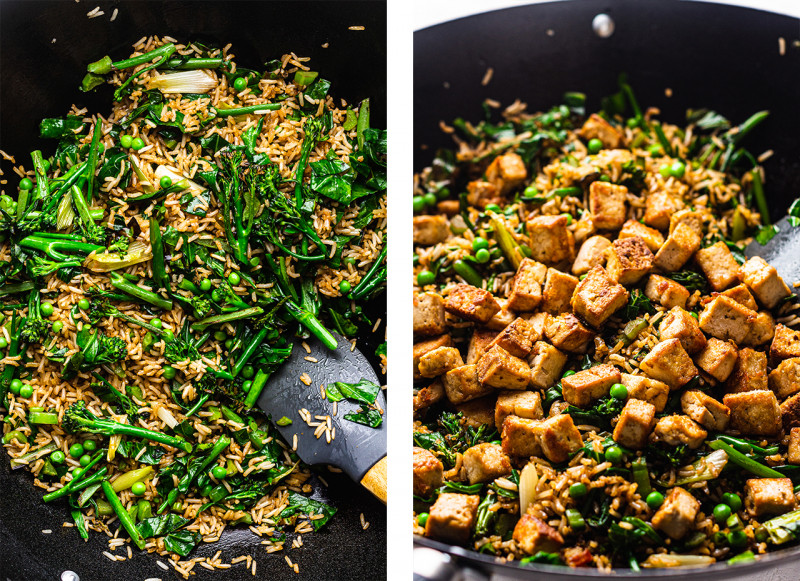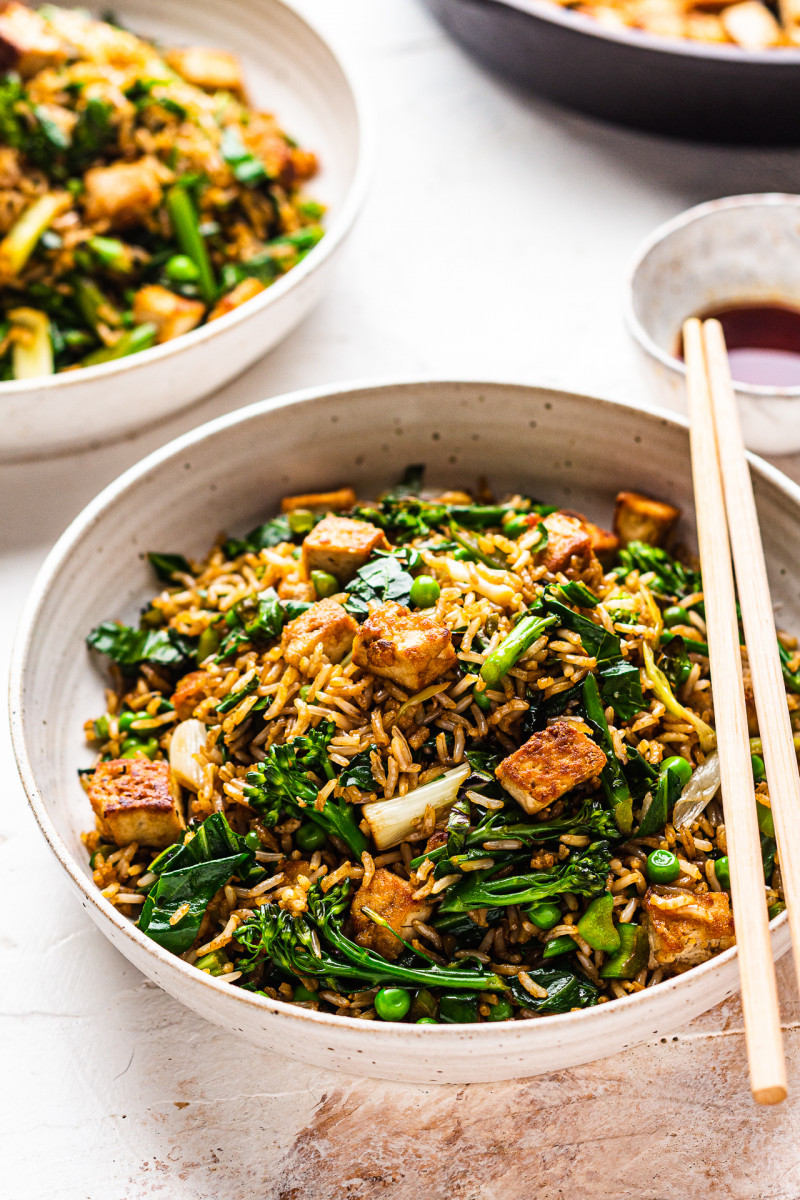 TOFU
SPRING ONION OIL (optional)
30 ml / 2 tbsp high smoke point oil
4 spring onions/scallions
REMAINING INGREDIENTS
150 g / 5.3 oz tenderstem broccoli
150 g / 5.3 oz spring greens / collard greens
100 g / ¾ cup defrosted edamame or green peas
360 g / 3 cups leftover rice*, I used brown rice
20 ml / 1½ tbsp soy sauce or tamari (if GF), more to taste
10 ml / 2 tsp dark soy sauce, for colour (optional)
2.5 ml / ½ tsp sugar (optional)
a good pinch of white pepper
METHOD
TOFU
Cut pressed tofu into 1.25 cm / 0.5″ cubes, place in a shallow dish and season with soy sauce. Mix it well and allow to marinate for at least 30 minutes.
Use a small sieve to dust the tofu with cornflour/cornstarch as you heat up a skillet/pan to fry the tofu in (I used a well seasoned cast iron skillet).
Add the oil to the preheated skillet, swivel the pan to coat and arrange tofu cubes on top. Allow them to pan fry undisturbed for a couple of minutes, then gently turn to the other side. Continue pan-frying and turning until browned on all sides.
SPRING ONION OIL (optional)
Wash and dry (otherwise they will splatter) spring onions. Cut white and white-green parts into 2 cm / 0.75″ segments, leave the green tops for garnish.
Pour the oil to the bottom of the wok and heat up on low-medium heat, add spring onions. Allow them to cook gently in the shimmering oil for about 7 minutes. Make sure the heat is low so that the spring onions cook without turning brown (a little golden is fine).
Using a flexible spatula, remove the spring onions and the oil from the wok and set aside.
FRIED RICE
Cut broccoli into even, bite-size pieces, remove the stems from the spring greens and slice them thinly across, then bunch up spring greens' leaves and chop them into 0.5 cm / 0.2″ ribbons and then chop them the other way a couple of times.
Heat up a wok until it starts smoking, then add 2 tsp of oil (leave spring onions behind if using spring onion infused oil) and swivel it around the wok.
Add broccoli and str-fry for about 1 minute, add sliced stems and stir-fry for another minute and finally spring green leaves and edamame/green peas (if not making spring onion oil, add white and white-green parts of spring onion at this point) and stir-fry for another minute or so. Add a tablespoon of water to the wok and carry on stir frying until all of the moisture evaporates and spring greens are fully cooked. Remove everything from the wok and set aside.
Wipe the work with a paper towel if needed and heat it up again. Add the rest of the spring onion oil and spring onions. Once hot, add cold rice. Toss it in the hot oil quickly, then spread on the bottom of the wok with the spatula. Allow it to cook for about 30 seconds then toss again, allow it to cook for another 30 seconds then toss once more.
Mix the last four ingredients in a small bowl then use it to season the rice.
Return vegetables and tofu to the wok. Toss a few times to combine and to heat up fully, taste and season more to taste if needed. Serve immediately.
NOTES
*RICE: leftover rice is best for this as you want it to be quite dry once it hits the wok. If cooking your rice on the day, cook it in less water and spread it on a large surface area so that it cools and the steam evaporates relatively quickly.
*SPRING ONION OIL: making spring onion/scallion infused oil works much better in larger quantities (like 120 ml / ½ cup of oil and 15 spring onions or so) and the oil keeps in the fridge for several weeks (if not months) so if you like the idea, I encourage you to give it a go.
NUTRITIONAL INFO
*per 1 out of 3 portions (including tofu)