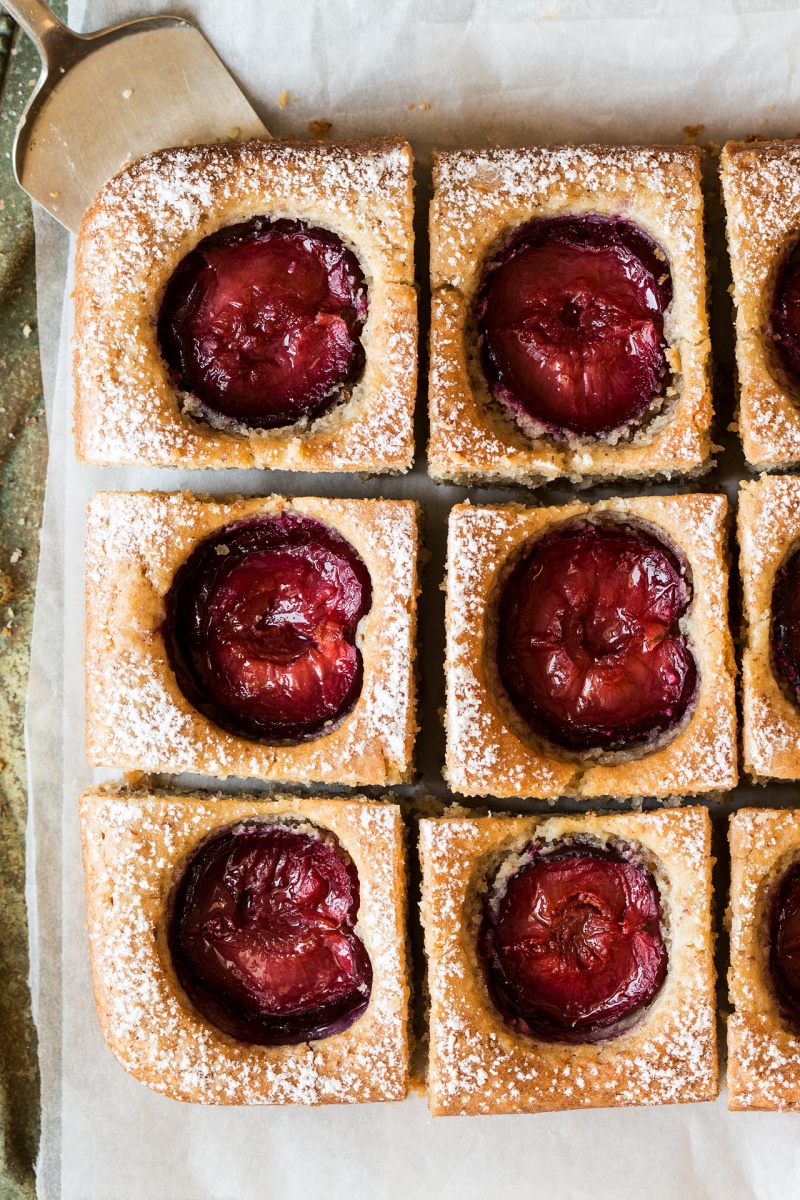 I'm so looking forward to sharing this cake recipe with you. Firstly, because I want you to be able to make the most of the plum season. Secondly, because I want to be able to stop making this blooming cake 🙂 . This is my 9th attempt at this puppy and it's great as the recipe has been thoroughly tested, but the trouble is, you see, that I enjoyed the 'testing' process a little bit too much.
I tried to offload some to my yoga class guys, friends and neighbours but it hasn't been easy as it's August and no one wants to leave the house (the roads are insane – massive traffic jams and reckless driving in full swing) so, unfortunately, I've been 'forced' to eat a bit too much of it myself 😉 .
This recipe is based on a classic Polish (although most people know it as German, go figure) plum cake that my mum used to make when I was a child. It features a fluffy sponge base with pools of jammy plums on top and a light sprinkling of icing sugar to finish. Unfortunately, my mum's cake was neither vegan (it contained 4 eggs!) nor gluten-free so to provide a vegan and gluten-free option for you guys, I've had to twist this recipe a fair bit.
I decided to make the crumb a little lighter by swapping a portion of the flour for finely ground almonds. You don't need to use almond meal for this though, although you can. I simply ground whole almonds until fine in my very average food processor and it did the job perfectly well. This cake is fluffy and rises beautifully thanks to the combustive reaction between lemon juice and baking soda.
I was really happy with my 5th iteration and was ready to shoot photographs for the blog, but on my 6th attempt, I went a little bit too plum-happy and crammed so many plum chunks on top that, when the cake rose, there was no rhyme or reason to the pattern and it looked like I decorated it under the influence. I decided that it wasn't good enough to be photographed.
My 7th attempt was looking very promising, it rose beautifully in the oven and had a nicely browned top but then the unthinkable happened and one rebel plum sabotaged all my effort by sinking to the bottom of the cake causing it to crack a little (if you follow us on Instagram, you might have seen this rebellious plum on our Instagram Stories).
My 8th attempt was also not a beauty! All the plums appeared to have huddled together in two thirds of the cake, like they were planning on making a runner as soon as the oven door opened, leaving the cake looking annoyingly unsymmetrical. Argh! I toyed with shooting this imperfect cake, but I just couldn't bring myself to do it. My inner perfectionist was not happy as I knew how good this cake could look. As it happens, all of my test runs looked better…
So this is my last, 9th. Before I started, I took all the plums aside and gave them a little pep talk about the importance of teamwork and not bursting other plums' personal bubbles and it looks like it has finally worked…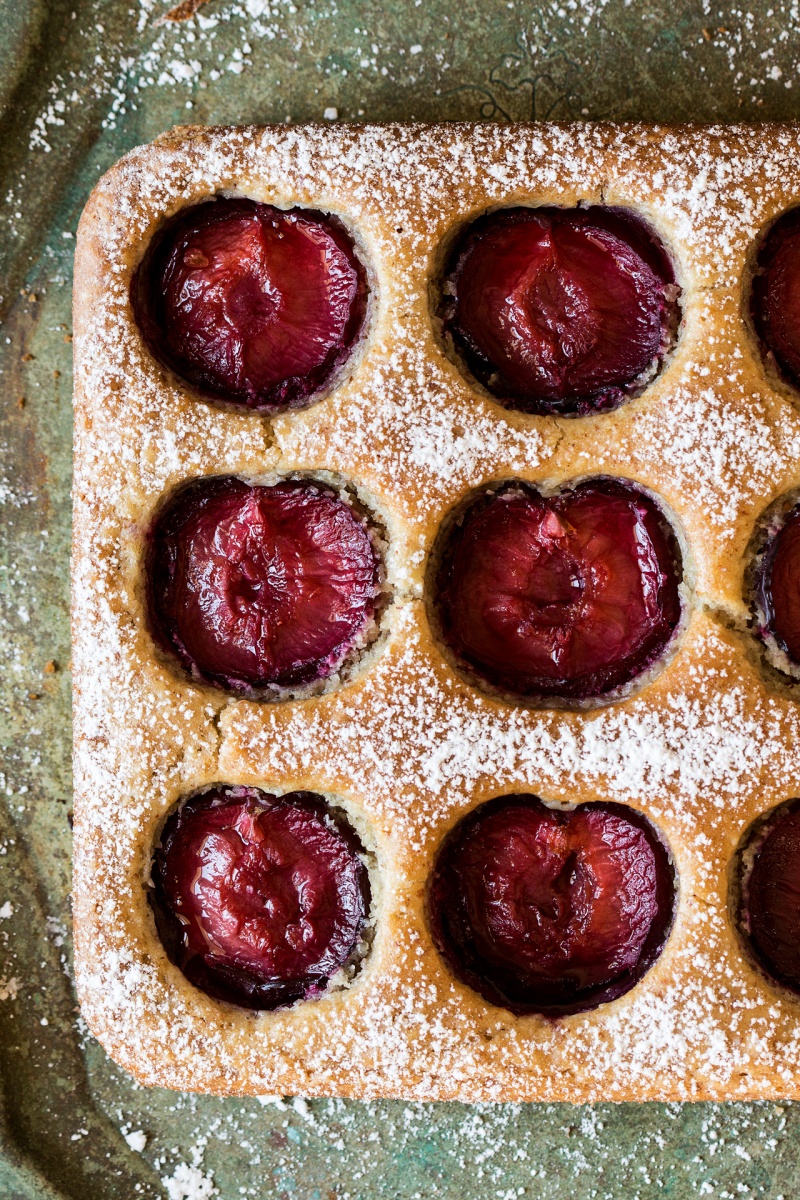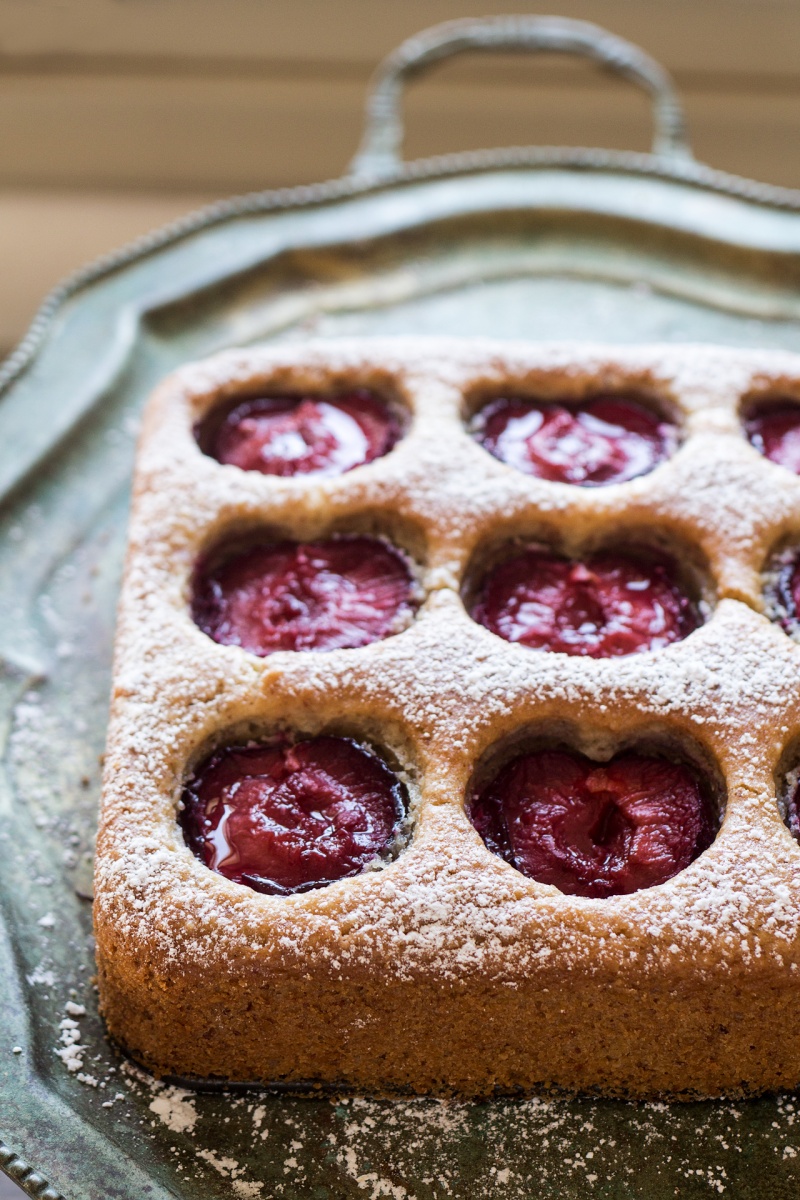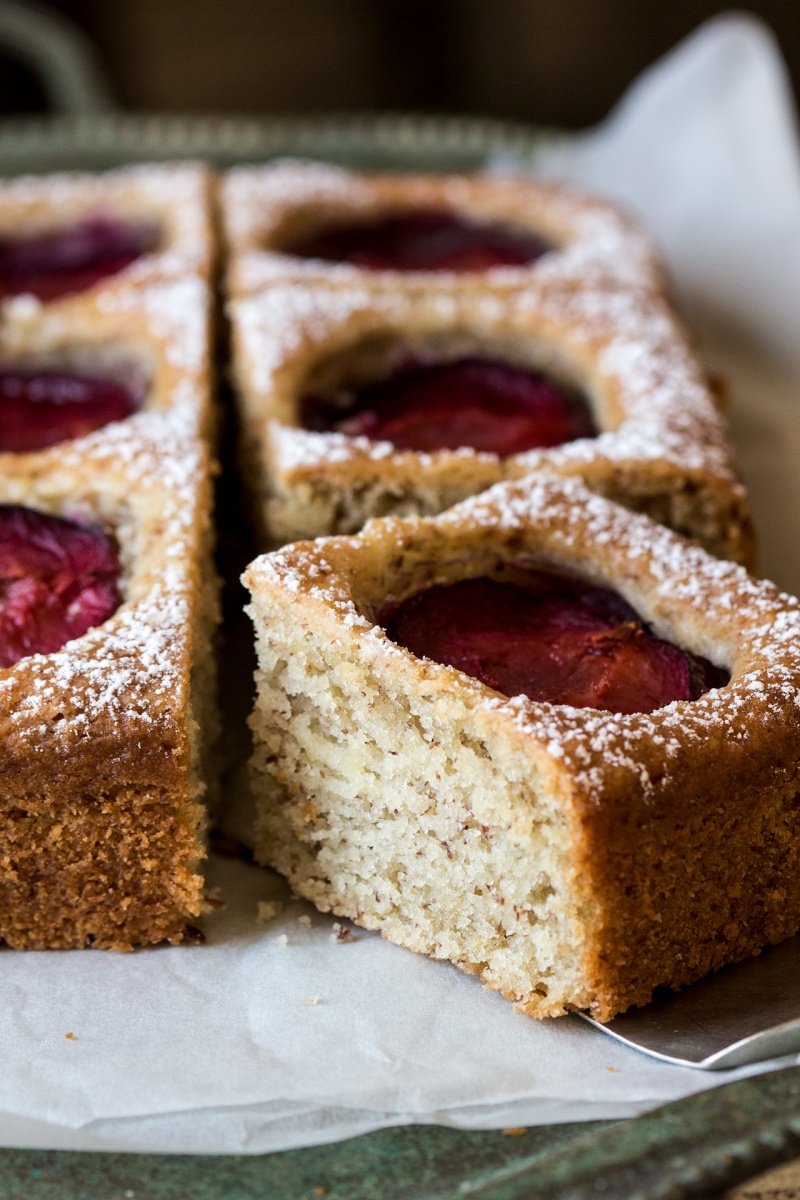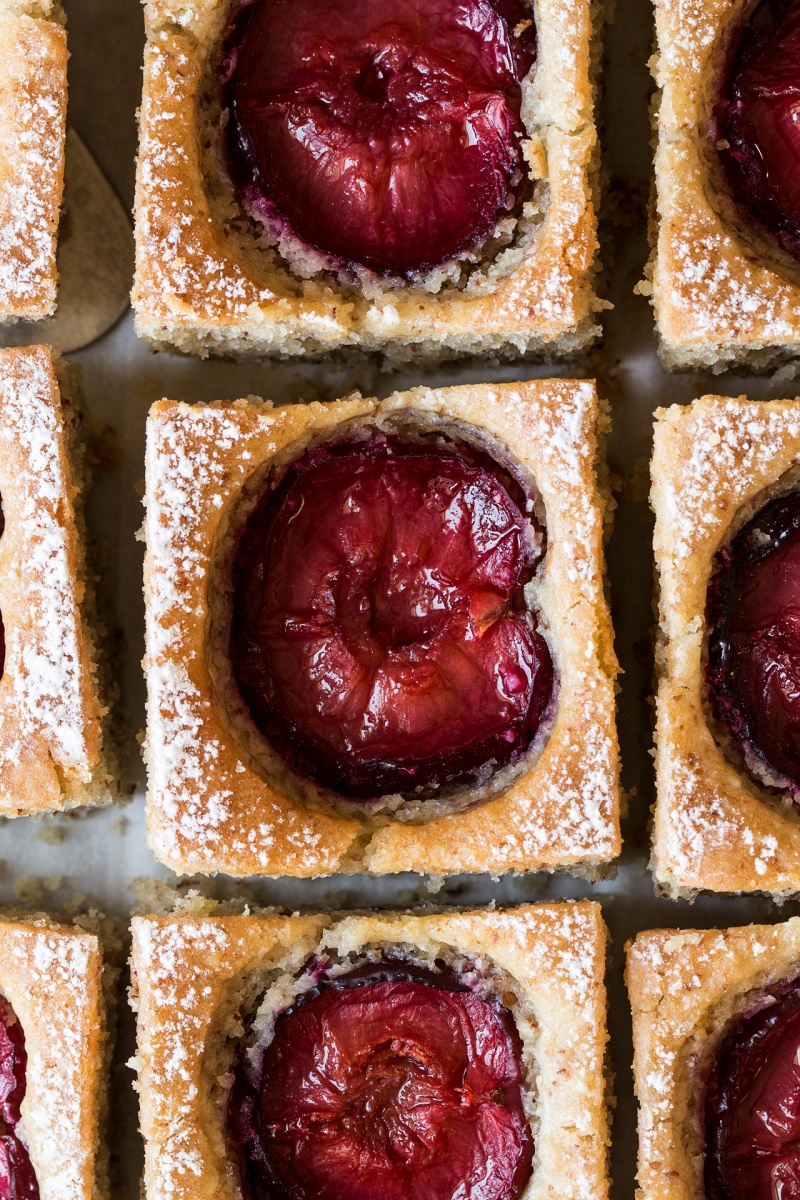 WET INGREDIENTS
240 ml / 1 cup full fat coconut milk
4 tbsp / ¼ cup freshly squeezed lemon juice
60 ml / ¼ cup melted mild coconut oil (or other mild tasting oil)
½ tsp bitter almond essence*
150 g / ¾ cup caster sugar
DRY INGREDIENTS (GLUTEN-FREE VERSION)
DRY INGREDIENTS (REGULAR VERSION)
220 g / 1¾ cups all purpose white flour
80 g / ¾ cup finely ground almonds (or almond meal)
1 tsp baking soda
½ tsp baking powder
OTHER INGREDIENTS
3-5 red plums, cut into 6 slices or halves
2 tsp icing sugar, to decorate (optional)
METHOD
Heat up the oven to 170° C (or 150° C fan forced) / 340° F (300° F fan forced). Grease a baking tin with a very small amount of oil.
Mix all the wet ingredients in a large bowl.
Place a sieve over the bowl and sift through all the dry ingredients, except for the ground almonds. If you are using wheat flour, be careful not to overmix the batter as the cake will be tough.
Fold in the finely ground almonds. Again, if you used regular wheat flour, take care to fold them in very gently or else the cake will be tough.
Transfer the batter to a lightly greased baking tin. If your tin doesn't have a removable bottom, it may be a good idea to place 2 long and wide strips of baking paper down first so that you can use them as handy tabs to make cake removal easier.
Decorate with plum segments or plum halves if your plums are little. To prevent plums from sinking to the bottom, dip the side of the plum that will rest directly on the batter in a little bit of all purpose flour (or cornstarch for the GF version) first before arranging on top of the cake.
Bake for about 55-60 minutes, until a toothpick comes out clean and the top is nicely browned.
Once cool, remove from the tin, sprinkle the top of the cake with a little bit of icing sugar and perhaps a dusting of ground cinnamon too, if you like.
NOTES
*Please adjust the amount of almond essence to the particular brand you have as they vary vastly and too much essence can render the cake unpalatable. I used
VAHINE Bitter Almond Essence
as that's what I had to hand.
This recipe is based on my mum's plum cake and this recipe.