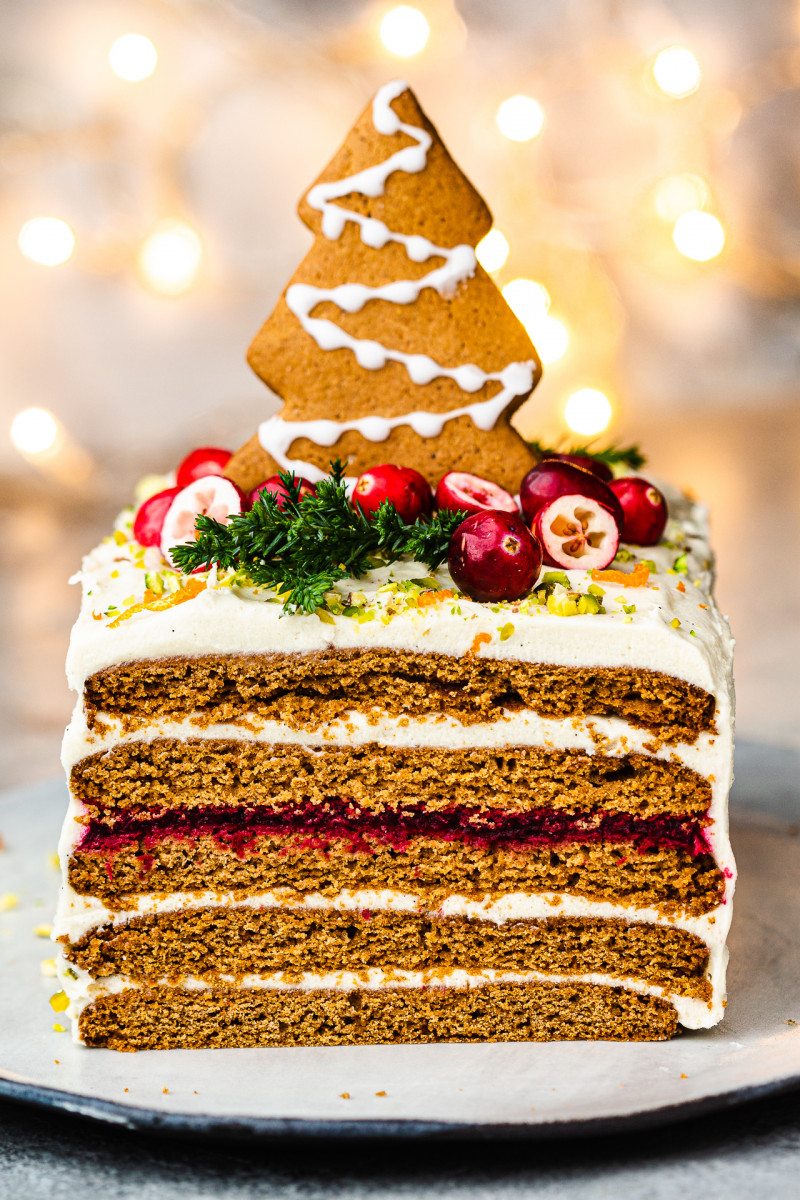 This is my last recipe of 2022 and I am signing off with something very special. It's my gran's layered gingerbread recipe that my mum has kindly allowed me to veganise for my blog. My mum makes this cake for Christmas every year and everyone loves it. It's one of many Christmas desserts my mum makes (this sweet tooth I complain about now and again runs in my family…) and it's a non negotiable part of the Christmas menu in her opinion…
My attempts at veganising this cake have been pretty hilarious and a little frustrating, I won't lie. My gran's recipe book has some obscure units of measurements, which led me to make some mistakes initially. One thing I realised after my attempts at the custard buttercream have turned out a little below par was that when my mum says 'tablespoons' she actually means a specific tablespoon that was a part of my gran's wedding crockery set and said tablespoon measures 20 ml (as opposed to 15 ml) so I kept on using too little flour for the amount of cream.
Finally, we worked it out at which point my mum seemed geniunely bewildered that I did not know that she meant 'gran's tablespoons' although I am pretty sure she never stressed that point. Anyway, we had a good laugh and I gave her a gentle ribbing about how delightfully imprecise some aspects of gran's recipe were.
In the end, we hit the jackpot and I am super chuffed as it's one of my favourite Christmas cakes. The concept behind this cake is actually fairly similar to a tiramisu although the ratios of biscuit base to cream is different and so are the flavours. My mum's cake has four layers, but I wanted it more regal and photogenic so ended up settling on five. Although it's tempting, I don't recommend stacking any more than five sheets as the total weight of the cake is too much and some of the buttercream may start to squeeze out.
The base of this dessert is gingerbread, but instead of cutting it into cookies, it's shaped into large rectangular sheets. These sheets get moistened with a choice of soaking liquid – Amaretto, lemon water, chai tea – and stacked together in between layers of custard buttercream and some sour jam for contrast. The entire edifice (it feels like one when you are building it) then needs a good rest (72 hour is ideal) for the gingerbread layers to soften and for the flavours to develop and mingle.
Flavours aside, what is great about this cake is that you can split the work into stages and make some items as far as two weeks ahead of time. My mum tells me that she bakes the gingerbread bases two weeks before Christmas and does not prepare the cream until 6-5 days ahead and only assembles the whole thing 4 days before Christmas. It is a perfect cake for when you want to make something impressive, crowd-pleasing (who does not like gingerbread?) yet something that does not require any work on the day. I am a massive fan of this cake and I am so chuffed that I now have it in my fridge – it makes me feel a little less homesick this Christmas. I hope you'll be tempted to make it and that you will enjoy it as much as my family does.
MORE ABOUT THE INGREDIENTS
GINGERBREAD SHEETS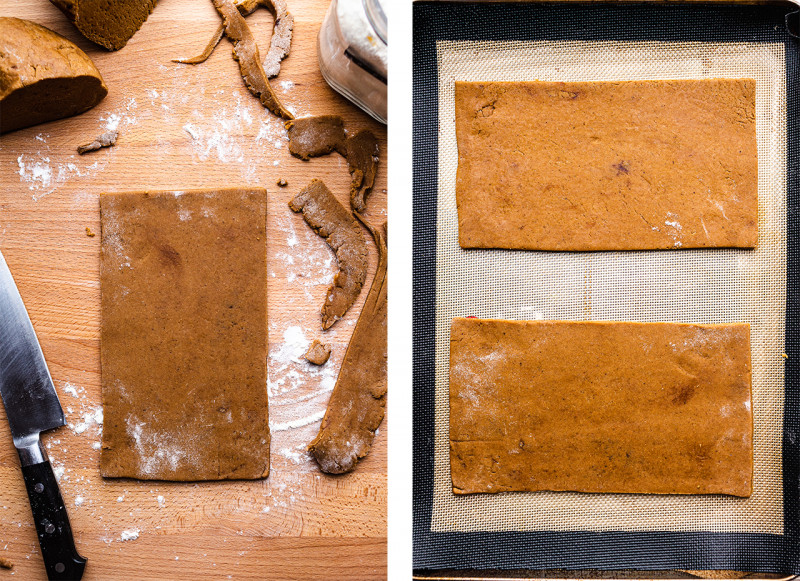 VEGAN BUTTER: I used vegan butter block (Violife) in both gingerbread bases and buttercream. Another brand, which I actually prefer but it's not available locally to me, is the Danish brand Naturli. Use any vegan butter you enjoy, but make sure to go for one that comes in a block, not the softened, spreadable variety that comes in a tub.
MUSCOVADO SUGAR: Muscovado sugar, which is much less refined than other sugars so it contains a lot of naturally present molasses, contributes a lot of flavour to these gingerbread sheets. It exists in dark and light variety, and while both will work, I recommend using dark muscovado sugar for maximum flavour. Muscovado sugar is quite a wet sugar so it tends to clump a lot when being store. If yours has any clumps, squash them between your fingertips before adding to the bowl with butter.
GROUND FLAX: If you are making these with regular flour, there is no need to add flax at all. If however, you want to make these gluten-free use a well-balanced GF flour mix (that contains some starches) and add some flax to keep these from crumbling.
PLANT MILK: I like using protein rich soy milk in baking but, any plant milk will do in this recipe.
BAKING SODA: Baking soda is what helps these gingerbread sheets rise a little and stops them from being too dense.
SPICES: I used the following combination of classic gingerbread spices to flavour these gingerbread sheets: ginger, cinnamon, nutmeg, cardamom and cloves. You can adjust the amounts and maybe swap out some spices to your liking. All spice, coriander and black pepper are often also used.
FLOUR: all purpose (also known as plain) flour is what I used to make these and this GF flour mix to make gluten-free version.
CRANBERRY LAYER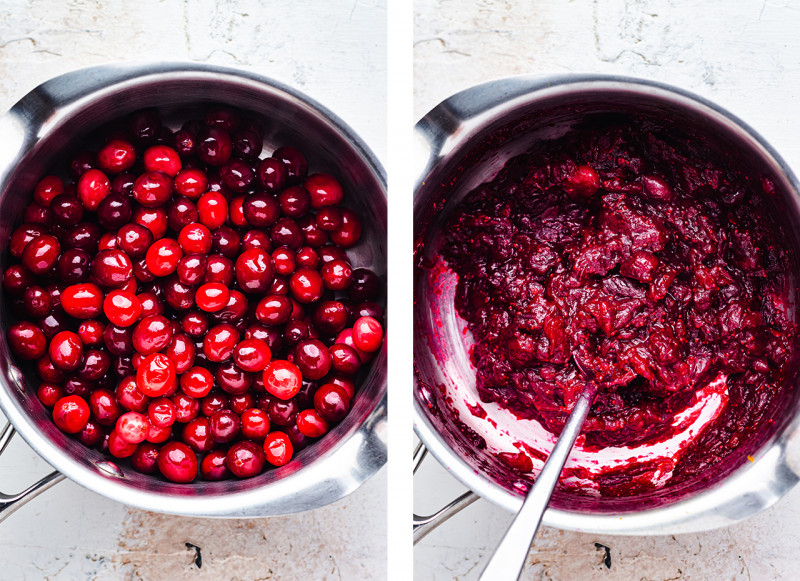 CRANBERRIES: I cooked down unsweetened fresh (frozen work well too) cranberries to create a tangy layer of filling, which provides a nice contrast with the sweet custard buttercream and gingerbread. You could also use a ready made jam or preserve if you prefer – my mum uses her homemade sour cherry jam, which works a treat. Plum jam also works well. If your jam isn't very sour, be sure to decrease the amount of sugar added to the buttercream to ensure the dessert isn't overly sweet.
CUSTARD BUTTERCREAM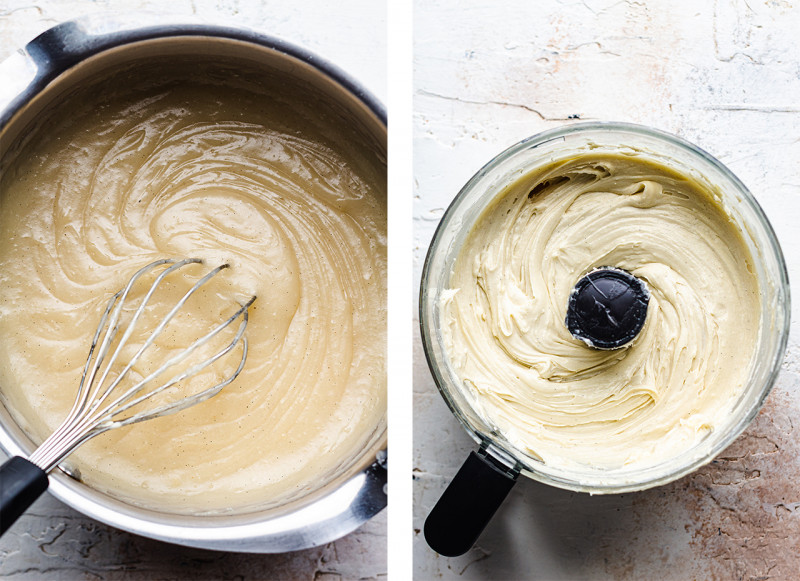 VEGAN SINGLE CREAM: vegan cream provides the base for the custard component. I used Oatly single cream but my mum also made it for me once using full fat coconut milk and it was just as nice, albeit with an added flavour of coconut. I have not had the chance to test, but I am pretty sure that thick plant milk will also render good results (Oatly barista, for example) as my mum's non-vegan recipe is simply based on full fat dairy milk.
FLOUR: all purpose (also known as plain) flour is one of the two flours I used to thicken the custard. In the absence of egg yolks – which my mum's non-vegan recipe doesn't use either btw – we are using what may seem like a fair bit of flour. You you want to keep this dessert gluten-free, use a good GF flour mix or increase the amount of starch by weight.
POTATO STARCH: potato starch is what my mum uses, in conjunction with plain flour, to firm up the custard base. I have also tried using cornflour (known as cornstarch in the US) and it work just as well. Use the same amount by weight.
SUGAR: I used caster sugar to sweeten the custard and although you could use any sugar you like, be aware of the fact that non white sugar will turn the colour of the buttercream darker. This buttercream is quite sweet, which you can adjust to your liking, but I personally like how it sweetness shines against lip puckering unsweetened cranberries.
VANILLA: a good glug of vanilla makes this custard buttercream really delicious so I recommend using as much as 1 tbsp for this amount of cream. Orange zest is also a nice addition, but I wanted to keep this already involved recipe as simple as I can.
VEGAN BUTTER: as we are making a type of buttercream for this cake, we will need vegan butter to stiffen the filling and give it a whipped texture. I used vegan butter block (Violife).
HOW TO MAKE THE BUTTERCREAM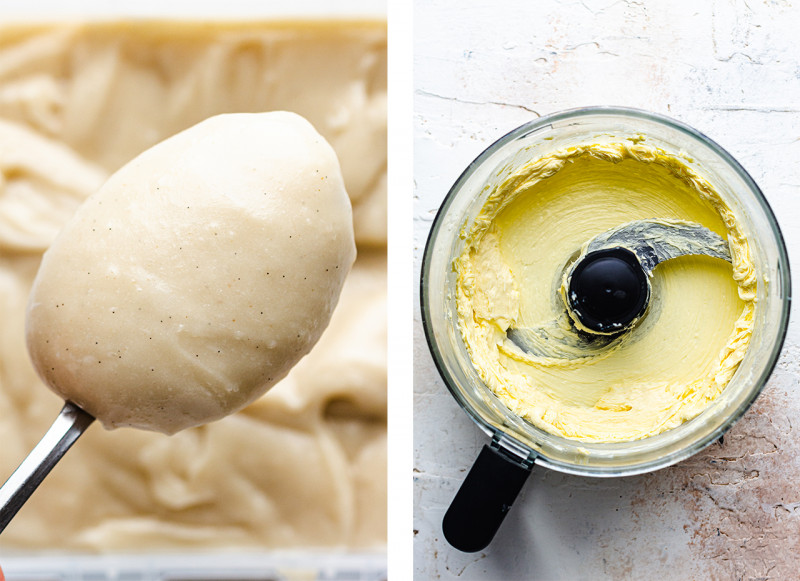 Start off with making a simple custard in a pot, allow it to go cold. Whip softened vegan butter in a food processor until smooth and lump-free, use a spatula to help the process.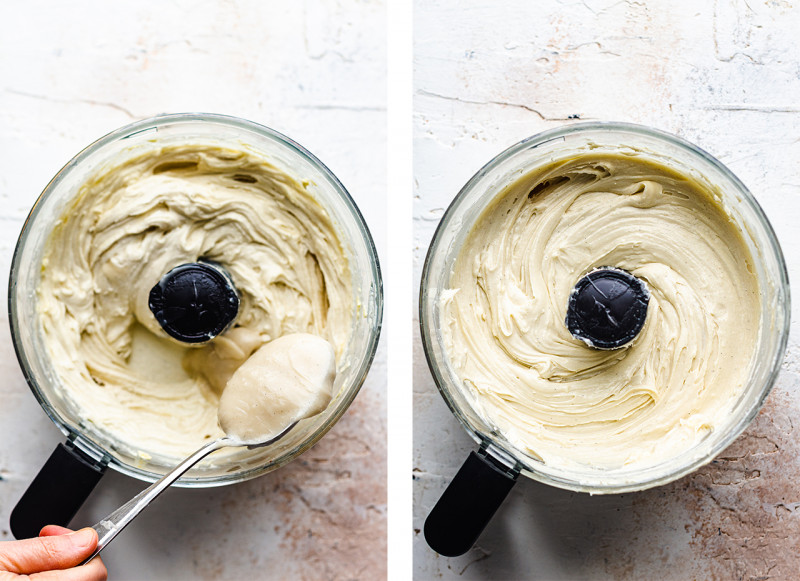 Once the butter is smooth, add cold custard to the food processor – tablespoon by tablespoon – incorporating well after each addition. By the end of this process, you should end up with a stable and fluffy custard buttercream.
HOW TO ASSEMBLE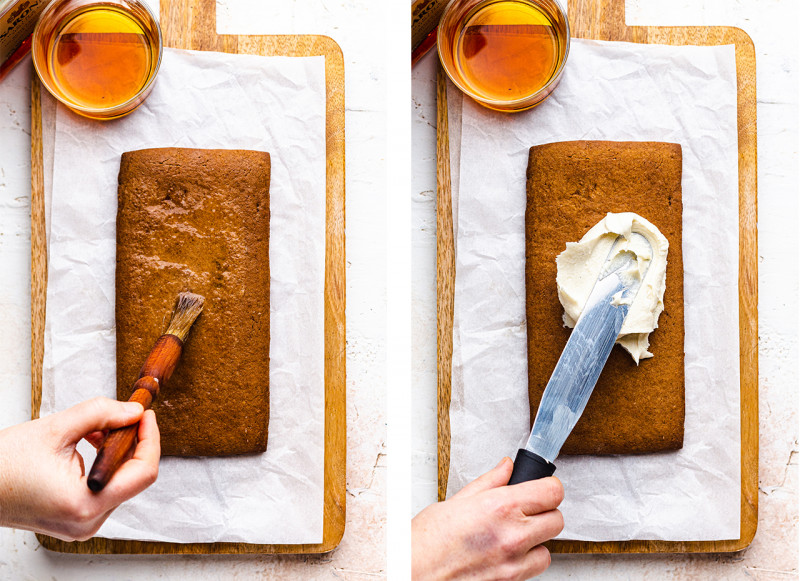 First of all, make sure all the components are cold. Place a sheet of gingerbread on a surface (tray, plate) that will comfortably fit in your fridge. Brush each successive gingerbread – don't brush in advance as this will make gingerbread fragile and easy to break – with 2 tbsp of soaking liquid of choice and allow that liquid to soak in before topping with a layer of custard buttercream (or cranberry jelly).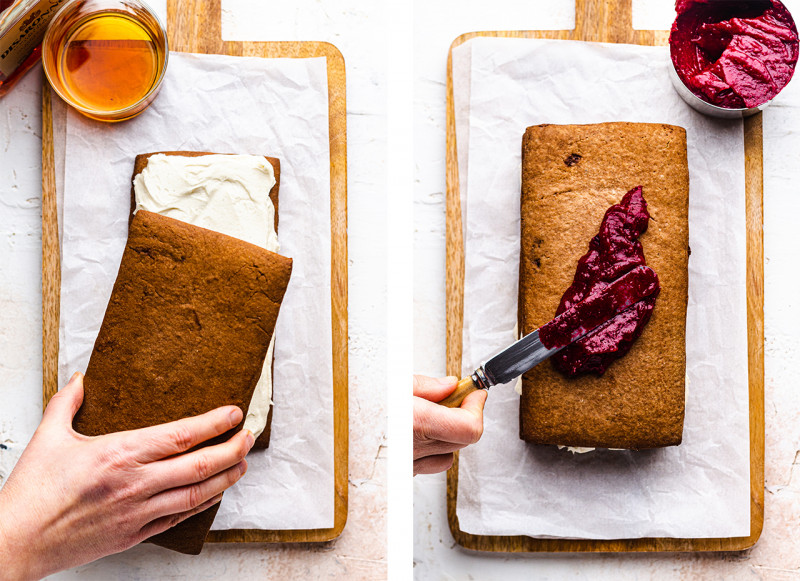 Even though this amount of dough can give you as many as 7 layers of gingebread base, do not be tempted to stack this cake too high – I would say that 5 layers is the upper limit – as otherwise the cake becomes too heavy, which means that the bottom layers get squashed and the filling starts to be pushed out instead of staying in between layers.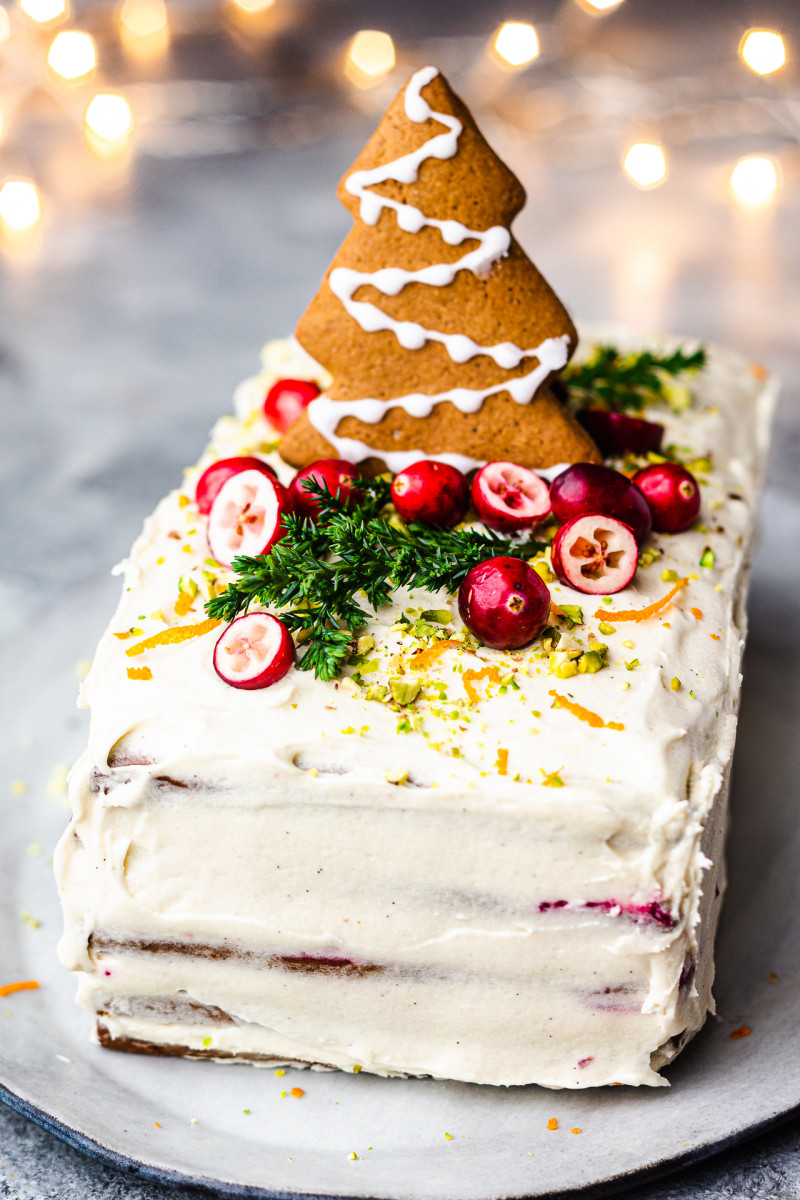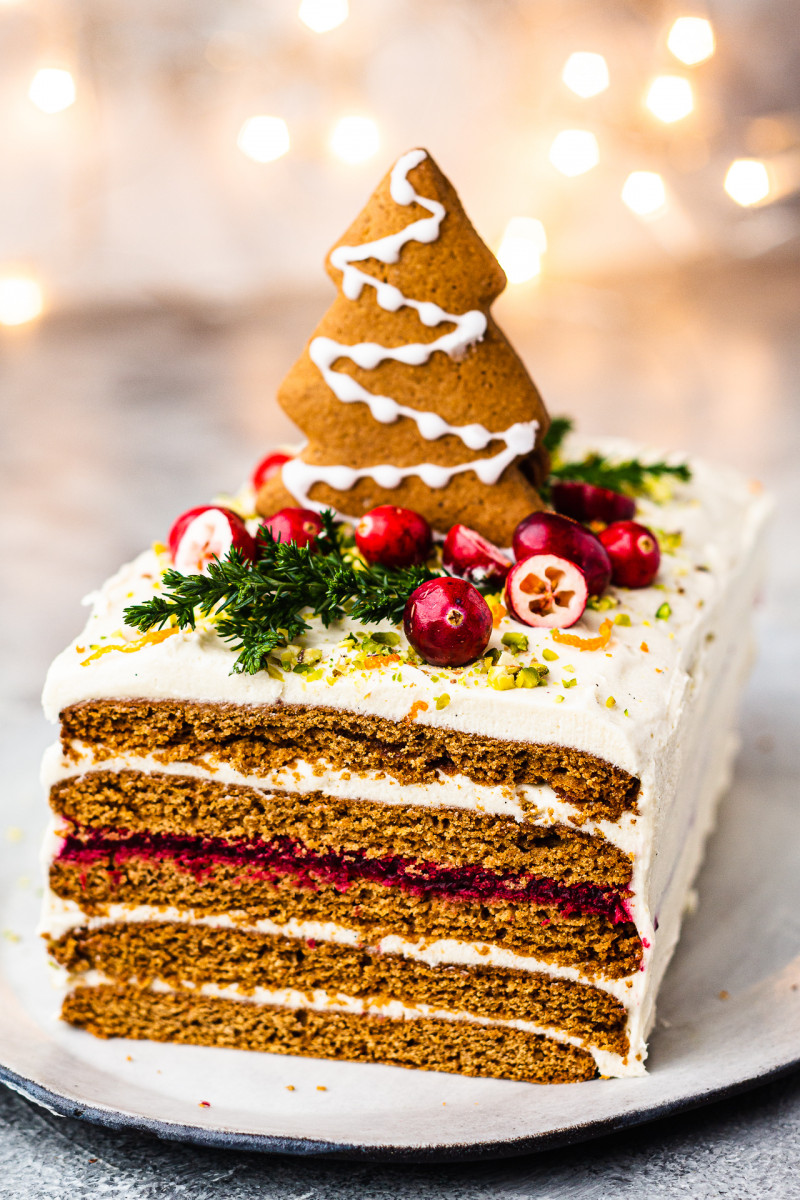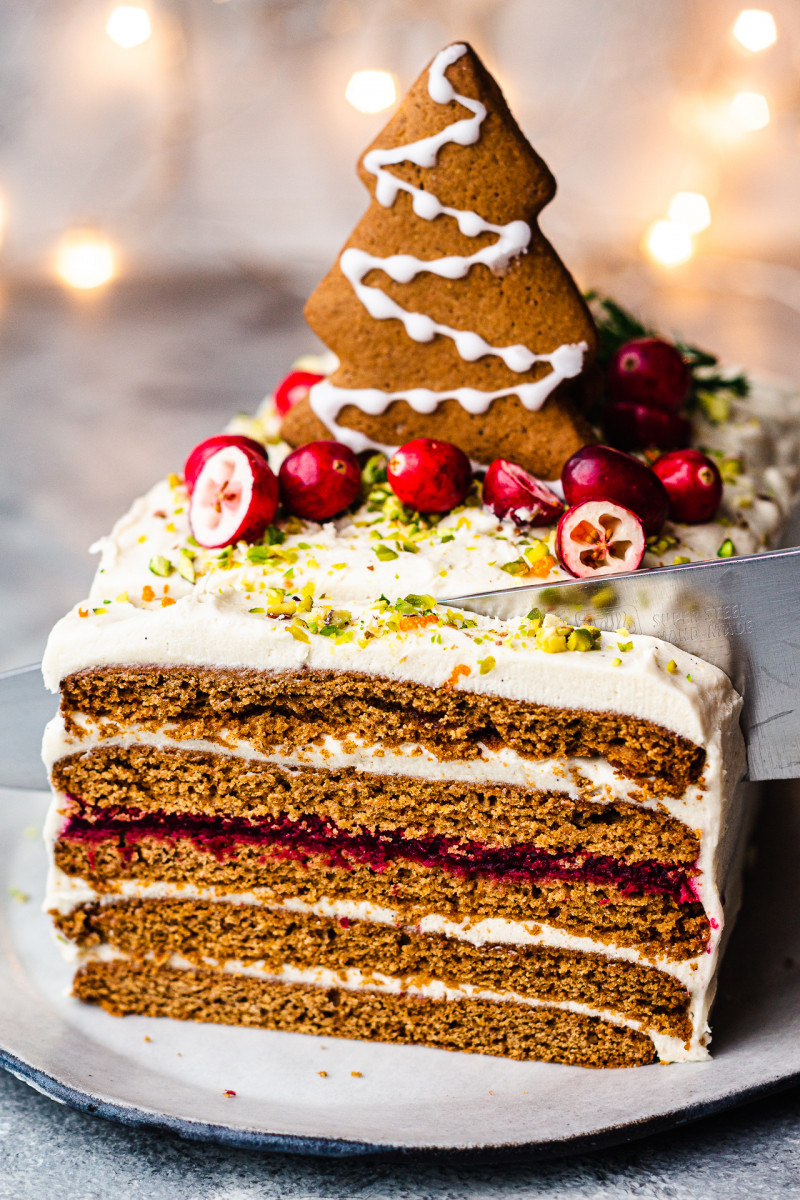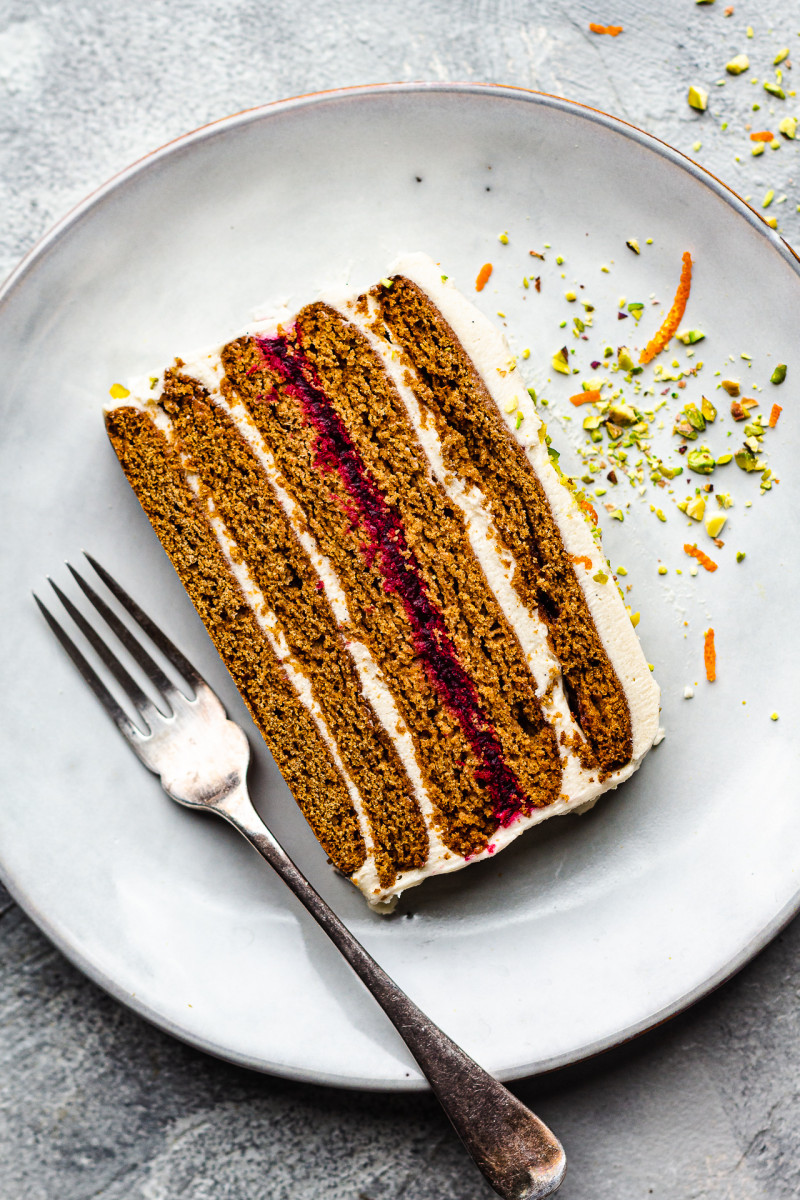 GINGERBREAD SHEETS
150 g / 5.4 oz (about 2/3 cup) vegan butter block
18 g / 3 tbsp ground flax (if using GF flour)
160 ml / 2/3 cup lukewarm plant milk
250 g / packed 1¼ cup dark muscovado sugar*
1½ tsp baking soda
4 tsp ground ginger
3 tsp ground cinnamon
1½ tsp ground cardamom
1 tsp ground nutmeg
¼ tsp ground cloves
¼ tsp fine salt
500 g / 4 cups all purpose flour or GF flour mix
150 ml / ½ cup + 2 tbsp Amaretto, cold chai tea or lemon water*, for infusing
CRANBERRY LAYER
300 g / 10.5 oz fresh cranberries* (or sour jam*)
CUSTARD BUTTERCREAM
500 ml / 2 cups vegan single cream (I used Oatly) or full fat coconut milk
200 g / 1 cup caster sugar, adjust to taste
15 ml / 1 tbsp vanilla paste or extract
60 g / ½ cup AP flour or GF flour mix
30 g / 2½ tbsp potato starch*
100 g / 3.5 oz vegan butter block
¼ tsp salt, less if your butter is salty
METHOD
Place vegan butter in a large mixing bowl and leave on the counter to soften.
If making these with gluten-free flour, combine ground flax with plant milk and set aside to thicken. Otherwise skip to the next step.
Once the butter has softened, add dark muscovado sugar and whisk with electric beaters until homogenous and fluffy. If your sugar has clumps, squash them between your fingers first.
Next add plant milk (or activated flax if using GF flour). Whisk until well combined and creamy.
Place a sieve over the bowl and sift in all of the dry ingredients including approximately a half of flour. Mix well to combine, then sift in another half of flour. Use your hands to gently bring the dough together but do not knead.
The dough should be soft and a little sticky. Form it into a disc, wrap in cling film and refrigerate for about 3 hours, until the dough has hardend.
Before you are about to take the dough out of the fridge, set the oven to 180° C / 355° F and line two baking trays with a piece of baking paper.
Take the dough out of the fridge, weigh it and divide into 5 equal pieces.
Roll each piece into a long oblog then cut out a rectangle measuring 20 cm / 8 inches by 10 cm / 4 inches and 5 mm / 0.2 inch thick. Keep off cuts for gingerbread cookies.
Arrange gingerbread sheets on the prepared baking trays and bake for about 18 minutes. Cool down completely. You can store these away in an air-tight box 1-2 weeks before assembling.
CRANBERRY LAYER
Place cranberries and two tablespoons of water in a medium size pot on low heat.
Simmer until completely softened stirring the whole time so that the mixture doesn't catch.
Cool a little then blend until smooth. I needed to add 60 ml / 4 tbsp of water to be able to blend it in my mini blender – add as little water as possible or else it will run off the cake.
Refridgerate until needed, you will have leftovers but smaller amount doesn't blend so well. This keeps for about a week.
CUSTARD BUTTERCREAM
Place cream and vanilla in a large pot, warm it up on a low heat.
Place sugar, flour and potato flour in a medium bowl and whisk together well.
Once the cream is simmering gently, start adding flour and sugar mixture in a slow yet steady stream while whisking the entire time. This should minimise any lumps but if there are any, press the mixture through a fine sieve once thickened.
Carry on heating the mixture (whisking the whole time) until it starts bubbling gently – stop whisking for a few seconds to see if it does. From that point onwards allow the mixture to bubble for 5 minutes on a low heat to thicken and to cook off raw flour taste.
Take off the heat, allow to cool, then refridgerate until cold (overnight if you have time).
Cut butter into slices and place it in a food processor. Leave at room temperature until the butter is completely soft, then process until smooth and lump free.
Slowly add cold custard, tablespoon by tablespoon, allowing each addition to get incorporated into the butter. By the end of this process you should end up with a fluffy white buttercream. Refridgerate for a couple of hours at least before icing the cake.
ASSEMBLY (2-3 days before consumption!)
Place first gingerbread layer on a dish/surface that will fit into your fridge comfortably.
Brush it with 2 tbsp of your soaking liquid of choice, allowing it to soak in before spreading the buttercream gently on top.
Follow exactly the same step with the next layer, then switch up buttercream for cranberry jelly/jam.
Follow the same steps until you've used up all gingerbread sheets. Use leftover cream to cover the top – don't forget to soak the last gingerbread sheet too before adding cream.
Keep leftover buttercream to cover the sides once the cake has set amd place assembled cake in the fridge at least 48 hours (72 hours is better) before serving days so that gingerbread has a chance to soften.
Decorate however you wish – I used gingerbreads made from leftover dough, chopped pistachios, fresh cranberries, bits of Christmas tree and orange zest.
Keep in the firdge for up to 5 days, I have not tried freezing it yet but will test that shortly.
NOTES
 *MOLASSES: If you wanted to add molasses to the gingerbread dough, you can. Use unsulphured molasses or black treacle rather than blackstap molasses, which are bitter. Use 80 g / ¼ cup of molasses and decrease the amount of sugar by 50 g sugar / ¼ cup.
*SOAKING LIQUID: my mum uses lemon water (approx. 30% lemon juice, the rest water), I have tried using Amaretto and I have no regrets (you may want to water it down for less punchy flavour), cold spiced chai tea or cranberry juice will also be delicious.
*CRANBERRIES: I both fresh and frozen cranberries work well. I did not add any sugar as I wanted a sour conterpoint to the sweet gingerbread and buttercream. Alternatively, use a sour jam – my mum useses her homemade sour cherry jam.
*POTATO STARCH: can be replaced with the same amount of cornflour / cornstarch by weight.