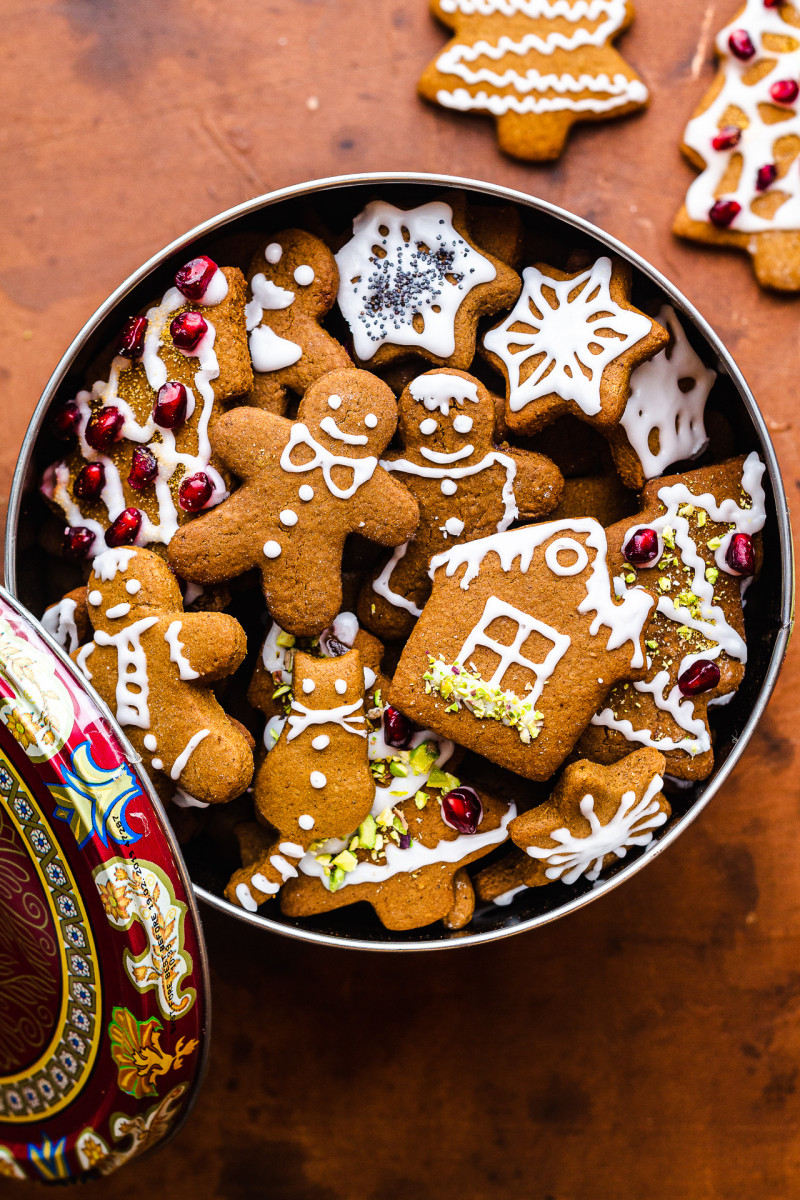 As we have just stepped into December, I consider Christmas cookie baking season officially open. Any nay sayers out there? I started off with a most popular Christmas cookie – gingerbread cookie. Although I already have two delicious gingerbread cookie recipes on this website (here and here), I've decided that I need one more. Firstly because I felt like going on a cookie decorating spree – I won't lie – and secondly because I wanted to create a simpler recipe with only basic ingredients that any vegan will find in their pantry or the nearest shopping aisle.
This recipe is exactly that, it contains common pantry ingredients that anyone will be able to find without much effort. The only maybe slightly unusual ingredient is molasses. Molasses is a by product of sugar refining process and it has been traditionally added to gingerbreads to deepen their flavour. I used pure blackstrap molasses as that's what I already had in my cupboard. If you add a lot (I tested another version with double the amount), they do contribute a slightly bitter taste, but dialling down to 2 tbsp was perfect. You can use black treacle or unsulphured molasses instead. You can also just skip them altogether and compensate as per my recipe instructions. Right, so let's get down to it, below you can see all of the ingredients needed at a glance…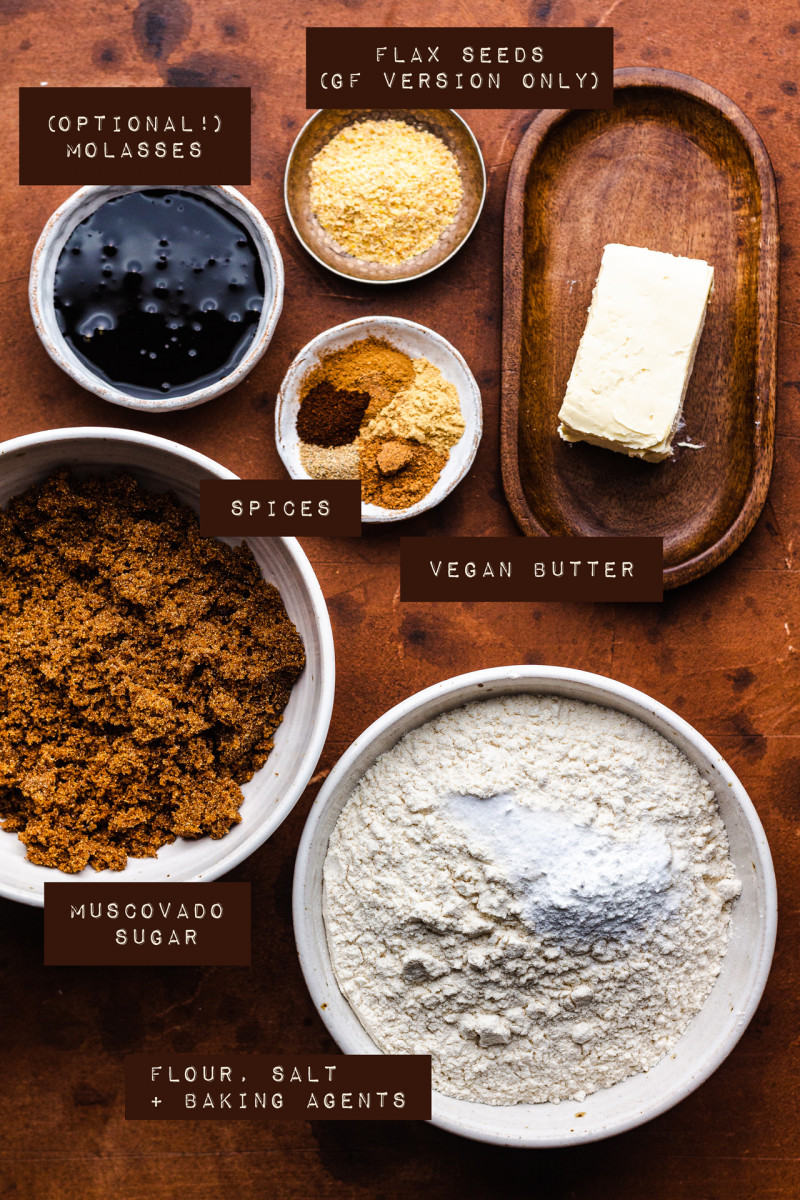 MORE ABOUT THE INGREDIENTS
VEGAN BUTTER: vegan butter block (I like using Naturli and Violife, but of which are available in most UK supermarkets) replace traditionally used butter. You could also use coconut oil. I recommend using a refined coconut oil like this one as it does not contribute any coconut flavour.
MUSCOVADO SUGAR: Muscovado sugar, which is less refined than other sugars so it contains a lot of molasses, contributes a lot of flavour to these cookies. I used dark muscovado but light version can be used too, especially if you are using molasses too.
MOLASSES: Molasses, which are a byproducts of refining sugarcane or sugar beets into sugar, are traditionally used in gingerbreads to add flavour. I used blackstrap molasses, which have a slighly bitter flavour. If you want to avoid bitterness altogether, use unsulphured molasses instead. You could also use black treacle, which is more traditionally used in the UK, instead. If you don't have any of these ingredients, don't worry – you can totally make beautiful gingerbreads without either of them – I explain everything in step 4 of my instructions.
GROUND FLAX: If you are making these with regular flour, there is no need to add flax at all. If however, you want to make these gluten-free use a well-balanced GF flour mix (that contains some starches) and add some flax to keep these from crumbling.
SOY MILK: A dash of protein rich soy milk is used here to replace eggs. You don't have to use soy milk if you don't have it though, any plant milk will do.
BAKING SODA: Baking soda is what helps these cookies rise a little and stops them from being too dense.
SPICES: I used the following combination of classic gingerbread spices to flavour these Christmas cookies: ginger, cinnamon, nutmeg, cardamom and cloves. You can adjust the amounts and maybe swap out some spices to your liking. All spice, coriander and black pepper are often also used.
FLOUR: all purpose (also known as plain) flour is what I used to make these and this GF flour mix to make gluten-free version.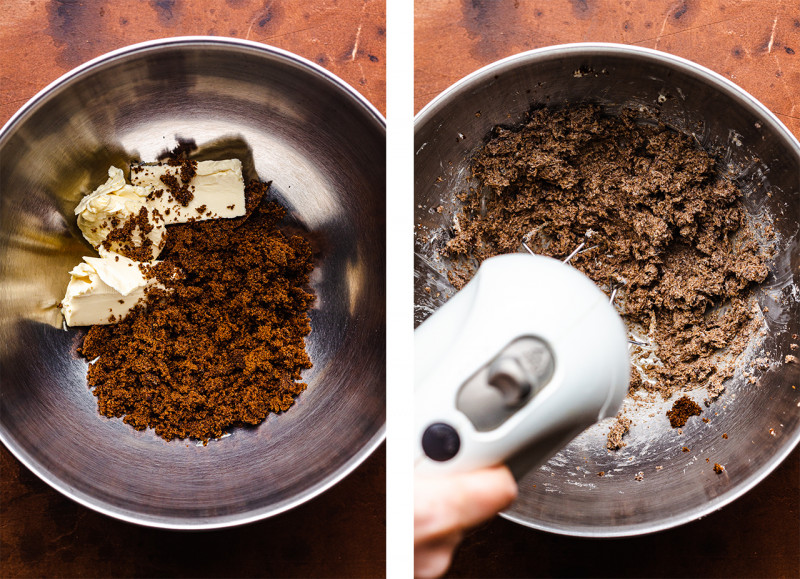 Start off by placing vegan butter and sugar in a large mixing bowl. If your butter is cold, allow it to sit on the counter for a bit to soften. Using electric beaters cream vegan butter and sugar together until fluffy and thoroughly combined.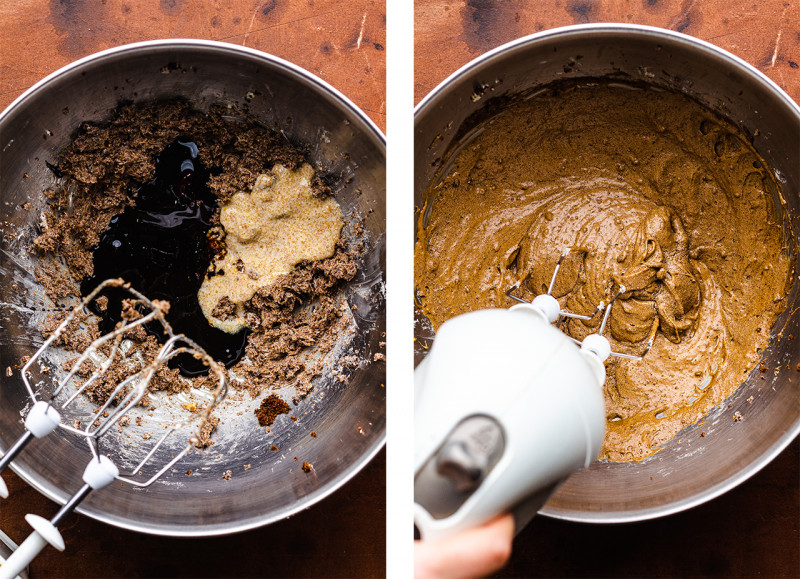 Next, add in molasses and activated flax (if making GF version) or soy milk (if making regular version). Whip untill well combined, scraping the walls of the bowl with a spatula now and then. You will end up with thick homogenous mixture.
Place a sieve over the bowl and sift in baking soda, spices, salt and half of the flour. Fold it in gently using a spatula first, then add the second half of the flour and switch to your hands – be gentle if using regular (containing gluten) flour. You should end up with quite a soft dough by the end.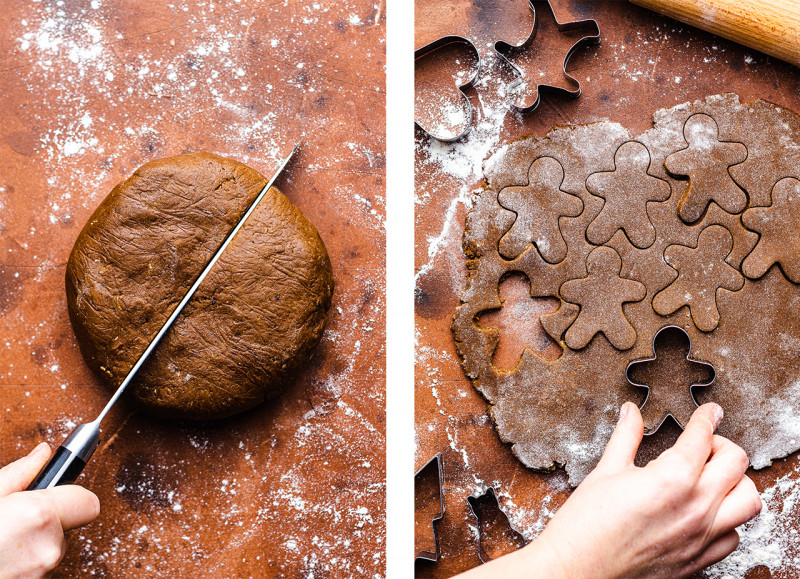 After chilling the dough, roll it out until 5 mm / 0.2 inch and cut out gingerbreads using cookie cutters. Bake and cool before decorating.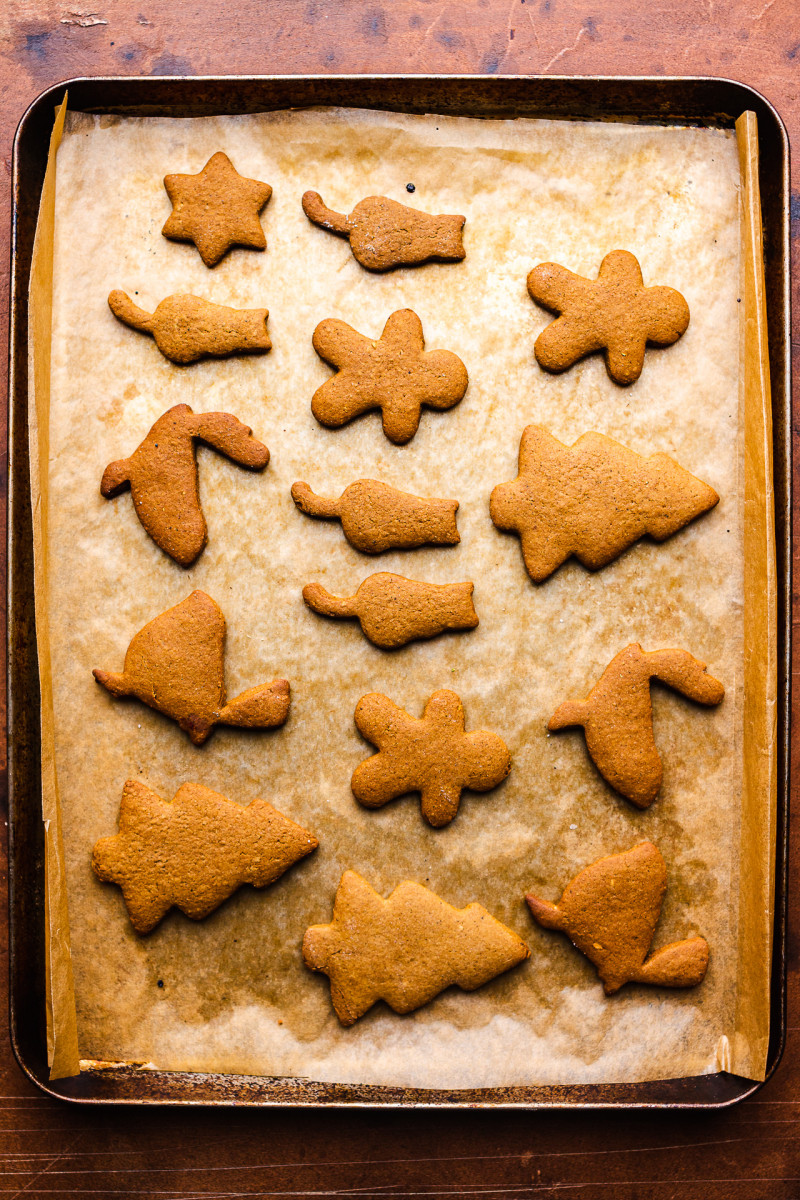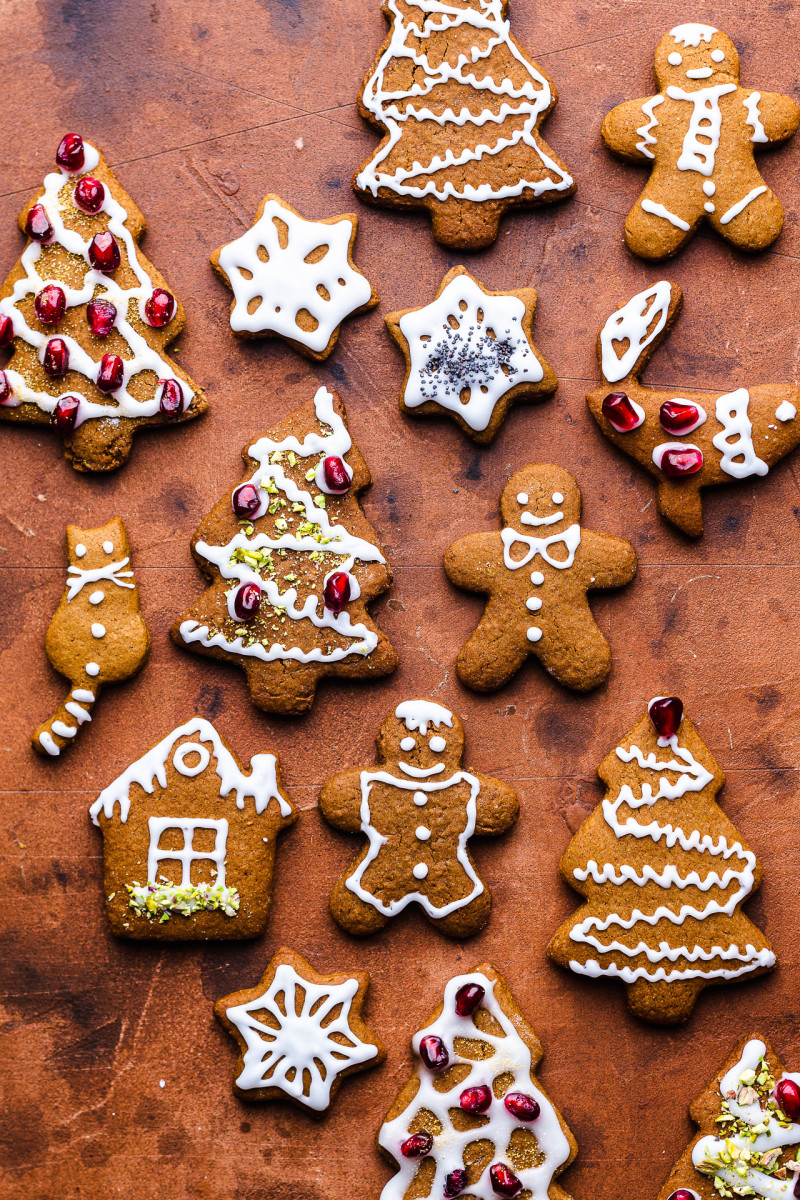 And if you are after a few more Christmas cookie and truffle recipes, I've got you covered…
75 g / 2.7 oz (about 1/3 cup) vegan butter block or coconut oil
9 g / 1½ tbsp ground flax (if using GF flour)
60 ml / ¼ cup soy milk (or other plant milk)
100 g / packed ½ cup dark muscovado sugar
40 g / 2 tbsp molasses* or extra 25 g / 2 tbsp muscovado sugar
¾ tsp baking soda
2¼ tsp ground ginger
1½ tsp ground cinnamon
¾ tsp ground nutmeg
¾ tsp ground cardamom
¼ tsp ground cloves
heaped ¼ tsp fine salt
250 g / 2 cups all purpose flour or GF flour mix
ICING & NATURAL DECORATION IDEAS (optional)
140 g / 1 cup icing/confectioner's sugar
20 ml / 4 tsp water, lemon juice or plant milk
METHOD
Measure out vegan butter, place it in a large mixing bowl and leave on the counter to soften.
If making these with gluten-free flour, combine ground flax with 60 ml (¼ cup) of soy milk and set aside to thicken. Otherwise skip to the next step.
Once the butter has softened, add sugar and whisk with electric beaters until homogenous and fluffy.
Next add in molasses and ¼ cup of soy milk (or activated flax if using GF flour). If not using molasses, add an extra 25 g / 2 tbsp of sugar and 80 ml / 1/3 cup soy milk in total (or activated flax and an extra tablespoon of soy milk if using GF flour). Whisk until well combined and creamy.
Place a sieve over the bowl and sift in all of the dry ingredients including approximately a half of flour. Mix well to combine, then sift in another half of flour. Use your hands to gently bring the dough together but do not knead.
The dough should be soft and a little sticky. Form it into a disc, wrap in cling film and refrigerate for about 3 hours, until the dough has hardend.
Before you are about to take the dough out of the fridge, set the oven to 180° C / 355° F and line two baking trays with a piece of baking paper.
Take the dough out of the fridge – if you used coconut oil, bring the dough to room temperature to soften a little. Roll half of the dough (place the other half back in the fridge) out on a lightly floured surface pressing gently with a rolling pin. Roll the dough until about 5 mm / 0.2 inch thick, then cut out cookies. If you want your gingerbreads extra crispy, roll them out even thinner.
Arrange the cookies on the prepared baking trays. You don't need to leave a lot of space between them as they don't expand much. Group similar size cookies together so that they cook in the same time. Bake small cookies for about 7-9 minutes and larger for 10-12 minutes.
To make the icing, mix icing sugar with your choice of liquid until you obtain a thick yet pourable icing. Apply icing using a piping bag.
Store the biscuits in an air-tight container away from moisture, they should keep for at least a week.
NOTES
 *MOLASSES: I used blackstrap molasses, you can also use unsulphured molasses or black treacle.
*FREEZING: This dough freezes very well. You can make it in advance, divide into 2-3 portions (so that it thaws quicker) and freeze wrapped up in cling film. Defrost a few hours before you are ready to start baking.