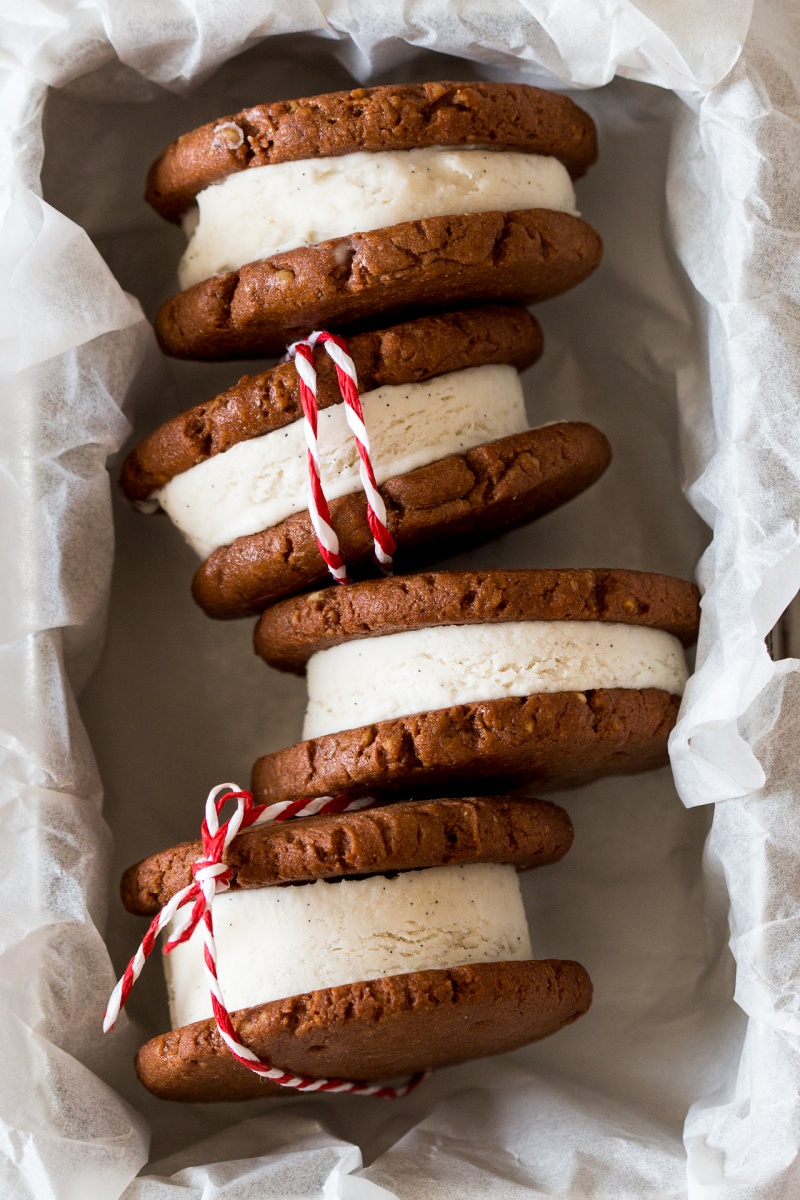 Are you guys fans of ice cream sandwiches? I hope so, as this is what is on the menu today! At times when sticking your head into the fridge at regular intervals seems like an inspired idea, sinking your teeth into a soft and chewy biscuit followed by a refreshingly cold and creamy ice cream centre is just as good.
These vegan and gluten-free ice cream sandwiches are a hot weather must! They require no ice cream churner (you can thank me later 🙂 ), only 11 ingredients and are super easy to make.
As it's my first foray into an ice cream hugged snugly between two cookies territory, I went for a classic combo of vanilla ice cream centre sandwiched between chocolate cookies. I'm pleased to say that they turned out even better than I had hoped as confirmed by my next-door neighbours and Duncan who has had many ice cream sandwiches in his time, back in Australia, and considers himself a bit of an old hand in the ice cream sandwich consumption department.
If you're feeling hot and, like me, wondering if you'll ever be cool again, get the blender out and make yourself some ice cream sangers and life will seem instantly sweeter (and way cooler)…promise!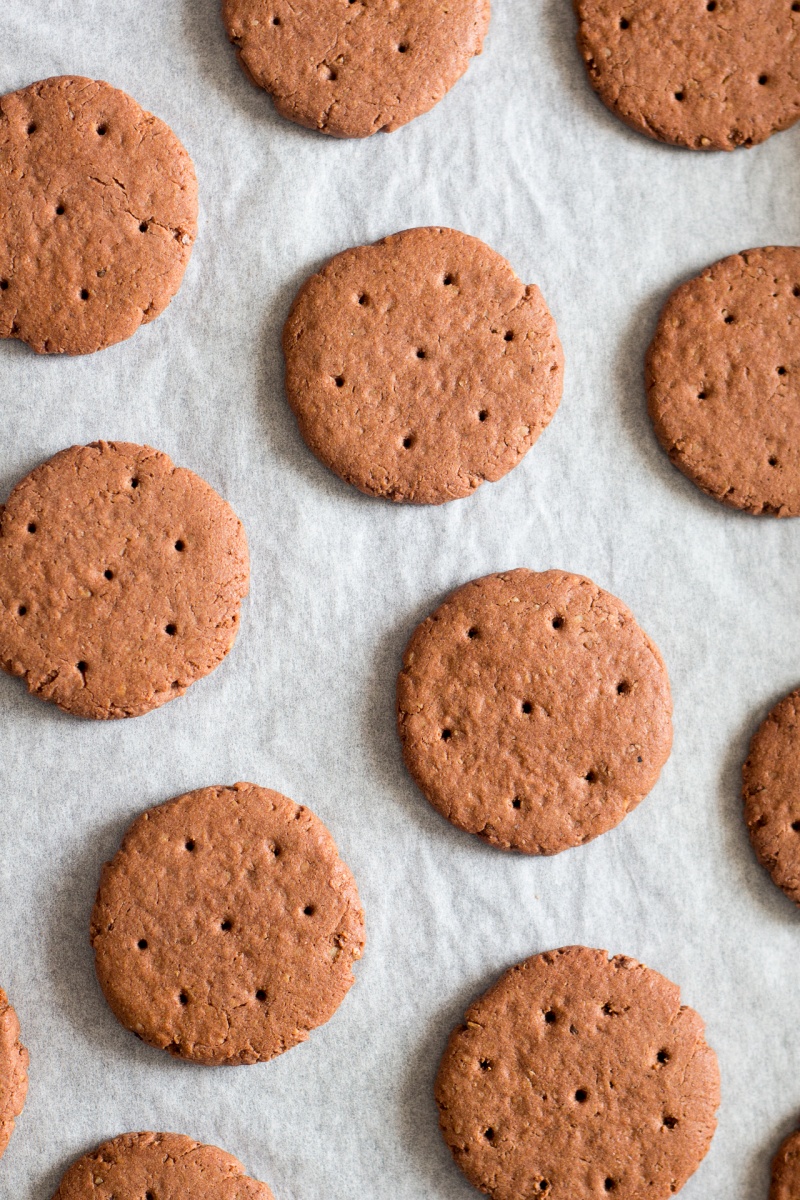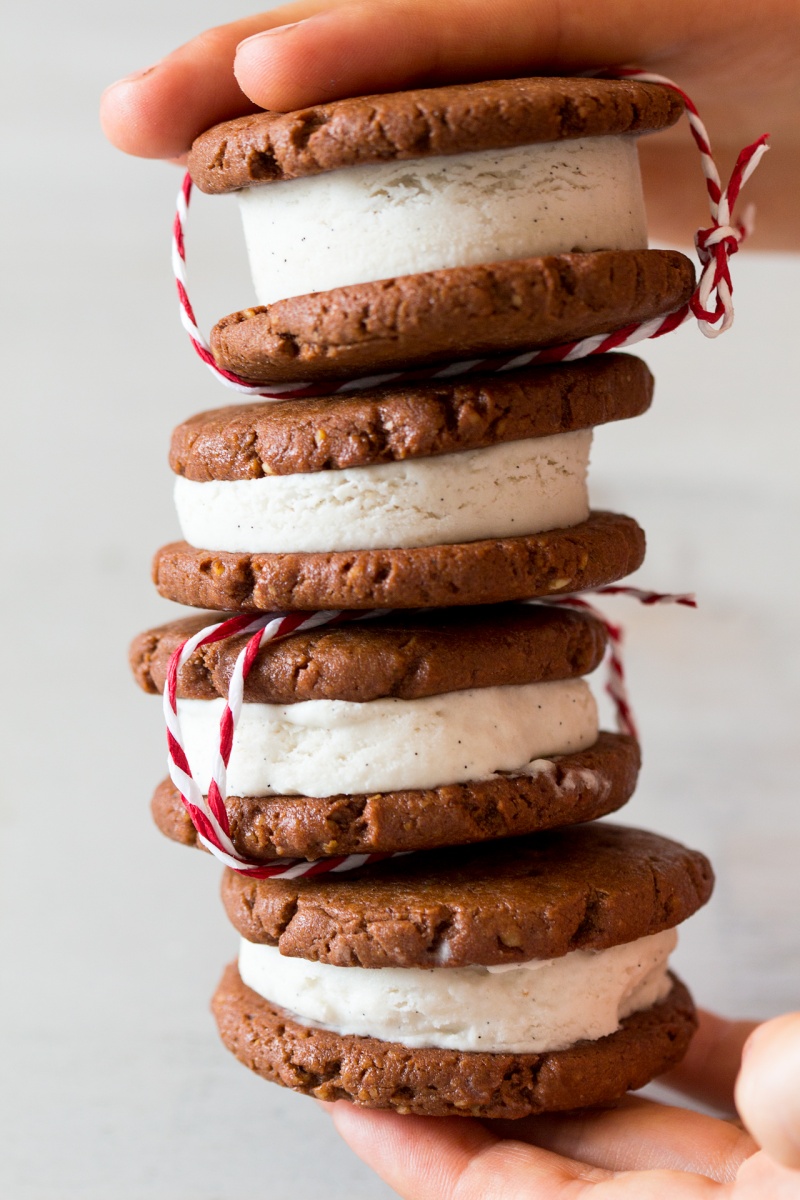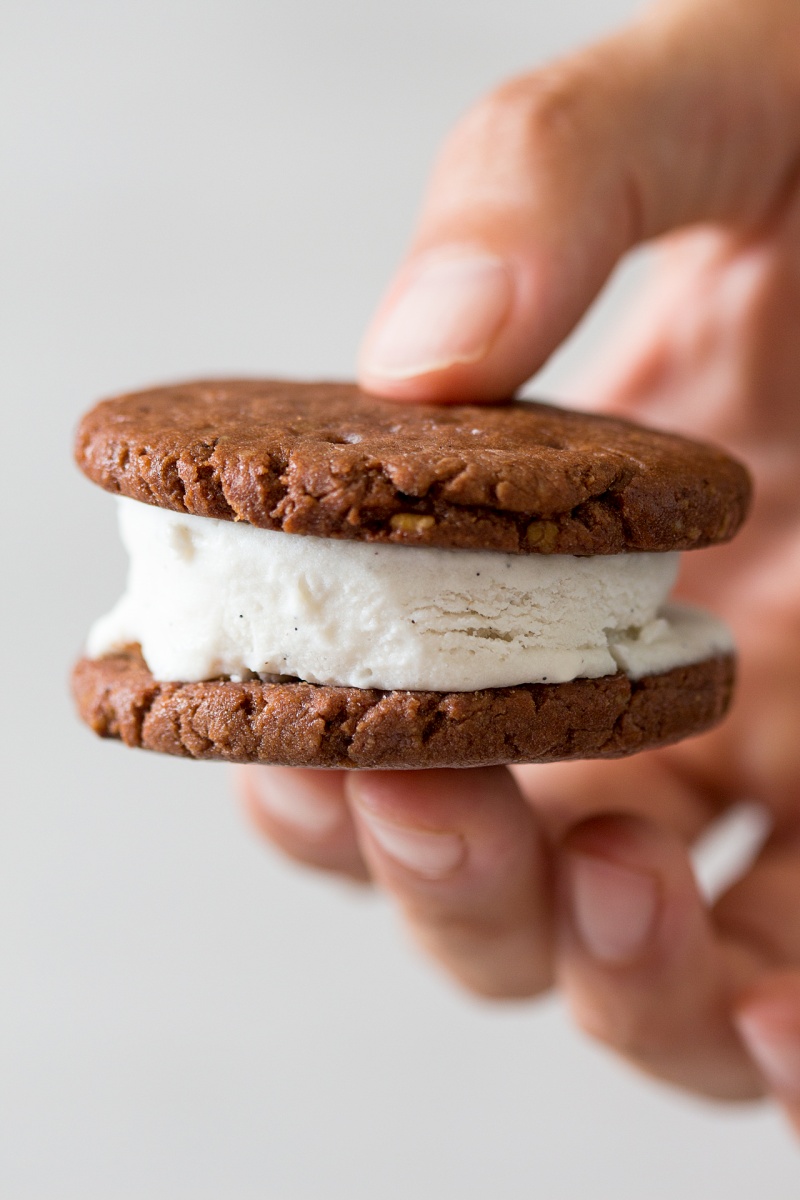 ICE CREAM
COOKIES (makes 20 cookies)
METHOD
ICE CREAM
Place rinsed cashews, 1/3 of the coconut cream and scraped vanilla seeds (you can stick leftover vanilla pods in your sugar jar to give it a nice aroma) in a blender. Blend until cashews are super smooth. Add remaining coconut cream and blend again until all the ingredients are thoroughly mixed.
Whip aquafaba in a clean (that's important) glass or metal bowl until you get stiff peaks meaning when you invert the bowl, the aquafaba should not slide down at all.
Once your aquafaba reaches stiff peaks, very gradually start adding sugar, whipping well after each addition. Fold in the corn flour / corn starch with a silicone spatula.
Line a medium tray (mine was 24 cm / 9.5″ by 20 cm / 8″) with a piece of baking parchment. Pour cashew-coconut mixture in and fold aquafaba meringue in gently. Make sure the two mixtures are well combined.
Cut a piece of baking paper that fits the size of the tray and cover the ice cream with it making sure it rests directly on the mixture. Place the tray in the freezer.
For the initial 2 hours, every 30 mins or so peel the baking paper off the top and give your ice cream a good stir with a fork. Put the paper back on and continue freezing.
Once the ice cream is solid, prepare another tray / large container lined with a piece of baking paper. Take ice cream out of the freezer and using a cooking cutter (mine was 5 cm / 2″ diameter) cut circles out of the mixture. Place the cut out circles on the other tray and return them to the freezer until your cookies are cooled down and you are ready to assemble your sandwiches.
To assemble the sandwiches, place a circle of ice cream between two cookies and consume immediately. I don't recommend assembling these in advance as the cookies become hard to bite once frozen.
COOKIES
In a bowl, mix up maple syrup and tahini until fully combined and there are no lumps in your tahini.
Mix in ground walnuts until fully combined.
In a separate bowl, combine flour, baking soda and raw cacao (if using). Add it to the tahini mixture in 3 batches. The mixture will be thick and sticky so it's best to use your hands. If you are using an all purpose wheat flour instead of a buckwheat flour, be careful not to overwork the dough as it activates gluten in the flour and will make the cookies hard.
Weigh the dough and divide it into 20 even pieces. Roll each piece into a ball, press the ball down with a bottom of a glass to create a ½ cm thick 5 cm (2 in) diameter discs. Make small dents on the surface of the formed cookies (I used a wooden skewer) for decoration if you wish, it's not essential.
Place the tray in the fridge for 30 min while you pre-heat the oven to 175° C / 350° F.
Bake in a hot oven for 10-12 mins. Remove the biscuits from the oven, transfer them to a cooling rack and let them cool down completely before assembling the sandwiches.
NOTES
*Instead of tahini, you could use pretty much any nut butter as long as it is smooth and has a consistency that is similar to tahini, i.e. quite runny. If your tahini / nut butter has separated, make sure you stir the oil back in before using it in this recipe.
**Instead of walnuts, you can use ground almonds, pecans or hazelnuts.
If you are skipping cacao, you need to adjust the recipe in the following way: reduce maple syrup by 1.5 tbsp and reduce buckwheat flour by 3 level tbsp.
Cookie recipe is adapted from this recipe.