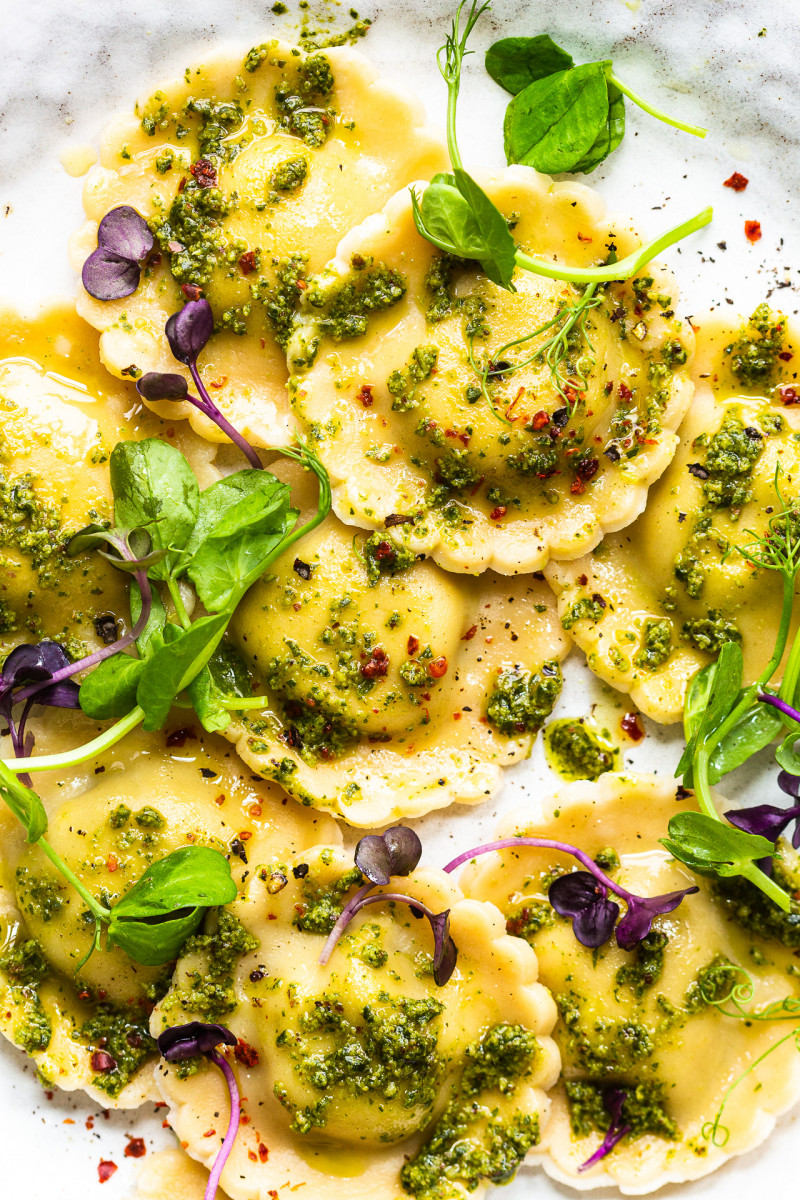 I'm really excited about today's recipe as the result has truly surpassed my expectations to be honest. My initial plan was to make regular ravioli filled with Spring-inspired green pea and mint filling. However, being my perfectionist self, I really wanted to be able to offer a nice gluten-free pasta dough alternative that's different from what I've done so far.
I came up with chickpea flour pasta as its naturally yellow colour reminds me of egg pasta and I've eaten shop-bought chickpea pasta before so I thought why not attempt fresh chickpea flour pasta. Unfortunately, initially the first few attempts were really underwhelming and so I figured I am going to scrap gluten-free version altogether and point people to my gluten-free pierogi dough instead. Duncan, who is sometimes brutally honest (which I appreciate!) when it comes to gluten-free stuff was kind but visibly not impressed. I totally agreed with him, the ravioli was okay to form, fill and cook but the texture of the cooked ravioli was just not that pleasant to eat.
I was gutted as I felt that I was really close. Disheartened and not really having much hope, I decided to give it one more try, changing some proportions around and swapping one ingredient for another and, to my astonishment, I hit the jackpot. These chickpea flour ravioli are really delicious and not that far off regular ravioli made with gluten flour. The dough is really simple to make, it holds together really well, it can be rolled really thin (see photo below) and once cooked has a satisfying chew to it and does not have an overpowering chickpea taste either. I am really really chuffed with this recipe and I hope you'll love it as much as we do and we are big pasta fans in this house. If you want to make this dish with regular wheat dough, use this dough recipe instead.
MORE ABOUT THE INGREDIENTS
PSYLLIUM HUSK – psyllium husk powder is a binder obtained from plants. It's very potent so you only need a small amount, which makes it a very cost-effective ingredient. You can get it in health food stores, perhaps in your corner store and online. It is sold in two forms: powder and whole psyllium husks, and I recommend the former, it's more concentrated and results in a perfectly smooth dough. If you want to use whole husks, I've had to double the amount in my previous recipes.
CHICKPEA FLOUR – the base for this gluten-free dough is earthy chickpea flour, also known as besan or gram flour. It is a staple ingredient in Indian, Bangladeshi, Burmese, Nepali, Pakistani, Sri Lankan and Caribbean cuisines so the best place to get it (at least in the UK) is a corner store although both of my local supermarkets sells it also (in their fairly well stocked Asian food section). It's cheap and keeps well. I recommend weighing it for this recipe and sifting it as it tends to clump up when sitting around.
TAPIOCA STARCH – tapioca starch is also known as tapioca flour. It is commonly used as a thickener and binder and it helps to make this dough supple. I have tried using cornstarch (known as cornflour in the US), but the texture of the dough was not that nice so I recommend finding tapioca if you can – it is commonly used in East Asian, African and South American cooking so stores carrying products from these parts of the world are your best bet. It's inexpensive and keeps well provided it's stored in an air-tight container. Arrowroot and potato starch could possibly be good substitutes but I haven't had the time to test either of them so tapioca is the starch I recommend using with 100% certainty.
OIL – I used oil in this dough to increase its flexibility and moistness. While I used mild olive oil, any vegetable oil will do as long as you use the same quantity.
WATER – As this recipe requires precision, I strongly recommend weighing the ingredients. The amount of water may vary especially if using cup measurements to measure out flours as these tend to be inherently inaccurate. Please persevere with kneading (not stretching) the dough without adding extra water, it is surprisingly absorbent and will most likely absorb dry flour left in the bowl – if you must add extra water do so very gradually, in tiny amounts. Finished dough should be homogenous, supple, it should feel like play-doh but not be sticky to the touch.
RICE FLOUR – I used white rice flour for dusting as I found that chickpea flour got more absorbed into the dough making it dry while rice flour stayed on the surface.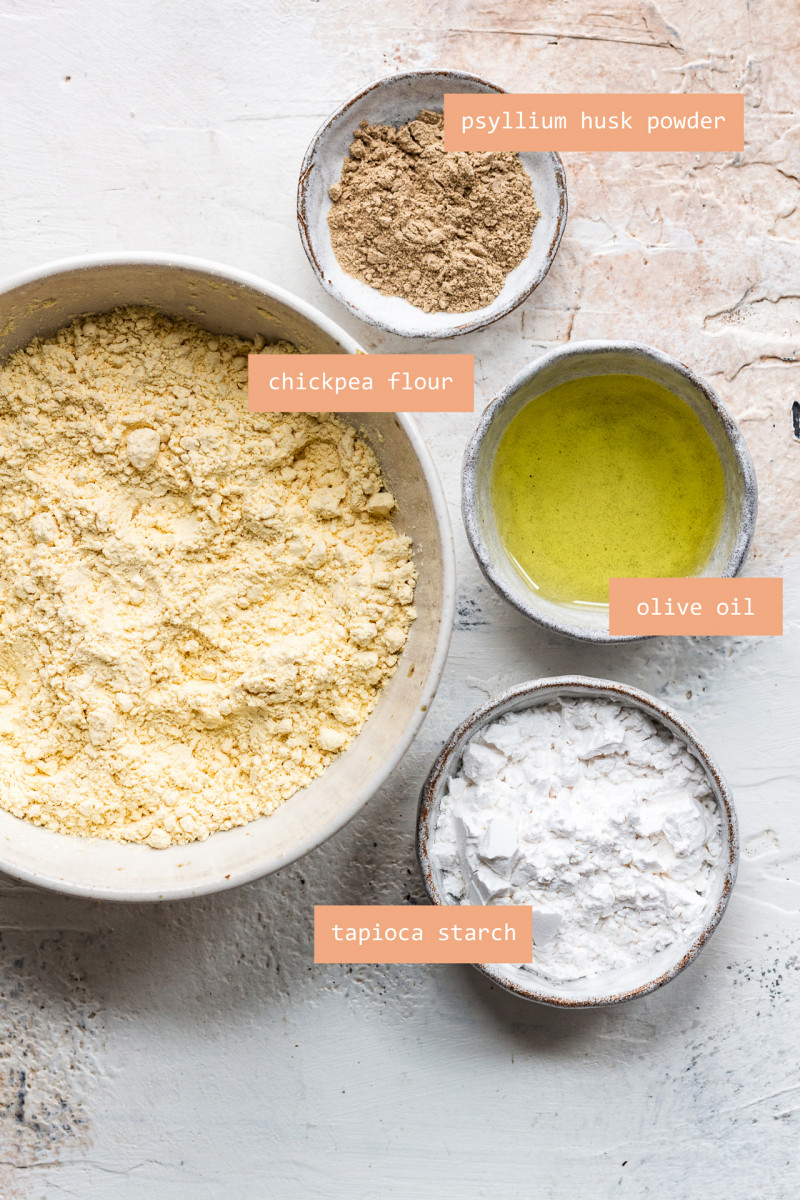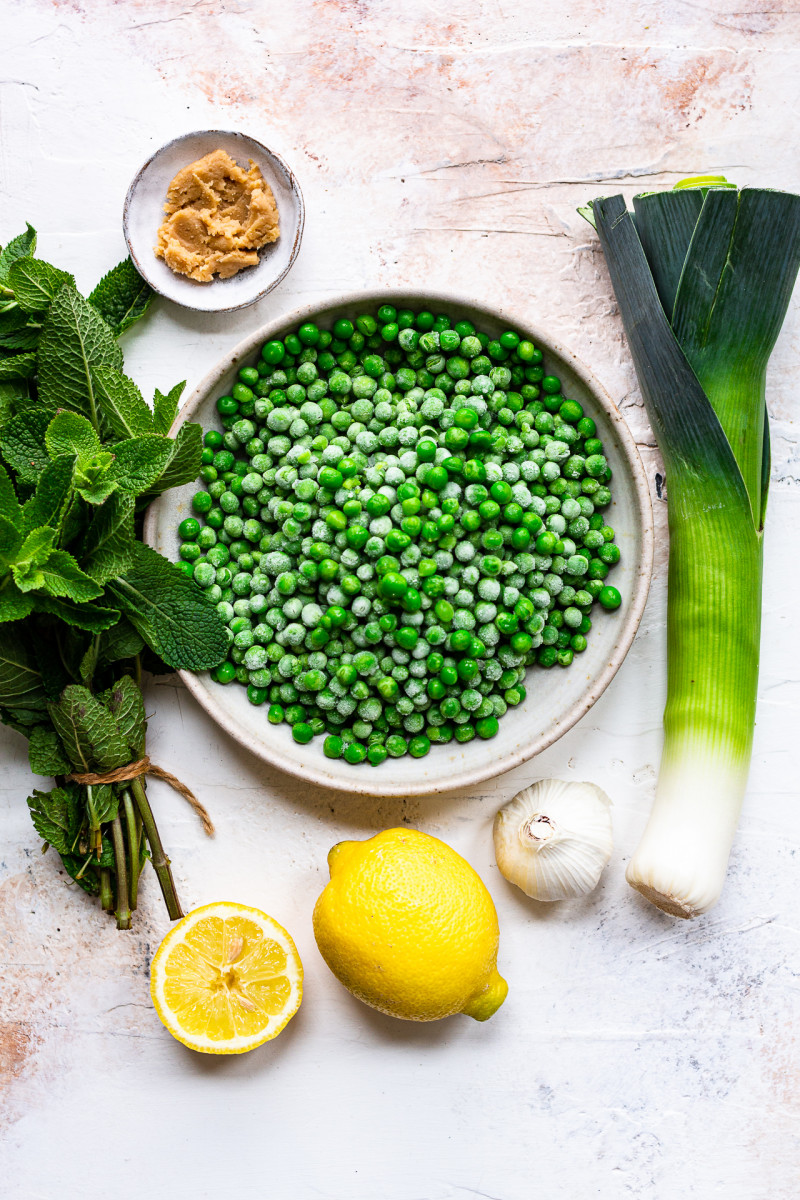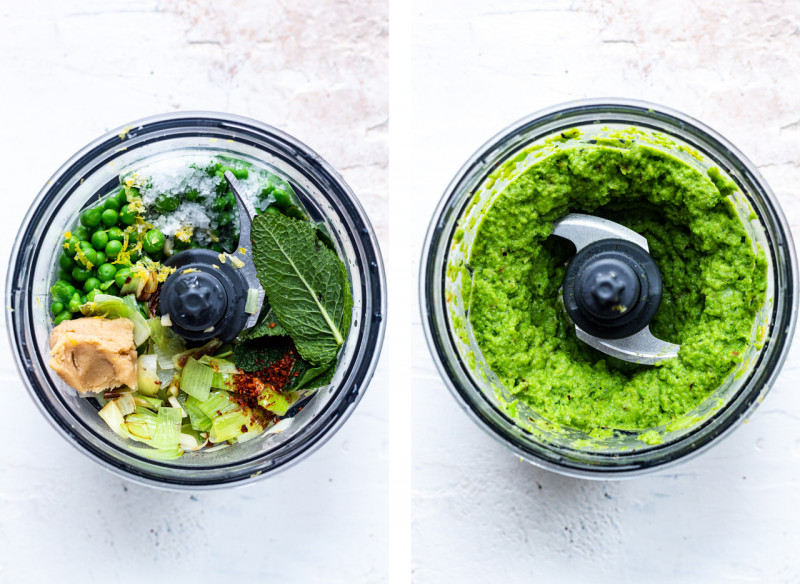 The filling for this recipe could not be simpler. Place boiled frozen peas and all of the remaining ingredients in a food processor and process until smooth. Add a tablespoon or so of breadcrumbs or almond flour to thicken.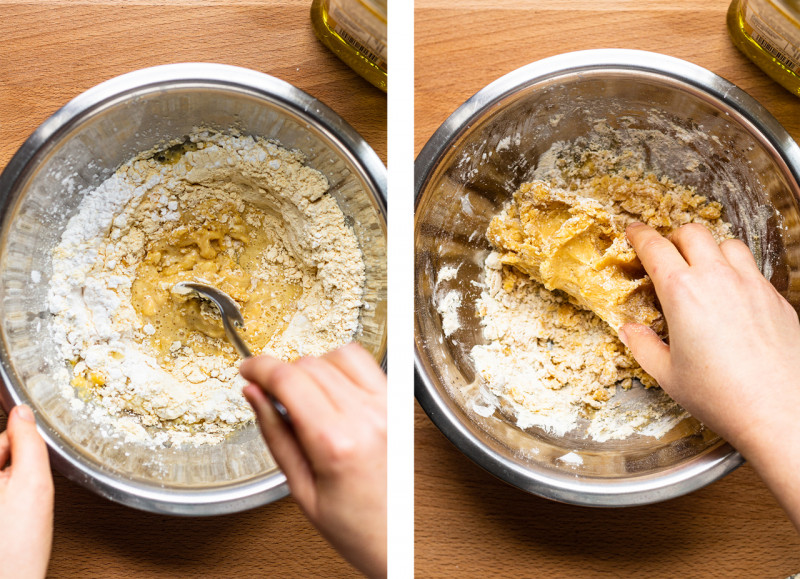 To make the dough, combine all dry ingredients in a bowl, add oil and water and mix well using a spoon first, then your hands. Persevere, bring the dough together with your hands for a while. Only if absolutely necessary, add a touch more water.
After a few minutes of pressing all of the ingredients together, they should form a supple, non-sticky, uniform disc of dough that feels like play-doh. Rest the dough for a bit then roll out on a lightly floured surface. I don't yet own a pasta machine (I know, what an oversight), but I have used one before and I am pretty sure this dough will do well in one.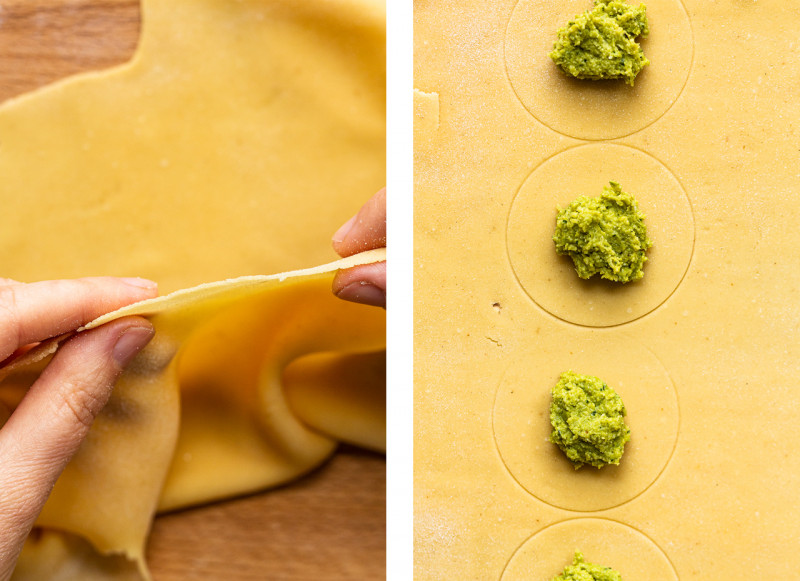 What's great about this gluten-free pasta dough is that it is possible to roll it out really thinly (see left photo above) and therefore make quite dainty and delicate ravioli. Once you roll it out, start forming ravioli by marking out a single row of ravioli on one side of the dough, placing half a teaspoon of filling in the middle of each raviolo…
…then folding another layer of dough over the ravioli and, using your fingers, fuse both layers of dough together around the filling. Once done, use a cutter to cut each ravioli out. I also like to run my fingers around each raviolo again to be absolutely sure it's sealed before plunging them into simmering water.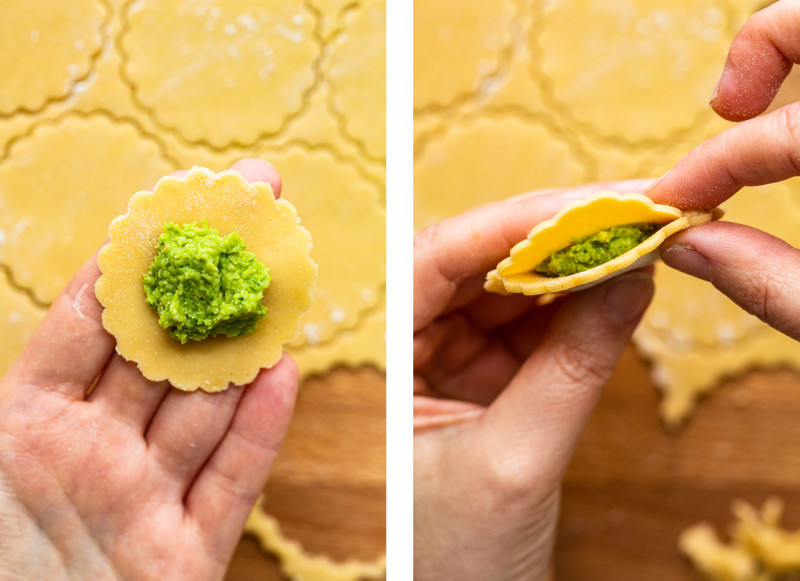 Alternative way of shaping ravioli is to cut both sides of ravioli out, place a piece of cut out dough in the palm of your hand, arrange a dollop of filling in the middle, cover with the other piece of pasta dough and seal around the filling using your fingers.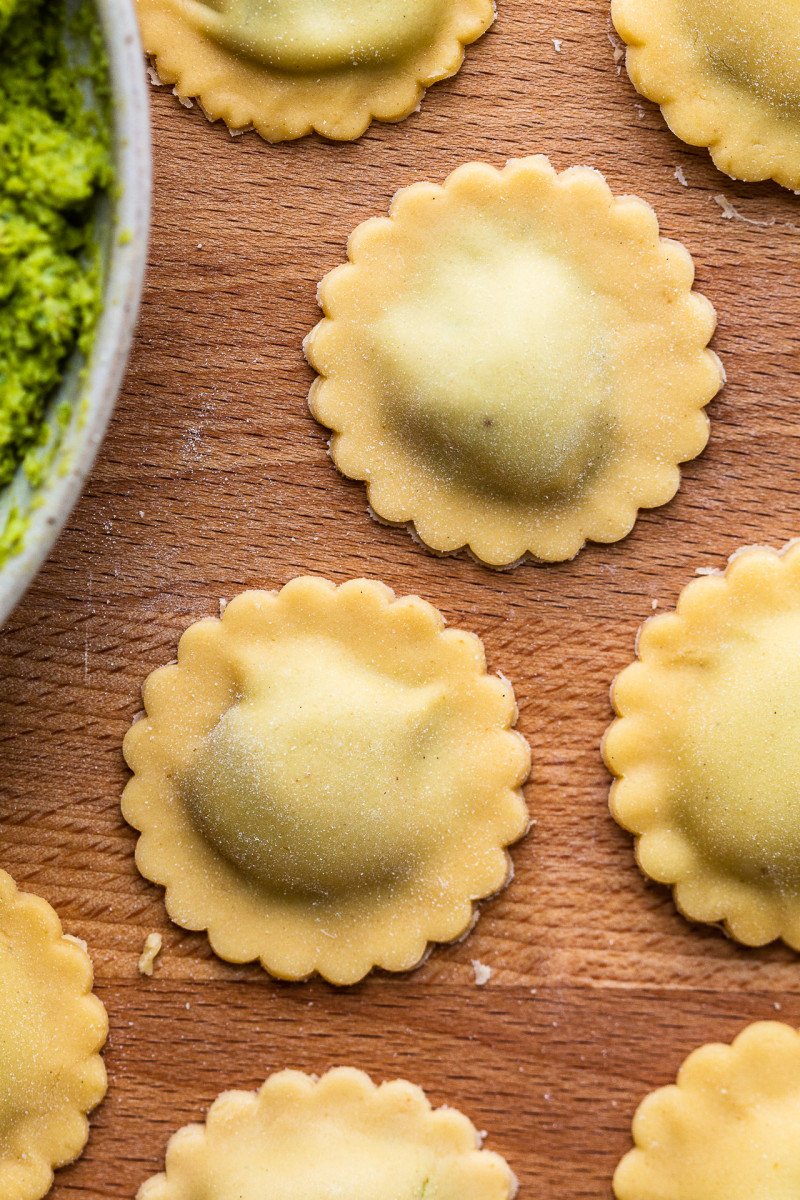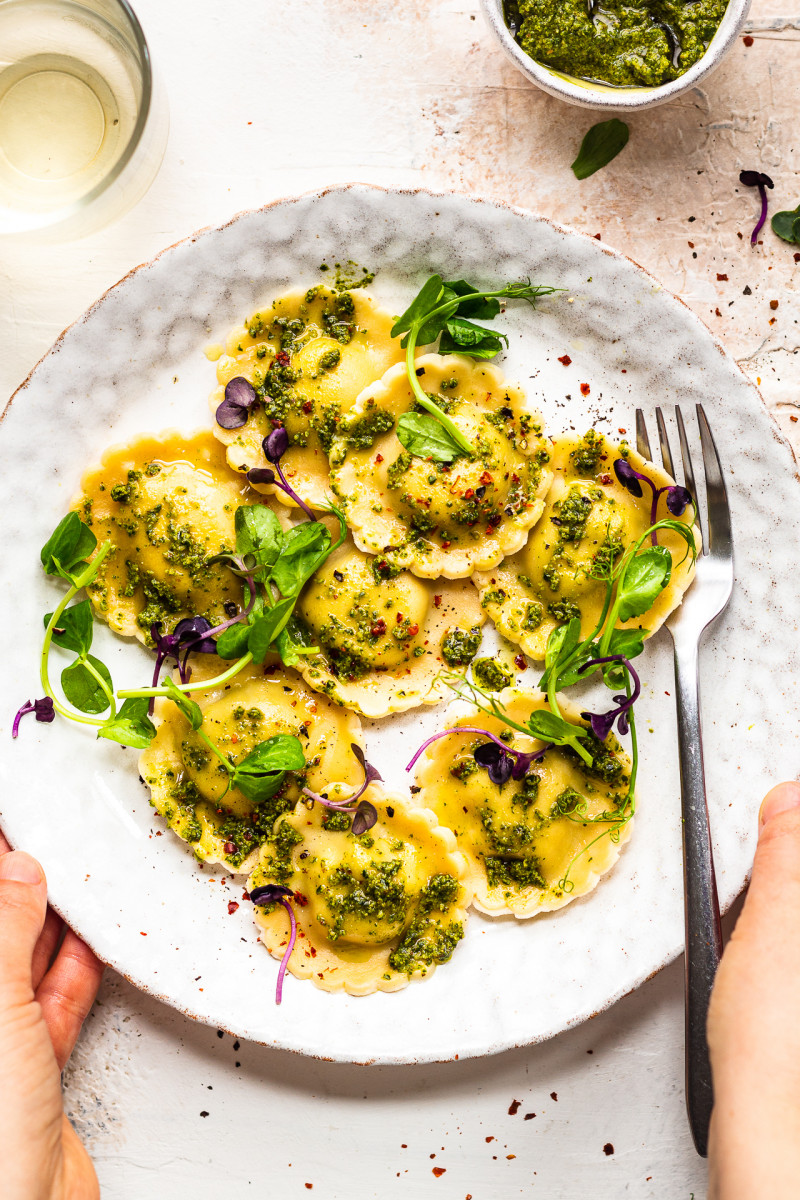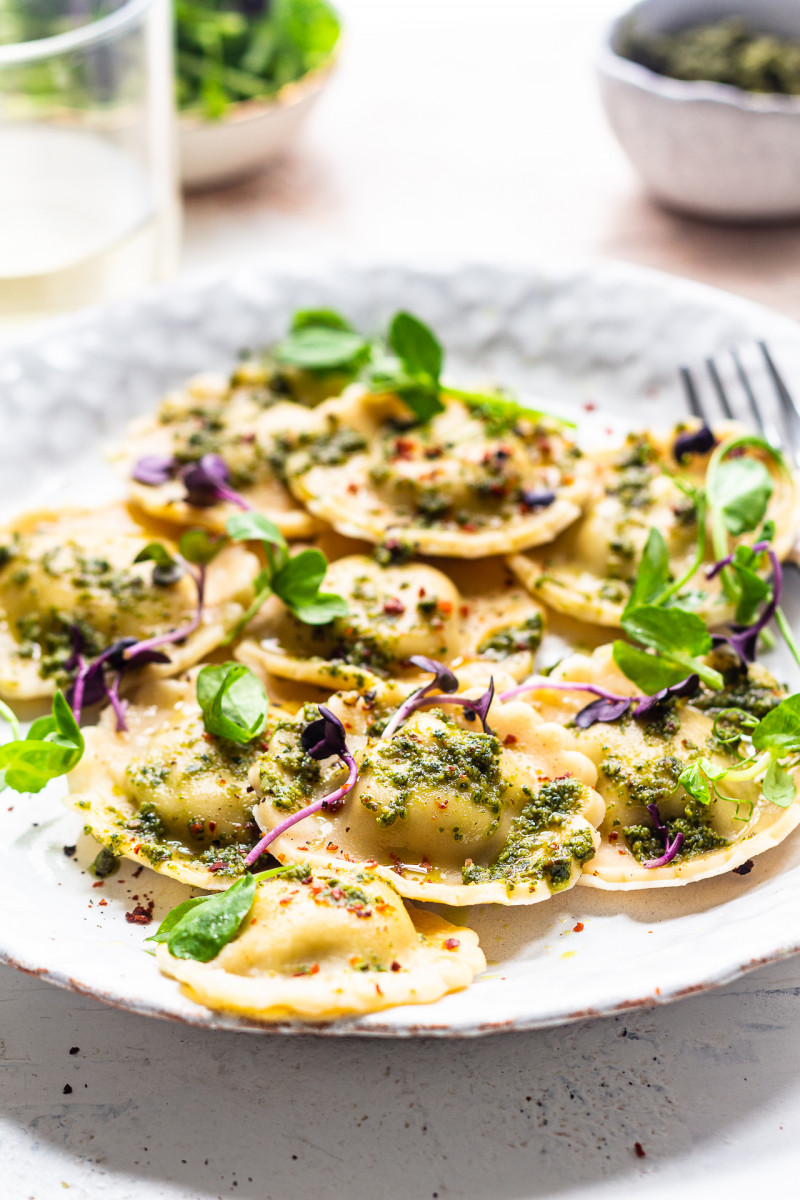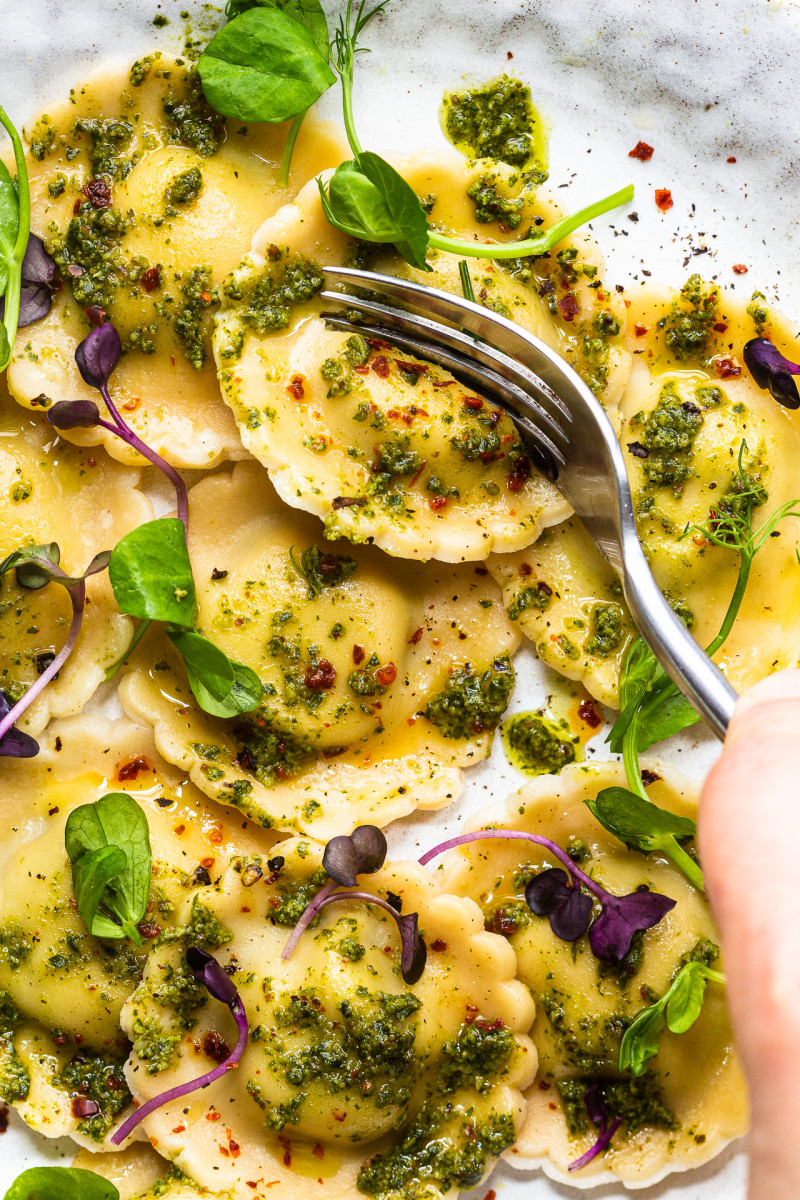 FILLING
130 g / 1 cup frozen petit pois or green peas
10 ml / 2 tsp olive oil
½ small leek, white and light green part only, sliced
1 garlic clove, diced finely
a few fresh mint (or basil) leaves
2 tsp white miso paste
zest of ½ lemon + 15-30 ml / 1-2 tbsp lemon juice
salt and pepper, to taste
1-2 tbsp breadcrumbs or ground almonds, to thicken (if needed)
GLUTEN-FREE PASTA DOUGH*
1 tsp psyllium husk powder
100 g / 3.5 oz (1 slightly heaped cup) chickpea flour
60 g / 2.1 oz (approx. ½ cup) tapioca starch
½ tsp sea salt
30 ml / 2 tbsp oil, I used mild olive oil
approx. 60 ml / ¼ cup water
rice flour, for dusting
TOPPING
a dollop of vegan pesto (I like wild garlic or basil) or a drizzle of extra virgin olive oil
salad leaves, I used pea shoots
METHOD
FILLING
Boil a small pot of water and fill a bowl with cold water. Once the water comes to boil, plunge frozen petit pois (or green peas) into it and cook according to the instructions (my petit pois needed 3 minutes). Drain and plunge into the bowl with cold water to preserve the colour.
Heat up the olive oil in a large pan. Gently fry leeks and garlic, until fragrant and soft.
Place cooked petit pois/green peas, leek and garlic and all of the remaining filling ingredients apart from the breadcrumbs in a small food processor. Process until smooth, season to taste.
If the mixture is too loose, add 1-2 tbsp breadcrumbs or ground almonds to thicken.
GLUTEN-FREE PASTA DOUGH
In a mixing bowl, combine psyllium powder, sifted chickpea flour, tapioca and salt. Mix well.
Add olive oil and water. Mix well with a spoon and then knead with your hands. You may need a touch more water especially if using cups instead of weighing your flours but only add more if the ingredients are too dry to come together to form a dough, it will initially feel like that might be the case but please persevere for a few minutes before adding more water. If your dough does need more water, add it very gradually, teaspoon by teaspoon. Finished dough should feel like play-dough, it should not be sticky. Rest it for 30 minutes.
Divide the dough into two. Roll the dough out as thinly (2 mm ideally) as you can on a surface lightly dusted with rice flour. Roll the dough out into a long rectangle that is as wide as two ravioli placed side by side (in my case 10 cm / 4 inches).
Using a cookie cutter (I used a 5 cm / 2″ one), gently mark out a single row of ravioli (see process photos). Place half a teaspoon of filling in the middle of each ravioli, using a damp finger paint around the perimeter of the circle, the fold the dough in half so that you have two layers of pasta one on top of the other. Alternatively, you could also cut both sides of your ravioli out and assemble them into your hands (see process shots)
Using your fingers, press the two layers of pasta around each filling together, ensuring that you don't trap any air bubbles while doing that as it will make your ravioli burst during cooking.
Once you fused the two layers of dough together, use a cookie cutter to the ravioli out. Run your fingers around each raviolo again to ensure it's sealed well. Keep sealed ravioli under a damp kitchen towel to keep them moist and supple.
Once you've made about 12, boil a small pot of water. Lower the heat to low-medium and add 6 ravioli to the simmering water at a time. Cook for about 3 minutes (or longer depending on the thickness of your dough). Fish them out with a slotted spoon and place on drying rack or a place.
NOTES