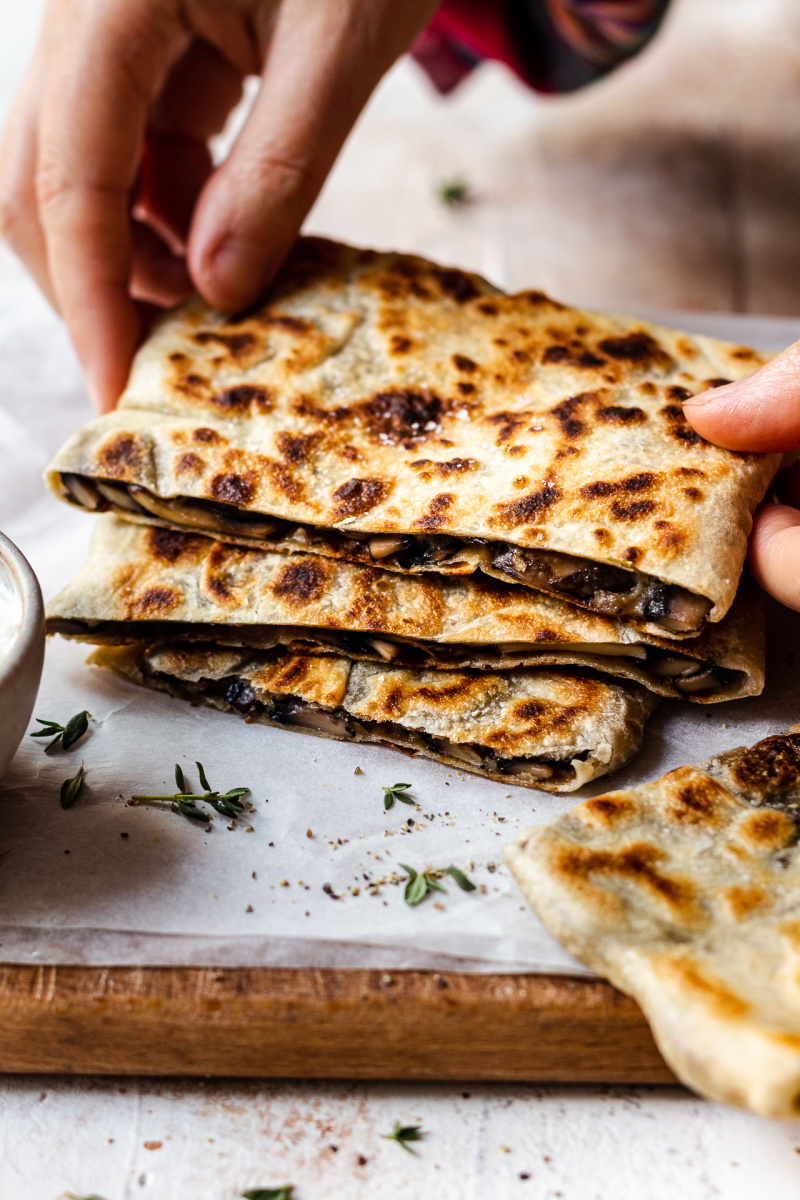 Happy autumn guys. Hope the sunshine is shining for you today as brightly as it is for us. We didn't get to enjoy much sunshine this summer unfortunately but maybe at least the autumn skies will remain nice and bright for a while. On Monday, we returned from our weekend away in the Lake District and I am still needing a little return to reality, my calves are still aching after some brutal climbing we did on Saturday.
Our journey up there was a bit of a nightmare as there were so many roadworks on the motorway that our four and a half our trip turned into a seven hour one. We have honestly started to think 'what have we done?', but the two days that followed – the company, the views and even the weather, which was very merciful to us this time – made up for it and we had a great time. We requested to go off the beaten track as much as possible, so on Saturday, my friend took us on a hike round the Haweswater Reservoir. It sounded flat and easy but it was anything but. Let's just say that I am glad I did not quite understand how challenging the terrain was going to be as I think I would have doubted my ability to make it. The views were stunning, lots of curious sheep, not many people about and we even got some sunshine towards the end.
On Sunday, we headed for Derwentwater to do some kayaking. Duncan is a seasoned kayaker as is my friend and her partner so I was a bit nervous that I might hold them all back but my worries were completely unfounded. It wasn't that difficult at all and I really enjoyed it. The lake was quiet and it was a great way to get around. Once again, the weather was slightly better than the forecast too. We ended the weekend with some pizza and drinks and headed home on Monday morning half expecting the journey to be a nightmare again, but we got lucky and got home in four and a half hours so it was all good.
In terms of cooking, I've had a few days break so I have some new ideas to try but first up is a simple autumn dish of vegan gozleme filled with cheesy and garlicky mushrooms as I am huge mushroom fan (as you know probably by now…if you are too there are lots of mushroom recipes on here already, like this one, that one or that one) and mushrooms are such an autumn staple although I hardly need an excuse. This simple dish is easy and quick to make, especially if you use a shop-bought vegan cheese instead of making your own cheese sauce. If you don't have any on hand or would rather just use wholefoods, there is an alternative cheese sauce recipe below, which I personally prefer. Enjoy.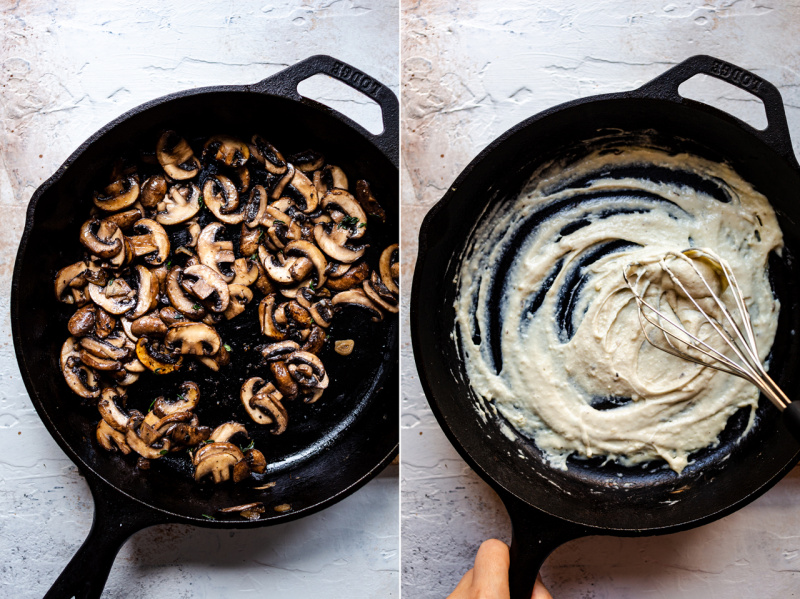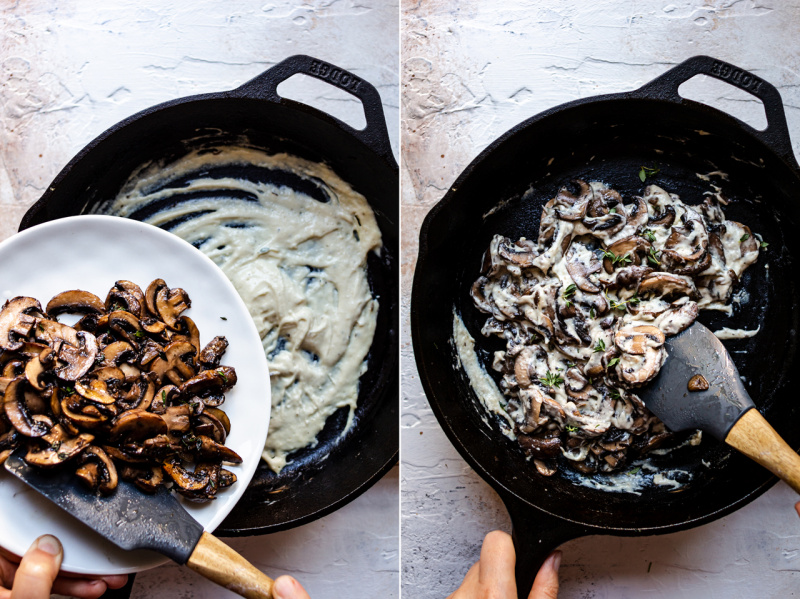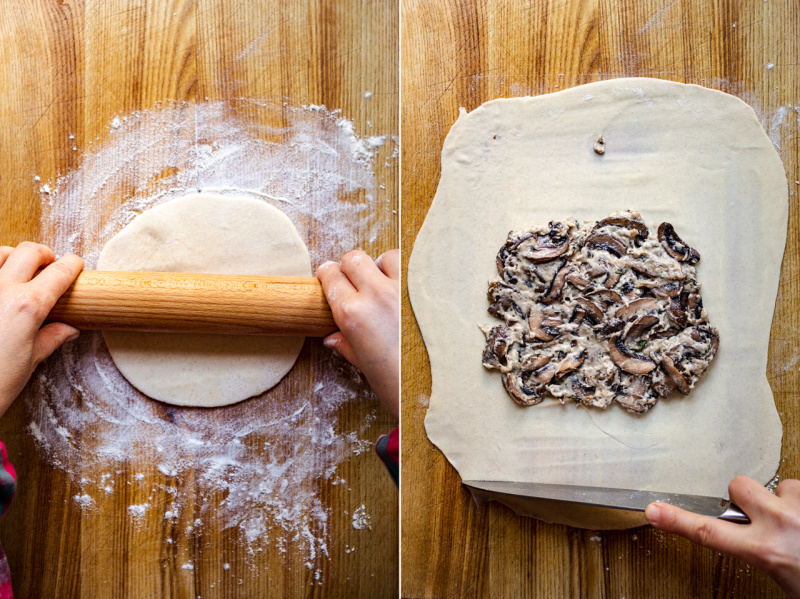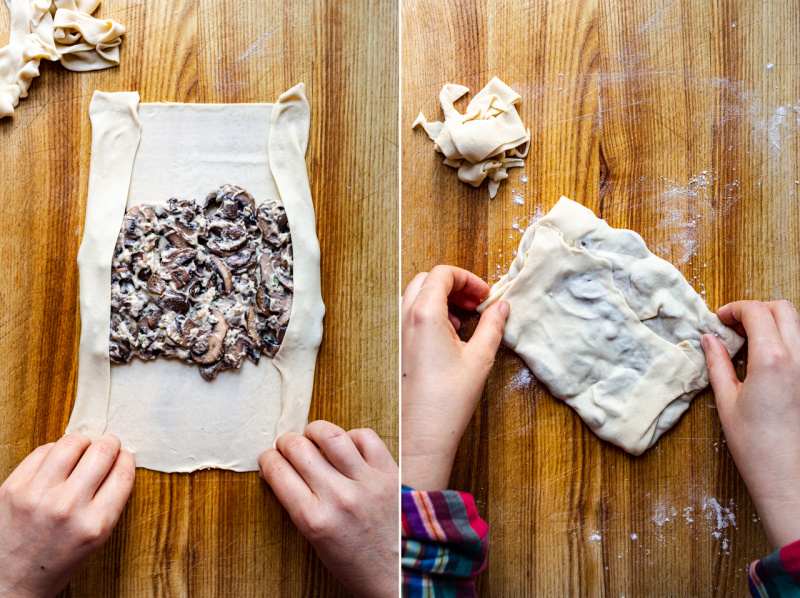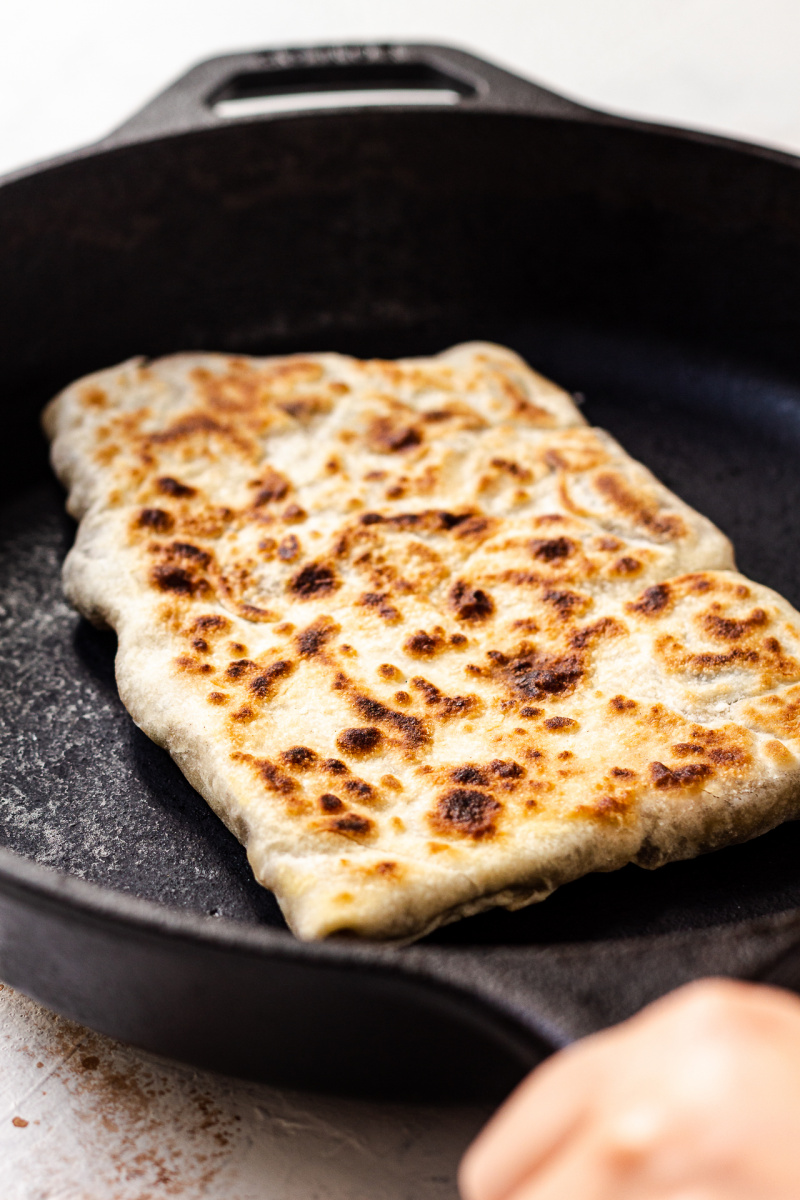 DOUGH
250 g / 2 cups all purpose wheat flour or GF flour mix (I tested this one)
2 tbsp psyllium husk powder (for GF option only)
¾ tsp salt
30 ml / 2 tbsp extra virgin olive oil, plus more for brushing
45 g / 2 tbsp vegan natural yoghurt, (optional)
approx. 120 ml / ½ cup lukewarm water
FILLING
30 ml / 2 tbsp olive oil
4 garlic cloves, sliced
500 g / 10½ oz chestnut mushrooms, cleaned
salt and pepper, to taste
1 tbsp fresh thyme leaves
approx. ¾ cup shredded melty vegan cheese (or see below)
CHEESE SAUCE (OPTIONAL)
METHOD
DOUGH
In a mixing bowl, combine flour, psyllium husk powder (if making GF version) and salt. Make a well in the centre and add olive oil, vegan yoghurt and water. I found that the gluten-free version needed more water (about 160 ml / 2/3 cup) but please use your judgement as every flour has a slightly different absorbency level so the exact water amount may vary. It's better to start off with less water and add more if needed later. Mix it all with a spoon until it roughly sticks together – add a touch more water if the dough is too dry to gather all of the flour in the bowl, but do it carefully. If you are not using yoghurt, your dough will require extra water for sure.
Empty the dough on to the counter. Knead gluten dough for at least 5 mins and then set aside for 30 minutes under a damp kitchen towel so that the dough doesn't dry up. GF version does not need kneading as such but you want to make sure the dough is smooth and homogeneous before you allow it to rest.
FILLING
Heat up olive oil in a large frying pan. Add sliced garlic to the warm oil and sauté it on a low flame for a few minutes, until fragrant but don't let it brown.
Slice mushrooms thinly.
Add enough mushrooms to cover the bottom of the pan (do not overcrowd). Allow the mushrooms to fry on a low-medium heat, giving them a good stir from time to time and adding the remaining mushrooms once the first portion has cooked and shrunk.
Sauté until all of the mushrooms have been cooked and there is no water left in the pan. Season with salt and pepper and thyme.
If using shop-bought cheese, stir it through the mushrooms – it will melt into the mushrooms and bind them together as the gozleme cooks.
If making your own cheese sauce, drain the cashews, place them in a small blender with 90 ml / 6 tablespoons water, nutritional yeast, tapioca starch, lemon juice and a good pinch of salt. Blend until smooth.
Transfer the mushrooms out of the pan onto a plate and pour the cheese mixture into the pan, heat it up gently whisking the whole time, until the mixture thickens and becomes stringy.
Return the mushrooms to the pan and coat them in the cheese sauce. Allow the mixture to cool down.
ASSEMBLY
Once the dough has had a chance to rest, divide it into 4 equal size portions. Take a portion of the dough and roll it out into a large rectangle on a well floured surface. Roll the dough as thinly as you can (1 mm is ideal).
Designate a space in the middle of your dough and arrange a thin layer of the filling on top – be careful not to overfill the parcel though. Cut the very edges of the dough off to ensure the seams aren't thick and fold the sides over the filling like a parcel (being careful not to trap too much air inside). Seal well.
Proceed in the same manner with the remaining 3 pieces of dough.
Heat up a non-stick or griddle pan over a medium-low heat. Brush the first parcel with a little oil and place it, seam side down, on a pre-heated pan. Allow it to cook undisturbed for a few minutes until the pastry is cooked and nicely blistered. Brush the other side with a small amount of olive oil and turn the parcel over and weight it down with a smaller pan. Cook for a few minutes until the dough is cooked all the way through. Proceed like this with the remaining 3 parcels.
Allow it to cool just a little and then enjoy straightaway, with a squeeze of lemon of you wish.
NOTES