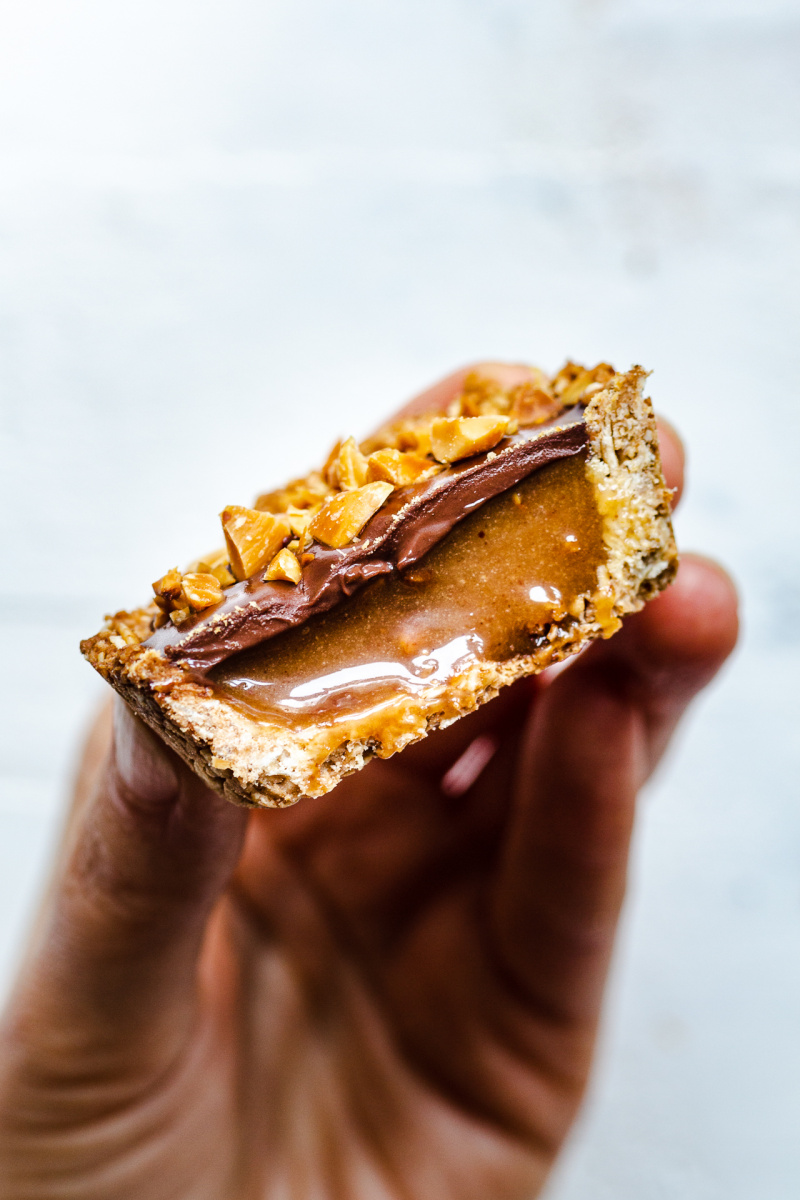 The weekend is coming and I'm signing off with a small yet mighty peanut-butter flavoured treat. By the time you get to read this, I shall be in the beautiful surroundings of the picturesque Lake District catching up with my friend whom I used to work and live with in London. The plan is to catch up over meals, hike and kayak the lakes. Both me and Duncan are looking forward to this mini break and just praying the weather doesn't turn on us – as it often tends to do over here.
The journey up to the Lakes is long so I figured a tray of granola cups will make for a perfect amuse-bouche for our trip. They are really simple to make and require only 7 ingredients plus salt. The shells are made of coarsely ground oats bound together by a little bit of maple syrup and coconut oil and baked in the oven. They are filled with an indulgent peanut caramel layer topped with roasted peanuts and a thin layer of bitter sweet chocolate ganache. They are small yet mighty and a perfect treat to go alongside your afternoon coffee. I hope you'll enjoy them too!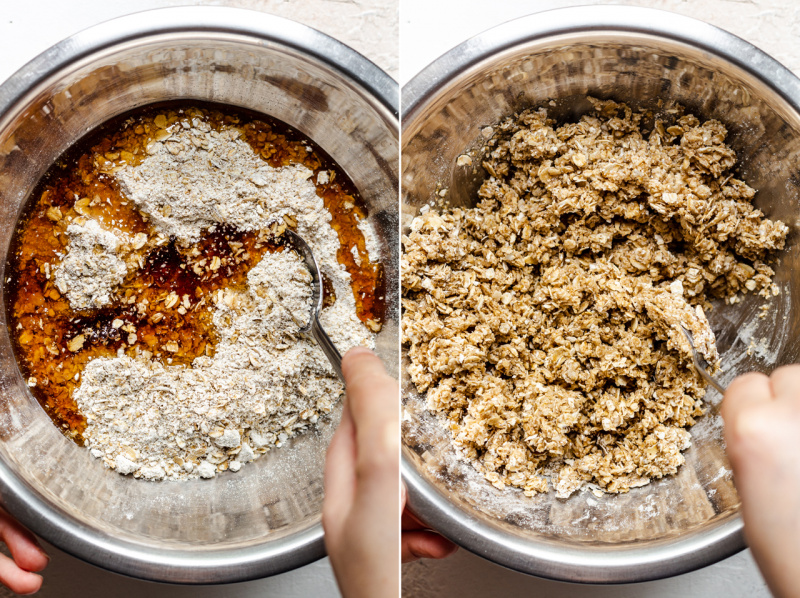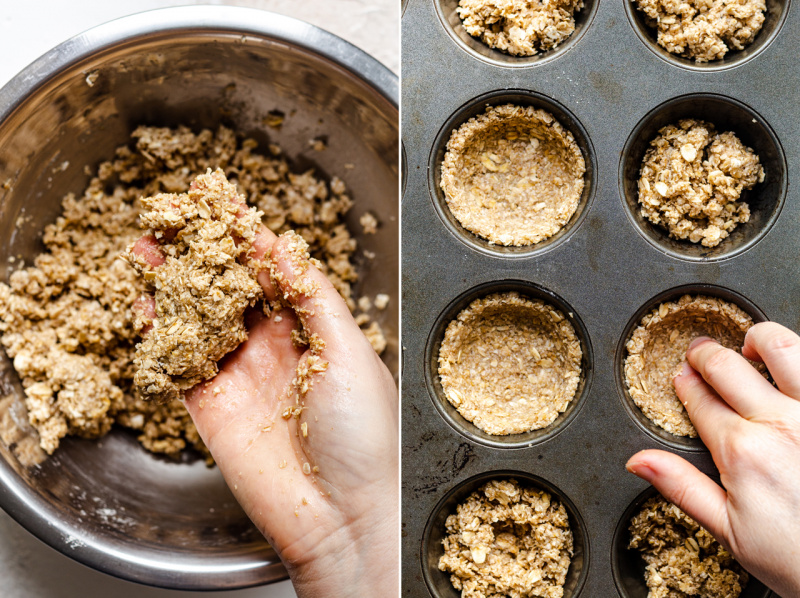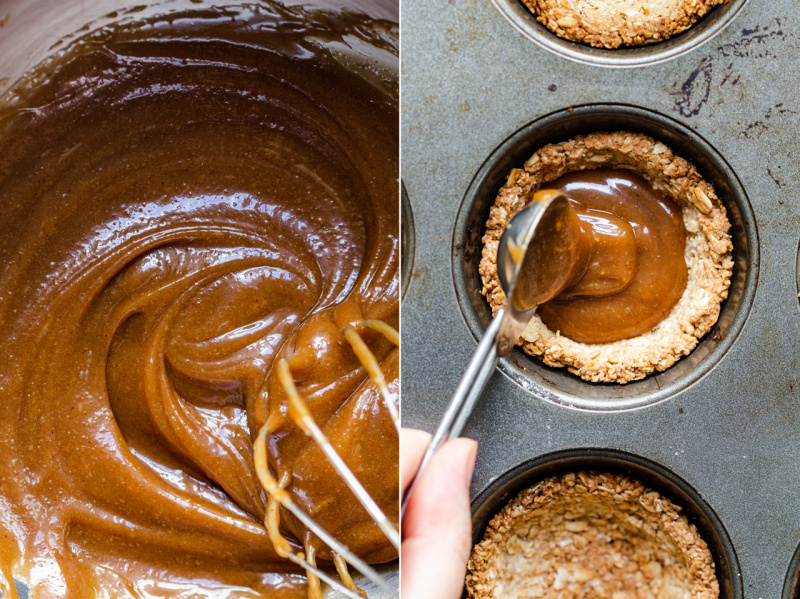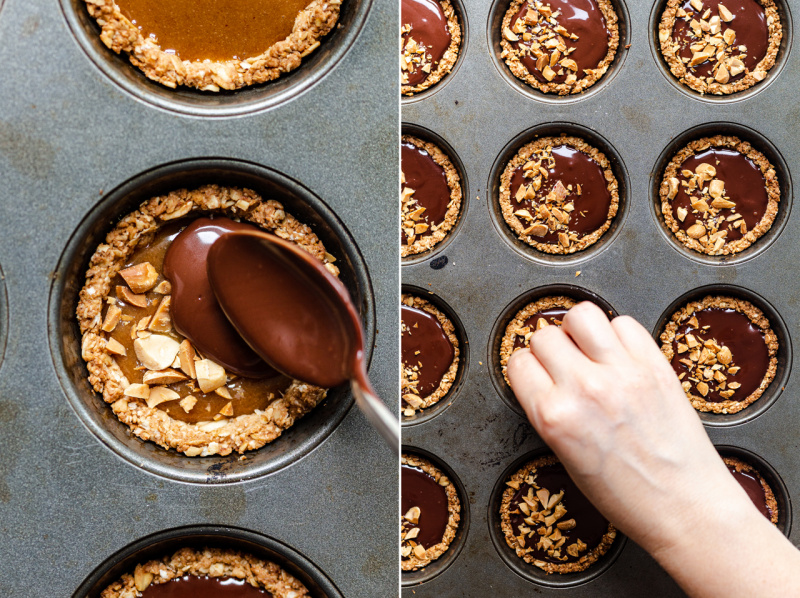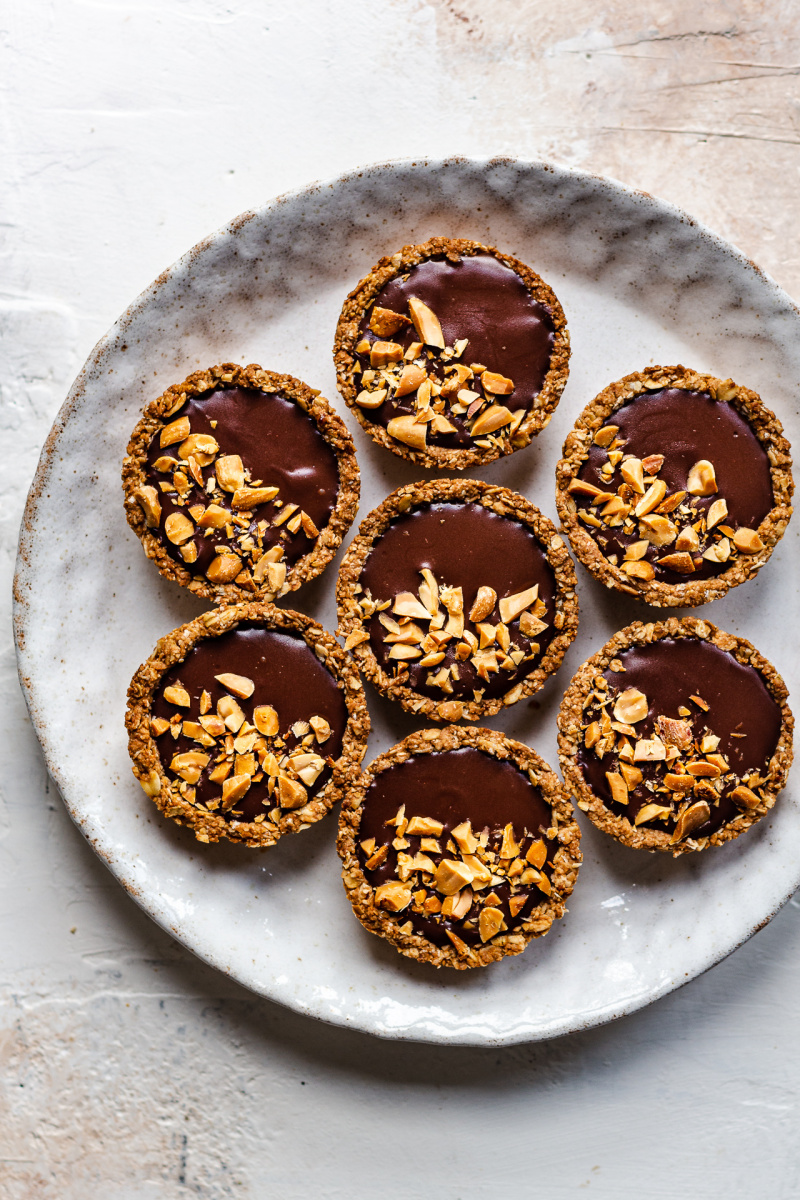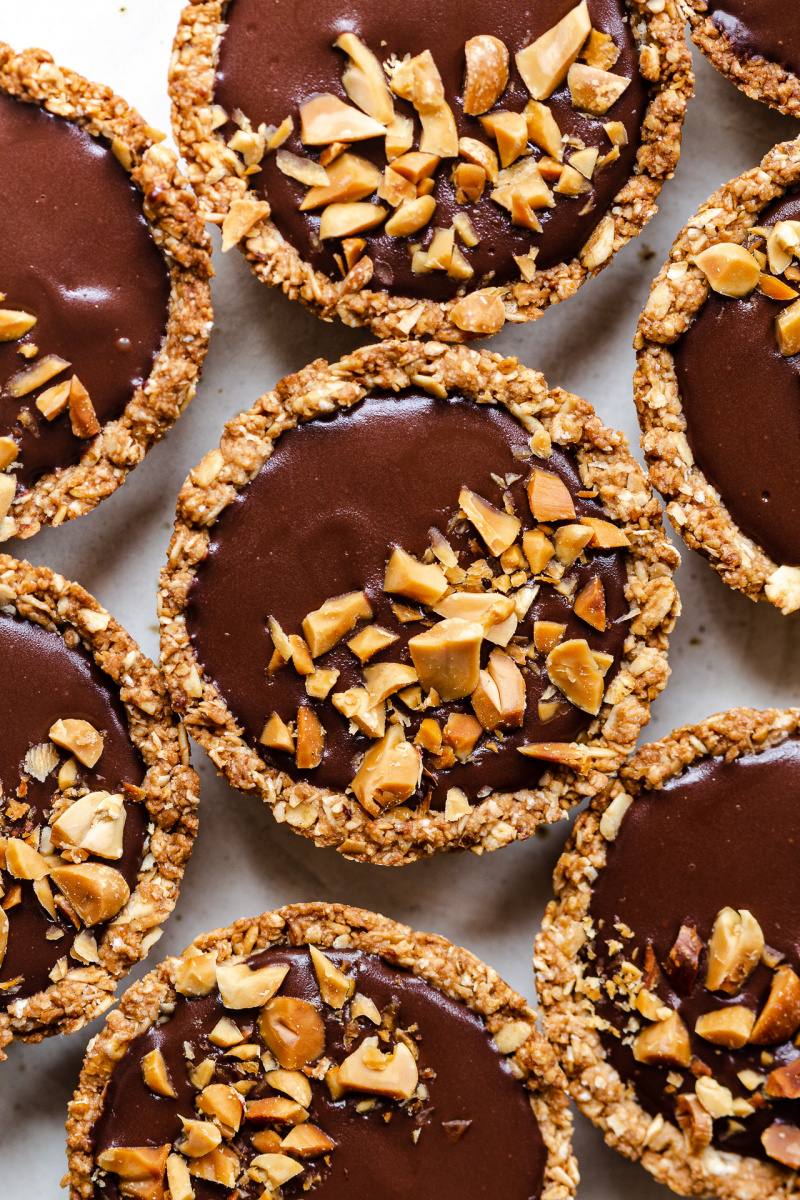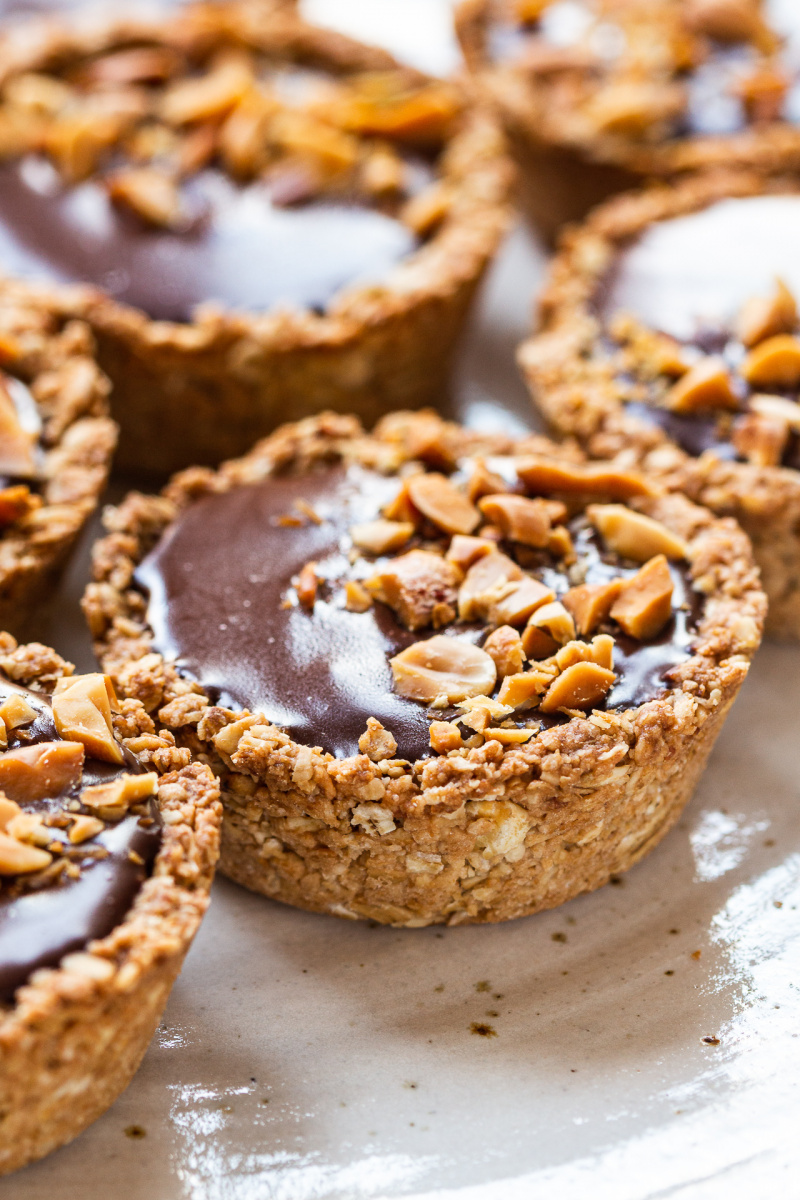 225 g / 2½ cups oats (GF if required), ground coarsely*
½ tsp fine sea salt
60 ml / ¼ cup maple syrup or other liquid sweetener
40 g / 3 tbsp coconut oil, melted (I use this one), another neutral-tasting oil or vegan butter
PEANUT CARAMEL
120 ml / ½ cup maple syrup or other liquid sweetener
100 g / 1/3 cup + 1 heaped tbsp peanut butter*
80 ml / 1/3 cup vegan single cream* (I used Oatly)
salt, to taste
75 g / ½ cup roasted peanuts, chopped
CHOCOLATE GANACHE
85 g / 3 oz 70% dark vegan chocolate
80 ml / 1/3 cup vegan single cream* (I used Oatly)
METHOD
Place ground up oats and salt in a large bowl.
Add maple syrup and melted coconut oil and mix well. Work into a uniform 'dough'. It should be pliable, but not too wet or sticky. If it is, add a touch more oat flour.
Preheat the oven to 170° C / 335° F and grab a standard 12 muffin tin.
Divide the mixture between 12 muffin holes, about 1 tablespoon per hole.
Using a small spoon and then your fingers, line each muffin hole with the oat mixture, making 1.5 cm / 0.6″ tall (they are meant to shallower than the muffin holes) shells.
Bake for 15-17 minutes. Once out of the oven, press the bottoms down as they have likely bulged up a little. Allow the cup shells to cool down completely before removing and filling.
PEANUT CARAMEL
Place maple syrup in a small pot on a low heat, measure out your nut butter and cream and have it ready.
Bring maple syrup to a gentle simmer. Allow it to darken in colour a little (1-2 minutes) and when after it starts to bubble vigorously all over, take it off the heat. Whisk in peanut butter, followed by vegan cream. Whisk until completely dissolved and smooth.
Bring the pot back to the stove and allow the mixture to bubble gently (on a low heat) for a couple of minutes, whisking regularly.
Once the mixture is no longer hot, add salt to taste.
GANACHE FILLING
Place broken up chocolate and vegan cream in a clean glass or metal bowl over a bain marie (water bath). Warm them both up on the lowest setting (the water underneath should barely simmer and not boil) until the chocolate has melted. Make sure the water does not touch the bowl the chocolate is in as chocolate is sensitive to overheating.
Once the chocolate has melted, whisk the chocolate and cream together.
ASSEMBLY
Place about 1 tbsp of toffee mixture in each cup, followed by some chopped nuts.
Next, top with a generous teaspoon of chocolate ganache and once it's set a little, top with more peanuts.
Place the cups in the fridge (or freezer if you are in a hurry) to allow the filling to set. It will take 2-3 hours in the fridge and about 30 minutes in the freezer. Keep in an airtight container, on the counter for a few days or freeze if you want to enjoy them at a later date.
NOTES
*OATS: you can also use 50% fine porridge oats and 50% oat flour.
*PEANUT BUTTER: if you have an allergy, you can use any other nut or seed (tahini, for example) butter instead.
*VEGAN SINGLE CREAM: if you have trouble getting this ingredient, replace it with full fat coconut milk as it has similar fat content and it will well too.