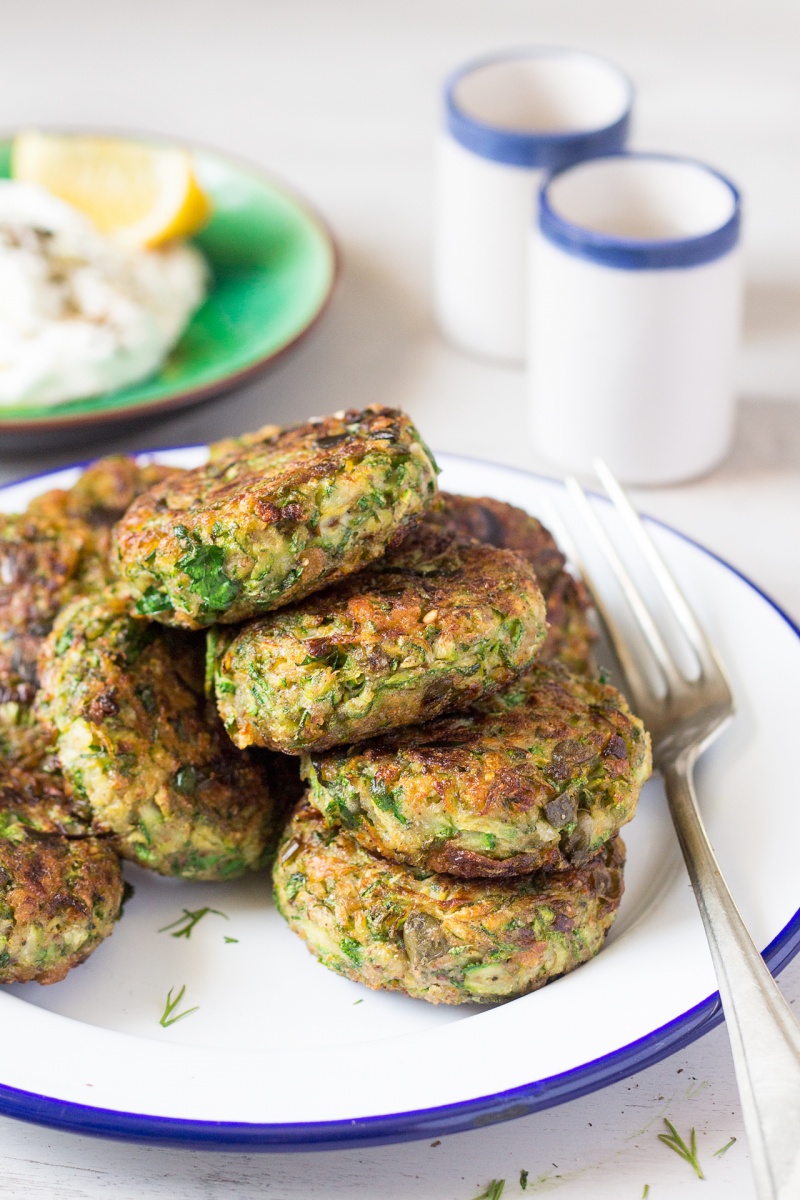 Kολοκυθοκεφτέδες (kolokithokeftedes) or zucchini fritters are one of my favourite Greek mezedes (mezze). Here is my attempt at making them vegan (traditionally, they use an egg as a binder and often feta too).
I made three batches of these puppies and my last batch is pretty damn close to what you can get in the local tavernas here.
They are not hard to make at all, especially if you own an electric grater – I've had to do all my zucchini shredding by hand, but it wasn't too bad as zucchini shreds easily.
As with most of these kind of dishes, they are best eaten warm, straight from the pan dipped in a bit of seasoned yoghurt or cashew cream. If you don't have either, I reckon a mashed up avocado seasoned with garlic and lemon juice will be just as fitting a condiment.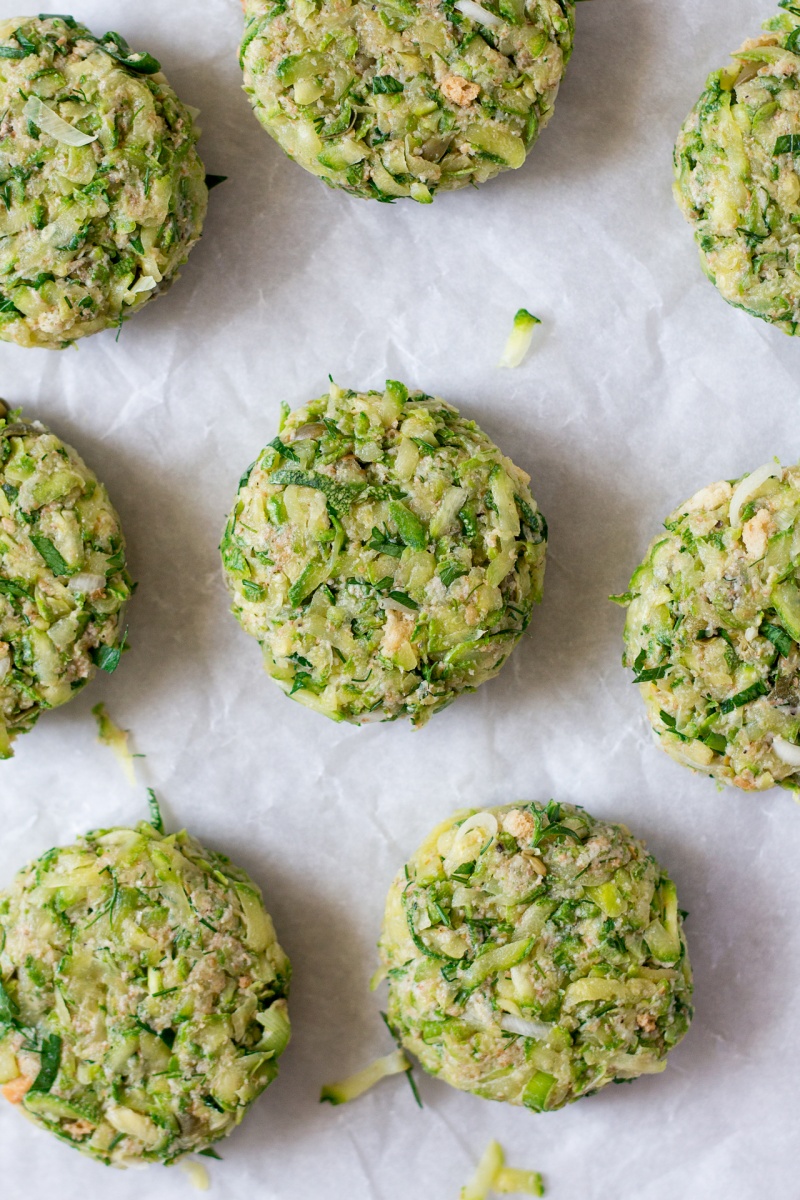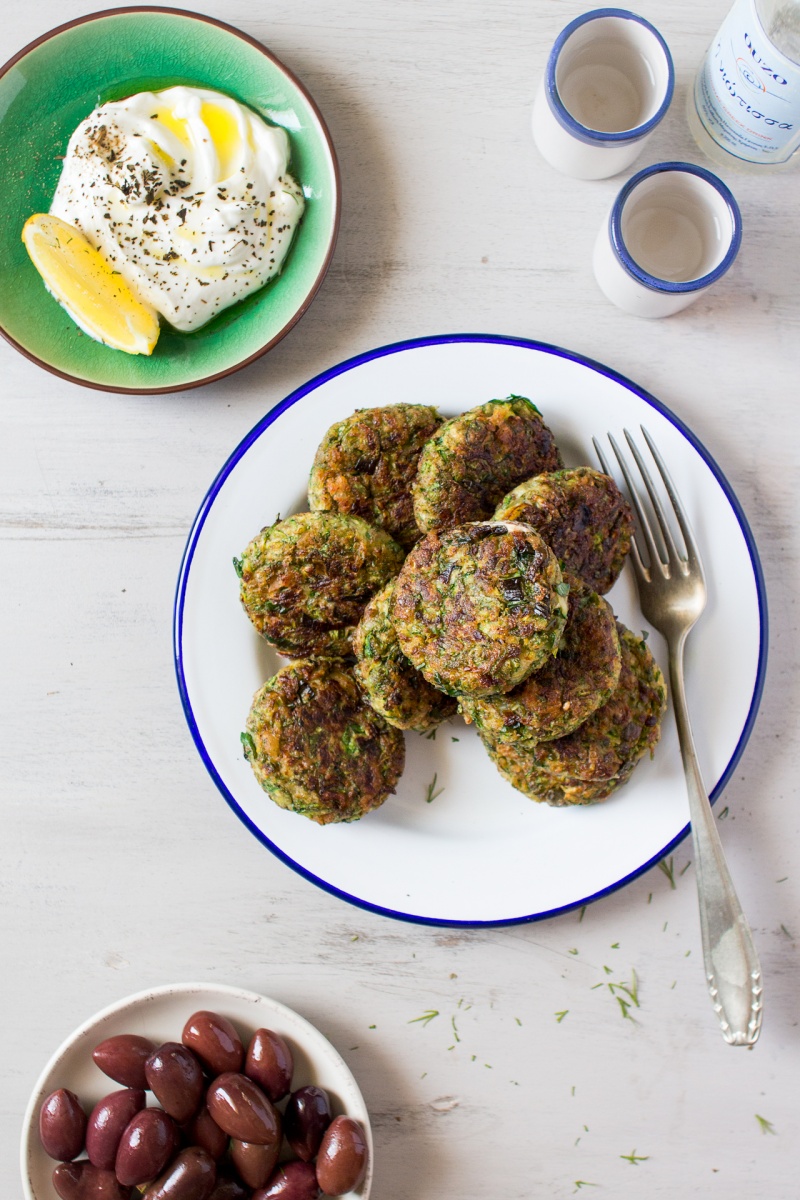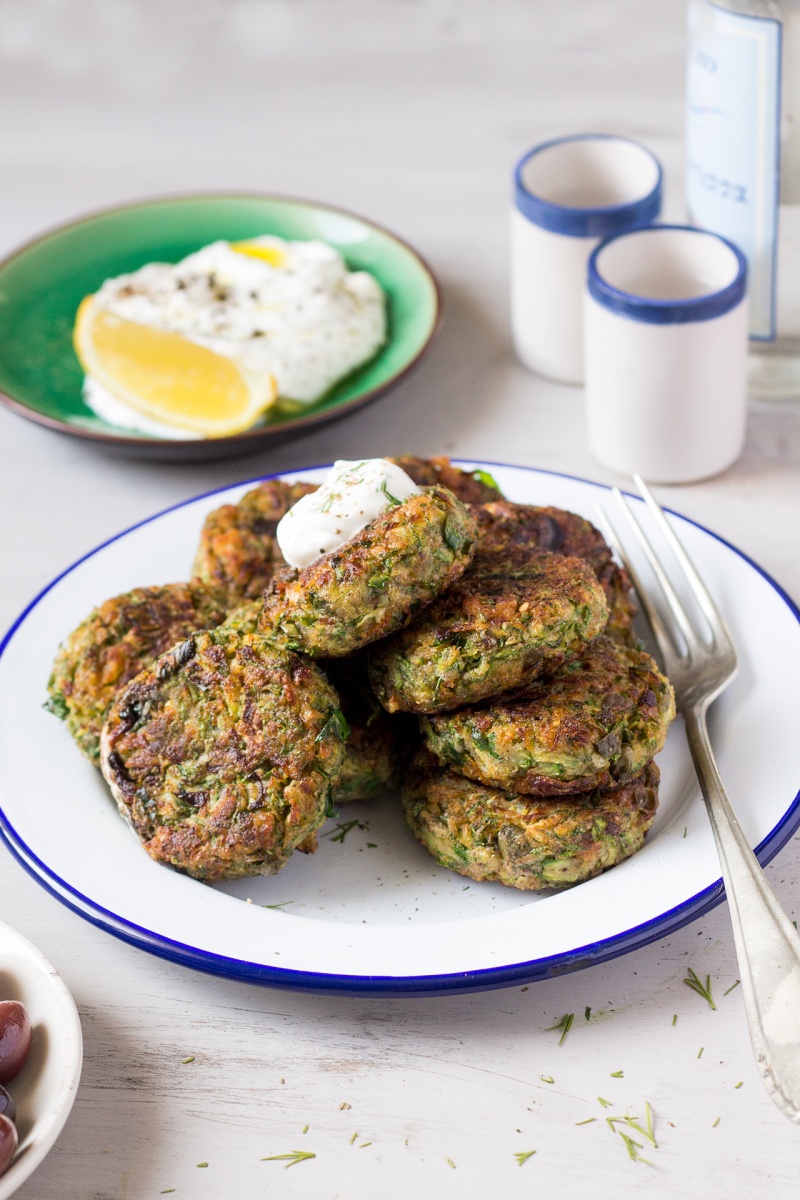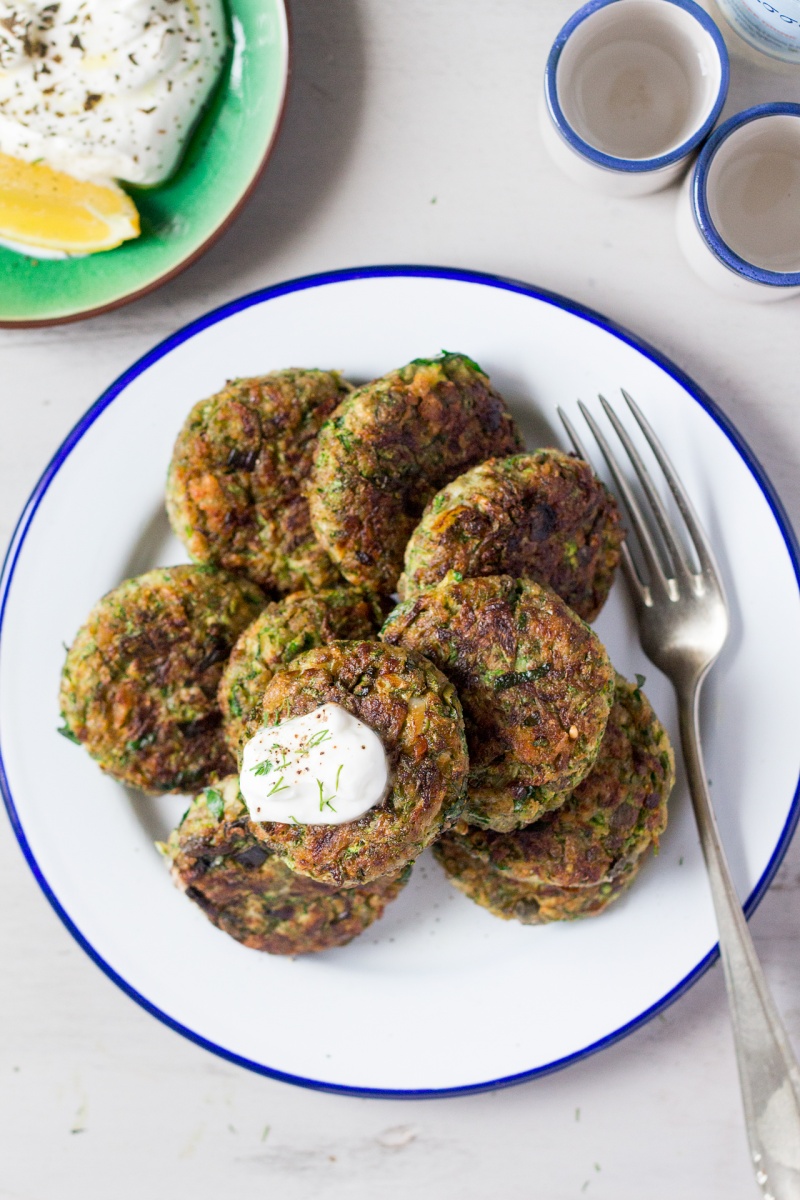 1 kg / 35 oz zucchini or courgettes, coarsely grated (8 cups grated)
2 spring onions, thinly chopped
2 garlic cloves, finely grated
zest of 1 lemon
2 tsp salt, more to taste
generous amount of black pepper
2 tbsp fresh dill, finely chopped
1 tbsp fresh mint, finely chopped
1 tbsp parsley, finely chopped
2 tbsp capers*, blotted in a paper towel and chopped (optional)
¼ cup reduced** aquafaba OR 2 tbsp ground flax seed
about ½ cup wholemeal flour, or rice flour for gluten-free version
about ¼ cup breadcrumbs, gluten-free for gluten-free version
olive oil, for frying
vegan yoghurt OR cashew cream OR avocado cream, to serve
METHOD
If using flax meal, put it into a small bowl and add 4 tbsp of water to it. Mix well and put into the fridge for the mixture to thicken and get all gelatinous.
Season grated zucchini with generous amount of salt (I used 2 tsp) and place it on a fine sieve over a bowl. Set aside for at least 30 mins.
After 30 mins, squeeze all the moisture out of the grated zucchini by placing in the middle of a muslin cloth, gathering the ends and squeezing the 'zucchini ball' tight. Or you could simply use your hands squeezing the moisture out in small batches. Take care to do it properly as it is very important for the grated zucchini to be as dry as possible or else your fritters will get soggy and not that nice.
Place squeezed zucchini in a bowl. Add herbs, lemon zest, pepper , grated garlic, chopped capers and spring onions to it. Mix very well.
If using aquafaba, froth it up with a hand whisk first and add it to the zucchini mixture. If using flax seed, take it out of the fridge and add it into the zucchini mixture directly.
Add enough flour and breadcrumbs to ensure that your mixture isn't wet, yet you will still be able to form patties out of it easily.
Put the mixture into the fridge for an hour or so that it is easier to form patties.
Once you've chilled your mixture, form small patties (mine weighed 50 g each) with your hands. Grab a chunk of mixture and squeeze it well in your hand first to extract even a tiny amount of excess moisture. Then proceed to form a patty.
Heat up 1-2 cm of oil in a small pan. Once the oil is hot (but not too hot or else they will burn on the outside), place a few fritters on it and fry them without turning for about 2-3 minutes. After 2 minutes, check one of the fritters and if it's nicely browned gently flip it to the other size and fry for the same amount of time.
Serve with a dollop of yoghurt seasoned with a bit of lemon juice and salt and pepper.
NOTES
* These fritters do not contain capers traditionally, but I added them to replace little bursts of saltiness that feta gives to the non-vegan fritters.
** I reduced my aquafaba by 2/3 of its volume, by cooking it gently on the stove without a lid. I cooled it before using. It was thick and gelatinous after chilling.