Today's recipe is a simple and delicious side, perfect for the upcoming Xmas festivities. It's hasselback potatoes in garlicky and herby oil, which Duncan insists on calling Hasselhoffs 😉 . They will go perfectly with the Xmas pièce de résistance that I am planning on releasing on Friday so watch this space.
These potatoes are really delicious, easy to make yet quite impressive. Their fanned tops get beautifully browned and crispy in the oven and the insides remain nice and soft. I basted mine in some garlicky and herby homemade olive oil for more flavour.
As I am still waiting for our stuff from Greece to turn up (the latest estimate is that it will turn up just before Xmas, but I am trying not to get attached to that thought too much) I do not own a garlic press at the moment, but I do have my grandma's old trick up my sleeve to compensate for that.
Here it is, in case you are in a similar situation. I slice my garlic, sprinkle with some salt and press the salt into the garlic using the side of a knife blade. The salt acts as an abrasive and helps to mash the garlic into a fine paste. Clever eh? It's funny how many tricks like that I somehow manged to retain by simply watching my grandma cook. I wish I could tell her how useful all the hours I spent in her kitchen have proved to be in my life.
PS: If you make my vegan hasselback potatoes in herby oil, don't forget to tag me on Instagram as @lazycatkitchen and use the #lazycatkitchen hashtag. I love seeing your takes on my recipes!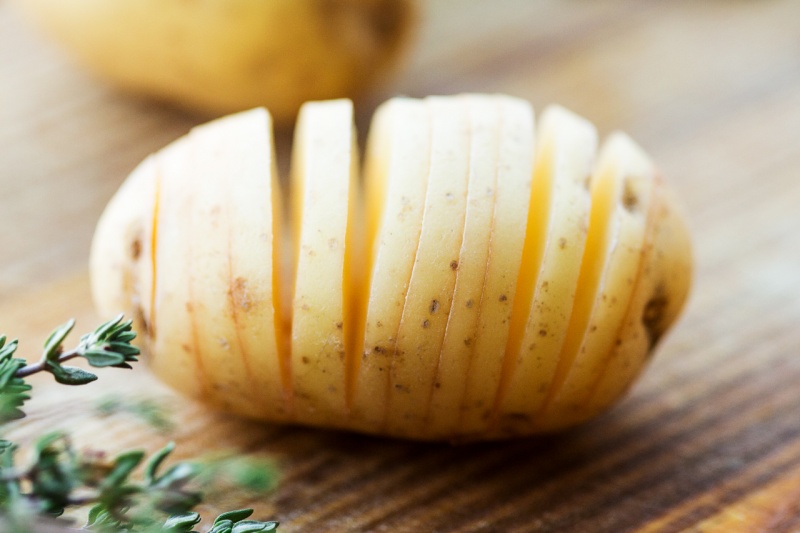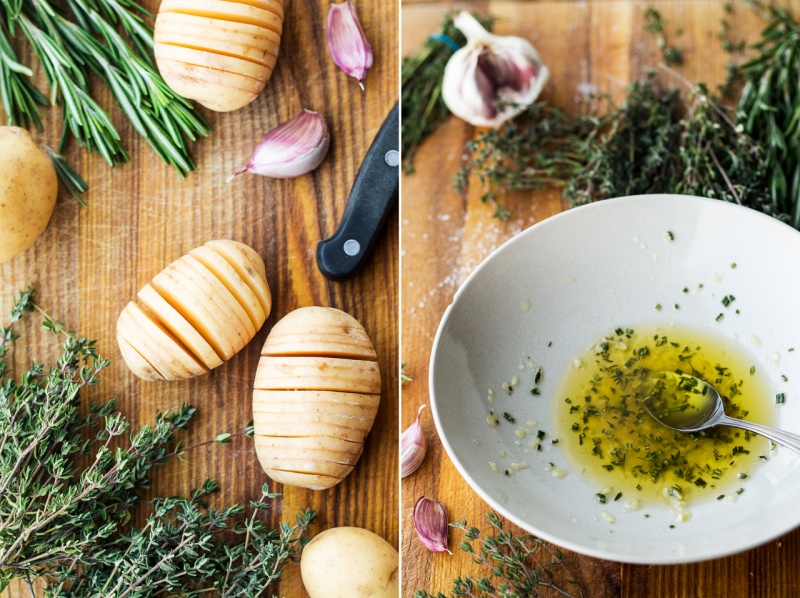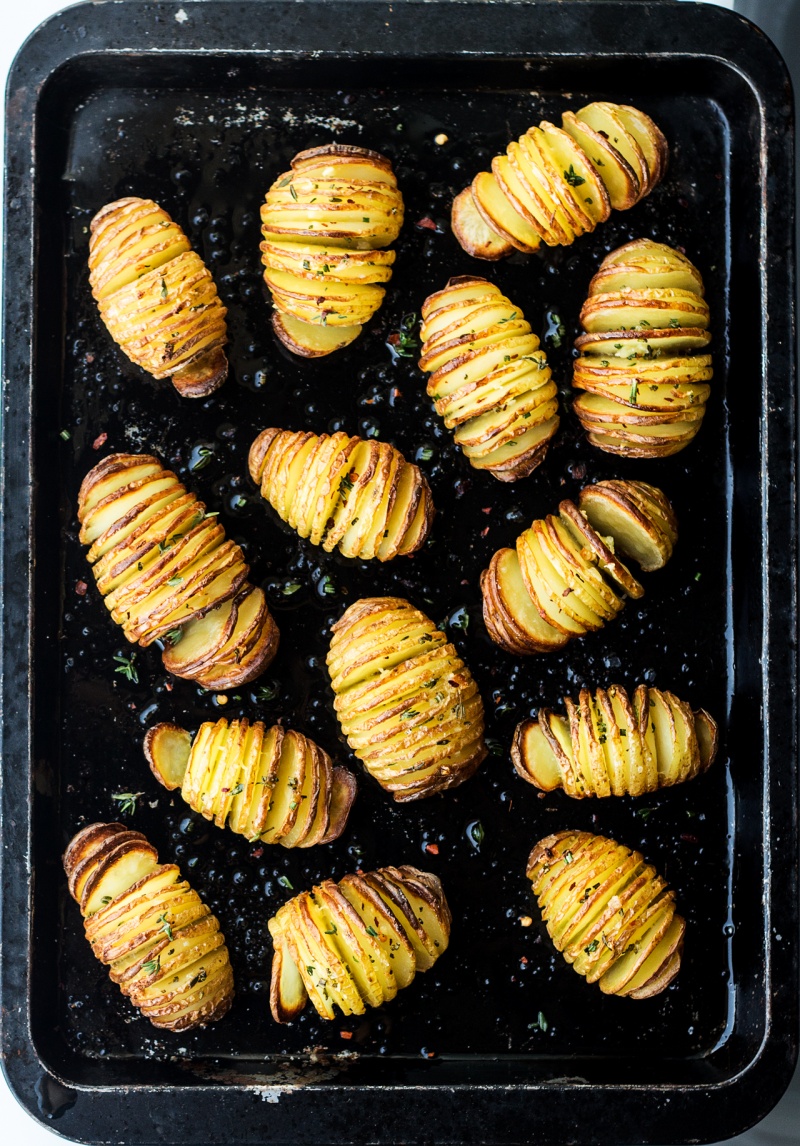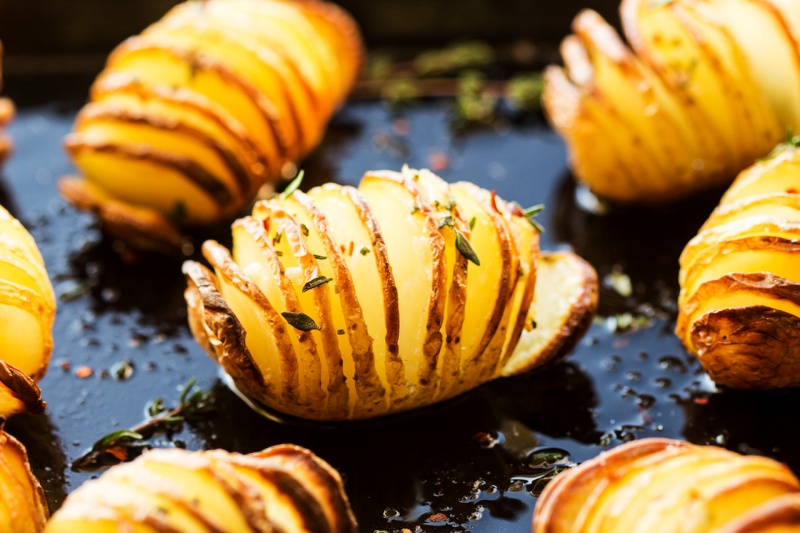 Ingredients
750 g / 1.5 lb small potatoes (suitable for baking)
3-4 tbsp olive oil
1 garlic clove
fresh (or dry) rosemary
fresh (or dry) thyme
coarse sea salt
chilli flakes (optional)
1 tsp lemon zest (optional)
Method
Set the oven to 180° C / 355° F fan forced (or 200° C / 390° F no fan).
Make a few millimetre deep incisions in each potato leaving the bottom intact so that it holds the entire potato together. There are two ways to go about it. Either place a potato in the cradle of a spoon and then make incisions – the edges of the spoon will stop you from cutting all the way through. The other way is to place a chopstick (or something of similar height) alongside the potato while cutting – again, the height of the chopstick will stop you from cutting in too deep. This is the method I personally prefer.
Brush the tops and bottoms of each potato with olive oil. If you don't have a pastry brush, place 1 tbsp of olive oil in a bowl and dip the potato (cut side down) into the oil, then place on a tray – the oil will drip from the top and grease the bottom.
Bake for about 20-30 minutes, depending on the size of your potatoes.
While the potatoes are baking, prepare the herby oil. Crush or grate the garlic clove, chop the rosemary very finely and pick the thyme leaves. Place about 1 tsp of finely minced rosemary, 1 tsp of thyme and crushed garlic in a bowl and whisk in olive oil to emulsify.
After 20-30 minutes, remove the potatoes from the oven and spoon the herby oil over the top. Return them to the oven for another 10 minutes or so.
Remove from the oven once the tops are browned and the potatoes are cooked all the way through. Season with coarse sea salt, chilli (if using), lemon zest and some more chopped herbs.
If you want more info on some of the ingredients that we use in our recipes, check out our
glossary
.