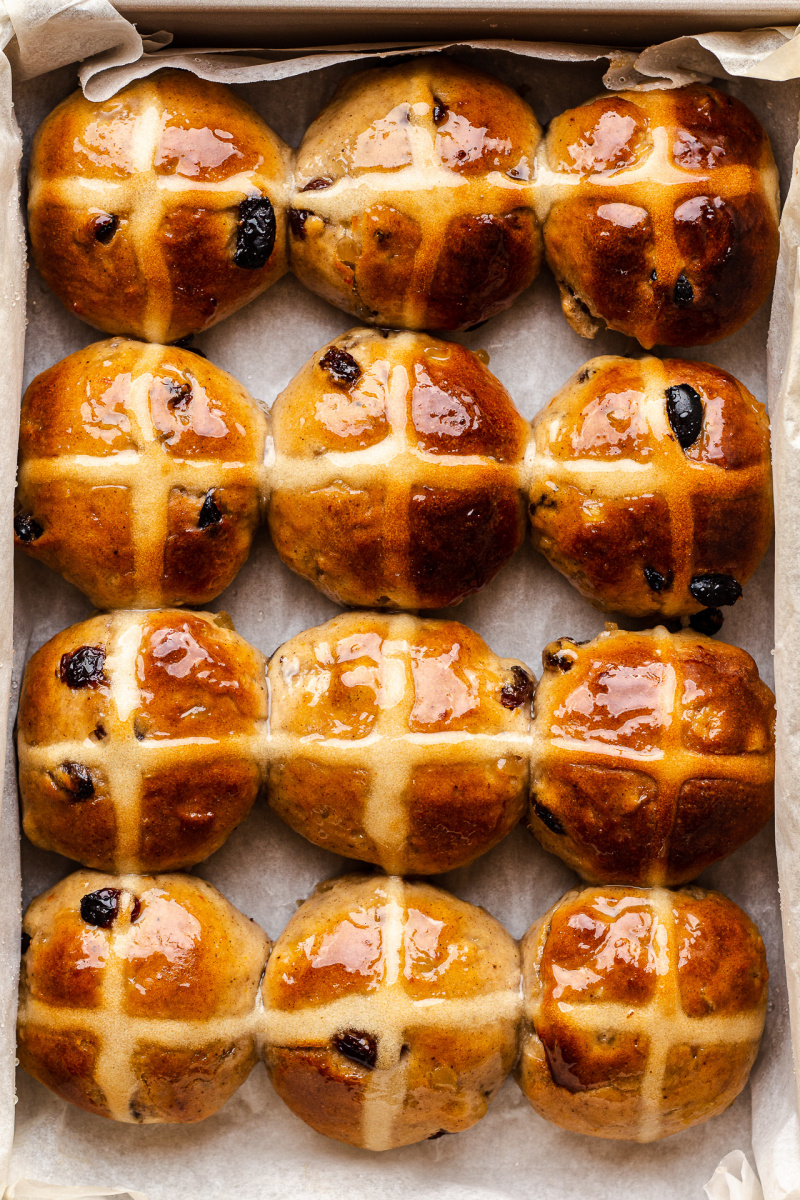 In only just a week a lot of people in the UK will be sinking their teeth into hot cross buns, which are a quintessential Easter treat in this country. While I'm not big on Easter myself, I am big on buns – always have been, always will be 😉 so I decided that it's a perfect excuse to get baking and make a tray of indulgent vegan hot cross buns.
We (or Duncan, to be precise) have made hot x buns for this blog before, but it was a while back and the photos are pretty terrible so I've decided that I need to revamp them once more. These new hot cross buns are deliciously studded with lots of little pops of flavour, fragrant with spices and orange zest. As we are big ginger fiends in this house, aside from traditional sultanas (which I soaked in Amaretto to soften) I used plenty of chopped stem ginger. I love stem ginger in baking, but if you are not a fan or have trouble getting your hands on it (I hear that it isn't as popular in other countries), feel free to sub it with dried apricots, for example.
Spice-wise, traditionally allspice – the ground up berry of the West Indian allspice tree is used. Because its flavour is said to resemble a combination of cinnamon, cloves, nutmeg and pepper, it is often replaced by and confused with mixed spice, which is simply a spice mix consisting of several spices including cinnamon, cloves and nutmeg. I made up my own concoction but you are free to use whatever you enjoy and whatever you have in your pantry, remembering that spices like cloves or cardamom tend to overpower others so they, in particular, need to be used in small amounts.
These buns are not hard to make – if you have kneading down pat, you'll have no trouble. As opposed to scones, for example, they don't require much graft as the fat isn't added cold to the flour first, it goes in melted, at the end, with the other liquid ingredients. They are fluffy, studded with goodness, only just slightly sweet and I love them toasted with a smattering of vegan butter and some apricot jam. They make a great afternoon or morning treat if you are so inclined and Easter makes for a perfect excuse to consume some. Enjoy!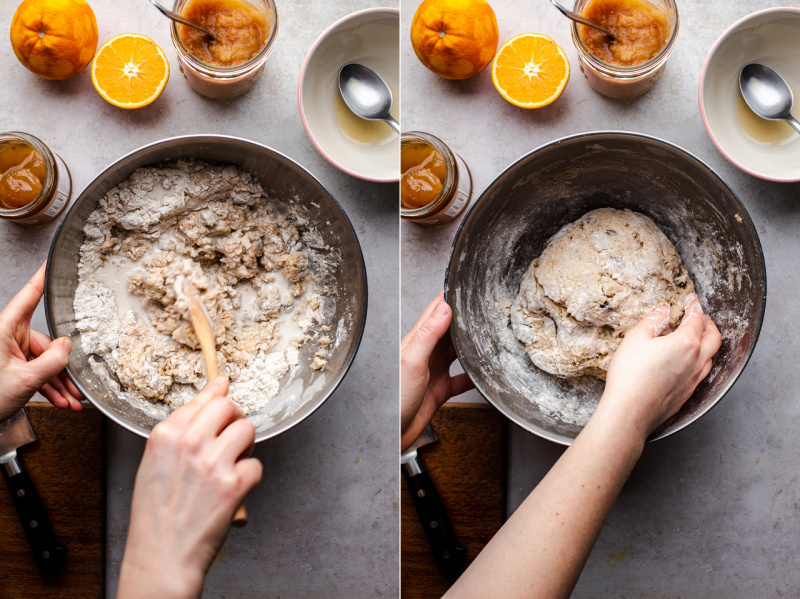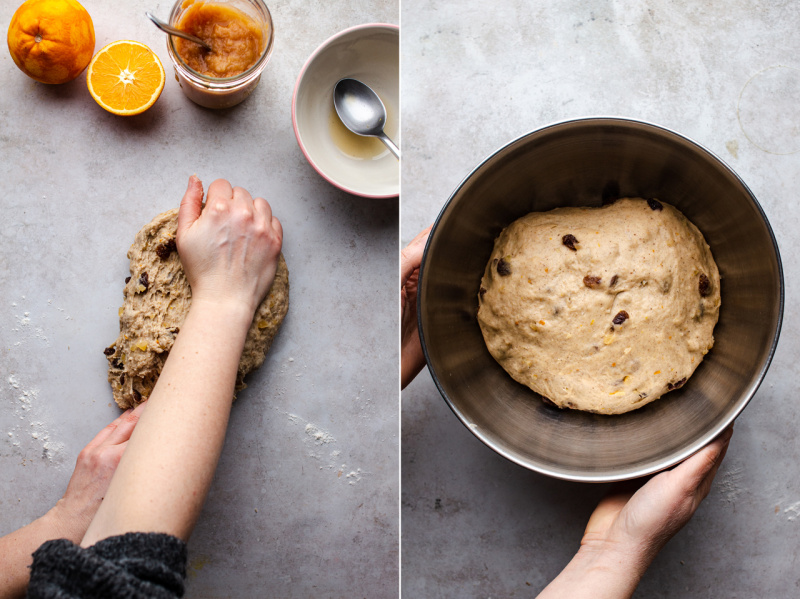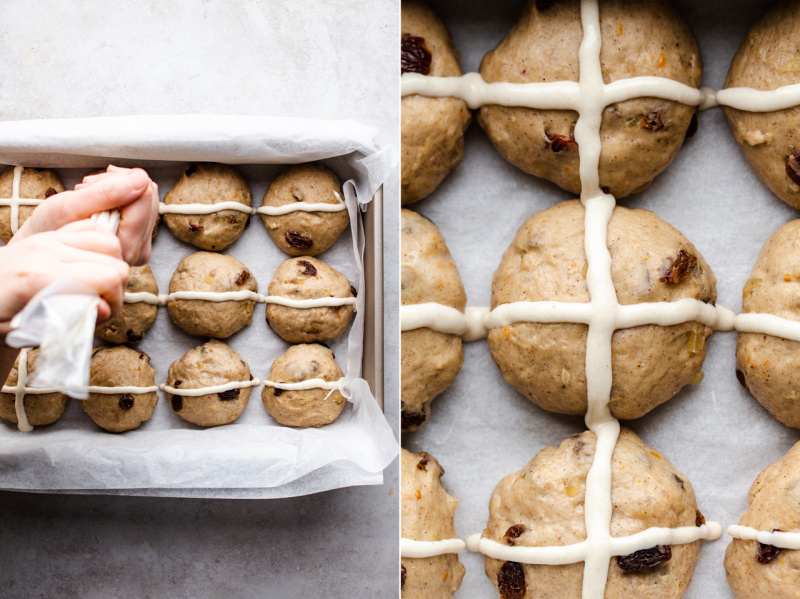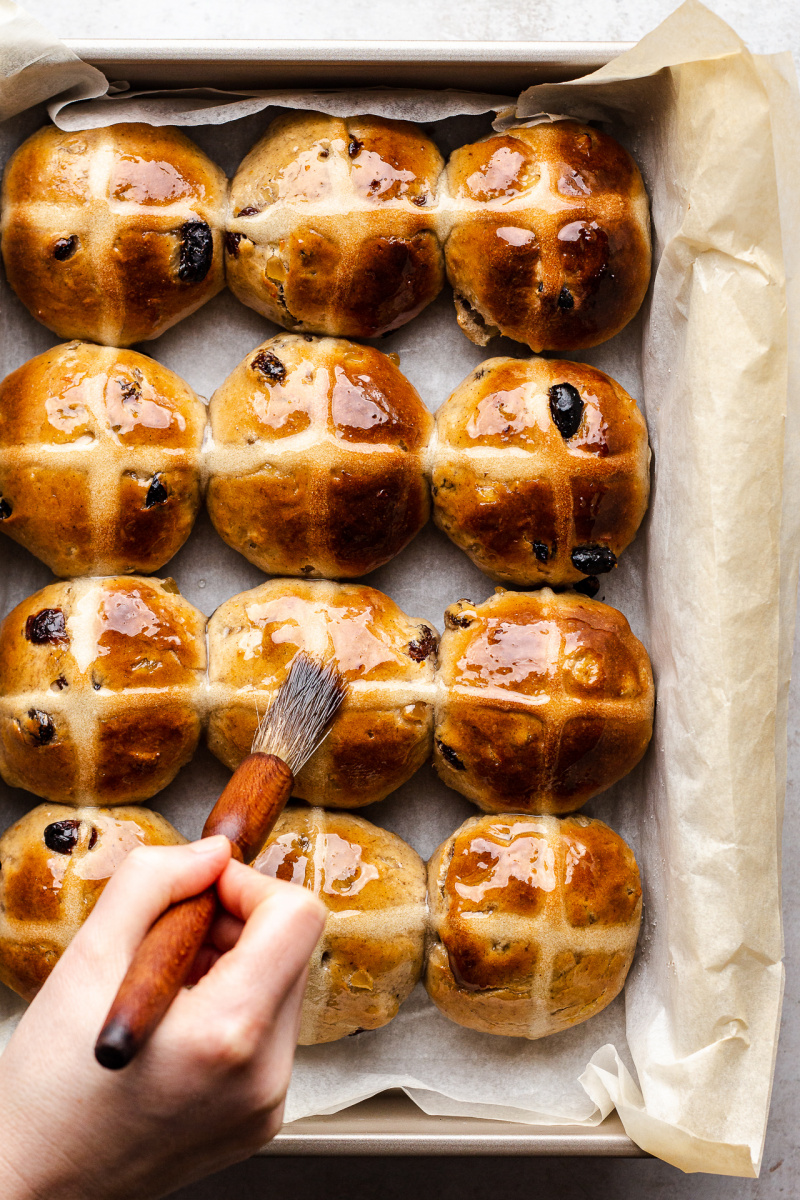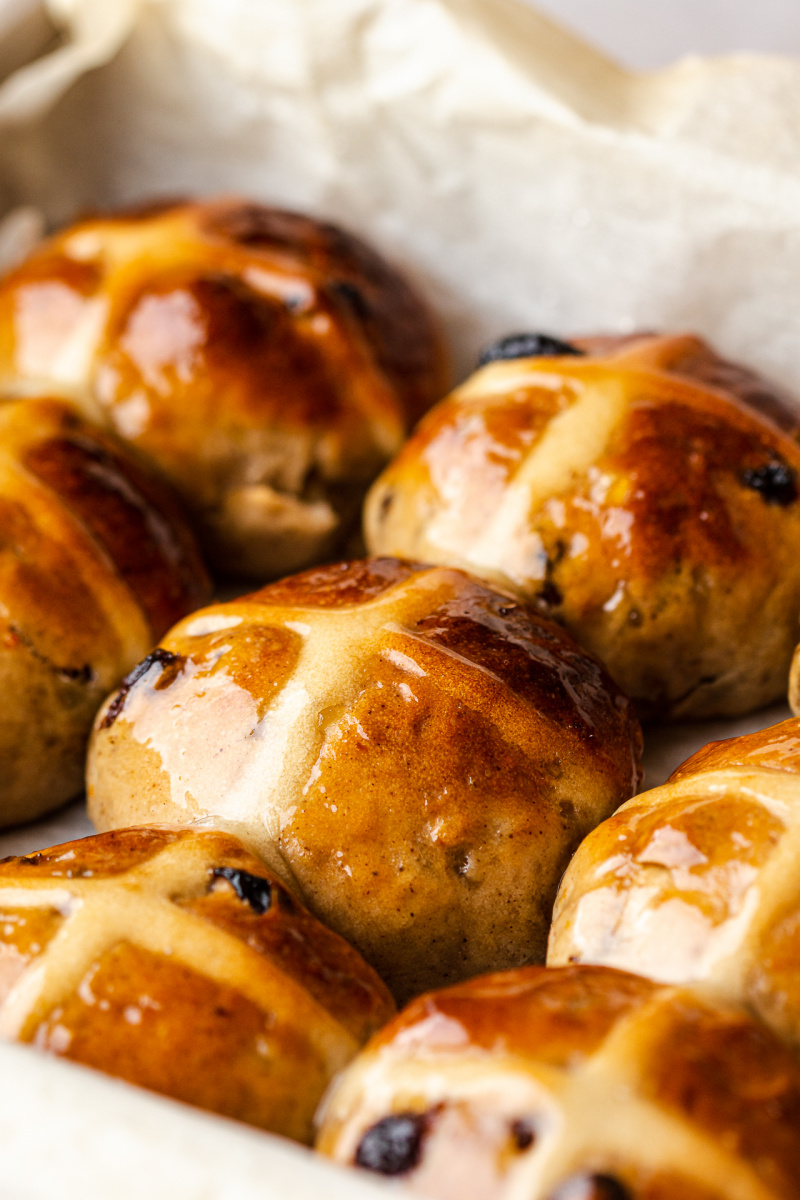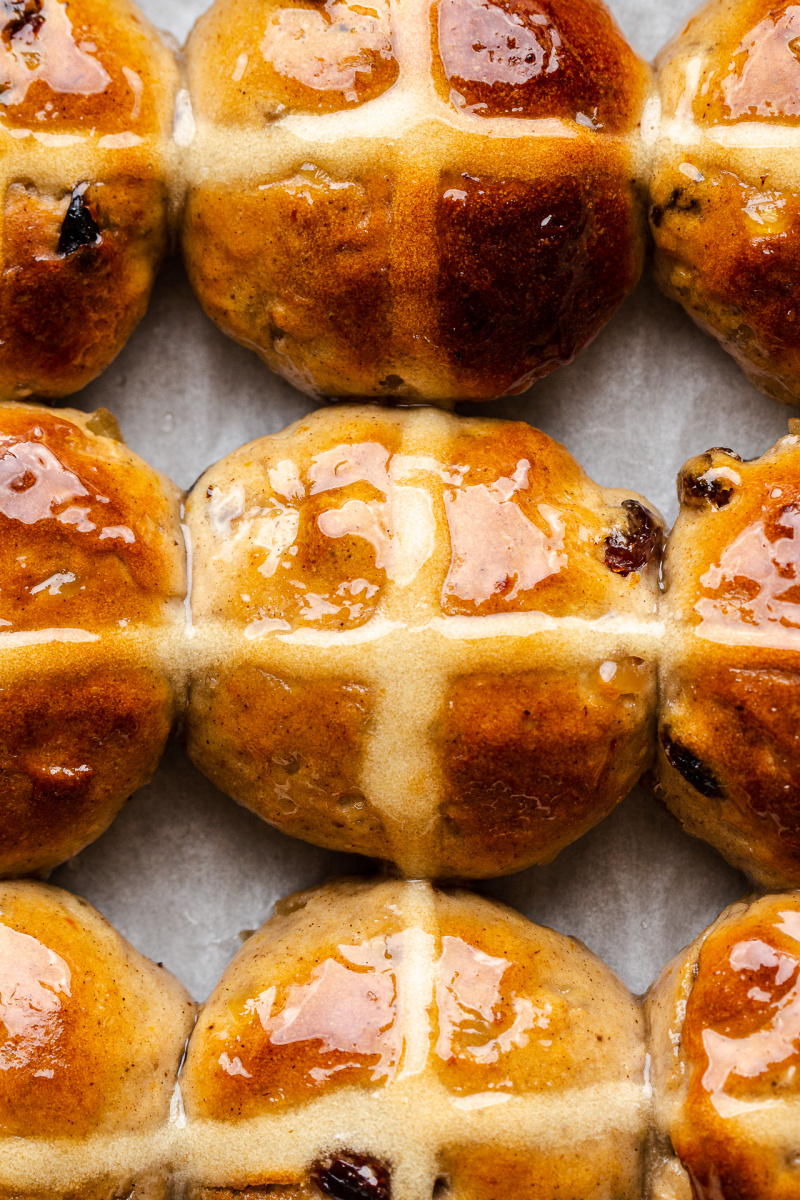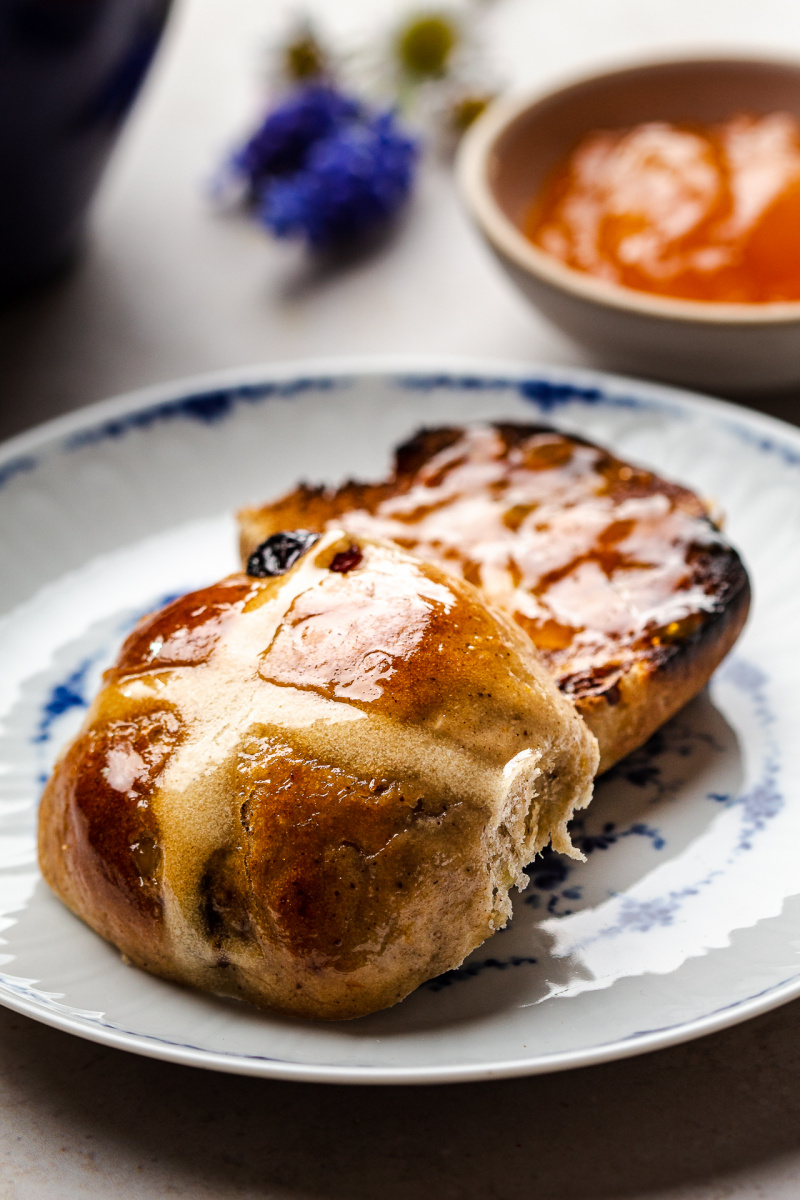 HOT CROSS BUNS
500g / 4 cups wheat flour* (I used 50% bread flour and 50% all purpose)
½ tsp salt
7 g / 2¼ tsp instant dried yeast
75 g / 6 tbsp caster sugar or coconut sugar
approx. 3 tsp spices**: 1½ tsp cinnamon, ¼ tsp ginger, ½ tsp nutmeg, ½ tsp cardamom, ¼ tsp cloves
zest of 1-2 oranges (2 if you like a prominent citrus flavour)
100 g / ¾ cup sultanas soaked in 60 ml / ¼ cup liquid***
100 g / ½ cup finely chopped stem ginger syrup or dried apricots
60 g / ¼ cup applesauce
50 g / ¼ cup coconut oil (or other neutral oil) or vegan butter, melted
240 ml / 1 cup plant milk, warm
'CROSS' FLOUR PASTE
65 g / ½ cup all purpose flour
water
GLAZE
1 tbsp of apricot jam OR stem ginger syrup OR maple syrup
METHOD
Mix the flour, salt, yeast, sugar, spices and orange zest in a large mixing bowl.
Next, add in sultanas and their soaking liquid and finely chopped stem ginger. Mix well into the dry ingredients, breaking up any stuck together ginger pieces with a wooden spoon.
Make a well in the centre, add room temperature applesauce and melted (and cooled off) coconut oil and most of the warm plant milk – hold about ¼ of it back as not all of it may be needed. Mix all three liquid ingredients in the centre roughly and then mix them into the dry ingredients using a wooden spoon. Switch to using your hands to bring the dough together, if the dough is too dry, trickle in more plant milk. The dough should feel a little sticky/tacky – higher level of dough hydration gives your buns a better rise so resist the temptation to add extra flour.
Transfer the dough to the workbench and knead it for until elastic and smooth (it may take 10 minutes or more, depending on how good your kneading technique is).
Shape into a ball and place in a large mixing bowl, coat in a thin layer of olive oil and cover the bowl with a tea towel. Leave it in a warm place (but not too warm – IE not next to an open fire!) for between one and two hours (until it has doubled in size).
Empty the dough out on to a work surface and push the air out with your fingertips.
Split the dough into twelve equal parts – best to use kitchen scales here.
Shape each portion of the dough into a ball by pinching the dough so that the seam is at the bottom.
Pre-heat the oven to 220° C / 425° F. Lay the buns on a paper lined baking tray in a 3×4 grid so that they just touch each other (they will merge with each other as they expand during proving). Cover with cling film and leave another 60 minutes for another proofing.
While the buns are proofing for the second time, mix flour and a little water (about 60 ml / ¼ cup) in a small bowl until you have a flour paste that runs off your spoon but only just, you don't want it too runny as the crosses won't stay on the buns.
Just before the buns are ready for baking, put the flour paste in a piping bag and pipe crosses on top of of the buns.
Place the buns in the oven for 15-20 minutes, until the buns are golden. You may need to rotate the tray after 15 minutes if your oven has visible hotspots.
GLAZE
If using jam for your glaze, mix 15 ml / 1 tbsp water with the jam in a small saucepan on a low heat until the jam is diluted and ready for glazing. Alternatively, you could also glaze your buns with undiluted maple syrup or stem ginger syrup.
Glaze the buns as soon as they are out of the oven until they are lovely and shiny then place them on a wire rack to cool.
NOTES
*Often recipes call for 100% bread flour, but I use 50% bread flour and 50% all purpose flour for softer, less bread-like buns.
**Traditionally, allspice and cinnamon are used. You can also use mixed spice, which is a readymade spice mix consisting of cinnamon, allspice, nutmeg, cloves, ginger, coriander and mace. I also love to add cardamom so go for any mix of spices you enjoy. For this amount of flour, 2-3 tsp of spice is perfect.
***I used Amaretto, but you can also use orange juice.