When I used to live in the UK, I never had time to make my own hot cross buns. I used to rely on the ones that you used to get in a packet of six at the supermarket which were overly sweet and tasted of stale flour and preservatives. I guess I shouldn't be surprised that a bread product that keeps for at least a week isn't going to be particularly delicious to eat, and it put me off hot cross buns in general. For a while at least…
This Easter I decided to set this right and bake some vegan hot cross buns that were fresh AND delicious. Traditionally, hot cross buns will contain eggs, milk and butter, so I replaced the egg with some applesauce (which makes them taste light and fragrant), the milk with almond milk and the butter with a little extra olive oil. The results were fantastic and there is no way that a non-vegan would ever know that these beauties contained no dairy products.
I decided to break from the tradition of putting a cross on the buns, even though I realised a cross is a lot easier than many other shapes, as you can just drag the piping bag across a whole row at once. Doing a 'V' (to stand for vegan) required a little bit more time and individual care. I thought that this would be a useful decoration if you were bringing your hot cross buns to an Easter party and wanted it to be clear which ones were the vegan ones. Or you could just say "the ones that are really, really fluffy and delicious" 😉 .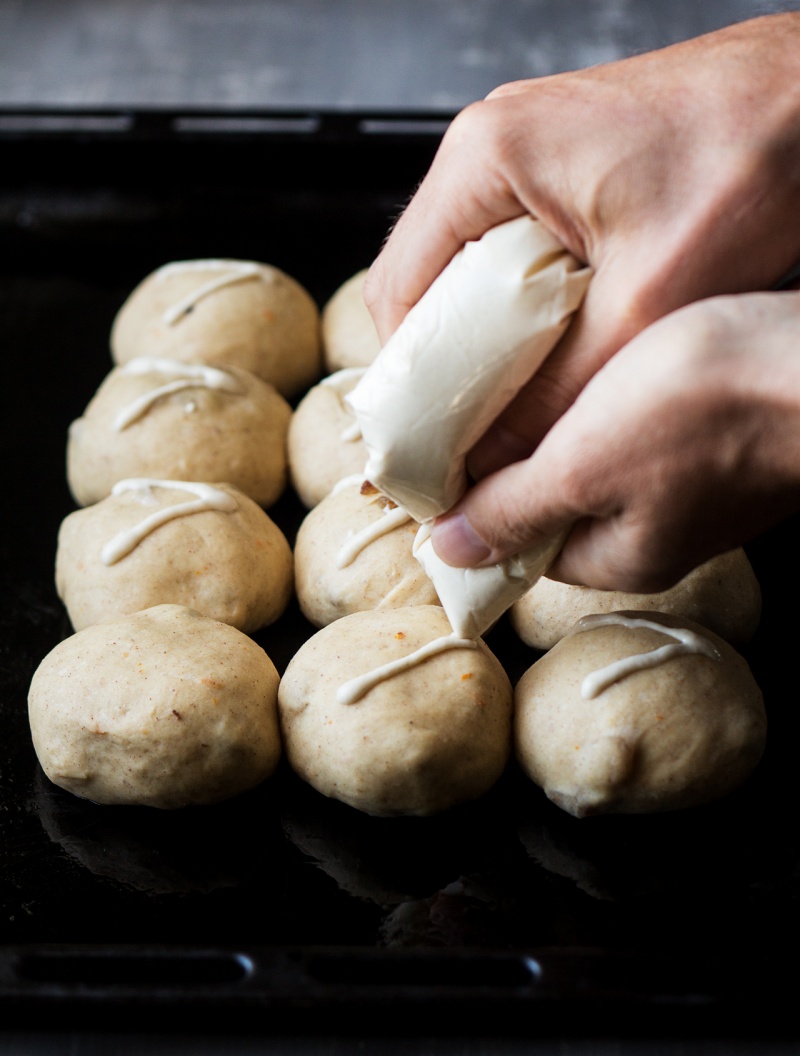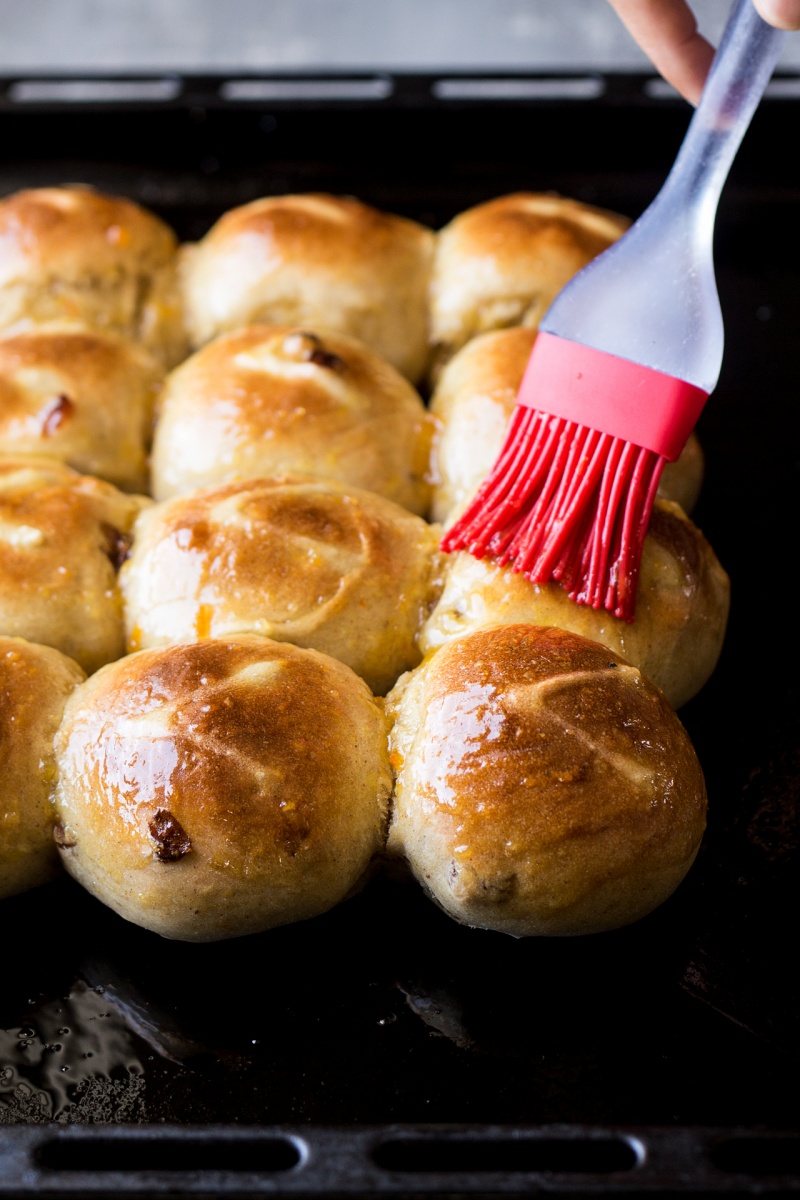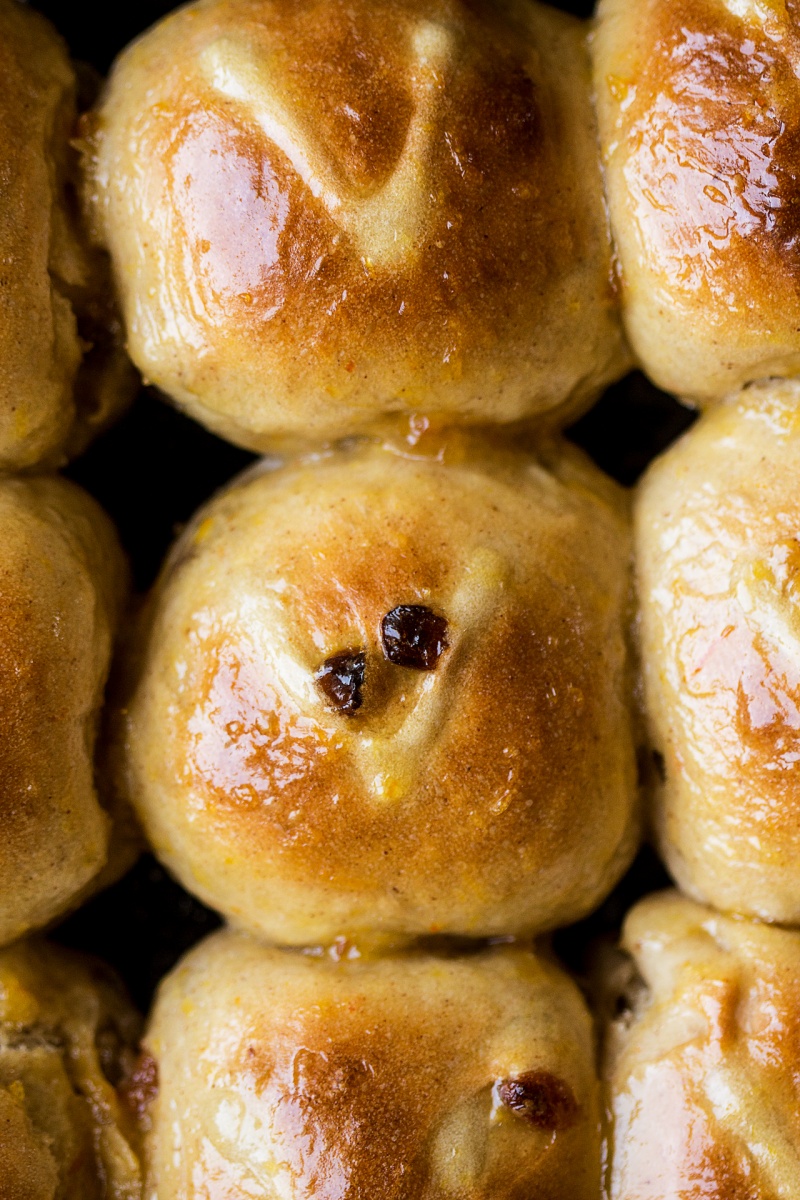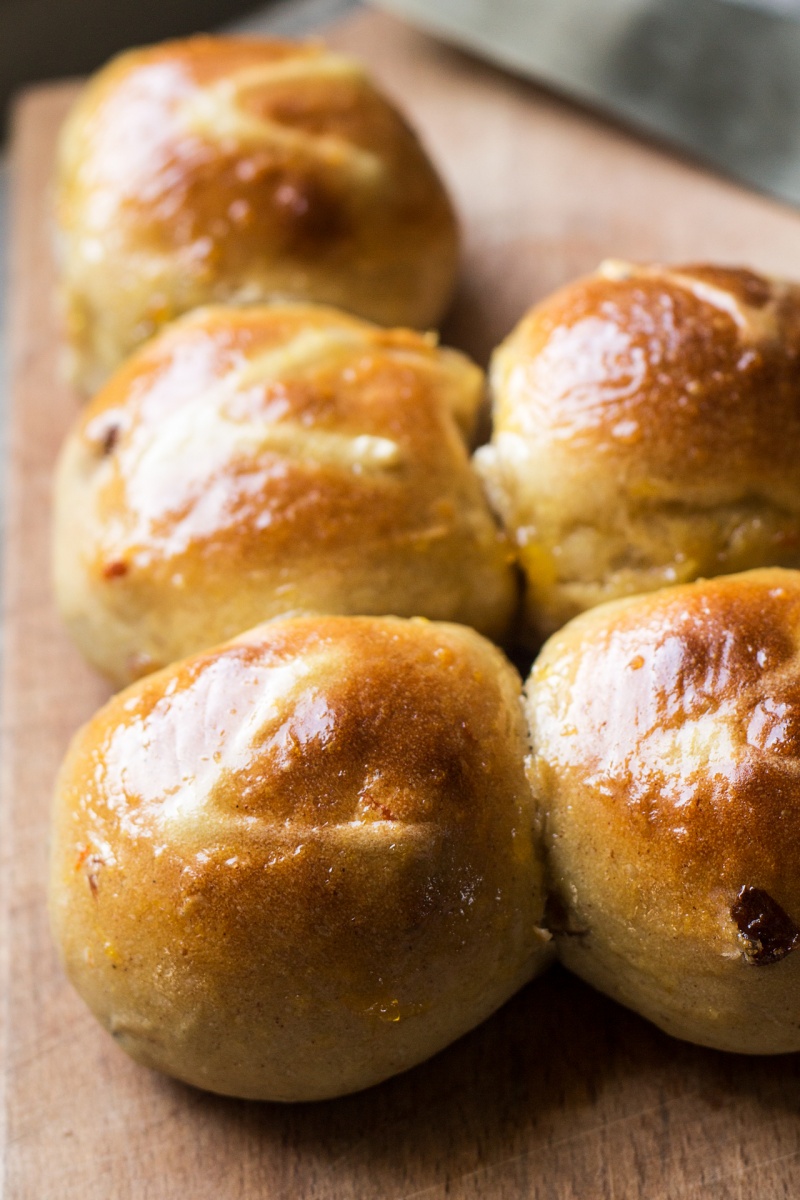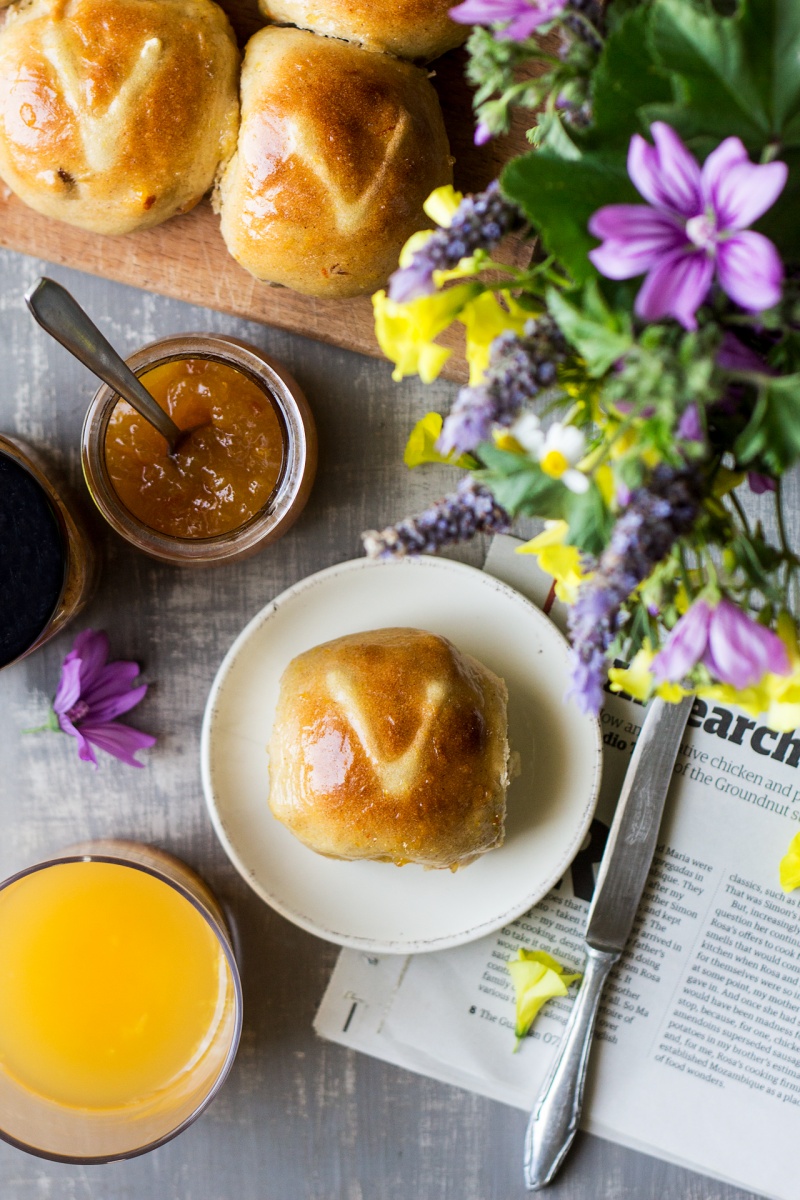 HOT CROSS BUNS
250g / 2 cups strong / bread flour
250g / 2 cups all purpose flour
1½ tsp salt
7 g / 2¼ tsp instant dried yeast
50 g / 2 oz caster sugar
1 tsp cinnamon, mixed spice or allspice
100 g / 3.5 oz raisins / sultanas
50 g / 2 oz of applesauce
zest of 1 orange
125 ml / ½ cup + 1 tsp plant milk (we used homemade almond milk)
125 ml / ½ cup + 1 tsp lukewarm water
30 ml / 2 tbsp olive oil, plus extra for coating
HOT CROSS BUN 'CROSS'
45 g / 3 tbsp all purpose flour
60 ml / ¼ cup water
GLAZE
1 tbsp of apricot jam or orange marmalade
1 tbsp of water
METHOD
Mix the flour, salt, yeast, sugar, cinnamon or allspice, raisins, applesauce and orange zest in a large mixing bowl.
Pour in the lukewarm (not cold!) water and plant milk and stir everything together with a wooden spoon. Then add the olive oil and combine.
When the mixture has mostly stuck together turn the mixture out on to a work surface. Knead the mixture by holding one end of the dough in one hand and stretching it out with the other hand. Reform the dough, turn it 90 degrees and start again. Repeat this for 10 minutes. See this recipe for photos on how to knead if you're unsure.
When the dough is shiny and smooth, put it in a large mixing bowl, coat in a thin layer of olive oil and cover the bowl with a tea towel. Leave it in a warm place (but not too warm – ie not next to an open fire!) for between one and two hours (until it has doubled in size).
Empty the dough out on to a work surface and push the air out with your fingertips.
Split the dough into twelve equal parts – best to use kitchen scales here.
I tend to shape my rolls by spinning the roll in a circle and tucking dough underneath until you are left with a smooth sphere of dough with the dough bunched up underneath.
Pre-heat the oven to 200° C / 390° F. Lay the dough balls out on an olive oil-greased baking tray in a 3×4 grid so that they just touch each other (they will merge with each other as they expand during proving). Cover with cling film and leave for 30-60 minutes or until they have doubled in size.
HOT CROSS BUN 'CROSS'
Mix the all purpose flour and water in a small bowl until you have a mixture that is claggy and gluey.
Put the flour / water mixture in a piping bag (or plastic bag with the corner cut off) and pipe crosses (or whatever letters or designs you like!) on each of the buns.
Place the buns in the oven for 15-20 minutes until the buns are golden.
GLAZE
While the buns are cooking mix the water with the jam in a small saucepan on low heat until the jam is diluted ready for glazing.
Glaze the buns as soon as they are out of the oven until they are lovely and shiny then place them on a wire rack to cool.