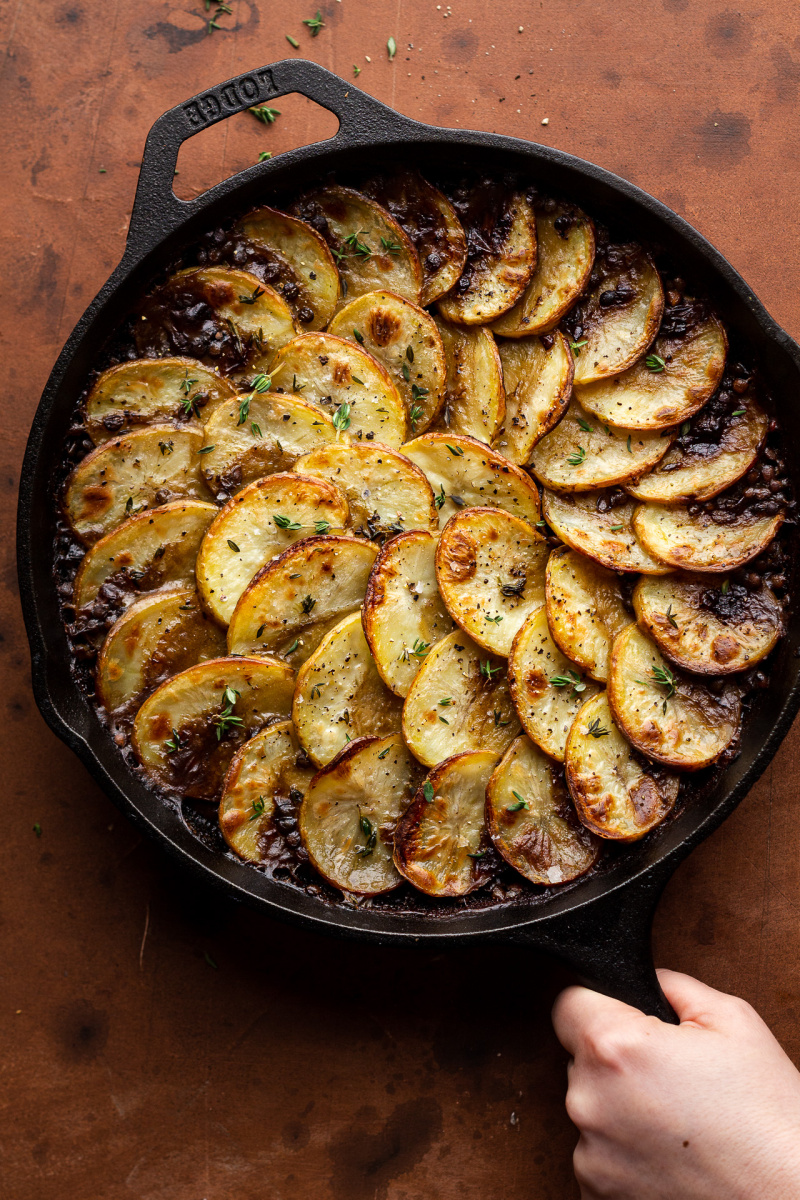 Aaaand…the weekend is here again… Is it just me or does there appear to be little difference between workdays and non workdays these days? Especially if you end up working on weekends like I often do. Both myself and Duncan are working today, but we hope to put our feet up tomorrow and maybe even venture out for a bit of a walk catch-up with friends although the weather is meant to be grim. It doesn't matter, anything that stops us from staring at our respective screens will be good for the soul.
Duncan got his first vaccination jab this week and it knocked him down for the count. He was really poorly for a day and I was getting a touch concerned when I found him, eyes glistening from fever, suspended over the toilet bowl, fighting a sudden bout of nausea. Having done a little reading online, I came to the conclusion that the severity of his reaction is probably due to the fact that he has already had Covid and his body remembers how tough is was so this time it has geared for a counterattack with double ferocity. I was hoping to be the next in line, but apparently the government ran out of jabs and I have to wait at least another month for my vaccination invite. Oh well.
Recipewise, I'm conflicted between craving lighter meals when the sun sticks its head from behind a cloud and opting for comfort food in the evenings as it can still get rather cold. With this in mind, I have the cosiest dish for you today inspired by Duncan's childhood nemesis – Lancashire hotpot. Although Duncan was lucky enough to grow up in sunny Australia, apparently his English born parents insisted on making cold climate inspired classics even when the weather called for anything but. That was his main gripe with Lancashire hotpot, I think and the fact that the last thing you want to do as a child is to stand out and the British overtones of his upbringing made his school life a bit miserable. I'm sure most people can relate! I certainly can, I had a hard time at school too although for very different reasons.
The said hotpot is a hearty fare that would be slow cooked in the oven all day, ready for miners to return home. Yup, it's this kind of dish. It's supposed to 'stick to your bones' or clog your arteries more like 😉 . It traditionally contains a meat stew (lamb is traditionally used, I think) bubbling away ferociously under a layer of crisped up potato slices. I'm not into meat but I'm down with the concept so I decided to attempt something equally comforting using plants alone.
I used a mixture of two different types of mushrooms and some hearty lentils as a substitute for meat. I cooked the stew in some shallots and plenty of garlic and seasoned it with soy sauce, vegan Worcester sauce, balsamic, lots of thyme and white wine and I have to say that the result is even more delicious than I expected. It's hearty and heart-healthy (looking at you lentils) at the same time. It hugs you like a warm blanket on a cold March evening, provides a lot of sustenance while offering some protection against diabetes, heart disease and cancers.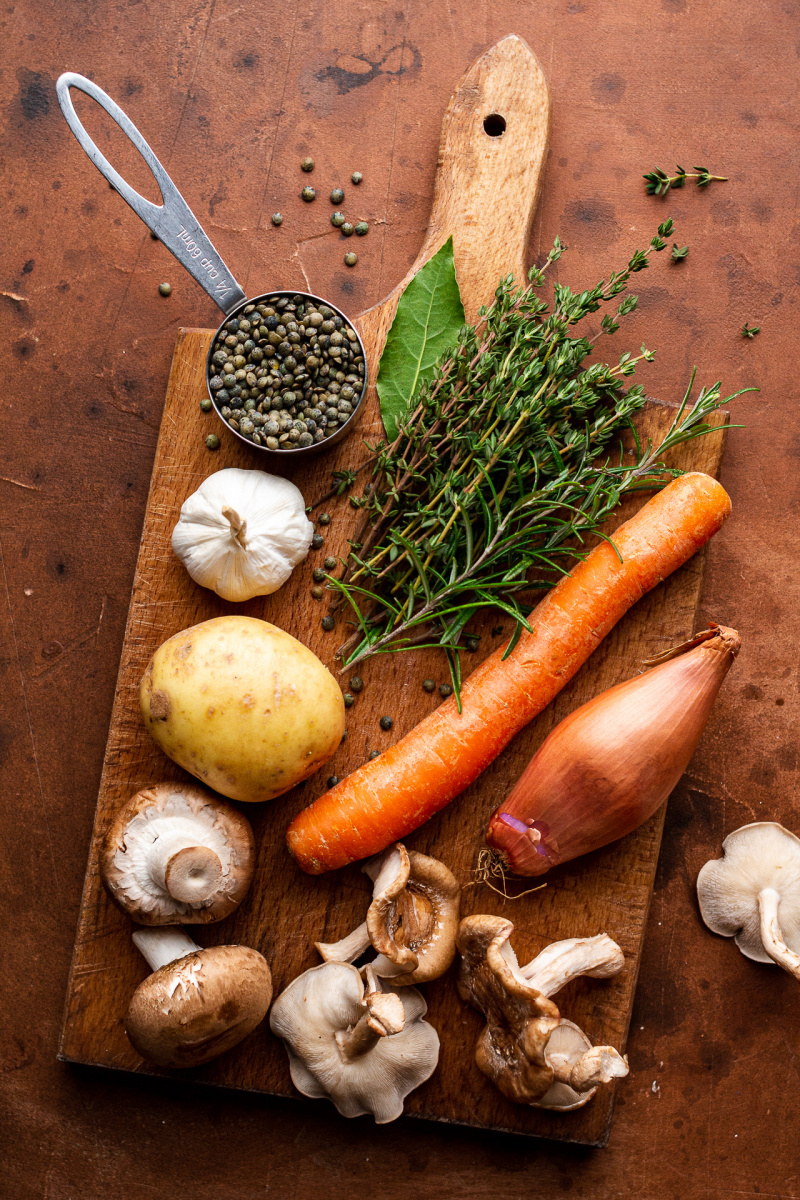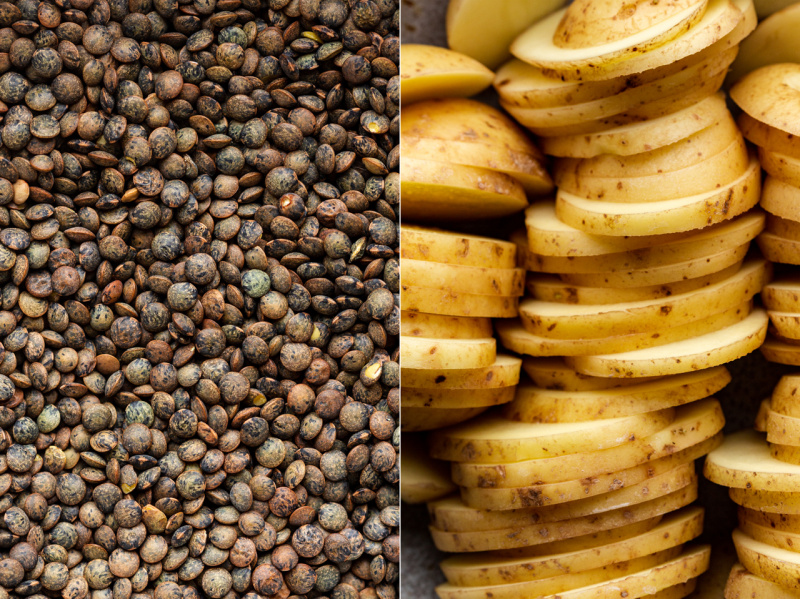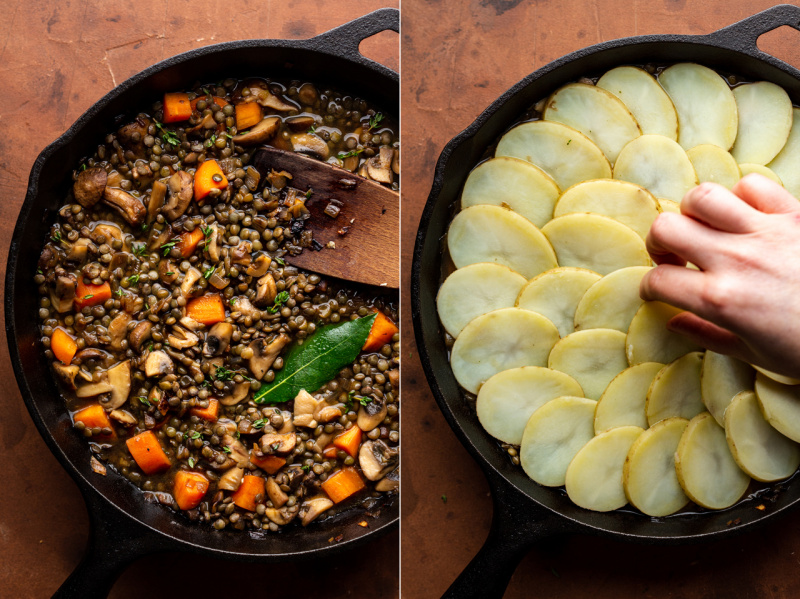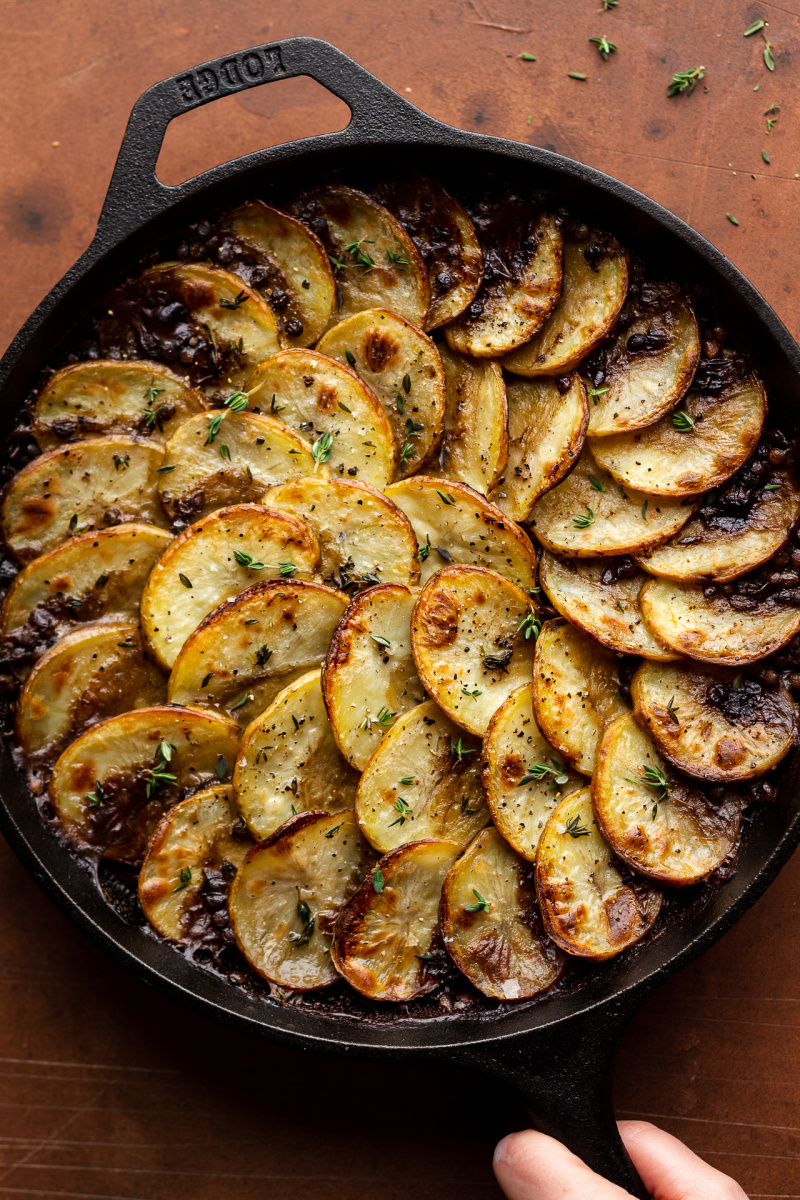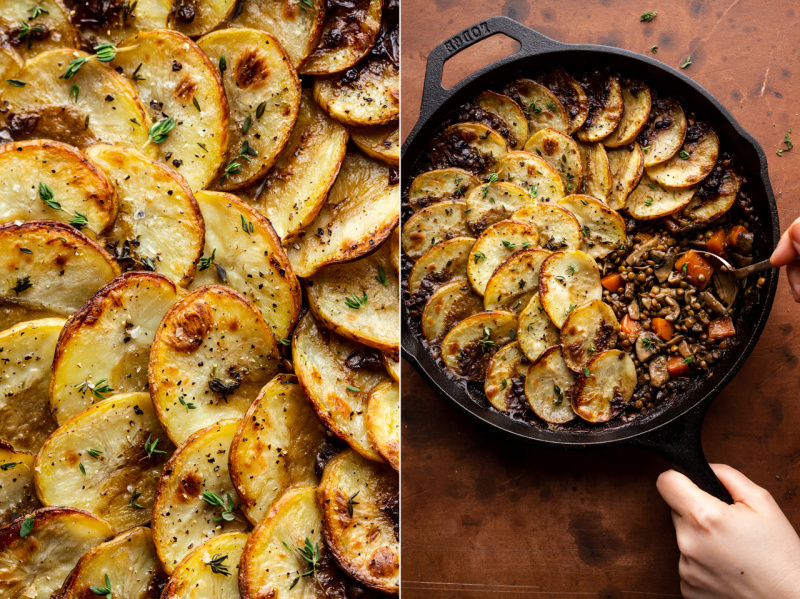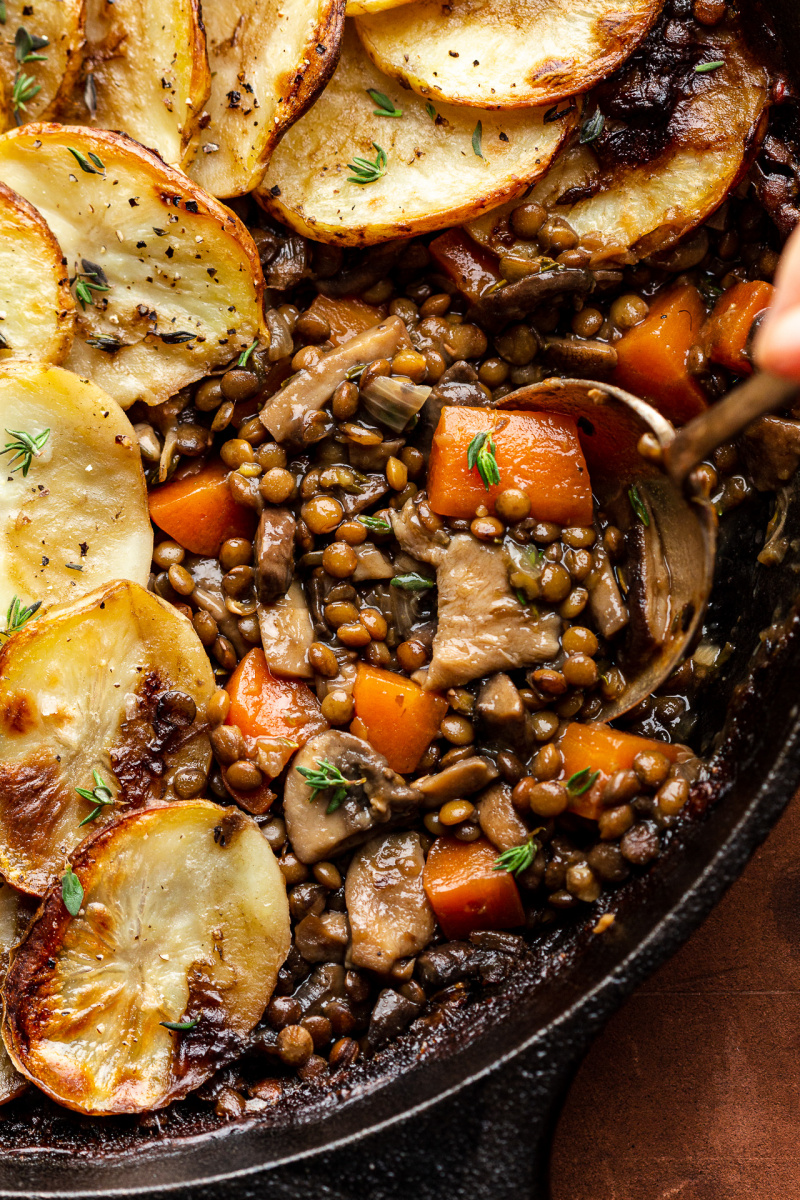 150 g / ¾ cup French green lentils (lentilles vertes)*
3 tbsp olive oil, divided
2 banana shallots, finely diced
4 large garlic cloves, finely diced
8 sprigs of thyme, leaves picked
250 g / 9 oz chestnut / cremini mushrooms
125 g / 4½ oz fresh shiitake mushrooms
4 medium starchy potatoes (I used Maris Piper)
1 large carrot, chopped large
30 ml / 2 tbsp soy sauce or tamari
¼ tsp black pepper
1 tsp smoked (sweet) paprika
½ vegan mushroom (or vegetable) stock cube
7 ml / 1½ tsp vegan Worcester sauce
15 ml / 3 tsp balsamic vinegar
120 ml / ½ cup vegan white wine (optional)
2 tsp cornflour / cornstarch dissolved in 1 tbsp water
salt
METHOD
Rinse lentils well and simmer them in plenty of water for about 30 minutes – they should only be partially cooked. Adding a piece of kombu to the cooking water is a good idea if you don't digest lentils easily. Drain and set aside.
Heat up 30 ml / 2 tbsp oil in a skillet (I used a 26 cm / 10″ cast iron skillet but you can also use a frying pan and transfer the mixture to an oven-proof dish for baking). Add diced shallots and fry until almost translucent, stirring frequently. Add chopped garlic and thyme leaves (reserve some for the topping) and fry for a few more minutes, until shallots are translucent and garlic has softened.
While the shallots are frying, chop your mushrooms into large-medium chunks.
Slice potatoes into 2-3 mm slices and parboil them for 4 minutes. Drain, refresh under cold tap and allow them to cool.
Preheat the oven to 180° C / 355° F.
Add mushrooms to the skillet, sauté them (stirring frequently) until lightly caramelised in places.
Next, add in chopped carrot, cooked lentils, soy sauce, black pepper, smoked paprika, mushroom stock cube dissolved in 240 ml / 1 cup of water, Worcester sauce, balsamic vinegar, wine (if using, otherwise more water). Mix everything very well, taste (adjust the seasoning if necessary, it may need a bit more salt) and stir in cornflour slurry.
Arrange cooled potato slices on top of the lentil-mushroom mixture so that the slices overlap. Cover the top of the dish with a fitting lid or a piece of kitchen foil and bake for 20 minutes.
Remove the hotpot / casserole from the oven and increase the oven temperature to 220° C / 425° F.
Brush the tops of the potatoes with the last tablespoon of olive oil, sprinkle them with leftover thyme, salt and pepper. Return the uncovered dish to the oven and bake for about 30 minutes, until the potatoes are nicely browned.
NOTES
*I used
TESCO's Lentilles Vertes
. Although the name translates as green lentils, they are different to what is known as green lentils in the UK. They are smaller, darker, speckled and require 40 minutes total cooking time. I like them as they keep their shape really well. You can use any other lentils that keep their shape instead but you may want to adjust their precook time accordingly. You can use 2 cups / 310 g of ready cooked lentils if you wish but be aware that by the time the dish is ready, they may end up being a little overcooked.