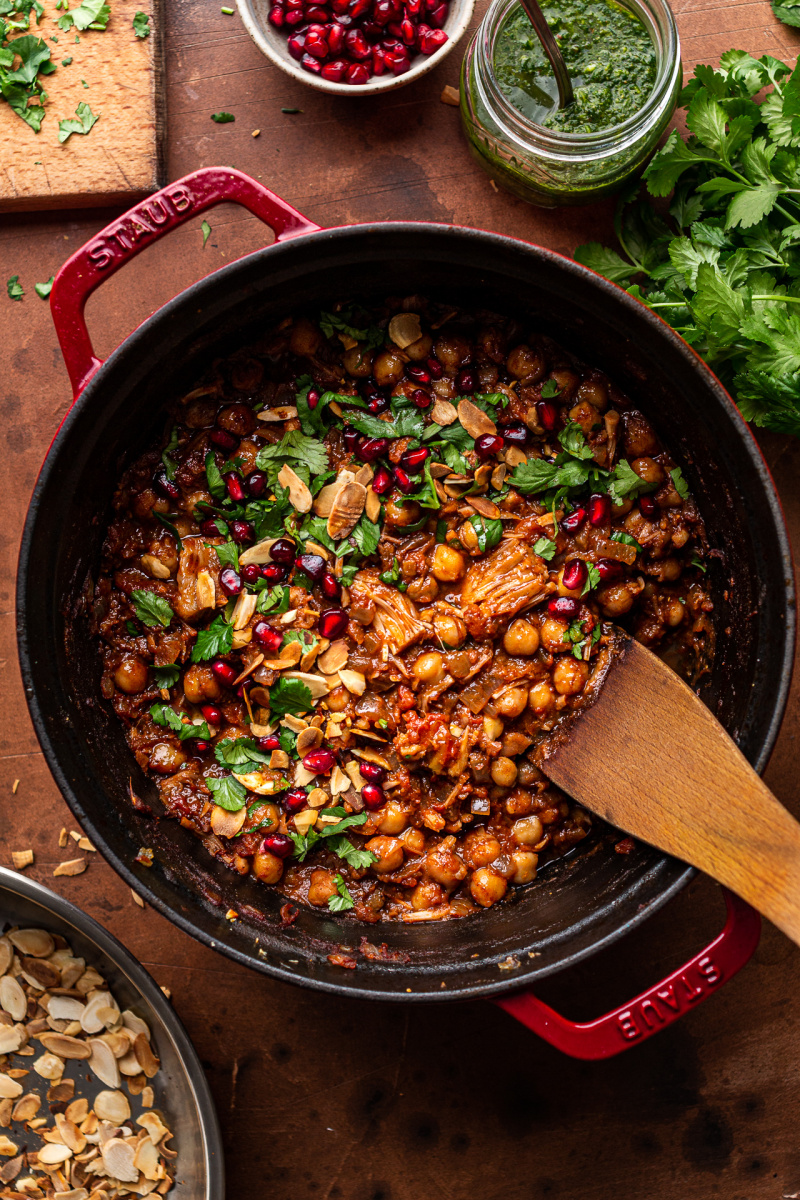 Hope you guys have had a good week! I have started mine on an even keel, with everything coming together just fine, to crash down on Thursday and remain in a funk on Friday. Nothing big has happened, it's just that my inner critic, which I've been trying to distance myself from a while now, went on a total rampage and got me impossibly down.
I'm so glad that I had the foresight to shoot this recipe earlier on in the week as the second part of the week turned out to be a total write off. As it's been rather cold around these parts lately, I made a warming and comforting (yet healthy) tagine featuring jackfruit and chickpeas and a beautiful North African spice mix known as baharat (derived from the Arabic word for spice). As it's a spice mix rather than a single spice, its ingredients and proportions may vary a little from cuisine to cuisine or even household to household, but they tend to include warming spices like cardamom, cloves, cinnamon, nutmeg, cumin, paprika, allspice and black pepper. I purchased mine in my local corner store, which boasts an impressive collection of dry spices from all over the Mediterranean, the Middle East and India, but I have also seen a version of this spice mix in supermarkets so I am sure you will be able to get some with ease.
This recipe is inspired by a dish I had while visiting London in October. While I spent most of my time in London covered in paint and dust, I did manage to sneak out for a few low key meals with friends before another lockdown got announced. One day I met up with my friend Elie in beautiful Regent's Park (oh how I miss that place!) and we had a lovely time chatting while sitting 2 meters apart from each other at far ends of the same bench and munching on a take away lunch. Mine was a vegan tagine box from LEON and I really enjoyed it, especially that it brought a touch of comfort to not the most relaxing al fresco lunch experience (it was too cold to eat outside for a start!) and I promised myself to recreate it in my own kitchen once I get back.
While the dish is enjoyable on its own, it really benefits from a drizzle of zhough, which LEON made with mint and parsley, but I personally prefer coriander, or coriander and parsley. It comes together in minutes and it makes a great addition not only to this particular dish, but also to pita pockets, hummus and salad bowls. I also recommend the addition of finely chopped quick-pickled (or preserved) lemons. They provide a beautiful contrast to the aromatic date-sweetened sauce and are just as versatile as zhough, especially if you are a fan of these sort of flavours.
Making quick-pickled lemons at home is easy and quick (I used this recipe) and once they've had a chance to hibernate in the fridge for a day, they really come into their own and give this dish a beautiful pop of flavour and colour too. I am pleased with the flavours here and I hope you'll enjoy them too.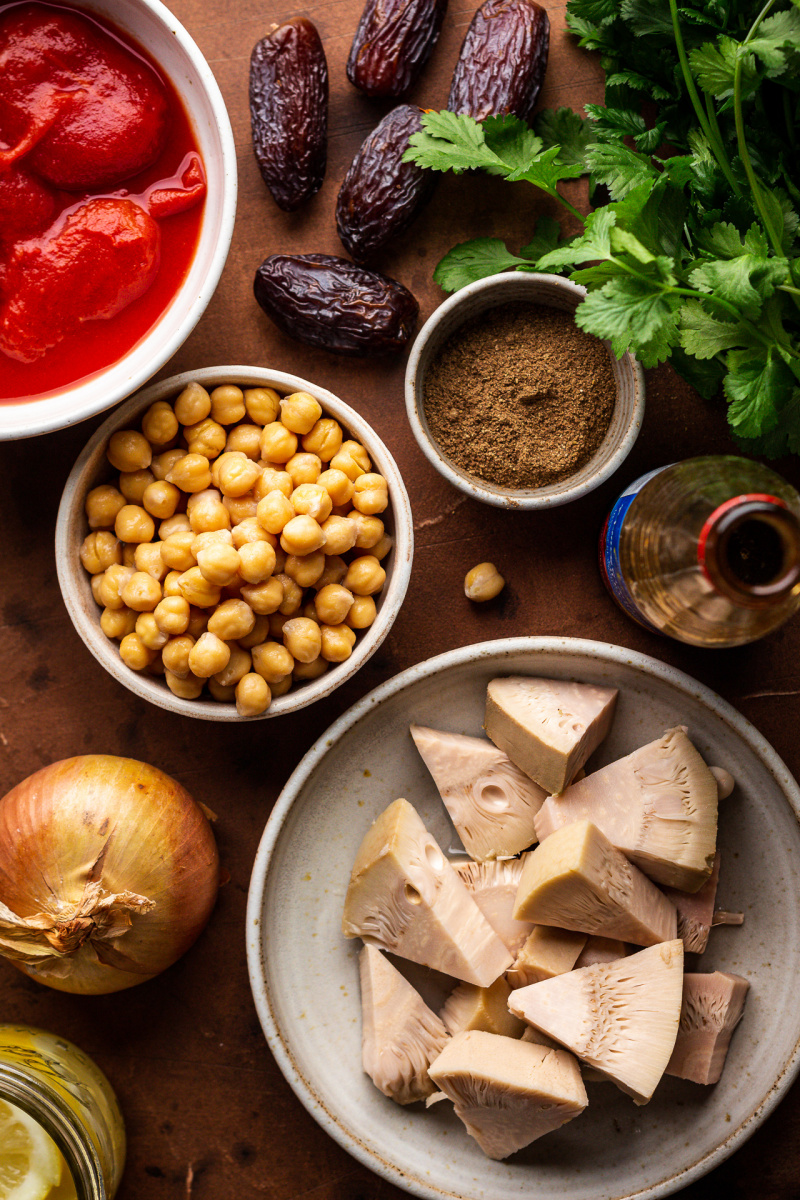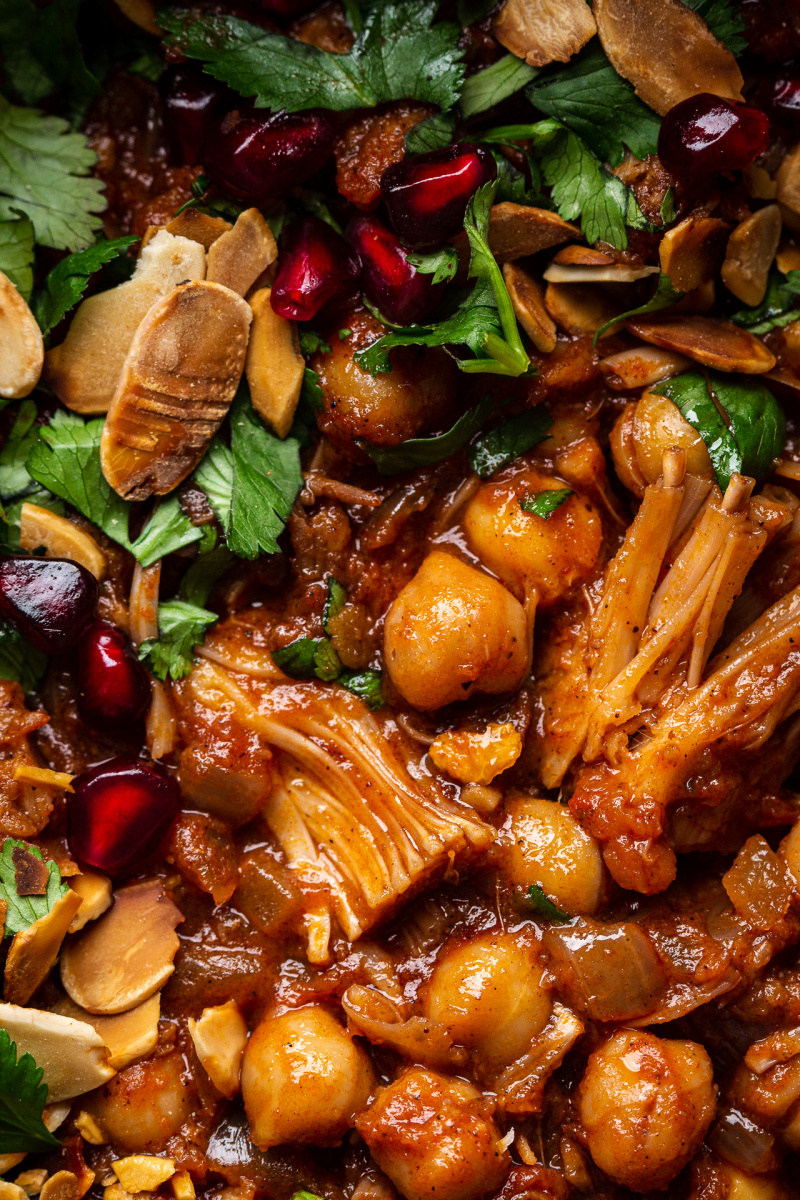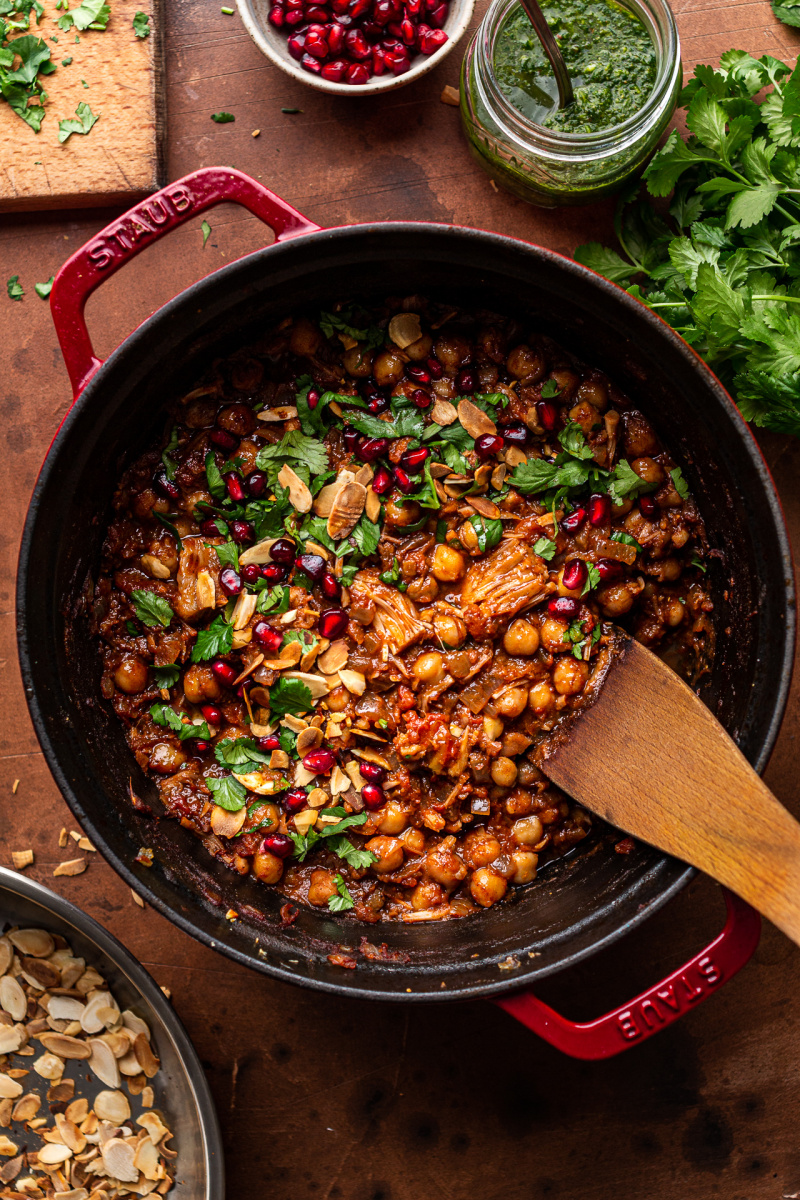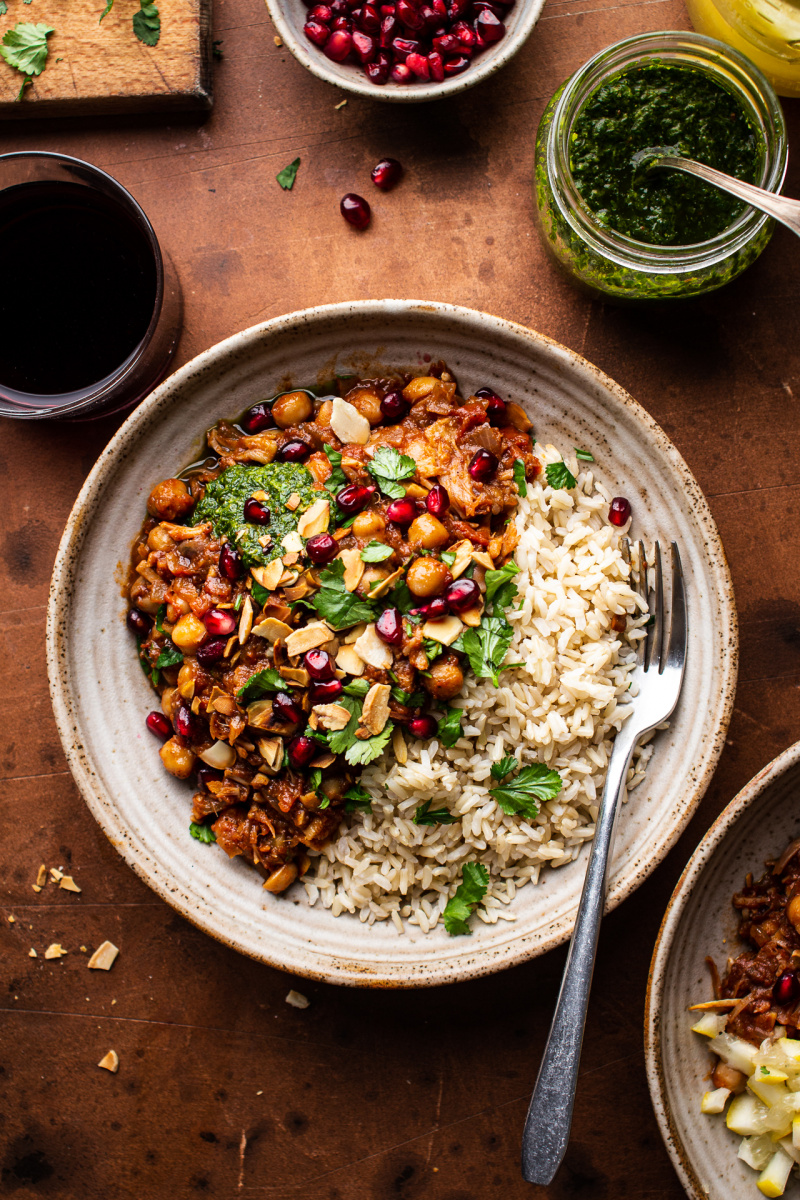 2 tbsp / 30 ml oil (I used olive oil)
1 large onion, finely chopped
565 g / 20 oz tin of young jackfruit in brine, drained
6 garlic cloves, finely chopped
2 tsp finely grated ginger
5 tsp baharat spice mix
2 tbsp tomato paste
1 tbsp soy sauce or tamari (for GF version)
400 g / 14 oz tin of peeled plum tomatoes / 3 medium, ripe tomatoes
1 vegetable (vegan) stock cube
1 fresh or dried bay leaf
½ tsp coarse sea salt, adjust to taste
a few pinches of hot chilli (or a squeeze of harissa paste)
80 g / 2.8 oz / 4 Medjool (or other) dates, diced finely
400 g / 2 cups cooked chickpeas
1 tbsp pomegranate molasses
1 tsp date syrup (optional)
pomegranate arils, to serve
quick-pickled or preserved lemon, chopped finely
toasted almond flakes, to serve
ZHOUGH
a small bunch of coriander (or 50% coriander and 50% parsley)
1-2 garlic cloves
½ tsp ground cardamom
½ tsp ground cumin
a good pinch of chilli flakes (I used pul biber)
½ tsp salt, more to taste
olive oil
squeeze of lemon (adding zest is nice too)
METHOD
Heat up the oil in a heavy-bottomed pot.
Add the diced onion and fry it off gently until almost translucent, stirring from time to time.
Meanwhile, cut off the fleshy bits of the jackfruit pieces and discard together with any seeds as they aren't very nice to eat. Squash the jackfruit pieces down with a fork so that the fibres separate and set aside.
Add chopped garlic and grated ginger to the pot with onion. Sauté all the aromatics together, stirring often so that they don't burn.
Add jackfruit pieces and baharat mix into the aromatics mixture. Fry the spices off gently for a minute or two (stirring the whole time) as they tend to burn easily.
Stir in tomato paste, soy sauce, squashed plum tomatoes and their juices, vegan stock cube, bay leaf, salt, chilli (if using), chopped dates and 240 ml / 1 cup of water. If you consume alcohol and have any red wine to hand, a cup of red wine (instead of water) will also work a treat.
Simmer on a low-medium heat until the tomato flesh breaks down and excess moisture evaporates, giving the pot a good stir from time to time. If the tomatoes are still chunky but the pot is starting to look a bit dry, be sure to top it up with more water. Simmer until the tomatoes are broken down and the sauce reaches the thickness you like.
Add in cooked chickpeas towards the end of the simmering time.
Finally, season with pomegranate molasses, date syrup or sugar (if needed) and extra salt (if needed). If you can, allow the flavours to mature for a day before consuming.
Serve on some rice (I enjoy brown rice) with a dollop of zough, some finely chopped preserved or quick pickled lemons and toasted almonds.
ZHOUGH
Put coriander leaves and delicate stems (leave the sturdier stems for a curry paste), garlic, spices and salt in a food processor. Pulse until minced finely or leave it a bit chunkier if you prefer.
Drizzle in the oil while the processor is running. Stop once the mixture reaches a sauce consistency.
Season with a good squeeze of lemon and some extra salt (if needed). Store in a jar in the fridge, it will keep for 1-2 weeks.
NOTES