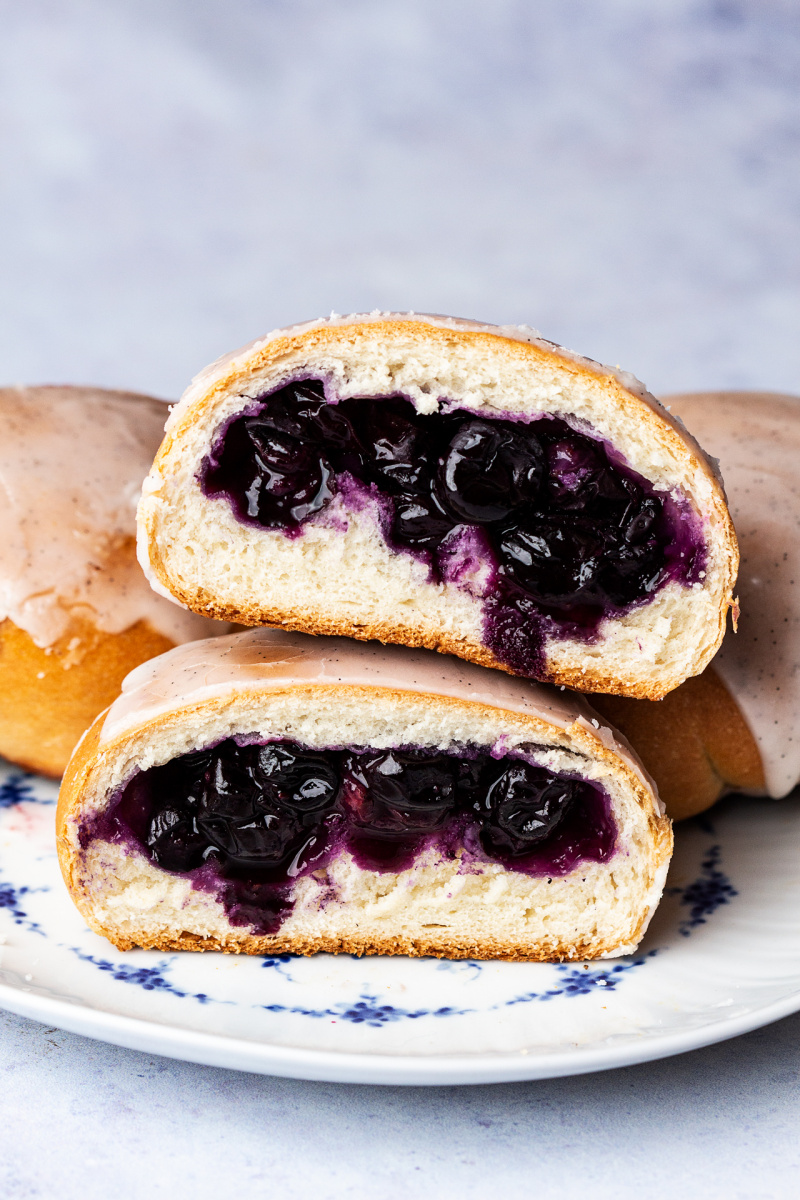 Happy weekend everyone! I hope the sun is shining beautifully for you? I'm feeling a little bit knackered as we went for a longish hike around Ebbor Gorge yesterday and it was a bit tough going at times. It was lovely and we lucked out when it comes to the weather as it did not rain on us. We feasted our computer-tired eyes on gorgeously green ferns, moss, wild flowers and it was nice to be out in nature and get a much needed day of feeling unplugged.
Today's recipe is a trip down memory lane for me, veganised of course. Due to my therapy sessions, I am spending a lot of time lately reflecting on my childhood so I thought it would be very fitting to make something that I used to enjoy eating as a child. Like many Northern European countries, Poland is big on yeasted buns (like these I veganised recently) and we have many varieties that change depending on what is in season. They used to by a staple of my childhood, something you would spend your pocket money on in the school cafeteria or in the store on the way back from school. In summer, when mountainous regions of southern Poland abound in wild blueberries (known in the UK as bilberries, I think) 'jagodzianka' – a bun filled with them is the bun of choice. I used to love those. My maternal grandma introduced me to them, I am pretty sure.
When we stayed in her summer house in the mountains, we used to go bilberry picking together and I remember that time very fondly although I am pretty sure that, especially early on, I ate more bilberries than what I ended up contributing to the overall family haul. I used to have a soft spot for bilberries and I still do, I always gorge on them whenever I end up visiting home during summer. Too bad that eating a lot of them can cause some serious constipation 😉 (ingesting them is an old home remedy used to help with the opposite problem).
Unfortunately, it is impossible to get hold of fresh (or frozen near where I live) bilberries here so I've had to use their close botanical cousins, blueberries, to make my vegan take on my childhood jagodzianka (which translates simply as 'berry bun') but they are still very delicious (PS: I also tried raspberries with great success). Fluffy, subtly sweet with a juicy blueberry centre and an optional lemon icing. They are perfect to take with you on a hike – like everything, they taste even better in nature – or to have with your afternoon coffee or tea. Alternatively, they also make a fantastic (if quite naughty) breakfast. Enjoy. x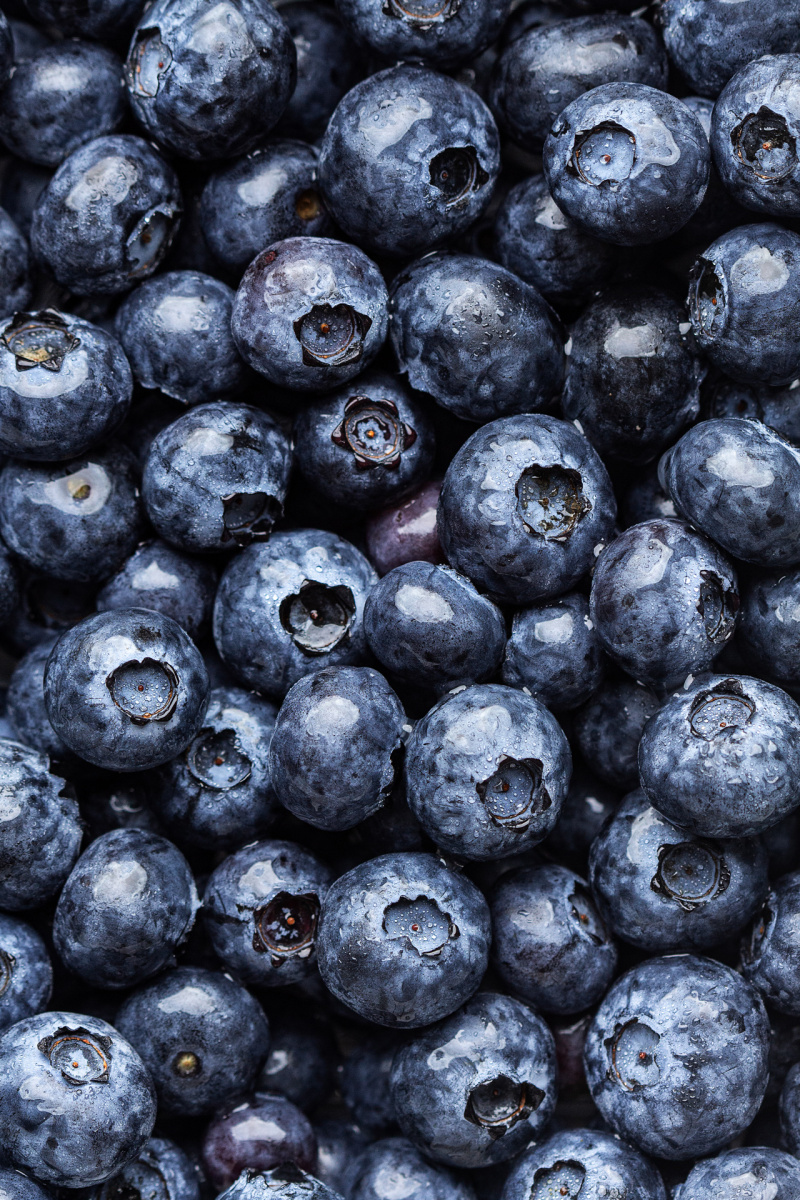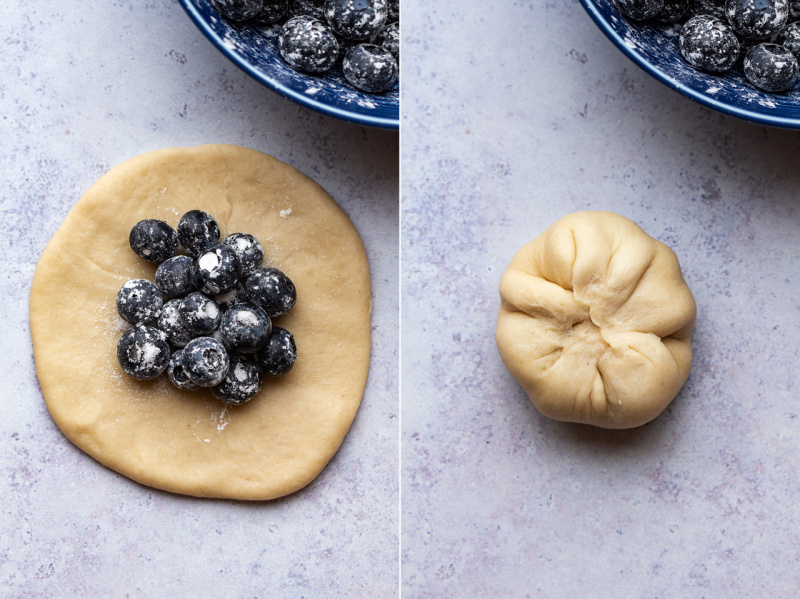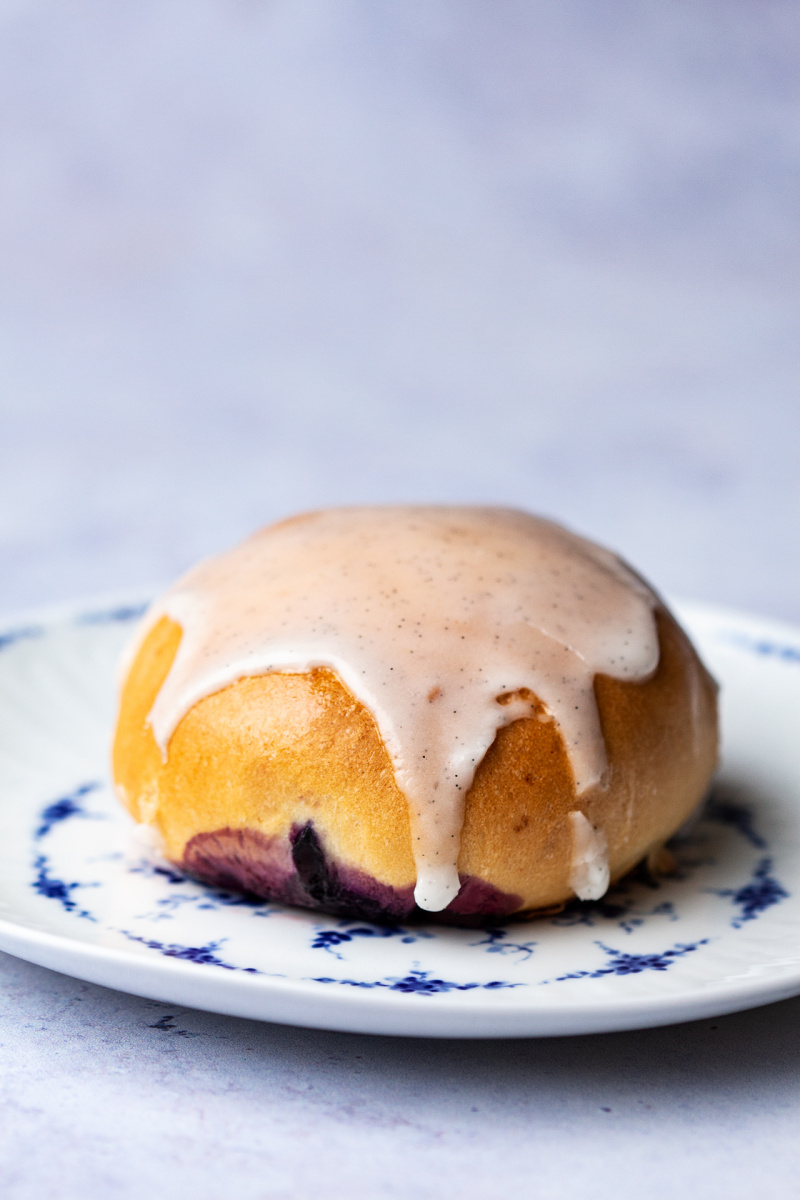 DOUGH
250 g / 2 cups all purpose wheat flour*, plus extra for dusting
¼ tsp fine salt
7 g / 2¼ tsp instant dried yeast
65 g / 1/3 cup sugar (coconut sugar if refined sugar-free)
approx. 150 ml / ½ cup + 2 tbsp lukewarm plant milk
1 tsp vanilla extract
30 g / 2 heaped tbsp mild coconut oil (or vegan butter)
vegan 'eggwash' – 2 tsp plant milk + 1 tsp maple syrup
BLUEBERRY FILLING
1 tbsp cornflour / cornstarch or potato starch
200 g / 7 oz fresh blueberries** (wild blueberries if you can get them)
ICING (OPTIONAL)
90 g / ½ cup icing sugar
1 tbsp lemon juice, any plant milk or water
1 tsp vanilla extract (or more lemon juice / plant milk / water)
METHOD
DOUGH
Mix the flour, salt, instant yeast and sugar in a large mixing bowl.
Pour in lukewarm (cold or too hot milk will kill the yeast) plant milk and vanilla extract. Bring all the ingredients together with a wooden spoon.
When the mixture has mostly stuck together, turn the mixture out on to a work surface. If the mixture feels dry, add another 5-10 ml of plant milk.
Knead the mixture by holding one end of the dough in one hand and stretching it out with the other hand. Reform the dough, turn it 90 degrees and start again. Repeat this for about 5 minutes, then work the coconut oil into the dough. To begin with the dough will be slippery and will look like it's been ruined. Keep working it and eventually all the fat will get absorbed by the dough and it will become elastic and smooth (it takes about 10 minutes).
Put the dough in a large clean bowl, coat it in a thin layer of oil and cover the bowl with a clean kitchen towel. Set aside, in a warm (but not too warm) place for 1-1½ hours, until the dough doubles in size. Proceed to make the filling and the icing.
Once the dough has doubled in size, punch all the air out of it and divide it into 8 identical portions.
Roll each portion into a ball, and then flatten into a circle using a rolling pin. Try to make sure that the middle has more padding and the edges of the circle are thinner to ensure that the dough is evenly distributed once the buns are filled and sealed.
Place a heaped tablespoon of blueberries in the middle of the dough and seal the dough around them making sure you don't trap too much air in. Ensure the bun is really well sealed as otherwise it will open during baking and the juice will leak out.
Turn the bun over and roll it very gently around the counter to create a rounder bun. Place it on a lightly greased baking tray and cover with a kitchen towel while you make the remaining 7 buns.
Once you've made all your buns allow them to proof again, for about 30-45 minutes (until they double in size) under a kitchen towel.
Heat up the oven to 180° C / 355° F.
Glaze the buns with a mixture of plant milk and maple syrup. Bake for about 20-25 minutes.
Once done, you may want to glaze the buns with icing. If looking to avoid refined sugar, brush warm buns with maple syrup instead to give them a nice shine.
BLUEBERRY FILLING
Stir starch through clean blueberries in a large bowl. Set aside.
ICING (OPTIONAL)
Mix icing sugar, lemon juice (or water) and a few drops of vanilla extract in a small bowl.
NOTES
*I used all purpose flour – it produces a softer result, but some people use 50% all purpose and 50% bread flour or even all bread flour. I would advise against using wholewheat flour as the result will be coarser and less pleasant to eat. I have not tested these with GF flour as gluten is a key here so it won't work without a serious dose of magic, I'm afraid.
**Fresh raspberries also make an awesome filling.